It's that unique blend of education and entertainment, a very delicate balance that every parent out there seeks when heading out with the kids. Sure, having fun is important, but what if good times can also be of value to young ones? Even better, we hear you say. We've got the best places in the UAE for kiddies to play and learn a thing or two – or maybe even a hundred.
Dubai
Caboodle
A super cute, colourful venue, Caboodle is one of those multi-purpose spots where the environment is both educational and stimulating. Kids can learn through play and exploration, and it's definitely among mums' favourites for play dates and mama meet-ups. If you're thinking about what you'd be able to find there, bring a notepad, because Caboodle features a kids' salon, healthy café, interactive areas, crafts, role play and so much more. Following a daily theme, it also hosts musical mum-and-tot classes and an exciting calendar every month filled with activities, crafts, games, stories and sing-alongs. Let it go,
let it go…
Dhs70 (first hour), Dhs30 (every additional hour). The Dubai Mall, Mohammed Bin Rashid Boulevard, caboodle.ae (04 325 3367).

Cheeky Monkeys
The cheekiest monkeys can head to this indoor play area for different activities where fun and edutainment prevail. There's the interactive soft play, blocks stations, some organised activities and more. The environment is safe and stimulating, designed for kids aged eight and under to play and explore. Each Cheeky Monkeys location features a giant, hundred square metres play structure for kids over the age of four, a smaller play area for toddlers under the age of four, a building blocks zone, and a life-size play house.

All areas have soft indoor play park equipment with extensive padding and no sharp edges. There are also free daily fun activities including puppet shows, story time, dance classes, baby yoga, fairytale ballet, drama, and literacy and language classes.
Dhs52.5 (first hour), Dhs84 (two hours), Dhs105 (three hours). Various locations including Barsha Mall, cheekymonkeys.com (04 385 0875).
CreaKids Play Zone
If you're looking for a fully-equipped mall play area with loads and loads of room for creativity, CreaKids has to be it. Their Baby Zone designed for kids aged eight months up to four years old is filled with toys and activities. The Play Zone, designed for kids aged eight months to ten years old, features arts and crafts and more: Trampoline? Check. Multi-storey climbing apparatus with slides and padded mazes to explore? Check. Role play houses to stomp around and make believe in? Check. Named after the great explorer himself, Ibn Battuta Mall is inspiring enough for young minds as it is, so this easy play area in the Egypt Court is a good option for younger children in need of a mid-shop stop off.
From Dhs30 (Baby Zone), from Dhs50 (Play Zone). Open daily 10am-10pm. Ibn Battuta Mall, creakids.ae (04 361 9315).
Dig It
Have you noticed how fascinated Dubai kids are with construction sites? If you're looking for an interactive, educational activity where little ones can work together to dig, move, build and create, head to Springs Souk's Dig It. The play environment is open for kids aged three to ten years old, and they can do everything from driving a remote-controlled truck and piloting a mechanical arm, to playing in the sand, operating remote control cars and trying out a full-size digger. Dig It is an edutainment space that will stimulate their imagination, providing an active, enriching play experience as they learn how bridges, gears and levers work.
From Dhs75 (two hours). Open Sun-Thu 10am-10pm. The Springs Souk, Emirates Living, digitdubai.com (04 438 4479).
Dubai Aquarium & Underwater Zoo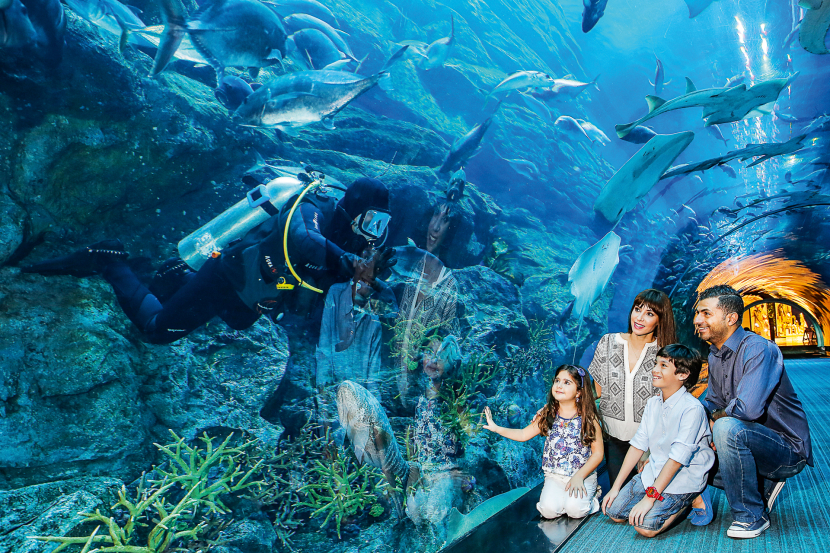 One of the largest indoor aquariums in the world, Dubai Aquarium is located right at the centre of The Dubai Mall, measuring 51 metres in length, 20 metres in width and 11 metres in height. With a 10 million litre capacity, it gives families access to incredible close-encounter experiences with some of the most fascinating underwater animals on the planet as they come eye-to-eye with sharks, stingrays and other aquatic animals. Good luck finding Nemo...

The Underwater Zoo, located on the mall's second floor, gives kids of all ages an in-mall lesson on the ecology and sustainability of marine life. The journey consists of three ecological zones: rainforest, coastline and UAE night creatures, where young ones can meet everything from penguins, crocodiles and piranhas to giant spider crabs, otters, water rats, sea horses and sea jellies. Dubai Aquarium's 270° acrylic walkthrough tunnel makes for incredible close encounter experiences with some of the most fascinating underwater animals on the planet, so don't miss this attraction if you're at The Dubai Mall.
From Dhs90. Open daily, 10am-midnight. The Dubai Mall, Mohammed Bin Rashid Boulevard, thedubaiaquarium.com.
Dubai Ice Rink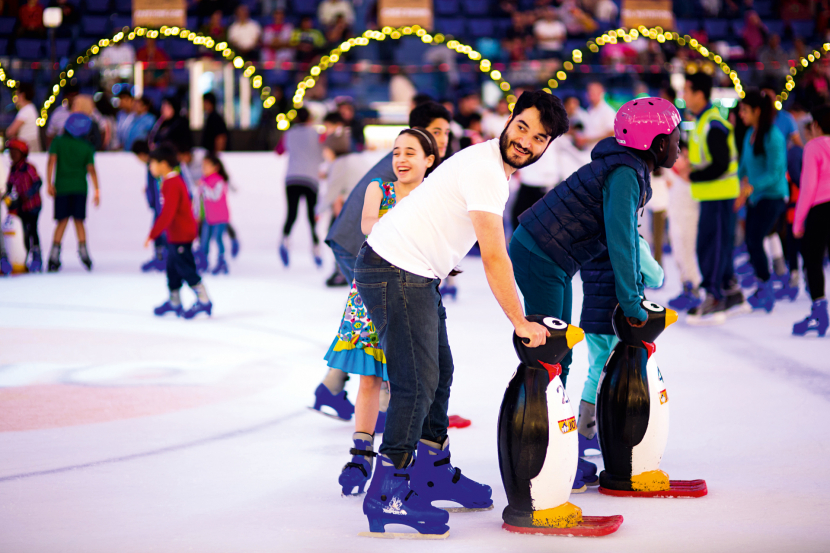 Time to get a workout in, kiddies. Physical education is as important as opening those books, and the Olympic-sized Dubai Ice Rink has so many awesome features, including snowfall sessions, ice bikes and even disco sessions where it transforms into a dancefloor. There's also the Academy, which runs seasonally, and gives kids the opportunity to become certified skaters.
From Dhs40 (kids under 100 cm), from Dhs75 (adults). Open Sun-Wed 10am-midnight, Thu-Sat 10am-1am. The Dubai Mall, Mohammed Bin Rashid Boulevard, dubaiicerink.com.
Dubai Performing Arts Academy
Founded by former Steps pop group member Lisa Scott-Lee and her husband Johnny, this academy is based on the couple's industry know-how. With Lisa's record-breaking pop days and Johnny, who has worked with stars such as Robbie Williams and Diana Ross, classes at this Academy cover all aspects of performing arts including singing, dancing, drama, acro, private singing lessons, contemporary, street dance and more.
From Dhs750 (per week). Dubai British School, Jumeirah Park, dubaiperformingarts.com (04 424 5195).
Fairytales
We know Dubai is the city of dreams, and there's this one place where kids' dreams can come true. A princess castle and a pirate ship are awaiting little imaginations to come and bring them to life. Compared to some of the larger centres, some of that imagination is going to come in handy as there aren't as many activities present here. That said, for younger kids, the bedtime story charm will reward better imaginations and encourage actual engagement.
Dhs700 (one-month membership, first child). Daily 10am-10pm. Fairytales, Town Centre Jumeirah, Jumeirah Beach Road, Jumeirah 1, fairytales.ae (04 344 5050).

Global Village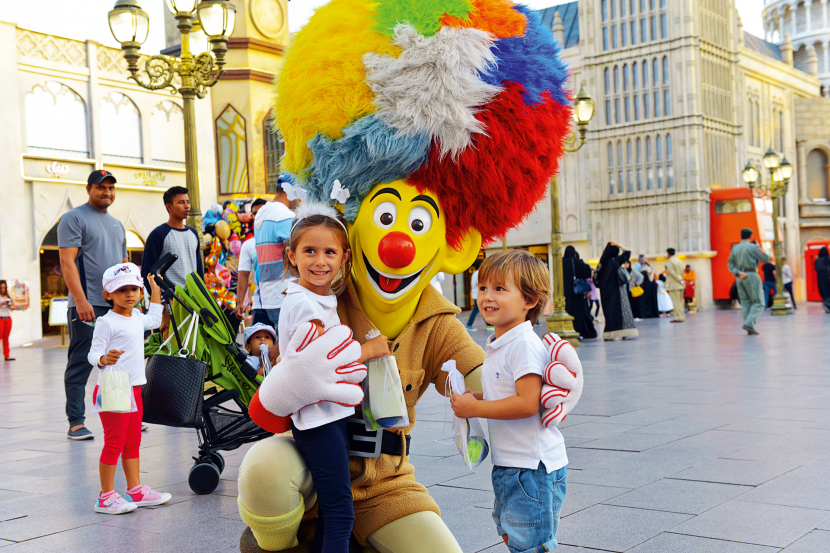 Whatever it is that you're looking for, you'll find it at this destination, but most importantly, Global Village is a place where kids can have loads of fun while learning about different countries. There are over 20 nations to visit and explore. Apart from getting to know what their traditional cuisine consists of, each country also hosts shows, performances and activities so that little ones can take a trip around the world in one day.
Dhs15 (standard tickets). Open Sat-Wed 4pm-midnight; Thu-Fri 4pm-1am (open October-April). Mon ladies and families only. Sheikh Mohammed Bin Zayed Road, globalvillage.ae (04 362 4114).
Kids Jungle
The jungle theme is very popular among kids because – not only do they love channelling their inner Mowglies – but it deepens their love for nature and everything it has to offer. A joy for young families in the neighbourhood, Dubai Silicon Oasis' Kids Jungle it has themed slides, climbing toys, tunnels, a ball pool and soft play to explore. On top all of that, there are activities and classes every day making it a good place to regularly meet other parents while the kids run wild. Hey, it's a jungle
after all so...
From Dhs47.25 (one hour). Open daily 9am-10pm. Kids Jungle, Cedre Shopping Centre, Dubai Silicon Oasis, kidsjungle.ae (04 333 7388).
Kidville
A happy place for kids, Kidville hosts a number of classes for younger ones. Art classes include Construction Junction, a class for kids aged three to five years old, an advanced art programme that lets them learn how to plan, build, and construct their own 3D art projects – think roads and buildings. My Masterpiece is a class for kids of the same age group, where they can improve motor and dexterity skills using everything from pencils to paint brushes. There are plenty more classes for other age groups, so make sure you have a look at their list.
From Dhs1,195 (per class). Various locations across Dubai, including Al Safa, Jumeirah, kidville.com (04 394 6066).
Kidz Palooza


You can fit a lot of learning in 4,500 square feet, and that's exactly what Kidz Palooza is about. That means there are spacious zones such as a multi-tiered playground with all the crash mats and netting a sugar-rushed toddler could hope for.
Designed for kids aged zero to twelve years old, at Kidz Palooza there's also a cartoon-style mock market, a toddler town for very young ones to bump about in, an art gallery, console arcade, Lego-building room and a few surprises thrown in for good measure. Boy do we just love surprises, yes we do. An on-site salon and spa for little ones makes this place even more enticing – yes to mini express facials, manis and pedis.
From Dhs50 (play package, first hour). Open Sat-Wed 9am-10pm; Thu and Fri 9am-midnight. Kidz Palooza, Times Square Centre, Sheikh Zayed Road, kid zpalooza.ae (04 330 7101).

LEGOLAND Dubai
Let's be honest, this will be just as much fun for parents as it is for kids. Start off at the factory, where you'll get a guided tour and find out how LEGO bricks are made, before moving on to LEGO City, where you can learn to drive an electric car and fly a LEGO plane. From there, it's onto the various kingdoms and imagination zones, before taking a turn on some rides at the Adventure Zone, then heading to Miniland, where you'll be able to marvel at 20 miles of LEGO bricks.
From Dhs235 (adults), free (kids under three). Open Sat-Wed 10am-6pm, Thur-Fri 10am-8pm. Dubai Parks And Resorts, Jebel Ali, Dubai, legoland.com/dubai (04 820 0000).
Little Explorers
Designed for kids aged three to seven, this edutainment centre's activities are favourites among Dubai's youngest. A sanctuary of indoor activities, kids learn and explore in a colourful setting that's fun, yet also challenging enough for them to develop their skills. Little Explorers has 97 different exhibits across five zones and also holds workshops for kids – all in line with school curricula.
From Dhs145. Open Sat-Wed 10am-10pm; Thu-Fri 10am-midnight. Various locations including Level 1, City Centre Mirdif, Sheikh Mohammed Bin Zayed Road, theplaymania.com (04 231 6289).
Mattel Play! Town


This is the ultimate edutainment attraction, so get ready to walk around and explore. Mattel Play! Town takes kids on a journey to delve into the world of their favourite characters. Built on the concept of eduplay, a play-based education theory that highlights the importance of stimulating children's imagination and fantasy, the venue facilitates the development of social skills in young kids through a range of engaging and stimulating experiences. Aimed at little ones between the ages of two and ten, the experiences available encourage them to kindle their creative spark through interactive play with their favourite characters.

For example, the iconic Barney teaches kids about compassion, caring, dancing and sharing, while an experience with Bob the Builder encourages teamwork, problem-solving and positive-thinking. Kids can play dress up and partake in an interactive Angelina the Ballerina dance studio, embark on a 4D cinema experience with Thomas and Friends or learn about fire health and safety with Fireman Sam.
Free (kids under two), from Dhs59 (one hour), from Dhs99 (full-day), from Dhs175 (Drop n Go). Open Sat-Wed 9am-8pm, Thu 9am-10pm, Fri 10am-10pm. City Walk, Al Safa, playtowndubai.com (04 317 3999).
Museum of Illusions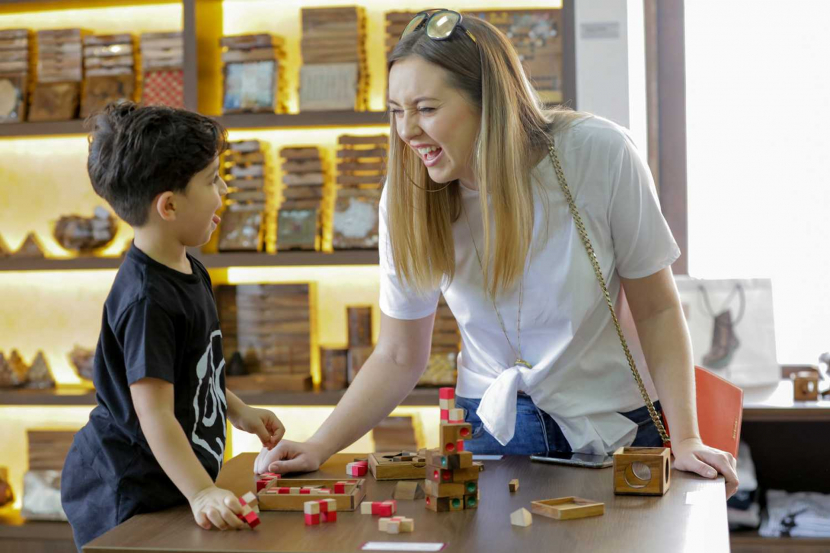 So, apart from some amazing Instagram stories, there's so much to learn at the Museum of Illusions. Located in Al Seef, the waterfront development down at the Bur Dubai Creek, the venue comprises a range of exhibits and didactic games based on science, mathematics, biology and psychology – those are some interesting subjects right here.

Encouraged to deviate from traditional museum etiquette, kids can enjoy a unique visual, educational and tactile experience at this venue. The Dubai edition is the largest within the world's fastest growing museum chain and houses exhibits such as the famed Ames room where guests shrink or grow depending on their position in the exhibit as well as the Vortex Tunnel, a rotating cylinder that tricks the brain into thinking the ground under their feet is shifting. How did they do it? That's for you to find out.
Dhs60 (kids), Dhs80 (adults), Dhs225 (family). Al Seef, Dubai Creek, museumofillusions.ae (04 371 3999).
OliOli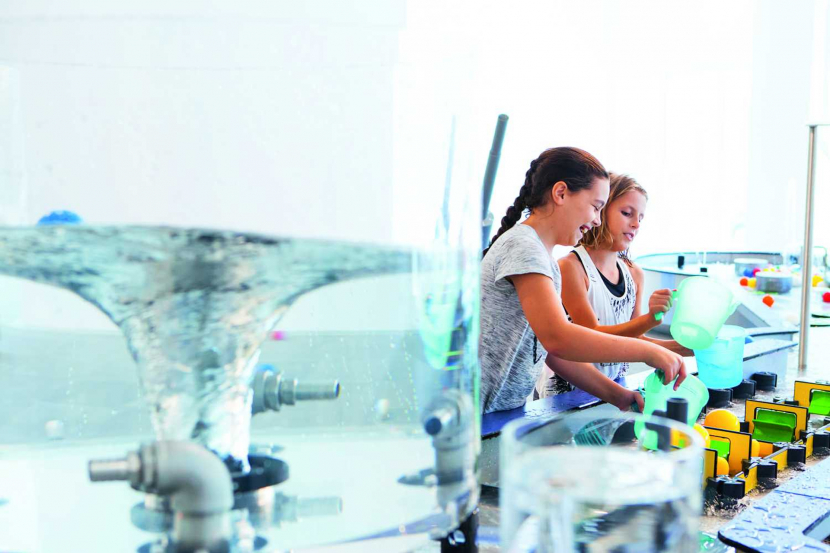 With a name that translates into "joy" in Hawaiian, this award-winning play and learn edutainment centre is all about those tiny giggles. Built around hands-on activities that nurture curiosity, imagination and exploration, OliOli has eight galleries and over 40 interactive exhibits spread over two floors. Each space features artistic, innovative concepts that create a one-of-its-kind educative play experience.

Parents, you'll want to check out those galleries, they're real works of art. Highlights of the space include Toshi's Net, the region's first "textile playground", the Future Park, designed to inspire children's ingenuity, as well as the dedicated eatery La Petite Treehouse Café.
Free (kids aged zero to 11), from Dhs60 (kids aged one to 23 months old), from Dhs120 (kids aged two to 18 years old). Open Sun-Wed 9am-7pm, Thu-Fri 9am-9pm, Sat 9am-7pm. Al Quoz 1, olioli.ae (04 702 7300).

Playdates
Soft play centres are all fun and games, but there's so much more to them than that. Some of them can go so far as to foster holistic development. If Time Out UAE Kids was in charge, that would be part of the manifesto. Playdates is already established as exactly that on the Palm Jumeirah. A baby zone for under-threes and another example of the now popular pretend city concept (this one having a small house, market and doctor's clinic) are both here. Bigger, by which we mean more boisterous, kids have a shiny indoor maze and gym to gambol around in. Sounds like we have more playdate ideas
now. Perfect.
Dhs45 (kids aged six months to three years, one hour), Dhs55 (kids aged 4-6 years old, first hour). Open Sun-Thu 9.30am-10pm; Fri-Sat 9am-10pm. Building 5, Golden Mile 1, Palm Jumeirah, playdates.ae (800 75293).
The Courtyard Playhouse
This improv' theatre is perfect for building up kids' skills and nurturing local talent. The Playhouse specialises in Johnstonian-inspired improvisation, stand-up comedy and acting, and its schedule is packed full of workshops for kids and teens. The cosy, purpose-built 70-seater theatre is quite the venue to tread the boards and discover the wonderful world of storytelling and creative arts live on stage, inspired by some of the most prominent authors' work, including Julia Donaldson, Roald Dahl and more.
From Dhs1,540 (one-month course). The Courtyard Building, Al Quoz, courtyardplayhouse.com (050 986 1761).
The Green Planet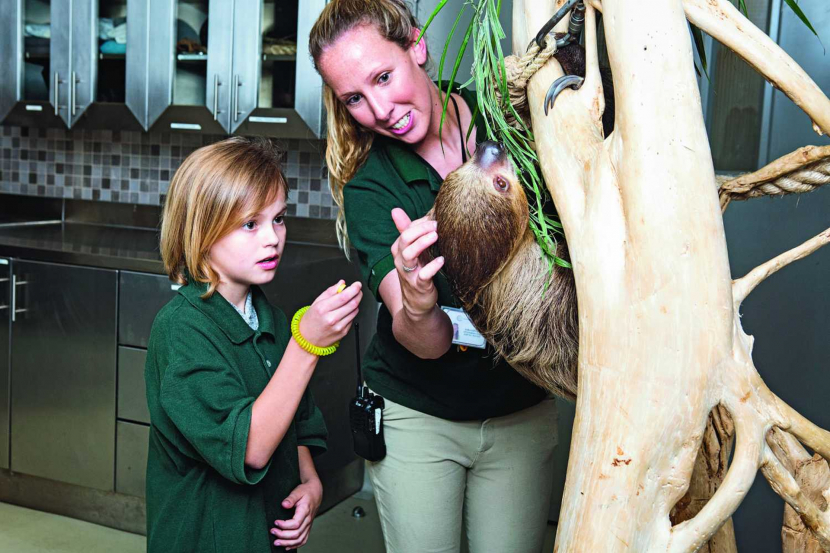 The Green Planet inspires kids of all ages to learn more about and care for every single plant and animal that inhabits the earth. A bio-dome which invites guests to explore the planet's fascinating flora and fauna through an immersive expedition into the tropics, this very green, relaxing edutainment centre recreates the enchanting world of a tropical forest with over 3,000 plants and animals and the world's largest indoor man-made and life-sustaining tree.

This edutainment attraction is also home to the region's first bat cave, which recreates the Seba's bats' natural habitat, and stays true to the cosy low-lit environments they thrive in. The educational and recreational facility raises awareness for the delicate balance of nature and the preciousness of one of our world's oldest living ecosystems so families can really see what nature has to offer – in the heart of the desert.

We also love how The Green Planet is located in City Walk, another destination with plenty of edutainment on offer, not to mention all the dining and retail options.
From Dhs89 (day ticket). Open Sun-Wed 10am-7pm Thu-Sat 10am-8pm. City Walk, Al Safa, thegreenplanetdubai.com (04 317 3999).
thejamjar
Hello, little artists. Founded in 2005, thejamjar is a community arts space that promotes artists and supports the development of UAE's arts scene through an extensive arts programme, educational initiatives and community projects. The studio and project space offer the region's first public DIY painting studio (how cool is that?). Plus, a year-round exhibition and events calendar presenting a diverse range of art forms. thejamjar's Young Artist Programme is for kids aged 8-14, where they're encouraged to use varied techniques to express themselves through art.
Dhs115.5 (DIY session). Open Sat-Thu 10am-7pm, Fri 2pm-8pm, Sun closed. Unit H74, Alserkal Avenue, Al Quoz, thejamjardubai.com 1 (04 341 7303).
VR Park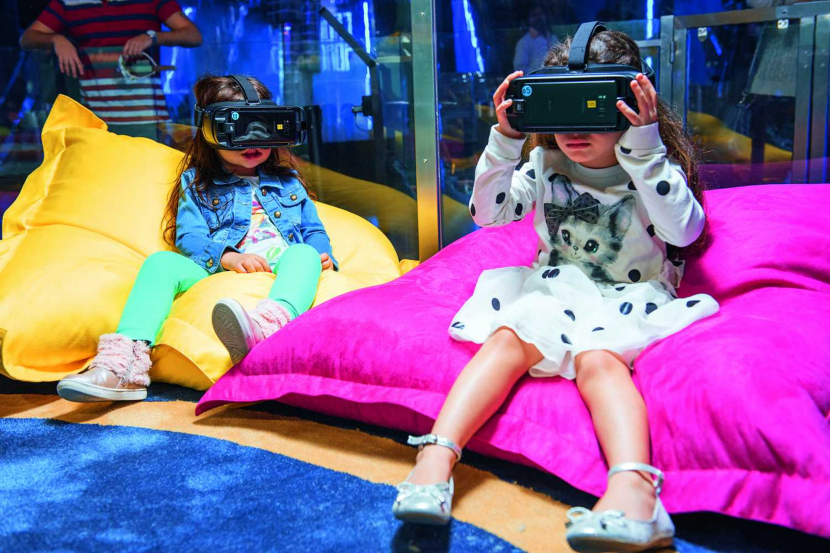 Virtual reality is the newest way for kids to learn while having fun, and where else better than the 7,000 square metre VR Park to do it? Yes, it's also located at The Dubai Mall (along with hundreds of other things families can do there – and we just love it). The main concept behind the venue is "shared escapism" and there are games for kids of all ages where they can challenge reality and learn at the same time. Some of the experiences and games offer a great platform for them to improve their goal-setting, speed and accuracy skills. Additionally, group games such as Hologate are good for strategy-setting
and teamwork.
Free entry, from Dhs180 (Super 7 pass). Open Sun-Wed 10am-midnight, Thu-Sat 10am-1am. The Dubai Mall, Mohammed Bin Rashid Boulevard, vrparkdubai.com.


Abu Dhabi
Art Beat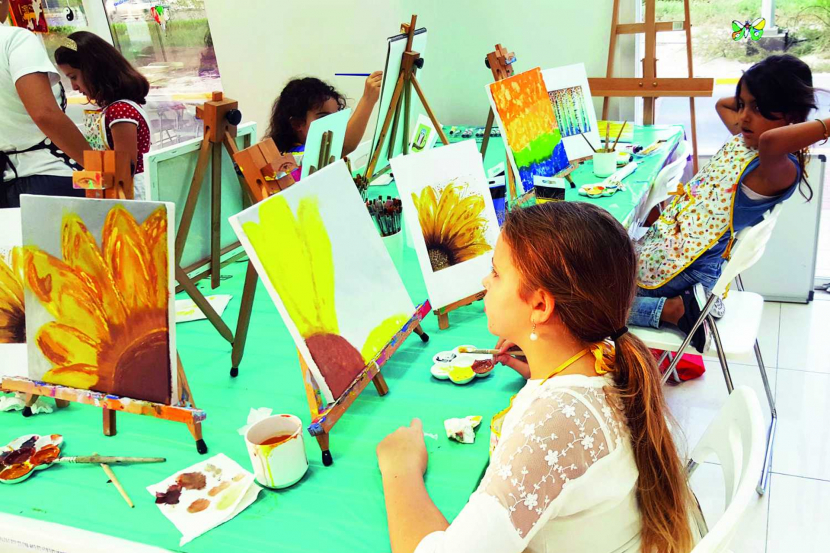 Art can stir little ones' natural curiosity, and Art Beat's aim is to do just that through classes and workshops for kids aged four to 13 in different activities including hieroglyphics, portraits and landscapes on canvasses, fabric painting, clay modelling, sand art and more. Kids can also come in for freestyle session where they're left to create whatever they want with available tools. Mums and dads, you can join in during some sessions too, which means more educational fun time with the kids. Yipee yay for us.
From Dhs60 (per class). Open Sun-Thu 9am-6pm, Fri-Sat 11am-7pm. Al Murour Road, artbeatad.com (02 444 5135).
Emirates Park Zoo
There's a certain feeling of wonder when you encounter wildlife of any kind, whether it be realising just how big a giraffe is or how fast a hippo can sprint (stunning to watch, might we add). Emirates Park Zoo and Resort captures that wonder, with its many close encounter experiences, especially when you get the chance to eat a wholesome breakfast with some of the creatures. Animal lovers can explore the whole zoo, which includes everything from magnificent eagles to cute little lambs, and you get to feed most of them.
Dhs30 (kids aged three to 16), Dhs35 (kides aged 16 and above), free (kids under three). Open Sun-Wed 9am-8pm; Thu-Sat 9am-9pm. 12th Street, Al Bahia, emiratesparkzooandresort.com (02 5010 000).

Fabyland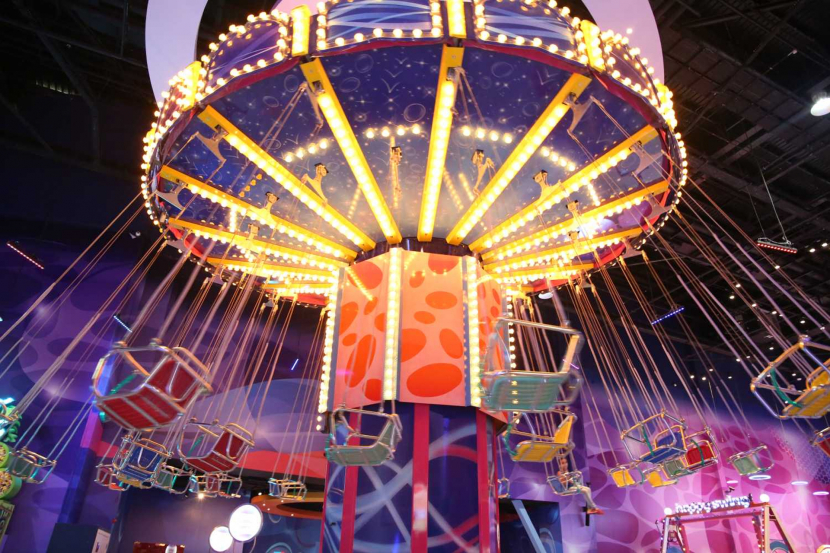 The name says it all – well sort of. With an array of amusement rides, attractions, and games, any child will tell you that they love spending time at this indoor attraction. Spread across 70,000 sq metres, the centre has a MyTown area for kids to play and learn and a 30x30 trampoline, making it one of the largest family edutainment centres in UAE for kids aged three and up. This is a very futuristic family destination, so we would also recommend it for school trips and birthday parties – off we go.
From Dhs125 (entry game card). Sun-Wed 10am-10pm, Thu-Fri 10am-midnight, Sat 10am-11pm. Deerfields Mall, fabyland.ae (02 666 9772).
Fun City
A play area for kids aged one to 12 years old, Fun City is known to provide hours and hours of fun for energy-filled kiddies in a safe, happy environment. The Play Zone consists of a soft play structure with a variety of colourful and attractive elements to engage young ones. It's a safe and clean environment for each and every one of them to take part in constructive play, developing their physical, social, mental and emotional skills. Edutainment experiences for older kids are also available.
From Dhs150 (per card, credit-based). Open Sun-Wed 10am-10pm, Thur-Fri 10am-11pm. Level three, Abu Dhabi Mall. Other locations, Dalma Mall, Marina Mall and City Mall Madinat Zayed, funcity.ae (02 644 2588).
Funworks


Imagine a kids' area where it's all giggles, wondrous adventures and there's loads to do and explore. There are two floors full of attractions in the capital that you've just got to visit. At Funworks, a smaller version of Fun City, you can find a giant soft play area, learning workshops, toddler playgrounds and much more. There are kid-friendly dining options, and a quiet parents' lounge for mum and dad. Funworks' motto is "powered by play", and that's exactly it has on offer, with a Mini Works area for younger kids too. Little ones of all ages can have fun at Funworks.
From Dhs150 (per card, credit-based). Open daily 10am-10pm. Yas Mall, funworks.ae (02 565 1242).
Little World Discovery Center
A concept based heavily on education meets fun, this centre is all about experiential, play-based activities for kids. Playing, creating, designing, building and role-playing, kids aged zero to three come in with a caregiver, while kids aged four and above are checked in for some supervised fun. When it comes to intellectual, emotional and physical development, this discovery centre is like no other. It's time to see a whole new world and learn a few things too.
Dhs99.75 (kids aged two and above, per hour), Dhs63 (kids under two, per hour). Nation Galleria, Corniche next to the St. Regis Hotel, littleworlduae.com (02 681 8824).
Louvre Abu Dhabi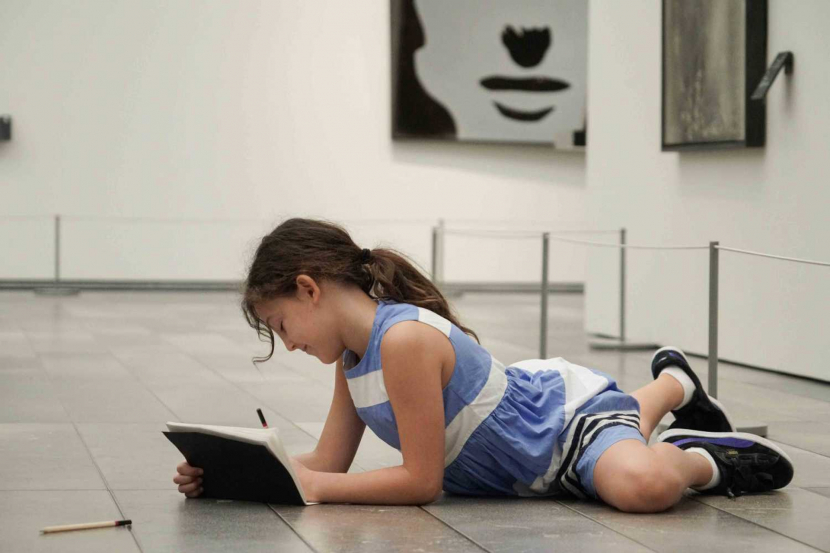 Well, bet you saw that one coming. We love the Louvre, and one of its key tenants is inspiring the next generation of artists in the UAE and ensuring young people can enrich their minds at a cultural landmark right on their doorstep. At the unique Children's Museum, artworks are specially designed to be at a child's eye-level and the vibrant space is home to a host of immersive and interactive zones, featuring hands-on activities and educational workshops.

A forward-thinking education initiative has also been rolled out, with Louvre bosses joining forces with Abu Dhabi Department of Education and Knowledge, plus schools in the capital, to develop materials and projects
for all ages.
Dhs60 (adults), Dhs30 (kides aged 13 to 22), free (kids under 13). Louvre Abu Dhabi, Saadiyat Island, louvreabudhabi.ae (600 565 566).
Mad Science UAE
If your kids are mad about science, Mad Science's sessions will challenge imagination, creativity and analytical thinking. Young ones aged four to 12 can take part in activities themed around a particular area of science such as electricity, magnetism, optics, biology and much more. Workshops are safe, and transport kids to a world that's beyond reality.
Prices vary. Various locations across Abu Dhabi, including American International School of Abu Dhabi, Airport Road, madscience.org (02 444 4333).
Orange Wheels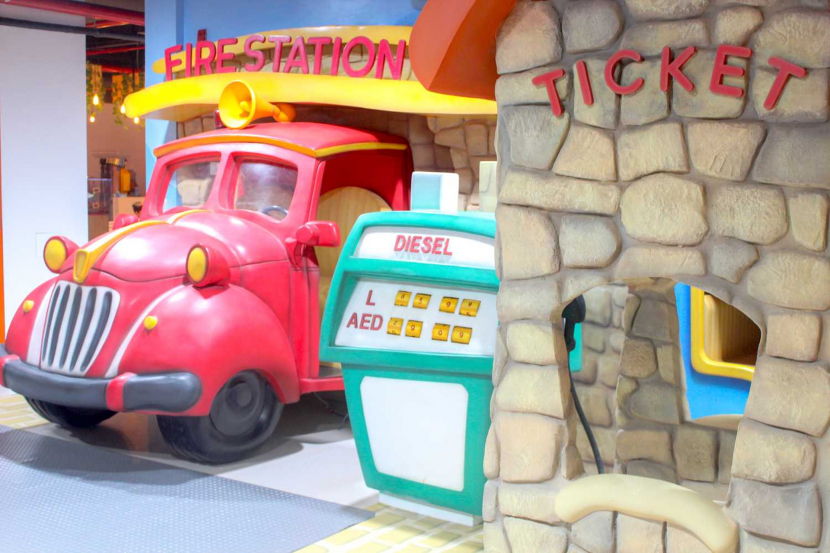 Entertainment centres often provide edutainment experiences as well and this is exactly what you'll find at Orange Wheels. The Fun Zone includes an arts and crafts corner with versatile activities to suit different age groups, plenty of supplies and a colourful, happy décor. There's also the kids' salon where they can dress up and role play with real treatments for them and mum, too.
Dhs140 (per day). Al Wahda Mall, orangewheels.com (02 667 4411).
Wadi Adventure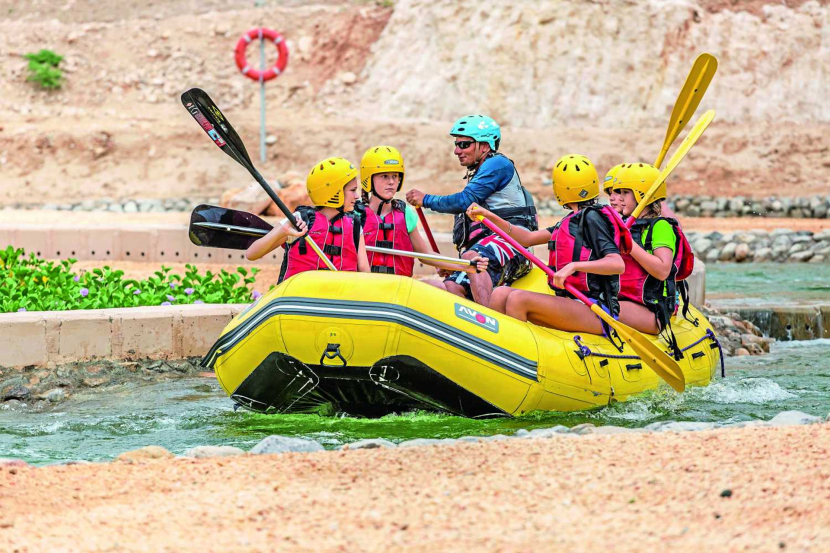 On the hunt for more excitement through sports? Wadi Adventure is no PE class, it's the UAE's first man-made whitewater rafting, kayaking, wakeboarding and surfing attraction and has been making waves in Al Ain for years. It plays host to the world's largest surf pool, and the Airpark boasts a two-storey aerial obstacle course, zip line, climbing wall and giant swing. The family pool and kids' splash area are available throughout the day for your enjoyment.
From Dhs65 per person. Open daily 11am-7pm. Jebel Hafeet, Al Ain, wadiadventure.ae (03 781 8422).
Xtreme Zone
From a large trampoline park and zip line to three-storey adventure ropes and ninja courses, kids can decide on the level of thrill they want to seek from the range of activities on offer. Based within Deerfields Mall, the outdoor zone is perfect to test and improve focus, balance and strength, while breathing in some fresh air. For the slightly tinier kiddies, they are 36 interconnected trampolines to keep them bouncing around.
From Dhs15-70 per play, depending on rides. Garden Area, Deerfields Mall, Al Bahia, xtremezoneme.com (02 666 9772).
Be the first to get all the latest Dubai news, reviews and deals into your inbox by signing up to our free
newsletter
,
click here to sign up
.