JBR Dubai, otherwise known as Dubai's Jumeirah Beach Residence, has loads of restaurants, bars and things to do from cinemas to mini golf, and of course a super free beach.

Located in the heart of 'new Dubai', JBR is among the busiest and liveliest neighbourhoods in the city which makes it quite hard to imagine that the area was once a quiet, sandy piece of coastline.

The neighbourhood was completed in 2010 and fast forward to 2020, and JBR is home to stunning beachside hotels, numerous residential towers and some of the city's busiest bars, pubs, restaurants and attractions.

Because there are so many outdoor cafés and restaurants, there is a lively vibe at night and it's wonderful place to take a stroll down pedestrian strip The Walk, or along The Beach – another very big draw.

Whether you call the area home, or you're simply passing by on holiday, make sure you take a look at our essential guide on where to eat, drink and go on JBR Dubai.

JUMP TO:
Restaurants in JBR Dubai
Bars in JBR Dubai
Attractions in JBR Dubai
Hotels in JBR Dubai
---
RESTAURANTS IN JBR
The Beach at JBR has heaps of choice for hungry visitors. And if you're looking for tasty Italian food, Bianca Mozzarella & Co. is worth stopping off at. With mozzarella being in the restaurant's title, it's safe to say that the standout ingredient is, of course, the creamy Italian cheese. Simple, effective and extremely tasty, Bianca is an excellent choice for JBR diners.
Open daily 10am-midnight. The Beach Mall, JBR (04 554 9459).
BiCE Ristorante
BiCE Ristorante in JBR offers up a sophisticated ambience. Dishes are very Italian and done with panache. Burrata is fresh, salmon and beef tartares are excellent and mains, especially if you go for the fish dishes, are well worth trying. The pizzas are tasty too.
Open daily 12.30pm-3.30pm, 7.30pm-11.30pm. Hilton Dubai Jumeirah, JBR (04 318 2520).
If you love a gastropub you're in luck, as this chilled-out spot on JBR is a top choice. The menu boasts massive burgers and all the usual bar snacks (chicken wings et al) while there's also a range of top deals, ladies' nights, live music, big screens and more. A central outdoor kitchen is a fun touch, too.
Open daily noon-3am. Sheraton JBR, The Walk, JBR (04 315 3861).
Black Tap

Burgers, check. Massive shakes. Check. Craft hops. Check. This US import now has three branches in Dubai, with a popular outlet at Rixos Premium Dubai in JBR. With a buzzing, friendly vibe and some stellar, great-value all-American grub, you can't go wrong here if you're after some all-American comfort food in JBR.
Open Sat-Wed 11am-midnight; Thu-Fri 11am-1am. Rixos Premium Dubai, JBR (04 399 9076).
This quirky Indian in JBR has vibrant and quirky décor, with bright turquoise furnishings. Meanwhile the large outdoor terrace is the ideal place for a spot of people-watching. The menu boasts a range of Indian dishes, from the standard (chicken tikka masala, lamb rogan josh, samosas), to the far less familiar (burrata butter chicken, anyone?).
Open daily noon-midnight. The Beach, JBR (800 6928779).
A pancake stack the size of your head? Go on then. Famous for its eggs, this Canadian chain offers up favourites such as smoked salmon Benedict, fried chicken with waffles, loaded omelettes and Nutella-filled crêpes. Expect a queue if you arrive at peak time on a weekend – but it's worth it for the top brekkie dishes by the beach. It's super-kid-friendly too.
Open daily 7am-midnight. The Beach, opposite JBR, www.eggspectaction.com (04 430 7252).
JB's Gastropub
This popular gastropub in JBR is ideal for residents and tourists. Its cool, industrial interiors make for a top place to watch the match on the plethora of screens inside, while there's also a cute terrace. Meat eaters can order a metre of sausage or one of the hearty burgers, while the build-you-own mac 'n' cheese is always a go-to for us.
Open Sat-Wed noon-2am, Thu-Fri noon-3am. Amwaj Rotana JBR, The Walk (04 428 3084).
If you're looking for comfort food with a side of live music, then this JBR hotspot is for you. With regular entertainment this is a popular spot in JBR and if you're heading here for a drink it's worth loading up on bar snacks, too. Mac 'n' cheese balls, Buffalo chicken flatbread, Angus beef sliders and Gangnam-style wings adorn the menu, but the mighty nachos are the highlight.
Open Mon-Thu 4pm-3am, Fri 1pm-3am, Sat-Sun 2pm-3am. Rixos Premium Dubai JBR (058 836 2891).
If you're looking for casual, Italian fare then Luigia isn't a bad idea. The restaurant itself is big and bright, the dishes are excellent and the portions are huge, too. There's a lengthy menu, with plenty of pizzas, all cooked in the specially built Neapolitan wood-fired oven.
Open Sun-Thu 5:30pm-midnight, Fri-Sat 12:30pm-midnight. Rixos Premium Dubai, JBR (04 349 6950).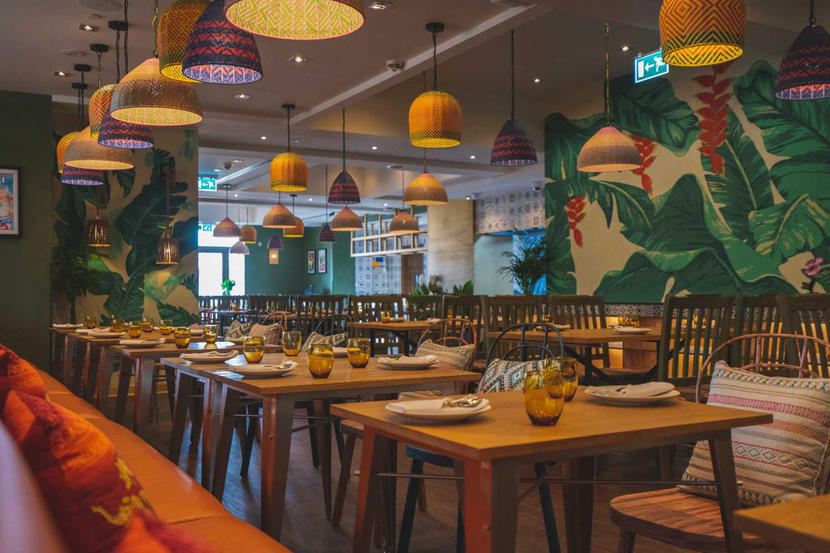 At this Thai restaurant in JBR, the menu is designed for sharing – with small plates evoking the street food served in the bustling alleyways of Bangkok. Try everything from watermelon salad with hand-ground dry shrimp floss – an ancient Thai recipe – to the refreshing avocado and crab cocktail. There's also menu dedicated to those following a vegan diet.
Open daily 1pm-1am. Hilton Dubai The Walk – JBR (04 374 7555).
Serving the original long, late breakfast until 3pm, this is the place for your full Irish fry-up. The JBR spot also serves up lunch, dinner and snacks such as the 'chip butty' but if you've a big appetite, only the McGettigan's Beef Burger will do. A mammoth meal, packed with bacon, cheese and dill pickle, we defy you to finish every last fry even if you do manage to put the whole patty away.
Open Thu 12.30pm-3am; Fri-Sat 10am-3am. Hilton Dubai Jumeirah, JBR (04 318 2999).
Beef brisket. Have that at this casual, all-things barbecue restaurant and you'll already be planning your next visit. It's all thanks to its signature built-in smoker which makes excellent aromas throughout the restaurant. Of course, that's not the only reason to head to Mighty Quinn's JBR, boasting crispy chicken sandwiches, lamb ribs, sliders and chicken and waffles. Walking along JBR? Make a pit stop here.
Open daily 9am-midnight. The Walk, JBR, www.mightyquinnsbbq.ae (04 380 1888).
Despite being low-key, the chef behind it is suitably well-known. Michelin-starred French-trained chef Mathieu Palombino of Motorino New York provides the menu, and the famed US pizzas are made with dough that has a traditional two-day rising process to make a bubbly yet crispy crust. There's a list of white and red pizzas with a variety of toppings, but don't miss the global bestseller, the beef pepperoni, which is perfectly crispy, slathered in tangy tomato sauce, lashings of pepperoni, fior di latte, Parmesan and pecorino. Even if you're not a pizza fan this cool pizza joint in JBR will convince you otherwise.
Open daily noon-midnight. JA Ocean View Hotel, JBR, www.motorinopizza.com (04 814 5590).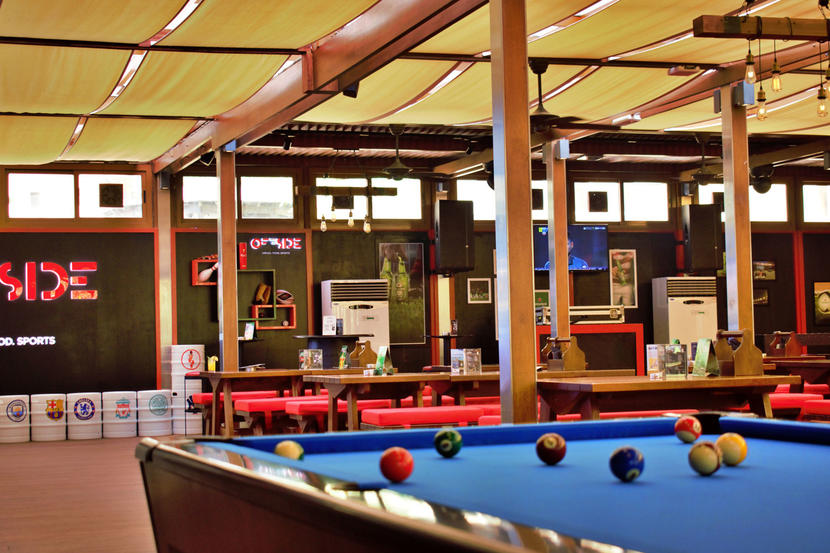 Offside in JBR is definitely one to head to for those Saturday games. Not only are there top happy hour drinks deals there's an absolutely massive projector screen to watch all the action. Getting peckish watching all that sport? Fret not, it has a banging bar menu with hot dogs, burgers, fish and chips and more – and it's all absolutely massive.
Open Mon-Thu 4pm-3am, Fri-Sun 12.30am-3am. JA Ocean View Hotel, JBR, www.offsidedubai.com (04 814 5590).
British celebrity chef Tom Aikens' spot at The Beach in JBR is a super-popular hangout on the weekend, with good reason. This cool, casual restaurant serves a cracking breakfast and there's a decent kids' area too, making it popular with families.
Open Sun-Wed 9am-midnight, Thu-Sat 9am-1am. The Beach, opposite JBR, www.potspansandboards.ae (04 456 1959).
This cool venue in JBR is a fun Japanese spot. The menu takes in robata grills, sushi rolls and skewers and it's all tasty – from the more unusual (the sashimi pizza) to the familiar (volcano rolls).
Open Sat-Thu 6pm-2am; Fri 1pm-2am. DoubleTree by Hilton Hotel Dubai - Jumeirah Beach, www.ramusake.ae (04 559 5300).
Rosso
This casual Italian eatery in JBR boasts a buzzing bar and a reasonably priced drinks menu making it well-suited to a fun and casual meal with friends.
Open daily 12.30pm-2.30pm. Amwaj Rotana, JBR (04 428 3088).
Winner of our Best Steakhouse award at the Time Out Dubai Restaurant Awards 2020, and with an upbeat and upmarket vibe, STK JBR is one to dress up for. It may be pricey, but when it comes to the steaks, there's plenty of top choices well worth your dirhams, especially it's perfectly cooked fillet and sirloin – butter-soft and bursting with flavour. Cool and moodily lit (and party central once brunch comes along), there are numerous reasons to head to the JBR branch of this popular chain.
Open Sun-Wed 7pm-1am, Thu & Sat 8pm-1am, Fri 1pm-1am. Rixos Premium Dubai, The Walk, JBR, www.stksteakhouse.com (04 323 0061).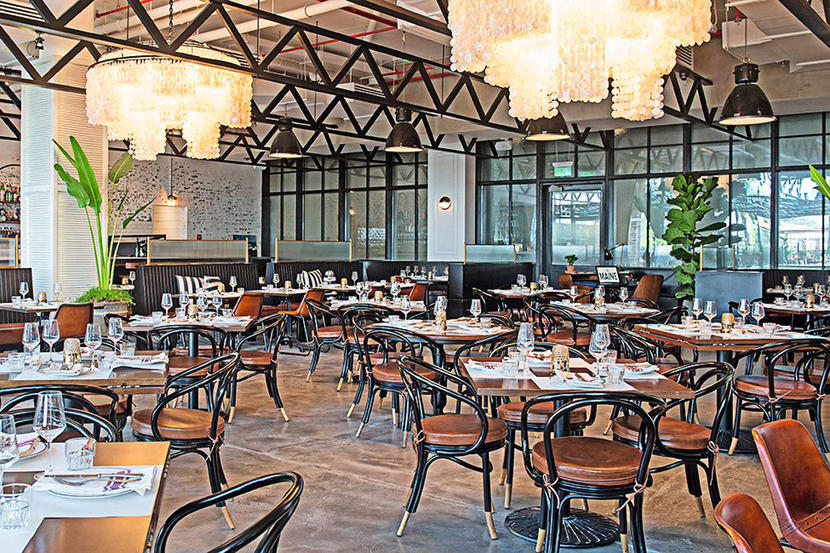 If you're looking for top dishes and a fun vibe, this JBR hotspot is a go-to www.timeoutdubai.com/area-guides/jumeirah-beach-residence. This popular restaurant, which picked up a Highly Commended gong in the North American and Caribbean category at the Time Out Dubai Restaurant Awards 2020. Alongside the oysters, there's a range of super fish dishes as well as grills and unmissable desserts (baked skillet cookie, we're looking at you).
Open Sat-Tue noon-11.30pm, Wed-Fri noon-12.30am. DoubleTree by Hilton Dubai – Jumeirah Beach, The Walk, JBR, www.themaine.ae (04 457 6719).
---


BARS AND PUBS IN JBR DUBAI
This chilled-out JBR hotel beach bar is set on the left of the pool at Rixos Premium Dubai JBR as you look towards the beach, with the beach club area boasting giant comfy sun loungers and a huge swimming pool for cooling off in. As the evening rolls in, the bar becomes livelier as the partygoers arrive to kick off their evenings.
Open daily 10am-midnight. Rixos Premium Dubai, JBR, www.azure-beach.com (04 342 1924).
Black Tap JBR
Black Tap in JBR is a fun spot for craft hops that has been making waves wherever it goes – from the US to Dubai. If the lengthy menu of 20-plus craft hops isn't around, you'll find them grafittied into the mural on the wall behind the bar. It's got character, it's got swagger, and it's got some absolutely pumping New York City hip-hop from the '80s and '90s.
Open Sat-Wed 11am-midnight, Thu-Fri 11am-1am. Rixos Premium Dubai, JBR (04 399 9076).
There are few things we love more than sipping a drink on the beach. And there are only a handful of bars where you can actually chill out, toes in the sand overlooking JBR beach. Bliss Lounge is an old-school spot at the far end of The Beach, and sits above the boardwalk that leads to the bridge to Bluewaters Dubai. It's a prime spot for people watching, especially on an early evening or weekend where families stroll along enjoying the gorgeous winter weather. It's not the swishest of beach bars, but it's a decent spot.
Open daily 12:30pm-2.30am. Sheraton Jumeirah Beach Resort, www.blissloungedubai.com (04 315 3886).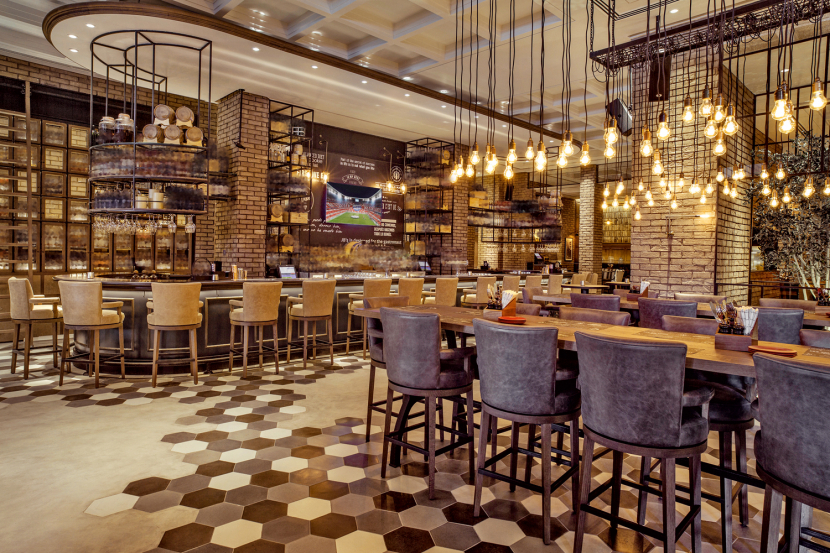 One of the more established pubs in JBR, JB's has industrial fixtures and a warm vibe. It's big, it's spacious and it's more often than not busy. With good happy hour deals and some proper pub grub, it's a smashing place to while away an afternoon.
Open Sat-Wed noon-2am, Thu-Fri noon-3am. Amwaj Rotana JBR, The Walk (04 428 3084).
This massive bar in JBR has had a fair bit of air time when it comes to talking about the best bars in the city. And that's because it does everything well. At approximately 22,000 square feet, this is one of the largest bars in Dubai. And even despite its enormous proportions, on any given Friday afternoon you'll find it every bit as packed to the rafters with the ground floor transformed into an impromptu dancefloor as revellers sing along to a familiar soundtrack at this JBR bar's popular brunch. .
Open Mon-Thu 4pm-3am, Fri 1pm-3am, Sat-Sun 2pm-3am. Rixos Premium Dubai JBR (058 836 2891).
Another of Dubai's favourite institutions that's been on something of a growth spurt, the Irish pub's fifth Dubai bar brings something of a refreshing twist on many bars in the JBR area – it's smoke-free. That aside, it looks and feels like the McGettigan's we know and love. Expect the same craic, grub, sport and beverages that you'd find at its other branches.
Open Sun-Thu 12.30pm-3am; Fri-Sat 10am-3am. Hilton Dubai Jumeirah, JBR, www.mcgettigans.com (04 318 2580).
Standing in place of what was Girders Garden in JBR is sports bar Offside. And while it has a similar lay out to its predecessor, picnic benches and all, it has a far slicker look and feel. This JBR bar means business, and its business is sport. Not only is there a massive 200-inch screen covering the whole of one wall, there are plenty of bar sports – should you prefer to play than watch. Foosball, pool (paid for, typically), hops pong and darts are all on offer – which is great news if you want to make a night of it in JBR.
Open Mon-Thu 4pm-3am, Fri-Sun 12.30am-3am. JA Ocean View Hotel, JBR, www.offsidedubai.com (04 814 5590).
Picture the scene. The sand between your toes, palm trees swaying in the breeze, an icy cold beverage in hand. So far, so beach holiday. This popular beach spot in JBR is an excellent place to unwind on the sand, pint in hand. There's even a fire pit area to the left of the restaurant, where you can chill out amid the lush gardens. A former winner of Time Out Dubai's Best Beach Bar with good reason.
Open daily noon-11pm. The Ritz-Carlton, Dubai, JBR (04 318 6150).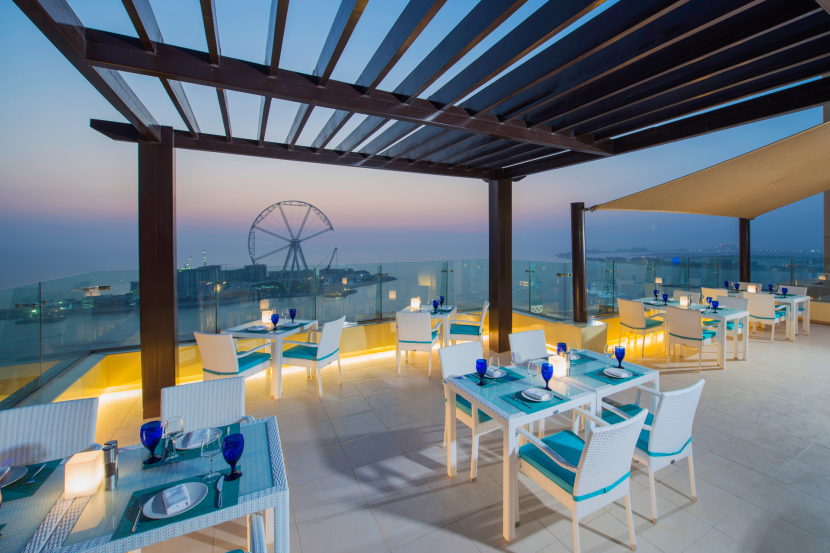 Set up on the 35th floor of the Hilton in JBR, this white-washed terrace bar has views of the Palm Jumeirah in one direction and the Ain Dubai on the other, so it's great for visitors. It's not the fanciest place on JBR there but the views are decent.
Open Sun-Thu 5:30pm-2am; Fri-Sat 5:30pm-3am. Hilton Dubai Jumeirah (04 374 7888).
Ramusake in JBR is a dimly lit venue with graffiti-style art on the walls. It feels edgy and is filled with a well-heeled set, so make sure you're not too casually dressed. There's large selection of sharing dishes and an extensive mixed drinks menu which can be enjoyed indoors or on their terrace bar. The ladies' night is popular too at this JBR bar.
Open Sat-Thu 6pm-2am; Fri 1pm-2am. DoubleTree by Hilton Hotel Dubai - Jumeirah Beach, www.ramusake.ae (04 559 5300).
With sister restaurants in London, New York, Miami and Downtown Dubai, the uber-trendy steakhouse brand fits well with Dubai's nightlife and dining scene. The space itself is cool and moodily lit, with bold artwork adorning the walls and cherry blossom trees among the tables. STK's bar is the ideal spot for a pre-dinner drink, but it's also worth a visit if you're not dining at the JBR restaurant.
Open Sun-Wed 7pm-1am, Thu & Sat 8pm-1am, Fri 1pm-1am. Rixos Premium Dubai, The Walk, JBR, www.stksteakhouse.com (04 323 0061).
SushiArt
This funky sushi chain has a cute spot in JBR. Try loads of adventurous and classic sushi platters as well as the low-carb cut n'roll invention featuring surimi, avocado and carrots wrapped in cucumber is light and refreshing, and ideal for a day on the beach. If you're looking for quick, creative Japanese eats make a date at this JBR sushi restaurant.
Open Sun-Thu 11am-11.45pm, Fri-Sat 11am-12.45am. The Beach, JBR, www.sushiart.ae (800 220).
This US bar in JBR is a top spot for pre- or post-dinner. Whether you sit inside or out, the vibe here is great - the terrace is lovely in cooler weather and picks up quite a buzz, though the indoor bar is equally popular. If, however, you do get peckish, we can't recommend the food enough and has picked up several Time Out Dubai restaurant awards in the past. It's a low-key, cool spot that you'll find yourself returning to time and again, and you won't regret it.
Open Sat-Tue noon-11.30pm, Wed-Fri noon-12.30am. DoubleTree by Hilton Dubai – Jumeirah Beach, The Walk, JBR, www.themaine.ae (04 457 6719).
With laid-back beach vibes, tropical drinks and old-school Polynesian décor, there are a lot of reasons to like Trader Vic's in JBR. Created by Vic "The Trader" Bergeron in 1934, the brand has become massively popular all around the world, and nowhere more so than in the UAE. And if you're not on holiday you'll feel like you are once you've had your first sip of the bar's signature Polynesian mixed drinks.
Open Sun-Wed 5pm-3am; Thu-Sat 4pm-3am. Hilton Dubai Jumeirah, www.tradervicsjbr.com (04 318 2530).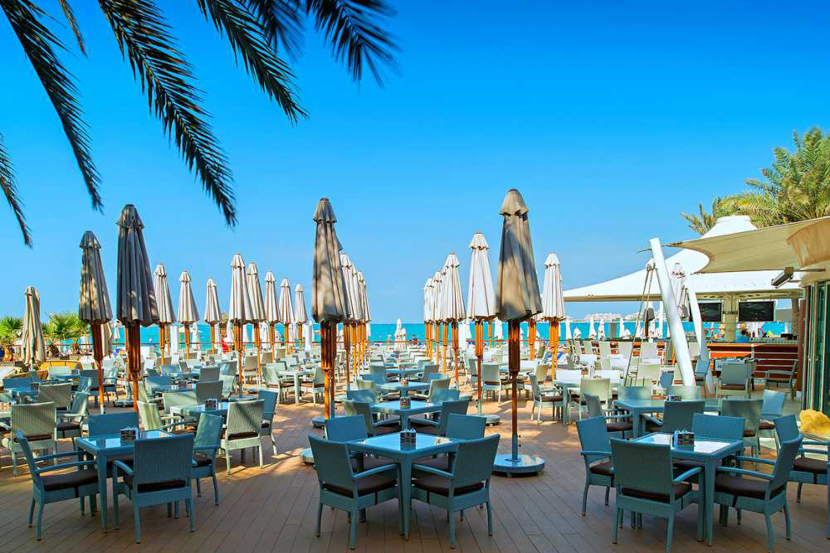 This chilled-out spot in JBR has long been a popular seaside bar to relax with a pint and your mates. Set just off the beach in JBR, visit in the day to enjoy the ocean views and holiday vibes. There's a large outdoor TV screen, which in winter makes for a decent spot to watch the match al fresco, in a more chilled-out environment than some busier bars in the area.
Open daily 10am-11pm. Hilton Dubai Jumeirah, JBR (04 318 2582).
---


ATTRACTIONS
Ever wonder what it's like to play a round of golf in space or along the ocean floor? It's a pretty far-fetched thought, but 3D Blacklight Minigolf Dubai in JBR gives people the chance to try it out with a mini golf experience featuring neon backlighting and 3D effects painted on the walls. Each illuminated room has a different theme to it – including a vast space setting, coral reefs depicting the ocean and orange-lit desert scenes. A round takes between 45 minutes and two hours, depending on the amount of players brought along (and how good you are).
Dhs110 (adults), Dhs90 (kids aged five-12), free (kids below four). Open daily noon-1am. Bahar Plaza Level, The Walk, JBR, www.3d-blacklight-minigolf.ae (04 565 7621).
AquaFun
With 74 different games, AquaFun on JBR is a huge inflatable waterpark, packed with slides, swings, blockades, bumps and even monkey bars. Why not spend a weekend making your way around the 2,700 square metre site, which can be found a little under 100 metres offshore from The Beach in JBR.
Dhs150 (adults), Dhs120 (kids aged five-12), Dhs110 (per person for a group of four or more). Open daily 9am-6.30pm. The Beach, JBR, www.aquafun.ae (04 551 6180).
Byky
Explore JBR and find your own favourite new hangouts in no time by hiring a variety of different bicycles. With automated bike hire stations dotted along The Beach www.timeoutdubai.com/area-guides/jumeirah-beach-residence you don't need to return them to the original pick-up point – just slot them into the nearest one when you're done. Hire starts from Dhs40 for 45 minutes.
From Dhs40. Various locations, www.q8byky.com (04 238 4344).
Do you love solving puzzles? Is spending the afternoon escaping from a room up your street? If so, then Countdown Challenge in JBR is for you. There are five different escape rooms to choose from, each with different difficulty levels, and one of them even involves actors to add to the experience.
Prices vary. Open daily 3pm-midnight. Bahar Plaza Level, The Walk, JBR, www.countdowndxb.com (04 427 4027).
For some seriously exhilarating experiences on the water, check out Hydro Water Sports on JBR's The Beach. It offers Flyboarding – a craze that enables riders to use water pressure to 'fly' above the sea; Hoverboarding – which uses a thrust system similar to the Flyboard and riders can do tricks and stunts in the air or on the sea skimming across the waves (think snowboarding on water); the Jetovator – a jet-powered flying watercraft that works with a jet-ski and is like riding a Flyboard, only with handlebars and a seat (think riding a bicycle in the air); and the jetpack. This is one of the city's 100 percent coolest things to do, and you can do it, too.
Prices vary. Open daily 10am-5pm. The Beach, JBR, www.hydro-watersports.com (054 598 5353).
Roxy Cinemas
Fancy catching the latest movie? Well, if you're in JBR you can relax and enjoy your favourite flicks in the luxury cinema. For everything you need to know about films in Dubai, click here.
Open daily. The Beach, JBR. www.theroxycinemas.com (800 7699).
Treat your kids to some soaking wet play at JBR's walk-in water park. With giant buckets tipping water over squealing children, sprinklers to twist and spray at friends, plenty of shallow water to splash and paddle in, and a dry play area for when they have had enough of the water, Splash Pad is the perfect way to entertain your family on sunny days on JBR.
Dhs65 per hour, Dhs80 for two hours, Dhs99 for the full day. Open daily 9am-8pm. The Beach, JBR, www.splashpaddubai.com (800 637 227).
TEPfactor in JBR is a brilliantly original escape room-meets-adventure challenge concept that will test your wits, skill and athleticism in a series of brainteasers, obstacles and more. Fancy spending an afternoon tackling its 21 different and intriguing challenges? Well be prepared to break a sweat. Each room is based on one of four broad categories: fitness, patience, logic and skill. Think tyre swings, rope climbs, agility tests and a range of other clambering-related conundrums that will have you simultaneously sweating and head-scratching.
Dhs99 (hourly per adult), Dhs79 (hourly for kids aged eight-12). Kids aged eight and up can play, but eight to 12-year-olds must be accompanied by an adult to join in on the challenges. Sun-Wed 10am-midnight; Thu-Sat 10am-1am. Bahar Plaza Level, The Walk, JBR, www.tepfactor.ae (04 398 8438).
Reminiscent of the European al fresco dining scene, you'll be reminded of trips to Greece, Italy and Spain just strolling through the JBR area which has a plethora of international food options right on the street. As well as a kids' play park, you'll find a running track, an al fresco gym and plenty of shops and stalls. Chilling out on the beach, watching the camel riders head up and down the sandy stretch, and catching some rays is definitely one of our favourite things to do with visitors.
Open daily. The Beach, JBR, www.thebeach.ae.
---


HOTELS
Amwaj Rotana
Amwaj Rotana, while lacking its own private beach, has a large pool plus a laid-back approach and reasonable prices. The restaurants – Italian eatery Rosso, in particular – are worthy of a visit, regardless of whether you're a guest or not, as is swish gastropub JB's. There's a fully-equipped gym and fitness centre and you can also swim laps in the temperature-controlled outdoor pool.
www.rotana.com/rotanahotelandresorts/unitedarabemirates/dubai/amwajrotana (04 428 2000).
DoubleTree by Hilton Hotel Dubai – Jumeirah Beach
This purely suites hotel has a range of 109 one-, two- and three-bedroom suites, each with a spacious balcony – some with super views across to The Beach, Palm Jumeirah and Bluewaters Dubai. There's a large swimming pool with a super swim-up bar and a private beach – although there are ongoing building works around the beach area of the hotel. Restaurants include Arabic restaurant Al Maeda, as well as beach grill Areia and all-day dining Gastro Kitchen. There's also popular US spot The MAINE Oyster Bar & Grill as well as Japanese restaurant Ramusake.
The Walk, JBR doubletree3.hilton.com/en/hotels/uae/doubletree-by-hilton-hotel-dubai-jumeirah-beach (04 453 3333).
Hilton Dubai Jumeirah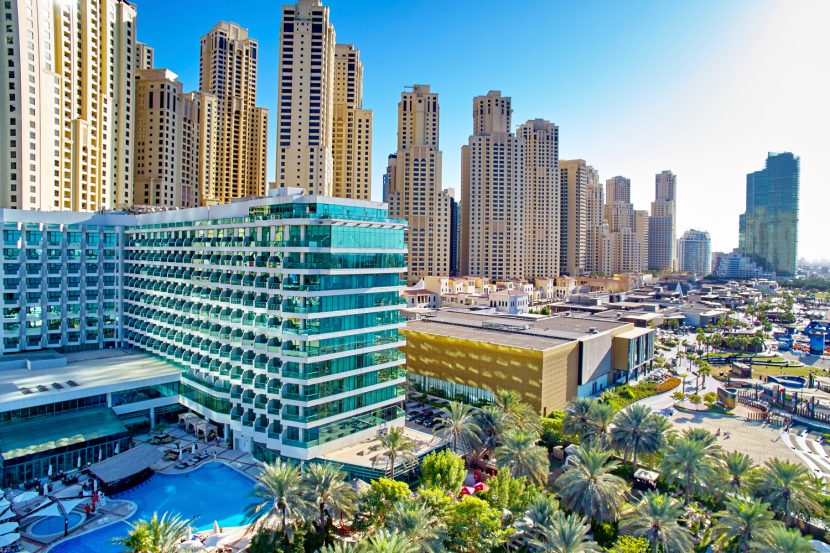 A classic resort hotel, the Hilton Dubai Jumeirah in JBR is more package than out-and-out luxury: the decent-sized rooms are comfortable and functional, with cute little balconies and views over the endless blue of the Arabian Gulf. The hotel's large pool has a swim-up bar with underwater stools perched around the side so you can sit and slurp your mixed drink while keeping cool. Pleasant terraced gardens lead down to the white sandy beach where a number of water sports are available, and a decent health club and gym add to the list of facilities on offer at the family-friendly hotel. The second part of the hotel Hilton Dubai The Walk is set just across the road and houses Pure Sky Lounge and Mango Tree Thai Bistro.
www3.hilton.com/en/hotels/uae/hilton-dubai-jumeirah-DXBJBHI/index.html (04 318 2999).
JA Ocean View Hotel
This hotel at the end of The Beach at JBR Dubai is set next to the Amwaj Rotana and near to Sheraton Jumeriah Beach. It's ideally situated for visitors wanting a quick trip to the sandy beach and has super views out to sea to Palm Jumeirah and Ain Dubai. JA Ocean View Hotel has a range of rooms and suites and is good for families, too. Looking to dine in the hotel in JBR? It has a range of restaurants and bars including sports bar Offside, where you can enjoy live sport on a massive screen as well as buffet restaurant Le Rivage and brilliant Italian restaurant Motorino Pizzeria, which serves up tasty New York pizzas and picked up a Highly Commended gong at the Time Out Dubai Restaurant Awards 2020.
www.jaresortshotels.com/dubai/ja-ocean-view-hotel
This trendy hotel, found on The Walk in JBR, opened in mid-2017 and brought with it a swathe of fantastic nightlife and dining options, further expanding the local area's appeal for partygoers. There's Lock, Stock & Barrel – JBR that's wildly popular with residents, swanky global steakhouse chain STK, which was crowned Best Steakhouse at the Time Out Dubai Restaurant Awards 2020, and Black Tap JBR – the second instalment of the effortlessly cool New York burger and hops bar. With a number of different suites facing out over the Arabian Gulf, this is a premium resort for the luxury traveller looking for a lively, VIP experience.
www.premiumdubai.rixos.com (04 520 0000).
Sheraton Jumeirah Beach
This hotel in JBR is one of the oldest on the strip and has a prime beachfront position. It's a small, low-rise hotel compared to others around it and it stands out because of it. Best-known for its beach bar Breeze, there's also several other popular restaurants housed in Sheraton Jumeirah Beach. Visit for Chinese classics at Peacock or try out gastropub Black Goose, which opened in 2019. There's a range of 23 suites and 233 rooms, some with sea views. The major draw is the sprawling gardens and beachfront space, where you can sit and unwind by the huge pool, or take a small short onto The Beach or across to Bluewaters Dubai.
The Beach, JBR. www.marriott.com/hotels/travel/dxbjs-sheraton-jumeirah-beach-resort/ (04 399 5533).
Sofitel Dubai Jumeirah Beach
This 31-storey hotel is ideally located in the middle of Dubai's JBR just a short stroll across to The Beach. There's a range of 444 modern guest rooms at this popular French chain, including 27 junior suites, 12 prestige suites and 2 Opera suites, lots with stunning views of The Beach, Palm Jumeirah and Ain Dubai. The pool area is small and doesn't get a huge amount of sun, but staff are friendly and there's a relaxed poolside bar area. Elsewhere in the hotel there's a fully-equipped gym, spa and Plantation Brasserie, which serves breakfast, lunch, dinner and Friday brunch.
The Walk, JBR www.sofitel-dubai-jumeirahbeach.com (04 448 4848).
The Ritz-Carlton, Dubai
The Ritz-Carlton, Dubai offers pure luxury right on the sands of the Arabian Gulf. The five-star getaway is positioned on a private beach at JBR, yet the Mediterranean-style hotel and the lush gardens that spill out from it feel serene and far removed from the bustle of the area itself. The hotel is split into 294 luxury accommodations, including 193 guest rooms, 60 club-level rooms and 41 suites, each with a balcony overlooking the sea. The hotel's restaurants are varied with plenty of options to pick from. For laid-back, toes-in-the-sand dining, Palm Grill is an eatery on the beach with a menu packed full of grilled specialities, fresh seafood and fresh-fruit beverages, while Splendido offers up authentic Italian dishes in a sophisticated ambiance. While other restaurants in the hotel include Asian offering Blue Jade, as well as Amaseena, where you can experience authentic Bedouin-style dining. Facilities include a top-of-the-range spa featuring 12 treatment rooms, and the resort also offers an extensive programme of beachfront activities, including kite flying, bird-watching and football. Feeling more chilled-out? Laze by one of the huge pools or chill-out in the hotel's swim-up bar at La Baie, which plays out lively beats for and fun, relaxed afternoon in the sun.
www.ritzcarlton.com/en/hotels/dubai/dubai-beach (04 399 4000).
For all the latest news and things to do in JBR Dubai, click here.
Be the first to get all the latest Dubai news, reviews and deals into your inbox by signing up to our free
newsletter
,
click here to sign up
.