Head outside
Become one with nature
If you have animal fans in tow, Ras Al Khor Wildlife Sanctuary is home to wetlands featuring salt flats, mangroves and lagoons. Flamingos are the area's stars, although more than 60 species of bird and 500 types of flora and fauna can be spotted here. To get your wildlife fix – and a moment of peace outdoors – it really can't be beaten, especially if you're being thrifty this month.
Free. Open Sat-Thu 9am-4pm. Ras Al Khor Road (04 426 6822).

Catch a race at Meydan
Fancy at day at the gee-gees without forking out a fortune? Dubai Racing Club offers free general admission to a limited section within the Meydan Grandstand with a large number of seats available – and with great views too. The racing season is currently underway, so make a date in your diary for a fun night out.
Thu 6.30pm & Sat 4pm, until Fri April 12. Meydan Racecourse, Nad Al Sheba, www.dubairacingclub.com (04 327 2110).

Dally along the sands at La Mer
If you have a penchant for lazing the day away on the sands then you can't really go wrong at La Mer. The sprawling new development features plenty of sandy shoreline, free showers and quirky street art to check out. Plus there are more than 130 restaurants and shops, plus a waterpark (chargeable, unfortunately) if you're pushing the boat out.
Free. Open Sun-Wed, 10am-10pm (retail), 10am-midnight (restaurants); Thu-Fri, 10am-midnight (retail), 10am-midnight (restaurants). La Mer, Jumeriah 1 (800 637 227).

Explore Al Seef
Found upon the shores of the Bur Dubai side of Dubai Creek, the Creekfront development is packed with shops and restaurants. But equally it's a top spot to just meander around and enjoy the views of the Creek. Al Seef is an area of Dubai steeped in history, with a huge amount of Emirati culture. This latest attraction leans heavily on the contemporary elements of life in Dubai in 2019, but in equal measure reflects and pays homage to the city. Well worth a visit.
Free. Open daily 10am-midnight. Al Seef, Bur Dubai, www.alseef.ae.

Feel the love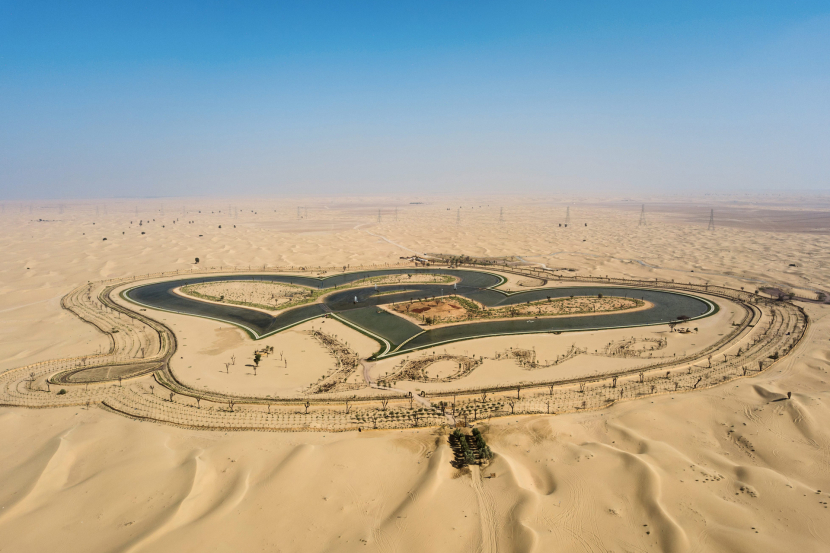 From palm tree-shaped sands to entire islands that resemble a map of the world, Dubai is nothing short of remarkable when it comes to man-made feats. But now it's added one more charming structure to that list – and this one's for the romantics. The "Love Lakes" are two intertwined heart-shaped lakes set up near Al Qudra Lakes, and it's full of all things related to love. So if you're looking for romance – or just that soppy Insta-snap – it's time to take a trip to Al Qudra.
Al Qudra Lakes, Al Qudra, Dubailand.

Fly a Kite
Spend the day chilling out at one of Dubai's most popular public beaches – Kite Beach. Chill out with views of the Burj Al Arab, take a book and watch the hours fly by. Alternatively head the waves with a range of awesome watersports available too (for a fee), or bring it back to basics and fly a kite.
Just off Jumeirah Beach Road, Umm Suqeim.

Gawp at Dubai Aquarium & Underwater Zoo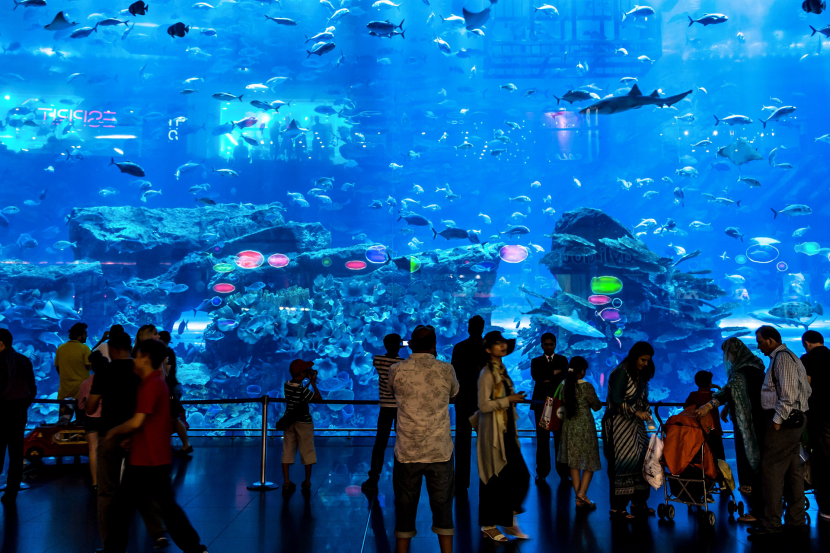 There's nothing more relaxing than gazing at some fish serenely swimming around. And if you're on the skint side, you don't actually have to go into Dubai Aquarium & Underwater Zoo to see them – you'll get a pretty decent view from inside The Dubai Mall. Marvel at the sharks and don't miss a sighting of the rare endangered sawfish. Educational, fun and free. Winning.
Open Sun-Wed 10am-11pm, Thu-Sat 10am-midnight. The Dubai Mall, Downtown Dubai (04 448 5200).

Get your nose in a book
She reads bestsellers by the seashore… and now you can too. There are beach libraries dotted across Dubai's coastline thanks to an initiative rolled out by Dubai Municipality last year. So, put down the smartphone and sprawl out with a page turner. Each library has been equipped with a selection of books – many of which were chosen to highlight and educate readers about the UAE's history and formation. The library on Kite Beach has a beanbag and table area, plus lighting well after sunset so you can curl up and watch the time tick by.
Free. Open 24/7. Kite Beach, Umm Suqeim.

Have a pool day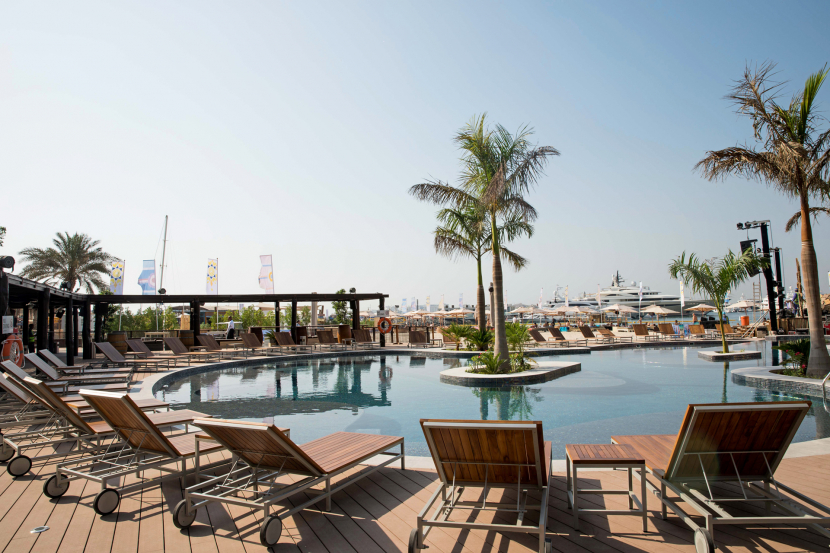 Somewhat bucking the trend of expensive beach clubs in the city, Barasti went big and bold with the opening of its new pool on the lower floor, by proudly declaring it to be totally free. That means you have to get down there early to stand a chance of getting a bed or a decent spot for catching a few rays, but it's worth it to have a fun-filled day out at one of Dubai's most established beach clubs.
Open Sat-Wed 11am-1.30am, Thu-Fri 11am-3am. Le Méridien Mina Seyahi Beach Resort & Marina, Al Sufouh (04 318 1313).

Hit the dunes
This one presupposes the availability of a 4x4, but if you do have one then you'll quickly realise why dune bashing is such a popular pastime in this part of the world. Whether you're in a massive car or hitting the desert on a quad bike, smashing through the sand is one of the most exhilarating experiences you'll find this side of Skydive Dubai. If you don't own a suitable vehicle yourself, hopefully you have a friend who does (and who can be bribed with your picnic-making skills).

Laze around in the park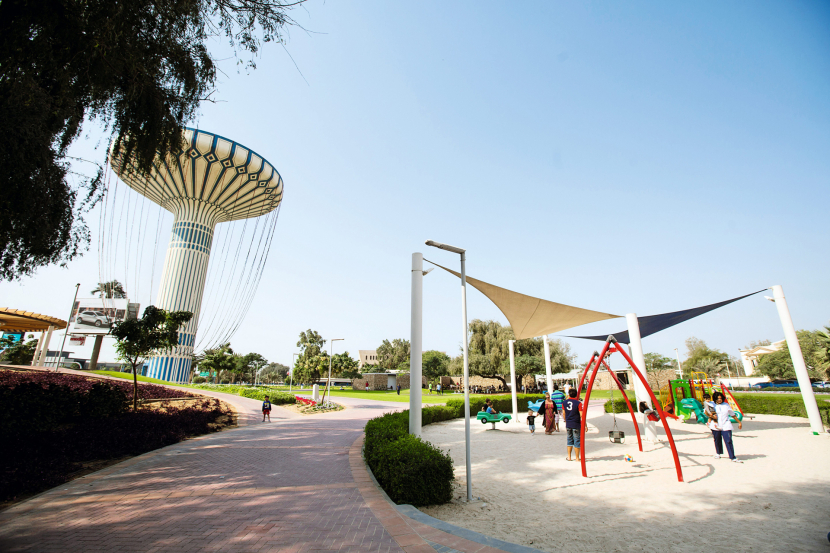 Despite being in the middle of the desert, Dubai has a surprising number of green spaces, and there's no better way to while away an afternoon than lazing around in one of the city's wonderful parks. Bring the family along for a fun day out at Khazzan Park, the first totally solar-panelled amenity of its kind in the country, and the sprawling Zabeel Park, where you can watch the boats gently cruise across the lake (though that's not entirely free – entry costs a fiver). Bring a picnic and make a day of it.
Al Khazzan Park: free. Al Safa Street. Zabeel Park, Dhs5. Off Al Majlis Street, Al Kifaf, www.ripeme.com.

Look back in time at Dubai Creek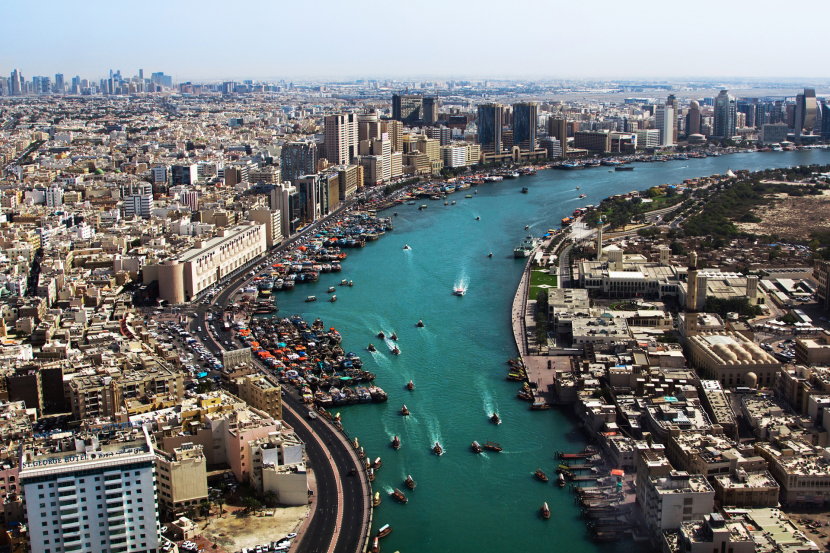 Head to the old town and embrace Dubai's past with a wander along Dubai Creek. Feel you can stretch to Dhs1? Abras cross the water every few minutes and will cost you just Dhs1. It's a short trip to the other side but it's a memorable one. While you're down there you might as well head over the Gold Souk, where you can marvel at all of the jewellery and gems that you can possibly imagine. Though you might not be able to purchase any finery if you're keeping the purse strings tight, it's worth a visit just to see the opulance itself and soak up the atmosphere.
Dhs1. Dubai Creek.

Ooh and aah at The Dubai Fountain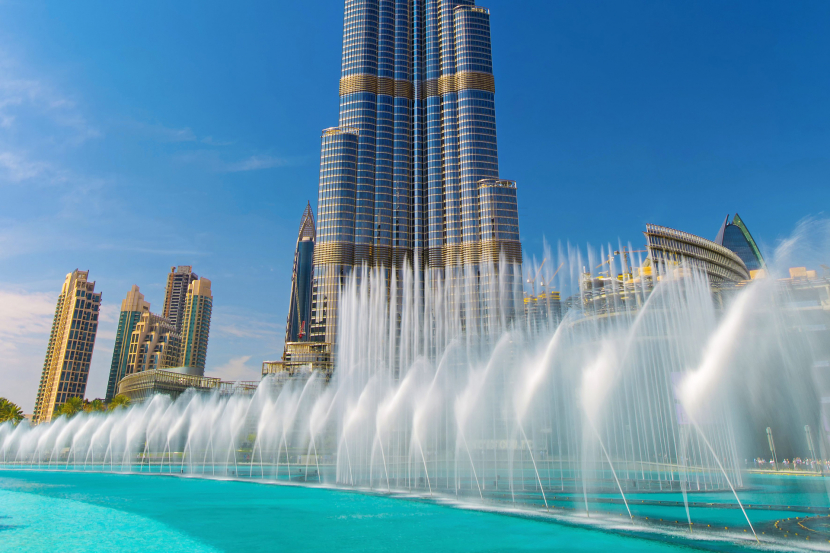 Even the most hardened of Dubai dwellers can't help but marvel at the dancing waters, and to do so won't cost you a fils. The Dubai Fountain is more than 900ft in length and shoots water into the air to a range of different songs, from classical music to contemporary Arabian tracks and modern Western pop songs. It's a spectacular show and one that's always a massive hit.
The Dubai Mall: Open daily 10am-midnight. Downtown Dubai (800 382246255). Dubai Fountain shows: Free. Sat-Thu 1pm & 1.30pm, Fri 1.30pm and 2pm, daily 6pm-11pm (every 30 mins).

Sprawl out on the grass
When was the last time you stretched out, faced the sky and just let the world pass you by? There's a lot to be said for deliberately slowing down the pace of life and just chilling out. In JLT, behind clusters P, Q and R, sits JLT Park, a grassy expanse (bouncy running track included) where you'll find al fresco yogis, kids playing and families with dogs. It's laid-back, relaxing and it's totally worth whiling away a few hours on a weekend and just watching the (occasional) cloud glide by.
Cluster P-R, Jumeirah Lakes Towers.

Take a dart down to The Beach
Reminiscent of the European al fresco dining scene, you'll be reminded of trips to Greece, Italy and Spain just strolling through the area which has a plethora of international food options right on the street. As well as a kids' play park, you'll find a running track, an al fresco gym, plenty of shops and stalls, and even a giant inflatable assault course (sadly chargeable) in the sea. Chilling out on the beach, watching the camel riders head up and down the sandy stretch, and catching some rays is definitely one of our favourite free things to do.
Free. The Beach, JBR, www.thebeach.ae.

Take a long trek along a man-made island
Palm Jumeirah is one of the most astonishing feats of engineering in the world, purely for the fact we have a palm tree-shaped island built into the middle of the Arabian Gulf. The boardwalk is an 11km jaunt stretching from one end of the Palm's crescent to the other. Spend some time circumnavigating the Palm and take in some of the city's top views and increasing your fitness.
Palm Jumeirah.

Watch the imaGINE show at Dubai Festival City
There are lasers, lights, fountains, mega video displays and a huge sound system to go alongside it. IMAGINE at Dubai Festival City is one of the top free attractions in the city running regularly throughout the week, and pops up with some pretty awesome performances on special occasions too. Whether it's the Game of Thrones spectacular it ran last summer ahead of the seventh season of the show, or the original production A Child's Dream it also put on, you're bound to spot something sensational here. And best of all, it's 100 percent free to see.
www.dubaifestivalcity.com.

Window shopping
Barter at Dubai souks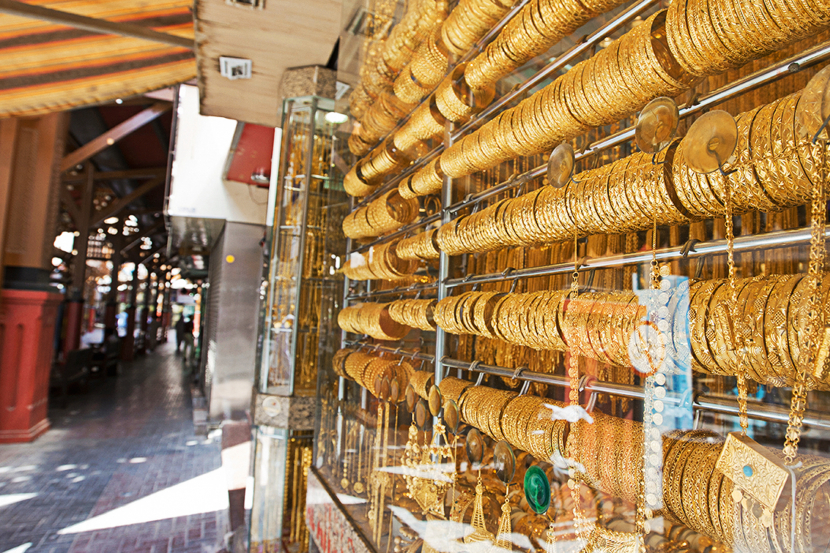 Retail therapy in Dubai doesn't necessarily mean heading to one of the (many) sprawling malls. For a more traditional experience, head down to one of the many souks lining either side of Dubai Creek. The Gold Souk has hundreds of retailers offering a selection of jewellery, diamonds and other precious stones, while the Textile Souk has a wonderful selection of colourful fabrics. Brush up on your bartering skills or just go for a free wander.
Dubai Creek, Deira.

Get green fingers at Garden Souq
The Garden Souq at Dubai Garden Centre opened in time for the start of the winter season and will be open every Saturday until the end of March. It's free to peruse and, if you are in the market to part with some cash, you may find an utter bargain from a range of local vendors and artists all selling their wares. As well as household pots and plants, you can also expect to find a unique collection of clothes, jewellery, shoes, fashion accessories, home décor products, handmade items and many other artisanal products. There's also live music and free cooking demonstrations, so we're on board.
Free entry. Until March 30, 2019. Every Sat 10am-2.30pm. Dubai Garden Centre, Al Quoz, www.dubaigardencentre.ae (04 590 4333).

Get lost in The Dubai Mall
Even if you haven't the dirhams to indulge in a spot of retail therapy, the world's biggest mall still has plenty you can do and see all year round. It's home to Dubai Ice Rink where you can learn to skate, or just watch other people do their best Bambi impressions.
The Dubai Mall: Open daily 10am-midnight. Downtown Dubai (800 382246255).

Have a gander round a Ripe Market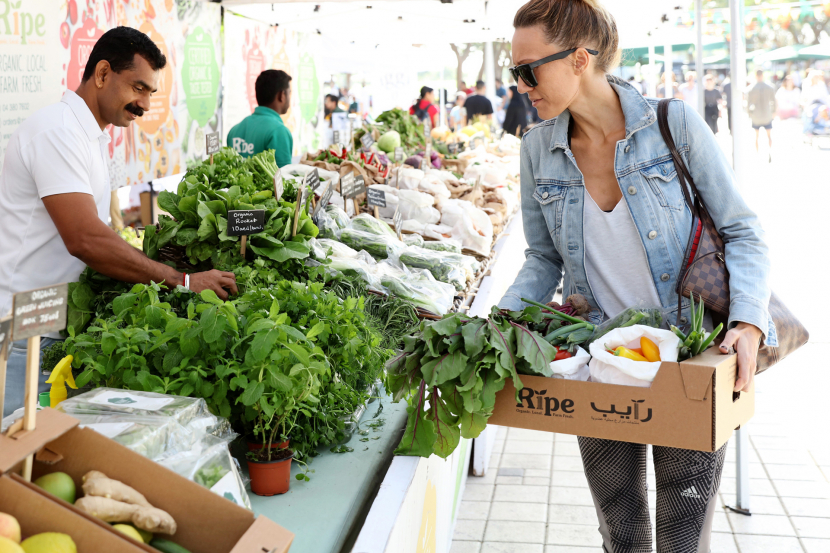 There's something so very chill about picking some fresh fruit and veggies on a relaxing Friday morning. Every week of the winter you'll be able to head along to Ripe Outdoor Market at Dubai Police Academy Park, where there'll be fresh, organic, locally sourced fruit and vegetables from this al fresco shopping hub. Of course, what you want to buy isn't free, but heading along to this winter market with local businesses and a range of fun activities is. Everything is geared towards healthy living, so expect boot camps and parent and child sports classes as well.
Fri-Sat 9am-7pm. Dubai Police Academy Park, Umm Suqeim, www.ripeme.com (055 628 6481).

Visit Dubai's biggest fish market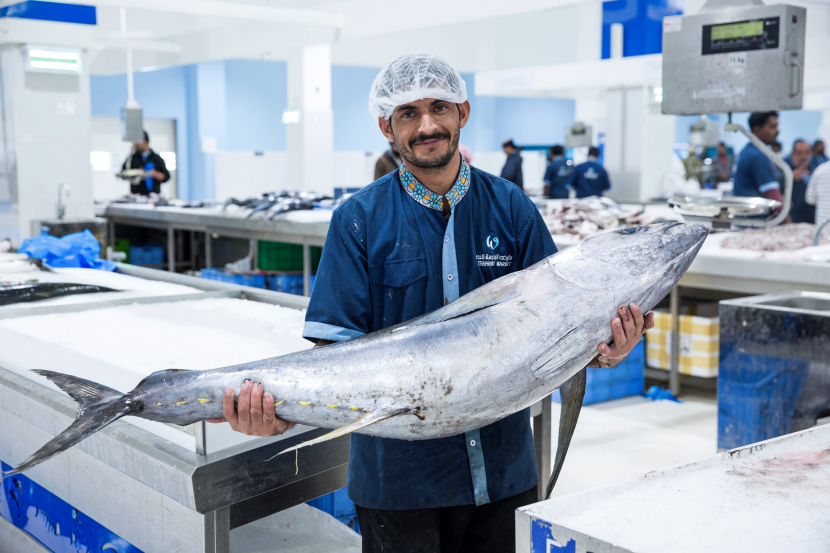 It's been more than a year since Deria's iconic Fish Market closed up shop, but from the ashes comes the new and improved Waterfront Market, a new, cleaner, air-conditioned retail space with state-of-the-art technology and hygiene measures. Not only has the market carried on its legacy, its upped the ante, too. Get to know what's in store before heading out to have a look at the freshest produce around.
Fish section: open 24/7. Other sections: 6am-1am. Restaurants: 10am-11pm. Shops: 10am-10pm. Al Khaleej Road, Corniche Deira, waterfrontmarket.ae (800 627538).

Work up a sweat
Free yoga at Karma Yoga
All Karma Yoga newbies can get a free yoga session on Saturdays. Simply team up with a friend who is a member and you'll get bent and stretched at all angles at the Balinese-themed studio, without having to pay for the pleasure.
Free. Sat 9am-7pm. Marina Plaza, Dubai Marina (04 399 9301).

Get on your bike at Al Qudra
This scenic 86km cycle track in the desert provides a real workout while offering amazing views of the sand dunes, and even a spot of wildlife along the way. The route has a 50km loop, as well as an 18km stretch along Al Qudra Road known as The Stick. Both are popular with seasoned cyclists and novices alike and the track is lined with resting stations and there is a café and a shop at the opposite end of the track to The Stick. If you get up early enough there's even a chance to ride off into one of the best sunrises in the whole of the UAE.
Free. Al Qudra Cycle Track; Past Arabian Ranches.

Puff it out at F45
If you fancy leaping, lifting, lunging and twisting your way to a better body then F45 could be just the kick up the bum that you need. The circuit-style HIIT classes last 45 minutes (60 minutes on a weekend) and focus on both strength and cardio. It can be a bit on the pricy side usually, but head to the F45 website and you can sign yourself up for a completely free two-week trial with unlimited sessions across the fortnight. If you keep it on it will cost you a few bob, but for a free kick-start you really can't go wrong.
Free. Locations include Dubai Marina, Motor City and Jumeirah Beach, www.f45training.com.

Make a night of it
1OAK ladies' night
US export 1 OAK throws open its doors to ladies every Tuesday night, offering unlimited drinks at the swanky super club in the JW Marriott Marquis Dubai. A top spot if you're after unlimited drinks and unlimited dancing.
Tue 10am-3am. JW Marriot Marquis Dubai, Business Bay (052 881 8888).

Ají gents' night
With ladies' night being a popular Dubai tradition, gents' nights are slowly gathering pace. While not every place in town offers up deals for those with Y-chromosomes, this Peruvian-Japanese spot offers two mixed drinks plus 20 percent off food every Wednesday evening for the men.
Free. Wed 8pm-midnight. Club Vista Mare, Palm Jumeirah (04 552 0244).

Armani/Privé ladies' night
For those who like to start their week with a bit of a boogie, Sundays are reserved for The One, with unlimited free drinks for ladies between midnight and 3am and a playlist of hip-hop and R&B that is guaranteed to get you up on the dancefloor.
Free. Sun midnight-3am. Burj Khalifa, Downtown Dubai (04 888 3308).

Coco Ladies' day
Coco has two different ladies' offers on a Sunday, so you're covered whether you're gallivanting at day or night. During the day ladies get complimentary pool access, unlimited mixed drinks and selected dishes for Dhs35. On an evening, ladies get three complimentary free drinks. There are loads of sunbeds and loungers to sprawl out on, as well as plenty of big comfy seats by the pool if you just want to take in the summer vibes. Or just pop in after work in Media City for a casual end to the week.
Sun noon-5pm or 5pm-10pm. Media One, Dubai Media City (04 427 1000).

Grapeskin ladies' night
Not only do ladies get two free glasses of house grape at Grapeskin on Tuesday nights, you'll also get a complimentary cheeseboard with a few slithers of brie, cheddar, red Leicester and the like with a handful of crackers. The venue is busy with a well-heeled crowd and the vibe is fun but still chilled with the post-work crowd letting their hair down.
Tue 8pm-10pm. La Ville Hotel & Suites, City Walk, Al Safa Street (054 309 5948).

Jazz & juniper night at Masti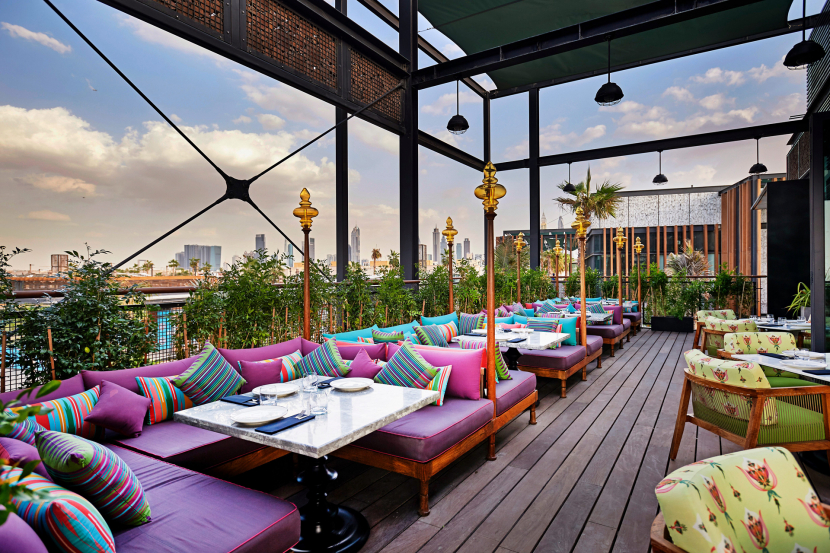 Head down to MASTI in La Mer on a Monday and you'll get three free juniper-based mixed drinks and a night full of jazz music.
Mon 8.30pm-11pm. La Mer South, Jumeirah 1 (800 62784).

Madmen gents' night
Rub shoulders with the city's media types and blokes get two free drinks on Mondays. Qwerty runs the deal between 6pm and 8pm, with half-price happy hour from 5pm to 7pm.
Mon 6pm-8pm. Media One Hotel, Dubai Media City (04 427 1000).

NOEPÉ ladies' night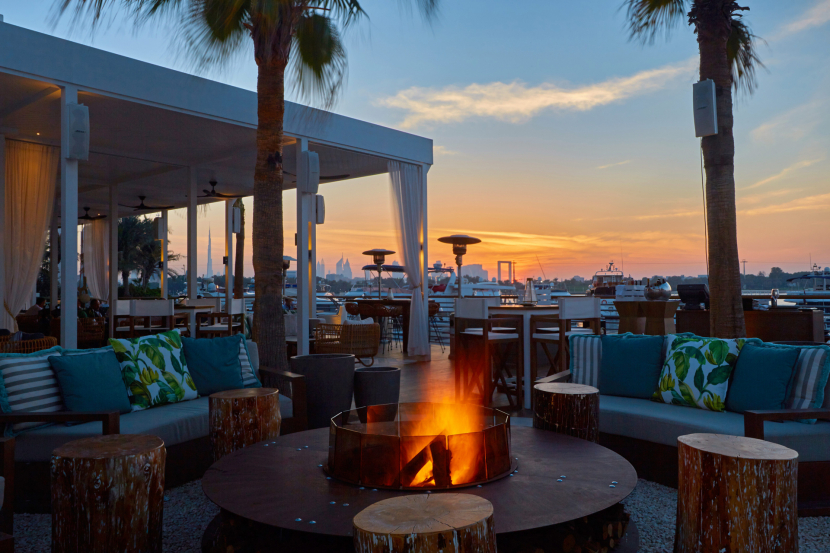 If you're looking for a laid-back evening out that will whisk you away to a holiday headspace, visit this cute Cape Cod-inspired eatery at Park Hyatt Dubai. Meander your way through lush gardens to this Creekside spot and kick back and watch the boats on the water. The menu is top – especially if you're a seafood and lobster fan – drawing on New England influences. And the best news is you'll get free grape from 8pm until midnight, every Tuesday. DJ Fatima spins the tunes to create the upbeat vibe. A chilled spot for a well-earned catch up. A good one for when you have visitors in town.
Tue 8pm-midnight. The Promenade, Park Hyatt Dubai, Deira (04 602 1814).

The House Party ladies' night
This fun bar has fast become a Sheikh Zayed Road hotspot. With retro games (think giant jenga, Twister et al), The House Party Bar is decked out like, you guessed it, a house. Posters on the walls, bedroom, bathroom kitchen – the works. The ladies' night kicks off at 6pm with three free drinks and Dhs30 drinks thereafter. Regular hops pong will go pink with colourful drinks while DJ Natalie Brogan will be supplying the dance tunes.
Wed 6pm-2am. Fairmont Dubai, Sheikh Zayed Road (04 332 5555).

Weslodge gent's night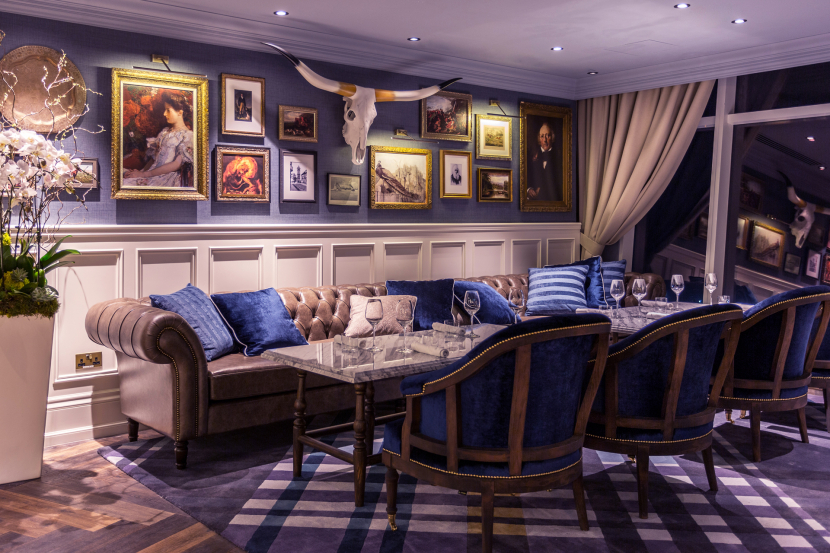 Men, head along to this sky-high Canadian restaurant on a Tuesday night and you'll get two free drinks and 50 percent off main courses. Dishes include sliders, fried chicken, steaks and more. Plus, there are stunning views from this 68th floor spot.
Prices vary. Tue 7.30pm-2am. Ongoing. JW Marriott Marquis Dubai, Business Bay (04 560 1700).

Soak up some culture
Check out some street art
Dubai is increasingly awash with colour, and like everything thing else in our fair city, even the graffiti is of the highest calibre. With stunning street art adorning buildings, car parks and even metro pillars, there's never been a better time to get out, stretch your legs and appreciate some al fresco art.
Various locations including Karama, City Walk & JBR.

Delve into XVA art
For 15 years XVA has been the home of contemporary Middle Eastern art in Dubai. Just a short stroll from the museums in the Al Fahidi Historical Neighbourhood sits this excellent arts space. There's an ever-changing roster of exhibitions on display plus semi-permanent stalls selling bespoke paintings, sculptures, posters, homeware and more.
Open daily 10am-6pm. Al Fahidi Street, Bur Dubai, xvagallery.com (04 353 5383).

Get artistic at Alserkal Avenue


Dubai isn't all about brunches and beaches. Alserkal Avenue is the go-to place for independent cinema, art, photography and designers in the city. Events, exhibitions, concerts and lectures are held throughout the year, putting fresh and established talent alike in the limelight, and they are often free. Intriguing spots include Green Art Gallery, showcasing modern Arab art from across the Middle East, Gulf Photo plus, Dubai's only dedicated photography centre and The Odd Piece, which is crammed with antique and modern furniture to deck out your home.
Street 8, Al Quoz 1, Dubai (050 556 9797).

Recycle plastic and eat free
Just finished drinking from a plastic bottle or see one lying around? Don't you throw it away – you could get a cup of coffee or even a whole meal for free. Every Sunday, Rove Hotels across the city will knock Dhs1 off your bill for every plastic bottle you swap.
Sun 6.30am-11.30pm. Various locations, rovehotels.com (800 7683).

Stroll around a dhow yard
Try something different and visit a dhow yard. Boats from little abras to ocean-crossing dhows are built and repaired in the Al Jaddaf dhow-building yard and it is fascinating to explore and take great photos of.
Off Al Khail Road, turn off just before Business Bay Crossing, Oud Metha.

Take it back at Al Fahidi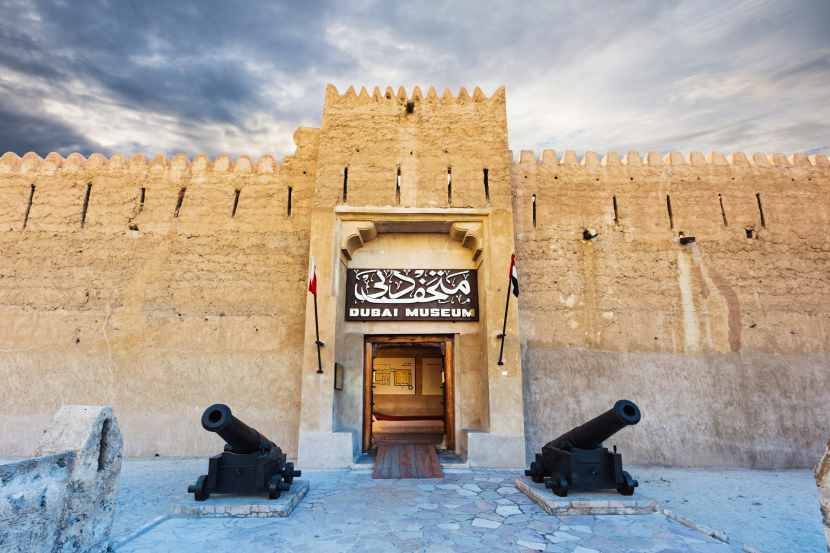 The historic Al Fahidi District is filled with museums, workshops, cafés and restaurants which takes you back to the UAE's rich and intriguing past. The area was once a hub for textile and pearl merchants in the shadow of the imposing Al Fahidi Fort, which now houses Dubai Museum. Away from that, the districts narrow walkways are scattered with cosy cafes, restaurants, some great art hubs and several cultural centres.
Al Fahadi Historical District, Bur Dubai.

Try and get all of Burj Khalifa into a picture
It's no easy feat, but that hasn't stopped millions of people from trying. On any given day, in the grounds of The Dubai Mall, with a stunning upwards view of the world's tallest tower, you'll find tonnes of tourists and residents alike contorting themselves into all sorts of bent-out-of-shape positions trying to get the entirety of the Burj Khalifa into frame. Manage it though, and you'll have a very Instagram-worthy image to show off. Fail and you'll have some funny snaps for your efforts.
The Dubai Mall, Downtown Dubai.

Watch some camels run at Al Marmoom Racetrack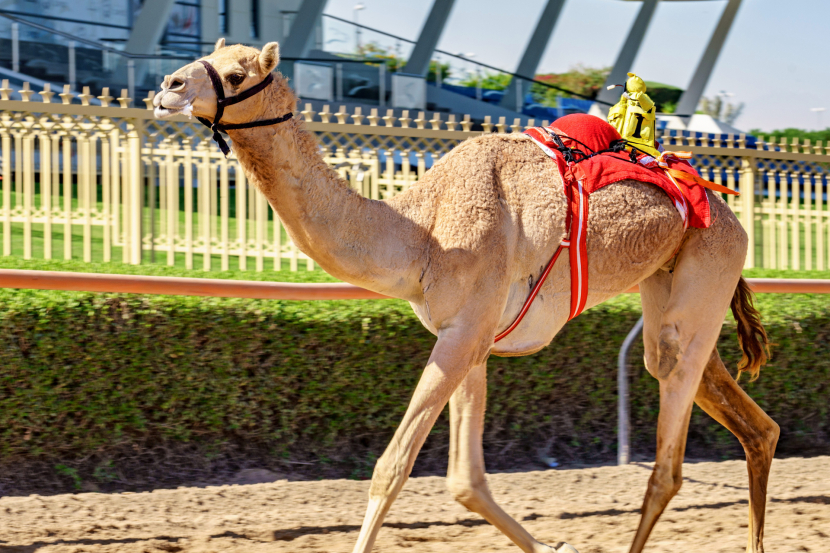 You're in the desert, why not try something different and watch some camel racing? And best of all, you can experience this traditional sport for free. Head to Al Marmoom to see these animals taking to the track, complete with robot jockeys. Cheer on your favourite and tick it off your Dubai bucket list.
Call for times. Dubai Camel Racing Club, Al Marmoom Racetrack, Dubai-Al Ain Road, www.dcrc.ae (04 832 6526).

Museums
Al Ahmadiya School
The city's first school opened in 1912 and took on only boys. By 1962, it had grown to house 823 students, divided among 21 classrooms and overcrowding finally forced the school to move to a new location in 1963. Visitors can poke a head through the narrow wooden doors to learn more about the school's establishment, restoration and the curriculums of different periods.
Free. Sat-Thu 8am-7.30pm, Fri 2.30pm-7.30pm. Al Ras area, Deira (04 226 0286).

Antiques Museum
Not a museum in the traditional sense, what you will find here is a shop, but one that is nevertheless highly intriguing and equally recommended as a visitor experience to the city. Push back heavy wooden-framed doors and find an impressive rabbit warren of rooms, housing handicrafts and artisanal goods.
Free. Daily 9am-8.30pm. Al Quoz (04 347 9935).

Camel Museum
Previously a camel stable for sheikhs, if you have any unanswered questions on the "desert ships", this should be your first port of call. With information ranging from the significance of the animals to Arabic culture, their uses, biological entomology along with an explanation of the markings that signify which tribe a camel belongs to, Rakab House offers a comprehensive overview of the humped creatures.
Free. Sun-Thu 8am-2pm, Fri closed. Al Shindagha Historical Area, Bur Dubai (04 392 0368).

Coffee Museum
What's a day without a coffee break? They say it all started in the Ethiopian highlands hundreds of years ago when coffee was discovered after a goat ate some unknown berries from a tree and was awake all night. Soon, it spread across the continent and arrived in the Arabian Peninsula where Arabs introduced it to the world. The rest, as they say, is history.
Free. Sat-Thu 9am-5pm, Fri closed. Al Fahidi Historical District, Bur Dubai (04 353 8777).

Coin Museum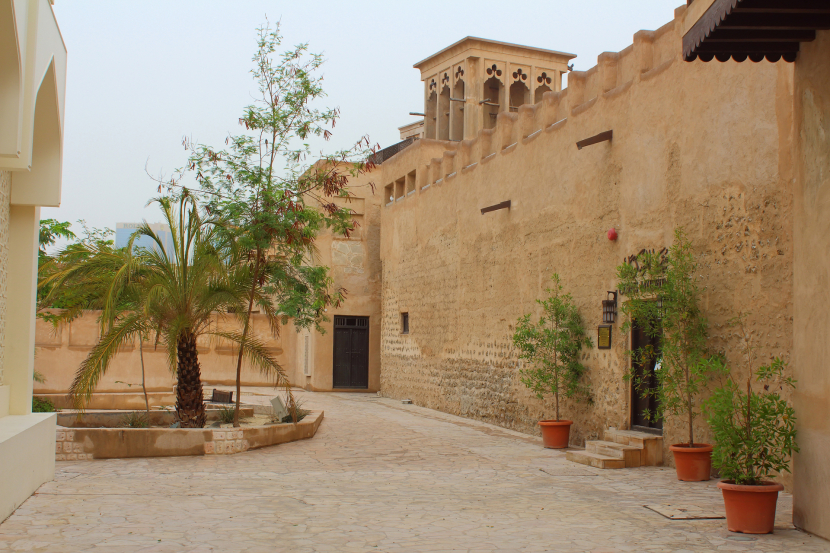 With seven rooms displaying currency from the region, including Levant, Andalusia and Egypt and money from civilisations including the Ottomans and the Egyptian Mamluks, there's no denying these ancient artefacts impress having withstood the rigours of time.
Free. Sun-Thu 8am-2pm, Fri-Sat closed. Al Fahidi Historical District, Bur Dubai (04 703 3517).

Heritage House
Located next to the Al Ahmadiya School, this traditional two-storey courtyard house was built in 1890 and was restored in 1994. The venue opened as a museum in 2000 and its rooms and life-like exhibits display traditional settings and components that made an Emirati house, including the women's majlis, traditional cooking utensils, a bridal room and cattle pen.
Free. Sun-Thu 8am-7.30pm, Fri-Sat, 2.30pm-7.30pm. Al Ahmadiyah Street, north of Spice Souk, Deira (04 226 0286).

Traditional Architecture Museum
Formerly the residence of Sheikh Juma Bin Maktoum, this traditional house was built in 1928 and today reflects the history of traditional architecture in the UAE. The house is located on the banks of Dubai Creek and explains elements of traditional architecture, including wind tunnels, as well as displaying traditional decorations and construction tools.
Free. Sat-Thu 8.30am-8.30pm, Fri 2.30pm-8.30pm. Al Shindagha, Bur Dubai (04 392 0093).
Be the first to get all the latest Dubai news, reviews and deals into your inbox by signing up to our free
newsletter
,
click here to sign up
.