Dubai loves a record-breaker, and currently holds more than 220 world records (is that, in itself a world record?).

We painstakingly combed through some of the biggest, highest, longest, strangest Guinness World Records – and there are some absolute beauties in here.

Maybe that's what we're really here for, to build the largest chocolate sculpture in the world – if we don't devour the whole thing first…

Now we just need Roy Castle and we're on the way.
City with the most buildings
300m or taller
These are the official names of the records, btw. Unsurprisingly Dubai leads the way with the most super-skyscrapers in the world. Some 21 buildings reach more than 300m into the sky, more than twice as many as any other city in the world. Lofty ambitions indeed.
Fastest police car in service
The fleet of Dubai Police supercars is world-famous, so it's perhaps unsurprising that the unbelievably zippy Bugatti Veyron concept car clocked a face-squishing 407kph back in 2016. Bad guys watch out, because there's no getting away from this Dhs9.5 million supercar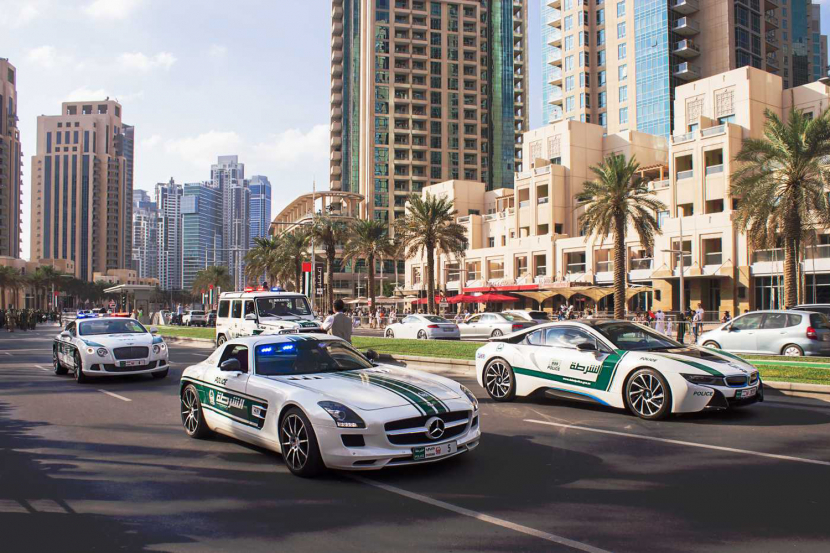 Highest tennis court
Long-term Dubai residents or long-term YouTube fans will no doubt recall the day the Burj Al Arab's helipad transformed into the world's loftiest tennis court – when Roger Federer and Andre Agassi played a friendly match to promote the ATP Dubai Duty Free Men's Open back in 2005. Top marks to the ball boys and girls on shift that day, it's a long way to go to retrieve lost tennis balls…


Largest chocolate mosaic
Possibly the most delicious entry on this list, the largest chocolate truffle mosaic covered a surface area of some 4,358.4 sq ft and was created in November 2013 at the Dubai World Trade Centre, created by Za'abeel Palace Hospitality and Sara Al Shinqaiti. That's about 400 square metres of pure nom.
Largest cup of hot tea
…was presumably made after a Brit had the world's longest sit down after the world's worst day. The biggest brew in history came in at a whopping 5,000 litres when it was made in what must have been the world's biggest cup (right?) in Global Village in January 2018. So, the only question is, one lump or 8,000?
Largest firework map of the world
To see in 2014 Dubai decided to light up the world, literally. The islands formerly known as The World Islands (now just The World, FYI) saw fireworks shoot up from each continent in a thoroughly over-the-top-but-still-proper-awesome way. Clearly the days of linking arms and making up the words to Auld Lang Syne are long gone... thankfully.

Largest human image of a hashtag symbol
Life imitated social media art back in March 2018 when GEMS Education and the Varkey Foundation turned 1,927 students into a real-life, human-sized hashtag. Sort of like the Megazord from Power Rangers, only better at Instagram. #humanity4thewin
Largest indoor ski resort
Is, of course, Ski Dubai, which took the record when it opened in December 2005. It might not be for much longer, but before you spill your hot choccie don't worry, the record should be staying in Dubai when the Meydan One Mall opens with a gigantic 1km-long ski slope. It's slated for a 2020 opening, so keep your eyes peeled and your mits at the ready.
Largest infinity mirror
Of all the record holders we didn't expect DEWA to be the guys who shattered (get it... erm, who said that?) the record for the largest infinity mirror. It was created in 2015 to mark Earth Hour and measures in at a huge 7 square metres, but technically it's infinite square metres, so beat that.
Largest jigsaw puzzle
Corners first, work your way in – everyone knows that. 12,000 pieces and 6,000 square metres later and DMCC took home the record for the world's largest jigsaw depicting the nation's founding father HH Sheikh Zayed bin Sultan Al Nahyan during the Year of Zayed in 2018, marking his 100th birthday.

Largest building in the shape of a picture frame
We wonder where this award ended up… In either a spectacularly coincidental case of nominative determinism, or the most self-descriptive name for a building, the Dubai Frame took this record home when it was officially awarded in May this year. Standing at 150m tall and 95m wide, this wildly impressive structure is open every day to visitors, with adult tickets priced at just Dhs50.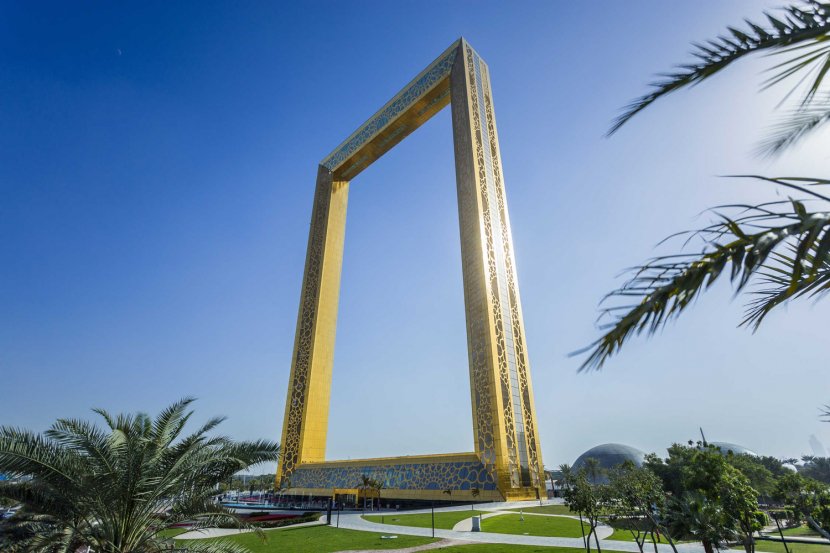 Largest vertical maze (permanent)
As opposed to all of those temporary vertical mazes we can hardly move for. This is one you can easily spot in Dubai, because it's on the side of a building, permanently visible on the aptly-named Maze Tower on Sheikh Zayed Road near the Trade Centre area. It measures some 3,974.22 square metres and completed in 2012. Thankfully, you don't need a trail of breadcrumbs to find your apartment on the inside.
Longest art work
"Longest" in a couple of senses, we guess, since this near-500 metre-long piece took 17,484 from 92 nationalities 526 hours to complete between September 1999 and March 2000. The picture, called "One World" depicts 192 countries living in unison.
Longest gold chain
Not included in the sales (obviously) but created to celebrate Dubai Shopping Festival in January 2015, the world's longest gold chain measures more than 5.5km (yes, kilometres) and was produced by the Dubai Gold & Jewellery Group.
Longest parade of taxis
Or as we like to call it, rush hour on Sheikh Zayed Road – thankyouverymuch, tip your waitresses. In actual fact the longest continuous line of taxis consisted of 1,200 Dubai Transport-licensed taxis making their way through the city all the way back in March 2000. We hope the passengers had change...
Longest underwater live radio broadcast (unsupported)
Channel 4's Stu Tolan managed to broadcast live over the airwaves from under the waterways at The Ambassador Lagoon at Atlantis the Palm for more than five continuous hours. It went on for five hours, 25 minutes and 25 seconds.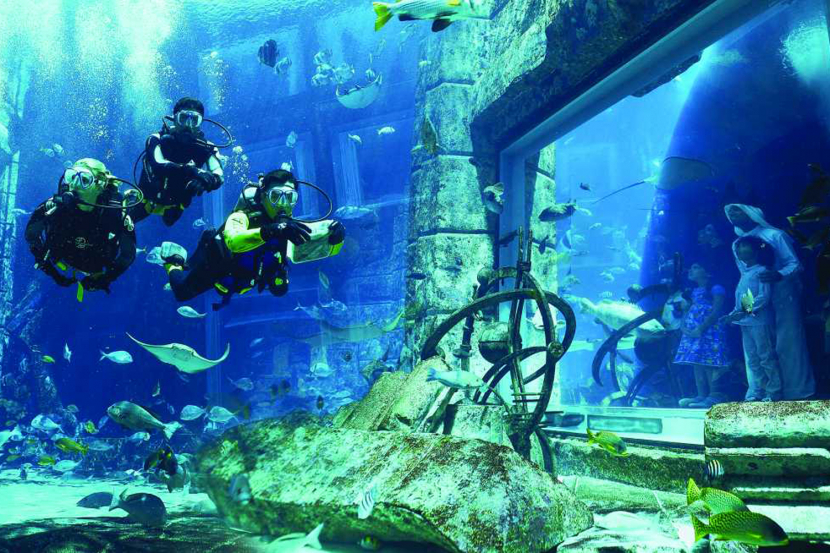 Most bungee jumps in 24 hours outdoors (20m bungee cord or longer)
Erm, no thanks. Colin Phillips set a new record at the no-longer-with-us Gravity Zone at Dubai Autodrome in 2014. Presumably he didn't eat for 24 hours because he managed a gut-wrenching 151, which works out to 6.3 jumps per hour, or one every 9.5 minutes. Bleurgh.
Most diamonds set on a perfume bottle
It's the only fragrance in the world to set two world records (so presumably that's three records?), and Shumukh comes in its own diamond-encrusted bottle, and its own little podium case. If you can stump up the Dhs4.752 million for it, you'll also get the "world's tallest remote controlled fragrance spray product". Niche.
Most expensive set of tyres
Literally the world's priciest wheels, you wouldn't expect a normal set of tyres to come dripping in Joaillier Privé Italian diamonds, 3D-printed white gold, as well as gold leaf. Well, you would when they set you back Dhs2.2 million, like they did back in 2016 when they were sold in Dubai. We presume they weren't fitted onto a Robin Reliant (plus a spare in the boot, obviously)...
Most participants to ride a virtual reality roller coaster in one hour
And surprisingly it's NOT held by VR Park in The Dubai Mall. Instead, 461 participants managed to ride a rollercoaster in one hour at Dubai World Trade Centre in October 2016. Quite what they saw on their trip remains a mystery to this day, but we're getting dizzy at the mere thought of it.
Most people to parachute from a balloon simultaneously
Wait, we were wrong – we're getting dizzier. Twenty-five skydivers vaulted out of a hot air balloon simultaneously over Mergam about 35km outside of the centre of Dubai, at the Skydive Dubai campus in the desert. It also broke the record for the number of divers in a single balloon trip at the same time, in February 2013.
Most shoelaces tied in a bow in one minute
We've spent much of this feature wondering how record-breakers have found their true calling, and that's doubly true for the natty knot-maker who tied a marvellous 31 bows in 60 seconds at Global Village in February 2009. Take a bow, son.
Tallest hotel
…is the magnificently-lit Gevora Hotel on Sheikh Zayed Road, nicking the crown from the JW Marriott Marquis Dubai in Business Bay when it
opened to the world in February 2018, measuring in at a dauntingly high 356.33 metres tall. One of the many super-skyscrapers listed in the first record at the start of this feature, no less. Just don't stand too close to the edge
Tallest packaged food display
Yeah, it's kind of niche, but this one's a little bit saucy, we'll explain that pun shortly. Carrefour and KraftHeinz (formerly known as just Heinz) earlier this year broke the record for the world's tallest packaged food display by constructing a 3.2m-tall statue of nearly 900 classic tomato ketchup glass bottles. It wasn't done in-store, because they didn't want ketchup going everywhere but it did happen in Dubai nonetheless.
Tallest topiary sculpture (supported)
And, in even better news, it's a massive Mickey Mouse! It was planted (of sorts) at Dubai Miracle Garden and officially made it into the books in January 2018, standing a proud 18.06 metres tall. Whether or not he makes it back for the next season remains to be seen, but we hope to see him and his 100,000 flowers back for the 2019-2020 winter season of the garden.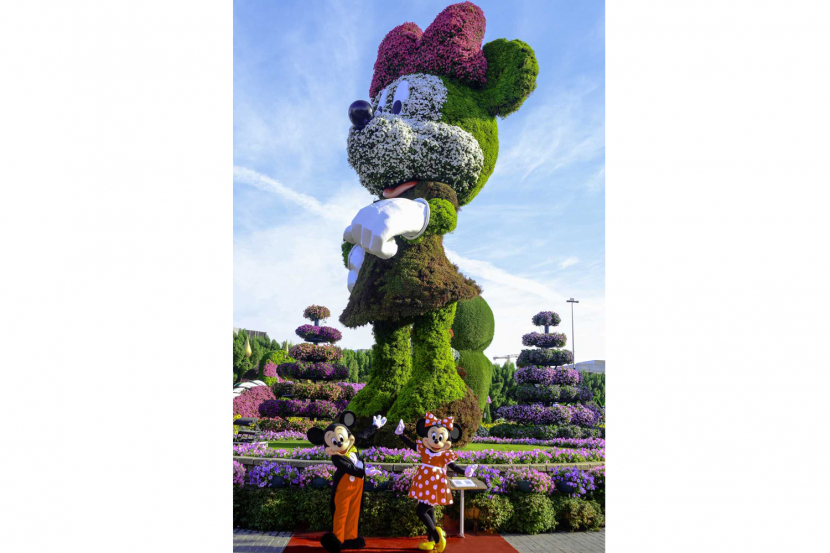 Tallest twisted tower
…goes to (you guessed it) the Cayan Tower in Dubai Marina, one of the most interesting super-skyscrapers in the city – standing in at 307.3 metres and featuring a 90-degree twist. Each floor features a 1.2-degree rotation, which itself creates a helix shape. It took the record upon opening in June 2013, and you can't exactly miss it, sitting at the end of the Dubai Marina skyline.

Big Box Of Burj Khalifa Facts
Of course, the world's tallest tower deserves its own box out because the number of records it holds earns it envious, side-long looks from all the other super-skyscrapers out there.

It's the holder of more than a dozen world records, beyond being just the tallest tower in the world, measuring in at an 828 metres tall.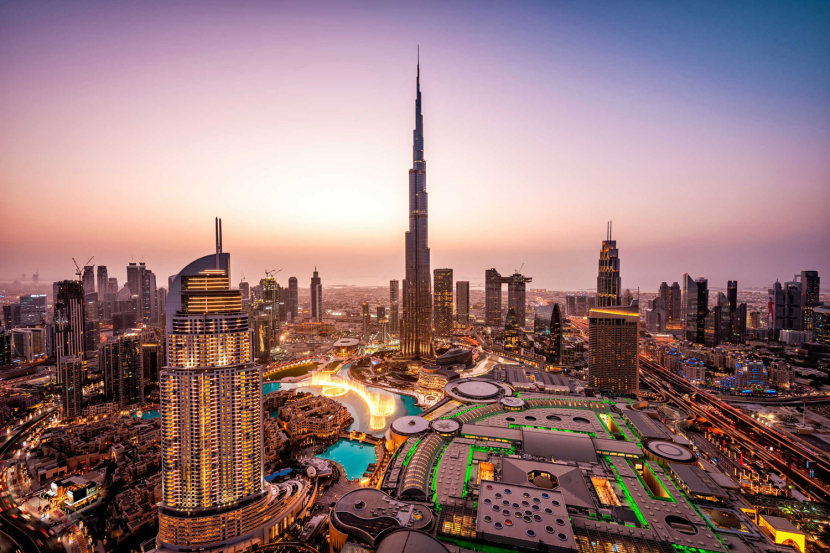 They include...
Highest fireworks on a building
More than 1.6 tonnes of fireworks were released from the Burj Khalifa on New Year's Eve 2015.
Most expensive billboard
A 30-second advert featuring an XDubai jetpacking stuntman cost US$15,000 (Dhs55,000) back in 2012.
Tallest man-made structure on land
828 metres tall.
Tallest man-made structure on land ever
Still 828 metres tall.
Tallest building
Yes, still 828 metres tall.
Highest residential apartments
Some 385 metres above ground level
Highest lounge in the world
The Lounge, Burj Khalifa stands at an incomparable height of 585.36m
Highest base jump from a building
Fearless base jumpers Fred Fugen and Vince Reffet leapt from the 828-metre pinnacle of the tower in April 2014.
Largest light and sound show on a single building
The Light Up 2018 New Year's Eve light show saw the Burj Khalifa saw 109,252 square metres of the Burj Khalifa's façade light up simultaneously in a record-break laser show. Spectacular.
Be the first to get all the latest Dubai news, reviews and deals into your inbox by signing up to our free
newsletter
,
click here to sign up
.