We love our fair city, and there's no better way to enjoy it than when it's bathed in the orangey-pink hues of a sunset with drink in hand.
Whether you're enjoying it from a city rooftop, a sprawling terrace or you're charging out to the sands, we've got you covered (for the next 37 days at least). So, who fancies a sun dance?


High-rise vistas
Above 21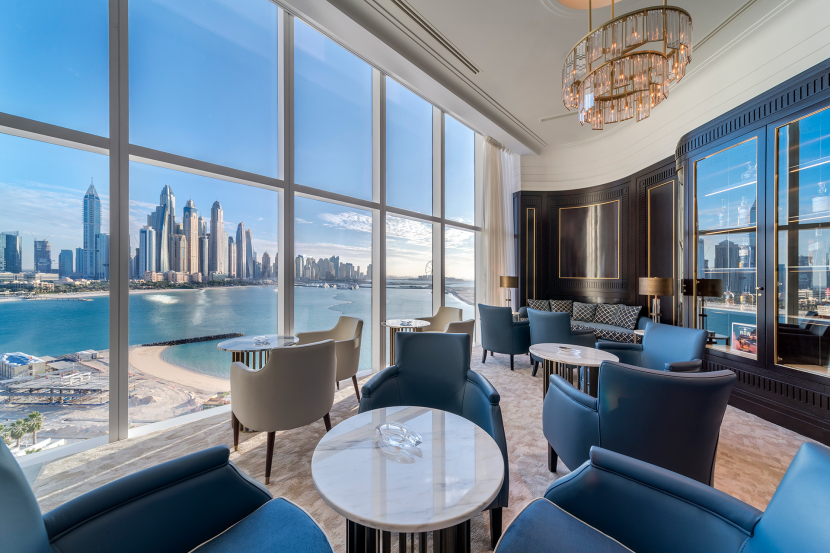 This bar sits on the 13th floor of the stunning FIVE Palm Jumeirah (which even smells fancy). Cast your eyes across the still waters of the Palm while sipping on a speciality mixed drink, and perusing Cuban rolls, if the mood takes you. This is definitely one for those who enjoy the finer things in life, though it's not too heavy on the bank balance, with bottles of hops starting from Dhs41. (We didn't say it was cheap...)
Open daily 6pm-2am. FIVE Palm Jumeirah Dubai, Palm Jumeirah (04 455 9988).
At.mosphere
This one crops up on every Dubai resident's bucket list, and what better place to sip a sundowner than from the 122nd floor of the world's tallest building? If you're a bit on the wobbly side you can settle your nerves with one of the inventive mixed drinks or a bite from the lounge menu, though prices are almost as steep as the Burj Khalifa itself. For a window seat you'll have to stump up at least Dhs350, though it shouldn't be too hard, with glasses of grape starting at Dhs79.
At.mosphere Lounge: From Dhs350 (per window seat table). Open daily 7am-2am. Burj Khalifa, Downtown Dubai (04 888 3828).
Gold on 27
If there was ever a place to get your glad rags on and look down on others it's from Gold on 27 – mainly because it's on the 27th floor. Also, it's proper fancy, as one might expect from a Burj Al Arab establishment. Décor is glitzy, bold and decadent (in a good way), and the floor-to-ceiling windows give way to panoramic views out across Jumeirah. You might have to pick up your jaw.
Open daily 6pm-1am. Burj Al Arab Jumeirah, Umm Suqeim (04 301 7600).
The Penthouse
If you've got Instagram then you're definitely familiar with The Penthouse – though your views will doubtlessly have been obstructed by a mane of hair extensions billowing off into the wind as their owner gazes off into the distance. The location – and the views – are stunning, and the social media possibilities are endless, meaning influencers and wannabes flock here in their droves. Don't let that put you off though, we defy you not to take your own snap when presented with such a remarkable backdrop, and that's before you take in the slick white-washed venue and the inventive mixed drinks menu. Women should head here on a Tuesday for three free drinks.
Open Sun-Wed 11am-2am, Thu-Fr noon-5pm, Sat 11am-3am. FIVE Palm Jumeirah Dubai (050 900 4868).
Weslodge Saloon
The bar is an impressive 68 floors up, so perfect for a bit of sunset appreciation (and potential vertigo). The large windows are ideal for a bit of misty-eyed gawping and the views over Business Bay and Sheikh Zayed Road are second-to-none. The Canadian export also has some pretty interesting drinks on the menu and is a bit hipster if you fancy admiring a few beards of the bushier variety, though we draw the line at ankle-grazers.
Open daily 5.30pm-2am. JW Marriott Marquis Dubai, Sheikh Zayed Road, Business Bay (04 560 1700).


Beachside
Barasti
Perfect for a chilled-out sundowner, be it from the beach, the bars (inside and out) or around the pool. We love this down-to-earth Dubai institution where day-time drinks can lead to sundowenrs and well beyond. You'll also get some good drink deals and there's usually some sort of live entertainment so you can have a good boogie by the seaside.
Open daily 11am-1.30am. Le Méridien Mina Seyahi Beach Resort & Marina, Dubai Marina (04 318 1313).
BiCE Skybar
BiCE Skybar is one of many Palm-facing bars along JBR, and it's fair to say that it's up there with the best of them. Along with the sunset views, you'll also find creative mixed drinks that you can enjoy to the tinkling of a live piano. It's rarely packed, but for an intimate get-together over a sundowner it's a solid option. There's also a good range Italian food on offer if the fancy takes you.
Open daily 5pm-2am. Hilton Dubai Jumeirah Resort, The Walk, JBR (04 399 1111.)

Bliss Lounge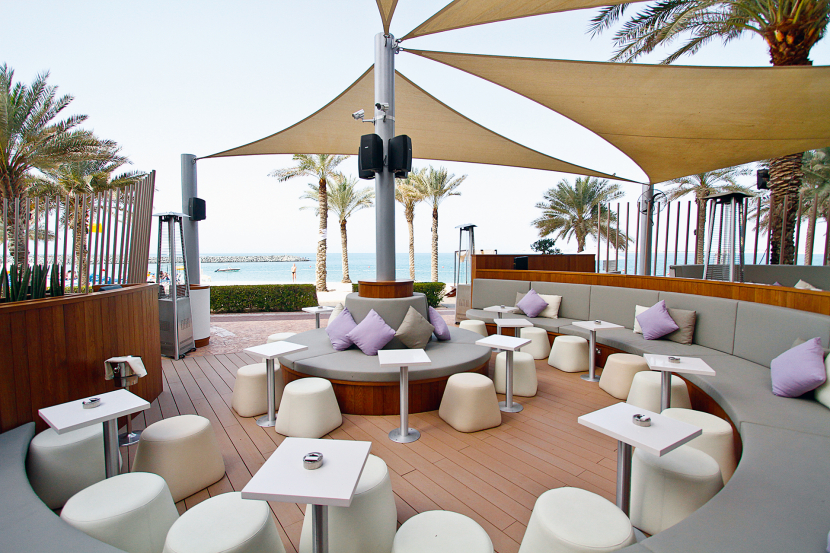 Bliss is the perfect destination to see the sunset with some sand on your soles. Kick off your shoes and stretch out those twinkle toes with a dance by the shore side. You certainly wouldn't be the first or the last to let loose at the laid-back beach bar– and of course you can enjoy a cracking sunset.
Open Sat-Wed 6pm-3am, Thu 12.30pm-2am, Fri 3pm-3am. Sheraton Jumeirah Beach Resort, JBR (04 315 3861).
Club Vista Mare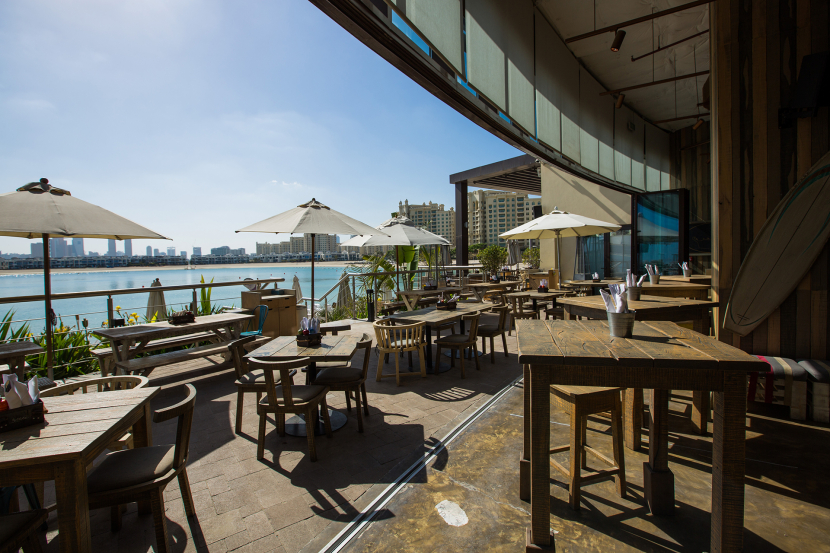 The 120 metres of beachfront promenade on the Palm houses seven licensed restaurants, each one very different to the other in terms of food and style, but with one super asset in common: amazing sea and cityscape views. Watch the sky turn dark from one of 1,000 al fresco seats or stretch out on the sand below, either way you won't be disappointed. We are big fans of Breeze for a bit of barbecue flavour, and Tap House is perfect if you're missing your British local.
Breeze: Open Sun-Thu 11am-midnight, Fri-Sat 9am-midnight. Club Vista Mare, Palm Jumeirah (04 568 3000). Tap House: Open Sun-Wed noon-1am, Thu-Sat noon-2am. Club Vista Mare, Palm Jumeriah (04 514 3778).
Copper Dog
From the tartan upholstery to the extensive variety of imported beverages, Copper Dog feels pulled straight from the Highlands – until you look out of the window that is. Then you'll be faced with stunning views of Ain Dubai and Bluewaters Island, which is hard to beat with a malt beverage and a haggis ball.
Open Sun-Thu, 5pm-2am; Fri-Sat, 10am-2am. DoubleTree by Hilton Hotel Dubai – Jumeirah Beach, That Walk, JBR (04 559 5355).
Drift Beach Dubai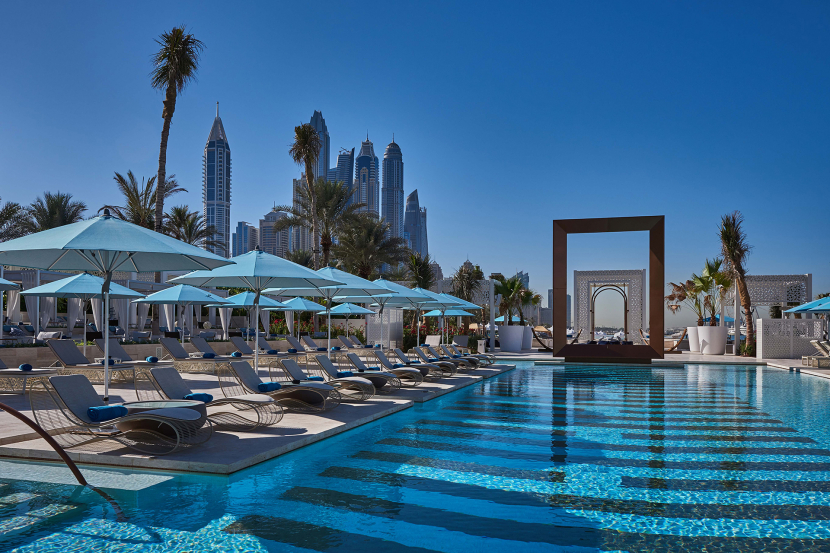 Drift Beach is definitely one to tick off the list, and if you head there for a beach day, it's only right you stay for sundowners. The swanky spot looks out to Bluewater Island, which has more and more to see these days, as well as panoramic views of Palm Island Bay and the dazzling Dubai skyline. It's the perfect place for lazy sundowners amid laid-back, yet luxurious surroundings. We'll see you by the infinity pool.
Open daily 10.30am-7.30pm. One&Only Royal Mirage Dubai, Al Sufouh (04 315 2200).
Playa Nomade
The dream-catchers have been taken down and the speakers have been put up, for where chilled-out El Chiringuito once lazed a lively party spot now lives. Playa Nomade is open from Wednesday to Sunday, hosting weekly Friday Nomade parties on the beach with live acts that promise to get your twinkle toes fluttering across the sands to dance and electronic beats. One thing that hasn't changed (obviously) are the views, and the sunsets from this section of the Palm Jumeirah are truly mesmerising.
Dhs250 (Wed, Thu & Sun fully redeemable on food and drinks), Dhs250 (Fri-Sat, non-redeemable). Open Wed, Thu & Sun 10am-7pm, Fri 10am-1am (Nomad parties start at 1pm), Sat 10am-8pm. La Famillia brunch: Dhs295 (soft drinks), Dhs395 (grape and hops), Dhs495 (mixed drinks), Dhs595 (sparkling grape). Sat noon-4pm. Rixos The Palm Dubai, Palm Jumeirah, www.instagram.com/playanomade.
Fish Beach Taverna
Stunning beachside setting – check, gorgeous sunset views – check, gob-full of fresh fish – double check. Fish Beach Taverna is the perfect place to watch the sundown. Whether you watch it with a drink or a face-full of food is up to you, and at this particular seafood spot we'd be sorely tempted by the latter. The walk down to the shore to find the venue only heightens the sense of anticipation, and first impressions are great with pretty lights twinkling against the shimmering water.
Sun-Thu noon-11pm; Fri-Sat noon-11.30. Westin Dubai Mina Seyahi Beach Resort & Marina, Dubai Marina (04 511 7139).
folly by Nick & Scott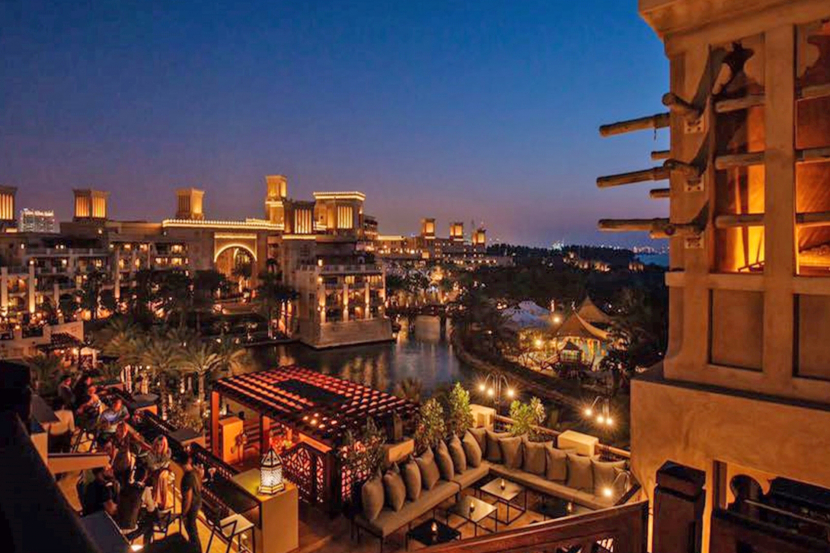 The majority of this classy restaurant is outdoors and the view over the Madinat and Burj Al Arab Jumeirah is absolutely breathtaking. If you can tear your eyes away from the glimmering coastline, you'll appreciate that the bistro-style décor and some pretty special modern European dishes if those sundowners happen to whet the appetite.
Open Sun-Thu noon-2.30pm, 5pm-11pm; Fri-Sat noon-3.30pm, 5pm-11pm. Souk Madinat Jumeirah, Umm Suqeim (04 4308535).
Jetty Lounge
After meandering through the lush gardens of the One&Only Royal Mirage, you'll come across this idyllic beachside spot that was made for sundowners. As the sky turns that orangy-pink hue, the gorgeous colours that peek through the palm trees are an absolute visual delight. Once darkness falls the place livens up and the lit up the palm trees take on a tropical vibe. It's very classy and more grown-up than some other beach bars, but there are good happy hour deals to be found.
Open daily 2pm-3am. One&Only Royal Mirage, Al Sufouh (04 426 1099).
Key West
Key West brings a slice of tropical island life onto the shores of the Arabian Gulf. It's smack bang on the beach and the views out across the Arabian Gulf are absolutely idyllic. The vibe here is completely relaxed and you'll feel a world away from the hustle and bustle of city life. Take a seat outside on the beach-facing terrace, where the sounds from the sea make for a peaceful dining experience. And since the venue opens at 5pm, it's the perfect spot for sundowners with your toes in the sand.
Open Thu-Sun 4pm-11.45pm, Fri-Sat noon-11.45pm. Nikki Beach Resort, Pearl Jumeira (04 376 6000).
Laguna Lounge
What better way to watch the sun melt into the sky than from a massive pillow? Laguna Lounge has them strewn out across two levels of decking on the beach at Sofitel The Palm, so you can enjoy your sundowner with your feet up – that's if you're not dipping your toes in the crystal waters, anyway.
Open daily 6.30pm-3am. Sofitel Dubai The Palm Resort & Spa, Palm Jumeirah (04 455 5656).
Palm Grill
Is there anything better than nibbling on a bit of fresh fish with the sand between your toes as the sun sets across a man-made island shaped like a palm tree? We think you'd be hard-pushed for a better way to take in the dusk, even in a city as decked out for it as Dubai. This al fresco grill at The Ritz-Carlton, Dubai has it all in a laid-back, lazy environment with 180-degree views of the Arabian Gulf to make you feel like you're on holiday in your own back yard.
Open Sun-Fri noon--11pm, Sat 1pm-11pm. The Ritz-Carlton, Dubai, The Walk, JBR (04 318 6150).
RIVA Ristorante, Bar & Beach
RIVA has a licensed Gazebo bar that makes it pretty hard to beat when it comes to sundowners. Overhanging trees, landscaped pathways, views of the Burj Al Arab and an uplifting soundtrack make it a gorgeous little spot and the Mediterranean-inspired menu features dishes such as crab and avocado salad, grilled sea bass and charred lamb chops. After darkness falls the relaxed daytime vibes make way for an atmospheric evening destination with tunes that continue throughout the night.
Open daily 7am-midnight. Shoreline Apartments Building 8, Palm Jumeirah (04 430 9466).
Sho Cho
The extensive mixed drink menu provides a number of interesting options for sundowners, and for maximum wow factor those sundowners should really be enjoyed outside. The decking floor extends out onto the Dubai Marine Beach Resort & Spa's beach, with tables extending all the way to the water's edge. It's a stunning view. Ladies, head here on a Wednesday night for unlimited mixed drinks and 30 percent off sushi and maki platters.
Open daily 7pm-3am. Dubai Marine BeachResort & Spa, Jumeirah (04 346 1111).

The Beach House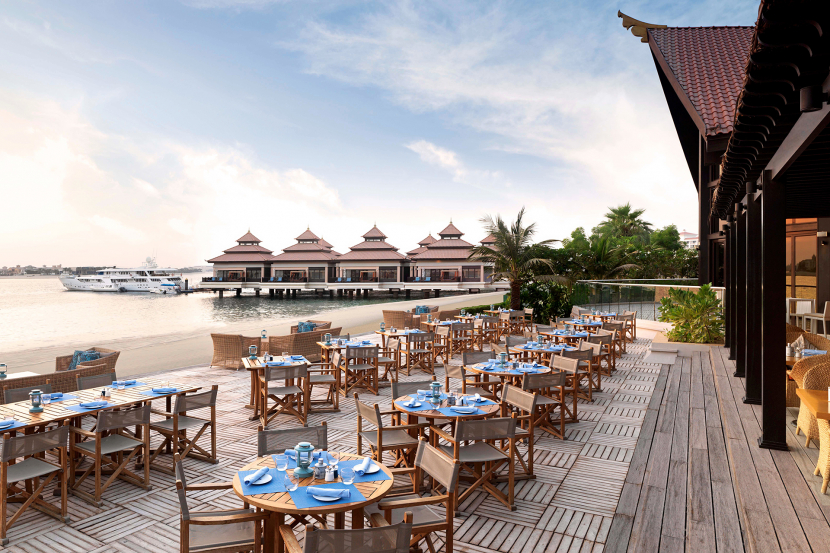 This is always a safe bet when planning sundowners at any time of the year, because whether you're indoors at the bar or out on the terrace you get a phenomenal view of the glittering shoreline as the sun goes down. The relaxed spot sits just beside the beach and offers a range of Mediterranean cuisine including pizzas, tapas and seafood – and of course a selection of mixed drinks to sip on as the sky changes colour.
Open noon-11.30pm. Anantara Dubai The Palm Resort & Spa, Palm Jumeirah (04 567 8304).
Zero Gravity
The beach club-meets-lounge bar concept has grown in popularity as a hotspot for al fresco beverages, and what better way to enjoy them than at sundown from the iconic Zero Gravity glass-panelled pool? The vibe here is laid back and casual during the day, and the hours may well slip away from you. At night there's often international live music acts, most recently the Vengaboys and Basement Jaxx, and the venue is known to get rather lively. Ladies' night at Zero Gravity falls on a Tuesday, though you'll have to beat the clock to make the most of the free drinks on offer at Zero Gravity. Show up before 9pm (in the sunset hours) and you'll get six free drinks, before 10pm you'll get five, before 11pm it's four and before midnight you'll get three. We've never had better reason to be prompt for anything.
Open Sun-Mon 10am-minight; Tue 10am-2am; Wed 10am-midnight; Thu-Sat 10am-3am. Skydive Dubai Drop Zone, Dubai Marina (04 399 0009).


City views
40 Kong
Set high on the 49th floor of The H Dubai, 40 Kong has wide-ranging city views and an extensive drinks menu, which is basically everything you need for a good sundowner sesh. The vibe is classy and if you decide to hang around once the sun has vanished you'll find yourself in an ideal location to make a night of it with slick décor, quality bar food and pumping tunes. You'll arrive a little after sunset, but the views are still top.
Open daily 7pm-3am. The H Dubai, Sheikh Zayed Road (04 355 8896).
Belgian Café
There are three of these venues across Dubai and we're fans of all of them. The atmosphere is always good, the selection of hops (Belgian, of course) is wide, and the food is consistent. For sundowners though, the Festival City bar takes the crown every time. The lovely outdoor area looks over the Creek and is a sight to behind when the pinky-orangey light hits the water. Bottoms up.
Open Sat-Wed noon-2am, Thu-Fri noon-3am. Crowne Plaza Dubai Festival City (04 701 1127).
La Cala
It's only open one day a week, but if you find yourself around Ghantoot in the sunset hours then you could do a lot worse than La Cala. Set within the picturesque Ghantoot Marina, the beach bar offers a sanctuary away from it all. The scaled-back al fresco spot is laid-back and a DJ plays cool Ibiza-esque beats as you chill out and take stock as you watch the
sun set across the marina.
Open Fri noon-3am. Ghantoot Marina & Resort, Ghantoot (050 151 8407).
Mercury Lounge
This is a truly beautiful spot, with a great open space for mingling while taking in the Dubai skyline, alongside cosier, more secluded seating areas that offer a little more privacy (and optional shisha) if you're down to gossip. Soak up the scene early when you'll be able to watch the sunset reflected back at you from Sheikh Zayed Road's skyscrapers. Drinks are reasonably priced, too.
Open Sun-Tue, 6pm-2am; Wed-Sat 6pm-3am. Four Seasons Resort Dubai at Jumeirah Beach, Jumeirah 2 (04 270 7804).
Siddhartha Lounge by Buddha-Bar
Fancy surveying the skyscrapers of Dubai Marina? Head to this swish rooftop bar at Grosvenor House Dubai for a super chic vibe and some great views across the waters of the Marina and the super yachts below. Once you've filled your sunset quota the night is still young, with a resident DJ and Mediterranean and Asian bites to see you well into the evening.
Open Sat-Wed 5pm-midnight, Thu-Fri 5pm-12.30pm. Grosvenor House Dubai, Dubai Marina (04 317 6000).
Treehouse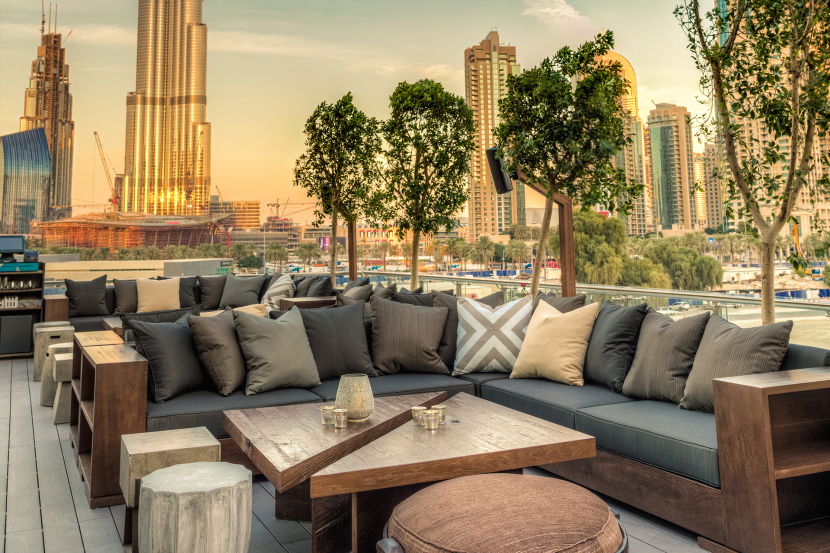 Burj Khalifa – check. City skyline – check. Blooming shrubbery – you bet. Treehouse is the type of place you should definitely take visitors. The view from the rooftop terrace is out of this world and showcases the city from its very best angle. At sundown it's stunning, and when the buildings all light up it's pretty special, too. Once you peel your eyes away from the spectacle in the distance you can go on to appreciate the beauty of what surrounds you. As you might expect from the name, Treehouse has taken the garden theme and given it the Alan Titchmarsh treatment. Fairy lights entwine the branches of strategically-placed trees, while lush foliage runs between low sofas and tables. Drinks come in on the pricey side, although there are a range of speciality mixed drinks that have been carefully thought out. There's also a daily happy hour from 7pm until 10pm, which is worth heading to this Business Bay bar for, though we recommend getting there a touch earlier to watch the sun sink.
Open Sun-Wed 6pm-2am, Thu 6pm-3am; Fri 1pm-3am. Taj Dubai, Business Bay (058 827 2763).
Uptown
This 24th floor spot has reopened having had a lick of paint over the summer. It was shut while the entire hotel was refurbished, but the same spot we know and love is back. The terrace looks out onto Jumeirah and provides sprawling views of the city as far as the eye can see. It's an absolute crowd-pleaser, and crowds there will be. Show up in plenty of time to get a good spot and you'll be in a champion position to watch the sun go down.
Open Sat-Wed 5pm-2am, Thu 5pm-3am, Fri 4pm-3am. Jumeirah Beach Hotel, Umm Suqeim (04 432 3232).
V Lounge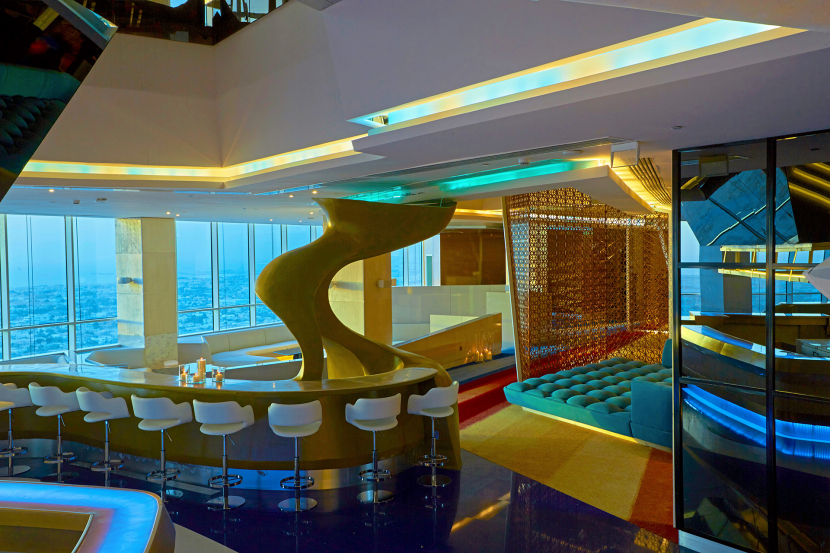 This lounge – and the hotel's lobby – is situated on the 30th floor with massive windows overlooking Sheikh Zayed Road, Jumeirah and Safa Park. It's laid-back with low music, so you can have a good natter whilst actually being able to hear what the other person is talking about (to risk sounding old). It's slick in design for sophisticated socialising at sundown and definitely one on our list for post-office bevs. Ladies should also head to V Deck on a Thursday and you'll get free pool access, a sunbed, plus free-flowing frozen grape between noon and 5pm. Hang around for sunset to enjoy three free drinks and pampering at rotating station.
Open Sat-Wed 8am-2am, Thu-Fri 8am-3am. V Hotel Dubai, Curio Collection by Hilton Al Habtoor City, Sheikh Zayed Road (04 436 6644).

Our cover star|
Cielo Sky Lounge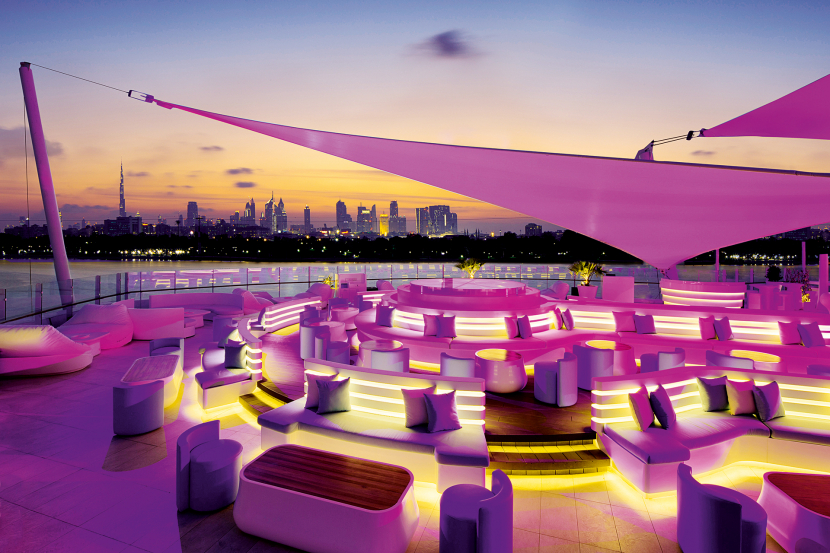 Cielo has one of the best views in Dubai, and if you haven't been down there yet, make sure it's on your sundowner list. The bar sits on the top floor at Dubai Creek Golf & Yacht Club, which also includes Casa de Tapas and Boardwalk, and looks over the Creek towards Bur Dubai. As the sun sets there is hardly a spot in the city that beats it. We are big fans.
Open Sun-Wed, 6pm-2am; Thu 6pm-3am; Fri, 12.30-3am; Sat 4pm-2am. Dubai Creek Golf & Yacht Club, Deira (04 416 1800).

THE BEST
Happy hours
BHAR
Slurp a cut-price sundowner while casting your eyes out over the Dubai Water Canal, with 50 percent off a selection of beverages at the BHAR terrace every night of the week.
50 percent off. Daily 5pm-8pm. Renaissance Downtown Hotel Dubai, Business Bay (04 512 5511).
Estrellas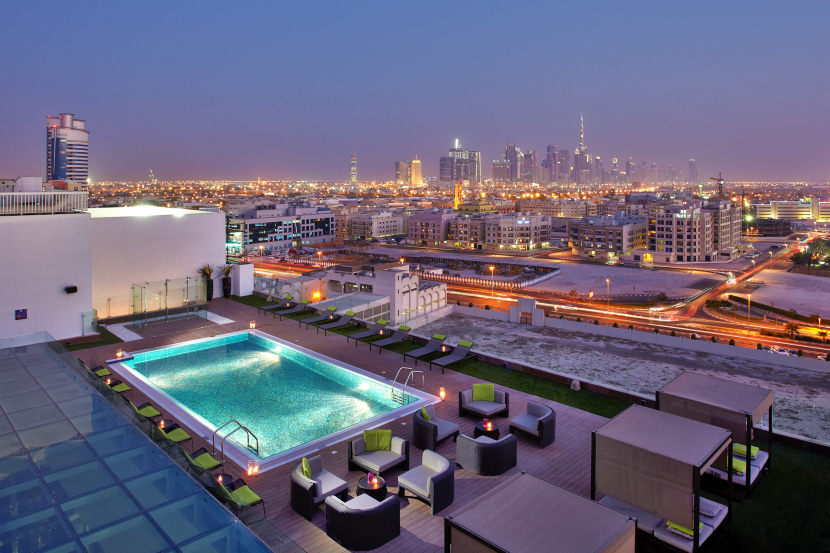 Estrellas has the rooftop lounge, the skyline views and the happy hour deals. What more to you need to know? Well first off, you might be interested in the timings of the said happy hour. Conveniently it runs daily between 7pm and 9pm so once the sun has set you can enjoy drinks from Dhs30. The Port Rashid rooftop also does a ladies' night on a Wednesday, where women get two free drinks. It's definitely worth a visit.
Open daily 7pm-3am. The Canvas Hotel, Mankool, Bur Dubai (04 386 8111).
Vault
If there's anything we like better than a nice sundowner, it's when it's combined with an even better happy hour. Vault on the 71st and 72nd floors of the JW Marriott Marquis Dubai has a daily happy hour that is conveniently timed during sunset hours. The deals include select drinks from Dhs40 daily from 5pm to 7pm, so pull up a stool and take advantage of those expansive floor-to-ceiling windows.
Open daily 5pm-3am. JW Marriott Marquis Dubai, Business Bay (04 414 3000).

TOP DEALS
Dinner in the Sky
Enjoy your sundowners while being suspended in the air from a 50ft high crane. The price tag may seem a bit hefty for just drinks, but they'll also throw in a slap up meal. Not bad for a bit of novelty.
From Dhs500. pen daily 2pm-11pm. Skydive Dubai Frop Zone, Dubai Marina (058 819 3296).
JA Bateaux Dubai Sundowner Cruise
The five-star floating restaurant has a daily Sundowner Cruise, taking all its passengers on a sight-seeing voyage doen Dubai Creek, along with serving up a selection of Arabic mezze and a list of beverages. We can definitely get on board with that (literally).
Dhs150 (adults), Dhs75 (kids aged 3-12), free (kids below 3). Daily 5pm-6pm (boarding at 4.30pm). JA Bateaux Dubai: open daily 8pm-10.30pm. Al Seef, Bur Dubai (04 336 6768).

The Flying Cup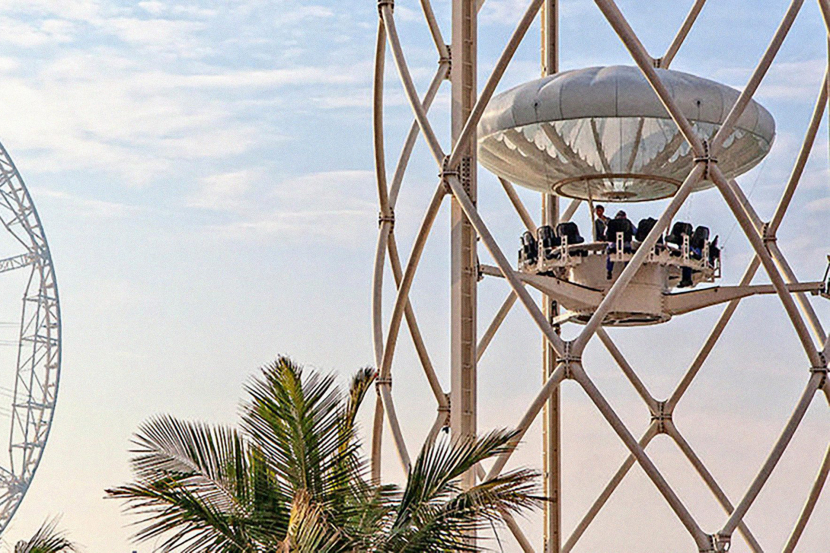 This JBR attraction at The Beach elevates sunset drinks to new heights. The Flying Cup Dubai allows you to enjoy a beverage while dangling 40 metres in the air. Just don't drop that drink. With 16 seats on the dining table, be sure to secure a spot and book at time.
Dhs80 (adults) Dhs60 (kids 4-12). Sun-Thu 10am-midnight; Fri-Sat 10am-1am. The Beach, JBR, www.flyingcup.ae.
Be the first to get all the latest Dubai news, reviews and deals into your inbox by signing up to our free
newsletter
,
click here to sign up
.