Whether you've just moved to Dubai or are a long-time resident looking for a new local, the pub scene in Dubai is extensive.

From fancy gastropubs serving up award-winning pub grub to old-school watering holes with all the nooks and crannies, and cracking places to catch a match with a pocket-friendly pint, you'll find your new local pub in Dubai here.

From Dubai Marina to Bur Dubai and beyond, we've rounded up the best pubs in Dubai to check out.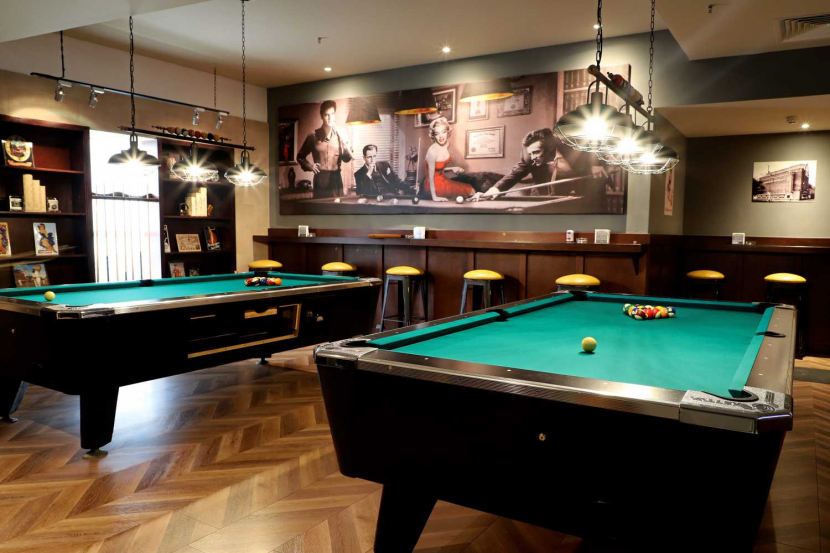 What's not to enjoy when you can catch a match with a pocket-friendly pint? This sports bar and pub in Bur Dubai has more than just the cheap hops string to its bow. There are a dozen screens lining the walls beaming out the match, free pool during happy hour and there's even a PlayStation that comes complete with its own private screen.
Open daily noon-3am. Majestic City Retreat Hotel, Bur Dubai (04 501 2533).
They say good things come in three and there are three branches of this pub across Dubai and we're fans of all of them. The atmosphere is always good, the selection of hops (Belgian, of course) is wide, and the food is consistent. Speaking of food, be sure to order a portion of the mussels. Our favourite branch of the Belgian pub is the one in Dubai Festival City, with a lovely outdoor area looking over the Dubai Creek.
Open Sat-Wed noon-2am, Thu noon-3am, Fri 2pm-3am. Crowne Plaza Dubai Festival City (04 526 9066).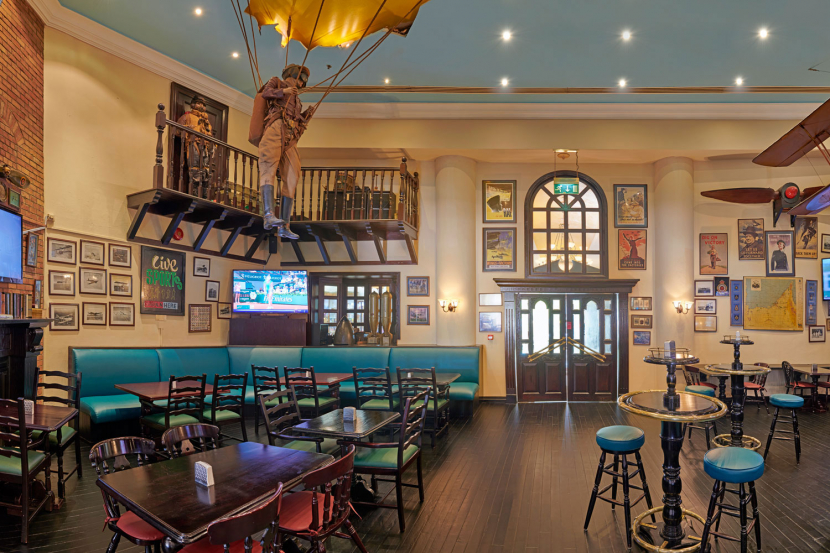 Being located near Dubai International Airport, this Dubai pub may not have the appeal of a traditional British local, but it's homely enough. Plus it has the added flair of having an al fresco setting with comfy sofas to lounge on, making the best of two worlds. This longstanding pub – which is remarkably more than two decades old – still draws in the crowds, and manages to muster up a certain charm that makes it worthwhile stopping by.
Open daily noon-2am. Millennium Airport Hotel Dubai, Garhoud (04 702 8888).
Once a stalwart of Dubai's pub scene, Boston Bar may today crop up less regularly on most people's itinerary for a night out, but the Satwa pub is still going strong. An American-style pub modelled on that of US '80s sitcom Cheers (you know, where everyone knows your name), it's a compact space with an island bar taking centre stage. If its bargain drinks and a no-frills, authentic pub vibe you seek, you'll be hard-pressed to do better in Satwa.
Open daily noon-3am. Jumeira Rotana, Satwa (04 345 5888).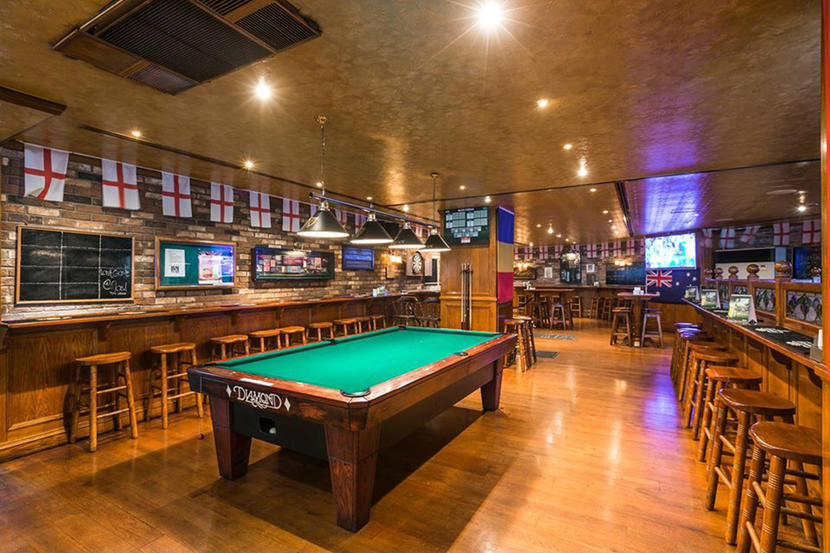 This old-school pub in Barsha Heights is never short of a few sports fans. In fact, it attracts a regular barmy army. It does the basics well, with reasonably priced drinks, bar sports and a bucket load of screens dotted about showing every big game of football. You'll also find the very best pub food in Dubai, trust us – these lads aren't messing around. The grub at Crown & Lion is so good the pub even won an award for Best Pub Food at the Time Out Dubai Restaurant Awards 2020. Cracking pub grub aside, if you're looking for a proper British-style pub in Dubai, Crown & Lion should be at the top of your list.
Open daily 11am-3am. Byblos Hotel, Barsha Heights, www.bybloshoteldubai.com (04 448 8000).
A pub with Burj Al Arab Jumeirah views? How very Dubai, in the best possible way. This family-friendly British gastropub in Dubai's Jumeirah Beach Hotel is a staple pub in Dubai we're always happy to head over to, and so should you. It's bright and airy, serves up some of the heartiest British roasts around and screens live sports both indoors and on its breezy outdoor terrace. And let's not forget those superb Burj Al Arab Jumeirah views.
Open Sun-Wed noon-1am, Thu-Sat noon-2am. Jumeirah Beach Hotel, Umm Suqeim (04 406 8999).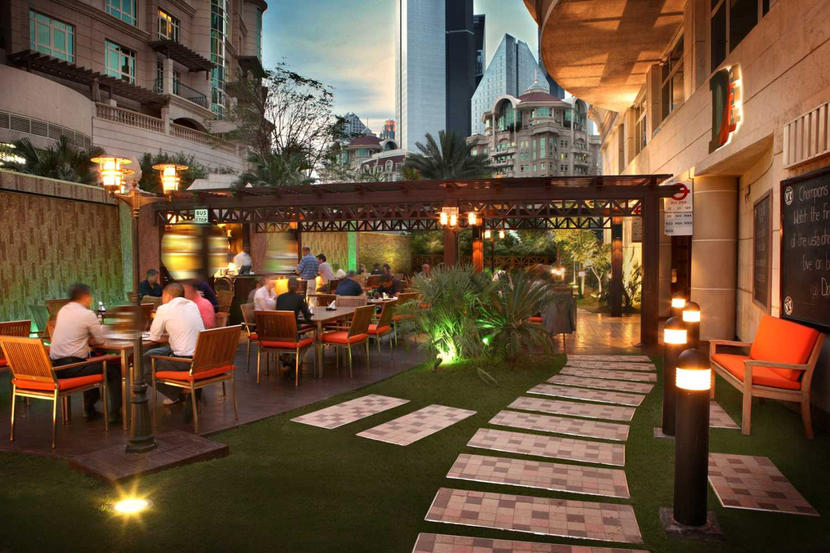 There are plenty of English watering-holes for expats to get a taste of home, and while some may feel inauthentic, the longstanding Double Decker still delivers its promise of being a reliable spot for a classic British old-school vibe. With a welcoming outdoor garden with plenty of seating and an open grill, this Downtown Dubai pub has all the makings of a quaint English summer pub. Whether you're after a quick drink after work, a lazy afternoon in the pub garden or just want to watch the match, you'll be happy here.
Open daily noon-2.30am. Roda Al Murooj Hotel, Downtown Dubai (04 321 1111).
Established back in the '90s, Fibbers is a relative oldie on Dubai's pub scene, but has a snug, weathered authenticity that could belong to a bar at least a hundred years older. Fibber Magee's is, rightly, an absolute institution in Dubai, thanks to being genuinely one of the most authentic pubs you'll find anywhere in Dubai. Live sports, a cosy vibe and decent deals are standard here and the food is top-notch too. Plus there's often live music and comedy, which helps to make it one of the best pubs in Dubai.
Open daily 8am-2am. Saeed Tower One, World Trade Center Area, www.fibbersdubai.com (04 332 2400).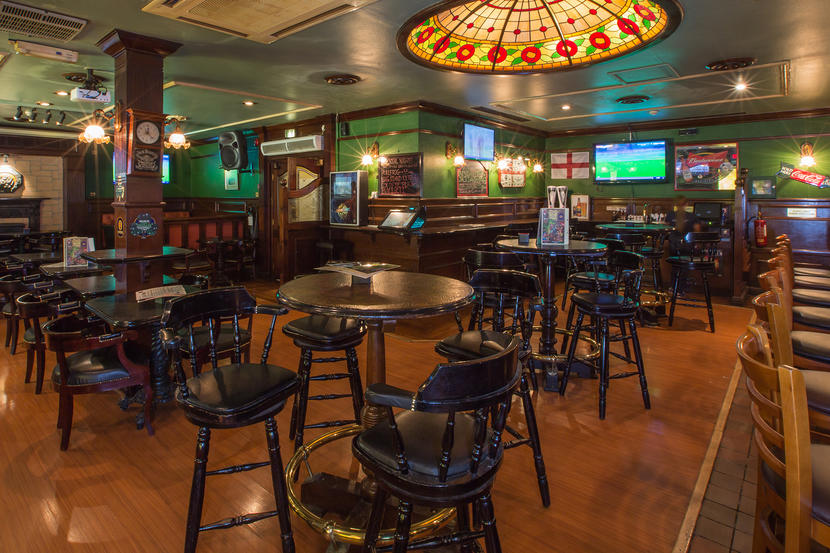 Leave your fancy frocks at home, George & Dragon pub in is a come-as-you-are kind of place that smacks of British pubs and their Anglo-American equivalents. It's not about the bells and whistles here and let's face it not everywhere can, or should, be. For those wanting a slice of low-key life, the chance to play a few games of pool, throw some darts and spend an afternoon sipping on cheap pints, then head here.
Open noon-2am. Ambassador Hotel, Bur Dubai (04 393 9444).
This fancy gastropub in JBR is a top choice for both residents and tourists. There's a decent selection of hops and short beverages, and it's the ideal place to pull up a stool by the bar, or at one of the high barrels, and have a laid-back chat with your mates. Being a gastropub, it's certainly worth trying the food, and we recommend the burger or fish and chips (proper grub).
Open Sat-Wed noon-2am, Thu-Fri noon-3am. Amwaj Rotana JBR, The Walk (04 428 3084).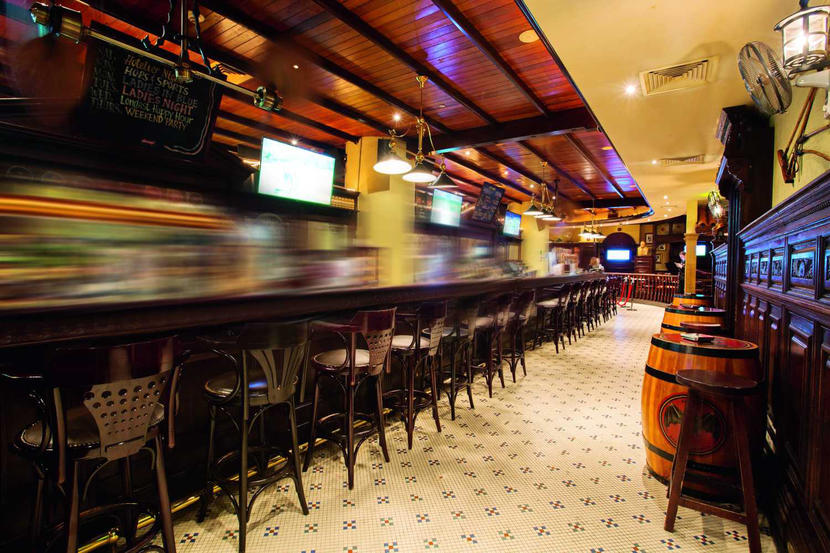 Long's bar certainly is legendary. So much so that at the Time Out Dubai Music & Nightlife Awards 2019, it was among the first-ever inductees into the brand's Hall of Fame. A stalwart of Dubai's pub scene for almost two decades, the cheap and cheerful pub is named after its central island bar, which it still claims is the longest bar in the Middle East. The crowd here isn't a young one, but there's a warm, friendly vibe that will make you want to return to this long-standing pub.
Open daily noon-3am. Towers Rotana, Sheikh Zayed Road (04 312 2202).
Whatever you're looking for – so long as it's not a quiet candlelit dinner – you'll find it at popular Irish pub chain McGettigan's. The JLT branch is probably the most popular of the four in Dubai – and it's always packed. The food is decent too, while the vibe is laid-back and friendly. McGettigan's is a huge name here in Dubai, and with good reason, it's an absolute craic-er.
Open Sun-Fri noon-3am, Sat 11am-3am. Bonnington Jumeirah Lakes Towers, Cluster J, JLT, www.mcgettigans.com (04 356 0470).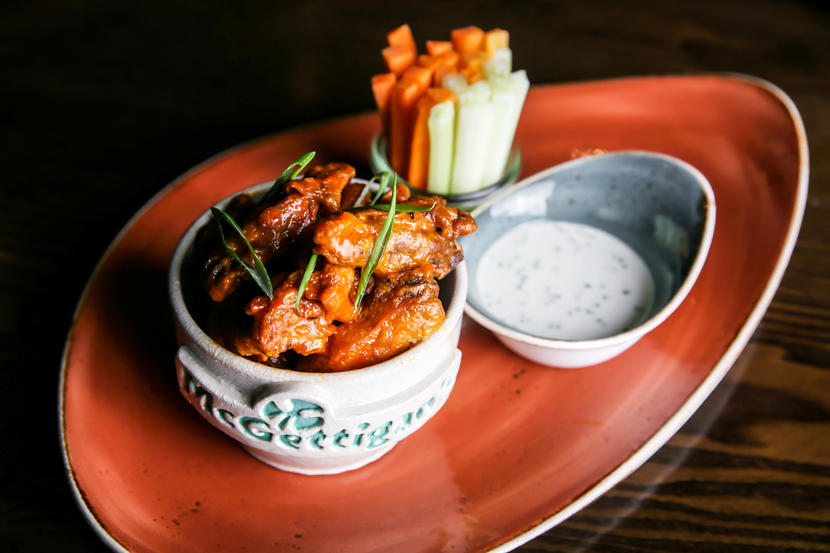 Probably the slickest McGettigan's pub in Dubai, this Souk Madinat Jumeirah branch brings with it some elevated pub grub plus the usual offerings of live music and regular sport on the big screens. Tailored more towards tourists than residents, perhaps, but definitely worth visiting regardless.
Open Sun-Thu noon-2am; Fri-Sat 9am-3am. Souk Madinat Jumeirah, Umm Suqeim (04 447 0219).
For Brits, stepping into Mr. Toad's is like being transported back to Blighty. It has the look and convivial atmosphere of a Wetherspoon's pub and, relative to Dubai standards, it has the prices to match. It's a place for groups of blokes to chew the fat and watch sport, and for families to enjoy some pub grub together.
Open daily noon-1am. Premier Inn Dubai Investments Park (04 885 1899).
Nelson's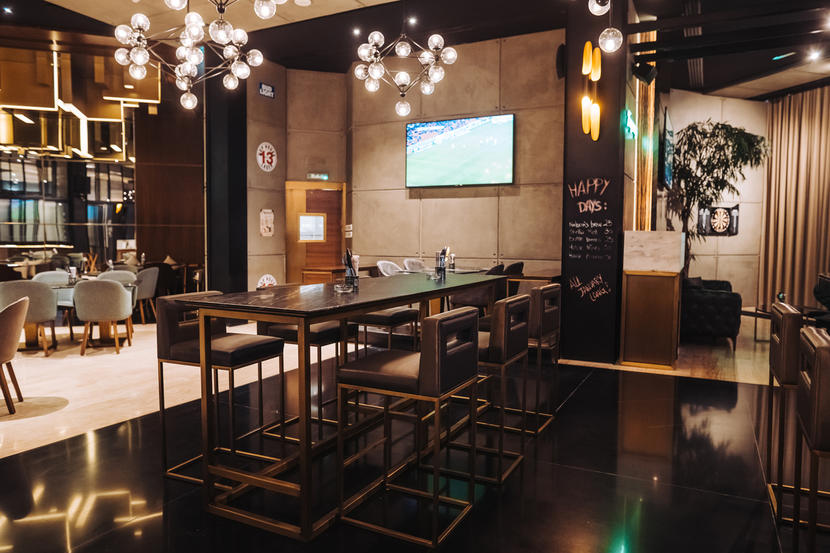 With dark-wooden walls, a smoky atmosphere and TV screens dotted around, Nelson's is a solid place for after work or pre-dinner drinks. It's casual, so expect the clientele to match. Nelson's has been a long-standing neighbourhood favourite for those who prefer an old-fashioned watering hole, and we like it here for that very reason. It's a place where you can shovel handfuls of bar nuts into your mouth without worrying about who's watching.
Open daily noon-3am. Media Rotana, Barsha Heights (04 435 0000).
It's not often we come across a pub in Dubai as family-friendly (and pet-friendly) as Reform Social & Grill. Set in Dubai's The Lakes, this community pub is the perfect spot for a meal with a few drinks making it a top choice for the whole family – furry friends included.
Open daily 8am-midnight. The Lakes www.reformsocialgrill.ae (04 454 2638).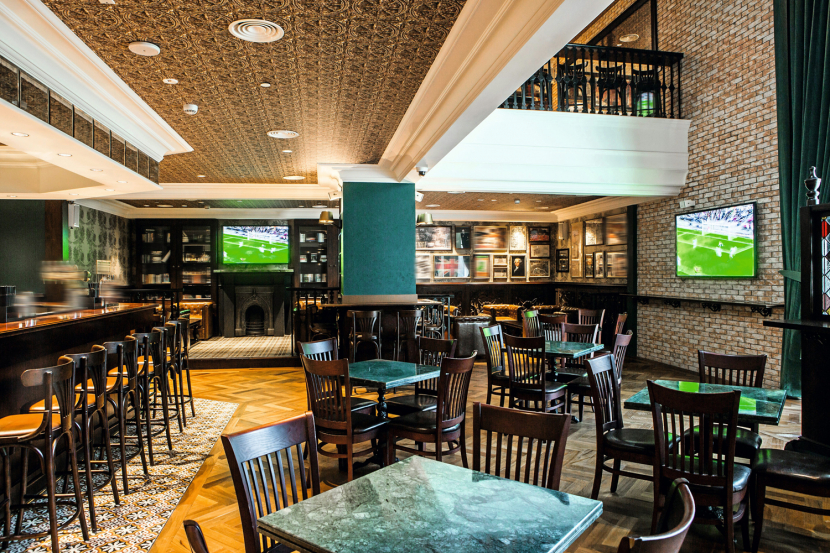 If you're looking for British pub staples – we're talking proper pub grub including a slap-up Sunday roast, pints and big screens – then you're in luck if you visit this Al Habtoor City spot. The traditional pub also boasts a pool table, a dartboard, Jenga and large screens for the matches. There's even a bright red phone box outside, of course. Just about everything at the Rose & Crown spot screams Britannia. And it's not bad at all.
Open daily 11am-2am. The Atrium, Al Habtoor City, www.roseandcrowndubai.com (04 437 0022).
Bang in the middle of Al Barsha is where you'll find this "detective-themed" pub at the Grand Excelsior Hotel. The wood-clad space is decked out with stained glass windows, sports memorabilia and other knick-knacks, squishy leather booths, a pool table, brick wallpaper and even a faux fireplace giving it that pubby pub feel.
Open daily noon-3am. Grand Excelsior Hotel Al Barsha (04 444 9999).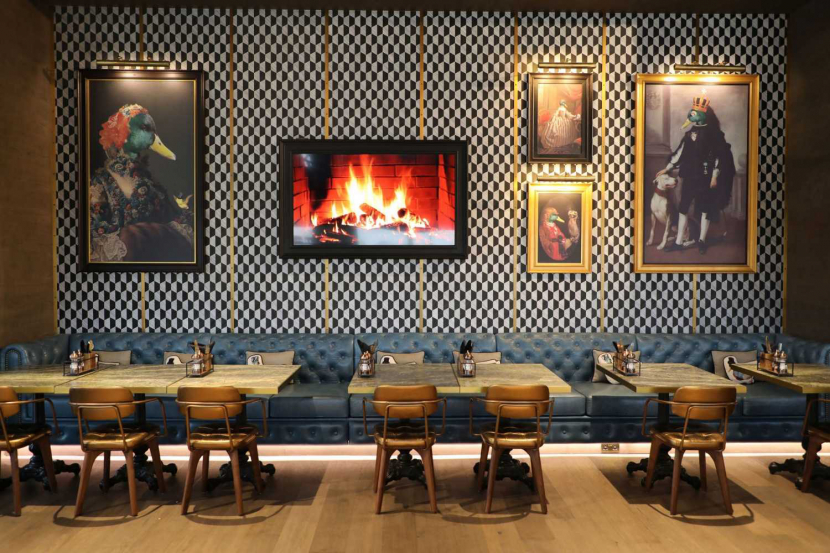 Named after a shot that curves hard to the left – if you're a right-handed golfer – The Duck Hook is not your ordinary 19th hole. Its chilled-out terrace boasts views of Downtown Dubai and the Burj Khalifa in the distance, making it the perfect place to soak up the sun after a round of golf. The menu features a range of fancy pub classics, from confit duck leg to beef Wellington, tuna steak to butter chicken. Fish and chips is a solid choice and the roasts are unmissable, and make up some of the best pub food in Dubai.
Open daily noon-midnight. Dubai Hills Golf Club (800 666 353).
You won't find a night when this Irish pub isn't jam-packed. It's an old-school haunt that gets a whole bunch right for sports fans and those looking for a buzzing bar vibe. The Garhoud-based pub is also one of a select few in the city with its own electronic jukebox, and Dhs10 will get you enough tokens for seven songs, so you can blare out Westlife's greatest hits to your heart's content.
Open daily noon-2am. Le Méridien Dubai Hotel & Conference Centre, Garhoud, www.thedubliners-dubai.com (04 702 2455).

This feels like a bit of a classier take on your local pub. The swanky gastropub in Business Bay offers fantastic comfort food, vegan dishes and a non-smoking bar area, and the terrace is a marvellous place to head after work in cooler weather for a pie and a pint.
Open Sat-Wed 3pm-1am, Thu-Fri noon-2am. Taj Dubai, Business Bay, www.tajdubai.com (04 438 3131).
For many an expat new to Dubai, The Huddle in plays a temporary home-from-home when settling in to the city, especially during the football season. This classic Bur Dubai sports bar and pub has a cleaner, shinier feel than its Al Barsha sibling – which excels in dark and smoky sporting action. If you find yourself in Bur Dubai and are in need of a cold pint of hops, you can do worse than The Huddle.
Open daily noon-3am. Citymax Hotel Bur Dubai (050 100 7065).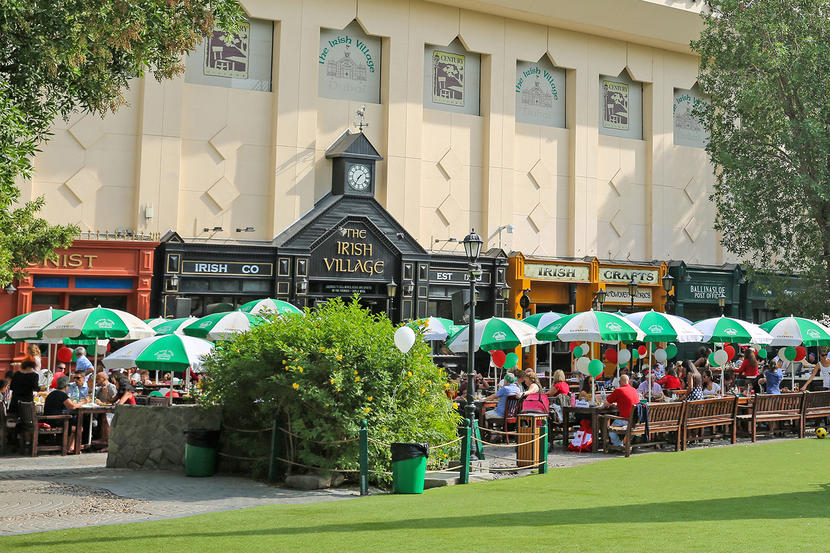 This well-loved haunt in Garhoud is one of those rare pubs that's universally loved by every single person who visits. Whatever the formula, The Irish Village in Garhoud has cracked it, and that's why it's a multiple past winner of our Pub of the Year award. Pints fall under Dhs50 and there's a big menu of delicious Irish fare to keep hunger pangs at bay. This Dubai pub is the real deal.
Open Sat-Wed 9am-1am, Thu-Fri 9am-2am. Garhoud, www.theirishvillage.com (04 282 4750).
This is the third branch of the popular Irish pub and improving on a legend is no small feat, particularly when the original (in Garhoud) could hardly get better. But The Irish Village in Dubai Studio City does exactly that. With a friendly atmosphere, a spacious outdoor terrace with an enormous screen and a much-loved menu of Irish Village staples (we're talking bowls of chopped sausages, golden cod and chips, Irish stew, chicken curry, bacon sarnies – all the classics), the Dubai Studio City branch is a must-visit pub in our books.
Open Sat-Wed noon-1am, Thu-Fri noon-2am. Studio One Hotel, Dubai Studio City, theirishvillage.com (04 241 8444).
The Red Lion is the remodelling of one of Dubai's oldest pubs and one of the best things about this sports bar and pub is its central location – meaning that you can gather mates from various ends of the city and still all make it in time to catch kick off. You may want to avoid this place if you're a Liverpool sympathiser, since this is home to the other reds – Manchester United (don't get those two mixed up, whatever you do). Regardless of what team you support, it's a cracking pub worth having a pint (or two) in and during match days it gets busy, so expect a lively vibe.
Open daily noon-3am. Metropolitan Hotel, Sheikh Zayed Road, metropolitanhoteldubai.com/restaurant/the-red-lion (04 343 0000).

This Dubai Marina sports bar and pub is a good spot for sports and classic pub grub. The pub is themed on the London Underground making it somewhere between a platform on the Northern Line, a small-town British recreational club and a brilliant Dubai pub. It's got everything a good watering hole needs in this town. A wide choice of beverages, bar sports, a big TV screen at every conceivable angle showing the various matches of the day, and a decent menu of food to boot at this top pub in Dubai Marina.
Open daily noon-3am. Al Habtoor Grand Resort, Autograph Collection, JBR (04 399 5000).
Be the first to get all the latest Dubai news, reviews and deals into your inbox by signing up to our free
newsletter
,
click here to sign up
.