DUBAI
From painting your own Banksy to marvelling at a Las Vegas-style theatre extravaganza, exploring pokey backstreet galleries to getting lost in world-famous museums, Dubai is a vibrant canvas like nothing you've ever seen. Here's how to embrace your inner Da Vinci and crack a smile wider than Mona Lisa.
Art
Al Seef
Dutch photojournalist Jeroen Swolfs brings Streets of the World to Al Seef (pictured). The photography exhibition, which is thought to be the longest in the world as it is spread over 1.8km, was started by Swolfs in 2009 and documents the places and people he met while travelling through 194 countries.
Free. Until Apr 5. Al Seef, Dubai Creek, www.dubai.ae.

Alserkal Avenue
Alserkal Avenue has similar origins to many of the artistic areas around the world: it was a neglected warehouse district until 2007. And, just like London's Shoreditch, New York's Meatpacking District and Los Angeles' Arts District, it has burst into the 21st century with a bit of sprucing. It's now a major art hub hosting a regular parade of galleries, exhibitions, talks, workshops, film screenings, festivals and museums. Many of them are free to enter and explore.
Various opening times. Alserkal Avenue, Al Quoz 1, alserkalavenue.ae.

Art Dubai 2019 at Madinat Jumeirah
The sixth edition of Art Dubai is approaching and there'll also be film screenings, workshops and live performances going on across the three-day event at Madinat Jumeirah from Wednesday March 20.
From Dhs60 (adults day pass), Dhs100 (adults, weekend pass), free (under 18s). Mar 20-Mar 23. Madinat Jumeirah, Umm Suqeim, www.artdubai.ae.

Custot Gallery Dubai
For Art Dubai later this month, Custot Gallery is pulling out all the stops, gathering the cream of the contemporary art crop for a selection of paintings, sculptures and photographs that will blow you away. The gallery, in Alserkal Avenue, is a 700 sq m space exhibiting all manner of art.
Free. Mar 20-Mar 23, 10am-7pm. Alserkal Avenue, Al Quoz, www.custotgallerydubai.ae.

Fine Art Gallery
Fine Art Gallery exhibits all sorts of works from across the Gulf region, Europe, Africa, India, America and Canada. One upcoming installation that we can't wait to see is Nature & Me, a living art exhibition created by aquascaping artist Huzefa Goga, featuring foliage, rocks – and even fish – from around the world.
Free. Open Sat-Thu 9am-7pm, exhibitions Fri-Sat noon-7pm. Fine Art Gallery, Al Quoz (04 338 8892).

Habtoor Palace, LXR Hotels & Resorts
Palette Tranquility is being exhibited at Le Patio at the hotel for two months, showcasing the work of four talented artists Karine Roche, Annabelle Smith Bigno, Leila Barakat Mukhaimer and Anneke Bester to make you feel like you're "walking on clouds".
Free. Until early April. Habtoor Palace, LXR Hotels & Resorts, Al Habtoor City (04 435 5555).

The Workshop Dubai
A stunning two-storey villa bathed in natural light doesn't seem like an obvious choice for an art gallery, but that's what you'll find here. The multi-concept space exhibits and sells any number of artworks, custom-made furniture, smart gadgets and antiques.
Free. Open daily 8am-11pm. 23B Street, Jumeirah (055 136 9454).

World Art Dubai
World Art Dubai is coming to the Dubai World Trade Centre, which means you'll be able to get your hands on some original (and affordable) art from galleries across the world. The massive retail art fair will kick off on Wednesday April 3 until Saturday April 6, boasting a collection of 150 galleries and artists from more than 30 countries displaying over 3,000 pieces of art. That's a lot of brushes dipped in many pots of paint. And from such a vast collection, you're bound to find some absolute artistic corkers, with abstract paintings, fluid painting, cubism art, mixed media and sculptures with price tags ranging from Dhs350 to Dhs73,500 meaning there's something for every budget. You'll also get the chance to roll up your sleeves yourself, with live painting sessions, expert talks and creative learning workshops with the region's most recognised artists.
Dhs20 (adults), Dhs10 (kids ages ten-18), free (under tens).Wed Apr 3-Thu Apr 4, 1pm-9pm; Sat Apr 6; 1pm-9pm. Dubai World Trade Centre, Sheikh Zayed Road, www.worldartdubai.com.

XVA Art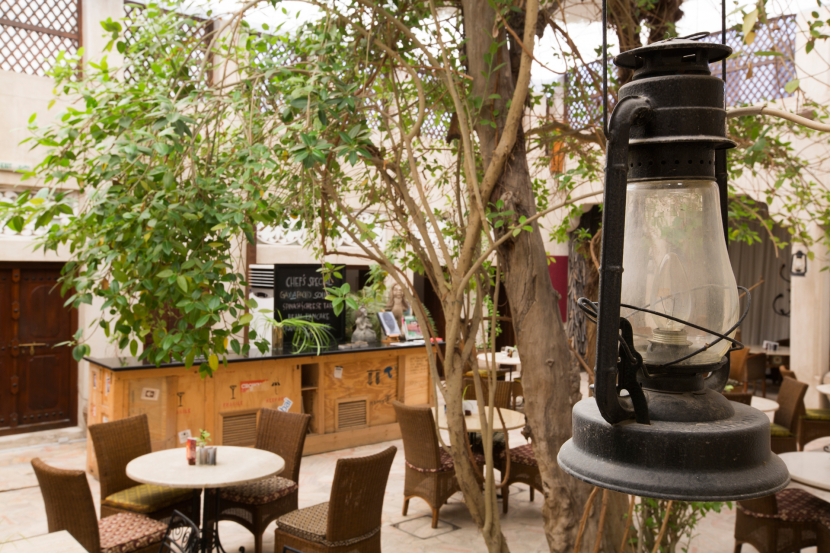 For 15 years XVA has been the home of contemporary Middle Eastern art in Dubai. There's an ever-changing roster of exhibitions on display plus stalls selling bespoke paintings, sculptures, posters and more.
Free. Open daily 10am-6pm. Al Fahidi Street, Bur Dubai, xvagallery.com (04 353 5383).
Cinema & theatre
Cinema Akil
Last year, independent movie house Cinema Akil found a permanent home – bringing cult films to Dubai every day of the week. This month sees critically acclaimed The Price of Everything and Capernaum screened.
From Dhs50. Various times. Warehouse 68, Alserkal Avenue, Al Quoz 1, cinemaakil.com (058 524 6362).

Dubai Opera


Stars of American Ballet, BBC Proms, Thriller, Al Murray, The Sleeping Beauty, Phantom of the Opera… You name it, it's on at Dubai Opera. The world-class performance hall plays host to some of the most revered musicals, orchestral, ballets and musicians around.
Prices and dates vary. Downtown Dubai, www.dubaiopera.com (04 440 8888).

La Perle
Franco Dragone is famed for creating mesmerising shows around the world and his creation in Dubai is perhaps his best. Time Out Dubai's current Best Theatre Show became Dubai's first-ever resident show and is set to run for at least ten years. The aqua-acrobatic spectacle sees 65 world-class performers flip and fly through the air.
Prices vary. Tue-Fri 7pm & 9.30pm; Sat 4pm & 7pm. Sheikh Zayed Road, Al Habtoor City, laperle.com (04 437 0001).

Madinat Theatre
Designed to look like an Arabian citadel from centuries ago, this 442-seater theatre was the first to be built in the city. Everything from Shakespeare to pantomimes finds a home here. It's a strong venue for kids' shows.
Prices and dates vary. Madinat Jumeirah, www.madinattheatre.com (04 366 6546).

Theatre by QE2
The renovated world-famous cruise liner is a permanent hotel, restaurant and tourist attraction anchored in Old Dubai. Plus, it has a 515-seater theatre that will welcome shows such as Alice in Wonderland and Motown.
Prices and dates vary. Theatre by QE2, QE2, Port Rashid, theatrebyqe2.com (04 526 8888).

The Junction
While Dubai is a regular fixture on scores of the world's talented travelling troupes, West End and Broadway's professional performers, The Junction aims to be a place where locals, residents and aspiring regional acts can hone their skills and express themselves.
Unit H72, Alserkal Avenue, Street 8, Al Quoz, www.thejunctiondubai.com (04 338 8525).

Warehouse Four
This stylish Al Quoz pop-up space is home to a wide range of unique film and video productions. It can be used to screen films, create films, host events and is a regular home for amateur stand-up comedy shows.
Prices and dates vary. 4B Street, Al Quoz (04 221 2160).

Get involved
Beach library
There are beach libraries dotted across Dubai's coastline. Each one has been equipped with a selection of books – many of which were chosen to highlight and educate readers about the UAE's histo-ry and formation. The library on Kite Beach has a beanbag area, plus lighting well after sunset.
Free. Open 24/7. Kite Beach, Umm Suqeim.

Gulf Photo Plus
Dubai's centre for photography aims to inspire and equip budding snappers through workshops, exhibitions, events and more. Time to up that Insta game.
Prices and dates vary. Unit 36, Alserkal Avenue, Al Quoz, www.gulfphotoplus.com (04 380 8545).

Thejamjar
Join a series of workshops, classes and public programmes including a life drawing class and an acrylic painting class. They run for all ages and all abilities in Alserkal Avenue.
Prices and dates vary. Unit 74, Alserkal Avenue, Al Quoz, www.thejamjardubai.com (04 341 7303).

We Love Art
When it's not running its popular Paint & Grape nights across the city, We Love Art run a series of workshops. Try the eight-week painting course, split into two different levels, and learn new techniques, styles and skills.
From Dhs2,887. Next course TBC. InterContinental Dubai Marina, www.weloveart.ae (056 769 1995).

History
Al Ahmadiya School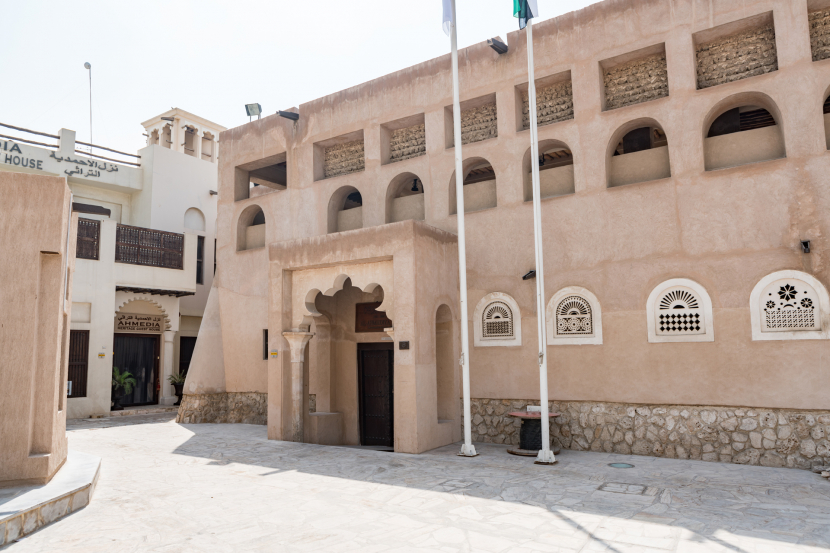 The city's first school opened in 1912 and is now a window into the past. You can learn about the school's establishment, restoration and the curriculums of different periods.
Free. Sat-Thu 8am-7.30pm; Fri 2.30pm-7.30pm. Al Ras area, Deira (04 226 0286).

Camel Museum
Learn about the trusted "ships of the desert" through a range of information showcasing the significance the animals have had on Arabic culture. Its stand-out feature is undoubtedly the impressive camel skeleton.
Free. Sun-Thu 8am-2pm; Fri closed. Al Shindagha Historical Area, Bur Dubai (04 392 0368).

Dubai Frame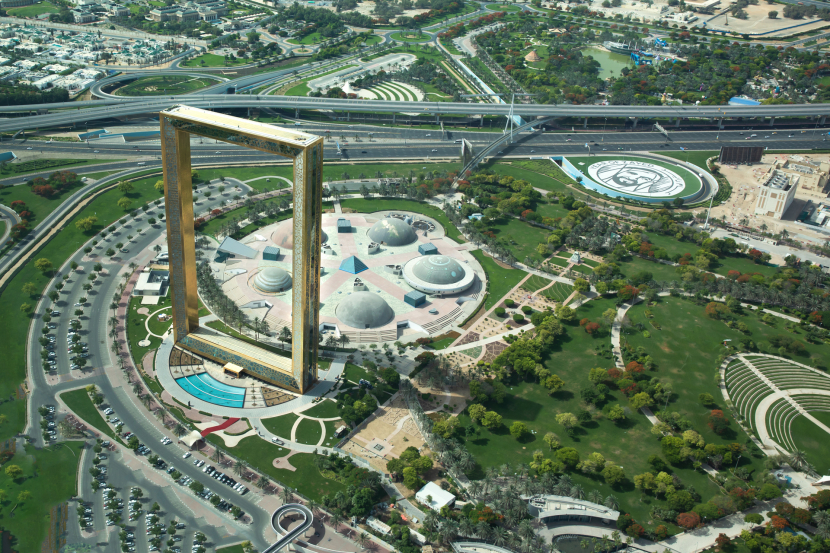 See the city's past, present and future in a one-hour tour with unique views of Old and New Dubai from a 150-metre-high sky glass bridge. You can literally see the transformation from old fishing village to glittering mega modern metropolis unfurl before you.
From Dhs20 (kids), Dhs50 (adults) free (kids under three, adults over 60 and people of determination). Open daily 10am-7pm. Zabeel Park, Bur Dubai, www.thedubaiframe.com.

Dubai Museum
This will be the best Dhs3 you'll ever spend. Dubai Museum's vast maze of underground galleries feature some intriguing dioramas of Dubai in days of long ago, from the merchants in the souks to the pearl fishers, as well as fascinating maps, illustrating how the area has grown over time.
Dhs3. Sat-Thu 8.30am-8.30pm; Fri 2pm-8.30pm. Al Fahidi Fort, Bur Dubai (04 353 1862).

Jumeirah Mosque
It's an excellent way to learn more about the religious and cultural traditions of the region. Guided tours of the interior and exterior run four days a week and last around 90 minutes. Be sure to dress respectfully – long trousers or skirts and head scarves for women.
Dhs10. Tours start at 10am on Sun, Tue, Thu & Sat. Jumeirah Beach Road, Jumeriah 1, cultures.ae (04 353 6666).



ABU DHABI
In financial terms, the UAE's capital is the world's wealthiest city. However, it is equally rich in history, nature and art. Museums, animal hospitals and the former home of His Highness Sheikh Zayed bin Sultan Al Nahyan, are just some of the exceptional sights to see.

Abu Dhabi Falcon Hospital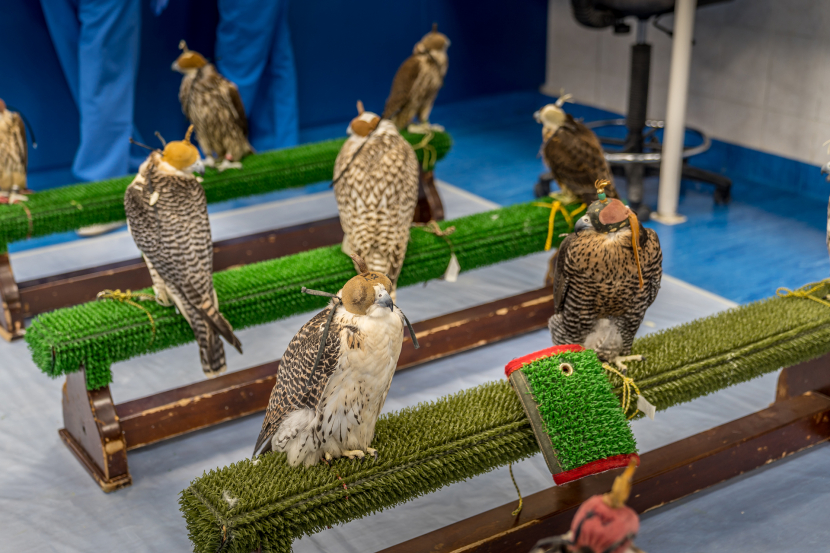 Did you know that falcons have their own passports and can travel alongside passengers on airlines including Emirates and Etihad? Well, you would if you've ever been on a brilliant tour of the Abu Dhabi Falcon Hospital. Now in its 20th year, Visitors have enjoyed it so much, they ranked it the Number 2 thing to do in the city on TripAdvisor – behind the Sheikh Zayed Grand Mosque.
From Dhs170. Daily tours run 10am & 2pm. Abu Dhabi to Sweihan Road, near to Abu Dhabi International Airport, www.falconhospital.com (02 575 5155).

Al Ain Oasis
UNESCO made it a World Heritage Site in 2011. Since then, it's been open to the public, with walkways through a spectacular 147,000 date palms. You'll see farmers tending to the crops and galleries that provide an insight into how cultivating date palms intensified the rate of human evolution.
Free. Open daily 8am-5pm. Al Mutawaa, Al Ain (02 599 5438).

Al Jahili Fort
History buffs should drop by the permanent exhibition dedicated to Sir Wilfred Thesiger. The English explorer and travel writer, who became a close friend of Sheikh Zayed. Thesiger crossed (and survived) the colossal Empty Quarter with a local tribe of Bedouin back in the 1940s, becoming the first European person to do so in the process. He documented his journey from Salalah, southern Oman, to Abu Dhabi through a series of photographs, which are now on display.
Sat-Sun, Tue-Thu 9am-5pm; Fri 3pm-5pm; Mon closed. Sultan Bin Zayed Al Awwal Street, Al Ain (03 711 8311).

Camel market
It's dusty, smelly, dirty, gritty, chaotic, brash and brilliant. The country's biggest daily camel market is buzzing and one of the most interesting sights you'll see. It's free to explore – don't be fooled by anyone who tells you to pay – and to take pictures in, just be sure to keep your wits about you for any startled camels that may be on the rampage.
Free. Tue-Thu, Sat-Sun 6am-7pm; Fri 3pm-5pm. Al Ain Camel Market, Zayed Bin Sultan Road (03 711 8311).

Louvre Abu Dhabi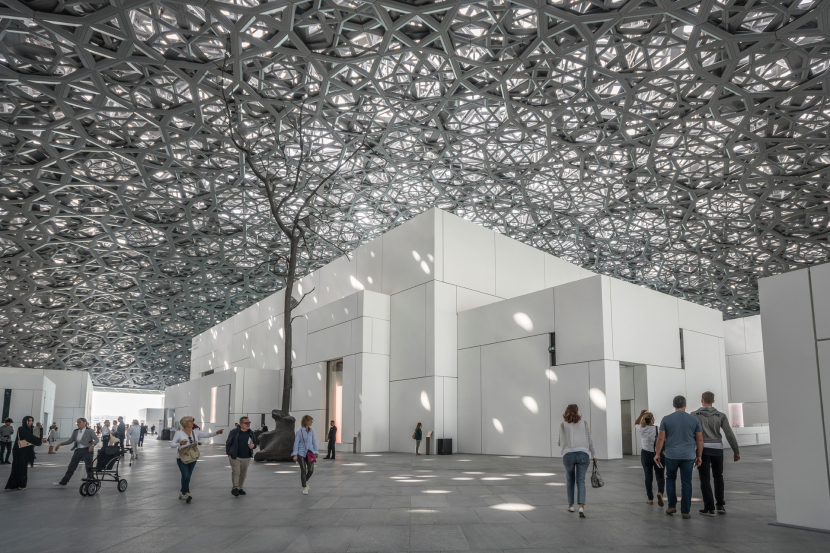 From Jean Nouvel's jaw-dropping architectural design – the building itself is one of the most striking parts of the museum – to the permanent exhibition that explores the evolution of art in unison with mankind, this museum is unmissable.
From Dhs60 (adults), Dhs30 (ages 13-22), free (under 13). Saadiyat Cultural District, Saadiyat Island, www.louvreabudhabi.ae (060 056 5566).

Sheikh Zayed Grand Mosque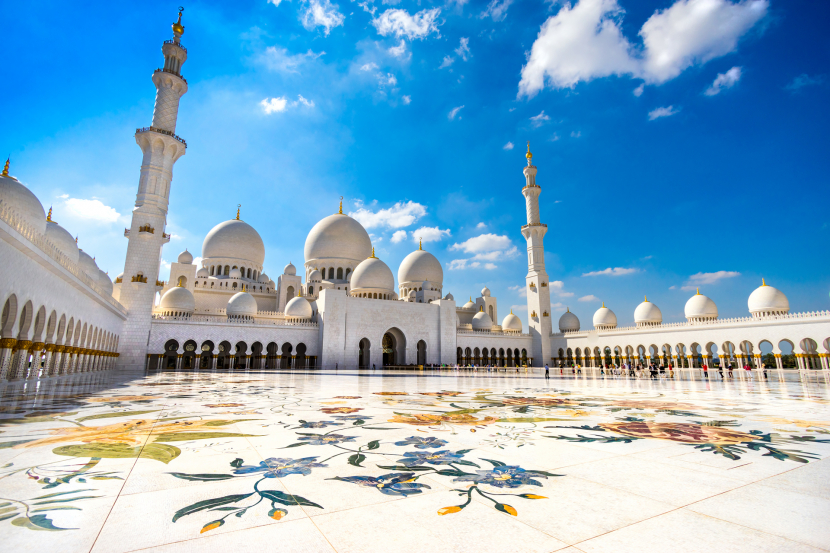 Did you know that the Sheikh Zayed Grand Mosque was named as the second best landmark on the planet by TripAdvisor? The huge mosque has the capacity for 40,000 visitors and is home to the world's larget rug measuring 60.546 sq ft.
Free. Sat-Thu 9am-10pm; Fri 4.30pm-10pm. Sheikh Rashid Bin Saeed Street (02 419 1919).

Ajman
Ajman's petite size makes for a more character-filled visit and if you make the right choices you can have a great time.

Ajman National Museum
The city's most popular tourist attraction proudly displays Ajman's past glory. Just like many other similar museums in the country, it's housed in one of the UAE's oldest forts and once served as the home to the ruling family. There are documents, relics, archaeological displays, weaponry and jewellery dating back to 3000 BC that provide insight into traditional day-to-day life.
Dhs5 (adults), Dhs1 (kids). Open Sat-Thu 8am-8pm; Fri 2.30pm-8pm. Sheikh Abdulla Bin Rashid Al Nuaimi Street, Al Bustan (06 711 6666).

Sheikh Zayed Mosque Ajman
While smaller in size compared to its Abu Dhabi counterpart, this is still a sight to behold. It sits just on the outskirts of the city and is an impressive traditional architecture of huge sacred importance.
Free. Open daily 8am-10pm. University Street, Ajman (800 29723).

Fujairah
The UAE's southeast coast is sought out en masse every summer by those looking to escape the Arabian Gulf heat. However, it shouldn't just serve as a refuge for the sweltering, the emirate has some excellent historical sights to visit throughout the year.

Al Bidya Mosque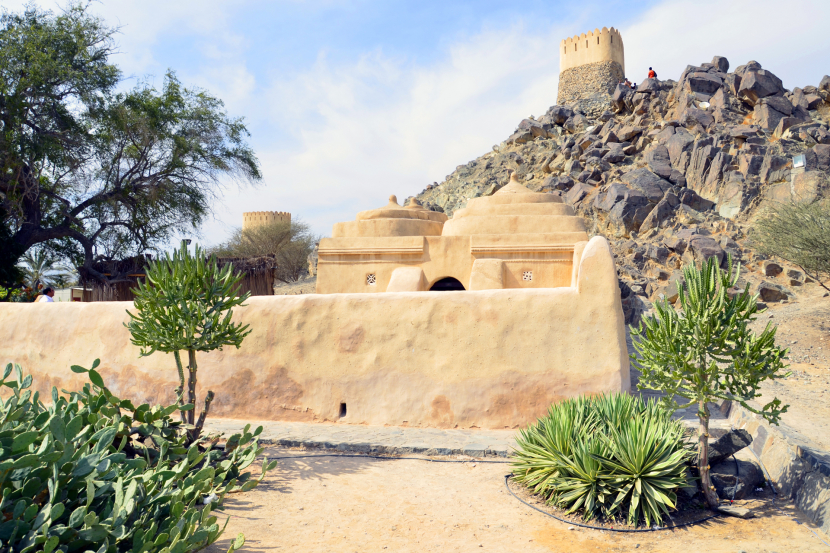 While historians argue about precisely when it was built, they're all in agreement that it's the nation's oldest mosque. It is thought to date back to the 15th century. Apart from some very minor restoration work, the structure has largely remained untouched so visitors are given a unique insight into the past.
Free. Open daily 9am-5pm. Dibba Road, Highway E99, Fujairah.

Fujairah Fort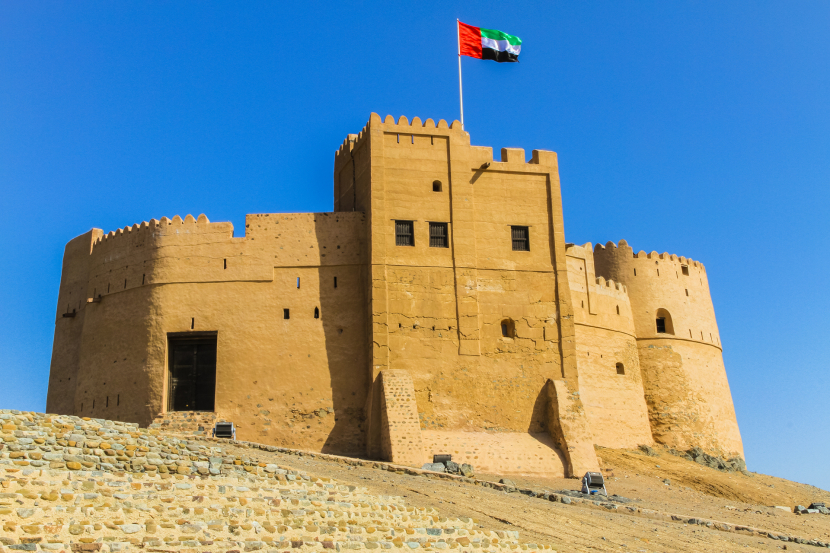 This is one of the UAE's oldest and largest castles and is thought hail from the 16th century. Almost a decade ago, after some restoration work, it was opened to the public by Fujairah's ruling family. It sits on a high hill and overlooks the whole city.
Free. 9am-5pm. Fujairah Heritage Village, Fujairah.


Ras Al Khaimah
The UAE's northernmost emirate is sprinkled with 5,000-year-old tombs, an abandoned "ghost village", the Queen of Sheba's Palace and a mountain range that dates back to the age of the dinosaurs. Culture? Ras Al Khaimah has it everywhere.

"Ghost Village" of Al Jazeera Al Hamra
With hit shows such as Netflix's Dark Tourist, the search for the macabre, dangerous or eerie has soared among seasoned travellers. So, if that's you, then Al Jazeera Al Hamra (also known as Jazirat al-Hamra) should be on your list. Often labelled as RAK's "ghost village", it attracts curious visitors keen to explore its abandoned buildings, crumbling mosques and dusty backstreets. It is one of the most unique experiences you can find in the UAE and oozes history – and eeriness.
Free. Al Jazeera Al Hamra, 20km South of RAK City.

Jebel Jais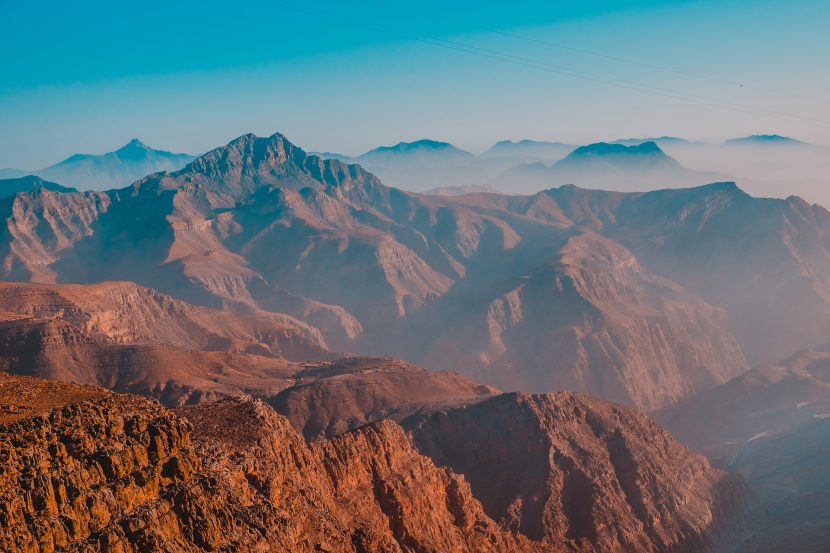 Did you know you could walk around Jurassic Park? The soaring Hajar Mountain range was formed more than 70 million years ago meaning it was five million years old when dinosaurs were wiped out. Technically it dates back to the Crustaceous period, however, famous dino's from Steven Spielberg's hit film such as the T-rex and velociraptors actually stem from this era rather than the Jurassic period. It's just the latter had a better Hollywood ring to it.
Free. 55km North East of RAK City.

Khatt Springs and ruins
This area is famous for the mineral-rich hot pools, where the water is sought out for its therapeutic properties. They're surrounded by 170 archaeological sites. Visit the mud-brick watchtower, the beehive tombs from the Hafit period or burial sites from the Umm Al-Nar period. Don't miss the Khatt Fort either, which dates back to the 19th Century.
Free. Khatt, 30km South of RAK City.

Queen of Sheba's Palace
Also known as the Qasr Al Zabba (Palace of Zenobia), this is one of the archaeological treasures from the Middle Ages. It is the only known ancient Islamic palace in the UAE and dates back to the Julfar period between the 13th and 16th centuries. The ruins sit 200 metres above sea level on top of a rocky hill and provide sweeping views across RAK. You can access the palace by climbing a stone staircase. Be prepared to hike over rocky and unstable grounds to reach it.
Free. Near to Shimal village, 13km North East of RAK City, www.rakheritage.rak.ae.

Ras Al Khaimah National Museum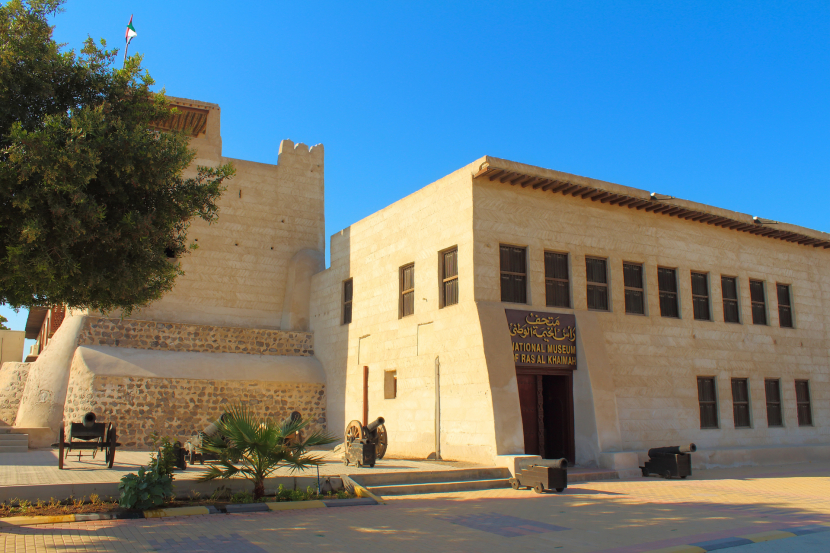 This is a fascinating step back into the history of the region and is housed inside a 19th century fort. The structure – home to the ruling RAK family until the early 1960s – is bursting with archaeological artefacts found within the emirate. Some of the items in the collection include traditional weapons, tools and ceramics highlighting RAK's past as a significant trading post.
Dhs5 (adults), free (kids). Sat-Thu 8am-6pm; Fri 3pm-7.30pm. Al Hisn Road, RAK City, www.rakheritage.rak.ae (07 233 3411).


Sharjah
This is the UAE's third largest and third most populous city and is a delight to explore, especially for those looking to learn some more about Islam.

Fossil Rock
This enormous geological formation is jam-packed with natural wildlife and, of course, fossils. It's a surreal experience and many of the fossils have been found to be more than 80 million years old. Take a hike around Fossil Rock and you'll find a nature reserve where oryx, gazelles and mountain deer roam free. Hike to the top and you'll be rewarded with sweeping views over the surrounding dunes.
Free. Dubai to Hatta Road, near Al Awir, Sharjah.

Sharjah Museum of Islamic Civilization
This museum is one of the best ways to learn about Islam. Just about everything you'd want to know is covered here – there are galleries dedicated to different aspects of the faith, including the importance of hajj (the pilgrimage to Mecca millions of Muslims make every year). There is also a profound amount of information celebrating the scientific accomplishments, inventions and discoveries made by Arabic scholars, especially in mathematics and astronomy.
Dhs5 (adults), free (kids). Sat-Thu 8am-8pm; Fri 4pm-8pm. Al Mujjarah Street, Sharjah (06 565 5455).

Wasit Nature Reserves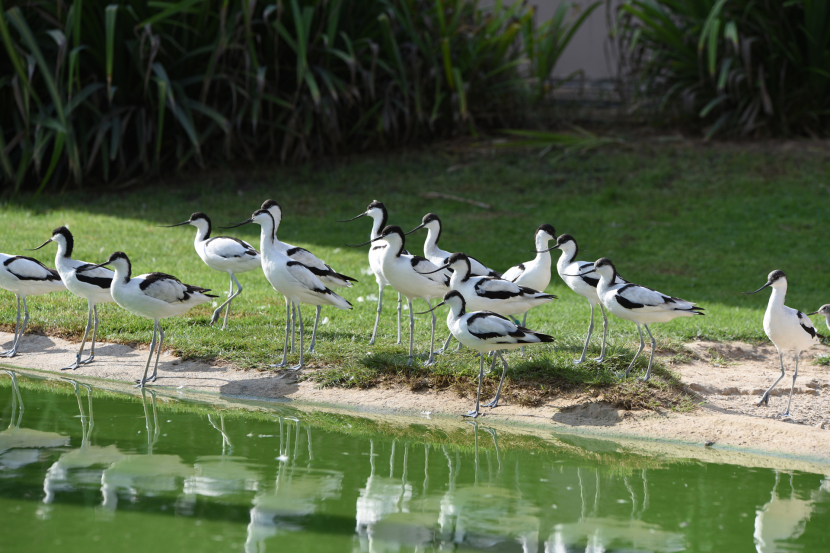 What better way to embrace the UAE's history than by becoming one with nature. And, at Wasit Nature Reserves, you can get up close and personal with some of the 198 species of feathered friends. The Wasit Wetlands are 4.5 sq km of salt plains on the outskirts of Sharjah have served as a sanctuary for local and migrating birds since 2007.
Dhs15 (adult), free (kids under 12). Sun-Thu 9am-6.30pm; Fri 2.30pm-6.30pm; Sat 11am-6,30pm; Sun closed. Ramtha area near the suburb of Wasit, Sharjah (050 213 3915).


Umm al-Quwain
The tiny slice of land between Sharjah and Ras Al Khaimah is often overlooked by travellers, but to pass it by unexplored would be an opportunity missed. Umm Al-Quwain home to a hotbed of wildlife and has a stunning natural landscape, don't skip it on any cultural journey.

Umm al Quwain wetlands
The diminutive emirate of Umm al-Quwain is one of the best-preserved places in this modern nation, providing an untouched window into the country's natural history. The coastline remains undisturbed. Visit the wetlands surrounding a bright blue lagoon that is dotted with little islands for a fix of animal fun as flamingoes feed and turtles dive under the water surface. It's a prime spot for twitchers, as thousands of migratory birds pass through every year. Not only that, but you can explore the wetlands by boat or by kayak, so don't miss a journey through the mangroves while you're here.
Free. Near to Khor al Beidah, Umm al-Quwain.

ARTY CAFÉS
Black Tap
This ultra-hipster American import has three outposts in the city. Each comes with a vast amount of graffiti work from international artists. Grab a glass of craft hops, a dish of deep-fried pickles and enjoy.
Locations include JBR, Umm Suqeim and Dubai Festival City, www.blacktapme.com.

COYA Dubai
The Peruvian restaurant have a continuing rotation of international artworks on display, with Emotional Feathers by Aleona Darling currently on show.
Open Sat-Tue 12.30pm-4pm, 4pm-1am, Wed-Fri 12.30pm-4pm, 7pm-2am. Until SunApr 21. Four Seasons Resort Dubai at Jumeirah Beach, Jumeirah (04 316 9600).

Kaftan
The theme of the kaftan runs throughout this restaurant, with the colourful garment that dates back to the Ottoman Empire framed and hung on the walls and artist impressions of it decorating the space.
Open daily 9am-midnight (Umm Suqeim). Other location: La Mer, Jumeirah 1, www.kaftan-restaurant.com.

La Cantine du Faubourg
Expect to marvel over works of art while nibbling on your foie gras at Time Out Dubai's Best French restaurant 2019, with regular shows and ever-changing exhibitions constantly gracing the walls.
Open Sun-Wed noon-2am; Thu-Fri noon-3am; Sat noon-6pm, 8pm-2am. Jumeirah Emirates Towers, Sheikh Zayed Road (04 352 7105).

Maisan 15
Formerly known as Cabin, Maisan 15 is a dedicated art café with plenty of top artwork, and even some from famous names displayed on the walls.
Open daily 8am-11pm. Maisan Towers, Barsha South (04 2447291).

Molecule
Tasty French food with eclectic artsy décor. Admire collections in the restaurant's frequently updated art gallery before turning your attention to the food menu – which is a work of art in itself.
Open daily noon-2am. Building 6, Dubai Design District, Business Bay (04 2454700).

The Louvre Café
The Jean-Nouvel designed café looks out across the sea and skyline and serves Emirati and European flavours.
Open Sat-Wed 10am-9pm; Thu-Fri 10am-10pm. Saadiyat Island, Abu Dhabi (056 689 0019).

XVA art Hotel & Café
There's an interesting roster of exhibitions on display plus stalls selling bespoke art here, plus a menu serving sandwiches, salads, breakfast and burgers.
Open daily 10am-6pm. Al Fahidi Street, Bur Dubai (04 353 5383).

Q&A
With Cinema Akil founder Butheina Kazim

What is the aim of Cinema Akil?
Primarily our goal is to be a voice of the community and to be a home for the film-lovers community or communities that can congregate around the conversation to do with cinema. The way we think about our programming allows people to come together in a different way than they would in a regular multi-plex cinema.

How do you choose the films?
We focus on films that have a lot of high artistic integrity or value. They reflect either human experience or excellence and cinematic creation or important critical issues that that we are facing as mankind.

What attracts you to cinema, personally speaking?
I have a serious case of wanderlust and I want to be everywhere and live in different time zones, and obviously you can't do that. So the closest thing to being able to achieve that is by watching films.

How do you plan to represent women in cinema?
We have a very strong feminist voice through our programming and it's something that not directly preaches but also tries to flag some causes or issues that can be tackled differently if done so collectively.
Be the first to get all the latest Dubai news, reviews and deals into your inbox by signing up to our free
newsletter
,
click here to sign up
.