In movies, there are often characters that seem too big, too over-the-top to be real.

Of course, those characters exist in real life as well, and being asked to play one of them must be daunting for any actor.

For more than a decade, Queen frontman Freddie Mercury was one of the most famous men on the planet, a singer with a stage presence so legendary his performances are ingrained in the memories of music fans around the world.

The mic stand, the strut, the moustache, the punching the air, that voice – we all have an image of Mercury in mind when his name is mentioned. But what about the man behind the bravado?

His parties were legendary, his lifestyle speculated upon regularly, his background unusual (compared to his bandmates, at least). Born Farrokh Bulsara in Zanzibar, Mercury was paradoxically very shy at times and extremely outgoing at others, making for a complex character.

So bringing a film about the singer and his band to the big screen was probably always going to be a big ask – how do you reproduce the thrilling euphoria of a live performance for a cinema audience? How do you capture the nuances of an intriguing individual the public already feels it knows so much about?

Enter director Bryan Singer (The Usual Suspects, X-Men) and writer Anthony McCarten (The Theory of Everything, Darkest Hour), who took on the task of turning Mercury's life into a piece of cinema.

While there were some complications along the way (original star Sacha Baron Cohen left the production early on and the movie was actually finished by Dexter Fletcher rather than Singer), what everyone seems to agree on is that Rami Malek's performance as Mercury is staggering.
The Mr. Robot actor seems to have nailed the mannerisms and voice for the hugely daunting talk.

"At first it was pure shock," he says about being offered the role. "As an actor, I don't think there's ever this law of depreciating excitement when things like this happen in your career, especially when you are being asked to play Freddie Mercury.

"It's a moment that halts you in your tracks – it's at once euphoric and thrilling. But then there's a hit of the weight you have to take on [by playing] this legendary man who lives in the hearts of so many people, and is revered as being one of the most talented artists of any generation."

He adds: "There's also some ambitious part of me that gets wildly excited and starts thinking about how to begin to inhabit this unique and magnificent being."

Malek studied Mercury and identified with his journey from Zanzibar via Bombay to London, where he met future bandmates Brian May, Roger Taylor and John Deacon.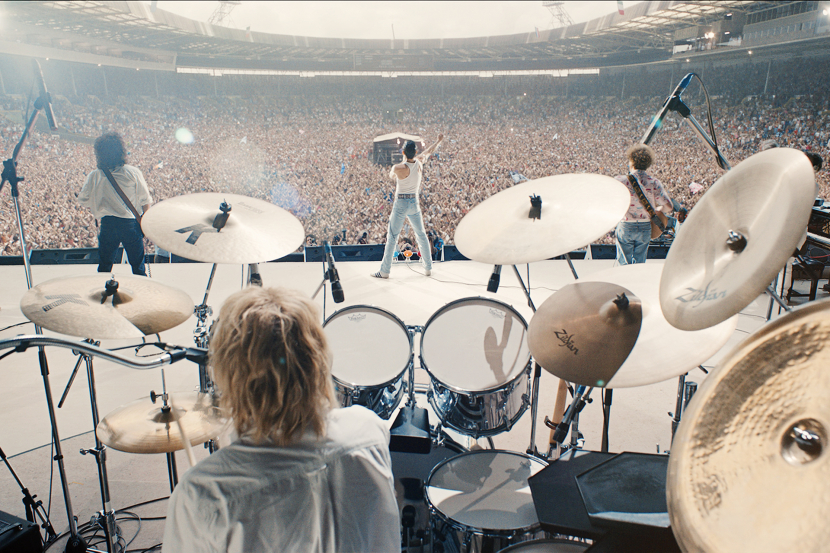 He says: "Freddie referred to his childhood as an 'upheaval of an upbringing', so I drew a connection to my own life and being a first-generation American.
"My parents moved to America from Egypt to seek a better life for me. When I told them that I was going to be an artist, it was a very difficult stance for me to take. There were aspects of his experience that I could relate to, which somehow allowed it to be less of a daunting task of looking at Freddie Mercury the superstar.

"There's a relentlessness and determination to your fight and drive if you have not been born into opportunity."

The film charts the path of the group from meeting in the late 1960s up to their career-defining performance at Live Aid in 1985, six years before Mercury's death aged 45.

Brian May, Roger Taylor and Queen's manager Jim Beach (played by Tom Hollander) are co-producers on the film, which saw Malek having to show his performance as Mercury to the singer's real-life friends and bandmates.

"I went to Abbey Road to record everything, which was unforgettable for me," Malek says. "As one of the world's most famous recording studios, full of photographs of the legends that have recorded there, it was incredibly inspiring. On my last day, when we got to go back and do more recording, I had a chance to play a little bit on the piano that The Beatles used, and it was unforgettable. This film has run the gamut of emotions for me but the highs have been higher than any you could hope for."

One of the most daunting moments for Malek was undoubtedly when he had to play two Queen legends the tape of his own Mercury impression.

"Sharing what I got to record with Brian May and Roger Taylor was quite a moment," he admits. "I thought they had seen it before we met and half way through our conversation I realised they hadn't.

"And so I had to watch myself – interpreting Freddie for the first time – standing between two of the people who know him better than anyone. You can imagine how intimidating that was. What I knew immediately was 'I can move like that. I can get that down'.

"I also knew that I could convey that shyness that he had and I could get the gregarious showman aspect, too, when I worked on it. It was the singing that was going to be the most challenging."

He continues: "Roger was characteristically cool and reserved but Brian complimented me and I was quite moved by that. I had put all of myself into preparing for this and trying to do this person justice, so getting that acceptance from them was both inspiring and propelling."
The actor made sure he listened to Queen's back catalogue to understand what made the frontman tick.

He says: "I began to look through the songs that Freddie wrote and look for the themes that underlined every track, so that through the songs I could understand the man.

"My thinking was that if you are going to write something so passionately you are going to draw on some deep emotions.

"Without a doubt it's love; the search and desperate need to find love and how that has escaped him. Another theme is identity. I tried to build from the ground up, so I looked at his childhood. Here's a boy who was born in Zanzibar and shipped off to St. Peter's boarding school in Bombay at a very young age. He returns home to Zanzibar and there's a revolution going on and his family is forced to seek refuge, almost, in England."

The film also features Mary Austin (played by Lucy Boynton), who was Freddie's girlfriend for six years.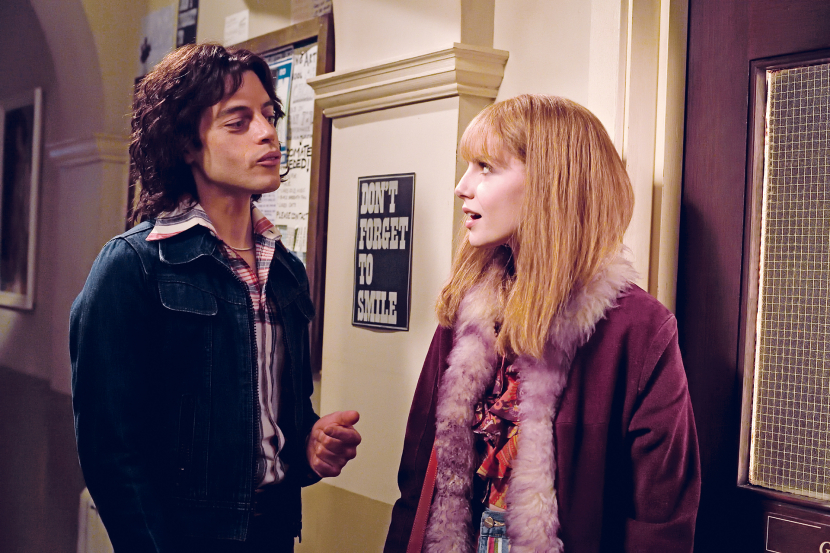 "Mary meant the world to Freddie and surprisingly few people are aware of the impact she had on his life, but they will be when they see the film," says Malek. "Freddie referred to Mary as the love of his life and he wrote the song Love of My Life for her.

"She was his confidante for so much of his life. She understood him in a way that no one else could or would.

"They were in a relationship for six years and were tethered together till the end of his life. She was the person he trusted the most. Without Mary, I don't think we would have had the Freddie Mercury we know today."

That Freddie Mercury is the stadium rocker, the greatest showman and the outrageous personality, but for Malek there was much more to do than prowl around a big stage – he had to show a man transforming from shy singer to world beater.

"It gives me chills just thinking about it because he is exactly that, he transforms," he says. "It's always Freddie but there are different versions of him, which I think is beautiful. It's not like he's hiding anything, it's not Jekyll and Hyde, they are all him.

"It's who he wants to be in the given moment and the given situation, which I find so endearing. I saw one interview where he said 'on stage I can be the macho man that everybody wants me to be'. And I think you see that in the '80s, this performer who throws his fists in the air and holds the crowd with the raising of one arm. Whereas in his younger days, he was very erratic when he was trying to find himself and there was more of a wispy-ness to him.

"So I started to identify that and worked on the progression of the character in that way. What was incredibly useful was when I started to find a team of people who were going to help me assemble him, essentially."
Bohemian Rhapsody is released on November 8.
Be the first to get all the latest Dubai news, reviews and deals into your inbox by signing up to our free
newsletter
,
click here to sign up
.