The holiday season is finally here, and while we're not seeing any Christmas movies out just yet, cinemas across Dubai are still putting on some knock-out films.
First off we have an absolutely buffed out Michael B. Jordan stepping into the ring once more to face the killer of Adonis Johnson's father in Apollo Creed. The training montages are fabulously brutal to watch.
For something a little lighter, Instant Family is a gentle dramedy that pulls at your heartstrings and makes you laugh with its constant stream of gags. Predictable, but enjoyable, nonetheless.
Top performances from Keira Knightley and Dominic West can be seen in Colette, telling the amazing story of a real French novelist who stood up against frauds.
While it doesn't pay true homage to David Fincher's The Girl with the Dragon Tattoo or the Millennium book series, there's also The Girl in the Spider's Web which has some gritty action scenes, and Claire Foy shines as Lisbeth Salander.
From the Queen to a punky Swedish hacker, Foy has played some pretty diverse roles, even if she claims she's "a ridiculous, embarrassing person". You can check Time Out's full interview with the star right here https://www.timeoutdubai.com/film-tv/390462-claire-foy-im-just-a-ridicul....
So have a gander through our thoughts below and head to the cinemas.
Creed II
4/5
(PG15) Director: Steven Caple Jr.
Cast: Michael B. Jordan, Sylvester Stallone, Tessa Thompson
Released: Nov 29
The word "yo" has a near-sacred status in the lunkheaded Rocky universe; it can be soft or hard, gentle or a throwdown. In Creed II, it comes reverently, with a marriage proposal and, later, the birth of a child. That's not an accident: As with 2015's affecting Creed, the sequel wants to consecrate every verse of Stallone scripture, bowing deeply to Rocky IV's clash of superpowers (both Dolph Lundgren and an icy Brigitte Nielsen are back), and evangelizing on behalf of the franchise. The people making this movie know all the beats they have to hit, and hit them they do, jab by jab. If the results aren't as artful as those by Creed director Ryan Coogler (Steven Caple Jr. steps in), they still feel earned.
That's chiefly due to actor Michael B. Jordan, the linchpin of the rebooted series, who makes a meal out of the role of rising young boxer Adonis Creed, rife with daddy issues. Last time, Jordan leaned hard into the story of a humble son chasing a ghost, Apollo Creed, gone be-fore his child could know him. Now, Adonis is all but avenging him, confronting his father's murderer in the ring in the form of Viktor Drago (Florian Munteanu), the hulking son of Lundgren's iconic Russian heavyweight Ivan. You won't need to refresh on the '80s films to know that the bout doesn't go well: Adonis lets the mojo go to his head and his pre-fight entrance into Brooklyn's glittering Barclays Center is glitzy and preen-ing – a bad situation.

Bring on the training montages, the hoisting of enormous tires, the honest labor of the punch-ing bag. Creed II doesn't unfold as elegantly as its predecessor: Stallone's champ-turned-coach, grappling with guilt, is less of a revelation this time, and less motivated as a character. So is Adonis's girlfriend Bianca (Tessa Thompson), who somehow gets signed offscreen as a Rihanna-esque pop singer in a subplot that feels undernourished in this, the Year of Our Lady Gaga. But impressively, the movie compensates with some fascinating father-son Drago tensions, the Russian oligarchs swarming, redemption at hand. You sense that Ivan's life hasn't been so hot during these past several decades since he lost to Rocky on his own home turf. To which we can only say: Yo.
Joshua Rothkopf
Instant Family
2/5
(G) Director: Sean Anders
Cast: Mark Wahlberg, Rose Byrne, Isabela Moner
Released: Nov 29
Sensible moviegoers averse to schmaltz and unnecessary crudity know to avoid the Daddy's Home movies. That said, writer-director Sean Anders and co-scripter John Morris score a little stronger with their latest comedy about an unconventional family — no doubt since it's based on Anders's own personal experiences with adoption. There's genuine heart and feeling scattered throughout Instant Family, enough to make one wish it would stick to a consistent tone without being repeatedly undercut with forced gags.

Mark Wahlberg (from the Daddy's films) and Rose Byrne play Pete and Ellie, who make their living renovating houses and have started feeling the emptiness of their own nest. They decide to go the foster-parent route, and after attending classes full of would-be adopters, end up bringing home a trio of siblings. The kids all have the standard issues: Lizzy (Isabella Moner) is a rebellious teen, younger Juan (Gustavo Quiroz) is a bundle of hypersensitive nerves and little Lita (Julianna Gamiz) is a brat. Pete and Ellie's attitudes toward them keep changing from scene to scene, depending on the effect Anders is after. And if you can imagine the most predictable development to bring third-act conflict to this particular story, you'd probably be right on the money.
Still, if Instant Family manages to land more emotional and amusing moments than it deserves to, that's thanks in large part to two of the performances. Rising young star Moner is terrific as Lizzy, bringing credibility and empathy to a role with even more mood swings than your average teenage girl. In the smaller part of cool grandma Sandy, Margo Martindale tears through the movie like a comedic force of nature, stealing her every scene. They're good enough to make one wish for an alternative version that's more about Lizzy and Sandy bonding, and less about Pete and Ellie flailing through contrived situations and lowest-common-denominator laughs.
Michael Gingold
Colette
4/5
(15+) Director: Wash Westmoreland
Cast: Keira Knightley, Dominic West, Eleanor Tomlinson
Released: Dec 6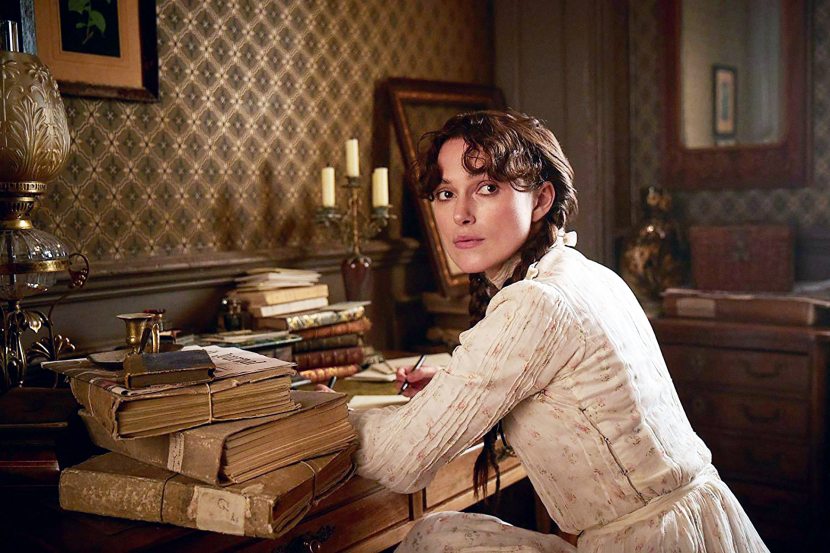 This year we have seen a number of films with strong female performances and stories. A response to the #metoo movement? Perhaps. But regardless of the spark that caused it, it's a pattern that's well overdue. Colette is a true story of a pioneering female French author. A fighter for women's rights, she was nominated for a Nobel Prize in literature six years before her death in 1954. Keira Knightly puts in a firebrand performance as Sidonie-Gabrielle Collette, the titular author. Born into a time when women did what men told them, she left her home town and ran off to Paris to marry the older, celebrated author henry Gauthier-Villiers (Dominic West) when she was just 20. Collette joins a group of people who ghost-write for her husband but soon has enough of him taking credit for her work. The plot of the movie is by no means ground-breaking but the incredible real-life story and fascinating relationship between the two leads are what make it work. Both Knightley and West are at the top of their games here (and West is getting seriously good at playing chauvinistic, despicable older men). When the first four novels she writes become smash hits, she decides she's had enough of the abusive relationship and begins to throw off the shackles. Watching Collette break free, and have a load of fun doing it, is a seriously thrilling ride. Especially as the sparks between her and her husband begin to fly. It's this relationship, full of twists and turns, that carries most of the film. Of course, Paris is a beguiling backdrop for these fights, and the literary high-society circles they move in allows a series of fun supporting characters to come in and out of their lives, adding spice to proceedings. It looks delightful, too. On the face of it, this is a biopic about a snobbish world that most people won't be that interested in, but what it really is is a timely movie about women's rights, and an intriguing to-and-fro between a simply brilliant woman and her out of touch husband. And thanks to those things, it's a must-watch.
Paul Clifford
The Girl in the Spider's Web
2/5
(15+) Director: Fede Alvarez
Cast: Claire Foy, Beau Gadsdon, Sverrir Gudnason
Released: Nov 29
If ever there was a perfect time for the avenging hacker of Stieg Larsson's Millennium series to make a rebooted comeback, it's now. So call it a spectacular failure to read the room that the new action-tooled The Girl in the Spider's Web strips its hero of everything that made her spiky and singular.

It's not that the movie doesn't have a terrific lead (The Crown's Claire Foy) or a sleek, inky visual template, established by David Fincher in 2011 with his Rooney Mara–led The Girl with the Dragon Tattoo. Problematically, Spider's Web sees nothing to celebrate in Salander but a bland video-game avatar, someone who speeds across icy ponds on her Ducati and flees explosions in slo-mo. Foy wasn't made to frown at laptops; what little psychology there was in the literary version of this antihero has been scaled back to nothing. Meanwhile, sad little girls play ominous games of chess and several actual spiders make their long-legged presence known—but wouldn't a properly cryptic Lisbeth have been better?

Worse, she's up against one of those generic madman-steals-a-nuke-app scenarios that went out with Roger Moore. When Salander's nemesis shows up, she's another woman, clad fully in red like a supervillain. Did it have to end with a colour-coded cat fight? Uruguayan director Fede Álvarez has the stylish Don't Breathe under his belt, but his pivot to the big leagues is inauspicious, dumbing everything down and wasting his shot. He probably has Seven, Skyfall and the Christopher Nolan movies playing on a constant loop at home. Hopefully that's fun for him.
Joshua Rothkopf
Also Showing
Mortal Engines - Preview
(PG) Director: Christian Rivers
Cast: Hera Hilmar, Hugo Weaving, Jihae
Released: Dec 6
Deemed to be the next Lord of the Rings, (one of the writers is Peter Jackson) Mortal Engines appears to take the best parts of Mad Max and The Hunger Games and put them on an even grander scale, with an added cartoonish twist. There's tons of CGI, but also a story that draws you in. Set hundreds of years after a disastrous event has destroyed civilisation as we know it, the world is now full of "Predator Cities", which are basically pirate ships on wheels. London is wreaking havoc and it's up to a mysterious young woman, Hester Shaw (Hera Hilmar), to stop it from devouring the world. Worth a watch.
Darragh Murphy
Widows
5/5
(15+) Director: Steve McQueen
Cast: Viola Davis, Michelle Rodriguez, Elizabeth Debicki
Released: Nov 22
After such imposing movies as Hunger, Shame and 12 Years a Slave – those titles are punishing enough – you'd be forgiven for assuming British director Steve McQueen had a mean streak, if not toward his audiences, then his actors. Now comes Widows, which also has its fair share of suffering, mainly on the haunted face of Viola Davis. But McQueen has discovered something new. Should we call it fun? Let's not get carried away. Still, Widows, a supercharged Chicago-set caper of consummate skill, zooms along in a way that feels peppier than usual, McQueen brewing the action and ominous municipal intrigue like he was trying to outdo The Fugitive. He comes frighteningly close.

Three women dominate the film, delivering it to a poise that Ocean's 8, a high-collared pre-tender, can only dream of. They're all the recent widows of a freshly deceased gang of high-stakes criminals, men who barely get any screen time. In their absence, Veronica (Davis) floats around her white-walled penthouse like a ghost, Linda (Michelle Rodriguez) gets her thrift store sold from under her, and Alice, a blonde trophy wife (Elizabeth Debicki, running away with the movie via skittish fragility and, later, pure nerve), is urged by her own mother to ex-plore a darker career path. As if economic freefall and grief weren't enough, their husbands' unfinished business shows up on their doorsteps, demanding payment or else. To watch them coalesce into a hard-nosed crew of heisters is the year's most purely pleasurable piece of trans-formation. McQueen, adapting a 1983 British TV miniseries with Gone Girl screenwriter Gillian Flynn, peppers the flow with spikiness, mainly involving a vicious, unpredictable en-forcer (Get Out's Daniel Kaluuya) and – this being Chicago – the stench of dynastic political corruption, embodied by Colin Farrell's up-and-coming alderman. It's a lot of plot for one sitting, but Widows will remind you of how massively entertaining crime movies can be, espe-cially when they're animated by cool-headed capability, on and off-screen.
Joshua Rothkopf
Robin Hood
2/5
(PG15) Director: Otto Bathurst
Cast: Taron Egerton, Jamie Foxx, Ben Mendelsohn
Released: Nov 22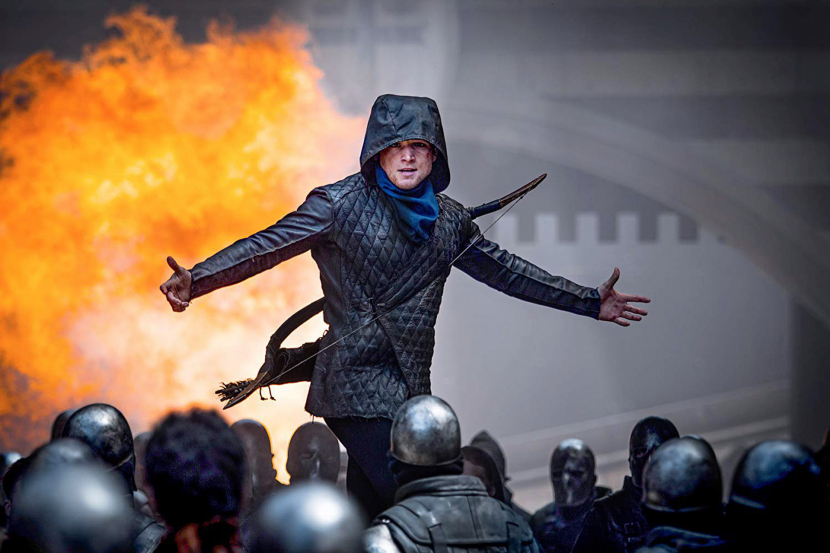 "This isn't a bedtime story", a narrator insists early in Robin Hood. It certainly feels like one, in terms of snores – hopefully your seat doesn't recline. Several dueling shades of dull, this umpteenth retooling of the outlaw legend is desperate to convince viewers that Christopher Nolan had something to do with it (he didn't). It's drenched in one of those pound-ing Dun-kirk-like scores (this one's by Joseph Trapanese, doing his best Hans Zimmer), and the script stresses the Dark Knight-ish dual nature of its hero: Sometimes Robin of Loxley is a Cru-sades-era version of billionaire jerk Bruce Wayne; elsewhere he's the "Hood," a mysterious archer causing panic among the ruling class. Both personas are embodied by the charisma-free Taron Egerton, who's got much work to do, chops-wise, before he portrays Elton John in next year's Rocketman.
Making sense of the busy plot – involving villagers in revolt and a scowling Sheriff of Not-tingham (go-to bad guy Ben Mendelsohn in a slick grey coat that seems to be wearing him) –is a fool's errand. But even as your eyes dull at the listless action scenes, there's distraction to be found in marvelling at all the anachronisms. Eve Hewson's Marian and Jamie Foxx's John (no Little, please) are too modern-feeling to be persuasively medieval—and what's with all the fitted leisurewear? Was that a T-shirt we just saw? Are we in a desert, a fortress or a video game? Some people may appreciate the creative license, but that's a thin thread to hang two hours of entertainment on. It's a Robin Hood that steals from the rich and the poor, time-wise.
Joshua Rothkopf
Ralph Breaks the Internet
4/5
(PG) Director: Phil Johnston, Rich Moore
Cast: John C. Reilly, Sarah Silverman, Gal Gadot
With so many animation franchises content to tread water – or in one interminable case, ice–it's seriously refreshing to see a sequel that's not only an upgrade on the original, but more thoughtful too. If Wreck-It Ralph launched us head-first into a 16-bit wonderland fit to blow the synapses of bright-eyed kids and weathered gamers alike, this surprisingly vibrant follow-up is a giddy, sugar-coated joy. And it's an expansion pack that plugs in plenty of new ideas: about friendship, insecurity and the mind-bending transience of the online world. It's not every animation that features an eBay-spoofing riff involving a corn chip shaped like Beyoncé.
The story sends arcade-villain-turned-good guy Ralph (voiced by John C. Reilly) and his new BFF, arcade racer Vanellope von Schweetz (Sarah Silverman), into the internet to find a new part for her broken arcade game. Their arcade's newly installed "wifey", as the endearingly slow-on-the-uptake Ralph calls it, is a portal to a host of opportunities for witty visual representations of cyberspace. If it's sometimes a touch literal—the internet is a sci-fi city filled with buildings marked "Amazon" and "IMDb"– the finer world-building is sharp. Every facet of cyberspace has a walking, talking avatar, including a patronizing search engine that notes its "autofill is a touch aggressive today," and weasely clickbait pop-ups that are shunted aside by ad-blockers clad like burly security men.

Yes, that age-old quest for self-realization, running through so many animated movies, should feel tired by now. But somehow Disney keeps finding ways to keep it vital. Here, it's via a smart riff on the highs and lows of social media that will surely resonate with kids and parents alike, as Ralph and Vanellope tumble into the angsty world of wannabe YouTube stars. It's much more complicated than the original movie – a straightforward origin story – and the plot starts to feel convoluted at times. But Ralph Breaks the Internet deserves kudos for dipping satirically into the ephemera of viral videos, below-the-line dark-net denizens and toxic fanboy culture. It'll probably age about as well as Tron (also paid homage to here) but it definitely feels on the mark now.
Last Chance to See
Fantastic Beasts: The Crimes of Grindelwald
3/5
(PG13) Director: David Yates
Cast: Eddie Redmayne, Katherine Waterston, Johnny Depp
Released: Nov 15
The first movie in the Fantastic Beasts franchise had a lot of heavy lifting to do. It needed to establish a world connected to the Harry Potter universe, but also one that was self-contained. It had to introduce several busloads of new characters and kick off a story complex enough to sustain another four movies (at least). With all that done, the second instalment should have earned itself some breathing room: a bit of time to cut loose and enjoy the possibilities of a new magical universe. But as beautiful and inventive as it is, The Crimes of Grindelwald often feels like we're starting the world-building all over again.
Trying to establish where everyone is at the beginning of this sequel without giving too much away is going to get confusing, so sorry about that. Anyway, fascist wizard Gellert Grindel-wald (Johnny Depp) has broken out of jail in London and fled to Paris to lay the groundwork for a wizard uprising. In order to stop him, the wizarding government approaches Grindel-wald's ex-friend Albus Dumbledore (Jude Law), who refuses the mission but enlists the help of animal-lover Newt Scamander (Eddie Redmayne) for a more secret version of the same mission. There are about eight other major characters involved, but we've only got so much space. Short version: a wizard war is a-brewing.

Moving most of the action to Paris gives the film's creative team the opportunity to run wild with some gorgeous production design. Visually, the world couldn't be richer. Our progress through it, though, feels sluggish. As a screenwriter, JK Rowling is ambitious. She wants to pack in huge amounts of story – and there will be revelations that send dedicated fans back to the novels to re-evaluate certain events – but she plots for books, not for the screen. There are so many characters to service and so many rugs to pull that momentum can only ever be slow.

The Crimes of Grindelwald has bags of charm, but too many characters and too much plot are weighing this beast down.
Olly Richards

Bohemian Rhapsody
3/5
(15+) Director: Bryan Singer
Cast: Rami Malek, Lucy Boynton, Ben Hardy
Released: Nov 8
Since passing away in 1991, Queen frontman Freddie Mercury has been busy. First came Wayne's World, with Mike Myers head-banging along to the band's 1975 hit Bohemian Rhapsody. Then came a massive tribute concert in 1992 and a globetrotting stage musical, We Will Rock You, in the 2000s. Now, 27 years on, comes the authorised movie biopic to push the Freddie Mercury legend even further into the realm of the unreal.
Bohemian Rhapsody is as brash, loud and mask-wearing as Mercury at his most playful. An-other movie would try to get behind the legend or play with the idea of it but this does nei-ther. Instead, it grabs the legend by the neck and gallops recklessly through the movie on it, climaxing in a wholesale extended recreation of one of the most famous rock gigs of all time: Queen at Live Aid.

It boasts a film-stealing, possessed performance by Rami Malek, who pouts, struts and quips as Mercury, turning the rest of the cast into bit-part players. The energy of Malek's imitation helps to bind what amounts to a series of gossipy but harmless rock-world anecdotes into something vaguely coherent.

The story starts and ends with Queen playing Live Aid at Wembley in July 1985. In between, we see how Farrokh Bulsara, born in Zanzibar, became Freddie Mercury and helped to trans-form a student band into a stadium rock behemoth.

The movie, though catchy, is an act of brazen myth-making. Facts and chronology are tossed aside.

It is part-produced by Queen's long-time manager Jim Beach and two of Mercury's band-mates, Brian May and Roger Taylor. Which is another way of saying: don't expect anything more than a safe gloss over the Queen tale.

Luckily, the music wins out over and leaves a lively, uncomplicated jukebox movie, which is surely what the band prefers.

This is a feature-length earworm that leaves Don't Stop Me Now, We Are the Champions and the rest wriggling in your cochlea.
Dave Calhoun
Be the first to get all the latest Dubai news, reviews and deals into your inbox by signing up to our free
newsletter
,
click here to sign up
.