A night at the movies in Dubai is never as simple as "what's on?". It's more along the lines of "how are we going to watch the latest blockbuster?"
It's all thanks to the city's nifty cinema experiences, and there are plenty of them to go around. If you're after a movie night with pint in hand, Rove Downtown has you covered. Or maybe you're in need of a mammoth-sized screen to fully enjoy Marvel's latest blockbuster? Look no further than Novo Cinemas at IMG Worlds of Adventure.
From al fresco screenings to a place showcasing the very best of indie movies, the list below will guide you to whatever movie night you fancy. So pick a spot and book those tickets now.

46-seater licensed cinema at Rove Downtown, Deira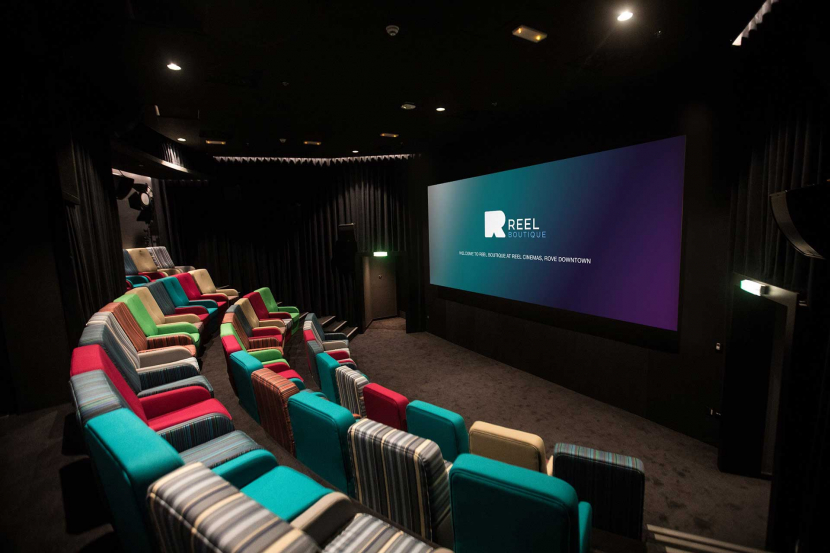 This one's perfect for those who like to fall asleep before the trailers are even over (we're looking at you, dads). You can now go from big screen to big bed at the press of a button. Reel Cinemas at Rove Downtown Dubai has swish sofa seating and a "Reel Boutique" concept. The intimate 46-seater cinema shows all of the latest blockbusters, along with football matches and regional releases. And you're only an elevator ride away from a cosy bed if you decide to make a staycay of it.
The licensed cinema offers filmgoers a selection of food and beverage options to be purchased at the pre-lobby area, which will be delivered straight to your seats.
The cinema itself boasts state-of-the-art audio and visual technology, along with a Barco Laser projection for "a truly immersive experience". Get ready to lose yourself.
From Dhs70. Rove Downtown Hotel, Downtown Dubai, www.reelcinemas.ae (04 561 9000).
"Dubai's largest IMAX" at Novo Cinemas, IMG Worlds of Adventure


Remember those square eyes your mum used to warn you about? Well now you can pair them with a slack jaw, as that's what you'll be left with upon a visit to "Dubai's largest IMAX".
Novo Cinemas has revealed its brand-new cineplex at IMG Worlds of Adventure, and it boasts the largest IMAX laser cinema in Dubai (allegedly). The huge screen, measuring 24.4m wide and 13.8m high with a seating capacity for 360 guests, is set to take film screening to, well, new heights.
The experience features the next-generation 4K laser projection system which delivers increased resolution, sharper and brighter images, deeper contrast as well as the most distinct colours, and tickets start at just Dhs63 for the experience. And that's not all the cineplex boasts: the 12-screen multiplex is "designed to immerse customers into an otherworldly reality". The venue uses more than 5,000m of LED lighting strips with different colours and effects from the floor to the ceiling, for those looking for a quick Insta-shot. You can pick your jaw up off the floor, now.
From Dhs63 (IMAX experience), from Dhs36 (regular cinemas). Times vary. IMG Worlds of Adventure, Sheikh Mohammed Bin Zayed Road, www.imax.com/theatres/novo-img-dubai-imax.

Enjoy a private screening at all Roxy Cinemas
With so many amazing blockbusters coming out this year (more on that later), you'd be forgiven for missing a flick or two. With Roxy Cinemas though, you can turn back the clock and watch one in your very own private screening. Dubai's popular cinema chain's "Cinema On Demand" option lets friends and families rediscover some of this year's very best movies, classics from old or seasonal hts. The package can be used at any of the Roxy Cinemas branches, including The Beach and City Walk. No more of that annoying loud chewing… Unless you're the culprit.
Dhs3,000. Ongoing. Times vary. Various locations including The Beach, JBR, BoxPark and City Walk, www.dxbvenues.com (04 590 5599).
Get arty at Cinema Akil
Fancy snuggling down among mismatched cushions and watching an indie flick? It doesn't sound very Dubai, but in fact it's a concept that was started and nurtured right here in the city. Cinema Akil is an independent movie theatre located in a converted shipping container in Alserkal Avenue. It originally started as a pop-up across the region in 2014, taking four years of hard work from founder Butheina Kazim and her team to set up the permanent home. Now the space has 133 seats and shows dozens of unique and independent films every single week.
Dhs52.50. Dates and times vary. Warehouse68, Alserkal Avenue, Al Quoz, www.cinemaakil.com.

Get some fresh air at Urban Outdoor Cinema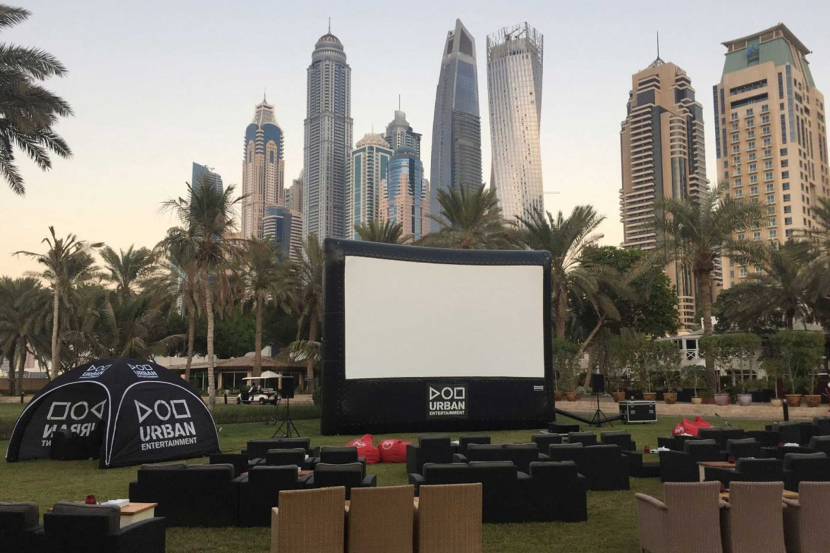 Snuggled in the lush gardens of Habtoor Grand Resort lie glistening swimming pools, gorgeous green shrubbery, and a massive cinema screen. Setting up on the beach lawns, the venue has comfy seats and bean bags available for guests to lounge on. The space also has a food and beverage service, so you can chill out on your bean bag while waiters deliver everything from pizzas to tapas, along with hops and grape. Perfect for al fresco viewing while the cool weather lasts.
Dhs75 per person. Until Apr 8. 7pm onwards. Habtoor Grand Resort, Autograph Collection, JBR, www.urbanoutdoorcinema.com (122 365 4897).
Licensed outdoor cinema at Aloft City Centre Deira
Fancy watching an al fresco film while sipping on something cool? Of course you do, and at VOX Cinemas at Aloft City Centre Deira you shall have it all (though the quality of the film depends on your own personal judgement). The cinema is VOX's second outdoor experience, and not only is it suitable for all seasons, it's also fully licensed. The screen stands on the pool terrace on the fourth floor of the Aloft Hotel, right next to its shisha lounge and infinity pool if you're looking for a place to chat about the film afterwards. A variety of beverages and cinema snacks are also available, so film fans can watch Hollywood hits and Bollywood blockbusters from the cinemas lounge-style seating with drink in one hand and food in the other.
Dhs75 (single seat), Dhs150 (double seats). Times vary. Aloft City Centre Deira, Deira, voxcinemas.com (600 599905).

Luxury cinema at La Mer
Swap screaming at Laguna Waterpark to beaming at the boutique cinema in La Mer, where your favourite flicks are shown in absolute luxury – not that you'll need to be loaded to enjoy the high life. The Roxy Cinema at the beachfront spot offers fancy seating, normally reserved for VIP lounges, for just Dhs65 – and you'll even be able to call for snacks. If you want to splash out, you can opt for the Roxy La Mer Experience for Dhs175. In the special package you'll get a starter, main, dessert and mocktail alongside your cinema ticket, to really fill your boots and make an evening out of it. Starters are served in the "funky bistro lounge" while mains are delivered directly to your cinema seat. The menu includes wagyu beef burgers, glazed beef skewers and salads. There's also a range of desserts, and of course popcorn, too. Now that's what we're talking about.
Dhs65 (regular), Dhs175 (Roxy La Mer Experience). La Mer, Jumeirah 1, www.theroxycinemas.com.
MX4D at Novo Cinemas, Dubai Festival City
If you haven't tried out a 4D cinema yet, are you even a movie buff? Step it up. Although with seats that move along to the action on-screen as well as technology making sure the audience smells every scent, you might want to pick your film carefully. We'll give the Shawshank Redemption sewer scene a miss, thank you. If you're looking for something a bit more luxurious then head for the "seven-star" experience at Novo Cinemas, where you'll be served top cuisine as you sit back and relax in a huge reclining chair.
Dhs95. Dubai Festival City, novocinemas.com (04 232 8328).

Outdoor at Galleria Mall
Settle down to the latest blockbuster under a canopy of glittering stars on the rooftop of The Galleria Mall. Our cover star this week not only looks lovely, it's equipped with the best visual technology and surround sound that you can enjoy from comfy couches and bean bags.
From Dhs137. The Galleria Mall, Al Wasl Road, uae.voxcinemas.com.
ScreenX at The Dubai Mall
Calling all those who love being scared out of your wits by monstrosities at all angles: get yourself down to see a horror movie at Reel Cinema's 270-degree cinema experience. Emaar Entertainment's popular cinema chain at The Dubai Mall is home to ScreenX, the UAE's first multi-projection screening system. Partnering up with CJ 4DPLEX, the technology expands the image of films onto three of the cinema's walls "without the installation of any additional screens", covering the audience's entire viewing angle. Talk about immersive. Moviegoers can expect an amazing, panoramic 270 degree format and action from every angle. Popcorn at the ready.
Prices vary. Open daily. Movie times vary. The Dubai Mall, Downtown Dubai www.reelcinemas.ae (04 449 1988).
Be the first to get all the latest Dubai news, reviews and deals into your inbox by signing up to our free
newsletter
,
click here to sign up
.