Love watching a movie? Looking for the best cinemas in Dubai to catch your chosen film? Read on.

The hype around going to the cinema and watching movies is phenomenal – whether it's a polarising Oscar-worthy flick, Disney's next phase of the Marvel cinematic universe or, you know, another Fast & Furious movie. Well, none of it really matters if filmgoers don't have the right cinema experience, right? Luckily for us, Dubai's cinema scene is buzzing, with a cinema in Dubai for pretty much every type of flick – new or old.

From al fresco outdoor cinema screenings to a place showcasing the very best of indie movies, the list of Dubai's best cinemas below will guide you to whatever movie night you fancy. So pick a spot and book those tickets now.

And, for the latest reviews of the latest movies and blockbusters to hit the screen and cinemas in Dubai, we've got you covered right here.

Cinema Akil
Fancy snuggling down among mismatched cushions and watching an indie flick at a cinema in Dubai? Cinema Akil is an independent movie theatre located in a converted shipping container in Alserkal Avenue in Al Quoz. It originally started as a pop-up across the region in 2014, taking four years of hard work from founder Butheina Kazim and her team to set up the permanent home. Now the independent cinema in Dubai has 133 seats and shows dozens of unique and independent films every single week. Think local productions and themed weeks such as Studio Ghibli week. Oh, and get a karak chai and chilli cheese toastie from the homegrown tea shop Project Chaiwala.
Dhs52.50. Dates and times vary. Warehouse68, Alserkal Avenue, Al Quoz, www.cinemaakil.com.
Dubai Festival City Mall
Sure, there may be a dual Guinness World Record breaking light and laser show IMAGINE at Dubai Festival City Mall, but there's also a an 18-screen Novo Cinema with 4D IMAX inside the shopping centre. If you haven't tried out a 4D cinema yet, are you even a movie buff? Step it up. Although with seats that move along to the action on-screen as well as technology making sure the audience smells every scent, you might want to pick your film carefully. If you're looking for something a bit more luxurious from your cinema visit then head for Dubai's "seven-star" experience at Novo Cinemas, where you'll be served top cuisine as you sit back and relax in a huge reclining chair. One of the very best cinema experiences in Dubai, and one of the most fun too.
Sun-Wed 10am-10pm, Thu-Sat 10am-midnight. Movie times vary. Dubai Festival City, www.novocinemas.com (04 232 8328).
IMG Worlds of Adventure
Remember those square eyes your mum used to warn you about? Well now you can pair them with a slack jaw, as that's what you'll be left with upon a visit to "Dubai's largest IMAX". Novo Cinemas Cineplex at IMG Worlds of Adventure boasts a huge screen measuring 24.4m wide and 13.8m high with a seating capacity for 360 guests, with movies shown with a 4K laser projection system. Now that's taking cinema in Dubai to new heights.
From Dhs63 (IMAX experience), from Dhs36 (regular cinemas). Times vary. IMG Worlds of Adventure, Sheikh Mohammed Bin Zayed Road, www.imax.com/theatres/novo-img-dubai-imax.
Jebel Ali Village
A dish literally named 'Trash Can Nachos' may not sound like the most appealing to tuck into at the cinema in Dubai, but in this case, it's the perfect fit. Guy Fieri's Kitchen and Bar at Reel Cinemas in Jebel Ali has loads of massive dishes to tuck into while watching the latest blockbuster. As for the nachos (and a taster of what other dishes are like), it's deliberately as messy as it sounds. Dive into a tower of tortilla chips, smoked brisket, SMC (super melty cheese), cheddar, jalapeño and pickled red onions. It's also very first fully-licensed cinema in Dubai.
Timing vary. Jebel Ali Recreation Club, Jebel Ali Village; (04 448 8493).
Nahkeel Mall
Looking for somewhere low-key to watch a movie? The newest shopping centre on Palm Jumeirah, Nahkeel Mall's VOX Cinemas has 15 screens. Firstly, that means there's plenty of movies being screened and secondly, that leaves a lot more room for cinemagoers to stretch out and enjoy their flick of choice without too much of a crowd.
Palm Jumeirah, www.nakheelmall.ae.
Mall of the Emirates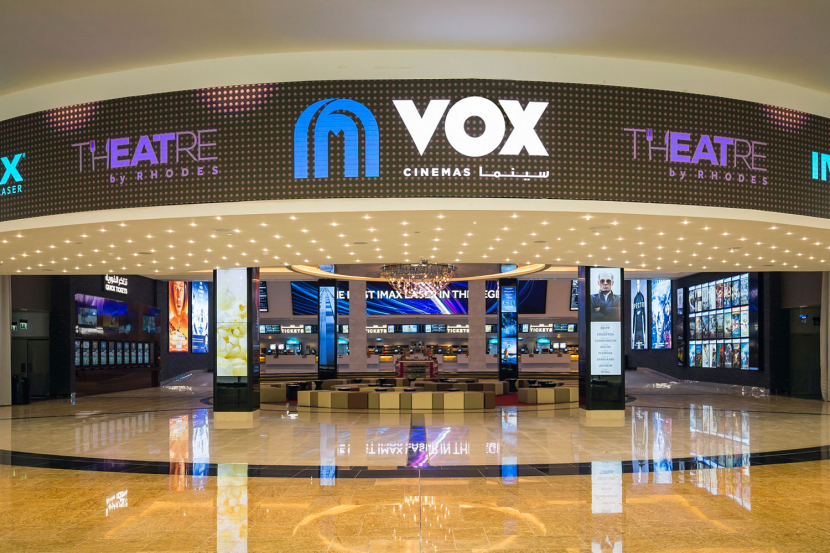 VOX Cinemas at popular Dubai shopping mall, Mall of the Emirates is extremely popular, not just because of it's many cinema screens, kids cinema and IMAX experience, but also because of ThEATre By Rhodes. The dine-in cinema experience you're sure to love, expect to tuck into cheese croquettes for a crispy, and chunky, delight, juicy NYC burgers, sweet desserts and buckets of popcorn (for those who prefer crunching their way through a movie in Dubai). For more dine-in cinemas in Dubai click here.
Dhs265 (ThEATre by Rhodes package). Mall of the Emirates, Al Barsha, www.uae.voxcinemas.com.
OUTDOOR by VOX Cinemas
Fancy an outdoor cinema in Dubai? Clue's in the name with this one. OUTDOOR by VOX Cinemas at movie-themed hotel Aloft City Centre Deira offers filmgoers a place to watch their favourite blockbusters al fresco, all while tucking into a cinema snack feast and it's even licensed. Not a bad way to spend an evening. Oh, as it also boasts a retractable roof for winter nights and air-conditioning when the heat is all too much, making it suitable for all seasons.
Aloft City Centre Deira, Deira (04 210 3335).
Outdoor at Galleria Mall
Settle down to the latest blockbuster under a canopy of glittering stars on the rooftop of The Galleria Mall, in good weather, of course. Equipped with the best visual technology and surround sound that you can enjoy from comfy couches and bean bags at this outdoor cinema in Dubai.
From Dhs137. The Galleria Mall, Al Wasl Road, uae.voxcinemas.com.
Ibn Battuta
For a global experience tucked away in one building, Ibn Battuta Mall is the traveller's destination. Lush interior design aside, Ibn Battuta Mall features a wealth of different shops, but also a Novo Cinema with a seven-star screen experience, with big chairs, pillows, blankets and all. It's a pretty luxurious screen, so pop in and watch a flick in a Dubai cinema with style before getting back to the shopping.
Open Sun-Wed 10am-10pm, Thu-Sat 10am-midnight. Jebel Ali, Sheikh Zayed Road (04 368 5543).
Rove Downtown
This one's perfect for those who like to fall asleep before the trailers are even over (we're looking at you, dads). You can now go from big screen to big bed at the press of a button. Reel Cinemas at Rove Downtown Dubai has swish sofa seating and a "Reel Boutique" concept. The intimate 46-seater cinema in Dubai's Downtown shows all of the latest blockbusters, along with football matches and regional releases. And you're only an elevator ride away from a cosy bed if you decide to make a hotel staycay of it. The licensed cinema offers filmgoers a selection of food and beverage options to be purchased at the pre-lobby area, which will be delivered straight to your seats.
From Dhs70. Rove Downtown Hotel, Downtown Dubai, www.reelcinemas.ae (04 561 9000).
Roxy Cinemas La Mer
Too much sun while wondering around Dubai's beachside destination La Mer? Well, a dark, cosy room with a blockbuster screening will sort that out for you. With luxury seating (that means comfy armchairs to sink into) and even dine-in options serving up everything from wagyu beef burgers to, of course, popcorn, just pick a flick and spend a couple hours catching up on the latest movies at one of the most luxurious cinemas in Dubai.
Times vary. La Mer, www.theroxycinemas.com (800 7699).
Urban Outdoor Cinema
Snuggled in the lush gardens of Habtoor Grand Resort lie glistening swimming pools, gorgeous green shrubbery, and a massive outdoor cinema screen during the winter. Setting up on the beach lawns, this outdoor cinema in Dubai has comfy seats and bean bags available for guests to lounge on. The space also has a food and beverage service, so you can chill out on your bean bag while waiters deliver everything from pizzas to tapas, along with hops and grape. Perfect for al fresco viewing during the cool winter months in Dubai.
Dhs75 per person. Until Apr 8. 7pm onwards. Habtoor Grand Resort, Autograph Collection, JBR, www.urbanoutdoorcinema.com.
The Dubai Mall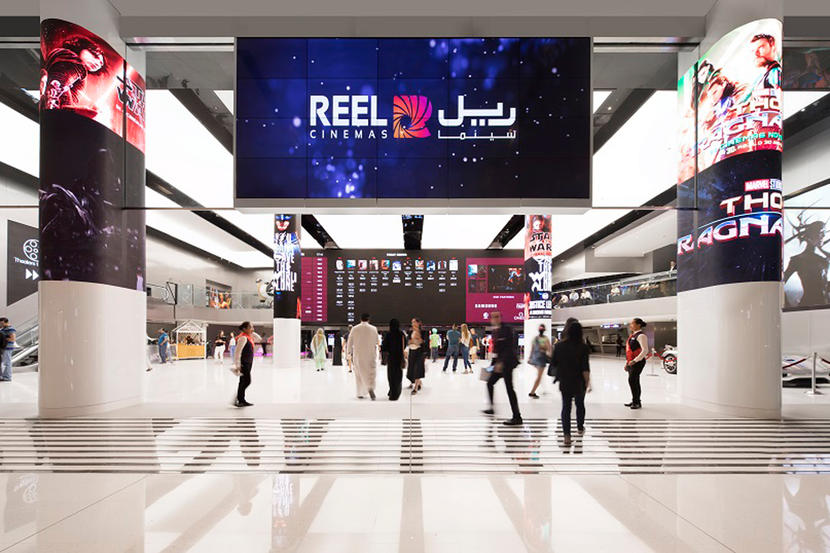 If you want to talk about an immersive cinematic experience, forget about IMAX, as Reel Cinemas at The Dubai Mall has rolled out ScreenX – the UAE's first multi-projection screening system offering audiences a 270-degree cinema screen. That means even your peripheral vision will be fully engaged in the latest blockbusters. The technology expands the image of films onto three of the cinema's walls without distorting what's onscreen, and is perfect for watching action-packed flicks or getting scared by whatever monstrosities are lurking around the corner in horror movies. One of the best cinema experiences in Dubai, at the world's largest shopping mall.
Prices vary. Open daily noon-10pm. Movie times vary. The Dubai Mall, Downtown Dubai, www.reelcinemas.ae (04 449 1988).
The Pointe
Reel Cinemas has teamed up with US TV chef Guy Fieri again for the fourth collaboration. The Diners, Drive-Ins and Dives host brings his signature American comfort food, but with a twist – as you can order your meal and enjoy it while watching the latest blockbuster at this Palm Jumeirah Dubai cinema. There are three screens at this cinema in Dubai with the dine-in option and two where you can just stick to good ol' cinema treats.
From Dhs40. Open daily 12.30pm-1am. www.reelcinemas.ae.
Zero Gravity
Once the winter months start each year, filmgoers can get ready to catch some classic movies in an al fresco setting. Dubai beach club Zero Gravity's popular Cinema on the Sand brings the movies to the beach, which means you can sink your toes into the sand while munching on cinema snacks. Past screenings have included Jaws, Home Alone and Top Gun. True classics. It's Dhs50 a ticket, but the full amount is redeemable on food and drinks. Sounds like a stellar deal to us. No reservations are required, it usually kicks off at 8pm so head down early and grab yourself a beanbag, sun lounger or "director's chair" on the sand.
Dhs50. Dates vary. Skydive Dubai Drop Zone, Dubai Marina (04 399 0009).
BONUS


Private screening at all Roxy Cinemas

With so many amazing blockbusters coming out all the time, you'd be forgiven for missing a flick or two. With Roxy Cinemas though, you can turn back the clock and watch one in your very own private screening. Dubai's popular cinema chain's "Cinema On Demand" option lets friends and families rediscover some of this year's very best movies, classics from old or seasonal hts. The package can be used at any of the Roxy Cinemas branches, including The Beach and City Walk. No more of that annoying loud chewing at this cinema in Dubai… Unless you're the culprit.
Dhs3,000. Ongoing. Times vary. Various locations including The Beach, JBR, BoxPark and City Walk, www.dxbvenues.com (04 590 5599).

For everything you need to know about cinema in Dubai, the best cinema experiences, snacks and more, as well as films and latest news and even what to watch at home, click here.
Be the first to get all the latest Dubai news, reviews and deals into your inbox by signing up to our free
newsletter
,
click here to sign up
.