Writing a book is an art. Writing a children's book is a delicate balance between finding the beauty we want little ones to see in the world and teaching them important lessons through the power we know literature holds.

Taking place from Friday March 1 to Saturday March 9, the Emirates Airline Festival of Literature brings the world's top authors and illustrators to Dubai, where they interact with fans and tell the stories behind their books and inspiration.

We speak to three children's books authors and talk about passion, bees, vampire fairies and the power of the written word.

Harriett Muncaster
Author and Illustrator, Isadora Moon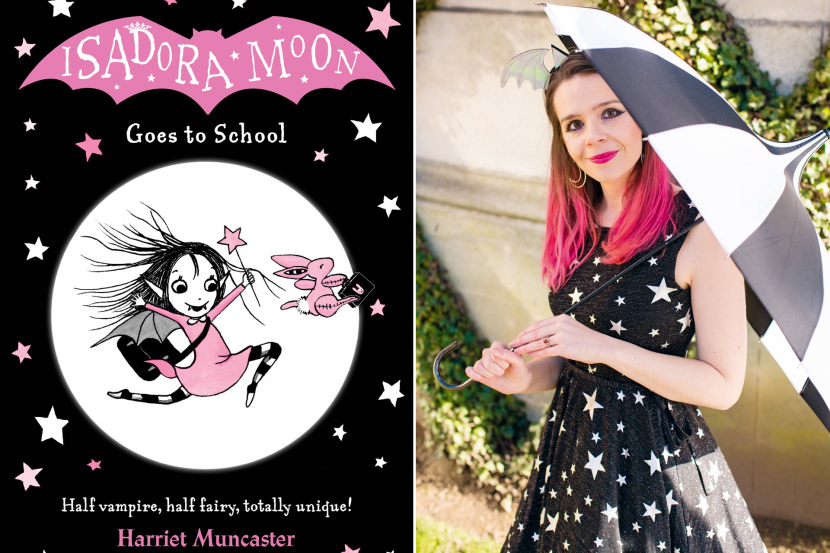 A kid who's half-fairy, half-vampire. What was your inspiration?
It comes from my love of putting two strongly contrasting things together. I especially love seeing the colours candy pink and gothic black next to each other, which is why the illustrations for Isadora Moon are all in black and pink.

So her fairy mum is part of Isadora's pink and flowery side and her vampire dad is part of her black and gothic side.

When did you first start thinking about these mini worlds and creating them?
I've always loved creating stories through pictures and words. Isadora Moon actually started out from a very different character and world.

When I was a teenager, I created a character called Victoria Stitch. She's a very spiky and naughty character with a black-and-pink style. When I showed her to publishers, they suggested she might be too mean and spiky for kids' books.

I had a think and tried to create a younger, friendlier version of Victoria Stitch. This is where Isadora Moon first came from. As soon as I saw Isadora's pointy ears and fangs, her whole magical world began to take shape.

What would you like for your books to teach kids?
I hope that kids who read Isadora Moon will see that she's different from everyone else and that being different is what makes her special.

When Isadora is first deciding which school fits her best, she discovers that she can't fly as quickly as other vampire kids, nor can she do magic as well as other fairy ones.

Sometimes, we all feel that we can't do some things as well as other people, but that's okay. In life, there will be some things you can't do as efficiently as other people, and things you can do better. There's also one thing you can do better than absolutely anyone else in the world, and that's being you.

What activities can kiddies expect at your session?
I'm so excited to be flying out to Dubai to share my passion for Isadora Moon with lots of new people.

In my festival sessions, we'll be learning how to draw some of the characters from Isadora Moon, there will be games and quizzes and I'll be reading from my latest story, Isadora Moon has a Sleepover.

I'll also be answering any questions you might have about being an author-illustrator, Isadora Moon or whatever you want to ask me about. Of course, I'd also be delighted to sign copies the book.
Dhs50 (adults and kids aged five and above). Mar 8 2pm-3pm. Harriett Muncaster: Isadora Moon.

Tony de Saulles
Author and Illustrator, Bee Boy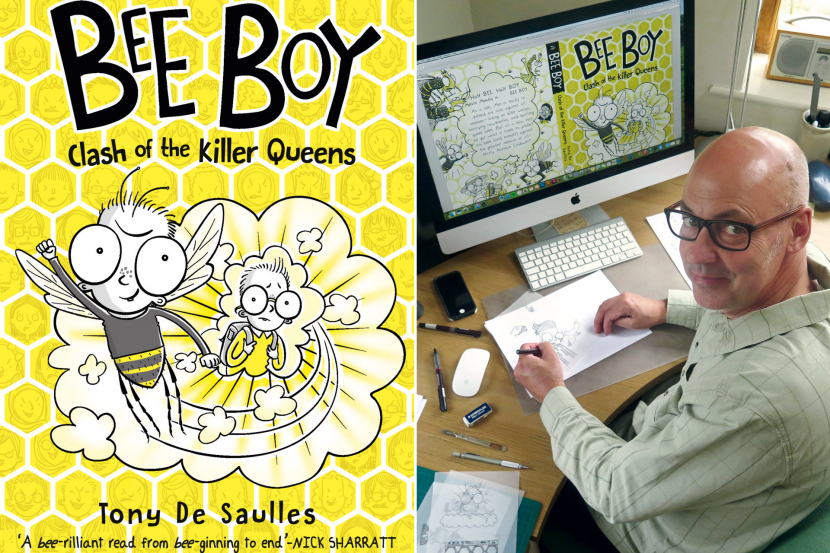 What do YOU know about bees?
My mother was a bee-keeper, so perhaps that was what started the idea of Bee Boy. Although the trilogy is fiction, I did a lot of research and became so fascinated by bees that I've become a bee-keeper myself.

Bees teach you a lot about how life works. When our queen bee died in the summer, it became a fascinating challenge to introduce a new queen that would be accepted by the colony. There's so much to learn and I hope to keep bees for many years to come. I write a Bee Blog on my website describing our successes and failures as new bee-keepers too – so have a read.

What was the most fun part of illustrating Bee Boy?
One of the most enjoyable parts of illustrating Bee Boy was developing a way of showing inside the hive. Of course, in real life it's dark in a hive and the honeycomb cells hang vertically. I flipped things round so the honeycomb cells became the floor and I just had to forget trying to show the darkness.

One of my favourite spreads is when the Death's Head Hawkmoth explodes in Clash of the Killer Queens. I also enjoyed creating the Tunnel House Cafe in Attack of the Zombees – it was such a lot of work to draw the aerial views looking down on the customers.

When did you first discover your passion and how did you nurture it?
I struggled with certain parts of school as I'm not an academics person. Life started for me when I went to art college and discovered a subject that I not only loved, but was also reasonably good at.

I worked in advertising and graphic design for many years, but the urge to write and illustrate was always there so I was constantly sending work to publishers for consideration.

I got my lucky break in 1996 when I started illustrating the Horrible Science series published by Scholastic Children's Books. It has kept me busy for over 20 years and we've sold over ten million books in 30 countries. We've also won a few awards along the way including The Blue Peter Book Award for the best book with facts. I'm currently with Oxford University Press and they're such lovely publishers to work with. I consider myself very fortunate to get paid for being creative.

What will you be teaching kids at the session?
I am so looking forward to visiting the Emirates Festival of Literature. I'll be talking about bees and Bee Boy and we'll be drawing together too. My slideshow contains videos of my bees and is a great way to illustrate my talk.

We'll also be learning how to draw lots of other things from books I have illustrated in recent years. There will be time for questions and I'll be bringing my guitar to play The Bee Boy Song.
Dhs50 (adults and kids aged seven and above). Mar 1, 1pm-2pm. Tony De Saulles: Bee Boy.

Nicola Morgan
Author, Positively Teenage and The Teenage Guide to Life Online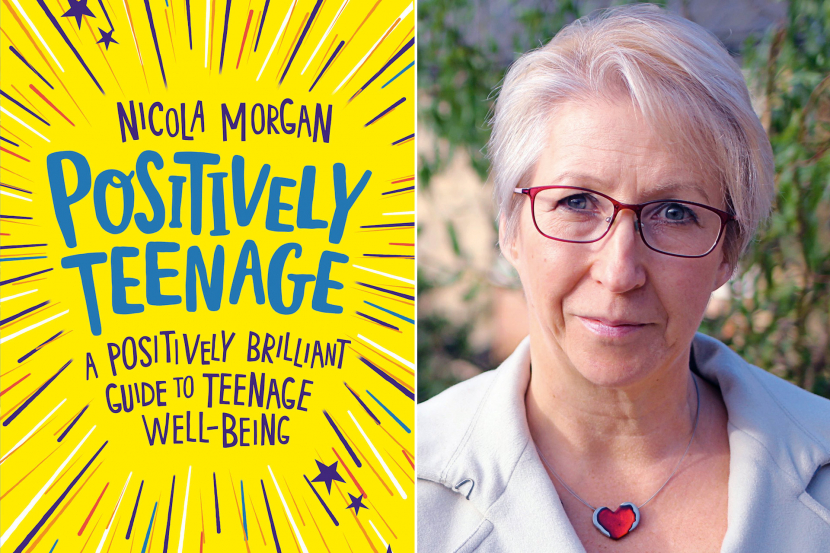 What was your main goal behind writing Positively Teenage and how did the idea come about?
Since 2005, when Blame My Brain became the first book in the world to explain the brilliant and fascinating teenage brain directly to teenagers and their parents and teachers, I've been writing and talking about teenage wellbeing, stress and mental health.

During that time, I've seen so much negativity. It's almost as though people think adolescence is a mental health problem. It's not, it's a perfectly healthy, positive developmental stage during which huge changes happen, physically and mentally.

Since I believe that understanding how something works (including a human being) is the way to helping it work better, it seemed to me that the time had come to empower both young people and adults with the truth, with strong messages of action and choice, so that teenagers can thrive, not just survive.

So, Positively Teenage was born and I was thrilled with the feedback from schools, families and, most importantly, young people.

Adolescence doesn't need to be endured. It needs to be embraced, and with the right information and support, it can be.

What's the number one lesson you're hoping teens will learn after reading this book?
That they have far, far more control over their brains, health and lives than they thought possible. Young people often feel powerless and out of control – understandably, as it looks as though all the rules were created by adults. This can generate a sense of "learned helplessness", where they think they have no control and they may stop bothering to try.

Feeling that you have no control is a well-known recipe for negative stress and anxiety at any age. So, my message (in this book and all my non-fiction) is this: your brain is in your hands and you have choices; the choices you make will make a difference to how you feel and how you function, not just in twenty years but now, today and tomorrow. You can be the active agents of your own wellbeing.

Tell us a funny story you've lived (or witnessed) with a teenager in relation to this topic.
I would never tell a funny story about a teenager – I take them too seriously. But I'll tell you a lovely story. A school librarian told me that a distressed teenage girl had come to the library after the librarian had advised her to read Positively Teenage." A couple of weeks later, the librarian sent me a photo of the smiling girl holding a copy of the book and told me that the girl had said, "I think this book has really changed me, I don't really care if I don't get what I want for Christmas, I'm just grateful for what I have."

One of my mottos is "books change lives" and it was so wonderful to see that in action. I think that, in the age of the Internet and all that online information of varying worth, there's something special and solid and true about a book, a book that's been written lovingly and painstakingly, and then edited by lots of other caring adults, all bringing that one gift into the hands of a willing reader. I love talking to audiences, but I love the one-to-one feeling of writing a book and knowing that someone is reading it even more.

Why should parents come and see you at the Festival?
I have so much (too much for an hour) to share and it's all helpful and fascinating. I'll be talking about The Teenage Guide to Life Online, too, which should just be called Life Online, as it's also for adults. They often over-use, are distracted by and waste time on their screens, and we need to know exactly why that could be a bad thing and how we can live and work healthily in the modern world.

We ALL need to look after ourselves, then we will succeed so much better and more easily in whatever we want from our lives. No one can work well when overwhelmed with the negative effects of stress and brain bandwidth overload. So, we all need strategies to get the most out of our busy lives and brilliant bodies and brains. How I will distil all that into one session, I don't know – come and watch me try. I promise it will be an information-dense and ideas-rich session. And please ask questions.
Dhs50 (adults and kids aged 12 and above). Mar 9 noon-1pm.

Jeff Kinney
Author, Diary of a Wimpy Kid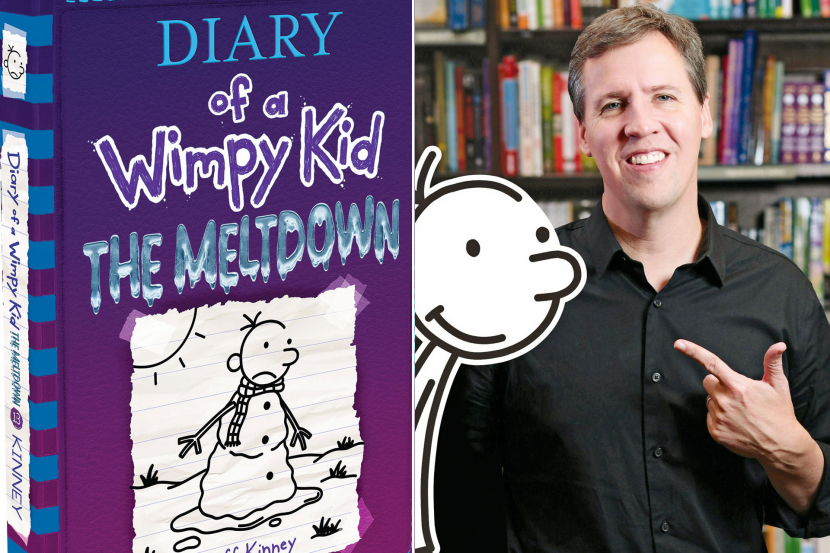 Diary of a Wimpy Kid is quite the legendary read. Did you expect all of this when you first wrote it?
I didn't expect it to be published. I thought the work was too strange to find a publisher. And I'd spent about three years getting rejected by newspaper cartoon syndicates, so I didn't have any reason to believe I wouldn't be rejected again.

Tell us about your favourite Wimpy Kid book and why it's special to you.
I will always like the first book the best, even though it's not that well-written. It's special to me because it was the first. I can remember the feeling of rejection, and the book replaced that feeling with a feeling of success.

What do you think of the movie adaptation of the series?
I think the movies are fun. They bring an emotional piece to the stories that are absent in my books, and I developed some lifelong friendships because of the movies.

What aspect of your session are you most excited about?
I'm most excited about meeting a whole new audience. I live in a small town called Plainville, and I only get out into the world about once or twice a year. This is a big trip for me. I can't wait to meet the fans in the UAE.
Dhs50 (adults and kids aged seven and above). Mar 2 6pm-7pm. Jeff Kinney: The Wimpy Kid is here.
Be the first to get all the latest Dubai news, reviews and deals into your inbox by signing up to our free
newsletter
,
click here to sign up
.