When dining out with young ones, things can get complicated. From sudden cravings for string cheese to spaghetti being used as a form of entertainment, it seems like we just can't win – at least most of the time. Fret not, we've sat down with some of the best eating out experts in the UAE (yes, it's a science), for some tips and tricks on handling the toughest of situations.

Keeping kids entertained
The first question that comes to mind when heading out is "do they have a play area?" Truth is, while some restaurants will ensure there are plenty of crayons and at least one colour-in activity on offer, not all of them do.

"Kids tend to react as a result of how you set the bar. If we, as parents, keep drilling it into their minds that they need to be 'entertained', then they won't sit still no matter what," says Farah Sawaf, founder and owner of Soul Communications, culinary consultant and mum of three boys.

"However, we do select particular venues for specific scenarios. For example, if we know we'll be joining forces with other families, we may choose a place like Clinton St. in City Walk as it has a large courtyard and kids can throw their ball around while the food is being prepared. If we know we're all craving Italian, we'll go somewhere where they can create their own pizzas – becoming master chefs for the day. However, when food arrives, they need to sit down, place their napkins on their laps and have a meal," she adds.
For Sawaf, eating out as a family is a good time for bonding – despite the fact that it's easier said than done at times. "From a young age, kids tend to want to jump out of high chairs and wander through the restaurant," she says. "As a mother of three little boys, with my youngest aged four, they're told to value mealtime as we don't usually have this much undivided attention to give all of them at once. We vocalise it and explain to them how important it is for us as a family."

For Father, Virgin Radio Presenter and Entrepreneur Kris Fade, eating out is serious business. "It's a no-electronics time for me. I try to put my phone down as well, but even on our way there we have chat. They ask me a hundred questions," he says.

"Once we get there, of course, sitting down together for a good 45 minutes to one hour, just eating, hanging out, me cutting up their food…and then they're asking me another one hundred and one questions on our journey back. I think that entire time at the restaurant, the trip, and the whole experience is great family bonding time."

Healthy eating
One of the most important factors to keep in mind when dining out with little ones is that not all of the dishes served are high in nutritional value. While kids love fast food, trying to get them to choose what's good for them is important for long-term health goals. According to Lauren Jacobsen, nutrition director at Kcal, choosing the right spot is key.

"Pick restaurants that offer a variety of healthy options and base their menu from mostly fresh and natural ingredients. It's also always important to choose dishes that provide a balance of protein, carbs and healthy fats. Protein is essential for growth, while carbs give energy and help the body recover (we know how kids like to tear around a climbing frame). Healthy fats are needed for vitamin absorption, as well as a brain boost, so try to find menu items that include all three," she says.

"Proteins to consider are lean red meat, poultry, fish, eggs, nuts, beans or low fat dairy. Good carby foods include quinoa, brown rice, whole grains and root vegetables such as sweet potatoes and squash. These carbs are higher in fibre and provide phytonutrients, vitamins and minerals. Fat sources tend to come from other food items including fish, nuts, seeds and dairy products, as well as oils such as the ones from coconuts and olives," she adds.

As for what to avoid, Jacobsen advises against venues that only serve fast food or processed food items. "These foods don't offer any nutritional value to little ones. Don't got for anythung that's been deep fried and opt for baked or grilled instead. Choose restaurants that base their menus on fresh, whole ingredients from natural sources and cook most dishes from scratch, steering clear from nasties including the additives and preservatives that can come with pre-made foods and sauces," she adds.

Also, Mums and Dads, it's worth trying to avoid sugar-dense foods and beverages such as sodas, white breads and pastas.
"Look for transparency – you should see the amount of calories and macro breakdowns. The UAE is slowly becoming more nutrition conscious," explains Jacobsen.

From a medical perspective, when eating out, it's important for parents to have a good understanding of what ingredients are being used – which isn't always as obvious as we might think it is. "While some foods are obviously not a good choice, such as pizza, burgers, milkshakes and ice creams, other foods may not be. This is because typical foods that you may give your child at home will often be cooked in a different way in a restaurant," says Kirsten Jackson, lead dietitian at King's College Hospital London, UAE.

"For example, pasta and a simple tomato sauce seem healthy, but – in a restaurant – sugar would typically be added to enhance the flavour."

"Additional foods to avoid include French fries, as they contain double your child's maximum salt intake for an entire day and are also the equivalent of one meal for just a medium-sized portion. Plus, chicken pieces or nuggets, as these are highly processed and contain around six grams of saturated fat per portion," she says. "Always ask the restaurant how a meal is being cooked and never shy away from asking them to modify any meal."

An unhealthy diet during childhood can cause issues later in life. "It's a well-known fact that a poor diet can increase a child's risk of developing osteoporosis (where your bones become thinner), heart disease and even cancer.

"It's becoming more common now for paediatricians to see high blood pressure in kids, a condition which was once linked to overweight adults," says Jackson.

As for the most dangerous of them all, you would be surprised at what ingredient tops the list. "Caffeine," says Jackson. "Caffeine, which is found in high quantities in tea, coffee and energy drinks will affect your child's quality of sleep and mental health, and can cause anaemia. These issues can lead to long-term developmental issues."

Starting at home
Did you know that kids' habits when dining out start at home? Hence, it's worth fostering some good ones as early on as possible, but how can you do that when all they want is cheese fries?

"We tend to have our kids dictate mealtime, but there has to be a certain default standard. For example, they must eat either in the kitchen or on the dining table, and no toys or tablets if you can reinforce that," says Sawaf. "Ensure that cutlery is easy to use, so that it instils confidence in the child, introducing variety (just because they claim that they don't like something, doesn't mean they're off the hook), and know their favourites."


King's College's Jackson highlights that the way we relate to food during childhood will impact our relationship with it as adults – hence the importance of developing healthy behaviours from a young age."It can be easy for parents to unknowingly push their own relationships around food onto their kids. For example, we often see adults develop eating disorders due to their parent's obsession with calories and dieting. Instead, try to promote the health benefits of foods, away from calories or weight," she says.

Remember, Mums and Dads, while there are foods which are higher in calories, fats and sugar, no single food makes an unhealthy diet. It's important to bring kids up in this mind-set of "balance is key".

"Always reinforce the idea of family time and mindful eating. Have meals as a family, at the table with no distractions such as a TV, iPads or phones. Encourage your kids to eat the same foods as you do, as they'll often copy behaviours," says Jackson.

Another pitfall that's easy to fall into is using food to reward your kids for good behaviour. This reinforces certain behaviours in relation to typically high-calorie or sugar foods. Instead, try to reward your kids in other ways. For example, by watching a movie together or going swimming."

For Fade, all good habits come from parents, whether they're eating-related or otherwise. "It's our job to make sure that they're developing the right way – physically, mentally, whatever it is. I like to make sure that my kids get a well-balanced diet.

However, I'm not strict, I like to make sure that they get a little treat every so often. If it's a little bit of Nutella on rice crackers I don't mind doing that, but I'm all about balance before anything," he says.

"Again, I don't mind if we go to a restaurant sometimes and we just order chicken nuggets and chips. If it's a treat night for them, I'm happy to do it. Does it happen every night? Absolutely not, but I make sure that we mix it in. My kids love broccoli now even though initially they didn't, but you got to play the game sometimes. Well, if you want the ice cream," says Fade.

"You've got to have the broccoli and carrot. I think restaurants across the UAE are doing a really good job. I've been here for 11 years now and I've seen them evolve from offering a few options to getting 90% of the menu right."

So, Mums and Dads, whether it's broccoli followed by ice cream or a full-on veggie-filled dinner, the most important thing is to try and make mealtime as fun as possible when eating out, just like it should be. Then, it's bring on the bibs...

Kids' dishes to try
Avocado pizza at Brambles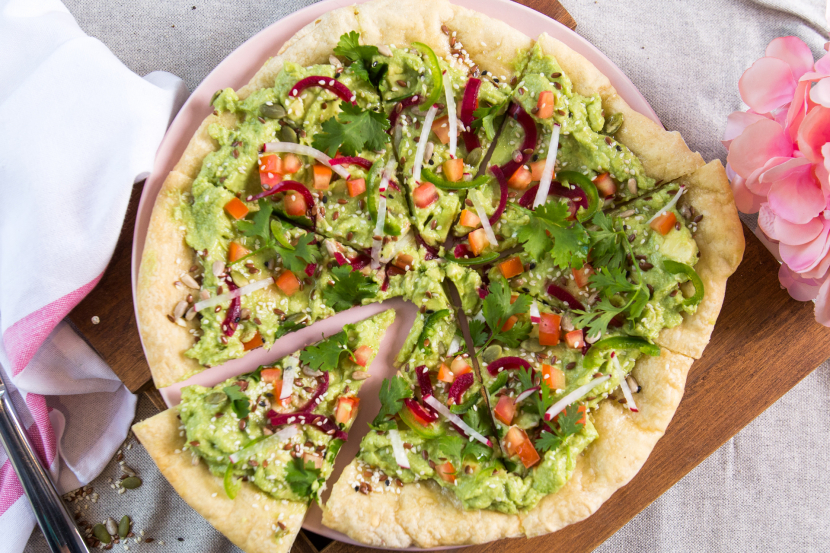 If the kids are obsessed with pizza and you're looking for healthier alternatives, the newly opened Brambles' version is topped with fresh and flavoursome ingredients such as tomatoes, radish, cilantro, pickled onions and garlic. You can also add chicken if the kids need some protein in there.
From Dhs45. Citadines Metro Central Hotel, Barsha Heights, Dubai (04 452 9529).

Fluffy mini pancakes at Clinton Street Baking Co.
Made with organic whole milk, these teeny tiny pancakes are served with warm pure maple butter with a choice of either fresh ripe blueberries, 70 percent dark chocolate chunks or mashed real bananas.
Dhs25. City Walk, Al Safa, Dubai (04 344 0705).

Creamy mac 'n' cheese at Eggspectation
Eggspectation's menu has so much on offer for kids, but the rich mac 'n' cheese, a calcium-packed dish with a three-type blend and a hint of nutmeg, is a clear winner. Talk about comfort food for little ones...and big ones, too.
Dhs30. Various locations across Dubai, including City Walk 2, Al Safa, Dubai (04 2406877).

Petit chocolate mousse at Couqley French Bistro
Freshly made every single day, this mousse will put a big smile on your little chocolate lover's face.
Dhs18. Cluster A, Jumeirah Lakes Towers, Dubai (04 5260747).

Popcorn chicken at Jim's Kitchen
Kids love popcorn, so imagine how popular this take on the snack is. In this dish, small tender chicken pieces are covered in crispy gluten-free flour and coconut coating.
Dhs34. Siemens Building, Masdar City, Abu Dhabi (02 491 9401).

Kids' boxes at Sumo Sushi & Bento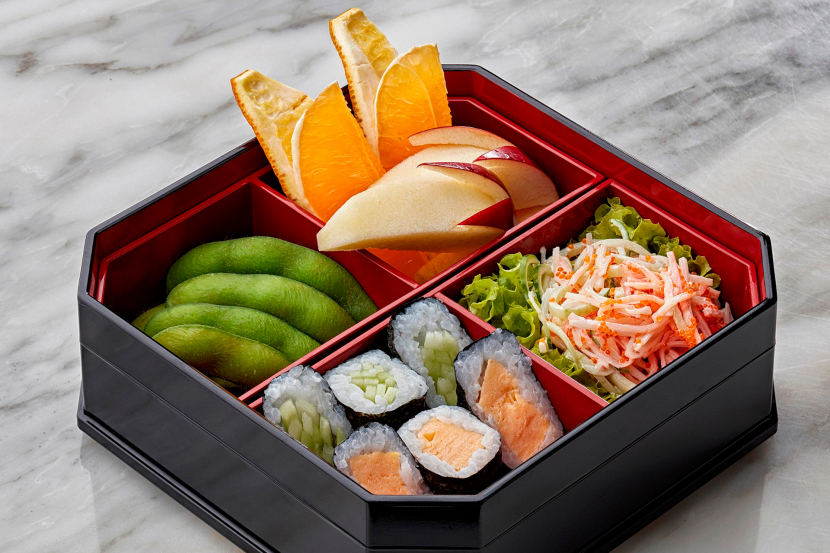 Special Bento boxes for kids? You heard that right, and they include everything from edamame and salmon or cucumber maki to fresh fruit and crabstick salad.
Various locations across the UAE, including Dubai Media City, Masdar City (800 7866).
Be the first to get all the latest Dubai news, reviews and deals into your inbox by signing up to our free
newsletter
,
click here to sign up
.