Ramadan is the ninth month of the Islamic calendar and Muslims observe it all over the world as a period of fasting (sawm, one of the five pillars of Islam) from sunrise to sunset. It's a sacred period of reflection, worship and self-improvement, as well as an important time for families and friends to come together.

Ramadan is called by the moon-sighting committee in Saudi Arabia at the appearance of the new moon. This year, Ramadan is expected to begin on Monday May 6 and finish on Tuesday June 3, after which three days of Eid Al-Fitr will be celebrated.

From dawn, followers will abstain from eating and drinking until sunset, or iftar, when they can break their fast. In the UAE, it means practising more discretion than usual while out in public, and some minor changes to day-to-day life.

This is a special month of the year that everyone can benefit from, and a great time to immerse yourself in the country's culture
and heritage.

Ramadan Kareem!

Dos and don'ts
Be courteous to those around you during Ramadan by following these guidelines:

Do…
Dress appropriately, especially in public areas such as malls and parks. Be especially considerate of these during Ramadan. Men and women should wear clothes that cover their shoulders and knees.

Do…
Respect those around you. If you're not fasting, be considerate and mindful of others who are. Drinking and eating in public is considered very offensive and can even attract a fine or a reprimand from the police.

If you want to eat or drink in daylight hours during Ramadan, it has to be done indoors and out of sight.

Do…
Show extra consideration. Where a handshake might be normal for the rest of the year, someone who is fasting may wish to avoid a greeting of physical contact.

Do…
Travel earlier or later on roads at sunset, since people who are fasting are likely to be travelling at this time to attend iftar. You'll want to avoid that rush hour traffic.

Do…
Accept invitations to iftar. Aside from being a wonderful way to experience the UAE's culture, it's polite.

Do…
Use Ramadan greetings such as Ramadan Kareem and Ramadan Mubarak.

Do…
Be charitable. A big part of Ramadan is helping others. There are lots of official charities in the UAE.

Do…
Try to make the most out of the month, soaking in everything it has to offer.

Don't…
Eat, drink or chew gum in public during daylight hours. This includes on the street, in cars, at the office (check your own office rules) and any other public spots. Breaking this rule is legally punishable.

Don't…
Play loud music in public. If you're in a car, keep the volume of the radio down. If you're on the metro or somewhere similar, keep the volume down on your headphones. Be mindful of disturbing others during Ramadan.

Don't…
Use offensive language or gestures. This isn't something you should make a habit of anyway, but it's particularly important to refrain from this during Ramadan.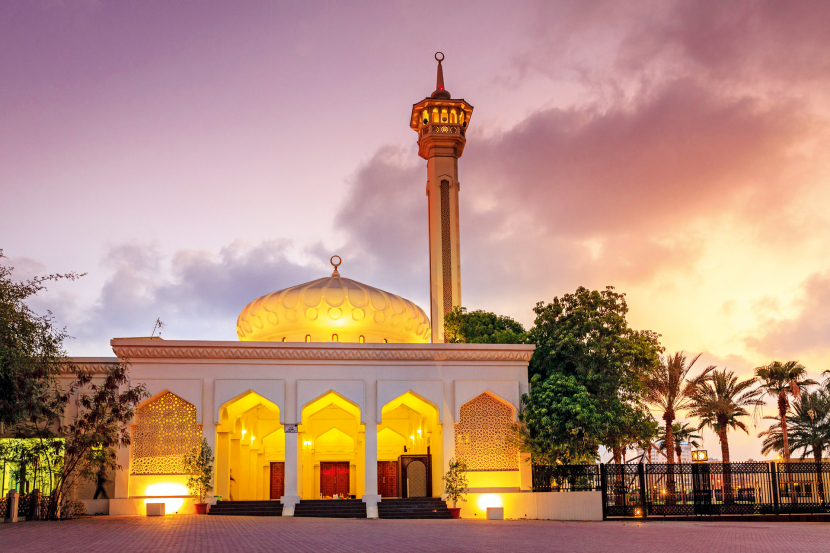 TERMS TO KNOW
Iftar: In its most literal translation, this means "break fast" and it's the first meal after sunset.

Suhoor: Pre-dawn meal before the fast begins for the day. Usually served à la carte in restaurants.

Ramadan Kareem: A greeting that means "generous Ramadan".

Ramadan Mubarak: Another greeting that means "congratulations, it's Ramadan".

Sawm: The word used for fasting.

Zakat: One of the five pillars of Islam, requiring adult Muslims to pay 2.5 percent of their wealth to people who need it most.

Salah: The word for prayer. Five prayer times are observed throughout the day: dawn, noon, mid-afternoon, sunset and night.

Tarawih: Special congregational prayers held each evening during the month of Ramadan.

Eid Al-Fitr: Three-day celebration marks the end of Ramadan – with prayers, festivities, food and gifts.

Mubarak aleik al shahr: A greeting meaning "may you get the blessings of the month".

Expert tips
Debbie Jaunich from The Arab Culturalist, a cultural consultancy company giving expert advice on local culture, offers some extra advice for this special time of year.
Clean out your closets and give away clothes and useful items that are in good condition.
Donate food stuffs at designated places around Dubai and Abu Dhabi.
Empathise with your co-workers who might be extra-tired while they're fasting.
Break your fast slowly and don't over-indulge.
Try not to have too many leftovers that will go to waste. Share extras with your neighbours or workers nearby.
Share in the atmosphere and respect everything that comes with this beautiful opportunity to be spiritual and kind.
Get to know your neighbours or co-workers and share a traditional dessert with them from your own culture.
Visit www.thearabculturalist.com formore tips.
It's a date
Every day, Muslims around the globe break the fast with dates – a religious practise of Islam known as a Sunnah. They're bite-sized, small and packed full of sugar that help rebalance blood sugar levels. You'll find them in many hotel lobbies, restaurants and family homes throughout the city. Or, you can purchase them from all supermarkets. The Date Room uses fruits farmed in the UAE and boxes are available to buy across the country.

Iftars to try
Iftar is the meal with which Muslims break their daily fast. Traditionally, the fast is broken with dates and a small drink of either water, juice or Arabic coffee, before prayers are undertaken, following which iftar is served.

Often, Emirati families put on big evening meals for all their loved ones and friends – you'll sometimes see iftar tents pop up outside big villas – though many also eat out in restaurants around the city. There are hundreds to choose from, some offering Middle Eastern cuisines and buffets, others offering contemporary and fusion twists on a traditional iftar.

Al Hadheerah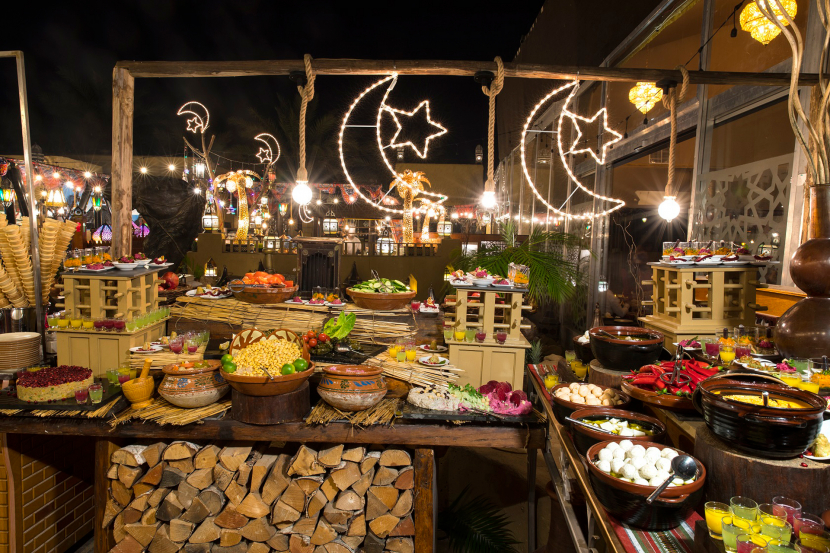 Head to the Bab Al Shams Desert Resort & Spa for iftar to experience this traditional occasion under the stars surrounded by rolling dunes. The evening will include plenty of food as well as live music, horse and camel shows and Tanoura dancing.
Dhs265 (adults, Sun-Wed), Dhs132.50 (kids aged four-12, Sun-Wed), Dhs295 (adults, Thu-Sat), Dhs147.50 (kids aged four-12, Thu-Sat), free (kids four and under). Daily, sunset-11pm. Bab Al Shams Desert Resort & Spa, Al Qudra Road (04 809 619).

Angelina Café & Tearoom
This Parisian-style café is creating a special four-course set menu combing French and Middle Eastern flavours. You can work your way through soups, salads, mains of steak, saffron risotto and sea bass or ratatouille and desserts alongside aromatic Ramadan special juices in Angelina's elegant setting. Its location in The Dubai Mall means this will be a popular spot throughout Ramadan.
Dhs139. Daily, sunset-2am. The Dubai Mall, Downtown Dubai (04 449 2112).

Asateer Tent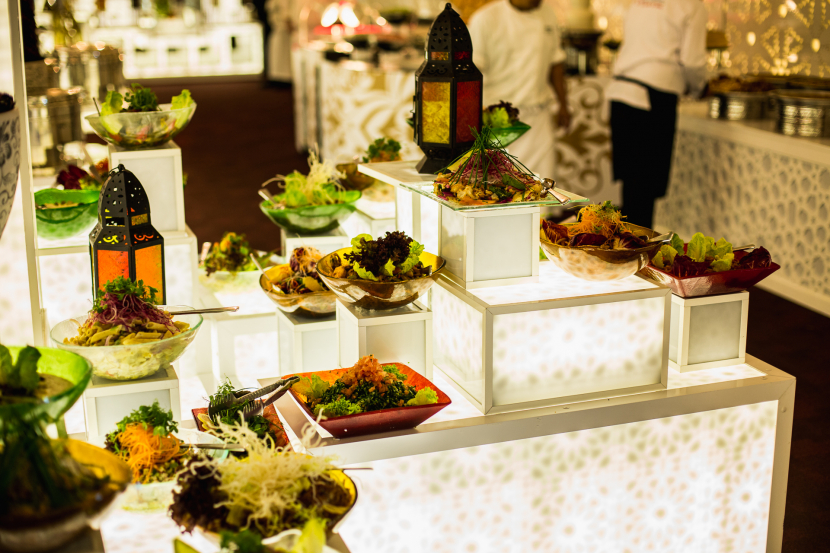 During Ramadan, you'll see tents springing up across the city at scores of restaurants. None is as big or famous as Asateer at Atlantis The Palm. It's headed up by famed chef Ali El Bourji and typically serves 60,000 diners during the month for iftar and suhoor. Expect to find buffets for both, live cooking stations, hot and cold mezze, soup, grilled meat and seafood, Ramadan desserts and more.
Dhs220 (adults), Dhs110 (kids aged four to 11), free (kids aged three and under). Daily, 6.30pm-8.30pm. Until Jun 12. Atlantis The Palm, Palm Jumeirah (04 426 2626).

Bayside Restaurant & Terrace
This restaurant overlooking the water is offering a traditional spread of Arabic favourites alongside international fare with a different theme each day. Expect live cooking stations with delicacies from across the globe, with indoor and al fresco seating available.
Dhs175 (adults), Dhs100 (kids aged five-12), free (kids under four). Daily, sunset-10.30pm. Steigenberger Hotel Business Bay, Dubai (04 369 0000).

Bebabel
Tuck into some brilliant Lebanese home-style cooking with a side of Dubai Fountain views. The iftar menu includes a choice of soups, hot and cold starters, mains such as lamb, siyyadieh and chicken freekeh with a sweet finish. Just sit back and be amazed by the magnificient water show below.
Dhs120. Daily, 7pm-midnight. Fashion Avenue, The Dubai Mall, Downtown Dubai (04 419 0950).

BiCE Mare
Another great spot for those seeking a family-friendly iftar with Dubai Fountain views, BiCE Mare's La Famiglia menu reinvents Italian fine dining. Expect four courses, including Mediterranean favourites such as gnocchi, meatballs and slow-roasted lamb shank, plus a selection of Italian mini cakes – cute.
Dhs195. Daily, sunset-11pm. Souk Al Bahar, Downtown Dubai (04 423 0982).

Dubai Opera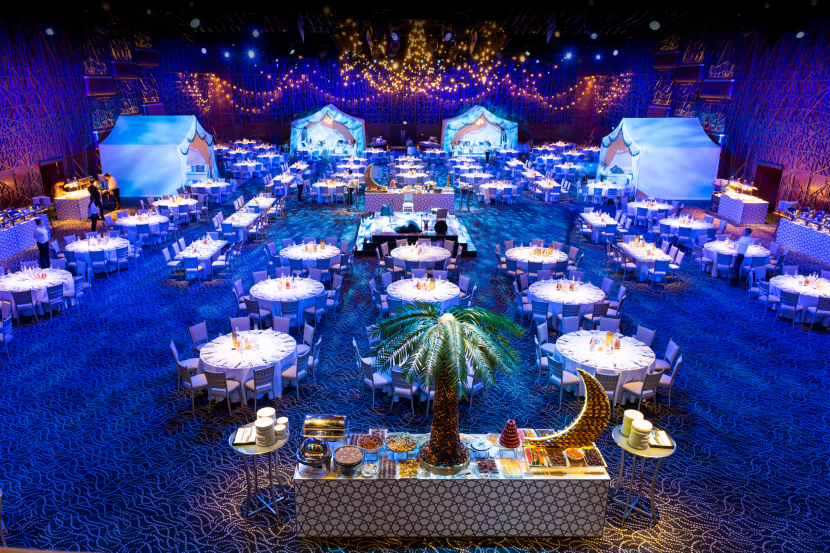 The auditorium will transform into a magnificent banquet hall with three different iftar menus throughout the month. Choose from Arabic delicacies and international favourites from the huge buffets and dessert counters every night from sunset to 9.30pm. There'll be live musicians playing, too. There's a discount for bookings of 11 and more, be sure to phone up beforehand for more details.
Dhs260 (adults), Dhs130 (kids aged six to 11), free (kids aged six and under). Daily, sunset-9.30pm. Dubai Opera, Downtown Dubai (04 440 8888).

Fish Market
Near the Creek, this restaurant has excellent views and makes seafood a key part of its menu. Each night's iftar offers a buffet as well juices and soft drinks, and you can expect the freshest of catches.
Dhs199 (adults), Dhs89 (kids aged four-12), free (kids under four). Daily, sunset-9pm. Radisson Blu Hotel Dubai Deira Creek, Deira (04 205 7033).

Kaleidoscope
Serving up a vast international buffet, Kaleidoscope features dishes from around the world and is ideal for families and groups of friends. The restaurant will be offering its usual Mediterranean, North African and Indian dishes, alongside a special iftar with live cooking stations for an interactive experience.
Dhs215 (adults), half-price (kids ages four to 11), free kids aged (three and under). Daily, 6pm-8pm. May 5-Jun 4. Atlantis The Palm, Palm Jumeirah (04 426 2626).

Kcal Life Restaurants
Not quite in the mood for cooking? Try a combo of Ramadan dishes that will be delivered right to your door. Tuck into soup, mains and side, dessert and a snack for just Dhs65. Kcal focuses on serving healthy, balanced dishes. Starters include veg labneh dip and cucumber, mains include Arabian beef, chicken makloubeh or veg biryani and sweets, which are made with zero sugar and zero white flour, include salted tahini caramel bars, brownies and oat bar. Talk about a healthy iftar option that the picky eaters will also be sure to love.
Dhs65. Delivery: daily from 10am-1am, dine-in sunset-1am. Various locations in Dubai including Business Bay and JLT, kcallife.com.

Minato
For something a bit different this Ramadan, try the iftar buffet at Japanese restaurant Minato. It will feature some of the restaurant's signature dishes as well as juices and soft drinks. Kids under four eat free, too.
Dhs199 (adults), Dhs89 (kids aged four-12), free (kids under four). Daily, sunset-9pm. Radisson Blu Hotel Dubai Deira Creek, Deira (04 205 7033).

NAMU
Another very different iftar you can tryif you're looking to change things up a bit is a Korean barbecue on the 31st floor of V Hotel Dubai. At this K-Iftar, a set menu featuring favourites will be served with soft beverages included in the price.
Dhs155 (adults), Dhs77.50 (kids aged five-12), free (kids aged four and under). Daily, sunset-9pm. V Hotel Dubai, Curio Collection by Hilton, Al Habtoor City (04 435 5577).

Sheikh Mohammed Centre for Cultural Understanding
Get a deeper understanding and learn about the history of Ramadan by attending this unique experience. The SMCCU sits in the heart of Dubai's Al Fahidi Historical Neighbourhood. Iftars will run every night from May 8 to June 1 except on Fridays. It begins with Athan (the call to prayer) followed by breaking the fast with your hosts.

You'll watch the hosts pray, before joining them in a dinner of Emirati dishes. Asking questions about Ramadan and UAE culture is welcomed, so it's a great learning opportunity for young ones, too.
Dhs185 (adults), Dhs90 (kids aged seven to 11). May 8-Jun 1 (except Fridays), 7pm-9pm. House 26 and House 47, Al Fahidi District (04 353 6666).

Somaya
This is a great one for families as kids under six eat free throughout Ramadan at the brand-new Hilton Garden Inn Dubai Al Jadaf. Plus, kids aged six to 12 can dine at the daily iftar buffet for just Dhs59 while adults can eat for Dhs99. There'll be live cooking stations, traditional Arabic cuisine, salads, cheese counter and plenty of puddings. There's a private banquet hall for private events of 30 people or more than can be hired, too.
Dhs99 (adults), Dhs59 (kids aged six to 12), free (kids under six). Daily, sunset- 11pm. Hilton Garden Inn Dubai, Al Jadaf Culture Village (04 517 1061).

The Atrium
The iftar buffet at this Venetian-style restaurant features more than 60 items to choose from with live cooking stations. There will also be live entertainment and kids' activities throughout.
Dhs199 (adults), Dhs89 (kids aged five-ten), free (kids under five). Daily, sunset-9pm. Grand Millennium Dubai, Barsha Heights (04 423 4170).

The Market
This family-friendly iftar is a luscious spread of specially curated cuisines, including Arabic favourites of course, prepared at six live cooking stations. Décor elements will reflect the spirit of Ramadan. We've also got some good news for parents, a kids' area is available so you can enjoy some peace of mind while you eat.
Dhs185 (adults), Dhs60 (kids aged five-12), free (kids aged four and under). Daily, sunset-9pm. Hilton Dubai Al Habtoor City (04 435 5577).

Fast healthily
Tips from Kcal's nutrition director Lauren Jacobson:

Have a healthy and filling suhoor: Eat complex carbs including whole grains and protein, which are slower digesting and help maintain energy levels.

Avoid simple sugars: Ditch refined sugar and flour. They'll give you a temporary energy boost – followed by an energy crash.

Eat protein: It takes more time to break down in the body than carbs and provides a longer-lasting energy source.

Ditch fried foods: Opt for healthy fats for longer lasting energy and to keep you fuller for longer.

Drink plenty of water: After breaking your fast, drink water regularly to compensate for the hydration you didn't get while fasting. Combine with foods rich in water: cucumbers, leafy greens, watermelon and tomatoes.

Limit your caffeine: Fasting causes dehydration. It's a good idea to take a break from tea or coffee as it will increase water loss in the body.
Be the first to get all the latest Dubai news, reviews and deals into your inbox by signing up to our free
newsletter
,
click here to sign up
.