October is here are there are loads of things to do in Dubai with your family. Whether you're looking for a movie night, a trip to the rainforest or a pool day with the kids, read on.
Be a wildlife warrior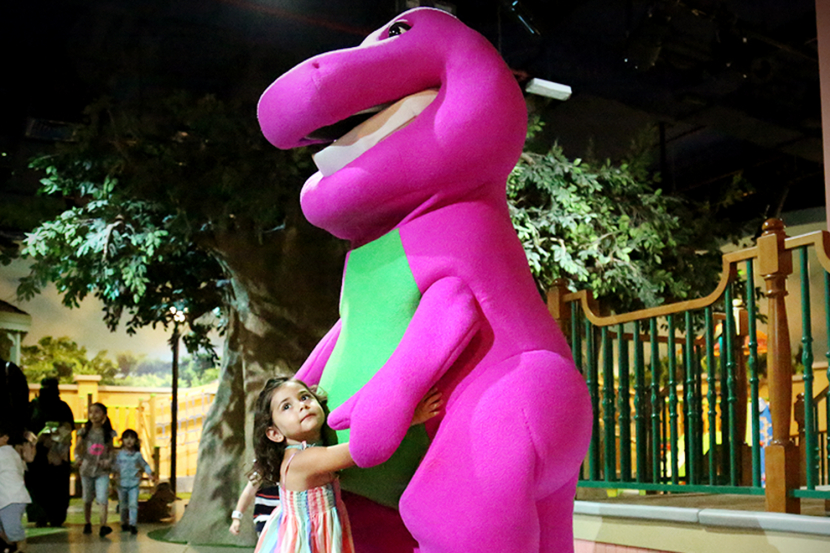 Barney's Animal Adventure kicks off at Mattel Play! Town where everybody's favourite purple dinosaur - along with some of his pals including BJ and Baby Bop - welcomes little buddies to his house where they will enjoy a special animal-themed picnic. Mini animal-lovers can unleash their creativity at the arts and crafts station and test their animal knowledge in a series of fun challenges, plus sink their fangs into a tasty picnic spread. Then it's off to the biodome where the expert team at The Green Planet will introduce the pack of nature fans to some of their cutest residents including a slow loris and a sloth. The visit also includes a stroll through the region's only bat cave and watching the pirhanas go mad for their supper.
Dhs199 (child), Dhs50 (adults at Matel Play! Town), Dhs115 (adults at The Green Planet). Fri Oct 4 and Fri Oct 11 9.30am-1pm. City Walk. www.playtowndubai.com
Explore the world
Get ready for the 24th season of Dubai's international-themed entertainment destination, which is re-opening its doors on Tuesday October 29. Global Village hosts more than 25 pavilions representing 75 countries of the world, and the kids will be able to indulge in a range of tasty treats from Canada, Holland and beyond.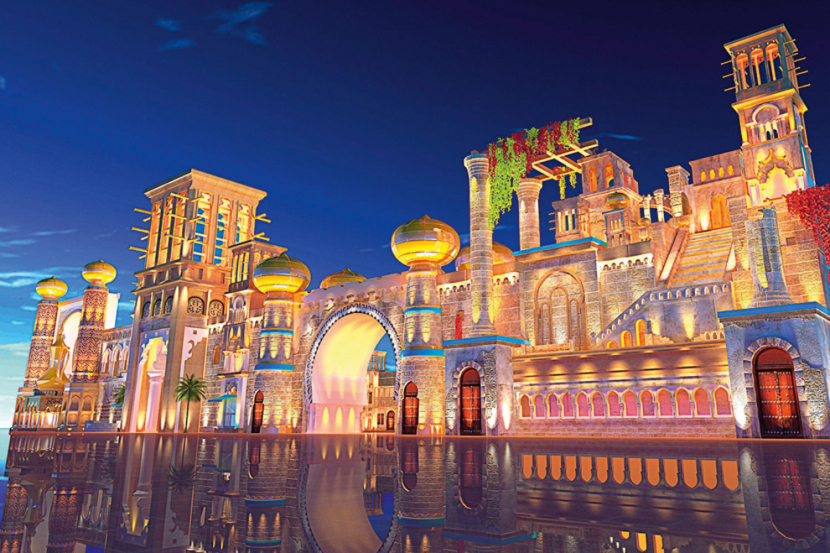 There's also a funfair where mini thrill-seekers can enjoy 28 rides and more than 100 arcade games.
Dhs15. Tue Oct 29-Sat Apr 4, 2020. Sheikh Mohammed Bin Zayed Road, www.globalvillage.ae
Say aloha to a pool day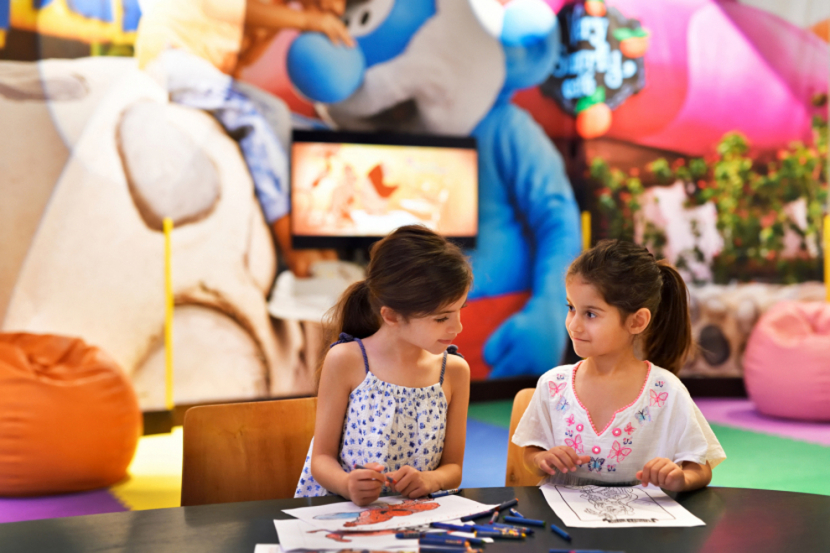 For just Dhs99 per person the whole tribe can hit Lapita's 'Mahi Mahi' family lagoon-style pool, the lazy river and the kids' pool complete with splash park. But that's not all, the price you pay is redeemable against your choice of food in all-day dining eatery Ari where you can hit the various live cooking stations or make it personal and go à la carte. There are a slew of activities on offer throughout the day for the mini members of the family including face painting, a golden coconut treasure hunt and limbo games, which are always the source off plenty of hilarity. And once the littles one have had their fill of fun in the sun, deposit them at the on-site kids' club.
Dhs99 (per person). Every Fri 10am-6pm. Lapita, Dubai Parks and Resorts, Autograph Collection, lapita.restaurantreservations@autographhotels.com (04 810 9421).
Take to the skies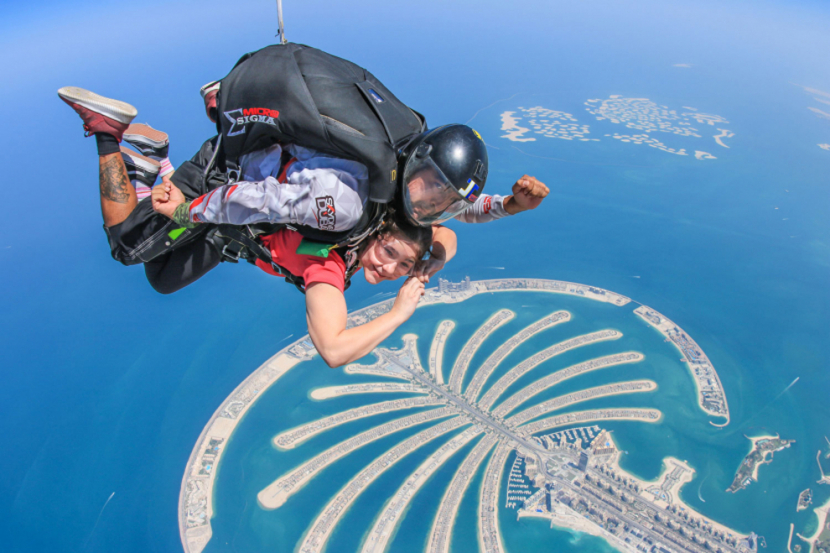 Think they're brave enough? Skydive Dubai has introduced tandem sky dives for children over the age of 12 years. Little thrill-seekers can now take to the skies above the Palm Dropzone, giving them the perfect bird's-eye view of one of the UAE's most iconic landmarks – as they hurtle towards the earth – not to mention a truly unforgettable experience. Parents need not worry, their precious sons and daughters will be in the very safe and capable hands of the most experienced skydiving instructors around. Who says that grown-ups have all the fun?
From Dhs1,850 until Thu Oct 31 and Dhs2,199 after Thu Oct 31. Dubai Marina, www.skydive.ae
After school fun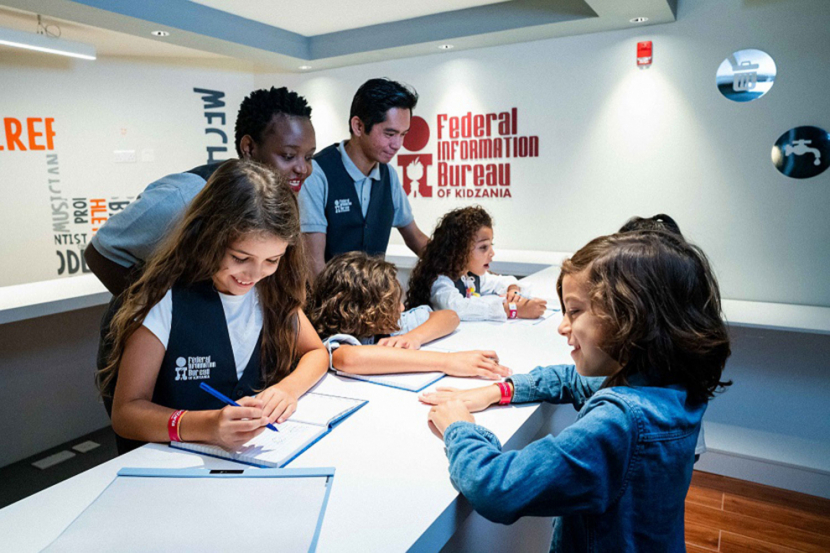 Until the end of October kids can enjoy one of their favourite edutainment destinations for less. KidZania Dubai has reduced the ticket price to Dhs99 from Dhs185 for afternoon visits. Valid for weekdays from 4pm onwards,kids can immerse themselves in to a variety of jobs through role play to develop their decision-making, creativity and social skills.
Dhs99. Until Thu Oct 31, Sun-Wed 4pm-10pm. The Dubai Mall, Downtown Dubai, www.kidzania.ae
See a show
Want to simply mess around on the river (or in this case the calm waters of Port Rashid) with a rat, a mole, a toad and a badger? Then head to the QE2. A live performance of Kenneth Grahame's classic children's book, The Wind in the Willows, is coming to Theatre by QE2 from Friday October 11 to Saturday October 19. The heart-warming tale is brought to life by a cast of performers from the UK who will be singing and dancing their way into your hearts. This is one for the whole family to enjoy.
Dhs150 (adults), Dhs120 (kids aged 12 and below). Oct 11-19, 10.30am and 2.30pm. www.theatrebyqe2.com
Get back to nature
The Green Planet Academy is inviting animal-lovers to sign up to an educational programme that allows them to step behind the scenes and discover what's involved in looking after the indoor biodome's 3,000 inhabitants. Children aged between seven and 11 years can interact with the animals and help out with daily tasks such as mucking out. The hour-long sessions run from Sunday to Wednesday (little biologists can choose their preferred day) over seven weeks, with the first semester kicking off on Saturday October 15.
Dhs1,050 (seven weekly sessions). City Walk, Al Safa Street, Dubai, www.thegreenplanetdubai.com (04 317 3999).
Make it a movie night
It's four years since the mischievous sheep last appeared on the big screen and now he's back in a standalone sequel. When Shaun and the flock encounter a cute alien with extraordinary powers who has crash landed near their farm, they set about trying to get her home in order to prevent a terrifying alien invasion known as Farmageddon.
In cinemas across the UAE from Thu Oct 31.
Bag a literary bargain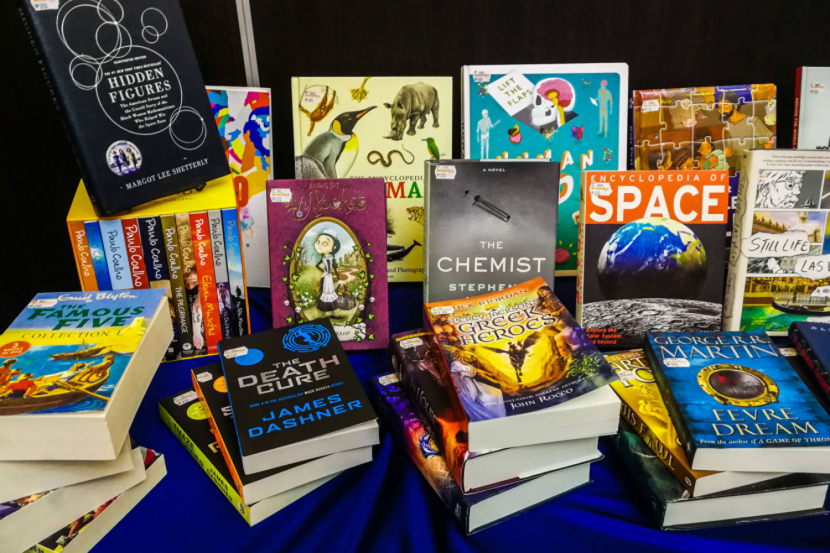 The Big Bad Wolf Book Sale is coming back to Dubai for the second year running from Thursday October 10 to Sunday October 20. Open 24-hours daily, the mega sale is promising up to 80 percent off some three million book across a range of genres including new releases and kids classics. Happy reading.
Free admission. Thu Oct 10-Sun 20, open 24 hours. Dubai Studio City, www.bigbadwolfbooks.com
Get brunching
Bab Al Shams Desert Resort & Spa has two new family-friendly brunches that are perfect for a weekend of fun for the whole gang. The Friday Garden Brunch is set in the lush green gardens of all-day dining restaurant Al Forsan. When it comes to activities for the little brunchers, camel and pony riding, plus a petting zoo really steal the show. Magicians and jugglers also keep the smalls entertained while mums and dads relax and enjoy the live music. The Saturday Al Forsan 360°Nature Brunch is a picnic brunch where kids can run free on the grass or head to the incredible play area where camels and ponies are waiting to give them a ride around the grounds. A bouncy castle and plenty of fun games also keep little people entertained and out of trouble.
Friday Garden Brunch: Free (kids under six and nannies), Dhs183 (kids between six and 12), Dhs365 (soft drinks), Dhs545 (house beverages). Fri 1pm-4pm. Saturday Al Forsan 360°Nature Brunch: Free (kids under six), Dhs113 (kids between six and 12), Dhs225 (soft drinks). Sat 1pm-4pm. Bab Al Shams Desert Resort & Spa, Al Qudra Road, www.babalshams.com (04 809 6194).
Learn a new skill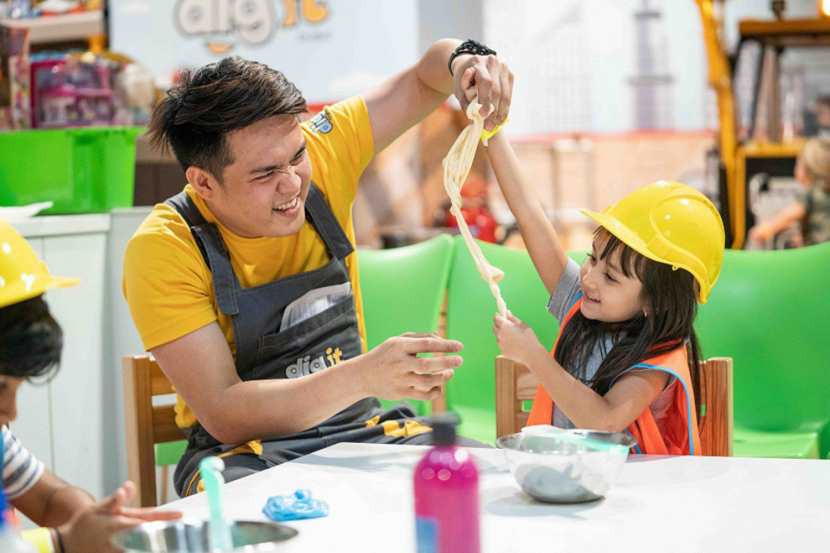 Edutainment centre, Dig It! has launched a monthly programme of fun interactive workshops that your little ones will love. Children can release their creative flair and have heaps of fun at the same time as they throw themselves into new challenges such as learning to make gooey slime, decorating pretty cupcakes, building the tallest towers out of blocks and even creating their very own sand sculpture - a useful skill for those Dubai Friday beach days! And in addition to this schedule of permanent workshops, a range of new and exciting activities will be added to the line-up every month. Kicking off with clay modelling, closely followed by cookie decorating next month the interactive workshops are 30 minutes long and are included in the price of the Drop & Dig ticket (Dhs125).
The kids will definitely be digging this idea!
Dhs125. Daily 10am-10pm. The Springs Souk, www.digitdubai.com (04 438 4479).
Catch criminals
LEGOLAND Dubai has introduced a new 4D movie and heap of fun activities to its line-up as part of a special LEGO City Days event. Head to LEGO Studios 4D where little thrill-seekers and their parents become part of the action in the new LEGO City 4D-Officer in Pursuit movie, which follows LEGO City Police Officers as they try get their hands on a mischievous criminal. Once the film reaches its climatic ending (water, wind and bubbles included) a police report card is handed out to each of your officers in training, along with a set of instructions to give them clues as they set off on an adventure to track down hidden baddies who are lurking around the park. There is also heaps to discover at the newly-refurbished police headquarters in LEGO City, where fun-filled activities include police car build along with a test track where they can put their pedal to the metal and see how fast they can go. All that police work is tiring for law abiding personnel, so pop into The Café where little ones can pick up a free doughnut with every hot drink ordered for all their hard work in protecting the city. Take it up a level and if your child makes it official by dressing up as police officer then they can eat for free at Caesar's Pizza & Pasta Buffet restaurant.
From Dhs235 (adults), free (kids under three). Fri Sept 27-Sat Sep 28 and Fri Oct 4-Sat Oct 5 www.legoland.ae
Find your zen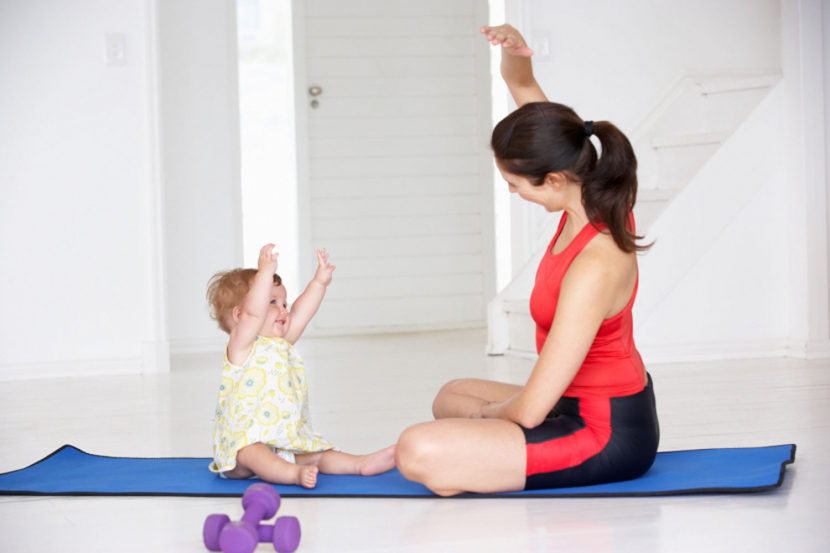 Back for another season of parental bonding over a spot of core strengthening are Phoenix Rising's mummy and baby Pilates classes. While temperatures are still hitting the high thirties, the sessions are being held inside at playdates– an entertainment centre on the Palm, Jumeirah – from 10.20am to 11.20am every Tuesday morning. It's a complete way to relieve tension from the whole body, including the mind. To keep tiny tots entertained and calm throughout, mums are encouraged to bring their singing voices so that they can knock out a kid's tune or two while mastering the pelvic curl and the single leg stretch. Got an older child as well? No problem, as toddlers are welcome to get stuck into the soft play area at Playdates for 30 minutes before the class, as well as 30 minutes afterwards too.
Dhs84 (per class), Dhs315 (four sessions). Tue 10.20am-11.20am. Ongoing. Golden Mile 1, Palm Jumeirah, Dubai, www.phoenixrising.ae (050 4298148).
Be the first to get all the latest Dubai news, reviews and deals into your inbox by signing up to our free
newsletter
,
click here to sign up
.