New York-style chicken sliders
Makes 10 sliders.
Prep time: 20 mins.
Chill time: 30 minutes.
Cook time: 20 mins.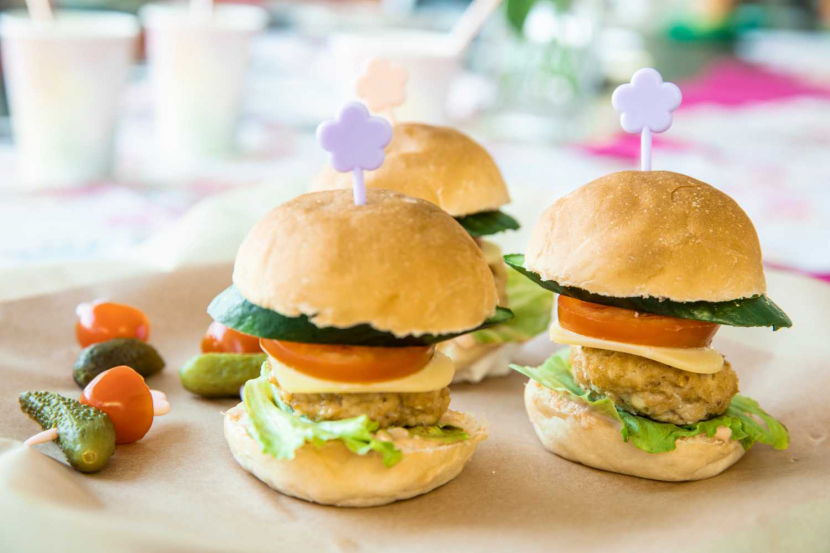 Ingredients
For the burgers:
500g minced chicken
1 tbs ground almonds
1 tbs soy sauce
1 tsp dried oregano
For the garnish:
10 small burger buns
1 head of iceburg lettuce
2 small cucumbers
2 plum tomatoes
4 tbs tomato ketchup
4 tbs mayonnaise
5 slices cheddar cheese
5 small gherkins
5 cherry tomatoes
20 small decorative party food picks for the garnish

Method
Step 1: To make the burger patties, put all the burger ingredients into a bowl and combine, but do not overwork the minced chicken. Divide into 10 patties, rolling into a ball in your hand and then flattening.
Step 2: Chill the patties for 30 mins in the fridge. Then put some olive oil in a pan and fry for 5 minutes each side until golden brown, then in a hot oven at 180 degrees celcius for a further 10 minutes until cooked through. Leave to cool.
Step 3: For the burger toppings, all vegetables can be cut to the size of the bun, or alternatively can be shaped with a cookie cutter in any shape you like – we like using a heart shape.

Step 4: Combine the tomato ketchup and mayonnaise to make "mayochup". To assemble, cut the small buns in half, put the mayochup first followed by the lettuce, then the chicken burger, before the tomato, cheese and cucumber. Put the top of the bun on. Put a food pick through the slider to hold it all together. Serve with half a cherry tomato and half a gherkin on a food pick.
NOTE: The meat and topping choices can be changed to anything your crew will eat. Alternatives for the mince meat could be vegetarian or chicken mince. Toppings could include chutneys, salsa, shredded cabbage or turkey bacon.

TIP: This dish is easy to customise for your chosen party theme by adding any fun decoration of your choice on to the food picks.

Mini taco bites
Makes 24 bites.
Prep time: 20 mins
Cook time: 55 mins (two batches).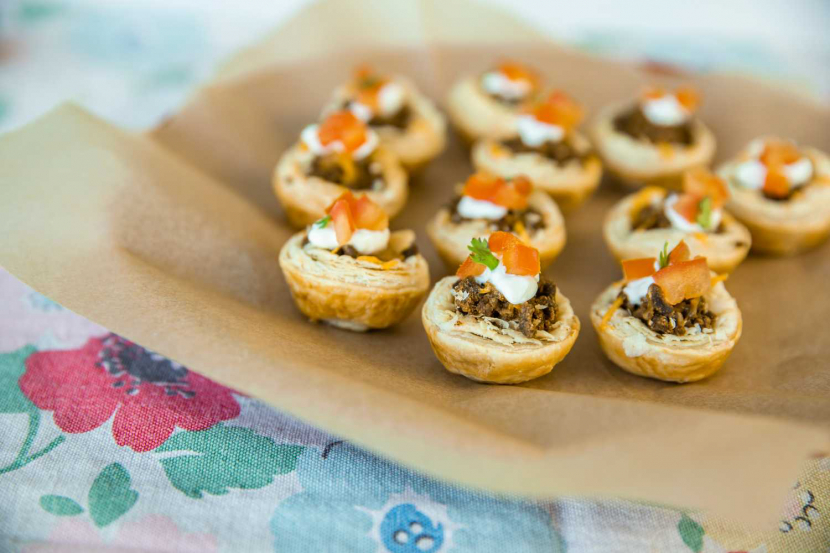 Ingredients
1 sheet ready rolled puff pastry, defrosted
150g low-fat beef mince
½ tsp ground coriander
½ tsp smoked paprika
1 tsp Tabasco smoked chipotle sauce
1 tbs tomato puree
½ cup cheddar cheese, grated
6 tbs plain yoghurt
1 tomato de-seeded and cut into a small dice
12 cup mini muffin tray
Method
Step 1: Lay out the puff pastry and using a round cutter just slightly larger than the size of each cup in the muffin tray (you can use a drinking glass) cut out 12 circles of pastry. Press into a pre-greased mini muffin tray and put in the oven at 180 degrees celcius for 10 minutes.
Step 2: fry off the minced beef until cooked through (approx. 10 minutes), add the ground coriander, paprika, chipotle sauce and tomato puree. Cook for a further 5 minutes. Leave to cool.
Step 3: Remove the pastry cases from the oven and gently press down the middles that have puffed up. Fill with the beef mix, top with some grated cheese and put back in the oven for 10 minutes. Leave to cool.
Step 4: Remove taco bites from the tray, and repeat again to cook a second batch. Leave to cool then decorate with a dollop of yoghurt and the diced tomato.

TIP: The spice mix I use avoids using a packet mix, which is much better when cooking this for kids. Try it next time you have tacos or fajitas for dinner!

Peanut butter oat cookies
Makes 10.
Prep time: 15 mins.
Cook time: 15 mins.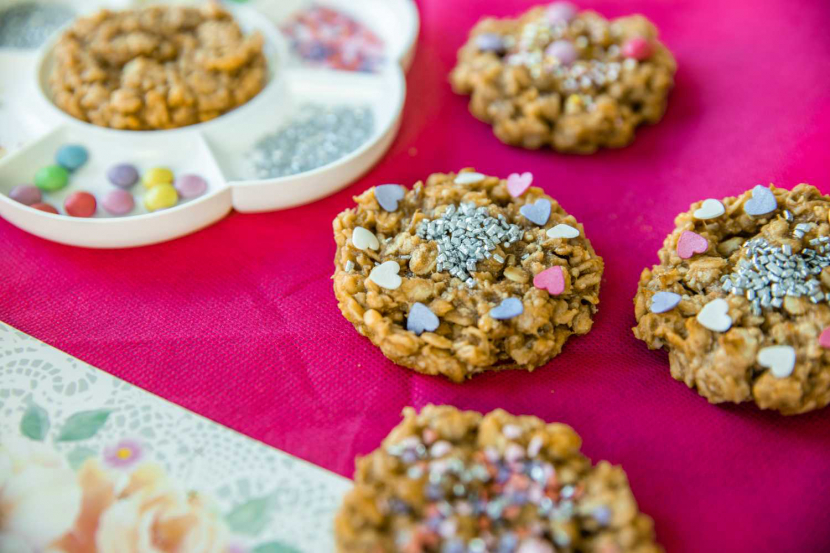 Ingredients
2 ripe bananas
4 tbs peanut butter (crunchy or smooth)
1 tbs honeu
1 tbs melted unsalted butter
1 cup jumbo rolled oats
Hundreds and thousands or chosen themed edible decoration
10 plastic palettes
Method
Step 1: Mash the bananas in a bowl with the peanut butter, honey and melted butter. Add the oats and stir into a thick dough.
Step 2: Divide into ten equal portions and put on a baking tray covered in greaseproof paper (leaving large gaps between them). Using a cookie cutter press the cookie dough into the centre of the cutter to form a circle and gently remove the mold.
Step 3: Bake in the oven on 180 degrees Celsius for 15 minutes.
Step 4: Once the cookies are have completely cooled down, place one on each of the palettes and place the items for decoration –can be chocolate sprinkles, hundreds and thousands, marshmallows, edible glitter, mini smarties or any chosen themed edible decoration – around the palette edges.

TIP: A nut free alternative such as as Wow Butter can be used instead.

Marshmallow treats
Makes 20+ decorative marshmallows.
Prep time: 10 mins.
Cool time: 30 mins.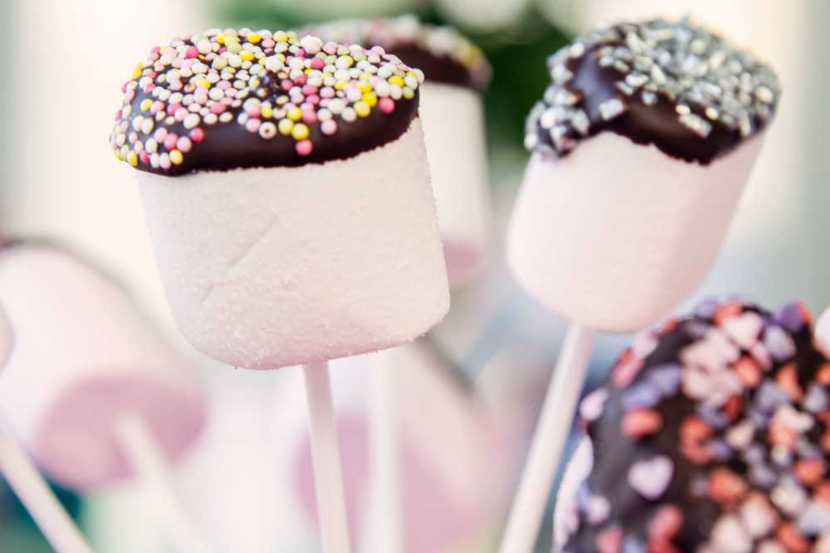 Ingredients
Pack of large white and pink marshmallows
100g bar dark chocolate (70 percent)
Hundreds and thousands or chosen themed edible decoration
Small bamboo/lollipop sticks
1 grapefruit
Silver foil
Method
Step 1: Melt the chocolate in a bain marie until smooth.
Step 2: One by one dip in the tops of the marshmallows, letting the excess chocolate drip off, then dip in edible decoration of choice, and put in the fridge immediately
to cool.
Step 3: Cut the bottom off a grapefruit and cover in silver foil. Put the marshmallows on the ends of the bamboo/lollipop sticks, and insert into the grapefruit to make a "stand". Keep in the fridge until you bring them to
the party table.

TIP: The plastic paint palette is perfect for cookie decorating. Just put the cookie in the middle and the edible decorations in the segments.
Be the first to get all the latest Dubai news, reviews and deals into your inbox by signing up to our free
newsletter
,
click here to sign up
.