From hitting the tree tops to go going down into the deep blue sea, and everything in between, we've rounded up the best venues, shops and bakeries (the cake is key) so you can make sure your little birthday boy or girl has the best party ever.
American Girl Doll
Every little girl's dream comes true at this store so being able to have their birthday party in the American Girl Doll shop is beyond magical. The party posse can bring their own doll, or use one supplied by the store, and can head to the hair salon to work their magic – with a little help from the in-house stylists. Once everyone is happy with their efforts, they can play some games before cake cutting time. Goodie bags are included and the birthday girl gets a special gift too.
Dhs139 per child. Up to 12 children. Dubai City Centre Mirdif, Dubai and Mall of the Emirates, Dubai, www.americangirlmena.com (04 231 6324).
BOUNCE
Always a huge hit with birthday boys and girls, the UAE's original indoor trampoline park's two-hour birthday packages include free-style bouncing, well-run games, food for all and a cake-cutting ceremony. It's great value for money and every party comes with a BOUNCE host to guide kids around the various jump zones, plus there's easy parking.
From Dhs135 per child. Al Quoz, Dubai and Marina Mall, Abu Dhabi, www.bounce.ae (04 321 1400).
Creative Minds
Whether you need gifts, wrapping paper, birthday cards, party decorations, balloons or pretty much anything – plus a whole lot of stuff you didn't even realise you needed, but can't not buy – for that all-important celebration, you will find it at Creative Minds.
Umm Suqeim Street, Dubai and Al Ferdous, Al Safa 1, Dubai, www.creativemindsdubai.com (04 323 7180).
Cheeky Monkeys
A world of colour and fun awaits little birthday boys, girls and all their buddies at the Cheeky Monkeys soft play centres. Innovative neon-lit slides, mini zip lines, a brilliant dressing-up area and an enormous ball pit provide endless entertainment that energetic tots will love. A birthday party is two hours of fun and includes a decorated private party room with a dedicated entertainer and a host who will organise games. Food is included as is a helium balloon for each little guest. You can add a face painter for an additional Dhs350.
From Dhs95 (Sun-Wed), Dhs115 per child (Thu-Sat). Various locations including J3 Mall, Dubai and Al Forsan Village, Abu Dhabi, www.cheekymonkeys.com (04 385 0875).
Cheeky Little Events
Take the hassle out of birthday party planning and organising by getting someone to do it for you. Cheeky Little Events will gladly make sure your little birthday boy or girl has a party to remember with heaps of themes to choose from, plus brilliant entertainers and a slew of activities kids will love. But that's not all, they can provide tables and stools perfect for the party meal, a photo booth, candy floss, popcorn and a face painter. The possibilities are endless.
www.cheekylittleevents.com (052 250 1226).
Count to Tent
An adorable themed sleepover from Count to Tent will do the trick for any little sleeping beauties. They create beautiful bespoke celebrations using the cutest handcrafted tepee tents and whimsical themes to ensure the dreamiest sleepovers. And, if you turn to page 73, we are even offering you the chance to win a complete party set-up for two.
From Dhs750 per party. www.counttotent.com (056 149 7023).
Dubai Bowling Centre
Strike it lucky (sorry, we couldn't resist) with a birthday party at this established bowling alley that throws mega-cool parties that can be themed to suit the personal tastes of the birthday boy or girl. Hosted at the on-site Party Time in the bowling centre's arcade, food and decorations are all provided as part of the package.
From Dhs1,800 for 20 kids. Minimum 20 children. Al Quoz 1, Meydan Rd, Dubai (04 349 9916).
Dig It!
A play space that's based on a real-life construction site, kids can dig, move, tunnel, climb, build and create here. The two-hour party packages (minimum of ten guests) include a 90-minute play session with a party host, as well as 30 minutes for food – (provided) and cake (you can take your own) in the party room.
From125 per child (Sun-Thu), Dhs145 per child (weekends). The Springs Souk, Springs Community, Dubai, www.digitdubai.com (04 438 4479).
Extreme Fun
This happy and friendly play centre is for both children and parents, and caters to little ones aged zero to 12. The venue is colourful, cheerful, full of soft play fun and perfect for a birthday party. Birthday boys and girls can choose from an impressive number of themes from a little chefs option and a slime making session to a princess party perfect for mini Disney fans.
From Dhs85 (Sun-Wed), Dhs105 (Thu-Sat). Various locations, including Union Coop Supermarket, Al Wasl, Dubai and Play&Party, Motor City, Dubai, www.extremefun.ae (04 388 8086).
Funky Monkeys Playland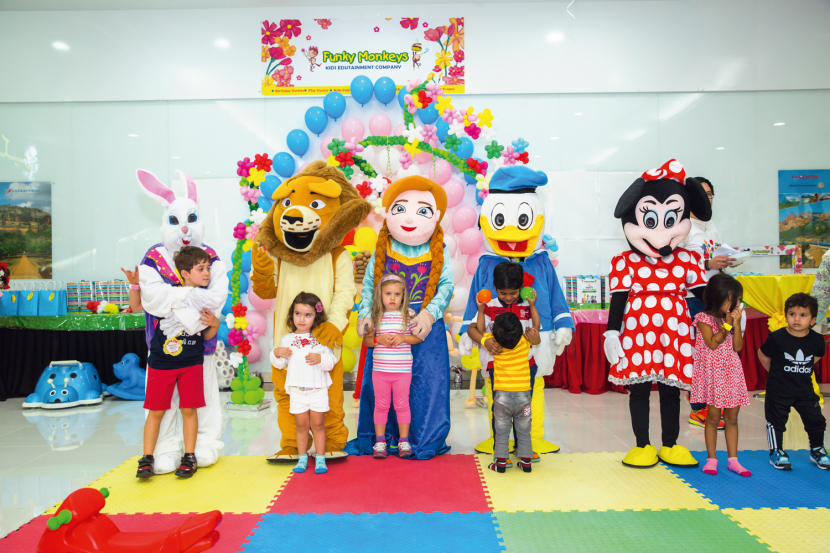 Birthday boys, girls and party guests will love this jungle mania-themed soft play where kids can go wild in the soft play area. There are five themes to choose from: superhero, princess, chef, artist or scientist. Don't fancy any of those? No problem, the helpful party planners at Funky Monkeys Playland will help you to customise your own party.
From Dhs89 per child (Sun-Wed), from Dhs109 per child (Fri & Sat). Al Wasl Centre,Sheikh Zayed Road, Dubai www.funkymonkeysuae.com (04 388 4114).
The Green Planet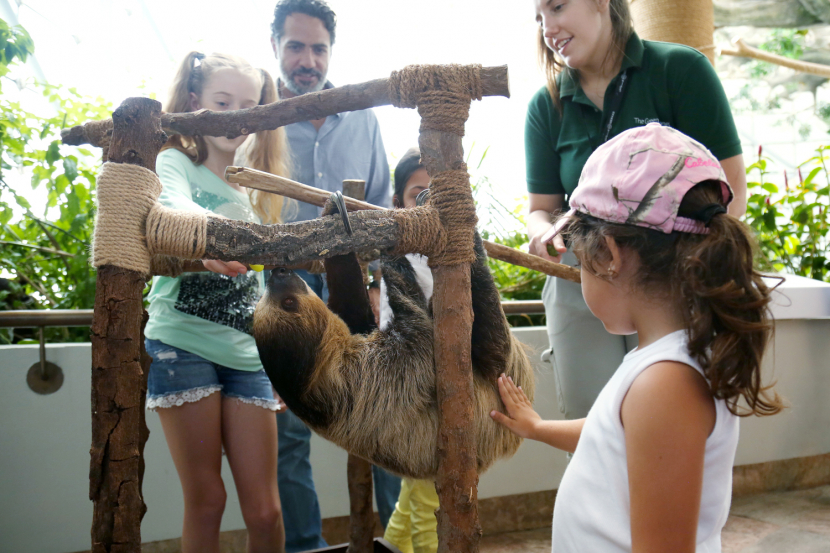 A birthday at The Green Planet takes parties to whole new level of awesomeness! The indoor tropical biodome in the heart of Dubai, with colourful flora and exotic fauna all existing in an ecosystem expertly put together by botanists, zoologists and scientists, is an amazing spot for a party. Meet the sloths, visit the fruit bats, hold a python, feed hungry piranhas and watch colourful parrots and birds fly overhead. It's a truly magical birthday experience that includes a party host, food and a decorated party room.
From Dhs95 per child (Sun-Thu), from Dhs135 per child (Fri & Sat). Minimum ten children. City Walk, Dubai, www.thegreenplanetdubai.com (04 317 3999).
Game Van
With all the latest consoles and games this is a top choice for little gamers. The van comes to your chosen location and, once in situ, up to 12 children can climb aboard to play a variety of video games on the Xbox, PlayStation or Wii. There are four packages at different prices, which are based on the amount of time the kids play inside the van, plus there is an option to customise you own.
From Dhs1,700. For up to 12 children for an hour. Sun-Wed. www.gamevandubai.ae (050 496 7885).
The Happy Studio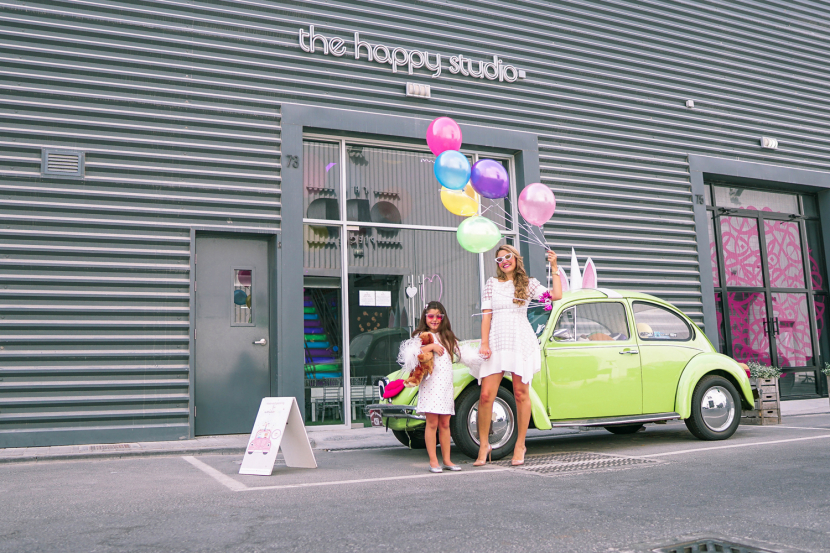 This party destination really does what it says on the tin. Little party-goers feel uplifted when they walk through the door of this haven of happiness thanks to the rainbows, unicorns and glitter that cover every surface. The pop art community space hosts colourful, creative birthday parties and offers 12 party packages including mini magician and mini disco options. The basic 'Birthday Fix' package is a two-hour long party available from Sunday to Wednesday, with arts and crafts, balloons, games and food.
From Dhs200 per child. The Happy Studio, Warehouse 73, Alserkal Avenue, Al Quoz,Dubai, www.thehappybox.ae/the-happy-studio (058 584 2779).
Hamleys
A visit to Hamleys is a fun day out in itself with gadget-savvy staff giving excited kids a demo of the latest toy or game. But if you're looking for a special birthday present then the sheer choice is overwhelming as you enter this enchanting world of wonder that mesmerises little ones and takes parents right back to their childhoods.
Various locations including The Dubai Mall, Dubai, www.hamleys.com.
iFly Dubai
If feeling like you're falling from 35,000 feet is up their street, then little birthday kids will love this – don't worry, it's not as dangerous as literally throwing themselves out of a plane! In addition to their free-falling experience (two minutes per child), little partying adrenalin-junkies will get a goodie bag, wristband, certificate to mark their bravery and an iFly voucher so they can come back for some more thrill-seeking.
From Dhs150 per child.(Sun-Thu), Dhs190 per child (Fri & Sat). Play National Area, City Centre Mirdif, Dubai, www.theplaymania.com./ifly (04 231 6292).
Just Play
Mini ninja warrior wannabes should check Just Play out for their special day, but gym tots, little dancers, football fans and trampoline enthusiasts can also find something that will make their celebration perfect. All packages include a party host and play time doing their chosen activity, plus birthday cake, invitations sent out to guests, party bags and food and drink. So all you have to do is rock up and have fun.
From Dhs99 per child. 15A Street, Dubai, www.justplay.ae (04 348 3879).
Kids Party Palace
When they reach the age that sleepovers become top of their agenda (around seven), Kids Party Palace is a great party option for boys and girls. A team of magical fairies (that's how we are describing them anyway) descend and turn the room of your choice into an enchanted sleeping area. Dreamy. Spa parties are also on offer for pampered little birthday girls and boys.
From Dhs1,500 for four children (sleepover packages), www.kidspartypalace.com
KidZania
Kids love playing the grown-up, so a birthday party centred around role play and using their imaginations in their choice of career will be right up their street. The basic package is Dhs185 per child (entry and an exclusive area to eat their Kidz meal in), which allows one adult to go in free with every two kids, but parents can also browse an extensive list of add-ons that include face painting, video coverage of the special day, magic tricks and a piñata. KidZania can even sort out the birthday cake if that's what you'd like.
From Dhs185 per child. The Dubai Mall, Dubai and Yas Mall, Abu Dhabi, www.kidzania.ae (056 409 2193).
LEGOLAND Dubai and LEGOLAND Water Park
Blow their birthday party out of the park, or rather into the theme park with these two this colourful destinations where little imaginations can run wild. They can choose to make a splash at the water park, or stay dry and hit the rides at LEGOLAND Dubai. There are three packages ranging in price from Dhs120 per child to Dhs295 per child. The basic package, which is only available during the week, includes a day pass to their choice of park, an hour long themed party including food, party e-invites and free parking, while the platinum package gets all of that, but is available seven days a week and includes a character meet and greet, plus two adults get in free for every ten children. Whichever package you opt for, the birthday boy or girl gets into the park for free.
From Dhs120 per child. Dubai Parks & Resorts, www.legoland.com (04 820 3124).
Magic Phil
Our very own Time Out Kids columnist Magic Phil is synonymous with birthday parties and kids love him. His silly jokes, clever magic tricks and quick wit inject the perfect amount of fun into any special day.
From Dhs1,450. www.magicphil.ae (052 865 0530).
Mattel Play! Town
A magical, safe and interactive indoor "eduplay" attraction for kids aged between two to 10, Mattel's haven is themed around five of the most popular children's characters, Barney, Thomas & Friends, Bob the Builder, Angelina Ballerina and Fireman Sam. There are load of themed party packages to choose from, ideal for kids between one and ten, that include a private party room, dedicated party host and invitations are all provided as standard. Then you can just add on the extras your little birthday boy or girl wants.
Dhs95 per child (Sun-Wed), from Dhs155 (Thu-Sat). City Walk, Al Safa, Dubai, www.playtowndubai.com (800 637227).
Marks and Spencer
This is your one-stop shop for all your party food needs. From gorgeous soft sponge birthday cakes to goodie bag filler sweets and party food all the kids will love, it's all here. Plus, you can get cute clothes to give as gifts while wrapping paper and birthday cards are also available.
Various locations across the UAE including The Ibn Battuta Mall, Dubai and Yas Mall, Abu Dhabi, www.marksandspencer.com
NOVO Cinemas
Hoping for less chaos and more calm from the birthday party? Try a cinema party, after all, they will be glued to their seats watching the latest blockbuster, especially if those seats are fluffy, colourful monster seats – like at NOVO Kidz. For Dhs99 per child (minimum of ten guests) you will have access to the private party room – serving up a selection of kids' foodie favourites (burgers, chicken nuggets and popcorn), whilst guests enjoy music and party games before blowing out birthday candles to complete the celebration. Invitations are included within the package as is a party host and a special message before the movie starts to make the birthday boy or girl feel extra special.
Dhs99. Suitable for kids over three. Ibn Battuta Mall, Dubai, www.uae.novocinemas.com/kids (04 232 8328).
Oli Oli
This children's museum is passionate about positive play and the power of imagination. With eight galleries and more than 40 exhibits inspired by the work of leading educators, artists and development psychologists, it's an interactive adventure that stimulates a child's body and mind. All three packages offer a party room, party food and free play. The basic package (Dhs130 per child) offers one and a half hours of free play over a choice of three galleries, the second package is Dhs160 per child and includes two hours of play across four galleries and the premium package is Dhs190 per child with two and a half hours of play across all the galleries.
From Dhs130 per child. OliOli Building, Al Quoz 1, Dubai, www.olioli.ae (04 702 7300).
Party Centre
From balloons and table decorations to party bag favours and cake candles, Party Centre has it all. The party shop even has party kits that include everything parents will need to set the scene for a magical day. Best of all, if you shop the superstore online, delivery is free across the UAE on orders of over Dhs200 – and let's face it, when you're birthday shopping for the special little person in your life, you're going to be spending at least that for sure.
Various locations including Media City, Dubai and Al Wahda Mall, Abu Dhabi, www.mypartycentre.com
Quest (Thrill Zone)
Forget about the dubious nature of the link to the letter Q (we did our best with this one), and let the little ones loose on a laser tag quest (Q for quest... See, told you) at Thrill Zone. Get their adrenaline pumping as they set off on a mission to hunt down their targets in a bid to score points and be crowned the laser tag champion. Challenge over, the Party Zone serves up tasty treats while a number of dinosaur props provide the perfect opportunity to take some pictures.
From Dhs135 per child. Minimum ten children. Oasis Centre Mall, www.thrillzoneuae.com, (04 388 3551).
Rockit Science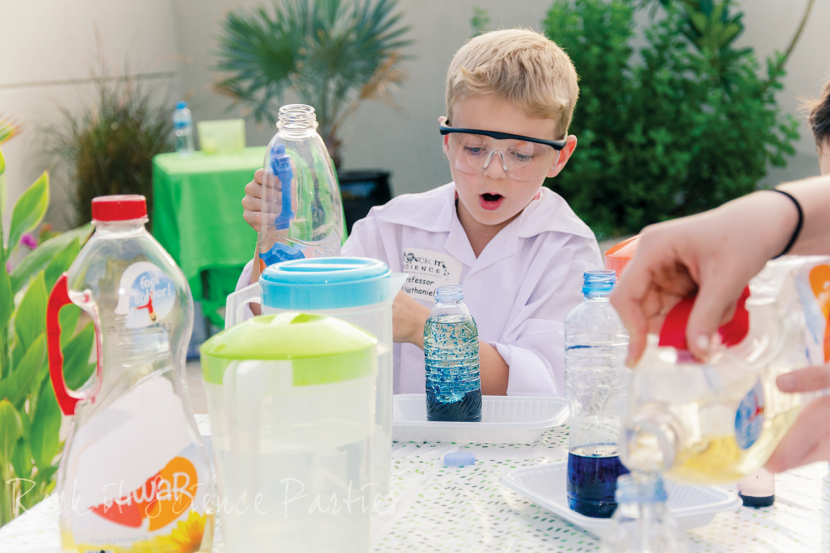 Mini Einsteins listen up because this will have you reaching for the test tubes and your safety glasses. Rocki it Science provide children's party entertainment implemented by expat mum Nichola Fisher – who has a passion for science. There are four themes to choose from each of which focuses on a particular kind of experiment. We like the sound of Crazy Chemical Chaos – think of the mayhem! The packages include a downloadable invitation template, an interactive show on their particular theme and a hands on activity for budding scientists to give it a go.
From Dhs1,650 for 15 children. www.rockitscienceparties.com (050 394 8251).
Splash 'n' Party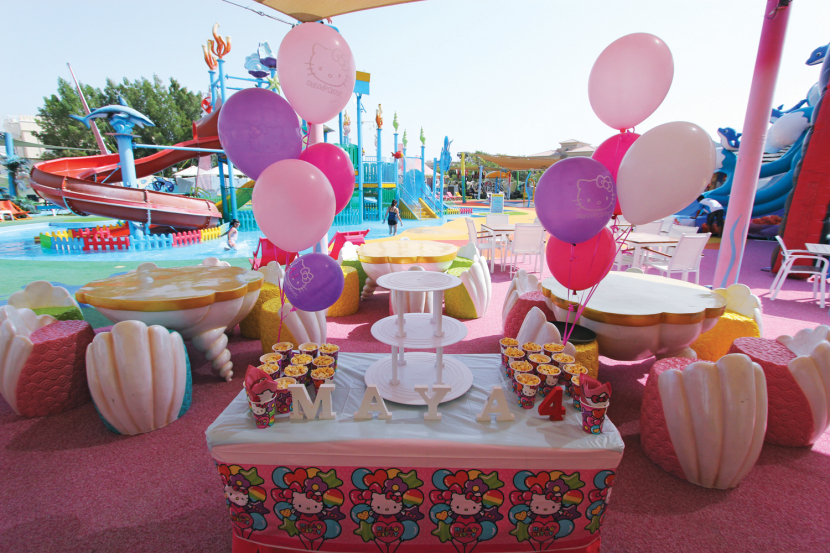 This mini water park is always a huge hit with party-goers. Whether they fancy a mermaid party, complete with a special guest appearance from one of Ariel's underwater friends, a unicorn theme or prefer to go down the superhero route, it can all be pulled together here to perfection. As well as the five themed packages and choice of add-ons, they can also organise the birthday cake, keeping its design in line with the theme that the little birthday boy or girl has opted for. The party lasts an hour and 45 minutes and is for a minimum of ten kids.
From Dhs99 per child (Sun-Thu), Dhs120 per child (Fri & Sat). Minimum of ten children. Al Safa 2, Street 8A, Villa 1, Jumeirah, Dubai, www.splashnparty.ae (04 388 3008).
Toys for Less
If quantity is what's it's all about – and let's face it, most kids love the thrill of actually unwrapping the present – then stock up on gifts for their special day here where you can find a top collection of toys and games from a huge range of leading brands including LEGO, Disney and Playdough, plus you won't find better value anywhere else in the UAE. It's perfect for stockpiling presents for upcoming birthday parties too.
Al Barsha, www.brandsforless.ae (04 323 3423).
Toys R Us
This enormous toy shop is quite literally the stuff of children's dreams. In addition to a section dedicated to essentials for babies and a zone where you can pick up a scooter, bike or any other mode of transport, the variety of well-loved brands from Nerf, Little Tikes and Barbie will put a smile on any birthday girl or boy's face.
Various locations across the UAE including Dubai Festival City, Dubai and Dalma Mall, Abu Dhabi, www.toysrusmena.com.
Dubai Aquarium and Underwater Zoo
Head below the ocean on a magical birthday tour of the deep blue sea and get up close and personal with some of the most incredible fish, plus some sharp-toothed sharks as well. Both packages include a guided tour of the aquarium – the birthday boy or girl and their parents get in for free, - plus a gift for each child, a mascot visit, party games and access to a decorated party room. The premium package also includes a behind the scenes tour and seeing the fish being fed, plus a glass bottom boat ride to see the creatures of the ocean from above.
From Dhs130 per child (Sun-Wed), Dhs150 (Thu-Sat). Minimum 15 children. The Dubai Mall, Dubai, www.thedubaiaquarium.com (800 38224 6255).
VR Park
Who wouldn't want to have their birthday party at the world's ultimate VR Park? We are sure there are some parents who would be quite happy with that too. Each ticket includes two hours of unlimited gameplay – including selected VR rides and experiences, plus five arcade games. In addition you should set aside 30 minutes for lunch (sandwiches, pizza, chips and juice is all on the menu) and cake cutting. As long as the birthday presents aren't virtual, you'll be fine.
Dhs115 per child (Sun-Wed), Dhs135 per child (Thu-Sat). The Dubai Mall, Dubai, www.vrparkdubai.com (800 38224 6255).
Wavehouse
When it comes to planning your child's special day, you'll naturally want everything to smoothly and for them to have a day they will always remember (until the next birthday party at least). Wavehouse will do their street cred the world of good. The ultra-cool hangout has three birthday packages, strike, wipeout and game over with bowling and soft play on the cards for each.
From Dhs200 per child. Atlantis The Palm, Crescent Road, Dubai, www.atlantis.com (04 426 2626).
XPark Jr.
The natural playscape that promises hours of fun designed to ignite kids' sense of adventure for kids from one to 12 is the perfect party venue for energetic tots and kids. Mums and dads can rent the barn to set up their little celebrant's party if it's too hot to sit outside, or can opt for a picnic party al fresco. Both packages include party décor, entry to XPark Jr for two
hours and a menu of tasty party food, which includes hotdogs, fish fingers and burgers.
From Dhs85 per child (Sun-Thu), Dhs100 per child (Fri & Sat). Minimum of 15 children, maximum of 20 children. www.xparkjr.com (04 328 4175).
Yas Waterworld
Dive right into this party venue where party packages include access to the incredible slides and rides at Abu Dhabi's thrilling water park. All little invitees get access to the park for the day, a tasty meal to fuel their energy levels, a themed birthday cake and, for the guests, that all-important goody bag. And if you want to take the party up a notch, you can choose from a selection of cool birthday add-ons.
Dh250 per child. Minimum 12 children. Yas Island, Abu Dhabi, www.yaswaterworld.com (600 511 115).

Emirates Park Zoo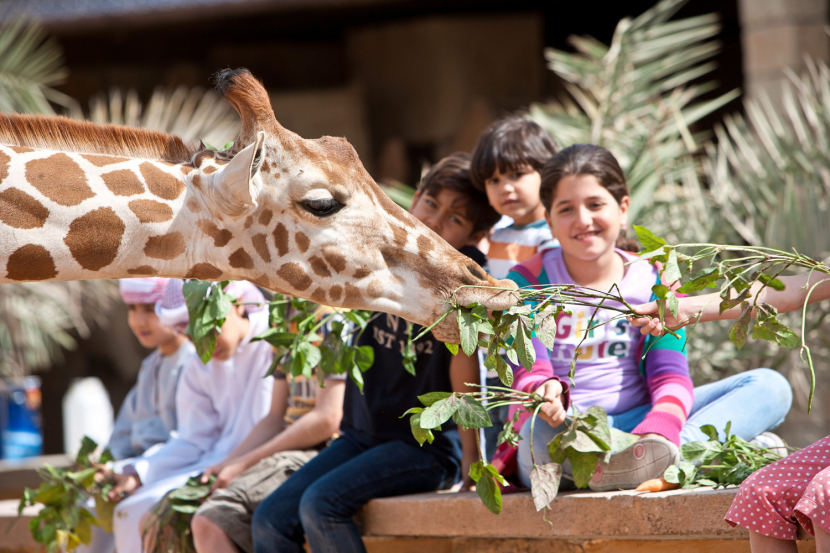 What kid (or grown-up for that matter) doesn't enjoy a trip to the zoo? Now imagine rounding up all of their best friends and throwing them a celebration to remember at one of the region's top animal enclosures – absolute birthday party gold. The basic birthday package grants access to the zoo along with a private tour. It also comes with the opportunity to feed a some of the zoo's residents such as the giraffe. For Dhs150 per hour, you can reserve your own spot in the party zone in either the Pearl Café or the Bee Café, or for Dhs200 per hour, you can head to the Giraffe Café Upper Deck, where a Dhs20 per child food package includes a hamburger or chicken nuggets, plus chips and juice.
From Dhs75 (child), Dhs45 (adults). Minimum of 15 children. Al Bahia, Abu Dhabi, www.emiratesparkzooandresort.com (02 563 3100).

Aventura Parks
Kids will leap into a new birthday year with zip-lining, tree-surfing and rope climbing, plus they will become the hero for the day with a slew of awesome adrenalin-fuelled obstacle courses and games that are bound to bring out the adventurer in them. Kids have to be six or older and be 1.15 metres or taller to take part. The package includes full training before little climbers take to the circuits and then it's back down to the ground for lunch and cake in a dedicated party area. A lunch box containing food and juice is given out to all the party attendees and Aventura provides decorations, balloons and a banner for the birthday boy or girl.
Dhs145 per child (kids four-seven), Dhs185 per child (kids six and over). Mushrif Park, Gate 1, Dubai, www.aventuraparks.com (052 178 7616).

Little Explorers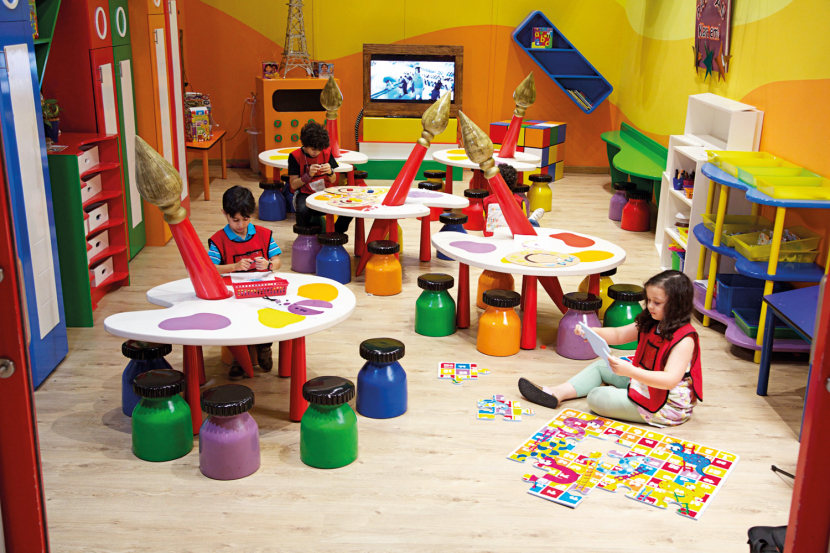 The team at Little Explorers promise a party that's as fun as it is educational, with some 97 different exhibits across five themed zones in their huge Marina Mall venue (they also have a venue at Mirdif City Centre) – we dare any curious kid to not lap this up. The standard two-hour birthday package includes access to the play area, party games, kids' meals, balloon decorations, invites and goodie bags for all the little guests, plus that all-important cake ceremony. Various add-ons are available at an additional cost such as a magic show, face painting or arts and crafts workshop.
Dhs125 per child (Sun-Thu), Dhs149 per child (Fri & Sat). Dubai Marina Mall, Dubai and Mirdif City Centre, Dubai, www.littleexplorersmena.com (04 341 4001).

Sugar Moo Desserts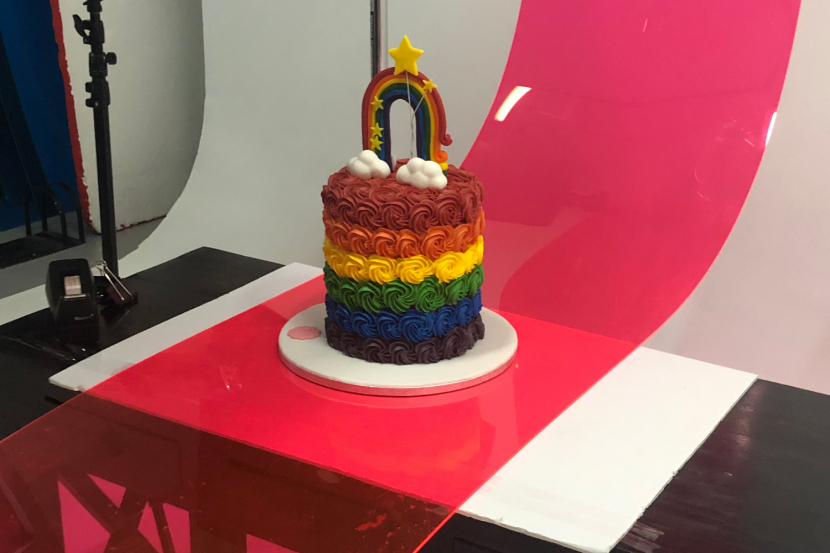 If your mouths watered over the incredible rainbow cake on our cover (ours did the whole time we were shooting it), you will want to get the most important element of your child's birthday party at Sugar Moo Desserts. It has a whole ready-made range to choose from, but you can also request a particular design or theme and the magical bakers will whip something up that will impress all the kids – and the parents too. Best of all, it tastes as good as it looks. Sweet!
Al Asayel Street, Al Quoz, www.sugarmoo.com (800 78427).

Orange Wheels
The spacious, colourful edutainment centre offers a range of party packages are available to make every little birthday boy or girl›s big day go off with a bang. The tailor-made package includes a two hour party with an hours' exclusive access to a private party room and an hours' access to the play area. Games, entertainment (balloon bending and face painting are the choices), food, party favours, invitations and decorations are all included in the price.
From Dhs3,000 for 15 kids. Al Wahda Mall, Abu Dhabi and Al Raha Mall, Abu Dhabi www.orangewheels.com (02 556 2229).
Be the first to get all the latest Dubai news, reviews and deals into your inbox by signing up to our free
newsletter
,
click here to sign up
.