Homemade mincemeat
Makes 6 jars. Prep time: 30 mins. Cook time: 3 hours on a low heat.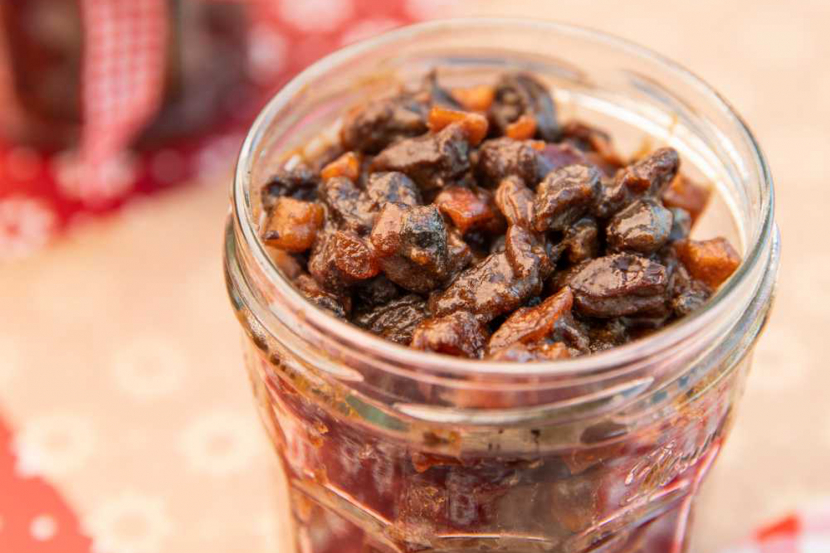 Ingredients
400g apples, peeled and cut into small cubes
50g whole almonds, cut roughly
200g sultanas
200g currants
400g raisins
200g candied peel (orange, lemon, or any other citrus), chopped
350g dark brown sugar
200g vegetarian shredded suet
2 oranges, zest and juice
2 lemons, zest and juice
4 tbls mixed ground spice
2 tsp cinnamon
1 tsp grated nutmeg
6 jars, sterilised with hot water
Greaseproof paper
Festive ribbon for decoration
Method
STEP 1: To make the mincemeat, prepare all the ingredients and mix thoroughly in a very large bowl. Allow to rest for the flavours to develop for a minimum of six hours,
preferably overnight.
STEP 2: To cook the mincemeat put the oven on a very low setting of 110 degrees celcius. Empty the mincemeat into a large pyrex dish and cover with foil. Put in the oven for three hours.
STEP 3: Once out of the oven allow to cool completely, stirring occasionally. Then put into the sterilised jars (I often put them through the dishwasher too), top with a disk of greaseproof paper and seal with the lid. Decorate with the festive ribbon.

TIP: Jam jars must be as sterile as possible. Mincemeat should be consumed within two weeks and kept in the fridge once opened.

Festive chocolates
Makes 12 chocolates. Prep time: 15 mins. Cool time: 1 hour.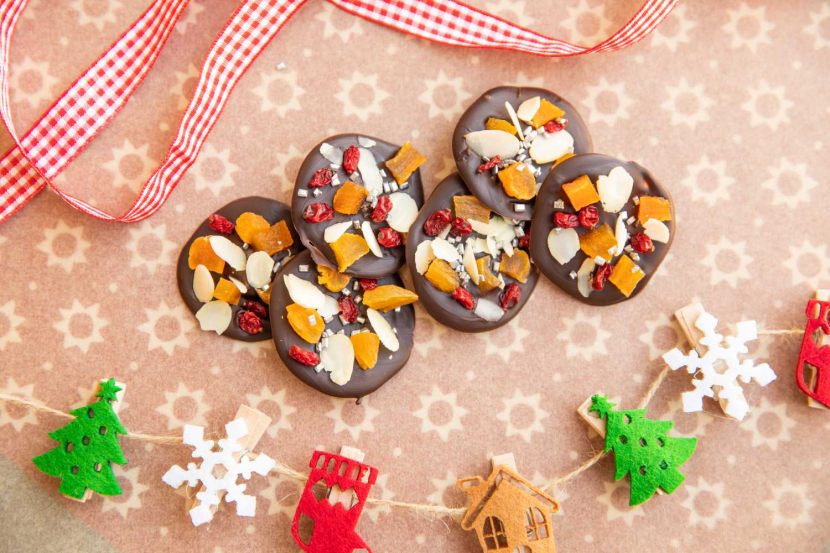 Ingredients
100g dark chocolate 70% cocoa
Edible glitter
6 dried apricots
Handful dried cranberries (or dried pomegranate or barberries)
Handful flaked almonds
Greaseproof paper
Small cellophane bags
Festive ribbon or string
Method
STEP 1: Melt the dark chocolate in a bain marie until smooth.
STEP 2: On a sheet of greaseproof paper use a small circular cookie cutter and a pencil to mark 12 disks. Using a small spoon carefully put the melted chocolate on the greaseproof paper keeping within the stenciled circles.
STEP 3: Cut up the apricots into small cubes, and decorate the chocolate with these, the cranberries/pomegranate/barberries, almonds and edible glitter. Put in the fridge immediately to cool and harden.
STEP 4: Carefully remove the chocolate disks from the parchment and put into bags, sealed with ribbon.
TIP: When it comes to decorating your chocolates, literally anything goes to be honest. Pick things that your kids like. You can use white chocolate or dark chocolate, and any edible Christmas-themed toppings that look pretty together.

Gingerbread snowflakes
Makes 12 gingerbread cookies. Prep time: 20 mins. Cook time: 12 mins.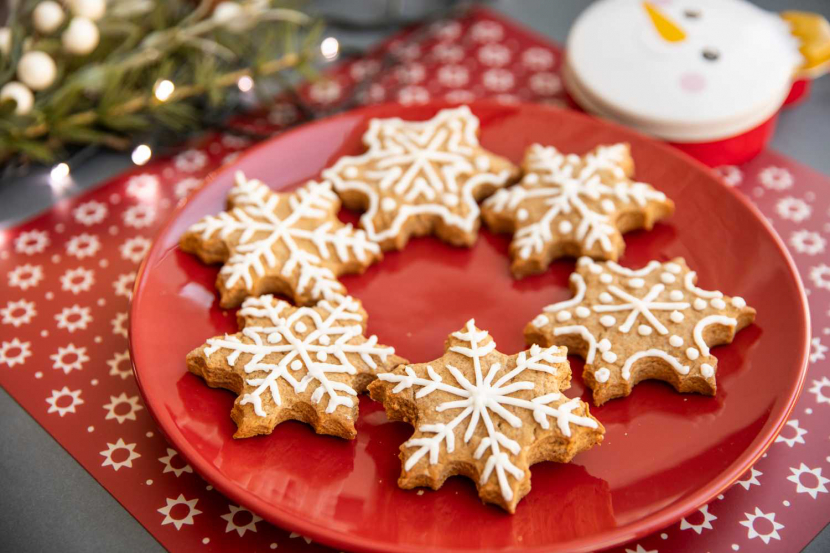 Ingredients
4 tbls golden syrup
100g muscavado sugar
250g plain flour
100g butter, melted
1 tsp bicarbonate of soda
2 tsp cinnamon
1 tsp ground allspice
4 tsp ground ginger
Pinch of salt
5 tbls water
Snowflake cookie cutter
Tube white royal icing for piping
Method
STEP 1: Combine all the ingredients, with the exception of the water, in a bowl or a food processor. Gradually add the water to make the mixture into a stiff dough.
STEP 2: Flour a clean work surface, roll the gingerbread dough out and use the cookie cutter to make the snowflakes. Place onto greaseproof paper on a baking tray and bake in the oven at 180 degrees celcuis for 12 minutes. Once the cookies are cool, decorate them with the white icing.

Mulled spice tea infusions
Makes 10 tea bag infusions. Prep time: 10 mins. Cook time: 10 mins.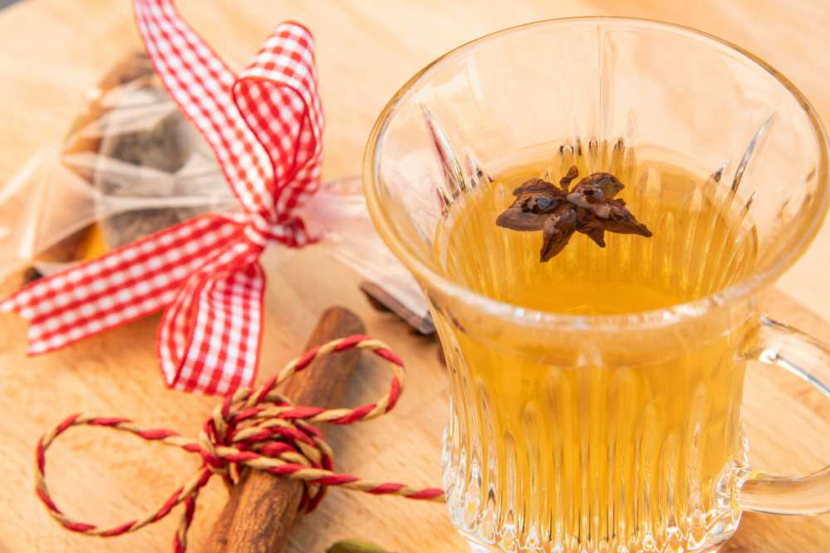 Ingredients
10 green/black tea bags (pretty infusion bags if you can find)
10 cinnamon sticks
20 cardamom pods
10 star anise
2 oranges
2 lemons
Small cellophane bags
Festive ribbon or string
Method
STEP 1: Take the rind off the oranges and lemons in big strips using a potato peeler. Try to only take the rind and not the white pith. Place on a baking tray and put in the oven on 180 degrees celcius for ten minutes. Leave to cool.
STEP 2: Put one cinnamon stick, two cardamom pods and one star anise in a bag, add one tea bag infusion, and one strip of either orange or lemon.
STEP 3: Tie the bag until it is well sealed with Christmas ribbon or string. Add a little note, to infuse in boiling water for three to four minutes.
Be the first to get all the latest Dubai news, reviews and deals into your inbox by signing up to our free
newsletter
,
click here to sign up
.