Clare Lavin – mum to six-year-old Oscar and 18-month old Darcy – has always been passionate about cooking. The Dubai-based mother-of-two made it to the quarter finals of Junior Masterchef and then later appeared on the cookery show, Masterchef Goes Large. Having passed on her love of whipping up fun, innovative meals to Oscar, she now encourages him to help her in the kitchen teaching him new skills and encouraging his creative flair. Her specialities are cooking quick and easy dishes that the whole family can enjoy. For more family-friendly recipes, follow Clare on Instagram @claresfamilykitchen.

Falafel flatbread pocket
Makes 12 falafel, feeds 4. Prep time: 20 mins. Cook time: 20 mins.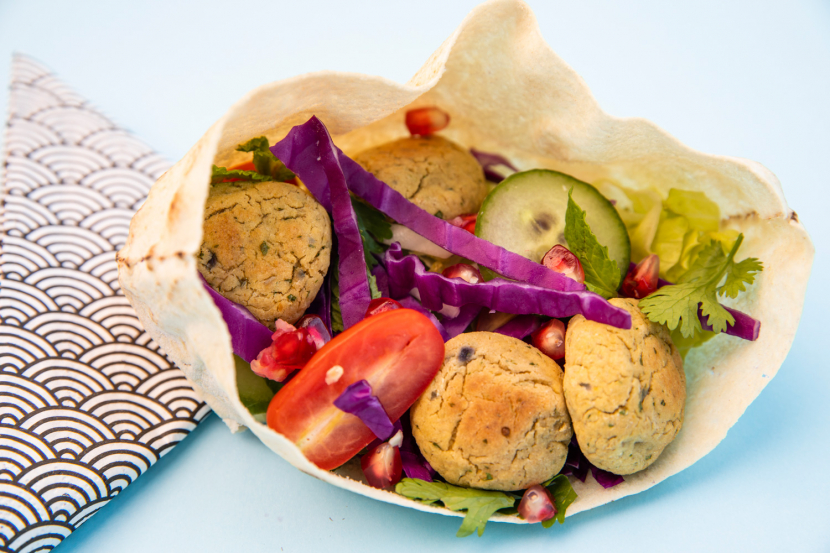 Ingredients
For the falafel:
1 can chickpeas, drained and rinsed
1 small red onion, finely chopped
1 garlic clove, minced
1 tsp ground cumin
1 tsp ground coriander
3 tbls plain flour
1 tsp chopped fresh parsley
Salt and pepper for seasoning
For the flatbreads:
1 pack Arabic flatbreads
Shredded lettuce and red cabbage
Sliced cucumber and tomato
Parsley and/or mint leaves
Pomegranate seeds
Method
STEP 1: Fry off the onion and garlic in a light olive oil until cooked through and soft. Add the ground coriander and cumin for just 10 seconds until fragrant. Add to a food processor with all the other ingredients. Blend to a paste.
STEP 2: To shape the falafel take a small amount of the paste and make into bite sized balls, then slightly flattening. Either shallow fry for 4 minutes each side in a light olive oil until brown or spray with oil and bake in the oven for approx 15 minutes.
STEP 3: To assemble the pocket, cut a flatbread in half and gently open the middle.
Then load with lettuce, red cabbage, cucumber, tomato, then the falafel, add the pomegranate, fresh parsley and mint springs on top.

Eat immediately!

TIP: These are perfect for your kids' school lunchboxes.


Vegetable sushi rolls
Makes 4 rolls, feeds 4. Prep time: 20 mins. Cook time: 15 mins.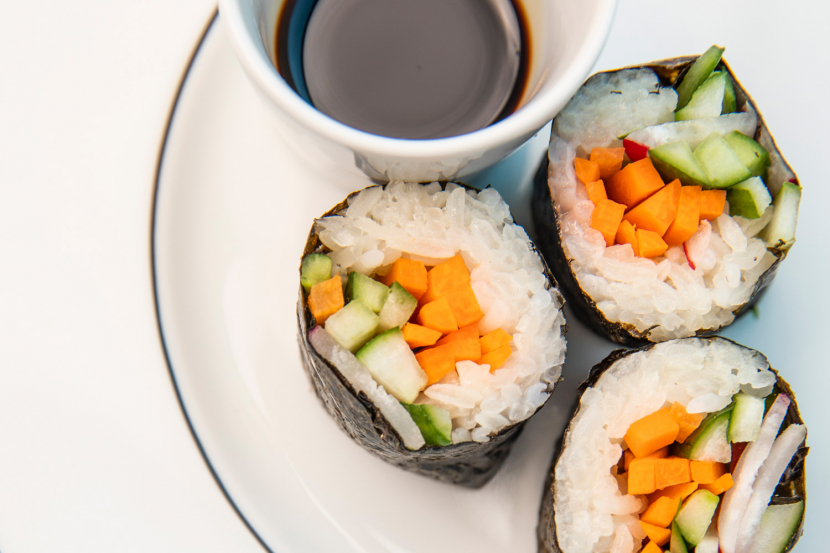 Ingredients
1 pack nori seaweed sheets
1 cup sushi rice (or any sticky rice if you cannot find)
1 tbls white vinegar
1 tsp white sugar
½ tsp salt
2 carrots, thinly sliced into sticks
1 cucumber, thinly sliced into sticks
4 radishes, thinly sliced
Reduced salt soy sauce
Method
STEP 1: Cook one cup of sushi or sticky rice to the packet instructions. Dissolve the sugar and salt in the vinegar over a low heat, then pour into the rice. Leave to cool.
STEP 2: Cut up the vegetables into very thin slices (julienne).
STEP 3: Lie a sheet of seaweed on a flat surface. Load one half of the sheet with a thin layer of sticky rice. Place the sliced vegetables towards one end on top of the rice in a strip.
STEP 4: Starting with the end with the rice and vegetables, roll as tightly as you can, using the pressure of your hands evenly on each side. Roll to the end and seal with a little water on your finger, across the seaweed.
STEP 5: Slice into bite sided pieces and serve with a small bowl of soy sauce (I use a reduced salt one for the children).
TIP: Use things your kids love as sushi fillings.


Overnight oats with berries and pumpkin seeds
Makes 3 small pots. Prep time: 5 mins. Cool time: overnight.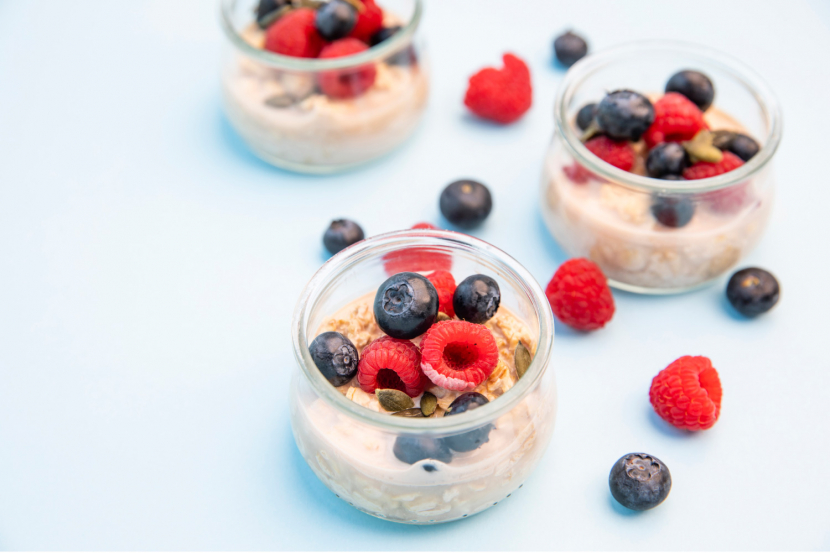 Ingredients
1 cup jumbo rolled oats
1 cup hazelnut milk (or any preferred nut milk)
1 tbls maple syrup
½ tsp ground cinnamon
Fresh blueberries and raspberries
Handful pumpkin seeds
Method
STEP 1: Place the oats, hazelnut milk, maple syrup and cinnamon in a bowl and stir well. Place in the fridge overnight.
STEP 2: To serve place in a small cereal bowl, top with the fresh fruit and pumpkin seeds.

TIP: Agave syrup is a great alternative if you want to keep sugar consumption low.


Homemade almond butter with fruit crudités
Makes 10 small pots. Prep time: 15 mins.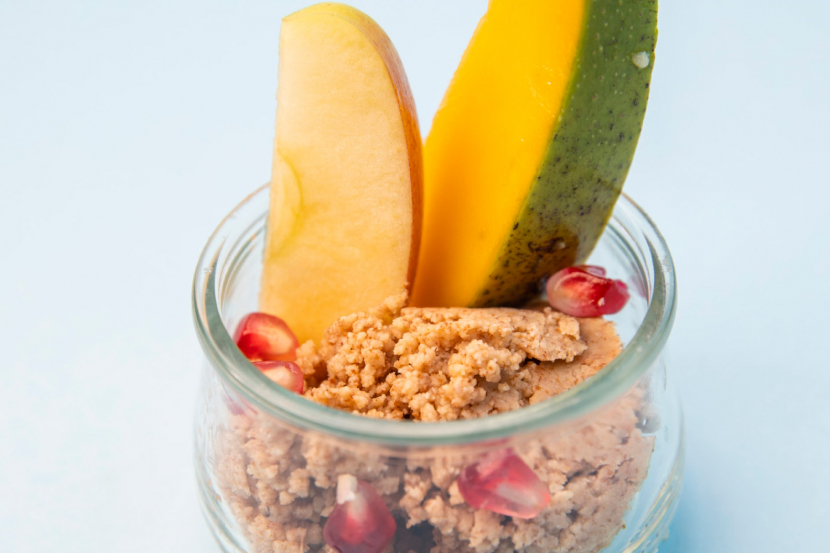 Ingredients
200g raw unsalted almonds
2 tbls maple syrup
2 apples
2 bananas
1 mango
Method
STEP 1: Put the almonds in a food processor with the largest blade attachment. Blend until a very fine powder, then keep blending in 2 minute intervals until the almonds start to make a creamy paste. Stir in the maple syrup and transfer into small pots.
STEP 2: Cut the fruits into long fingers, ideal for scooping up the almond butter. Arrange around the pot of almond butter.

TIP: This is a great healthy snack at home, or on the go.
Be the first to get all the latest Dubai news, reviews and deals into your inbox by signing up to our free
newsletter
,
click here to sign up
.