Virtual reality is becoming increasingly popular and the technology is getting better and better. Here in the UAE you can jump off Burj Khalifa, ride a drone across Dubai and jump on the back of a magic dragon as you head across a fantasy world…

Really, or rather, not really, but you know what we mean. Want to try it out? Hub Zero at Dubai's City Walk is a good place to start.

Stepping into Hub Zero is like stepping into another world where time seems to stand still. The bright lights and bleeping of all the games and machines gets the adrenalin pumping, but not quite so much as the rides themselves. Amongst the overwhelming number of arcade games you'll discover various mind-blowing simulators and state-of-the-art virtual reality rides that range from the super scary to more mild experiences aimed at younger kids.

You will need to reserve your spot on some of the main attractions, you can do this at the ticket counter.

Two brand-new VR rides I-Battle and X-Battle have just opened. I-Battle pits players against each other in an exciting and digitally enhanced 15-minute laser-tag style clash that requires speed, accuracy and a quick trigger finger, while X-Battle is a super-fast target challenge where shooters need to be locked, loaded and eagle-eyed if they want to win.

We particularly love the Ghostbusters: Dimension experience (AKA The Void), where players don a phantom-trapping backpack and ghoul-zapping gun and then head into a haunted mansion. Look out for the scary girl in the lift, who you can ask questions to, and Slimer who is up to his usual mischief, before the big showdown with Marshmallow Man himself. We won't lie, when the bridge gives way beneath us, it's scary – yes, we may have screamed.

Battle zombies in the Virtual Arena, take on a VR goalkeeper at penalties, avoid being shot in Hack Attack and take a ride on the back of a dragon as you explore the mythical world of the Kingdom of Ferelden, all while dodging arrows, trees and magical vortexes.

It's a bit like Las Vegas for kids and it is, quite simply, unreal (literally).
From Dhs75. Sat-Wed 11am-10pm; Thu & Fri 11am-midnight. City Walk, Al Safa Street, Dubai, www.hubzerodubai.com (04 317 3999).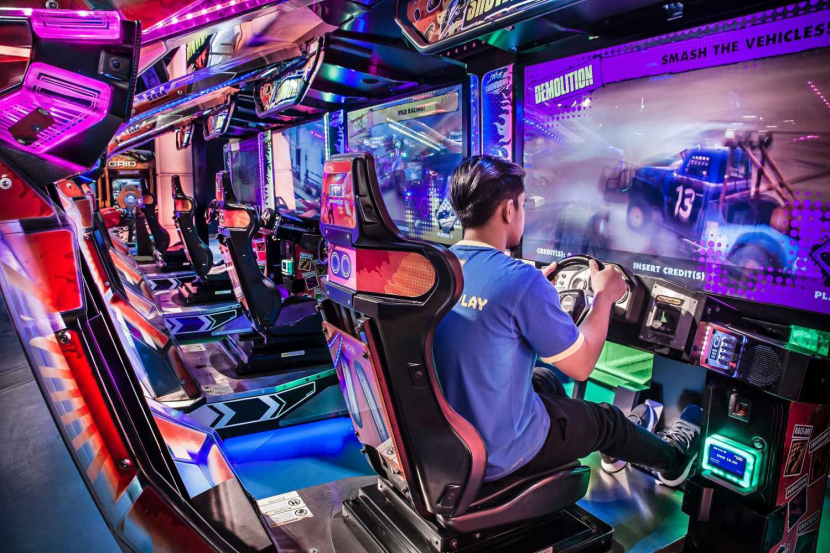 Got a craving for more VR experiences? Of course you do... Try these
Action Zone, Abu Dhabi
This entertainment hub with various locations in the capital has loads going on for passionate gaming fans. Kids and teens can indulge in hours of gameplay in the Zone PC Gaming Lounge where professional gaming PCs and PS4s are amongst the consoles on offer. But it's the Zero Gravity reality ride at the newest location in World Trade Centre Mall that gets the biggest queues. The virtual reality ride takes kids on an out-of-this-world adventure through a fantasy land that is incredibly realistic.
From Dhs70 (per hour). Open 10am-10pm (weekdays), 10am-11pm (weekends). The Mall at World Trade Center, Al Markaziyah, Abu Dhabi, www.actionzoneuae.com (055 666 0920).
Game Van
We love this idea – which pretty much does what is says it does – and so will little gamers. The van comes to your house bringing with it all the latest consoles, hottest VR games and ultra high definition screens. Once in situ up to 12 kids can climb aboard and immerse themselves in various high-adrenalin experiences such as formula one racing driver or legendary football striker.
From Dhs1,700. For up to 12 children for an hour. Sun-Wed. www.gamevandubai.ae (050 496 7885).
VR Park, Dubai Mall
VR Park asks visitors to "challenge reality" and has a range of attractions for older kids including racing through the skies of Dubai in a drone as well as massive rollercoasters that make you feel like you're falling off Burj Khalifa. There's still loads for the little ones too who will love embarking on a space mission in a mini-space plane on the Cosmo Jet attraction, spinning around to upbeat tunes on the Flying Chairs and (virtually) flying on the Magic Bike ride.
From Dhs90. Open daily 10am-midnight. The Dubai Mall, Downtown Dubai, www.vrparkdubai.com (800 382246255).

At home
Yes, you heard us right. With one of these super cool VR headsets, a smartphone and special apps, keen augmented reality fans can get the whole VR experience in their front room again and again and again.
Dhs369. Carl Zeuss VR ONE Plus Virtual Reality Headset, www.virginmegastore.ae.
Be the first to get all the latest Dubai news, reviews and deals into your inbox by signing up to our free
newsletter
,
click here to sign up
.