3MOMS, started up by (you guessed it) three mums from Turkey, is a one-of-a-kind luxury interior design company with a focus on creating imaginative children's bedrooms, nurseries and playrooms.

Renowned interior architect Alara Kocibey, fashion designer Tuvana Buyukcinar and marketer and financier, Emine Kutuk, have a friendship that spans over twenty years.

After initially opening a children's furniture store in Istanbul – which was so different from anything that had been done before – the trio found themselves in the business of bespoke room design for (very lucky) kids.

"On the day we revealed our window display, it caused an accident because it was so eye-catching people weren't concentrating on the road," laughs Kutuk.

As soon as they welcomed their first customers they had requests for custom-made room designs, taking them away from their original plan to sell gorgeous beds, cots, rugs and accessories.

Every single room they create has a story behind it. "It's like living in a 3D pop-up book. We harness the kids' imaginations, which are unlimited, and involve them in the entire process when we are coming up with the theme," explains Kocibey.

In the six years since they started they have completed over 700 rooms.

"We started off focusing on nurseries, but then our customers would come back during their second pregnancy with their toddler in tow and want us to create something that would be suitable for their older child. We of course said yes," Kocibey says.
"It was at this point that we started to speak to the children themselves to find out what they wanted in their spaces and what interested them," she continues.

"At the end of the day, we want to engage the kids rather than the parents."

When it comes to outrageous requests, they say the more outrageous the better, which with bespoke, custom-made rooms starting at the (eye-watering) USD25,000 mark must allow them to let their creativity go wild.

"We love outrageous requests, everything is doable and we thrive on the challenge," they say unanimously.

They explain that they have transformed single-storey rooms into two floors, have created sliding walls and brought furniture up out of the floor.

"I love adding the mechanical elements," Kocibey says. "I've made a carriage with turning wheels that turned from a cot into a toddler bed and put lanterns and a snow machine behind it. The colours changed as the snow fell, it was like something out of a movie."

As far we as we can see, it's like playing with LEGO as an adult and bringing it all to life – that or like living in the Barbie Dreamhouse.

While the price tag for the bespoke designs may be out of reach, 3MOMS now has an outlet in Bloomingdales where you can pick up individual pieces of furniture like cots and beds, plus rugs and cute accessories.

"It really is possible to transform the room using just one or two focal pieces," Kocibey assures us.

3MOMS have left their mark on rooms across the world from Los Angeles and London to Baku, Russia and Saudi Arabia. But their favourite part of the whole process is seeing the children walk into their completed room for the first time.

"We often ask the parents to send us a video of that, it's such an emotional moment for us all," gushes Buyukcinar.

That's probably something the parents will want to replay over and over again too because after parting with more than USD25,000, it's good to know it was all worth it.
Bloomingdales, The Dubai Mall, www.3moms.com.tr.

NIGHT LIFE


Wanting to remind themselves of the time they met in New York and fell in love, this couple chose to capture those magical memories in their son's bedroom. Very romantic.
SWEET DREAMS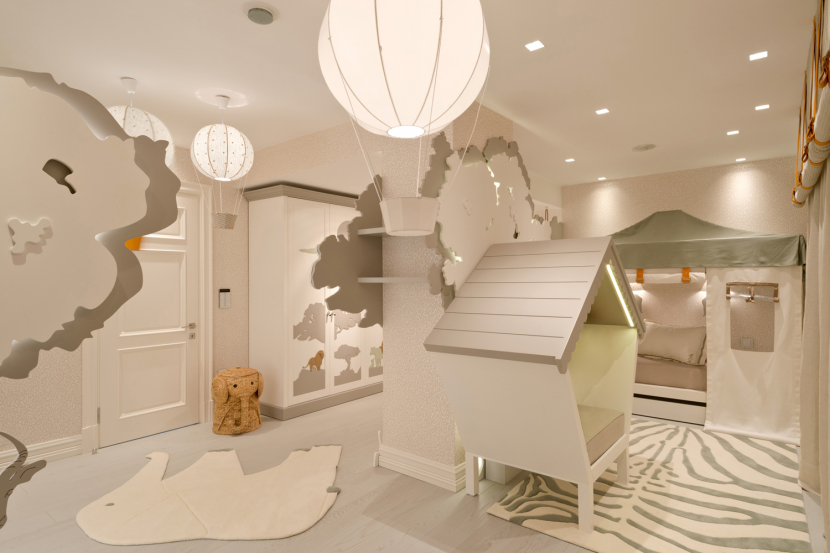 This would have been Roald Dahls' Matilda's dream bedroom. Parents chose a literary theme for their daughter who loves to read and adores animals. The idea was for 3MOMS to bring out the little girl's imagination and creativity. No doubt the parents then struggled to bring out their little nature-loving bookworm from her bedroom at all.
THROUGH THE KEYHOLE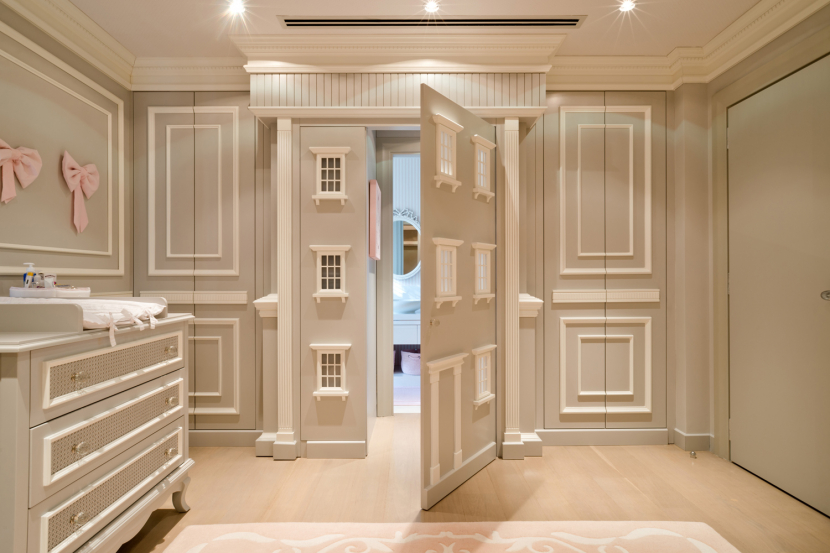 A stunning nursery for a teeny tiny newborn. The parents wanted a functional space with plenty of storage and the team at 3MOMS waved their magic interiors wand and gave an elegant twist to this space. Getting up to feed their infant probably isn't quite as painful when they get to come in here four times a night.
HEAD IN THE CLOUDS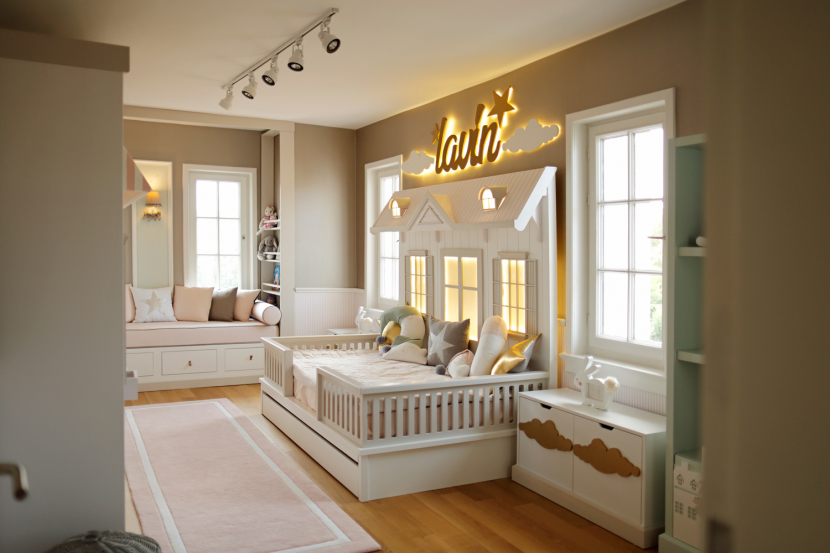 The parents of this rooms mini owner wanted to give their little princess a bespoke bedroom in her favourite colours – pink and grey. As a bonus, their little princess loves her dreamy new room so much bedtime has become a delight for the whole family – and we all know that if bedtime dramas can be avoided, it doesn't really get much better.
FLYING HIGH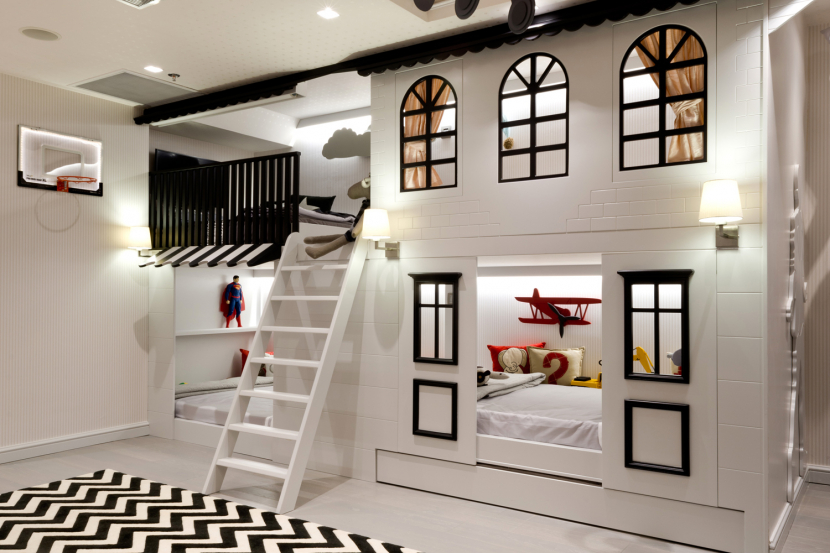 What child doesn't love a trip to grandmas? But we imagine the four lucky kids who get to sleep here when they stay with their grandparents particularly relish those sleepovers. 3MOMS designed this room at the request of a grandmother who wanted her three grandsons and her granddaughter to love staying with her… Er, mission most definitely accomplished.
Be the first to get all the latest Dubai news, reviews and deals into your inbox by signing up to our free
newsletter
,
click here to sign up
.