For half the year parents are desperate to get their kiddos outside and running around in the fresh air. So we say, strike now while the iron's hot... Or rather… While it's not actually all that hot at all.

The cooler weather provides the ideal opportunity to get the whole family out of the house and the UAE has loads of picturesque spots where you can do just that.

Some are well-known, others less so, but all offer greenery, the odd swing, slide or climbing frame and just the right amount of space to lay down your blanket and set up camp for the afternoon.

Here are our top suggestions across Dubai and Abu Dhabi where you can make the most of the sun, without the heat. Time to lay down your rug and unpack your hamper… Cucumber sandwich and lemonade anyone?



DUBAI
Al Barsha Pond Park
This 50-acre site has something to keep the whole tribe happy for hours on end. An oasis of green located in a predominantly sandy Al Barsha and set around the edge of a pretty, manmade lake this is a lovely little spot to while away an afternoon. Sporty kiddos can take advantage of the basketball courts and football pitches, little wannabe sailors can charter their own solar energy powered boat around the water and mini cyclists can race their bikes around the cycling track. The littlest family members will also appreciate the colourful playgrounds where they can swing, slide and climb to their hearts content. Mums and dads can bring their own food, or grab some snacks from the small shop or café.
Free. Open Sat-Wed 8am-11pm, Thu-Fri 8am-11.30pm.
Al Khazzan Park
It may be one of Dubai's oldest parks, but it is also the most forward-thinking. This pocket-sized little haven in the middle of Satwa has been given a total reboot and is now entirely solar-powered, making it the UAE's first 'zero-energy' park. It incorporates a landmark water tower, which thankfully survived the makeover and also the rather chilled out, Inn The Park, which serves great coffee, healthy breakfasts and an abundance of snacks, plus it has a cool library stocked with vintage Middle Eastern magazines. There's also a shaded area next to the playground which is the perfect spot to set up your picnic and watch the little ones burn off some energy.
Free. Open Sat-Wed 8am-10pm, Thu-Fri 8am-11pm.
Al Mamzar Beach Park
If you fancy escaping the comfy environs of primetime Dubai, we suggest you load the car with the kids and the ice box full of tasty treats and head up to this gorgeous setting that provides a wonderful juxtaposition of park and beach. For those whose kids have a tendency to drop their sarnies in the sand (making them a literal sandwich), secure a spot on one of the lawns and lay out that picnic blanket, or alternatively grab a barbecue stand (there are more than 25 of them). But if you want to feel the sun on your back and the sand under your feet, Al Mamzar has not one but four beaches where little ones can build sandcastles while older ones can shoot some hoops or play some footie or volleyball.
Dhs30 per car, Dhs5 per person. Open daily 8am-10pm.
Al Sufouh Park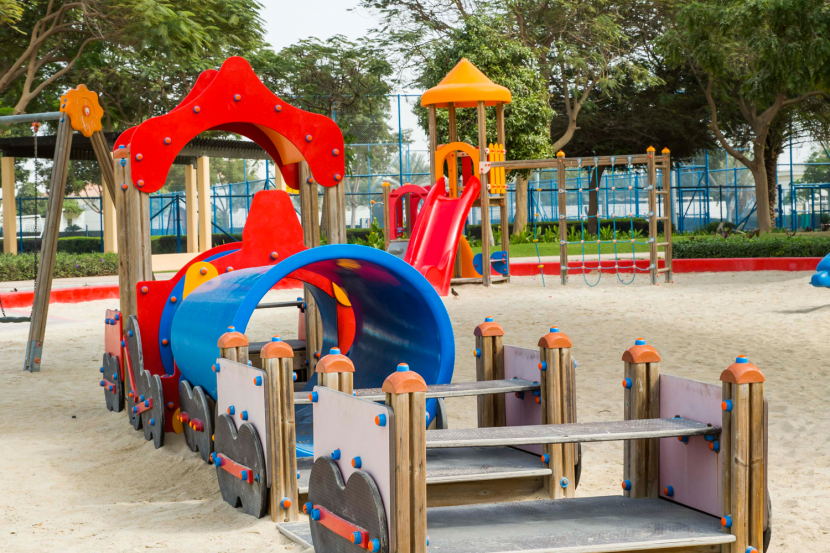 This park might not be the biggest, or most well-known, in the city, but what it lacks in size and popularity, it more than makes up for in comfort. Beautifully maintained, the kids will have a whale of a time messing about in one of the playgrounds and once they've run out of energy, they can re-join the clan and graze on sandwiches in one of the plentiful shady picnic spots. There's a full-size basketball court where little all-stars can shoot some hoops, while the five-a-side football pitch is perfect for a mini match with all the gang. And with views of Media City's skyline to one side and the Burj Al Arab to the other, this is also a great spot to come and dreamily stare into space as the world rushes by.
Free. Open Sun-Wed 8am-10pm; Thu-Sat 8am-11pm.
Creek Park
This huge green space on the edge of Dubai Creek has acres of lawn, botanical gardens and several play areas for the kids making it perfect for an afternoon stroll or a lunchtime picnic. But there's more for little ones to discover with mini golf, a go-kart track and an indoor edutainment centre called Children's City. And if you've got a head for heights, you can take it all on from the 2.3km long cable car ride that hangs 30m in the sky.
Dhs5. Open Sun-Wed 8am-10pm, Thu-Sat 8am-11pm.
Hatta Hill Park
It's a bit of a drive admittedly, but once you're there you'll thank us. Set up camp, well a picnic blanket anyway, and enjoy some al fresco dining with a spectacular view. Built in 2004 the park provides a green space over a mountain – really – and is hugely popular with families looking to enjoy a picnic or a barbecue. And for the little ones who have eaten their food without complaint, there is a children's play area, running track and sports fields. Don't miss a hike up to the tower where you can lap up the breath-taking vistas of the magnificent Hajar Mountain range and Hatta village.
Free. Daily 8am-11pm.
JLT Park
Not many parks can claim to have started life as a lake, but when it was decided that the water needed to go and grass needed to replace it, the lake was filled in and this family-friendly haven came to be. Kids can run around safely kicking balls, flying kites, playing tag or just practising their cartwheels, but when winter arrives, so does a mini funfair that takes the fun up a notch. Oh, and once the sun sets on a fun day of fresh air, hang around, snuggle up under and blanket and watch a family film at JLT's Cinema Under the Stars. Pass the popcorn.
Free. Open daily 24 hours.
Mushrif Park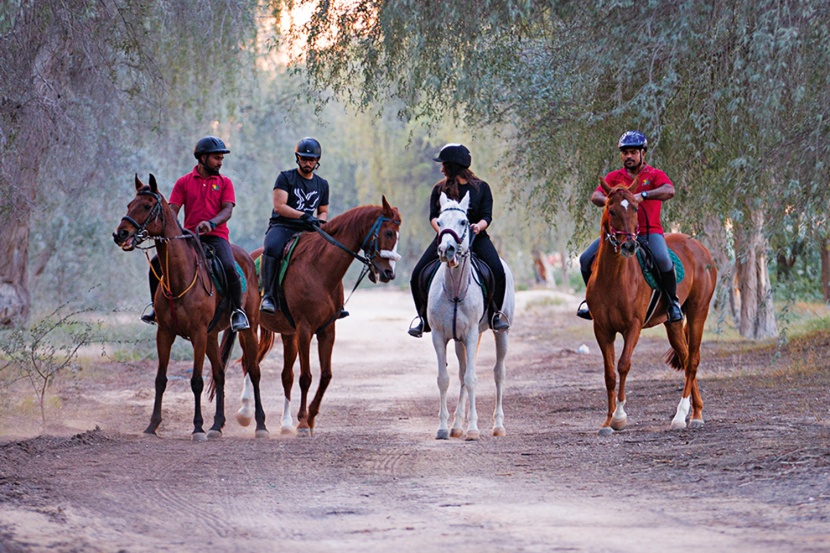 Not to be confused with the rebranded Abu Dhabi park that bore the same name (make sure your sat-nav gets it right), this Al Khawaneej Road venue is notable for several things, not the least the replica models of traditional houses from the Arabic and Western worlds that can be found in its International Village. Although not as green as other such spots in Dubai, this desert park has plenty to offer families thanks to the swimming pool, barbecue areas, playgrounds, Winners Equestrian Centre. Plus, sky high adventure playground Aventura Parks opens up a whole new world of tree-top challenges that little ones with a head for heights will love.
Dhs10 per car, Dhs3 per person. Open Sun-Wed, 8am-10pm, Thu-Sat, 8am-11pm.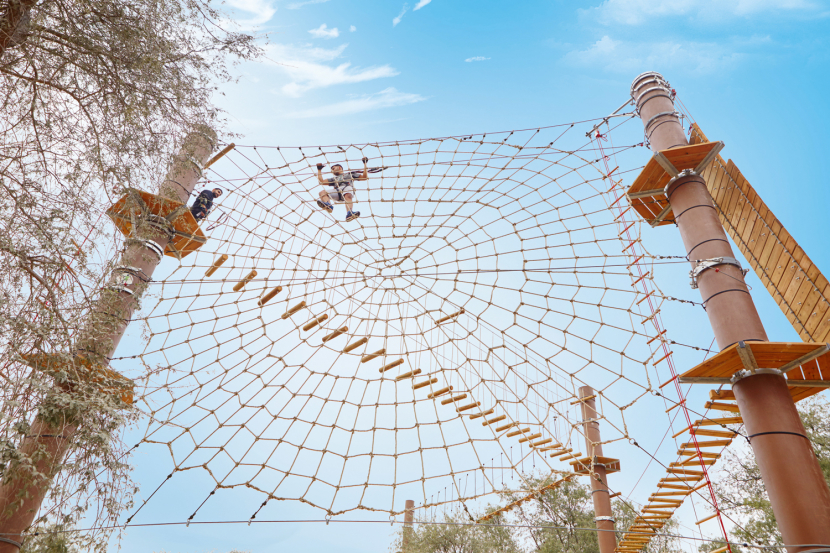 Safa Park
One of Dubai's originals is still one of its best. Come the weekend you'll be hard pushed to find a spot on the grass despite the huge size of the park – still vast in spite of having been shrunk to accommodate the Dubai Canal. But a midweek visit means you'll have the whole place to yourself – virtually anyway. A majority of the space is taken up by perfectly manicured lawns, which lends itself perfectly for kite-flying on a windy day, a kickabout with a football for little soccer buddies or an opportunity for energetic tots to simply hare around wearing themselves out and making bedtime that much easier for mums and dads. It's a winning situation all around.
Dhs3. Open Sun-Wed 8am-10pm, Thu-Sat 8am-11pm.
Safa Park 2
A much smaller option in Al Safa than this park's big, canal-located sibling, Safa Park 2 is the perfect hangout for kids after school, or at the weekends. There are three playgrounds to choose from – or rather, they don't really have to choose as the park is so compact they can run from one to the other without Mums and Dads even needing to vacate their picnic spot on the lawn. While not specifically designed for bicycles the pathway around the edge of the park is often full of kids learning to ride their bikes without stabilisers as well as little ones on scooters whizzing around. There is also a basketball court, a beach volleyball set up and a football pitch to keep older, sports enthusiasts occupied. There is a small kiosk in the middle of the park where you can grab drinks and snacks – it also sells a lot of plastic tat, which kids all beg to buy… Consider yourself warned.
Free. Open daily 8am-11pm.
Umm Suqeim Park
It might not be one of the biggest parks in Dubai, but it certainly has one of the best locations. With the Burj Al-Arab towering above it and the gorgeous seascape of the Gulf viewable throughout you'll be glad you decided to head here for a lazy afternoon. This is definitely one for families with young children given that so much of the space is given over to play areas, including some super cute toddler swings. If all that play time has left you all hungry and craving caffeine you can head to the nearby Leens Casual to Gourmet for a hearty breakfast.
Free. Open daily 8am-10pm.
Zabeel Park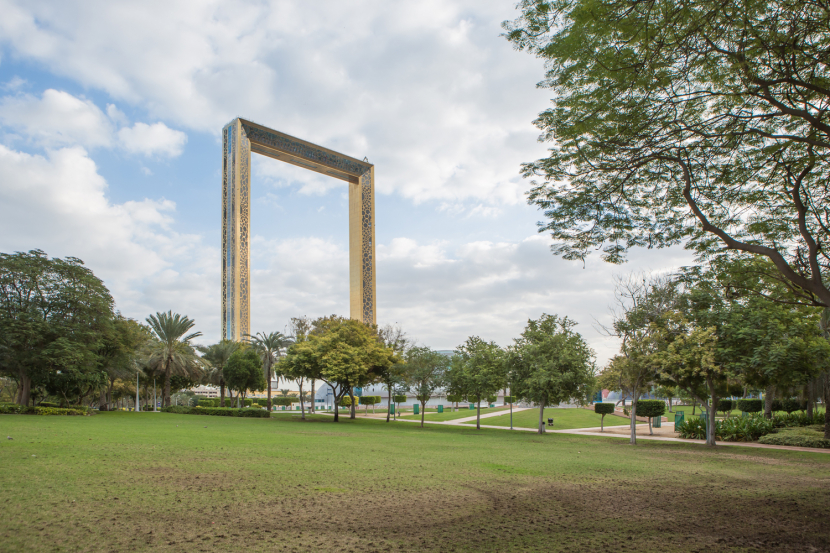 The region's first technology-driven park is enormous, spread as it is over an area equivalent to the size of 45 football pitches. The dedicated play area is heaps of fun for kiddos of varying ages with obstacle courses, slides and climbing frames – nothing like a few physical challenges to tire them out. Plus, there are a wide range of sporting activities on offer, including a full-size cricket ground, as well as a Panoramic Tower that's worth a visit to get a great view of the surrounding area. Little Jurrasic fans will also appreciate the Dinosaur Park where massive life-like models of dinosaurs are on display and Dubai Garden Glow, which is worth keeping tiny tots up past bedtime for as it comes into its own once the sun has gone down.
Dhs5. Open Sat-Wed 8am-10pm; Thu-Fri 8am-11pm.

ABU DHABI
Capital Garden
Also known as Al Asema Park, Capital Garden is in the middle of the city (it's the one with the ornamental coffee pots at the entrance in Al Markaziyah). and is one of the oldest parks in the capital. Despite its downtown location, it's actually quite peaceful once you're inside the 5.6 hectare space. There are a slew of play areas and playgrounds for little ones to explore, and they will have heaps of fun running around the old fountains, too. There's even a mini climbing wal for tiny spidermen (and women). Nab yourself a spot in one of the cute gardens and unpack the hamper, or if you don't fancy hauling an ice box around, there are various vending machines and a café serving up snacks that will do the job.
Dhs1. Sultan Bin Zayed the First Street.
Corniche Parks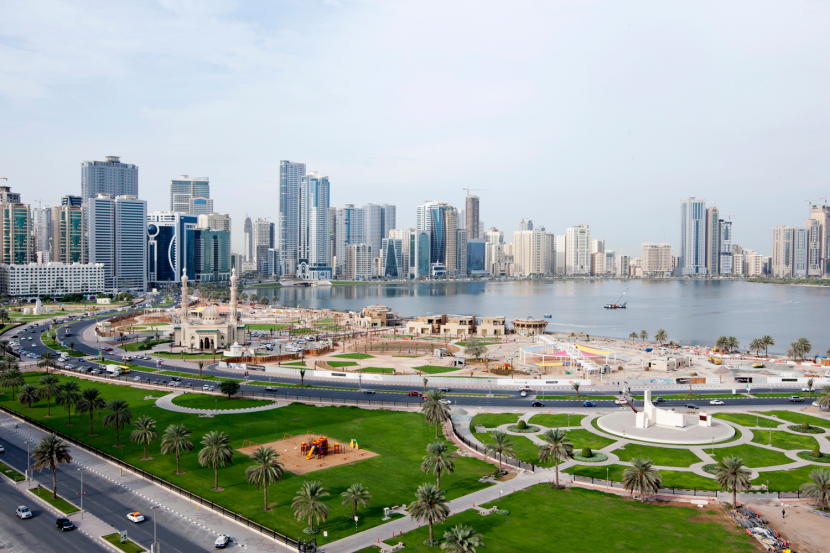 Think of the Corniche, think of the beach, but if you want to avoid sand in your sarnies, opt for one of the lovely green parks dotted along the waterfront. Starting from the east side, near Sofitel Abu Dhabi, is Recreation Park. The biggest attraction is a large sun dial – always popular with curious little minds. Next along the road is Formal Park, which is actually a lot more fun than its name suggests. It has barbecue pits, badminton courts, a concrete maze (maybe ensure the kids have a GPS device before you send them in... Or not) and plenty of room to relax on the grass. At the end of the first stretch is Lake Park – with a 15m fountain and wooden bridges and walkways for little adventurers to explore. Further along towards A'l Bahar you'll find even more grassy spaces, each with plenty to offer, including skate parks and splash facilities. So, even with little people who have short attention spans and get bored easily, you can make a day of trying out all the park options along the Corniche, winner.
Free. Off Corniche Road.
Delma Park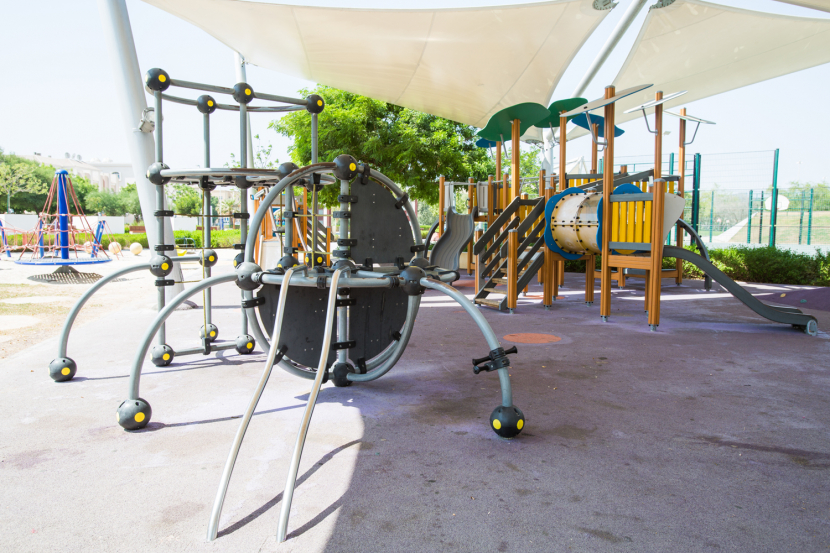 Found at the junction of Delma Street and Salam Street, is Delma Park. If you end up here without food supplies for your picnic, no worries because when it comes to refreshments, there are a few kiosks scattered around where you can grab a suitable spread of soft drinks, ice lollies and sandwiches. There's also a table tennis area, a basketball court, chess tables and a climbing wall, plus loads of shady areas to keep delicate, sensitive skin out of the sunshine.
Free. Delma Street.
Khalidiyah Garden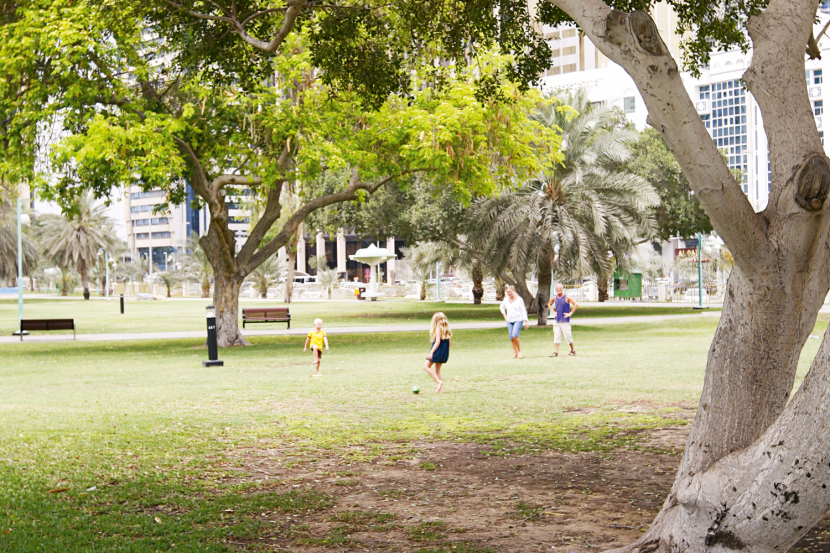 In the morning and early evening the paths of this park are rammed with joggers, but for a picnic lunch, you're more likely to have the place to yourselves. There's a children's playground to keep the young ones occupied and a water feature, too. Scattered date palms provide families with plenty of shade, and the terrain here is mostly flat, making it an ideal spot for pushchairs and pulling along an ice box... Or for a little nap under a tree when the kids go off to play. Parking isn't great around here though, so maybe leave the car at home.
Dhs1, free (kids aged ten and under). Between 30th and 16th streets, Al Khalidiyah.
Khalifa Park
Located just next to the Park Rotana, Khalifa Park covers a massive area – 500,000 sq m in total. But it's not all green grass and palm trees, there's also a museum that takes you down a time tunnel and explains the history of the development of the capital, an aquarium, a library and a miniature train that takes you around the circumference. There's also the Adrenagy Gym, which has a café inside serving healthy protein-heavy food.
Dhs2. Next to Ministries Complex, Sheikh Zayed Bin Sultan Street.
Reem Central Park
Bringing a slice of urban relaxation to the mostly residential Reem Island is this space. While many parts of the island are still in development, there's enough to see and do here to warrant a visit if you live nearby. Open spaces are ideal for a football kickaround, or for mini gymnasts to practise their cartwheels, handstands and backbends.
Free. Reem Island.
Umm Al Emarat Park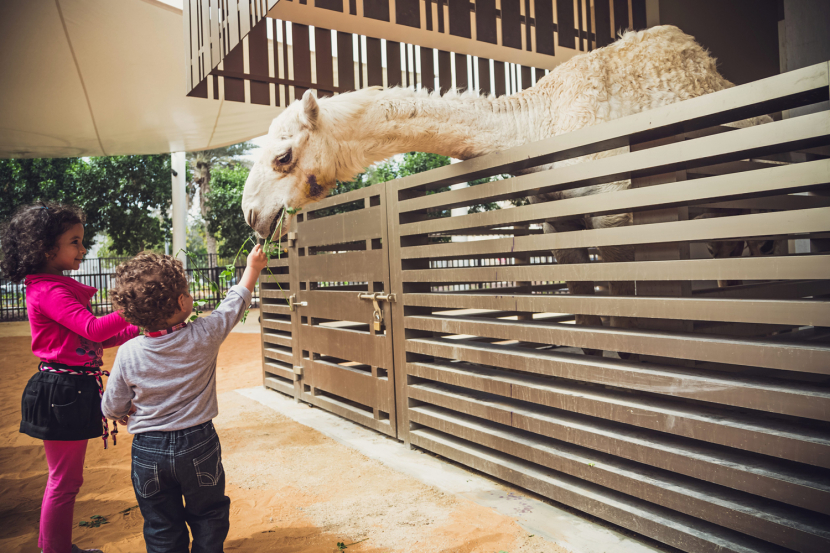 Umm Al Emarat Park, or Mushrif Park as it was previously called (not to be confused with the Dubai version), might be almost at the end of this list, but it should be right near the top of yours. There's plenty going on here to keep the whole gang entertained. It was built in consultation with a few local groups who shared what facilities they'd like to see in a park. As a result, there is the Wisdom Garden (a place to ponder life's big questions), the Animal Barn (a petting zoo that's managed by Emirates Park Zoo and includes camels, goats, ponies and more), the Children's Garden, the Botanic Garden (which houses about 200 regional plant species), a 1,000-person amphitheatre, the Shade House (a structure that houses more than 30 species of shade-loving plants) and of course, rolling green lawns. The organic Ripe Market pitches up every Saturday from 3pm to 9pm, and there are also places to eat such as SALT and Pinza. It would be incredibly easy to spend the whole weekend here!
Dh10. Al Mushrif (02 666 9559).
Yas Gateway Park
This sprawling area on Yas Island can often get forgotten about given all the other destinations nearby, but it shouldn't be over-looked as it is a prime picnic spot in the capital. Split down the middle by the Sheikh Khalifa Bin Zayed Highway, it is divided into two sections – north and south. There are huge grassy areas, ideal for a picnic and that the kids will be safe to run around freely in – if you've got a kite, bring it. Kids will also be kept happy by the sprinkling of colourful play areas. It's a beautifully maintained space, so lay down your rug, unpack your hamper and while away the afternoon in the fresh air.
Free. Sheikh Khalifa Bin Zayed Highway, Yas Island.
Be the first to get all the latest Dubai news, reviews and deals into your inbox by signing up to our free
newsletter
,
click here to sign up
.