Clare Lavin – mum to six-year-old Oscar and 18-month old Darcy – has always been passionate about cooking. The Dubai-based mother-of-two made it to the quarter finals of Junior Masterchef and then later appeared on the cookery show, Masterchef Goes Large. Having passed on her love of whipping up fun, innovative meals to Oscar, she now encourages him to help her in the kitchen teaching him new skills and encouraging his creative flair. Her specialities are cooking quick and easy dishes that the whole family can enjoy. For more family-friendly recipes, follow Clare on Instagram @claresfamilykitchen.

Coronation chicken sandwiches
Makes 6 rounds of sandwiches. Prep time: 20 min. Cook time: 5 mins.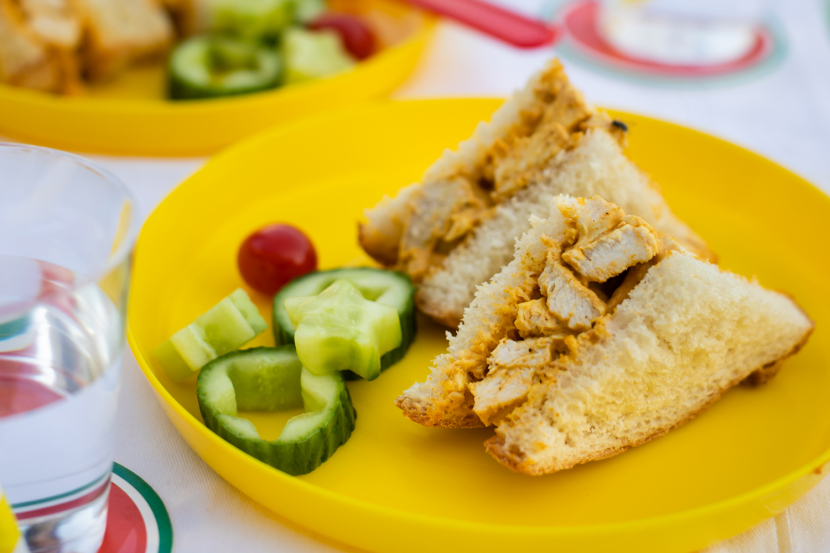 Ingredients
500g chicken breasts
1tsp mild curry powder
1 tablespoon mango chutney
1 teaspoon tomato puree
150g crème fraiche
Sliced white loaf of bread
Method
Step 1: Cover the chicken breasts with water in a saucepan, and bring to a very light boil for 15 minutes until cooked through. Leave to cool before cutting the chicken in to small pieces.
Step 2: In a frying pan add a small amount of oil and fry the curry powder briefly until aromatic, add the tomato puree and take off the heat. Stir in the mango chutney and leave to cool.
Step 3: Transfer to a bowl and stir in the crème fraiche.
Step 4: Add the chicken to the sauce, season with salt and pepper, and refrigerate, preferably overnight so the flavours can develop.
Step 5: To assemble the sandwiches, butter the bread and spread over the coronation chicken using a spoon or knife. Then cut the sandwiches in to triangles.
NOTE: Decorate the plate with a variety of salad garnishes to make it look pretty and you might even get the kids to eat their five a day.

TIP: It is best to prepare the Coronation chicken sandwiches the night before you need them

Salmon and broccoli tart
Makes 1 tart, feeds 8. Prep time: 20 mins. Cook time: 40 mins.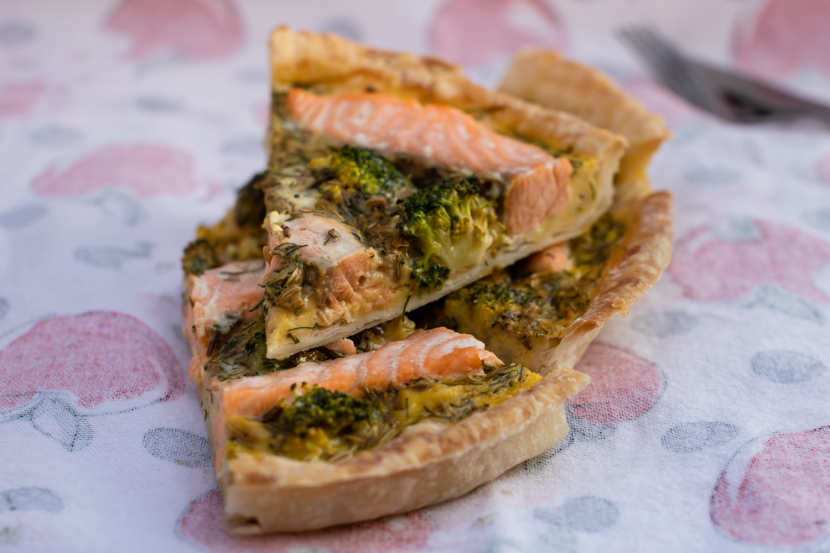 Ingredients
1 sheet ready rolled shortcrust pastry
1 salmon fillet
1 small broccoli
6 eggs
200ml milk
Dried mixed herbs
100g crème fraiche
Method
Step 1: Line a deep fluted tart tin with the shortcrust pastry, prick with a fork all over and blind bake for 10 minutes at 180 degrees celcius. Leave to cool.
Step 2: Cut the salmon fillet into thin strips and arrange in the tart.
Step 3: Add small florets of broccoli that have been par boiled for 2 minutes in salted hot water.
Step 4: To make the tart filling, whisk the eggs, add the milk and crème fraiche and stir, add a pinch of dried herbs and season with salt and pepper.
Step 5: Pour the filling over the salmon and broccoli.
Step 6: Cook the tart at 180 degrees celcius for 30 minutes, or until the filling is cooked through.
Step 7: Leave to cool – perfect to serve at your picnic!

TIP: The tarts are equally as delicious eaten hot or cold

Mini Eton mess
Makes 12 small pots. Prep time: 20 mins.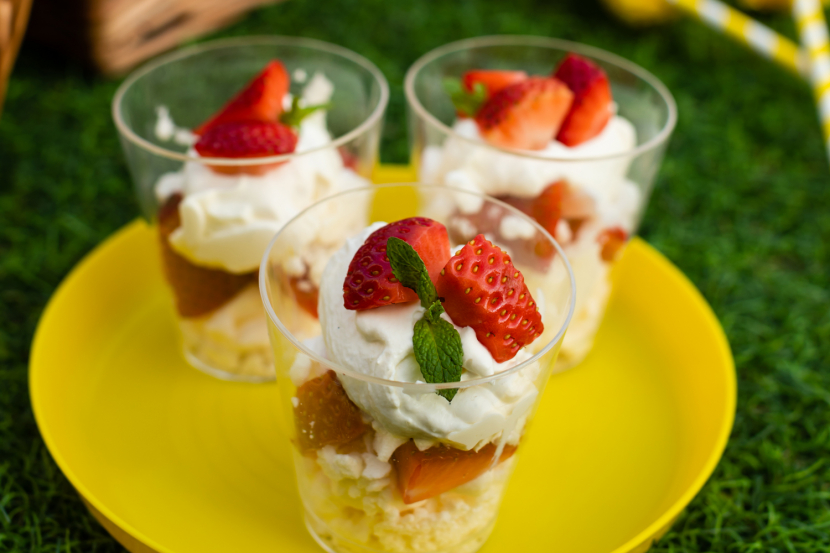 Ingredients
1 packet ready-made mini meringue
300ml double cream
1 teaspoon vanilla bean paste
50g icing sugar
250g strawberries
Mint sprigs
Small clear plastic pots
Method
Step 1: Whisk the cream to stiff peaks, stir in the vanilla bean paste and icing sugar.
Step 2: Chop the strawberries into very small cubes and crush the meringues in a large food bag.
Step 3: These are best assembled at the picnic, take some small plastic pots and layers each of the components, meringue, vanilla cream and strawberries. Top with a few sprigs of mint. Eat immediately (who wouldn't!)!

TIP: You could throw in some blueberries and raspberries to add some colour

Mini elderflower jellies
Makes 6 small pots. Prep time: 15 mins. Cool time: overnight.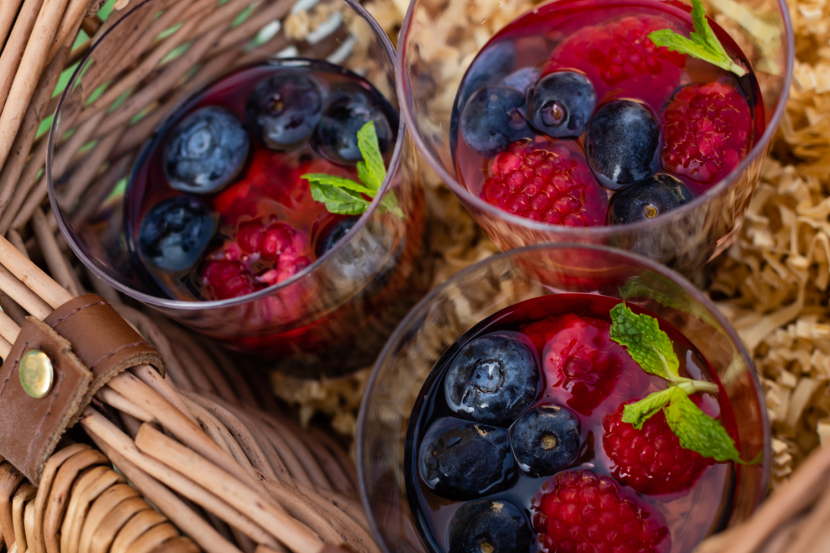 Ingredients
4 tablespoons elderflower cordial
2 gelatin leaves
400ml mineral water
1 tablespoon caster sugar
Mint sprigs
100g raspberries
100g blueberries
Small clear plastic pots
Method
Step 1: In a saucepan add the water, sugar and cordial. Bring to a light boil, take off the heat and quickly stir in the gelatin leaves. Leave to cool for 5 minutes.
Step 2: In some small clear plastic pots add a small number of raspberries and blueberries, pour over the cordial mix.
Step 3: Cool in the fridge overnight until the jelly is set, garnish with a mint sprig.
NOTE: A refreshing and easily transportable picnic dessert that the children will love to make and eat!

TIP: You could use other flavours of cordial too

Be the first to get all the latest Dubai news, reviews and deals into your inbox by signing up to our free
newsletter
,
click here to sign up
.