Keeping the tiniest of family members entertained and out of mischief is a full-time job in itself, which is why our round-up the top things to do with toddlers in Dubai should make your life a lot easier.
From checking out some deep sea creatures to letting off steam and burning energy at soft play and even indulging in a Willy Wonka chocolate experience, we've got you and your toddler covered when it comes to cool activities in Dubai.
Happy toddler means a happy life… you're welcome.
Weekend MEALs out with the kids are looking more appealing with the launch of Adventure Parx and Café in Al Safa. The cool new eatery houses an expansive play area and offers various breakfast options such as croissants and muffins, as well as hot dishes like pasta, if you're after a chilled-out family lunch. The huge playground means that little ones can burn off energy by climbing, jumping and exploring, while mums and dads get their caffeine fix. Parents can pay by the hour for access to the playzone and any food and drinks come at an additional cost. Make ours a latte and we'll see you there.
Dhs75 (children), Dhs55 (adults). Sat-Wed, 10am-8pm; Thu & Fri, 10am-10pm (play). Sat-Wed, 7am-8pm; Thu & Fri, 7am-10pm (cafe). Al Ferdous 3, Al Wasl Road, Dubai, www.parx.ae (04 333 5657).
Al Barsha Pond Park
This 50-acre site has something to keep the whole tribe happy for hours on end. An oasis of green located in a predominantly sandy Al Barsha and set around the edge of a pretty, manmade lake this is a lovely little spot to while away an afternoon. Sporty kiddos can take advantage of the basketball courts and football pitches, little wannabe sailors can charter their own solar energy powered boat around the water and mini cyclists can race their bikes around the cycling track. The littlest family members will also appreciate the colourful playgrounds where they can swing, slide and climb to their hearts content. Mums and dads can bring their own food, or grab some snacks from the small shop or café.
Free. Open Sat-Wed 8am-11pm, Thu-Fri 8am-11.30pm.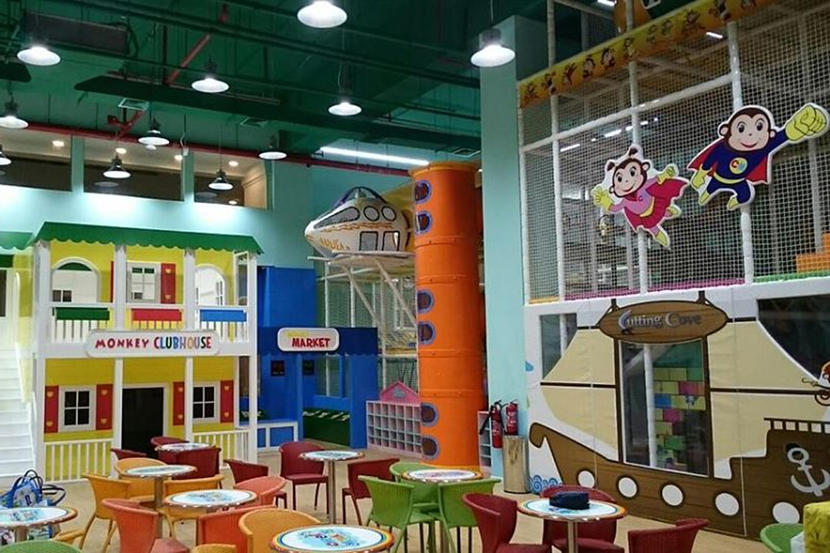 A world of colour and fun awaits little explorers at the Cheeky Monkeys soft play centres. Innovative neon-lit slides, mini zip lines, brilliant dressing up area and an enormous ball pit provide endless entertainment that energetic tots love. Plus there's a café serving hot kid-friendly meals and Starbucks coffee for the mums and dads.
Dhs55 (first hour, Dhs30 (subsequent hours). Times vary. Various locations including J3 Mall, Dubai, www.cheekymonkeys.com (04 276 0011).
A play space that's based on a real-life construction site, kids can dig, move, tunnel, climb, build and create here. They can also drive a remote controlled truck, pilot a mechanical arm and even try out a full-size digger while building their skills.
Dhs125. Daily 10am-10pm. The Springs Souk, www.digitdubai.com (04 438 4479).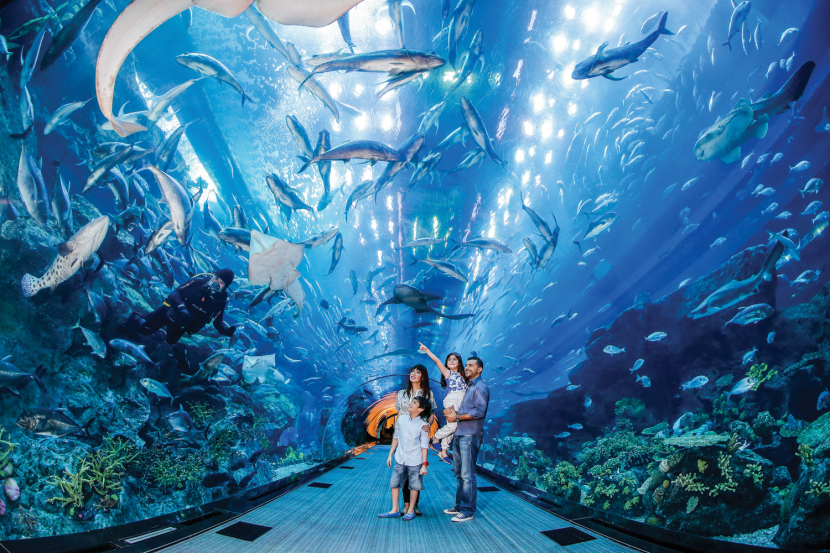 Head below the ocean on a magical tour of the deep blue sea and get up close and personal with some of the most incredible fish, plus some sharp-toothed sharks as well. You can have a guided tour of the aquarium, see the fish being fed or hop in a glass bottom boat and take a ride to see the creatures of the ocean from above. And if you're worried about your toddler's short attention span, don't pay a fils and instead stand in The Dubai Mall and watch the sharks and rays swim by.
From Dhs35. The Dubai Mall, Dubai, www.thedubaiaquarium.com (800 38224 6255).
This is a popular soft play hotspot not just with the little ones, who can play safely in the separate toddler area, but with older balls of energy up to ten years old who love the climbing, exploring and sliding. The arts and crafts zone is always a huge hit too, with everyone.
Dhs50 (first hour, kids six months-12 years). Daily 9am-8pm. Various locations including Motor City, Dubai, www.extremefun.ae (04 452 5543).
JLT Park
Not many parks can claim to have started life as a lake, but when it was decided that the water needed to go and grass needed to replace it, the lake was filled in and this family-friendly haven came to be. Kids can run around safely kicking balls, flying kites, playing tag or just practising their cartwheels, but when winter arrives, so does a mini funfair that takes the fun up a notch. Oh, and once the sun sets on a fun day of fresh air, hang around, snuggle up under and blanket and watch a family film at JLT's Cinema Under the Stars. Pass the popcorn.
Free. Open daily 24 hours.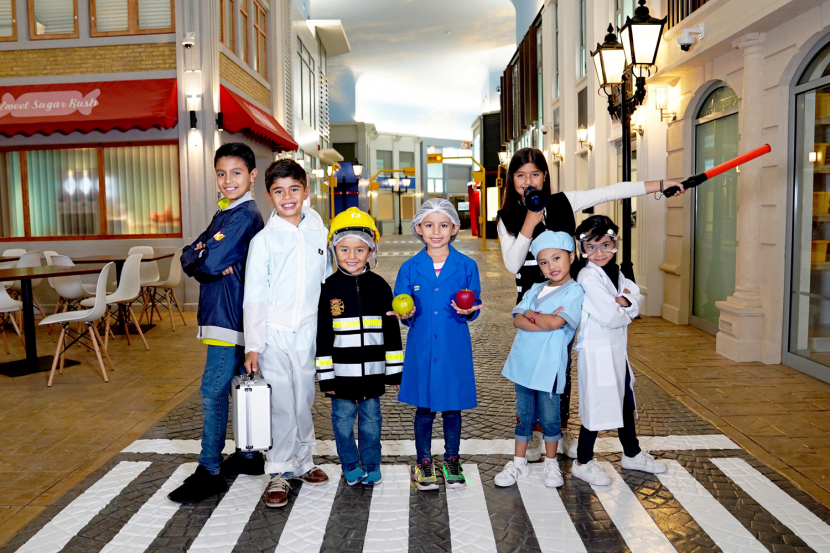 There's just something fun about pretending to be a doctor, a fireman, a chef or a builder. KidZania is a magical world of make believe where children can role play more than 40 professions and earn their own KidZania money, which they can then spend on their way out in the on-site shop.
From Dhs94.5 (kids two-three), from Dhs166.5 (kids four-16). Times vary. The Dubai Mall, Dubai kidzania.ae (800 382246255).
A fun and colourful edutainment centre where loveable dinosaur Barney is a permanent fixture. Kids kids can meet Barney, go on an adventure with Thomas & Friends, be a hero with Fireman Sam, build their dream home with Bob the Builder and dance their little hearts out with Angelina Ballerina – and generally just have heaps of fun.
Dhs99 (adults), Dhs149 (children under 10), Dhs399 (family of four), free (kids under 12 months). The first Fri of every month from Sept 6 9.30am-11am. City Walk, playtowndubai.com.
Passionate about positive play and the power of imagination, there are eight galleries and more than 40 exhibits inspired by the work of leading educators, artists and development psychologists. It's an interactive adventure that stimulates a child's body and mind.
Free (kids under 12 months), Dhs78 (kids 12-23 months), from Dhs156 (kids over 23 months), Dhs21 (adult). 9am-9pm, Sun Oct 18-Thu Oct 22. Al Quoz, www.olioli.ae (04 702 7300).
Fans of Roald Dahl's Charlie and the Chocolate Factory will love this restaurant that is inspired by Willy Wonka's crazy, colourful chocolate factory and the little round, orange people who run it, Oompa Loompa Restaurant has a colourful play area and soft play zone, a cosy spot for watching movies, a place to colour and plenty of toys that will keep the little ones happy for hours. But that's not all. You can sign them up to a 90-minute Willy Wonka-themed masterclass complete with edible paints.
Best of all, you don't even need a golden ticket.
Daily from 8am-midnight. JBR, Dubai (04 578 6121).
Located in Jumeirah's Town Centre, the edutainment centre features indoor and outdoor play areas, plus heaps of little nooks and crannies for kids, between six months and eight, to explore. Little ones can get stuck into a whole heap of fun from themed arts and crafts and pretend play, to soft play (complete with that all-important ball pit, of course) and cooking stations. Plus, as an added bonus, water babies can make a mini splash in the outdoor water-play space. And for mums and dads who fancy indulging in a spot of retail therapy, the 'drop n shop' option (priced at Dh80 per hour) is a win for the whole family.

A variety of fun-filled camps keep little ones out of mischief during the school holidays and the edutainment centre will even be hosting themed events such as coffee mornings and playdates.
Dhs65 (first hour), Dhs40 (additional hours), Dhs200 (day pass), Dhs999 (monthly pass), Dhs80 (per hour drop n shop). Daily, 10am-10pm. First floor, Town Centre, Jumeirah, Dubai, www.orangewheels.com (800 672 743).
Safa Park 2
A much smaller option in Al Safa than this park's big, canal-located sibling, Safa Park 2 is the perfect hangout for kids after school, or at the weekends. There are three playgrounds to choose from – or rather, they don't really have to choose as the park is so compact they can run from one to the other without Mums and Dads even needing to vacate their picnic spot on the lawn. While not specifically designed for bicycles the pathway around the edge of the park is often full of kids learning to ride their bikes without stabilisers as well as little ones on scooters whizzing around. There is also a basketball court, a beach volleyball set up and a football pitch to keep older, sports enthusiasts occupied. There is a small kiosk in the middle of the park where you can grab drinks and snacks – it also sells a lot of plastic tat, which kids all beg to buy… Consider yourself warned.
Free. Open daily 8am-11pm.
Set sail down Dubai Canal on The Black Pearl. Little fans of Disney's Pirates of the Caribbean will go ooh arr over this brand-new hour-long experience. Setting off from the Dubai Creek Harbour Residences, Captain Jack Sparrow's trusty ship will take mini buccaneers along the treacherous waters to the Mangroves – shiver me timbers – before heading back to port. There's plenty for little seadogs to see along the way, so batten down the hatches. Aye aye captain.
Free (kids under five), Dhs55 (children), Dhs65 (adults). Daily, 10am-10pm (various sailing times). www.tour-dubai.com (052 902 4506).
Providing safe sensory experiences, this kids' gym is a real favourite for all the tribe. While it encourages open play, We Rock the Spectrum Kids' Gym also offers arts and crafts classes for little creative kiddos to enjoy, as well as fitness and lab lessons for high-energy tots and inquisitive little minds.
From Dhs63 (per hour). Jumeirah Beach Road, www.werockthespectrumdubai.com (04 343 2442).
Be the first to get all the latest Dubai news, reviews and deals into your inbox by signing up to our free
newsletter
,
click here to sign up
.