If it's the weekend and you're longing for a home-cooked roast dinner, but don't want to spend any time in the kitchen, you're in luck as there are loads of restaurants in Dubai serving up a cracking roast. Yorkshire puddings, roast potatoes and lashings of gravy, here's where to get the best Sunday roasts and roast dinners in Dubai. Want to eat a roast at home in Dubai? Click here for restaurants in Dubai delivering roasts to your door.
If you live on the Palm, listen up. This sports bar has a cracking Sunday roast deal. After all, what better way to start the week than with a mighty roast dinner in Dubai?
Dhs112. Sun 3pm-midnight. Palm Views East, Palm Jumeirah (04 552 4000).
Where else would you go for a traditional roast dinner in Dubai than a top British chef's restaurant? Celebrity chef Gordon Ramsay offers up a stellar version every Saturday from noon until 4pm. Bring the whole gang along to this family-friendly restaurant at Atlantis The Palm and dig in. The roast features all the trimmings you could hope for – think crispy roast potatoes and giant Yorkshires. A family-friendly roast dinner in Dubai that's well worth trying. Your only dilemma is choosing between chicken or beef…
Dhs135. Sat noon-4pm. Atlantis The Palm, Palm Jumeirah (04 426 2626).
For a roast dinner with a view of Burj Al Arab Jumierah, this is the place for you. This popular pub serves up some tasty pub grub, and it's roasts go down a treat. All roasts come with Yorkshire pudding, roasted potatoes, roast carrots and veg. A very Dubai roast dinner.
Dhs125.Daily noon-11pm. Jumeirah Beach Hotel, Umm Suqeim (04 406 8999).

This old-school English pub in Barsha Heights has a range of deals throughout the week, including a bargainous weekend roast. Every week you'll get a traditional roast – with lashings of gravy – for under Dhs100. There's a happy hour from 6pm until 8pm, too, if you needed any more reasons to visit, plus it's Time Out Dubai's Best Pub Food 2020 title holder with good reason.
Dhs75. Sat-Sun 11am-3am. Byblos Hotel, Barsha Heights (04 448 8000).
Old-school Irish pub? Classic roast dinners? Relaxed, friendly vibe? Check, check and check. Head to this fun-loving pub on Sheikh Zayed Road every Sunday and you'll get homely roast. We've raved about the pub food here, like the cheese on toast and proper fry-ups many a time, but if you're after something like you'd get back home, then head here.
Dhs75. Open daily 8am-11pm. Saeed Tower One, Sheikh Zayed Road (04 332 2400).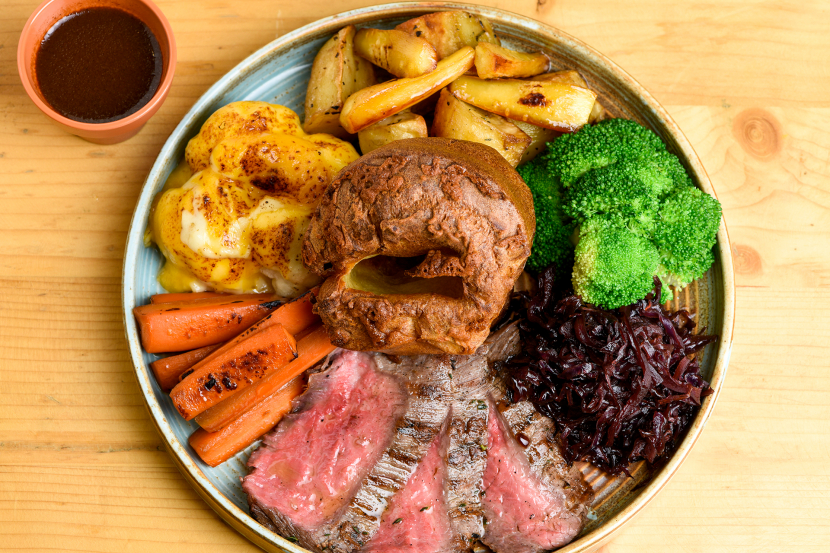 This sports pub in Media City may be busier in the week post-work, but there's also a great roast served up every weekend. Every Saturday and Sunday tuck into chicken, beef or lamb, with all the standard extras (parsnips, carrots, cauliflower cheese et al). It's almost like being in the UK (kind of, if you squint) thanks to the picnic benches, faux grass and big screens (ideal for watching the footy). The venue claims "it doesn't get more traditional". See if you agree...
Dhs99. Sat-Sun noon-7pm. Media One Hotel, Dubai Media City (04 427 1000).
Gordon Ramsay Hell's Kitchen is now delivering to homes across Dubai, and that means it's also serving up its special roast for all to tuck into. Expect tender-aged beef roasted just right with all the trimmings paired with classic Yorkshire pudding.
Dhs145. Every Sat noon-10pm. Bluewaters Dubai (04 556 6466),
When an occasion is billed as "quintessentially British" it's only right to take notice. And considering this cool gastropub in JBR calls its roast dinner just that, we're paying attention. If you head here on a Saturday or Sunday you can dig into a classic British roast complete with roast potatoes, parsnips, Yorkshire pudding, cauliflower cheese, mashed carrot and swede, and cabbage (although not the soggy school dinner kind).
Dhs120. Sat-Sun 1pm-11pm. Amwaj Rotana, The Walk, JBR (04 428 3084).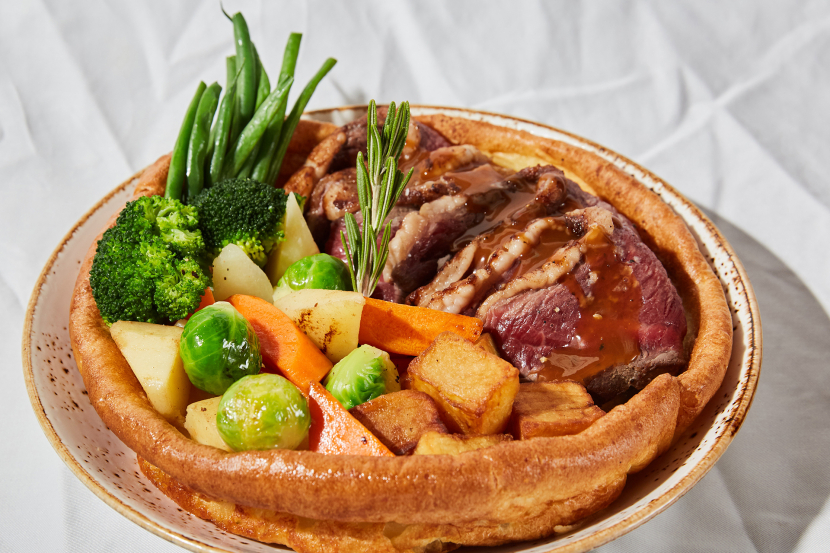 What's better than a Yorkshire with your roast dinner? Your roast dinner IN a Yorkshire, of course. Every Saturday and Sunday from 2pm, head to this massive party bar in JBR and dig into this fun, and huge, offering. Choose two meats – from a choice of chicken, beef or lamb – and they'll come nestled within a tasty giant Yorkshire (with all the usual trimmings – it's a tight squeeze). It's Dhs100 and comes with a house beverage, too. A cracking roast dinner in Dubai, and a top-value one at that.
Dhs135. Open Mon-Thu 4pm-3am; Fri 1pm-3am; Sat-Sun 2pm-3am. Rixos Premium Dubai, JBR (04 520 0049).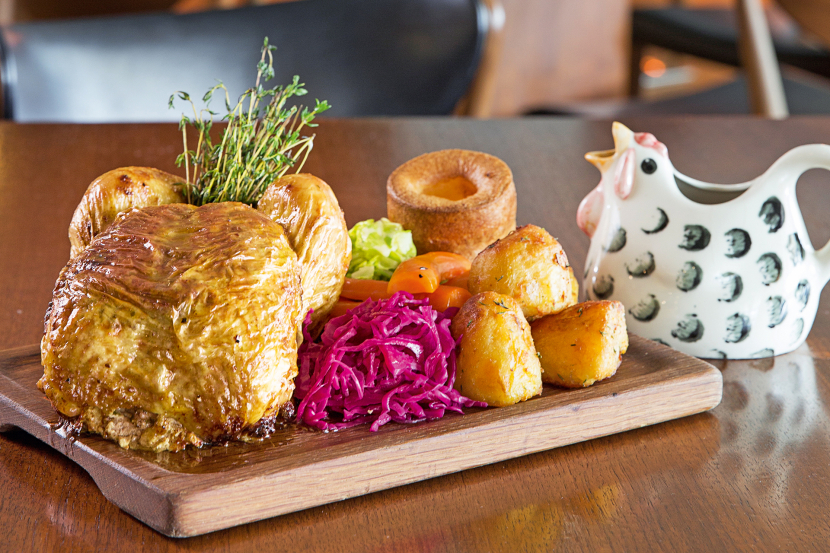 We're pretty partial to this roast from Marina Social, and would you expect anything less than excellent from a British Michelin-starred chef? While the dinner at Jason Atherton's gaff is as tasty as you'd get in Blighty, the views across the twinkling Dubai Marina are slightly different from the average British pub garden. The choice includes roast beef, lamb or chicken (cooked with a lovely garlicky butter), all served up with sides including fresh veg, red cabbage, perfectly crispy roast potatoes, sizeable Yorkshires and lashings of rich, meaty gravy.
Dhs135. Fri & Sat 1pm-10.45pm. InterContinental Dubai Marina (04 446 6664).
The second (of three) Irish pubs on this list, this famous chain from the Emerald Isle would be ashamed to call itself a proper pub without a roast. Every Saturday and Sunday you can get your chops around a hefty roast feast – including your choice of meat and all the trimmings. It comes in at under Dhs99, too. If you fancy a roast dinner in Dubai with a view (and a considerably better one than you might be used to back home), head to the Souk Madinat branch, where you'll get to enjoy your tatties overlooking the Madinat waterways and Burj Al Arab Jumeirah.
From Dhs99. Sat-Sun noon-3am. Bonnington Jumeirah Lakes Towers, Cluster J, JLT(04 356 0560); Souk Madinat Jumeirah (04 447 0219).
Nassau
The restaurant from chef Silvena Rowe serves a Friday British Roast, every Friday from 1pm until 4pm for Dhs195 for adults and Dhs95 for kids. Dishes include roasted beef striploin, whole roasted chicken or roasted shoulder of lamb, all served with roasted potatoes, vegetables and gravy. Plus you'll get dessert, too.
Dhs195 (food), Dhs380 (grape pairing). Fri 1pm-4pm. Jumeirah Golf Estates, www.dubaigolf.com/dine/nassau.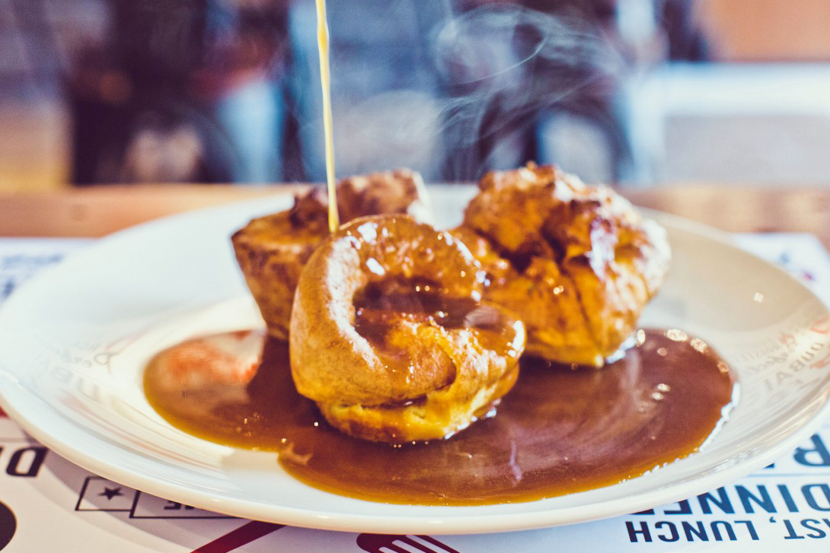 The fact this restaurant has the word roast in the title suggests that there's only one dish to order here. And you'd be right. Reddy's roast dinner specials include beef, lamb, half a chicken – in either original, lemon and herb and peri peri varieties. There's also a mixed roast if you're feeling hungry (for Dhs121), which consists of all of the above. All come with roast potatoes, Yorkshire pudding, seasonal veg and – just to remind you of your nan's house – sage and onion stuffing. Feeling adventurous? Push the boat out and go for a Yorkshire pudding bowl (there's a veggie option, too), or Yorkshire pudding wrap. You can even have your roast meat squeezed into a roll, served with chips and gravy. We'll take one to go (as well as the full sit-down version).
From Dhs48 (rolls), From Dhs86 (roasts). Open Sun-Thu 8am-10.30pm; Fri-Sat 9am-10.30pm. Canal Residence, Dubai Sports City
(04 513 9449).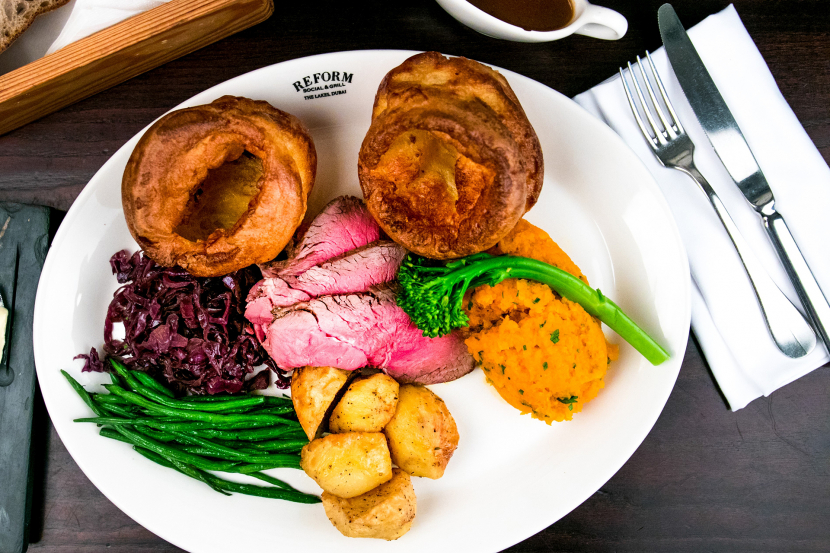 This family-friendly local is popular for many a reason. And one of those is undoubtedly its roasts. You'll get a massive plate jam-packed with all your faves. Pick from mustard-crusted Angus beef, half a roast chicken or a combo of the two. It's served up with fresh veg, a huge Yorkshire pudding and plenty of gravy for that homely feel. A roast dinner in Dubai for all the family.
Dhs90 (veggie), Dhs125 (meat). Sat-Sun noon-11.30pm. The Lakes, Emirates Hills (04 454 2638).
This Palm Jumeirah spot serves up a special roast dinner every Saturday. There's also a changing veggie option. A roast with views of the sea? You're spoiling us, Senara.
Dhs120. Dhs60 for kids. Sat noon-11pm. Palm Views West, Palm Jumeirah (04 451 6460).
Another one that's gone when it's gone, so it's worth arriving on time for. The roast at The Croft kicks off at 4pm every Saturday and boasts it's "just like home" – depending on your cooking skills, we suppose. Either way, it comes with all the traditional trimmings, and is well-worth digging into.
Dhs125. Sat from 12.30pm. Marriott Harbour Hotel & Suites Dubai, Dubai Marina (04 319 4000).
British gastropub, The Duck Hook's roast options include roast beef, which comes with a prime rib of beef, Yorkshire puddings, horseradish sauce and beef gravy, or a whole roast baby chicken with sage and onion stuffing balls, veal sausages wrapped in veal bacon, cranberry sauce and chicken gravy. You can also opt for the slow-roasted lamb rump with mint sauce and a lamb gravy. All the roasts come with all the trimmings you could hope for – roast potatoes, roast parsnips, buttered carrots, broccoli and cauliflower. Large appetite? Go for the roast with the most, which is beef, chicken and sausages. One of the best roast dinners in Dubai, and with some cracking golf course views.
Dhs125 (chicken or veggie), Dhs135 (beef), Dhs170 (roast with the mosy). daily noon-10pm (800 666 353).
As a two-time former winner of our Best Pub Food award, this trendy gastropub in Taj Dubai promises some decent grub. And alongside its award-winning curries and burgers there's also a roast that's worth sinking your teeth into. The Great British Weekend roast is served up every Friday, Saturday and Sunday and comes with all the trimmings you'd expect.
Dhs109. Fri, Sat & Sun noon-1am. Taj Dubai, Business Bay (04 438 3131).
A slap-up Irish Sunday roast is calling at The Irish Village. Expect roast and mashed potatoes, Yorkshire pudding, roast lamb and of course, all that gravy.
Dhs90 (three soft drinks), Dhs150 (three house beverages), Dhs195 (five house beverages). Sun, 11am-1am. The Irish Village, Garhoud, www.theirishvillage.com (04 282 4750).
The Irish Village Studio One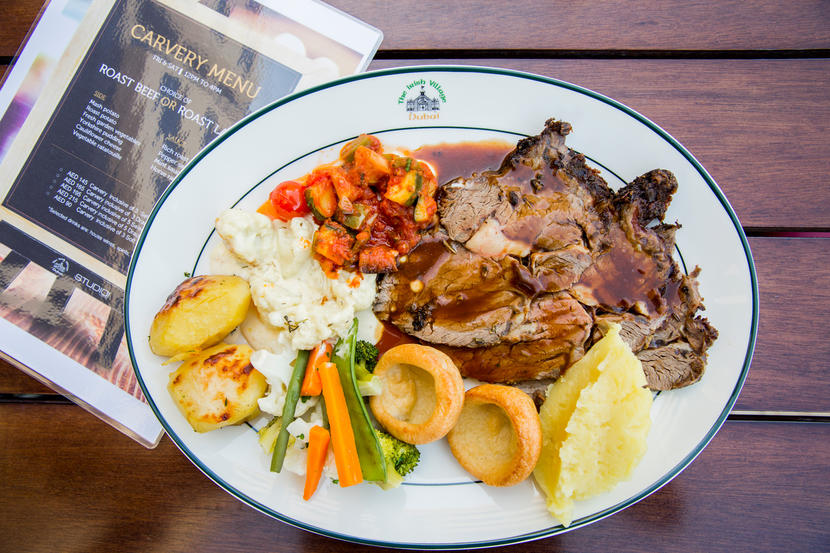 It's the signature Irish Village Sunday roast, except all weekend long. Every Friday and Saturday, expect roast and mashed potatoes, Yorkshire pudding, roast lamb and of course, all that gravy – along with with your choice of house beverages or soft drinks.
Dhs90 (three soft drinks), Dhs150 (three house beverages), Dhs195 (five house beverages). Fri-Sat, 11am-1am. Studio One Hotel, Dubai Studio City, www.theirishvillage.com (04 241 8444).

Join the party at Roasts and Toasts every weekend at this retro pub in Al Habtoor city. You'll get a two roast dinners – as the name suggests – as well as a bottle of grape for just Dhs250 between two. The food here is decent, and there's also a pool table, a dartboard and tonnes of big screens to keep you occupied for the best part of the afternoon (or evening).
Dhs250. Sat-Sun noon-2am. The Atrium, Al Habtoor City (04 437 0022).
Yorkshire pudding fans – this is the one for you. The crowning glory of this marvellous roast is the ginormous Yorkie that sits atop of a mound of tastiness. It's huge, yet crispy and light and not at all greasy. Frankly we'd be happy to just devour it on its own, doused in gravy. However, coming from British TV chef Simon Rimmer, it would be churlish to ignore the rest of the meal. Choose from chicken, lamb or beef – all of which come with roast potatoes, parsnips, red cabbage, cauliflower cheese, ponchmipe (a delicious mish-mash of potato and swede), and your own mini gravy vessel. You can even opt for a super-size version (AKA more meat) or a whole roast chicken for two (Dhs199). Enjoy this roast dinner with views of Dubai Marina.
Dhs125. Fri-Sun noon-midnight. Pier 7, Dubai Marina (04 422 2328).
This Palm Jumeriah gastropub offers a roast dinner in Dubai, with views of the sea. Choose between roast chicken, roast beef with horseradish or roast lamb with mint sauce, complete with all the trimmings: duck fat roasted potatoes, cauliflower cheese, steamed greens, sweet potato mash, roasted root veggies and Yorkshire pudding.
Dhs90 (chicken), Dhs125 (beef), Dhs135 (lamb). Served daily noon-10pm. Club Vista Mare, Palm Jumeirah www.thetaphouse.ae (04 514 3778).
For more top restaurants in Dubai, click here.
Be the first to get all the latest Dubai news, reviews and deals into your inbox by signing up to our free
newsletter
,
click here to sign up
.