The cheese fests
Caprese flatbread at Sunnyville
Fish and chips, Tom and Jerry, tomato and mozzarella. Some classic pairings are just made for each other, and have the history to prove it. And nowhere in the city have we found such a lip-smackingly delicious caprese as this one. Sunnyville, a newish spot in JLT, is popular with office workers in the area and also on delivery, and with good reason. The melted mozzarella makes for the perfect cheese pull, while the flavoursome tomatoes are super tasty (watch out for the molten seeds, burnt tongues are imminent if you're too eager). And the casing is as important as the filling on this one. The flatbread is just right – not too doughy and perfectly crispy. It's massive too, so is a good one for serious hunger pangs.
Dhs25. Open Sat-Thu 7am-7pm. Cluster V, JLT (800 78669).

Cheese and bacon toastie at The Irish Village
Is there anything more comforting than a cheese and bacon toastie? We can't think of many. This sarnie is the bread-based equivalent of a hug. Perfectly oozy cheese, crispy bacon and tasty toast. Simple, yet oh-so-tasty. Pass us the tomato ketchup, we've got dunking to do.
Dhs49. Open Sun 11am-midnight, Mon, Tue, Wed, Sat 11am-1am, Thu-Fri 11am-2am. Garhoud (04 282 4750).
Caramelised brie sandwich at Kad Chè
Our cover star, and what a sandwich this is. A newcomer to Business Bay, this organic café's name is derived from the Arabic slang word for "bite". Filled with melted brie, caramelised onions, pecans and minted strawberry sauce (don't knock it 'til you've tried it), all wedged inside toasted brown bread. Within seven days of opening the café sold 420 of these alone.
Dhs47. Open daily 8am-11pm. Bay Square, Business Bay (04 338 8243)
Chase the Cheddar at Boston Lane
If you're looking for a toastie, look no further than Boston Lane. This cute café in Al Quoz is the dream destination for lovers of a piping hot sarnie as it has a massive variety. From Mum's Bolognese (beef ragu, cheddar and mozzarella) to the staple tuna melt, there's even a Chips Oman version (with those spicy chilli crisps, cream cheese, sweet chilli sauce and Himalayan salt, yum). Sweet tooth? Go for the Nutella banana one. Our pick has to be the classic cheese, however, otherwise known as Chase the Cheddar. Three cheeses, garlic and parsley ooze out of crispy bread. Expect greasy fingers and a big smile.
Dhs35. Open daily 8am-7pm. Al Quoz (058 517 2131).
Croque Madame at Parlour Boutique
Parlour Boutique is fancy, and so are its sandwiches. Juicy turkey ham is topped with gruyère cheese and layered with creamy béchamel sauce to form the Croque Madame, and just when you thought it couldn't get any better, the kitchen bangs a fried egg on the top. The creation brings a new meaning to the egg butty, and we are fans of anything dripping in yolk – or béchamel for that matter.
Dhs35. Open daily 8am-8pm. One Central Building, Trade Centre Area (04 386 5333).
Famous cheese toastie at Qwerty
You might be bored of us talking about this one, but we'll never tire of eating it. Gooey cheese, onion jam and chutney make this unmissable. A classic British dish, done exceptionally well, this alone is worth going to Qwerty for. And did you see the size of that crispy cheese slice on top?
Dhs29. Open Sun-Thu 5pm-1am; Fri-Sat 1pm-1am. Media One Hotel, Dubai Media City (04 427 1000).
Grilled cheese at Boutique Kitchen
No sandwich is as deserving to be on this list than the grilled cheese. Simple yet stunning, splendorously salty, oozing with cheddar and greasy in the good way. Boutique Kitchen does away with all unnecessary airs and graces and presents this king among sandwiches in its purest form. A blend of cheeses are stuffed into white toast and grilled until golden brown (and positively spurting). You can even get beef bacon bits (for an extra Dhs7). Now you're talking.
Dhs32. Open daily 11am-11pm. Al Quoz (04 388 3549).
The chicken ones
Baja chicken sandwich at Black Tap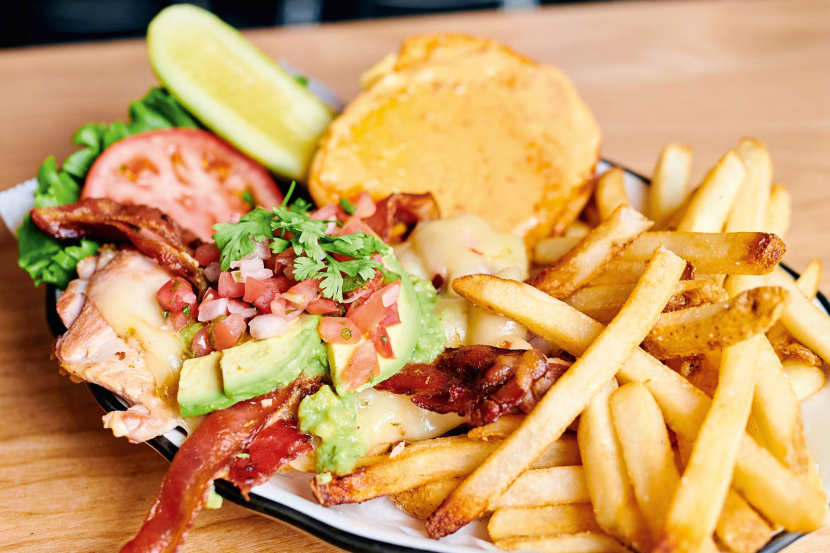 The US burger joint – which is famous for its massive patties and ginormous CrazyShakes – now serves up a new Baja grilled chicken sandwich, too. The restaurant has this new poultry dish on the menu due to customer demand, so says Michelin-starred founder Joe Isidori, and we thank him for it. It combines Cajun-grilled chicken with some zingy salsa verde, avocado, beef bacon, melted pepper Jack cheese, chipotle mayo, coriander and a squeeze of lime for extra zing.
Dhs90. Call for times. Jumeirah Al Naseem, Umm Suqeim (04 422 9904); Rixos Premium Dubai, The Walk, JBR www.blacktapme.com.

Chicken and avocado wrap at Urban Bistro
This trendy bistro in Dubai Media City is a popular spot for both breakfast and lunch, and does a range of top sandwiches. Our pick is the classic combination of chicken and avo. It comes with tomatoes and pickled pepper, with cumin chicken and sumac labneh – in a nod to the region – all rolled up together with a light yet creamy avocado mousse.
Dhs48.30. Open Sun-Thu 7.30am-6pm; Fri-Sat 8.30am-6pm. Dubai Media City (04 362 4330).
Chicken shawarma at Al Hallab
Whether you've been in Dubai for a while, or if you've just stepped off a plane, what you need to try, if you haven't already, is a classic shawarma. This buzzing, longstanding restaurant chain serves up a mean one and it's handily located in The Dubai Mall. A floury saj is packed with chicken, pickles and garlic sauce, it's a great go-to mid-shop snack. And at Dhs13 it's a total bargain, too.
Dhs13. Open Sun-Wed 10am-midnight, Thu-Fri 10am-1am. The Dubai Mall, Downtown Dubai (04 330 8828).
French onion chicken sandwich at Catch 22
Catch 22 might not serve up the best food in Dubai, but the sandwiches are certainly a sight to be behold nonetheless. And if you're looking for a carb fix down at The Beach then this one should keep you going throughout the whole day (though it's probably only advisable if you're wearing your floatiest of beach cover ups and not planning on flyboarding). A slab of grilled chicken is topped with Boursin cheese, melted pepper cheese and caramelised onion, for a carby twist on the classic soup. Try getting your chops around that one.
Dhs54. Open daily noon-2am. The Beach, opposite JBR (04 424 3057).
Retro club at Retro Feasts
This British joint from young British chef Luke Thomas is often overlooked, as it's set pretty much on the sand with a less-than-obvious entrance. However, it serves up some mean classic dishes. Its retro club is exactly that – and will have you harking back to times when club sarnies frequented every menu. This one comes with chicken, turkey bacon, chopped egg mayo, cheddar cheese and rocket – all in slices of toasted sourdough. Yum.
Dhs48. Open daily 8am-midnight, The Beach, JBR (052 722 6462).
The meat feasts
Big Breakfast Bap at Fibber Magee's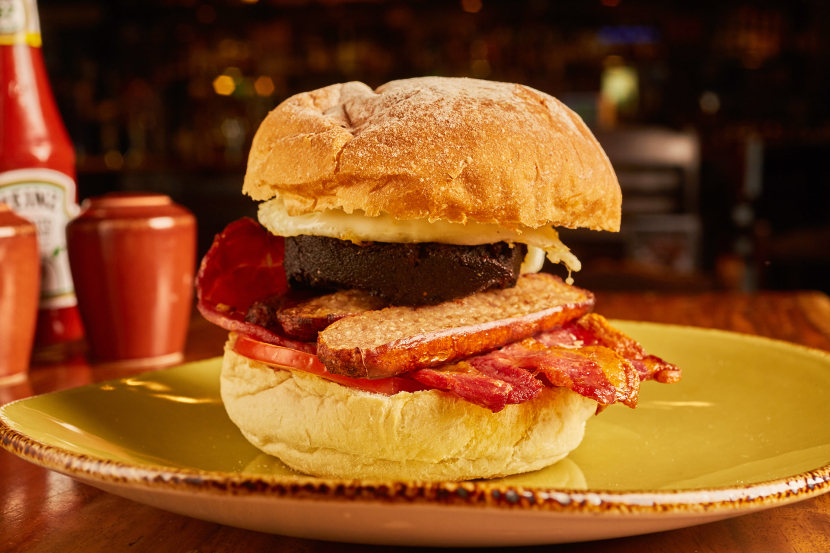 There are many things we love about this old-school Irish bar on Sheikh Zayed Road. But up there with the very best are the breakfasts. Whether it's the full on fry-up or a bacon roll, you can't go wrong here. This breakfast bap is served all day, however, so whenever you get a craving for a full English (or Irish), you know where to go. You'll get bacon, sausage, black or white pudding, tomato and a fried egg, all smooshed perfectly into a floury white bap. Plus, if you visit between 8am and 11am you'll get 20 percent off your roll. If that's not worth setting the alarm for, we don't know what is.
Dhs39. Open daily 8am-2am. Saeed Tower One, Sheikh Zayed Road (04 332 2400).
Brisket Sandwich Mighty Quinn's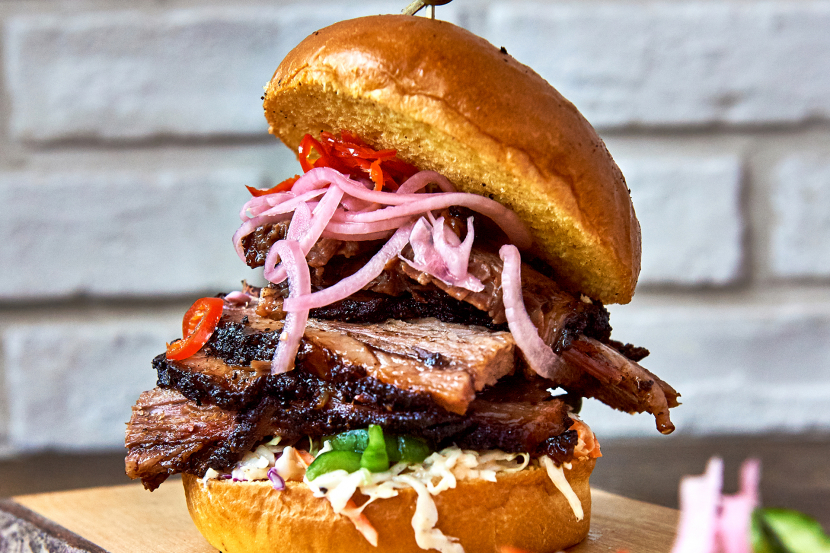 "Your days of bad barbecue are over!" cries the team at Mighty Quinn's. And we agree. The US-founded barbecue chain, which started out in New York, has several locations in America, as well as in Taiwan, the Philippines, and now two in Dubai – at The Dubai Mall, and at JBR. Brisket is all the rage at the minute – so it's only right that a smokehouse should be serving up a top-notch one. Mighty Quinn's' offering includes sliced brisket smothered with two types of cheese (cheddar and jack), as well as mushrooms and jalapeños to add some warmth to your bellies. It's rich, it's flavoursome, and it's a winner for meat fans.
Dhs75. Open daily 9am-midnight. The Walk, opposite JBR (04 380 1888).
Oxtail cocobread sandwiches at Ting Irie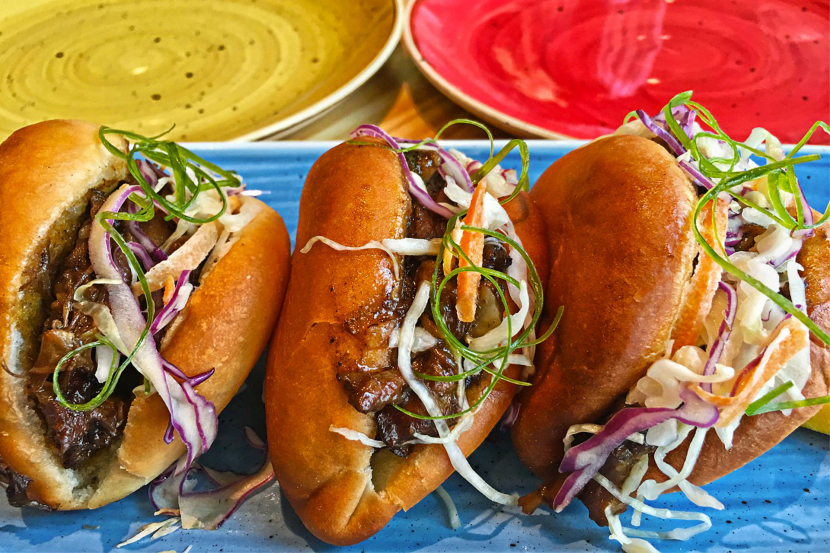 Fancy a spicy sarnie? These Caribbean treats feature warm, sweet cocobun pockets packed with slow-braised pulled oxtail and homemade Jamaican coleslaw. According to this Caribbean restaurant, almost every table it seats order these doughy delights – getting through an average 150 portions per week.
Dhs50 (two pieces), Dhs120 (five pieces). Open daily noon-2am. Souk Al Manzil, Sheikh Mohammed Bin Rashid Boulevard, Downtown Dubai (04 557 5601).
Philly cheesesteak from Stars 'N' Bars
Not only is this bar-restaurant super popular in Monaco and next door in Abu Dhabi, it's making a name for itself in La Mer, too. This trendy spot has everything you might want – a relaxed vibe, a massive terrace and pour-your-own-pint vending machines. And excellent sandwiches. As well as the shrimp po' boy (hello, crispy prawns and creole mayo), the Philly cheesesteak tops the list. Thinly-sliced striploin is grilled with onions, peppers, mushrooms and covered with provolone cheese, all piled on a soft hoagie roll.
Dhs95. Open daily 11am-3am. La Mer, Jumeriah 1 (04 349 9903).
Steak and cheese at Bridgewater Tavern
Steak and cheese. A timeless combo that never fails us. This sandwich at sports bar Bridgewater Tavern does exactly what it says on the tin. Flank steak, roasted Portabello mushrooms and Jack cheese are nestled between two slices of bread. Simple, yet effective. Perfecto.
Dhs65. Open daily 4pm-2am. JW Marriott Marquis Dubai, Business Bay (04 414 0000).
Steakmous at Mantoushe
What do you get if you combine steak and hummus? Steakmous, of course. We love manakish in all its guises, but this is up there with the best. Perhaps not your most obvious of pairings, it's extremely tasty nonetheless and combines steak, spicy potatoes, hummus, pine nuts, tomato and roasted garlic sauce.
Dhs34. Open daily 9am-11.30pm. Cluster E, JLT (04 550 9184).
Texas brisket sandwich at The Blacksmith


If you're a carnivore and haven't yet visited The Blacksmith, firstly you need to rectify that right away, and secondly, when you do go, make sure you order the Texas Brisket sandwich. Layered with thick slices of 14-hour-smoked meat, green beans, onions and sauce, it's a tasty, meaty sandwich that comes in two sizes. The portions are huge – but are you a man or a mouse?
Dhs99 (small), Dhs149 (Large). Open Sun & Mon 5pm-2am, Tue-Thu 5pm-3am, Fri 1pm-3am, Sat 5pm-3am. Wyndham Dubai Marina (04 407 8873).
The fishy ones
Fish finger butty at Reform
Who doesn't secretly love a fish finger sandwich? Reform Social & Grill takes it up a notch from the sliced white bread and frozen fish finger combo we know and love. Meaty chunks of battered cod are paired with tangy tartar sauce, mushy peas and baby gem lettuce, then all piled into doorstep slices of fresh, crusty white bread.
Dhs75. Open daily 8am-midnight. The Lakes, Emirates Living (04 454 2638).

Lobster crêpe at Jolie Boutique & Café
This cute City Walk spot classes this as a sandwich and we're sticking with it. A grown-up offering, these thin French pancakes house tender lobster meat tossed in a spicy, light mayo dressing (kind of Marie Rose-esque) and served with a helping of fresh and creamy avocado salsa. And it's delicious. Probably the fanciest sandwich on this list, but what would you expect from our Best Café 2018?
Dhs69. Open daily 9am-midnight. City Walk, Al Safa Street (04 345 6922).

Salmon on beetroot bread at Tania's Tea House
Everything at Tania's Tea House is pretty and pink, from the décor to the furnishings, to the mermaid toast (think rainbow swirls of cream cheese), even down to the sandwiches. This salmon version comes on toasted beetroot bread for a vibrant pink-hued carb fix. Smothered with smoked salmon and cream cheese this is an utterly twee sandwich that you should try if you need to banish the blues.
Open Sun-Wed 8am-10pm, Thu 8am-midnight, Fri-Sat 9am-12pm, Jumeirah Beach Road (04 324 0021).
West Coast at The Bagel Bar Coffee House
There are few sandwiches more timeless than a smoked salmon and cream cheese bagel, which is why we go back to this classic time and again. Smooth cream cheese is paired with salty smoked salmon and slivers of tangy red onion in a sesame seed bagel.
Remember: a bagel's not just for breakfast.
Dhs34. Open Sun-Thu 10am-10pm, Fri-Sat 10am-midnight. Various locations including Ibn Batutta Mall (04 449 0010).
Spicy crab toast on sourdough bread with spicy aioli at SLAB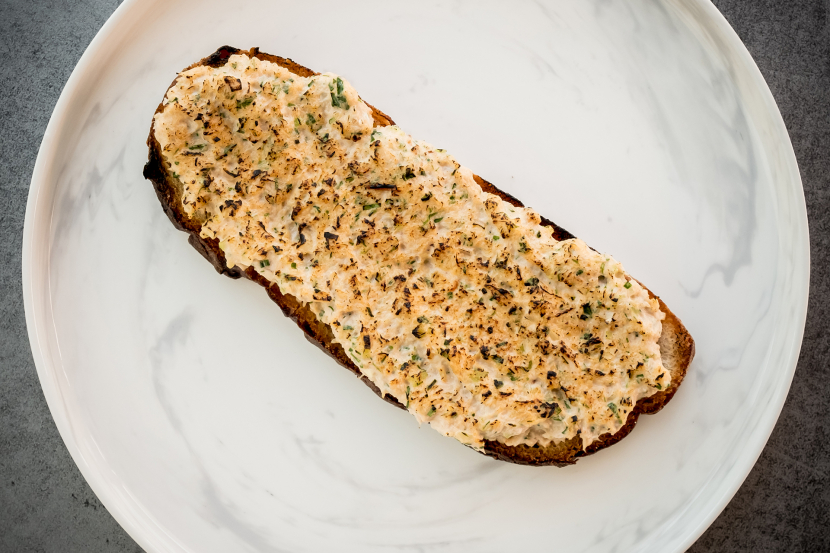 We guarantee that simply putting the word slab in front of any food makes it infinitely better – ice cream, ribs, cheese, you name it. However, the most slab-worthy dish at La Mer's newest sarnie restaurant looks to be the spicy crab toast on sourdough bread with spicy aioli. Its assortment of juicy crab, chives, parsley, dill, shallots, fennel and oh-so-saucy spicy mayo already has our bellies rumbling at the thought. At 150 orders put in per week, why wouldn't they be?
Dhs48. Open daily 10am-midnight. La Mer, Jumeirah 1 (04 298 8899).
The Original Lobster Roll at Burger & Lobster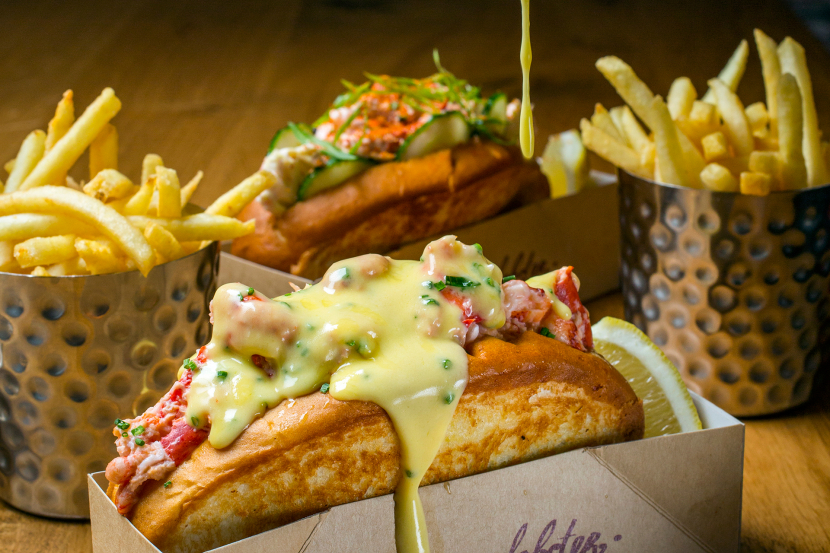 We're not sure this really needs any introduction, but if you're not already acquainted, you should know these things are absolutely colossal. Prepare your appetite for a mountain of fresh lobster meat, tossed in Japanese mayo, sprinkled with chives and crammed into a freshly baked wedge of brioche. And the team sells a whopping 6,000 of them a week. Clawsome.
Dhs105. Open Sat-Wed noon-midnight, Thu-Fri noon-2am. Burj Daman Building, DIFC (04 514 8838).
The veggie sarnies
Chip butty at McGettigan's
You can't get more simple a pleasure than a chip butty. Just a bite of this sarnie from popular Irish chain McGettigan's will whisk you back to your childhood. Two doorsteps of squishy white bread house a plethora of tasty fries and a generous spreading of butter. Add ketchup and salt and you've got the dream snack. Double carbs? What's not to love?
Dhs35. Open Sun-Thu 12.30pm-3am, Fri & Sat 10am-3pm. Various locations including Hilton Dubai Jumeirah, The Walk, JBR (04 318 2580).

Falafel pita at Operation Falafel
With falafel in the name, it would be churlish not to try the Middle Eastern chickpea-based snack when you're dining in this popular Middle Eastern chain. However, it's sandwiches we're here for and sandwiches we'll eat, so opt for your fried parcels of tastiness wrapped up in bread. You can go for either pita or saj, but what you're guaranteed is hot, crunchy veggie bites, with a generous helping of pickles and a slather of hummus.
Dhs12. Various locations including The Beach, JBR (04 424 3098).
Grilled veggie pita at Pita Pit
We can't get enough of pitas here at Time Out Dubai and This Canadian company is helping office workers across Dubai stave off those hunger pangs (us included). Healthy and satisfying, fill yours up with whatever combo you fancy. We like to shake it up, but our all-time favourite is the grilled veggie version, with halloumi and lashings of hummus.
From Dhs26. Open Sun-Thu 8am-10pm; Fri-Sat noon-10.30pm. Dubai Media City (04 513 4908).
Game of Potatoes at Roti Rollers


If you love a good roti, then Roti Rollers is a sure-fire winner. Tucked away in Dar Wasl Mall near Safa Park, this fast food counter-style Indian restaurant serves pick-me-up sarnies that are good for on-the-go dining. Choose from quirkily named pre-made options including lambshank redemption, ozzy osprawn, hen stefani or burroti. Or build your own, with various types of roti, including avocado or beetroot. We love Game of Potatoes, which is a wholewheat roti, filled with potato dabeli with sweet tamarind chutney, red peppers, pickled mango, red chillies, masala peanuts and tikka masala sauce. Twice the starch, twice the joy.
Dhs30. Open daily 11am-11pm. Al Wasl Road, Jumeirah (04 345 0761).
Guacamole Vegan Sandwich at Treej Café
This café captures the essence of Emirati culture, tradition and historical traits, but with a more modern-day, casual twist to it, and it serves up some tasty dishes. One to earmark for your vegan friends is this sandwich. A mix of veggies, roasted aubergine and guacamole make for a hearty filling, and it's all served with a side of fries or salad.
Dhs45. Open Sun-Wed 10am-10pm, Thu-Fri 9am-midnight, Sat 10am-10pm. La Mer, Jumeirah 1 (04 323 9444).

Portobello s'wch at S'wch
We've said it before, we'll say it again. S'wch is excellent for wraps (excuse us, gourmet shawarmas). Floury saj, all the fillings you could ever want. Our pick has to be the Portobello version, though. The tasty wrap is packed with meaty, juicy 'shrooms, creamy, tangy tzatziki, chopped lettuce and spring onions. It's all-round excellence (especially when paired with some sweet potato fries) at any time. Add it to your speed dial.
Dhs26. Open daily 11am-midnight. Various locations including Bay Square, Business Bay (800 79424).
Reggie the Vegan at The Breakfast shop
Looking to fill your five-a-day quota? Look no further than Reggie the Vegan. As the name suggests, this is 100 percent vegan for all your plant-based eaters out there, but what it isn't lacking in is taste. Packed full of avocado, tomato compote, mushrooms, hummus and pesto dressing in sunflower brown bread this is a joy. We're not entirely sure who Reggie is, but we like his style.
Dhs29. Open daily 8am-11pm. Various locations including Dubai Media City, www.thebreakfastshop.ae.
Vegan hotdog at The Tap House
Although we've eaten this dozens of times, we're going to be honest and say we're not entirely sure what it's made of. Soy? We think so. Either way it's totally delicious and comes with vegan mayo and salad in a super-soft finger roll. Paired with the views over the sea at Club Vista Mare, this is pretty much perfection on a plate (for meat-free fans).
Dhs63. Open Sun-Thu noon-1am, Fri-Sat noon-2am. Club Vista Mare, Palm Jumeirah (04 514 3778).
The unusual ones
Chips Oman Paratha at HumYum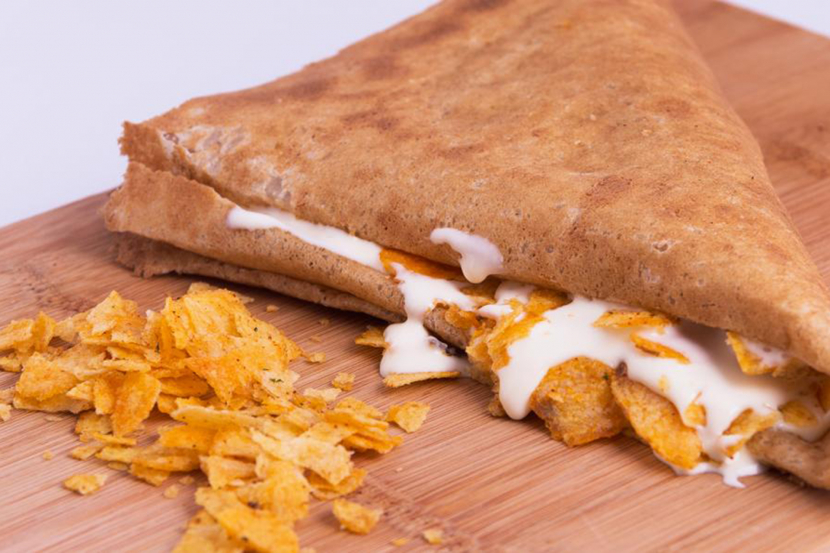 Never had a Chips Oman sandwich? Head to HumYum where you'll get those tasty chilli-flavoured potato crisps stuffed into a paratha for a delicious combination of flavours and textures. This childhood favourite is a staple of emirati culture, and if you haven't tried it, it's time to hotfoot it to HumYum. And, as one of the most pocket-friendly on this list, you'll still have change from Dhs15. Result.
Dhs12. Open daily 6.30am-3am. Jumeirah Beach Road (04 388 3332).

Loaded croissant at Amongst Few
We love a pastry to start our morning right. And this trendy café on Jumeirah Beach Road serves up a huge range of tasty brekkie dishes (including vegan pancakes), but for a sandwich list we couldn't miss off this flaky, buttery, carby delight. There's a nod to the region thanks to the toasted zaatar croissant, which is filled to the brim with cream cheese, butter-lemon wilted spinach, kale, courgette, tomato, radish, pickled cucumber and sprouts. A grown-up take on a breakfast favourite.
Dhs58. Open daily 8pm-11pm. Jumeirah Beach Road, Jumeirah 1 (04 330 8965).
Roast dinner wrap at Reddy Roast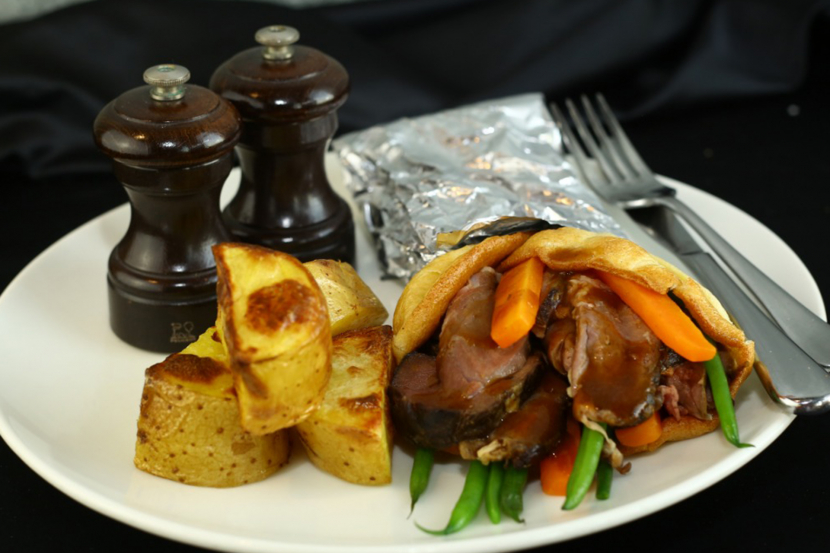 What's better than a roast dinner? A roast dinner stuffed inside a Yorkshire pud, of course. Reddy Roast, which, as the name suggests prides itself on a home-style roast dinner, not only does the regular plated roast – it also serves up a sandwiched version. And considering our love of all things carbohydrate, we're in full support of this decision.
Dhs74. Open Sun-Thu 8am-10.30pm, Fri-Sat 9am-10.30pm. Dubai Sports City (04 513 9449).
Spaghetti and meatballwich at The Carving Board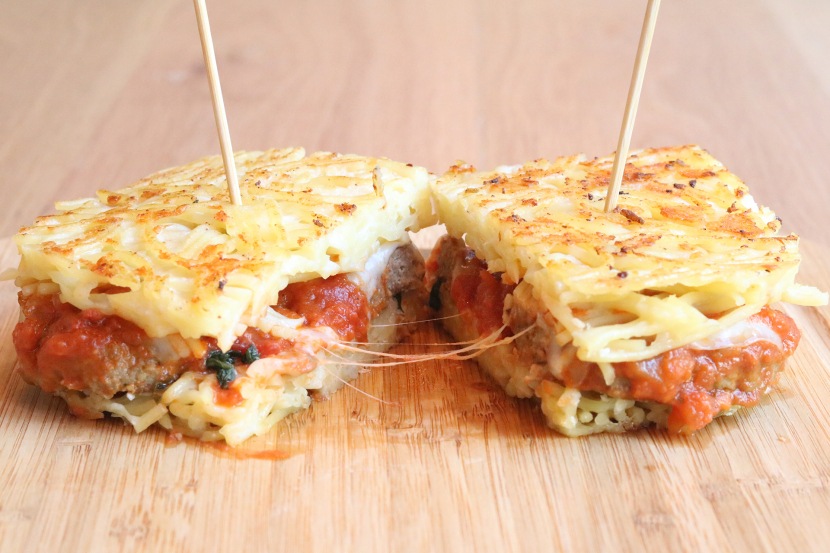 We didn't say it had to be bread to be classed as a sandwich. And The Carving Board agrees. The café, which originated in California, has more than 50 creations on its sandwich menu. So we're pretty sure whatever it is you're looking for sandwiched together, you'll find it here. Our pick? The spaghetti and meatballwich – which is a twist on the classic Italian pasta dish, featuring tasty homemade meatballs sliced and topped with garlic-basil marinara sauce and a thick slice of melted mozzarella, served between Parmesan spaghetti that is coiled up and formed into a bun. Genius.
Dhs45. Open daily 8am-11pm. City Walk, Al Safa Street (04 272 0516).

Vada pao at Moombai & Co.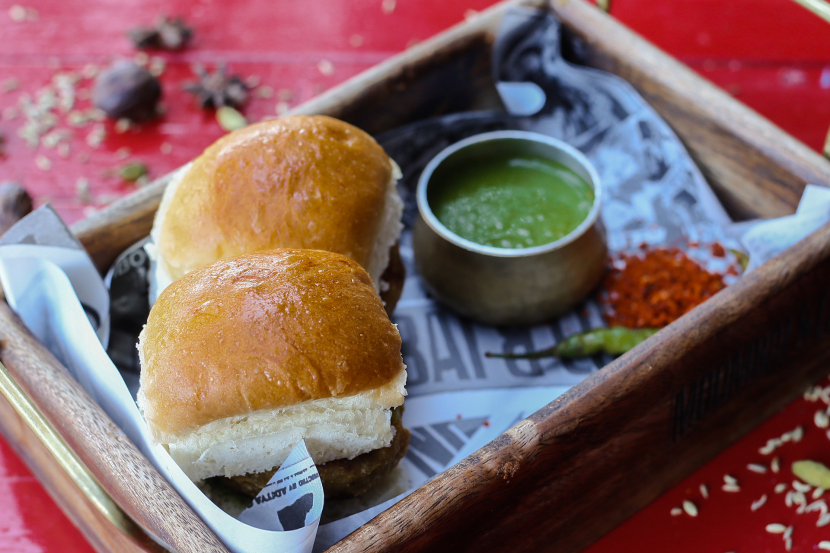 This super simple sandwich is a veggie fan's dream. The cute Parsi café at The H Dubai specialises in Indian street food, and you can't get more basic and delicious than this. Billed as "the easiest food you can find ever in Mumbai", these super soft paos are stuffed with gram flour and potato dumplings, as well as a belly-warming mixture of spices. This is one of the most comforting buns about.
Dhs35. Open Sat-Wed noon-1am, Thu noon-2am, Fri 12.30pm-1am. The H Dubai, Sheikh Zayed Road (04 501 8607).


The sweet ones
Cheesecake burger at Sugar Factory
We love a burger. We love cheesecake. Possibly not at the same time, but never say never. This is the closest you'll get to a combo of the two and we love it. Plus, it comes with maple syrup-coated French fries. Warning: sugar rush imminent.
Dhs45. Open Sun-Wed 10am-11pm, Thu-Sat 10am-midnight. La Mer, Jumeirah 1 (04 385 5312). Other location: Dubai Festival City Mall (04 284 3456).
Ice cream sandwich at iScream
This super-cool ice cream parlour in La Mer has loads of things going for it – but mainly its massive selection of flavours. And how do you make yummy ice cream even tastier? By stuffing it into a cookie sandwich, of course. Your only decision now is what type to go for. Stay steady with vanilla? Or will you push the boat out with a wasabi-curry ice cream mash-up? Choices, choices.
Dhs30. Open daily 10am-midnight. La Mer, Jumeirah 1 (04 220 8648).
Be the first to get all the latest Dubai news, reviews and deals into your inbox by signing up to our free
newsletter
,
click here to sign up
.