Tasty classics
Achiote chicken at La Carnita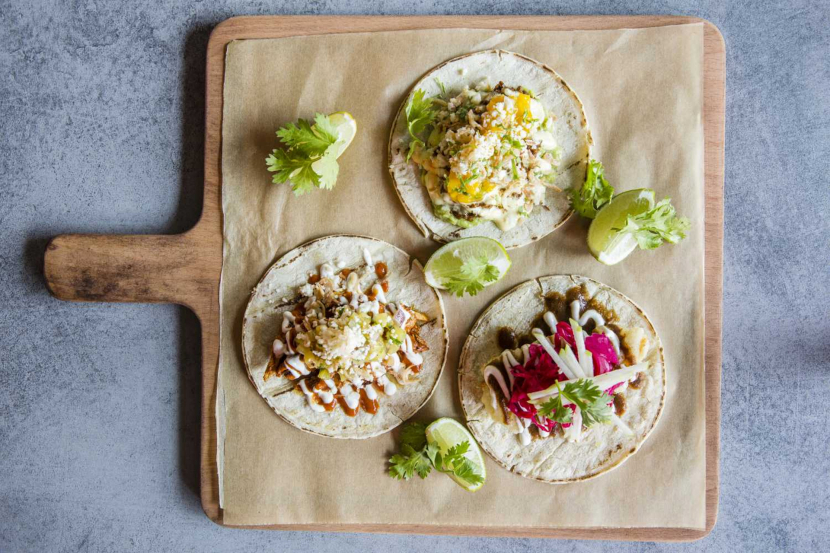 This hot new taqueria is the place to go when you're craving authentic Mexican. The distinctive orange hue could be a mirage, such is its wondrous splendour. The achiote chicken taco at La Carnita is packed with grilled chicken, lathered in pineapple and jalapeño salsa, smothered in crema (a slightly thickened sour cream), sprinkled with crispy shallots and finished with a generous helping of cotija cheese.
Dhs28. Open daily noon-midnight. InterContinental Dubai Marina, Dubai Marina (04 445 6777).

Aguacate taco at COYA
Not all tacos were made equal, and COYA's offering certainly sets the bar high. A former winner of our Restaurant of the Year accolade, this fancy Peruvian restaurant's aguacate taco is crafted from avocado, quail's egg, manchego and smoked yoghurt, with a smattering of seeds. The challenge is trying to wolf it down while retaining some semblance of sophistication, though it's likely that decorum will go out the window. Is that quail's egg on your chin?
Dhs60. Open Sun 12.30-4pm, 7pm-2am; Mon-Tues 12.30pm-4pm, 7pm-1am; Wed-Fri 7am-2am; Sat 12.30pm-4pm, 7pm-1am. Four Seasons Resort Dubai at Jumeirah Beach, Jumeirah (04 316 9600).

Baja fish tacos at CLAW BBQ Crabshack & Grill
CLAW BBQ says its Baja fish tacos are "the best thing this side of the Mississippi". Those are some bold claims, but one gob-full of the succulent shrimp, crunchy bell peppers, onions, jalapeños and mixed cheese and we're inclined to agree. Toppings include lashings of classic enchilada sauce, mounds of pico de gallo and more cheese. You might want to loosen your belt a few notches.
Dhs75. Open daily noon-2am. Souk Al Bahar, Downtown Dubai (04 432 3232).

Baja fish tacos at Stars 'N' Bars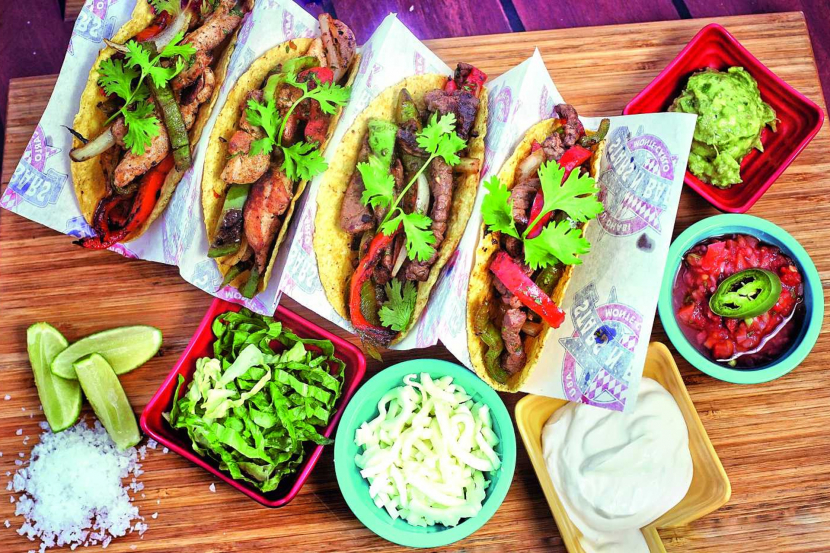 These wondrous bites of breaded cod are fresh, flaky and melt-in-the mouth. The folk at Stars 'N' Bars have really spoilt us with guacamole, shredded cabbage, cheese, pico de gallo and tabasco ranch elevating the fishy goodness to new levels. If anyone can whip up a taco (besides the Mexicans, obvs), it's the Americans. So good we're throwing them back.
Dhs75. Open daily 11am-3am. La Mer, Jumeirah 1 (04 349 9903).

Chicken tacos at Bareburger
We love Bareburger (see our review on page 39 if you don't believe us) and it's not all about the patties. With vegan, veggie and gluten-free options it's the perfect place to go with a group of friends and let the fussy eaters run riot. The tacos here, however, are for the meat-eater, though rest assured, everything you put away between these four walls is organic and made with clean ingredients. The fried chicken is topped with grana Padano cheese, green leaf, spicy pico de gallo, avocado and habanero chillies, sans pesticides, preservatives and all that other rubbish, so you can scoff safe in the knowledge that you're being environmentally conscious and kind to your body.
Dhs49. Locations include La Mer and Dubai Festival City Mall, www.bareburger.com.

Crispy Calamari tacos at Poco Loco
Ah, the crispy calamari, a most revered of dishes and one we hold in the highest of regard. We didn't think it could get much better, until the folk at Poco Loco crammed it into a taco. It might sound a little bizarre, but sometimes the unlikeliest couplings are the greatest. Throw in some sliced avocado and some crunchy cabbage and you have the stuff dreams were made of.
Dhs70 (four pieces), Dhs120 (eight pieces). Open Sat-Wed 11am-midnight; Thu-Fri 11am-1am. The Beach, opposite JBR (04 456 2081).

Crispy fish tacos at The MAINE Oyster Bar & Grill
We love a battered cod, and never more so than when it's drizzled in lemon aioli, topped in pico de gallo and wrapped up in a soft flour tortilla. The crispy fish taco at The MAINE Oyster Bar & Grill is just that, and it's every bit as lip-smacking as it sounds. You won't leave disappointed.
Open daily noon-midnight. DoubleTree by Hilton Dubai Jumeirah Beach, JBR (04 457 6719).

Prawn tacos at The Draft House
Travelling has never tasted so good thanks to the mighty seafood tacos from The Draft House. If you find yourself flying out of Terminal 1 soon and you're panicking about whether you'll strike lucky with a gourmet in-flight meal, or strike out with a soggy sarnie, head to this sports bar. The tacos are packed with chipotle-spiced prawns, topped with lettuce and pico de gallo and wrapped in soft corn torts. There are even 18 screens beaming out all the big games while you feast.
Dhs84. Open 24/7. Concourse D, Terminal 1, Dubai International Airport, Garhoud (04 294 0822).
Crispy Tuna Tacos at Waka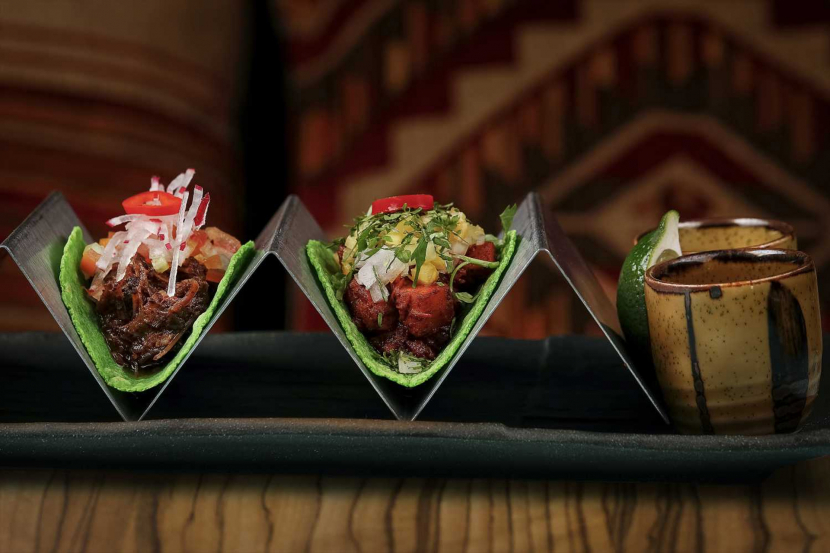 This is a taco for the fish fans. Fresh tuna tartare is laced with aji amarillo chillies and topped with avocado and chives. It's rather fancy as far as tacos go, so we recommend you follow it with Waka's beef barbacoa taco for a meaty brick that will bring you back down to earth (in the best way).
Dhs22. Open Sun-Tue, 6pm-midnight; Wed-Thu, 6pm-1.30am; Fri-Sat 1pm-1,30am. The Oberoi, Business Bay (04 526 0413).

Rib-eye tacos at Maria Bonita Taco Shop & Mexican Grill
The rib-eye tacos at Maria Bonita contain at least half a cow. Massive chunks of juicy meat are rolled up in perfect parcels of carnivorous joy that will have you falling to your knees and weeping in elation. It's authentic, it's traditional, and it's guaranteed to give you the meat sweats – not that we're complaining.
Dhs90 (for three). Locations include Jumeirah & Sustainable City, www.mariabonita.ae.

Scallop with tomato salsa at Nobu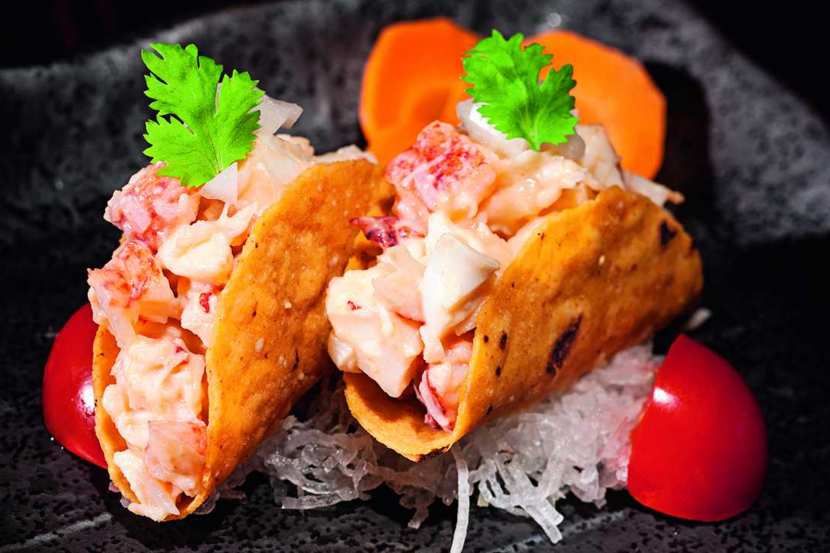 When you think taco, you don't necessarily think Nobu – but you should. There's a good selection at the famous seafood restaurant and there are some imaginative fillings on the menu. Our favourite is the scallop with tomato salsa, though you can also get your chops around a lobster wasabi taco, a king crab with tomato salsa offering and a wagyu spicy ponzu. Sounds fancy.
Dhs95. Open Sat-Wed 6pm-11pm; Thu 6pm-midnight; Fri noon-3pm, 7pm-midnight. Atlantis The Palm, Palm Jumeirah (04 526 9169).

Tacos Dorados at Luchador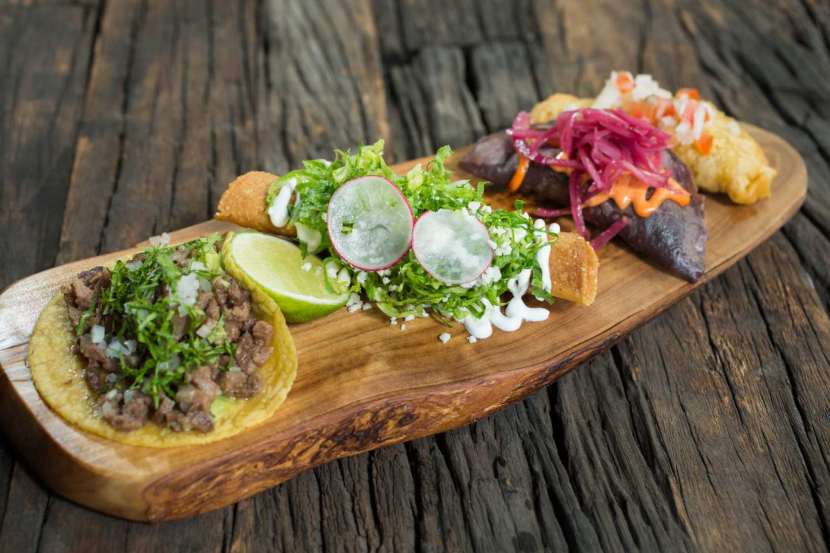 One of the best things about tacos is that you can stuff them with whatever you like. New Mexican wrestling-themed restaurant Luchador has packed this particular taco with braised lamb, sour cream, cotija cheese, lettuce. They're only Dhs15, meaning you can scoff loads. We imagine we'll be wrestling with our waistbands, but then again, we love a bit of Lucha Libre.
Dhs15. Open Mon-Thu 5pm-2am; Fri-Sat 1pm-2am. Aloft – Palm Jumeirah, Palm Jumeirah (04 247 5555).

Trio of tacos at Black Tap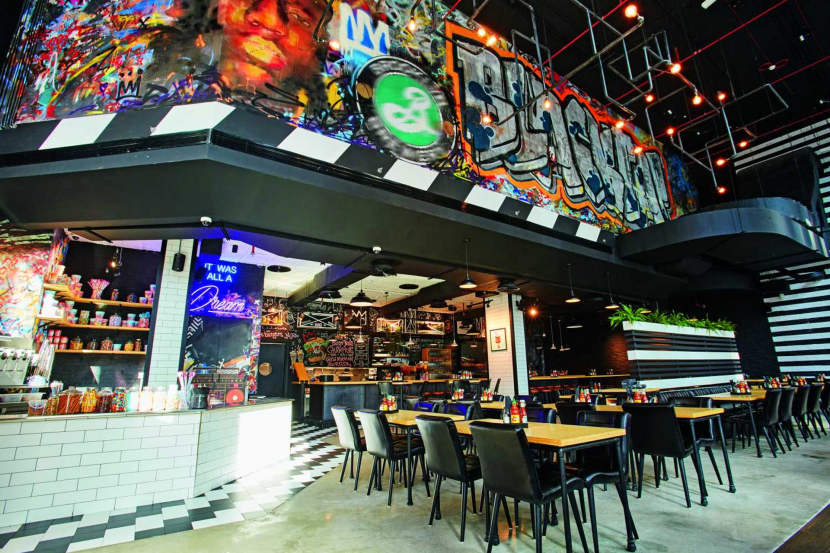 Black Tap offers a total of three tacos, and they're so good that we couldn't pick just one. The beef taco is packed with salsa verde, pickled jalapeños, sour cream and coriander, while the chorizo is piled with pico de gallo, drizzled in chipotle mayo and lathered in sour cream. Last but not least, we have the fish taco with pineapple salsa, chipotle mayo and coriander. Be still our beating hearts.
Dhs58 (three tacos). Locations include Jumeirah Al Naseem and Rixos Premium Dubai, JBR, www.blacktapme.com.

Tacos de Langosta at Maya Modern Kitchen and Lounge
We love a good lobster, but who has time to be cracking their way through shells for the meagre sliver of seafood within? The langosta taco at Maya Modern Kitchen and Lounge is jam-packed full of meaty lobster chunks drizzled in chilli de arbol sauce (that's extra-spicy chilli sauce to you and me), and topped with black beans purée, coriander and avocado. It's about as fancy as tacos get, and you'll do well to remember that when it's smeared all over your face.
Dhs80. Open Mon-Wed 7pm-1am; Thu 7pm-2am; Fri 12.30pm-4pm, 7pm-2am; Sat 7pm-1am. Le Royal Méridien Beach Resort & Spa, Dubai Marina (04 316 5550).
Something different
Breakfast Tacos at Taqado Mexican Kitchen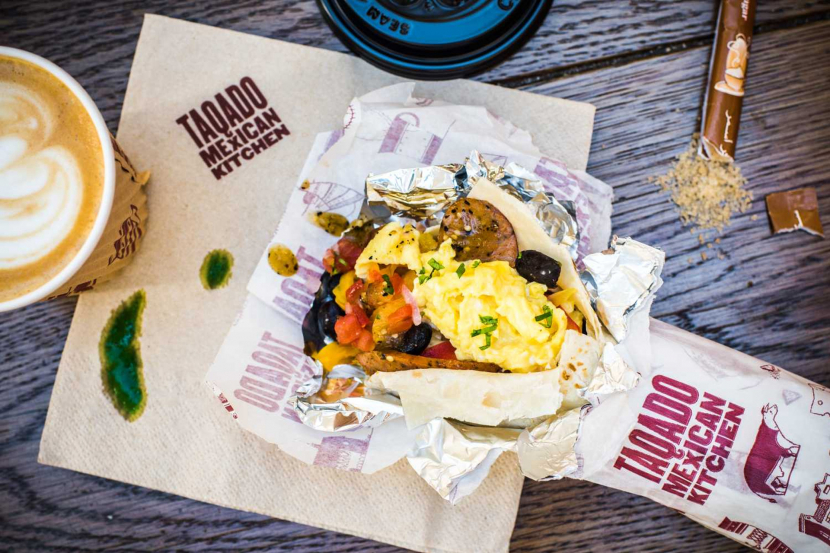 It's the most important meal of the day, and what better way to start off than with a breakfast taco? Taqado's morning belly buster is composed of organic scrambled eggs, chicken chorizo, red cabbage and chipotle dressing wrapped up in flour tortillas. Best of all, you can order it on Deliveroo, because what could be better than breakfast tacos in bed?
Dhs32. Various locations including Dubai Media City, www.taqado.com. Also available on Deliveroo, www.deliveroo.ae.

Camello tacos at La Tablita
Get into the Middle Eastern vibe with a camel taco at La Tablita. You'll get roasted camel with sun-dried chilli adobo, which has a little bit of a kick. It's a bit tougher than your standard shredded chicken but get your chomp on and you'll be rewarded with something pretty special. We love a good lump of hump.
Dhs18. Open Sun-Thu 6pm-1am; Friday 4pm-2am; Sat 6pm-1am. Hyatt Regency Dubai Creek Heights, Dubai Healthcare City (04 526 9039).

Crispy Fish Tacos at Miss Lilys
If you fancy your tacos with a bit of a Caribbean twist then it has to be Miss Lily's. Battered cod is topped with a spicy escovitch – making it a bit like a Jamacian ceviche – and guaranteed to have a bit of kick. The party spot is known to get pretty lively, and what way to fuel a night of fun than with four or five of these bad boys?
Dhs54. Open Sat-Tue 7pm-1am; Wed-Thu 7am-3am; Fri noon-5pm. 8pm-3am. Sheraton Grand Hotel Dubai, Sheikh Zayed Road (04 256 2900).

Lengua taco at El Mostacho
Ever thought you'd have a cow's tongue in your mouth? Probably not, but we're here to convince you to give it a try. The lengua taco is composed of classic slow-cooked beef tongue, dressed with chipolte mayo and a flourish of coriander. It's tender with a unique flavour and we are moo-sive (sorry) fans.
Dhs30. Open daily 11am-11pm. Cluster I, JLT (04 551 6679).

Steak Taco salad at Tortilla
This crispy tortilla bowl is filled with romaine lettuce, your choice of beans, vegetables, meat, salsa, and cheese or sour cream. Best of all – you get to finish up by eating the bowl, because no-one likes doing the dishes.
Dhs35. Open Sun-Wed 11am-midnight; Thu-Sat 11am-1am. Dubai Festival City Mall (04 526 0612).

Sweet tacos at JAM Rolled Ice Cream
It's time to satisfy those sweet tooth cravings with a creamy kick at JAM Rolled Ice Cream. Fresh, handmade and irresistible ice-cream rolls all in a crunchy (but sweet) taco base. Choose your desired base and flavour, a type of delicious drizzle and a cheeky topping. We're thinking a chocolate Oreo ice cream taco, covered in strawberries and cream.
Dhs30. Open Sun-Wed 2pm-12am, Thurs-Sat 2pm-1am. Oud Metha, Dubai. Lamcy Plaza area next to Haji Ali Juice center, (04 284 8868).

Taco fries at El Chico JBR
We are never ones to say no to fries – or tacos for that matter. The taco fries at El Chico are topped with queso, taco beef, pico de gallo, jalapeños, cheddar and jack cheese, with a dollop of sour and ranch for dipping, naturally. It's not a taco in its purest form, but we are happy to move with the times, especially when there are chips involved.
Dhs42. Open daily 11am-2am. The Walk, JBR (04 705 9680).
Free-from feeds
Amongst Few
Amongst Few has a lovely selection of veggie offerings, including the veg tempura tacos. The soft shells are stuffed full with vegetable tempura, mango chilli sauce, mixed sautéed vegetables, coriander, tomato salsa, beans and paprika rice and served with a side of guacamole and homemade tortillas. Who knew tacos could be so healthy?
Dhs58. Open daily 8am-11pm. Jumeirah Beach Road, Jumeirah 1 (04 330 8965).

Chang's chicken lettuce wraps at PF Chang's
Love tacos almost as much as you love your washboard stomach? Whether you've already got abs of steel or they're a work in progress, a taco feast doesn't have to set you back. The chicken versions at PF Changs are rustled up expertly with traditional spices and wrapped up in crisp iceburg lettuce leaves, so you can eat like a horse but look like (a) Gisele.
Dhs48.30. Locations include The Beach, JBR and The Dubai Mall, www.pfchangs.com.

Taquito plate at Chalco's Mexican Grill


This gluten-free taquito plate will fulfil all your needs when it comes to taco goodness. Sink your teeth into a crisp and crunchy rolled taco, overflowing with a meat of your choice and mouth-watering salsa. With pico de gallo oozing at the sides, a side of rice and beans, what more could you possibly want but a second helping?
Dhs36.75. Open daily 11am-10pm, closed Fridays. Cluster D, JLT (04 453 9175).

Thai Lettuce wraps at The Cheesecake Factory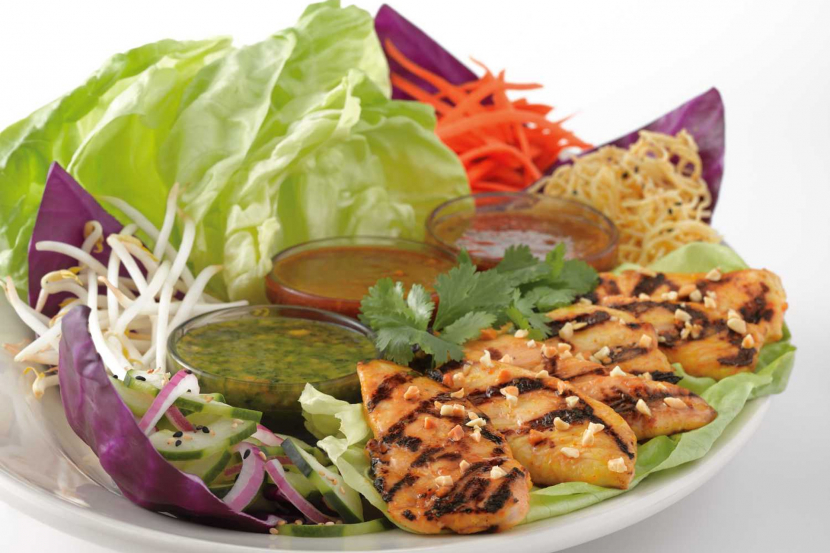 Fancy feasting on succulent satay chicken strips tied up in a bed of fresh and crunchy bean sprouts, carrots and coconut curry noodles, dripping in your choice of either a peanut, sweet red chilli or a tamari and cashew sauce? Well, lettuce introduce you to the skinnylicious menu at The Cheesecake Factory. Wrap it all up in a crisp lettuce leaf and you have a lean, clean and absolutely guilt free parcel of juicy deliciousness all under 590 calories – you can thank us later.
Dhs75.60. Locations include Mall of the Emirates and JBR, www.thecheesevakefactory.com.

Vegan chilli tacos at Menagerie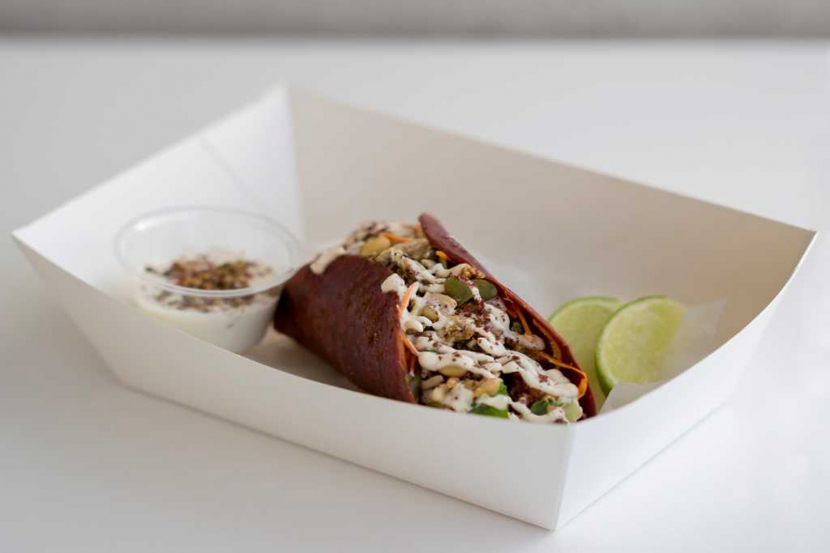 Ve-gan't get enough of Menagerie's menu – a sweet and fruity mango salsa makes a renewed and delicious change to your standard taco and livens this hearty vegan chilli right up. Delivering wholesome flavours which dance around your palette, this moist and juicy dish can only be uplifted by one thing, and that's the creamy cashew sour cream it's topped with. Juicy, moist, delectable, you won't be disappointed.
Dhs58. Open Sun-Thu 8am-10pm, Sat-Sun 8am-noon. Mirdif (04 288 5004).

Veggie green tacos at Common Grounds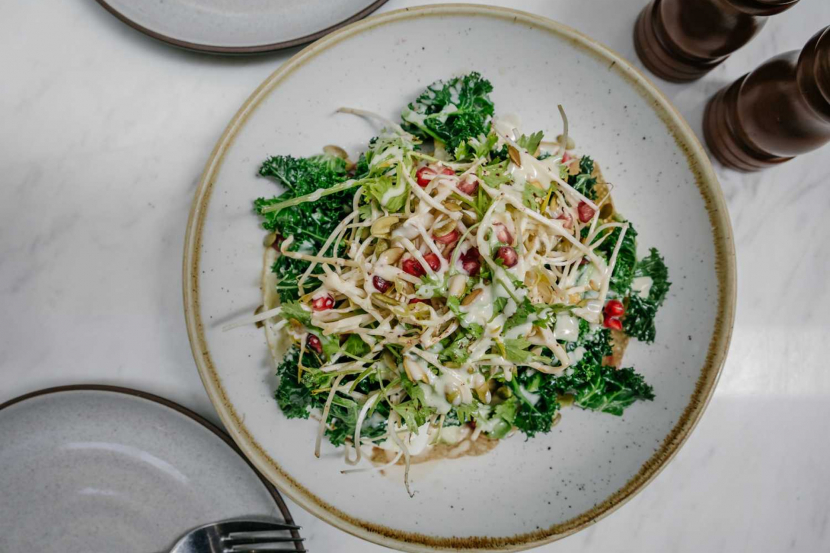 We can't really think of anything that tops a taco for breakfast, especially not a wholesome and healthy green lentil taco from Common Grounds. Filled with smashed avocado, flavoursome kale and a touch of sprouted salad, this bundle of a tastiness is sprinkled with some sweet and juicy pomegranate seeds, some crunchy pumpkin seeds and topped with a fried egg. It's the ideal spot for a post-shopping treat.
Dhs57. Open Sun-Wed 8am- 11pm, Thu-Sat 8am-11pm. Mall of Emirates, Al Barsha (050 478 1094).

Veggie Tacos at Loca Lito


This lip-smacking vegetarian parcel comes stacked with mountains of tasty mushrooms mixed together with a healthy portion of peppers. Add some courgette and asparagus to the mixture, spice it all up with a touch of mild cerrano dressing and that right there is what we like to call a very delicious veggie delight that will see you well on your way to your five a day.
Dhs35.70. Open daily 10am-2am. Dubai Marine Beach Resort & Spa, Jumeirah Beach Road & Loca Food truck, La Mer, Jumeirah 1 (04 346 1111).
Tacos with a view
Baja fish at Weslodge Saloon
The bar is 68 floors up in the JW Marriott Marquis Dubai, so it's perfect for a bit of sunset appreciation with taco in hand. The large windows are ideal for a bit of misty-eyed gawping and the views over Business Bay and Sheikh Zayed Road are second-to-none. Tha Baja fish tacos here are filled with red cabbage, jalapeños, lime and coriander, and a crunchy wedge of deep fried fish. Sit back and enjoy the views – if you can tear your eyes from your tasty tacos.
Dhs53. Open Sun-Thu 5.30pm-2am; Fri-Sat 5.30pm-3am. JW Marriott Marquis Dubai, Business Bay (04 560 1700).

Shake Tacos at Ají
Any one of the bars and restaurants lining Club Vista Mare are well-situated for day-to-night dining, but if you're after tacos then it has to be Ají. You'll be able to enjoy amazing sea and city views that can be enjoyed from an outdoor seat or the sand below while enjoying a Shake taco, which consists of salmon, togarashi, amarillo and coriander sprouts. While you're down this neck of the woods you might as well go a taco crawl. Mosy on down to Breeze Beach Grill situated on the corner for a taco selection including the likes of yellow fin tuna, shrimp and mango tacos, sliced beef tacos or a taco platter for Dhs149. Sign us up.
Dhs45. Club Vista Mare, Palm Jumeirah (04 552 0244).

Tacos Al Pastor at DRIFT Beach
This beach club looks out to Ain Dubai over the crystal shores of the Arabian Gulf. The views over the Palm and dazzling Dubai skyline are stunning. And it's the perfect place for a lazy taco among laid-back, yet luxurious surroundings. There are three tacos available here. of which we champion the Tacos Al Pastor, with spit-roasted chicken, avocado salsa, pineapple relish, coriander and lime. Other options include crispy fish tacos and a vegetarian offering. We'll see you by the infinity pool.
Dhs75 Open daily 10.30am-7.30pm. One&Only Royal Mirage, Al Sufouh (04 315 2200).
Snapper tacos at Muchachas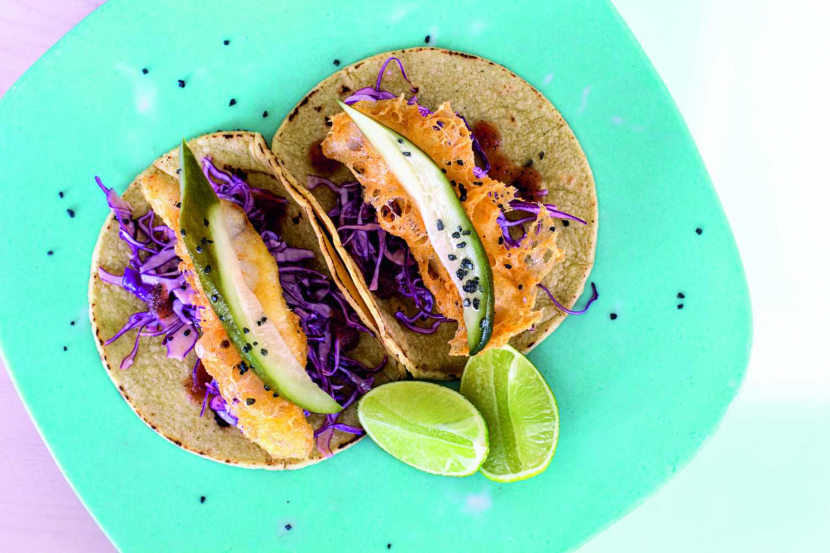 These fishy tacos at Muchachas will have you snapping at the bit. The cosy restaurant in Jumeirah is a bit out of the way, but make the trip and you'll be richly rewarded. The snapper is served with habanero coleslaw and a dollop of garlic aioli, and at Dhs16 each it's an absolutely bargainous way to binge.
O Dhs16. Sun-Wed noon-1am; Thu-Sat noon-2am. Holiday Inn Express Dubai, Safa Park (04 327 5878).

Taco trivia
Five facts to get your appetite going

1. Americans consume more than four billion tacos each year. That's 12 tacos per year for every man, woman and child in the country.

2. Hard shell tacos were only invented in the early 19th century, despite the fact tacos predate the arrival of Spanish explorers in Mexico.
3. The world's biggest taco was created in 2011 and was 246 feet long. We wouldn't like to see that bill if guac was extra…

4. The first taco truck was operated in New York by two housewives in 1966.
5. As with many dishes from different cultures, there is said to be a correct time of day to eat tacos. Seafood tacos should be eaten at lunch, and
meat tacos in the evening.
Be the first to get all the latest Dubai news, reviews and deals into your inbox by signing up to our free
newsletter
,
click here to sign up
.