The pillowy ones
Agnolotti del plin farciti di zucca Mantovana "burro e salvia", fonduta di parmigiano reggiano 36 mesi e mandorle tostate
It might be a bit of a mouthful to say, but this pasta dish from our former Best Italian Restaurant, The Artisan, is worth getting your chops around. The homemade pasta pillows are stuffed with pumpkin, sage and butter, with Aged parmesan fondue, topped with roasted almonds. It's a joy to eat.
Dhs90. Open Sun-Thu noon-3pm, 5.30pm-11.30pm, Fri noon-3pm, 7pm-11.30pm. Burj Daman Building, DIFC (04 338 8133).

Capellacci di zucca con porcini Ravioli & Co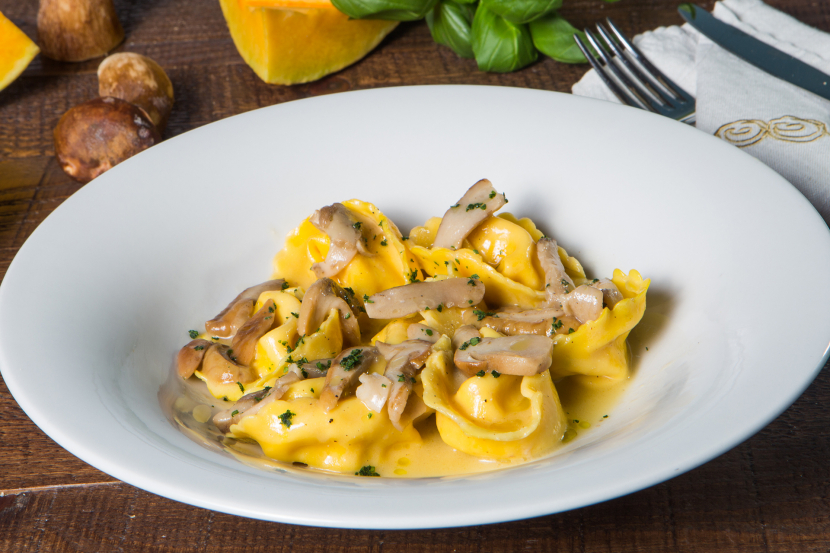 What better way to enjoy pasta than when it's stuffed full of the finest, freshest ingredients? The capellacci di zucca con porcini at Ravioli & Co sounds complicated, but it's simply delicious. This particular variety is filled with creamy pumpkin and ricotta and served with porcini mushroom sauce and we are yet to taste any other ravioli in the city that rivals it.
Dhs65. Open daily noon-midnight. Burj Daman Building, DIFC (04 241 1616).

Pumpkin tortelli from Serafina
There are few better settings to dig into a steaming bowl of tortelli than this spot at Souk Al Bahar. With stunning views across to Burj Khalifa, and a prime spot for taking in The Dubai Fountain show, this is a top place to take pasta-loving visitors. Don't miss this sweet-savoury tortelli, packed with pumpkin, ricotta and Parmesan. It's rich without being heavy, and the crushed hazelnuts give a satisfying crunch.
Dhs100. Open Sun-Wed 11am-midnight, Thu-Fri 11am-1am. Souk Al Bahar, Downtown Dubai (04 363 8447).

Tortelli di guancia brasata at Alta Badia
Some stuffed pasta can just a bit meh really. But lofty restaurant Alta Badia's dish is a far cry from the boil-in-two-minutes supermarket versions. It features rich and tender beef cheek smothered in a creamy Parmesan sauce topped off with a grating of fresh truffle. That's amore.
Dhs95. Open Sun-Thu 12.30pm-3.30pm and 6pm-midnight; Fri-Sat 6pm-midnight. Jumeirah Emirates Towers, DIFC, Sheikh Zayed Road (04 319 8771).

Ravioli di spinaci at Solo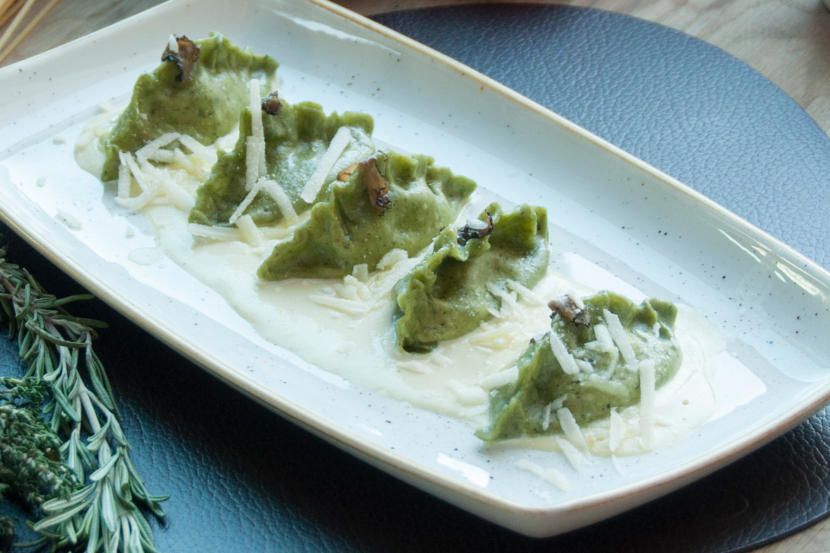 Sometimes too overpowering, at Solo this top-notch ravioli has just the right amount of truffle, which is perfectly balanced with the spinach and Parmesan stuffing. It's all served with a smile by friendly staff in cavernous surroundings that feel more New York than Italian, but don't let that put you off.
Dhs80. Open Mon-Sat, 5pm-12.30am. Raffles Hotel, Wafi City, Oud Metha (04 324 8888).


The seafood ones
Calamarata Gamberi e Pistacchi at Roberto's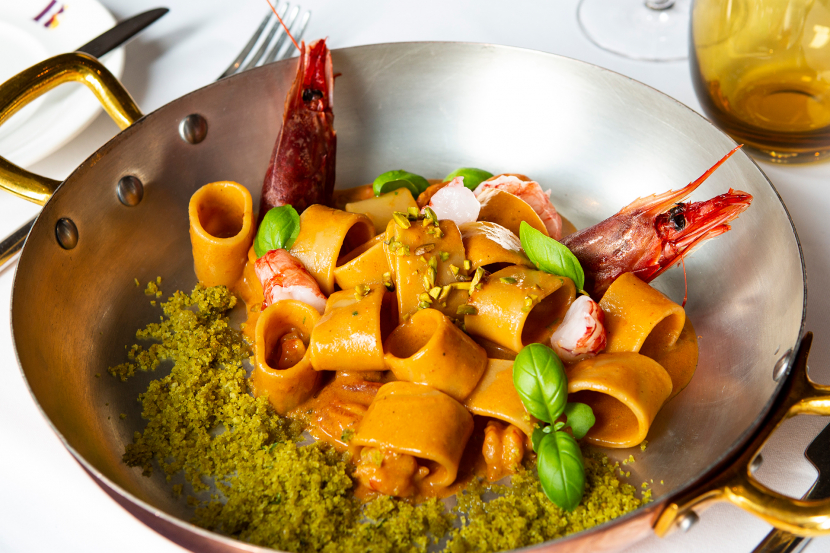 Super-swish Italian restaurant Roberto's has recently had a revamp – both in look and menu. And a star of the new list is this delicious calamarata pasta served up with gamberi rossi (red prawns), rich and creamy burrata (be gone cheese-fish combo naysayers) and pistachio.
Dhs130. Open daily noon-2am. Building 1, Gate Village, DIFC (04 386 0066).

Linguini au homard-épicées at Bistrot Bagatelle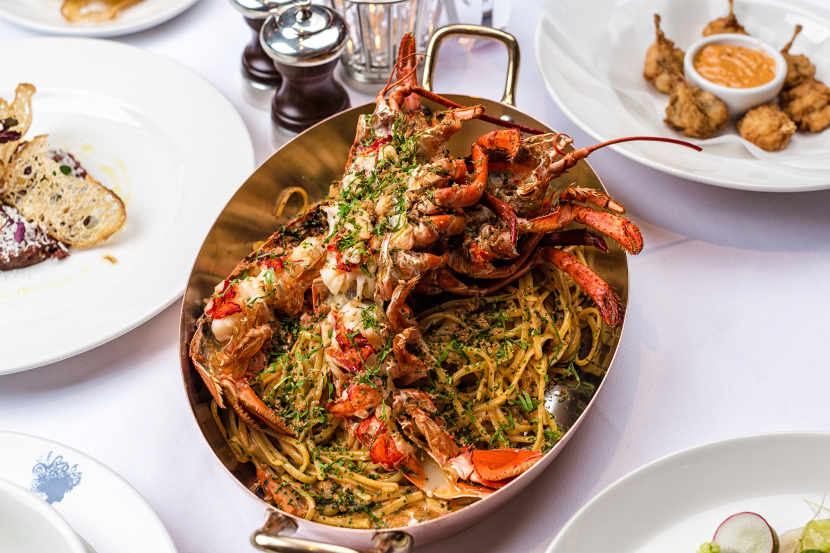 You might not think to go to a French restaurant for top-notch pasta, but you'd be missing out. This one is a whopper – both in size and price – but it's for sharing. The josper-grilled lobster is served on top of a mountain of al dente pasta, smothered in a spicy tomato sauce that packs a punch. The waiter will dish it out expertly for you at the table, too, so you won't fear ruining that crisp white tablecloth. Push the boat out, you won't regret it.
Dhs445. Open daily 8pm-1am. Fairmont Dubai, Sheikh Zayed Road (04 354 5035).

Spaghetti all'astice at Scalini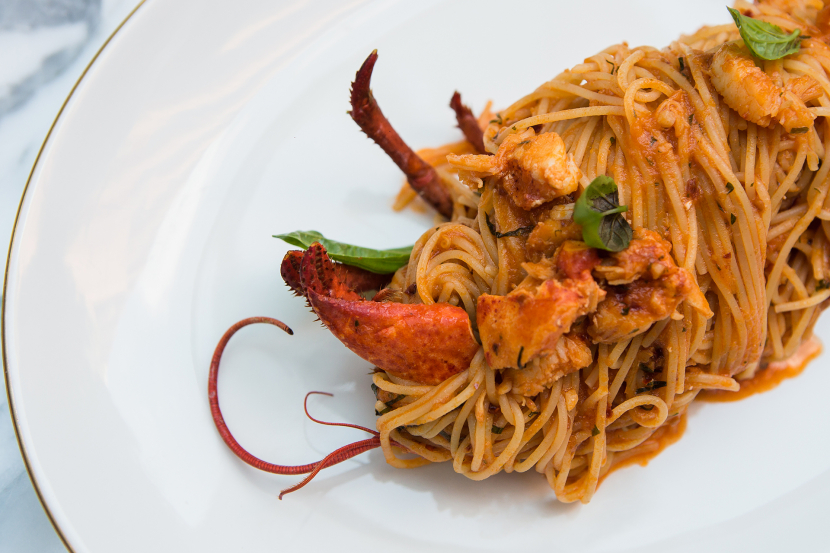 Hailing from the dapper London neighbourhood of Chelsea, Scalini is renowned for fine Italian food. The branch in Dubai opened earlier this year and it's excellent – if a little expensive. Don't miss the signature lobster spaghetti, though. It's served artistically with a generous amount of al dente pasta, while the tomato sauce is simple and delicious.
Dhs160. Open daily 11am-midnight. Four Seasons Resort Dubai at Jumeirah Beach, Jumeirah (04 3490068).

Seafood linguine at Carluccio's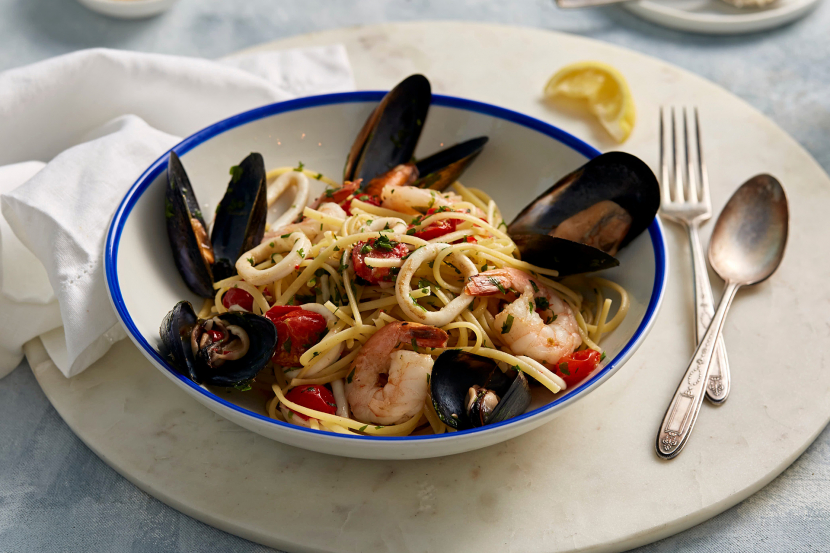 It may be a chain, but the pasta dishes at Carluccio's are ace. We love the signature giardiniera, packed full of cheese, courgette, chilli and those moreish fried spinach balls. However for a fishy fix, this linguine hits the spot every time. Prawns, mussels and squid rings are paired with cherry tomatoes, garlic and chilli for a classic and delicious dish.
Dhs86. Various locations including The Dubai Mall and Springs Souk, www.carlucciosme.com

Spaghetti alla 'chitarra' con ricci e ricciola at Alici Dubai
Do you know what? There's not enough sea urchin on Dubai's menus. And if you don't agree after slurping down a plate of this Italian seafood restaurant's signature spaghetti, well, we hope you accidentally sit on one of those sea-dwelling Spiny Normans. Because this dish, at the Almalfi coast-inspired restaurant from the Il Borro team, is a rich, salty seafaring dream – and one topped with raw, diced amberjack at that. Ancora!
Dhs105. Open daily noon-3.30pm, 7pm-midnight. Bluewaters Dubai (04 526 0632).

Spaghettini fini, gamberi rossi di Manara at Il Borro Tuscan Bistro
The title might be as long as a strand of spaghetti but it will be wolfed down in no time at all. We could rave about Il Borro, our current Restaurant of the Year and Best Italian Restaurant all day long, but one pasta dish has to be picked, and we've narrowed it down to this one (although the linguine all'astice is also one of our go-to dishes). The super-tasty prawns are complemented by zingy chilli and garlic. The pasta is fresh and the sauce is bursting with flavour.
Dhs135. Open daily noon-3.30pm, 7pm-1am. Jumeirah Al Naseem, Madinat Jumeirah, Umm Suqeim (04 275 2555).
The meat ones

Carbonara at all'onda
Who doesn't love the classic pasta dish? Our cover star comes from swanky restaurant all'onda in Emerald Palace Kempinski Dubai and has a suitably fancy twist, as it's enhanced with the earthy flavours of black truffle. The al dente spaghetti gathers up the rich and creamy sauce, and it's a delightfully indulgent dish. It's super-rich so it's a good one to share – perhaps you'll get your Lady and the Tramp moment too?
Dhs110. Open Tue-Sun 5pm-1am. Emerald Palace Kempinski Dubai, Palm Jumeirah (04 248 8870).

Fusilli al ferratto all'Abruzzese
This family-friendly Italian restaurant in RIxos Premium Dubai serves up some fine Italian fare (the pizzas are also worth a try). But our go-to order is this pasta and meatballs dish. The pasta (which is long, thin, twirly tubes) is loaded with homemade veal meatballs and Pecorino. The juicy beef and rich sauce are both full of flavour. The portions are huge, too.
Dhs95. Open Sun-Thu 5.30pm-midnight, Fri-Sat noon-midnight. Rixos Premium Dubai (04 349 6950).

Lasagne alla Bolognese at Bianca
There's not much better than liquid cheese – unless it's smooshed between sheets of fresh pasta, layered with a meaty Bolognese sauce and baked until crispy. The classic lasagne is an oldie, but when it's done right it's hard to beat. Bianca has hit the nail on the head and the authentic lasagne is hearty, moreish and flavour-packed. It's also massive.
Dhs56. Open daily noon-midnight. The Beach, opposite JBR (04 554 9459).

Paccheri alla Genovese at Cipriani
Originating from the word "packages", paccheri alla Genovese at elegant restaurant Cipriani in DIFC takes the Northern Italian onion-based sauce, slow cooks some beef shoulder and serves up a delightfully rich dish of genuine pasta-ry loveliness. Elsewhere on the menu you'll find traditional Italian veggie staples like homemade cannelloni with ricotta cheese and spinach. Delizioso
Dhs90. Open daily noon-midnight. Gate Village 10, DIFC (04 347 0003).

Ravioli alla Bolognese "Lasagna" at Vanitas
You might be tempted by the sound of some of fancier pastas at this swanky joint from world-famous fashion house Versace. But if you're looking for a traditional, carnivore-friendly dish, look no further than this Bolognese. We defy anyone to call it boring.
Dhs147. Open daily noon-3pm, 7pm-11pm. Palazzo Versace Dubai, Al Jaddaf (04 526 0384).

Ragù e carciofi at Matto
This bustling Italian joint in Business Bay has a lot to offer when it comes to pasta, but the meaty winner in our eyes is this gnocchi dish. Homemade ricotta cheese dumplings are smothered in rich lamb ragù and crispy artichokes. The ultimate in carby comfort food.
Dhs225. Open daily noon-midnight. The Oberoi Dubai, Business Bay www.mattodubai.com (052 604 3535).

Rigatoni alfredo at The Kitchen by Wolfgang Puck
If the thought of jetting off to a relaxing tropical beach isn't enough reason to find yourself at Dubai International Airport, then perhaps this delicious dish is. Served with chicken, roasted mushrooms, peas and goat's cheese it's simple, hearty and has us eagerly eyeing up the flight sales just so we can get back through security and order it again. It won't blow your holiday budget either.
Dhs60. Terminal 1, Departures, Dubai International Airport (04 236 7180).


The veggie ones
Gnocchi di spinaci al 4 formaggi at GIA
It'd be hard to distract us from views of The Dubai Fountain, but despite the spectacular vantage point on GIA's outdoor terrace, we're fixated on the pasta here. The spinach gnocchi is bathed in a sea of cheese, and it's as visually impressive as it is delicious – fresh, flavourful and authentic, with the dumplings studding the rich truffle-infused gorgonzola sauce. Add to that the light and airy interiors – designed by company Hecker Guthrie and based on 1950s films and architecture – and GIA is a top spot offering high-end Italian food served as it should be.
Dhs78. Open daily, 9am-1am. Fashion Avenue, The Dubai Mall, Downtown Dubai (04 234 9986).

Gnocchis à la tomate fraiche at carine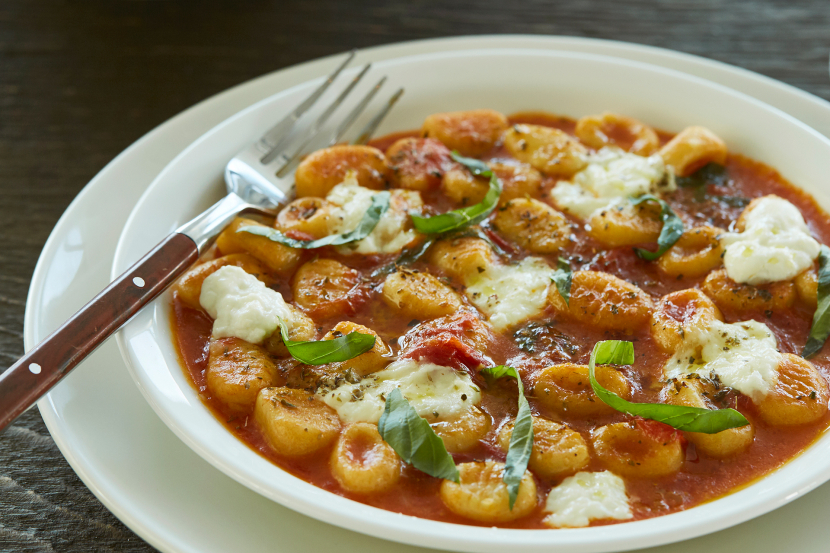 We'll admit that some purists out there might say gnocchi isn't technically pasta. But it's often served instead, so we're including it here. Especially because a list like this deserves an entry this good. This laid-back restaurant from chef Izu Ani has a wealth of top dishes (the rigatoni au ragoût de boeuf is worth a try if you eat meat) but this fresh, simple tomato gnocchi knocks our socks off. It's also decent value at Dhs65 a serving.
Dhs75. Open Fri-Sat 7am-3pm, 7pm-10.30pm, Sun-Tue 7pm-10.30pm, Wed-Thu noon-3pm, 7pm-10.30pm. Emirates Hills Golf Club, Sheikh Zayed Road (04 4179885).

Linguine alla Nerano at Quattro Passi
This classic Italian dish is a favourite for many reasons. One being it's cheesy and rich without being heavy. It's surprisingly light, fresh and incredibly moreish (carb-lovers, take note). Basically just courgette, heaps of fresh, tasty cheese and garlic, this is a simple plate, of which its flavour belies its few ingredients. Stemming from the Amalfi Coast – where Michelin-starred Chef Antonio Mellino set up the original Quattro Passi – this linguine alla Nerano is perfectly recreated at the restaurant's little sister in Dubai. It's almost like a holiday in a bowl, without the airfare or stressful pre-holiday packing.
Dhs118. Open daily 12.30pm-3.30pm, 7pm-11.30pm. FIVE Palm Jumeirah Dubai (04 455 9989).

Paccheri con funghi porcini e taleggio at Vivaldi by Alfredo Russo
This dish is composed of whopping great hoops of pasta, smothered in porcini mushrooms and scattered in taleggio cheese. The mushrooms add a delightful earthy taste and the cheese contributes a welcome saltiness. We are massive fans of this one.
Dhs79. Open daily 10.30am-1am. Sheraton Dubai Creek Hotel & Towers, Baniyas (04 207 1717).

Saag paneer lasagna at MASTI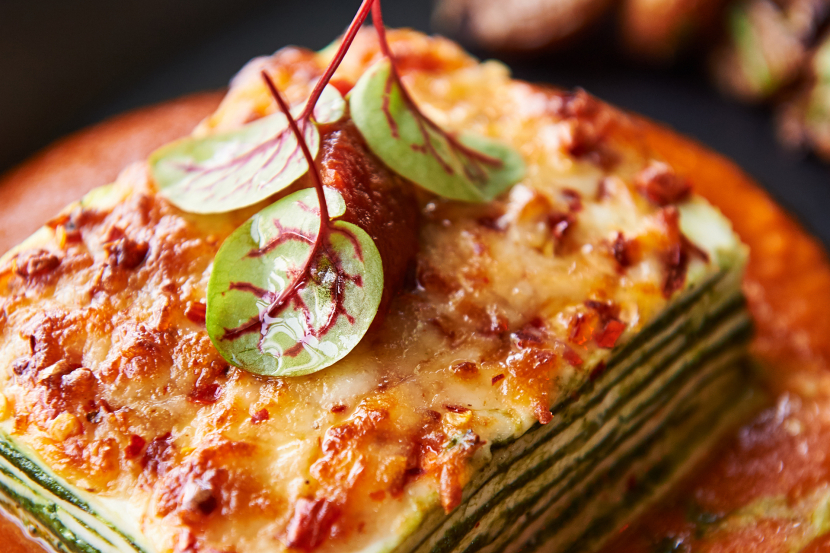 Tucked away at the very end of La Mer South is MASTI, an exceptional Indian-fusion restaurant with a wealth of bold, exciting dishes. Many traditionalists, and even many liberals in the kitchen, would agree that both Italian and Indian food are brilliant enough in their own right and do not need to be forced together with another to be improved. However, MASTI has weaved the pair perfectly and created this delight with cheese, potato and lime sauce and layer after layer of al dente pasta. Mamma mia it's confusing, it's brilliant and it's like nothing else.
Dhs110. Sat-Wed noon-midnight; Thu-Fri noon-1am. La Mer South, Jumeirah 1 (04 526 9365).

Sweet potato gnocchi at Bounty Beets
We've never been ones to shy away from carbs here at Time Out Dubai, and this sweet potato gnocchi satisfies those cravings in every way. The home-made potato dumpling dish is made with sweet potatoes then tossed in basil and green peas and topped with vegan cheese. The result is a bright green and orange bowl of Instagram-worthy food.
Dhs90. Open daily 8am-10pm. Le Méridien Mina Seyahi Resort & Marina, Al Sufouh (04 399 3333)

The black truffle at The Restaurant, Address Downtown
Like it or lump it, truffle is found lurking in every corner of the city. Sometimes with good reason, sometimes without. Thankfully, at The Restaurant it's used to absolute perfection. This linguine dish screams decadence with huge shavings sitting on top of the rich, creamy pasta. It's served with a soft boiled egg – so dig in vegetarians. It's certainly one of the pricier dishes on the list, however with the exquisite terrace views overlooking the Burj Khalifa, it's absolutely worth it.
Dhs200. Open 24 hours. Address Downtown, Downtown Dubai (04 888 3444).

The cheesy ones
Mac 'n' cheese at Todd English Food Hall
There are few things in life more comforting than a piping hot bowl of cheesy carbs. Admittedly this dish is more American than Roman but we couldn't entirely ignore the celebrated food. The mac 'n' cheese from US celebrity chef Todd English's new restaurant at The Dubai Mall is smothered in a rich homemade sauce that retains that cheesy stringiness that we can't get enough of. It's not classy, it's not authentically Italian, but it is tasty nonetheless.
Dhs22. Open daily, 10am-midnight. Ground floor, Fashion Avenue, The Dubai Mall (04 526 9086).

Lobster macaroni cheese at Bread Street Kitchen
Would you believe us if we told you this one is actually considered a side? Because it is. But really it's worthy enough to be a dish in its own right, it's that big and tasty. Gordon Ramsay's kitchen serves up a hearty dish that's lifted by the addition of fresh chunks of lobster. The tender crustacean adds to the indulgent feel of this dish that breaks all the rules of traditional Italian pasta, in the best of ways.
Dhs65. Open daily 12.30pm-3.30pm, 6pm-10.30pm. Atlantis The Palm, Palm Jumeirah (04 526 9228).

5 PASTA FACTS
Pasta was first eaten in China!
The first recorded reports of people eating pasta came from China. Legend has it that famed explorer Marco Polo introduced the noodles to Italy in the 12th century. We're not convinced.
It comes in 600 different shapes
That's according to the International Pasta Organisation, and means we have many, many more varieties to try. Hooray!
Italians get throw approximately
600 million kilometres of spaghetti every year. That's enough to wrap around the planet 15,000 times. Greedy lot.
Eating pasta makes you happy
This is one we can definitely believe, and there's science behind it. Carbohydrates in pasta increase the body's production of serotonin, the neurotransmitter that trigger feelings of happiness and well-being.
It tastes better than it sounds.
In Italian, "spaghetti" means strings, "vermicelli" are small worms, "farfalle" are butterflies, "orecchiette" means small ears, "linguine" are little tongues and "ravioli" means small turnips.
Be the first to get all the latest Dubai news, reviews and deals into your inbox by signing up to our free
newsletter
,
click here to sign up
.