Whether you're an established vegan or experimenting with Veganuary, there's a heap of restaurants in Dubai that can cater for plant-based diets. Here are some newcomers (plus a few places you might not have expected) that don't just offer side salads.

The brand-newbies
Bounty Beets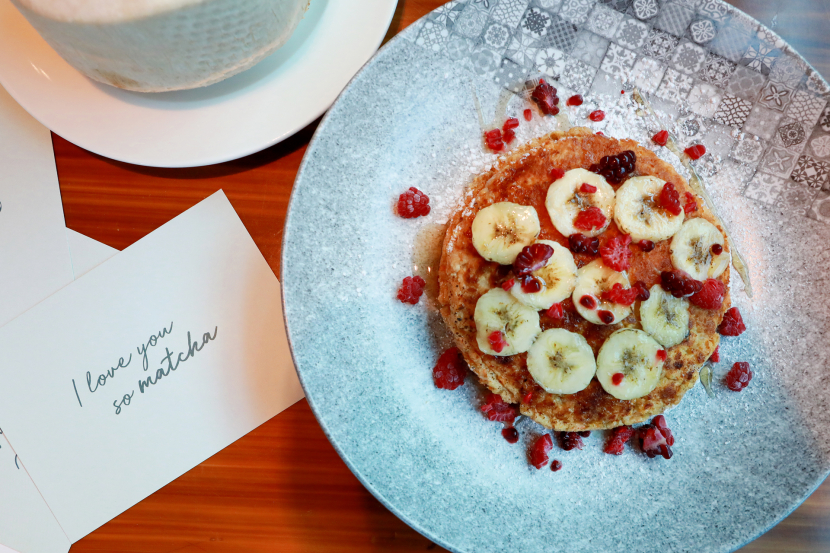 If you're feeling the effects of an indulgent December, then it's time to check out brand-new healthy spot Bounty Beets. The new café at Le Méridien Mina Seyahi takes the place of popular organic eatery Gourmet by Kcal. It's open for breakfast, lunch and dinner, serving up fresh dishes including plenty of vegan and gluten-free options, such as a black bean vurger, açai berry power bowl and kale and grapefruit salad. There's even a dessert – a coconut caramel cheesecake made with coconut cashew cream. The restaurant is also dedicated to reducing its carbon footprint and tackling waste with its own Mina Composter which will turn 100kg of food waste into water and 3kgs of fertiliser, while all take-away coffee cups are recyclable.
Open daily 8am-10pm. Le Méridien Mina Seyahi Resort & Marina, Al Sufouh (04 399 3333).
Brambles
There's a brand-new hipster café in Barsha Heights, which not only is serving loads of veggie-friendly food, there's also plenty for vegans too. Brambles is influenced by northern Californian cuisine and includes loads of veg, cold-pressed juices and a "farm-to-table" motive. Dishes include a vegan glow bowl, packed full of roast cabbage, sweet potato, broccoli, purple cabbage, goji berries, chickpeas, good seeds, parsley and roasted garlic vinaigrette, as well as an avo pizza with avocado, tomato, radish, cilantro, pickled onion, lemon, good seeds, chilli oil and garlic. There are also almond milk lattes and many dishes can be made vegan on request. Fancy a sweet? There's always a vegan cake or dessert on offer every day.
Open Sun-Thu 6.30am-7.30pm, Fri-Sat 6.30am-5pm. Metro Central Hotel, Barsha Heights (04 452 9529).
The Pearl Courtyard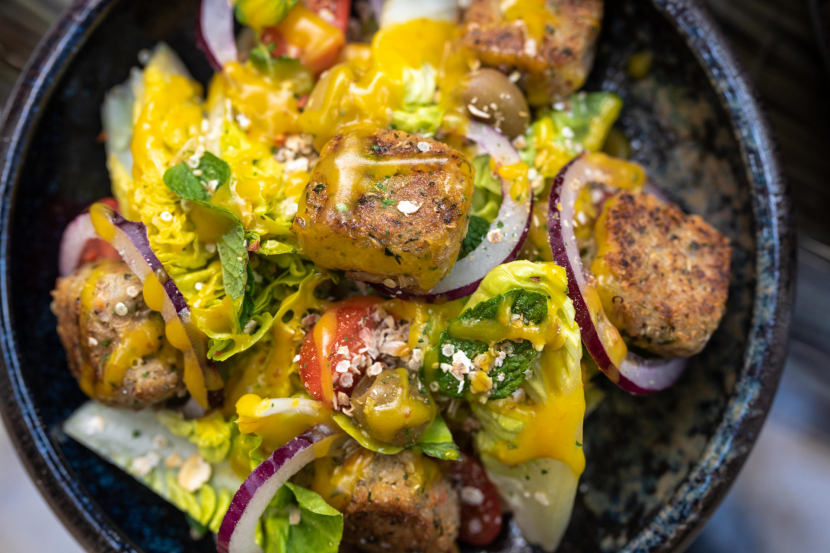 Trialling veganuary? Four Seasons Jumeirah has launched a special "Get The Glow" menu at The Pearl Courtyard. The hotel's executive chef has curated a menu rich in vitamins, minerals and nutrients. It uses fresh and seasonal produce and aims to "change the way we view food without compromising on the flavour". Dishes include avocado toast with moringa, pistachio, pomegranate and organic onion crispy bread and a spinach wrap, quinoa and chickpea patties.
Open Sat-Thu 7.30am-10.30am, 12.30pm-3.30pm. Four Seasons Dubai Resort at Jumeirah Beach, Jumeirah (04 270 7770).
The recent arrivals
Akiba Dori
Veganism also exists in Dubai's creative district, you might be surprised to hear, so make a visit to d3 (Dubai Design District), where Japanese restaurant Akiba Dori serves up a metaphorical buffet of vegan dishes. Get your hands on veggie maki rolls and a tofu wakame salad, as well as the marinara pizza, which, you guessed it, is cheeseless.
Open daily noon-midnight. d3, Ras Al Khor Road (04 770 7949).
Amongst Few


This café-come-clothing store on Jumeirah Beach Road has a load of vegan options on its menu, meaning if you slop your vegan green curry down your top then you can just buy a new one there and then. As well as being socially responsible (i.e. preventing you looking like a scruff), Amongst Few is also ethically sound, whipping up a load of environmentally (and animal) friendly options including the vegan pancakes and vegan satay noodle salad. There's also vegan ice cream and sorbet on offer for a treat, as well as a banana nuts and protein powder smoothie to wash down the feast.
Open daily 8am-11pm. Jumeirah Beach Road, Jumeirah 1 (04 330 8965).
Bareburger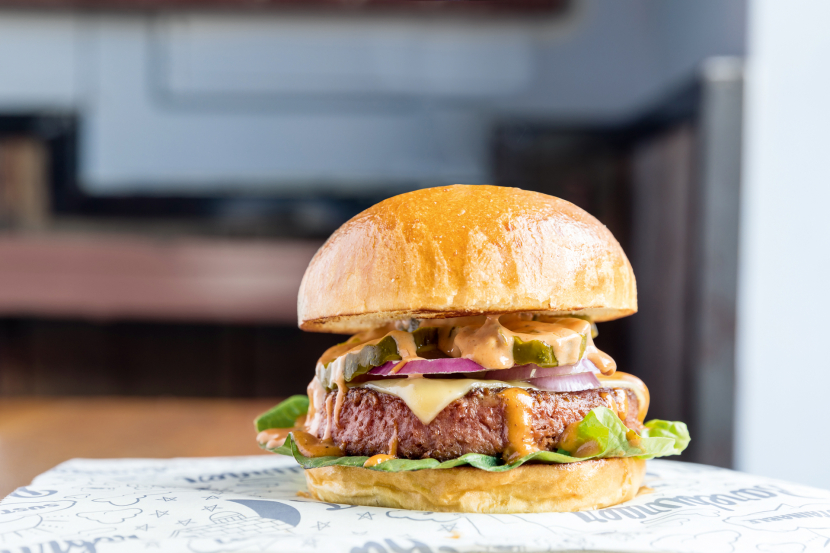 What looks like a burger, smells like a burger and tastes like a burger – but doesn't contain any meat? The much-talked about plant-based Beyond Burger is the latest culinary creation on the menu at Bareburger – which has three branches in Dubai, at City Walk, La Mer and Festival City. The Beyond Burger contains no animal products (it's made from pea protein and potato starch) but yet it really does taste almost exactly like meat. Thanks to a clever bit of science (and a lot of beetroot juice) it even "bleeds" when you take a bite, which is not as creepy as it sounds, and is well worth checking out.
Open daily 10am-11pm. La Mer, Jumeirah 1 (056 720 1927), Dubai Festival City (04 338 7110).
Brunswick Eatery, Bar & Terrace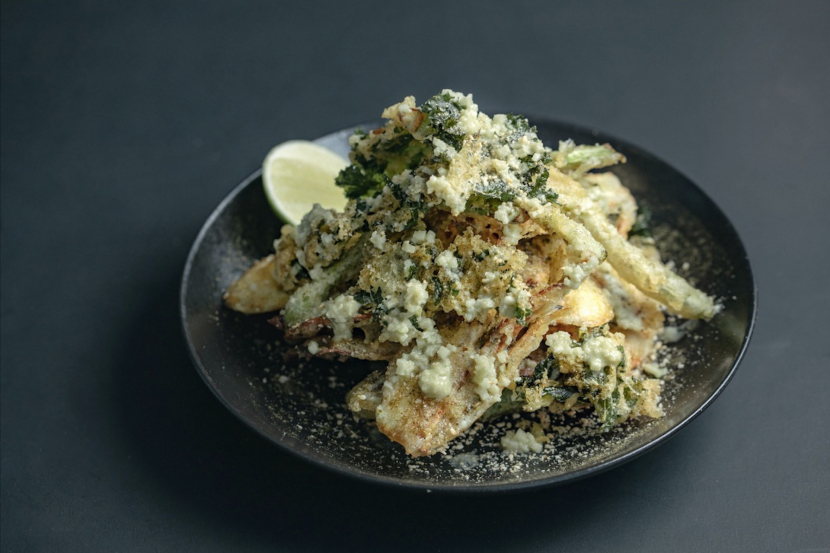 Having received a thoroughly marvellous makeover earlier last year, Brunswick. Eatery, Bar & Terrace is going from strength to strength. Don't be fooled, this isn't just another dingy sports bar with rolling horse racing and stale bar nuts, this is an exceptional restaurant in its own right. With that in mind, vegan diners are well-catered for, too. Standout dishes include hand-cut fries with chilli ketchup, Japanese vegetable tempura with sesame, citrus and green apple and wasabi salsa and the crispy grain burger (puy lentil, quinoa, mushroom, purple cabbage, vegan mayo and hand-cut fries).
Open Sun-Wed 4pm-2am; Thu-Sat noon-2am. Sheraton Hotel, Mall of the Emirates, Al Barsha (04 377 2000).
Carluccio's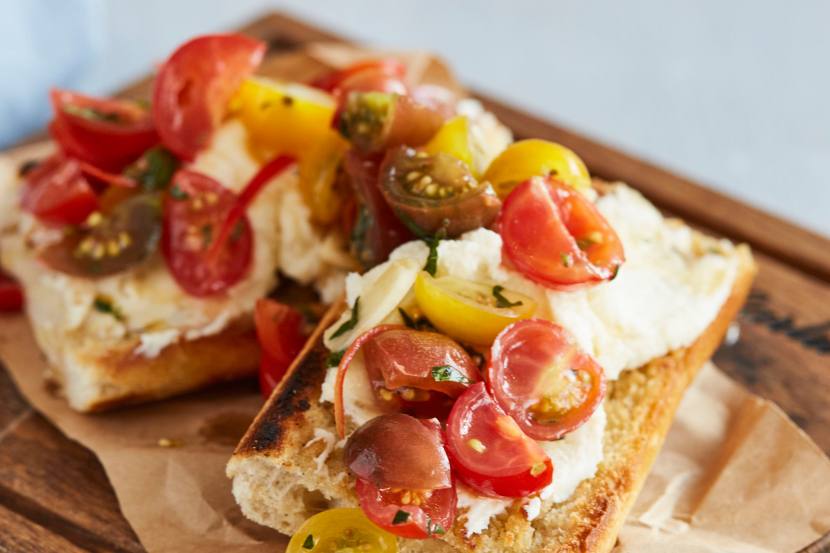 True, Italian food is often loaded with cheese and butter, but don't be put off visiting popular Italian chain Carluccio's, as the brand has a new vegan menu. And it's big. With soups, salads, sides, pastas and desserts, you could eat here every night for a week and have something different. Highlights include pasta arrabbiata, tomato bruschetta, mushroom soup with truffle and pineapple carpaccio. Delicious.
Various locations including Dubai Marina Mall, www.carlucciosme.com.
Ronda Locatelli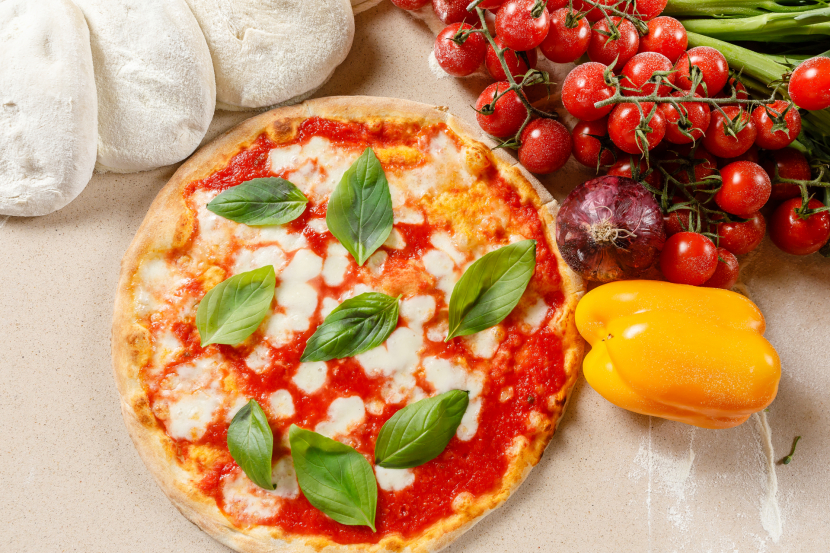 This family-friendly restaurant from celebrity chef Giorgio Locatelli at Atlantis The Palm serves up loads of vegan dishes, in fact it's one of the largest menus we've seen. From pizzas to pastas, and a range of vegan cheese you're totally spoilt for choice here. There are even vegan desserts to round your meal off sweetly. See our interview with founder Giorgio Locatelli on page 22 to find out more.
Dhs53. Open Sat- Tue 6pm-10.30pm, Thu-Fri 6pm-11pm, lunch Thu-Tue noon-4pm. Atlantis The Palm, Palm Jumeirah (04 426 2626).
Society Café
This trendy spot on Jumeirah Beach Road serves up a range of healthy, tasty vegan dishes. Don't miss baked cauliflower, which is a vegan's dream. Chunks of cauliflower roasted in a beautiful tomato sauce served with toasted almonds, mint and balsamic oil. Plus, the café also offers yoga sessions, too.
Open daily 8am-10pm. Jumeirah Beach Road (04 222 2811).
Vibe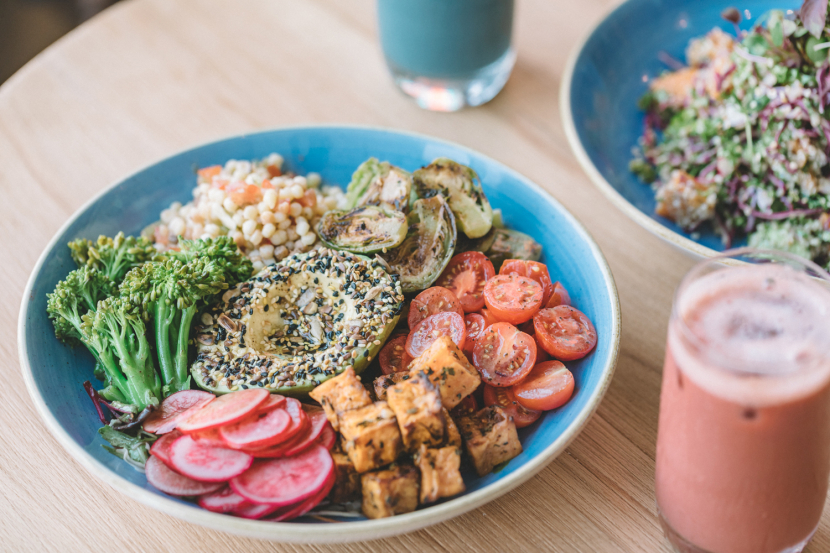 This new kid on the block is super-trendy. Not only is the food Instagram-friendly, the food is equally photogenic. And the vegan dishes are top. Love avo? Order the avo toast (there are several varieties). It's filling, fresh, crunchy (hello pine nuts). The "Don't be Upsetti" will also leave you anything but tearful. It's another hefty portion, this time made up of gluten-free pasta and all things green including peas, kale pesto and asparagus. If you haven't been, add Vibe to your to-visit list.
Open daily 10am-10pm. Al Safa (04 339 0087).
Vietnamese Foodies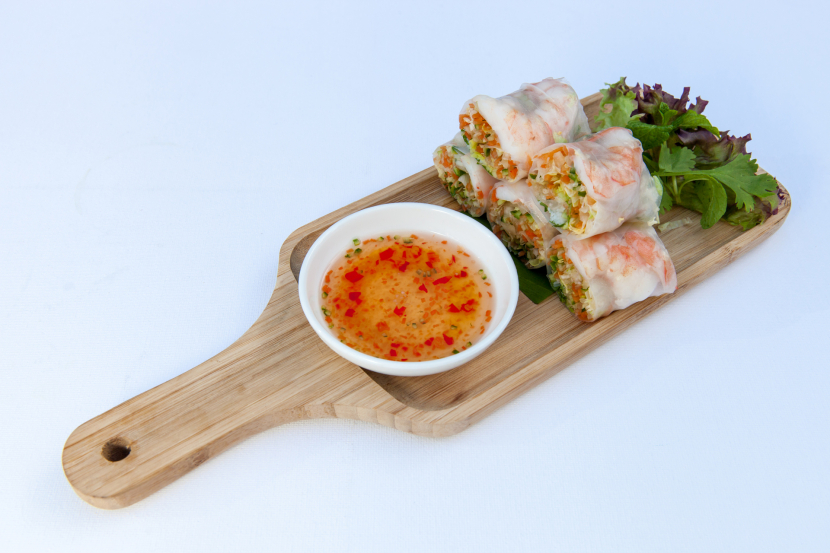 This Vietnamese restaurant in JLT is one of our favourite budget restaurants. The tiny restaurant is frequently packed out, especially at lunch thanks to those working in the area, and it serves up some excellent, traditional fragrant and flavourful food. And in even better news, there's also a vegan menu. With prices that start at Dhs13 for starters and just Dhs21 for main courses it's wallet-friendly, too. Dishes include cari chay (tofu and vegetable curry with jasmine rice), pho chay (pho with lotus root, mushroom and tofu), ca tim om dau phu (tofu and aubergine clay pot) and bun dau sa ot (cold rice noodles with lemongrass tofu, nuoc cham, lettuce, mint, basil, coriander) among others including dishes, soups, stir-fries and salads. For fresh, wallet-friendly food, make this your new go-to spot.
Open Sun-Wed 9.30am-10pm, Thu-Sat 9.30pm-10.30pm. Cluster D, JLT (04 565 6088).
wagamama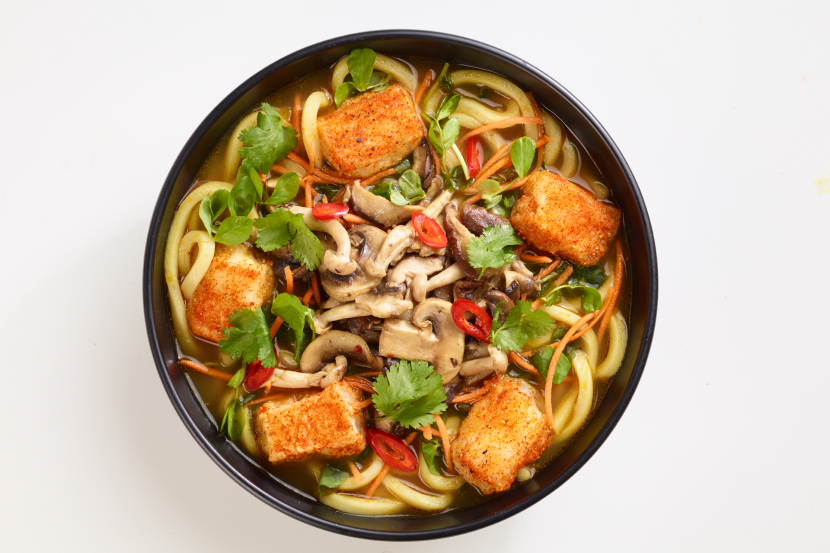 Hugely famous for its ramen and chicken katsu curry, everyone's favourite Japanese chain now has a dedicated vegan menu –
and it's extensive. There's a top selection of plant-based dishes, which include wok-fried greens, mixed mushroom and panko aubergine hirata steamed bun, vegan pad Thai, yaki soba, a spicy green curry and vegan katsu curry. There's masses of choice, and there are loads of locations so this brand is sure to be on your hit-list.
Various locations including Dubai Marina Mall and The Dubai Mall, Downtown Dubai, www.wagamama.ae.
The fancy ones
La Petite Maison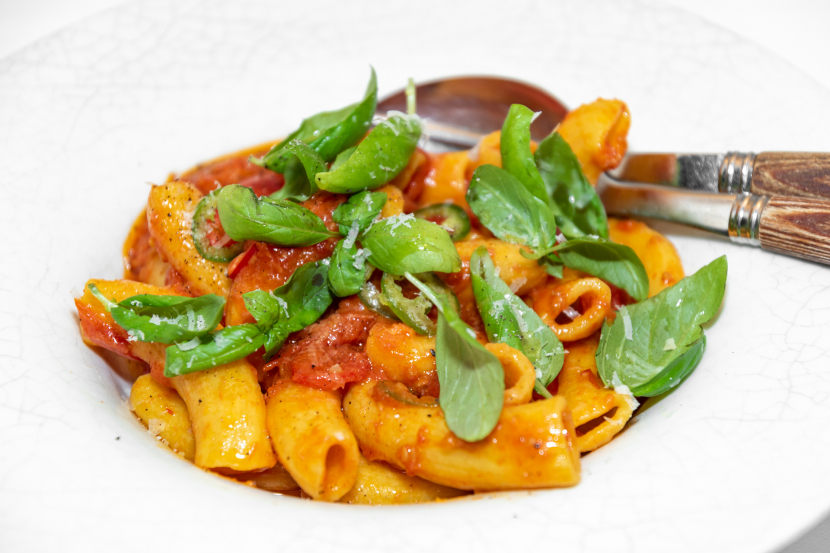 One of the things we love about La Petite Maison is its unwavering quality. It's consistently excellent and it's a perennial Time Out Dubai award-winner (it landed our Best French Restaurant 2018 gong). But that doesn't mean it's resting on its laurels. The DIFC fine dining spot has made several introductions to its menu, including some vegan dishes. A French restaurant turns vegan? You cry. Yes, and there's a range of tasty dishes including roasted peppers, quinoa salad and a hearty lentil salad, aiming to increase your protein and iron intake.
Open daily noon-3.15pm, 7pm-11.15pm. Sheikh Zayed Road, DIFC (04 439 0505).

Marina Social
This popular Dubai Marina spot from British chef Jason Atherton may be best known for its hearty roast dinners and tasty gastro-grub, but you might be surprised to hear there's a dedicated vegan menu, too. Dishes include salt-baked beetroot and snow pea salad, wood-fired garlic bread, pea, mint and black truffle risotto, coconut lemongrass broth and KFC – Korean fried cauliflower. If you want exciting, vegan fine dining, you know where to go.
Open daily 7pm-midnight. InterContinental Dubai Marina (04 446 6664).
Signature by Sanjeev Kapoor
This Indian menu brought tears to our eyes – not only for the wealth of vegan options on offer, but specifically for the vegan kebabs that we never dared dream of. Behold the Hare moong and kaju ki gilawat, or the lentil kebab to you and me. Smoked green lentils are combined with crumbed roasted cashew nuts and served with curried raw mango salsa. It's stuff vegan dreams are made of.
Open daily noon-3pm, 7pm-11pm. The Canvas Hotel, Mankhool, Bur Dubai (04 526 0823).
Pubs
Copper Dog
A pub might not be the first place that springs to mind when you want to dig into some wholesome veg-based grub, but Copper Dog might surprise you. This Scottish bar in JBR has a vegan menu with dishes including chilli (which is apparently a fave of X Factor star James Arthur) and Cajun-spiced cauliflower. There's even a vegan breakfast with vegan sausage, grilled mushrooms, grilled tomatoes, spinach, hash browns and baked beans.
Open daily Sun-Thu 15pm-2am, Fri-Sat 10am-2am. DoubleTree by Hilton Dubai – Jumeirah Beach, JBR (04 559 5355).

The Eloquent Elephant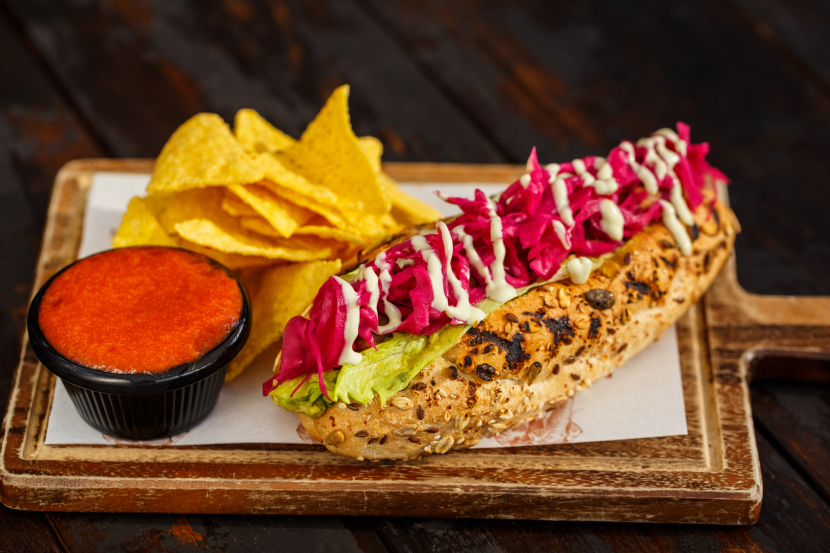 Not only has this trendy gastropub, which is a former winner of our Best Pub Food Award, had a facelift and installed a terrace, the menu's had a revamp too, including a dedicated vegan section. Don't miss the Elephant's Barley Burger, a veggie patty made of barley, carrot and celery, encased in a soft chia seed bun. It's served with date chutney and sweet potato fries on the side.
Open Sun-Wed 3pm-1am; Thu-Fri noon-2am; Sat noon-1am. Taj Dubai, Business Bay (04 438 3131).
The Tap House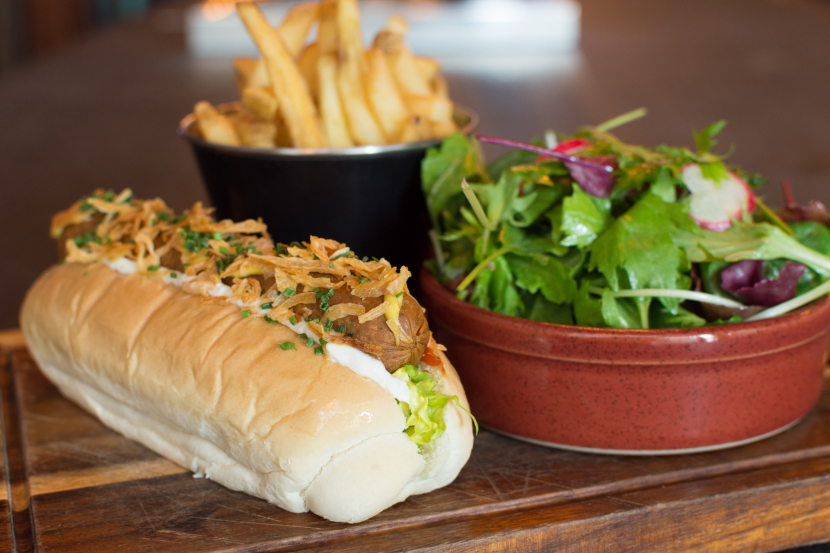 The Tap House makes this list purely for its vegan hotdog, though the views across the Palm are also delightful while you're cramming it down your neck. The dog is slathered with soy mayo, ketchup and mustard, and tastes like a dream. We're not sure how The Tap House has crafted such a wondrous culinary dish, nor do we care. All we know is that we want more. There's also a cracking veggie Thai curry and a couple of vegan-friendly salads on offer, as well as a daily happy hour every day between 4pm and 7pm, to wash down all that greenery.
Open Sun-Wed noon-1am; Thu-Sat noon-2am. Club Vista Mare, Palm Jumeirah (05 514 3778).

Three pure vegan restaurants
Life'N One
Is it a restaurant? Is it an urban retreat? Is it a concept shop? In fact, Life'N One is all of those things. The wellness centre is tucked away just behind Jumeirah Beach and offers a range of classes each week so that you can keep up the all-natural lifestyle even once you've finished your mini beetroot burgers. One of the most interestingly named dishes on the menu here is Jungle on a Toast, which comprises sautéed mushrooms on a spread of sweet potato and cashew purée in a forest of mixed greens. And it's all served on gluten-free bread, naturally.
Open Sun-Thu 8.30am-6.30pm, Fri and Sat 8.30am-7pm. Jumeirah 1 (056 534 2899).
Super Natural Kitchen
The name might be a little bit confusing, but this place isn't supernatural – it's Super Natural. The restaurant claims to be Dubai's first and only 100 percent raw, vegan, gluten-free, sugar-free restaurant, and despite seemingly eliminating every element that you need to make a meal, the menu here is full of delicious options. You can get a totally raw cake in any number of flavours from rich chocolate to salted caramel, or perhaps the ultimate vegan dream of a dairy-free cheeseboard with homemade fig jam and crackers. If you're new to veganism, Super Natural Kitchen's website even offers a recommended reading list to help you get started.
Open daily 11am-9pm. The Dubai Mall, Downtown Dubai (050 242 9408).
The Raw Place
You've been living in excess, cramming down those vegan burgers and necking vegan milkshake like it's going out of fashion. What you need is a detox, and The Raw Place has just the thing. The rinse, the wash and the makeover may sound like something you get done at the salon, but these juice cleanse programmes are intended to make you feel good on the inside. The organic cold press juices are available in batches of six for one day up to 60 for ten days to give your gut a sprucing up. As well as juices, The Raw Place also whips up a range of ready-to-go meals. Handy.
From Dhs274 (one-day juice cleanse). Open Sat-Thu 7am-1am; Fri 8am-1am. Jumeirah Beach Road, Umm Suqeim, www.therawplace.com.

Something sweet
Comptoir 102
This longstanding café serves up vegan ice cream in thyme, mint, matcha or black sesame. "Comptoir 102 is the first and only place in Dubai to have homemade vegan ice cream," says the team. "And the cherry on the cake is that there's absolutely no sugar in those treats."
Open 8am-10pm. Jumeirah Beach Road, Umm Suqeim (04 385 4555).
Il Donaccino
Fancy a doughnut but can't find an egg-free version? Look no further. This popular bakery does a bunch of tasty treats, in all different flavours. Make ours the vegan choco Oreo...
Open Sat-Wed 8am-10.30pm, Thu-Fri 8am-11pm. JLT (04 276 7110).
Wild & The Moon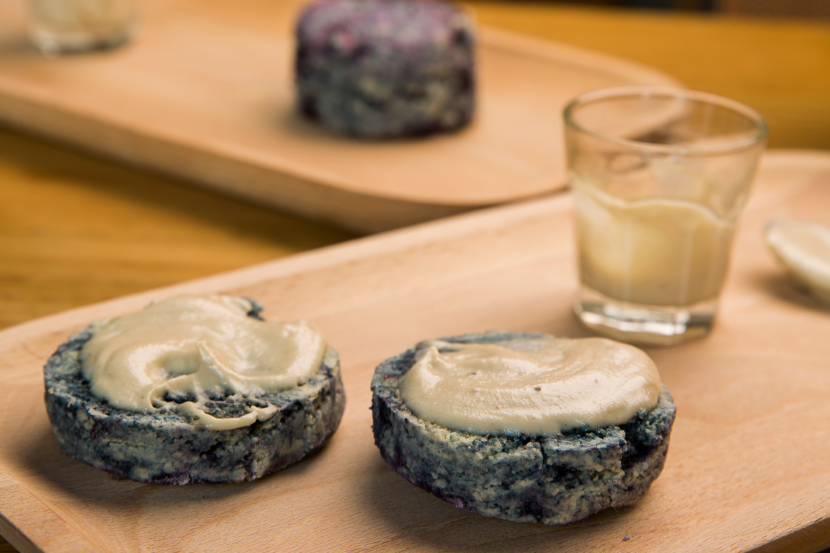 Just when you thought this spot couldn't get any healthier, it also serves up vegan-friendly ice cream in a range flavours, packed with natural ingredients and clear of refined sugars. Expect classic spins such as choco coco, the intriguing vanilla and thyme, turmeric and mango flavours along with black sesame. There's even a vegan afternoon tea with cashew cream if your fancy a treat (pictured).
Open Sun-Thu 8am-8pm; Fri-Sat 8am-10pm. Alserkal Avenue, Al Quoz, (800 9453).
Be the first to get all the latest Dubai news, reviews and deals into your inbox by signing up to our free
newsletter
,
click here to sign up
.