We know you're fancy, but the amount being spent on lunch these days can get out of hand. That being said, we don't want to see your sorry jam sarnies being whipped out in the office either *cue violins*. Here are 31 lunchtime treats, ordered by areas, that won't set you back more than Dhs40 (and a few business lunch options for when you want to push the boat out, too).

JLT
Curry combo at Café Isan
Fancy something a little more warming than a cuppa with your sandwich? Get a filling, flavoursome meal at this cheap Thai café – a former winner of our Best Budget restaurant. The curry combo is a top deal that offers up a choice of Thai green, yellow, massaman or Penang red curries, all served with jasmine rice for Dhs30. That'll get some fire in your belly (literally) for the afternoon's meetings.
Dhs30. open daily noon-10pm. Cluster M, JLT (058 287 3181).

Edamame dim sum at Nara Pan Asian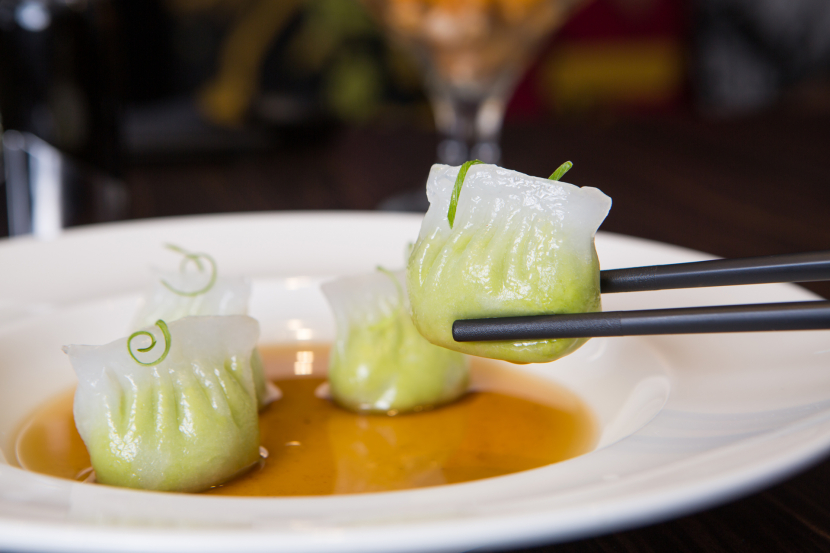 Leading the way in the JLT cheap eats collective is Nara Pan Asian, where you'll get cheap and cheery Asian food in cool, quirky surroundings. We recommend the edamame and truffle dim sum, full to the brim with tasty, smooth edamame stuffing. It's an usual combination that we've not found before, but we're guaranteed to go back for time and again for these small and tasty parcels of joy. And at Dhs36 per portion, it's not going to break the bank either.
Dhs36. Open Sat-Wed noon-1am, Thu-Fri noon-3am. Cluster A, JLT (04 421 1356).

Under Dhs10!
Falafel sandwich at The Hummus House
With a name like The Hummus House, you know what you're going to get. And we're thrilled as we can't get enough of the chickpea dip. There are loads to choose from but for a really bargain basement lunch, go for a sandwich. This is an absolute steal at just Dhs10 for a sandwich stuffed with falafel, hummus, salad and pickles, all wrapped in Arabic bread.
Dhs10. Open daily 8am-1am. Cluster Y, JLT (04 242 6611).

Vegetable green Thai curry at Streetery Food Hall
Asian street food is supposed to be cheap, and Streetery stay authentic in price as well as flavour. This place won a Highly Commended gong at our 2019 Restaurant Awards for good reason. It's a food hall concept (with food hall prices). Venture inside and you'll find three vendors knocking up street food from around South East Asia in the shared communal space. It's not fancy in the slightest, but for that we applaud it – it's a food hall after all and to truss it up would be pointless. You'll be able to feast like royalty here at rock bottom prices, and this tasty curry is a hit at Dhs33.
Dhs33. Open daily 11am-11pm. JLT Cluster D (04 587 3373).

Tuna mayo jacket potato at Baker Street Café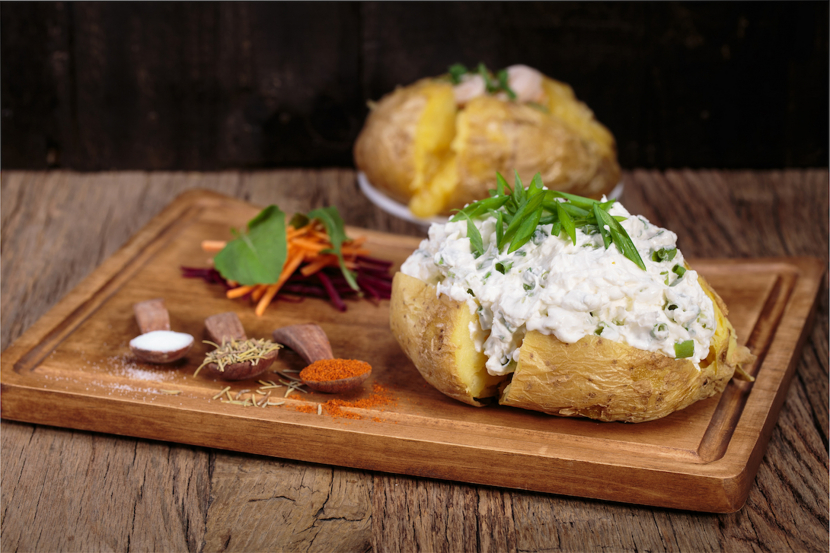 British expats will feel right at home at this cute sandwich shop in JLT. And if you're looking for some hearty comfort food you can't go wrong with the massive jacket potatoes. Piled high with everything from classic cheddar cheese and baked beans, to a fancier chicken and avocado, our pick is the tuna mayo version, served with a small side salad. Stuffed to the brim, this carbfest will keep you going right through to dinner time.
Dhs32. Open daily 8am-10pm. Cluster Q, JLT (04 362 9392).
Dubai Marina, JBR and Media City
Bone broth at Hapi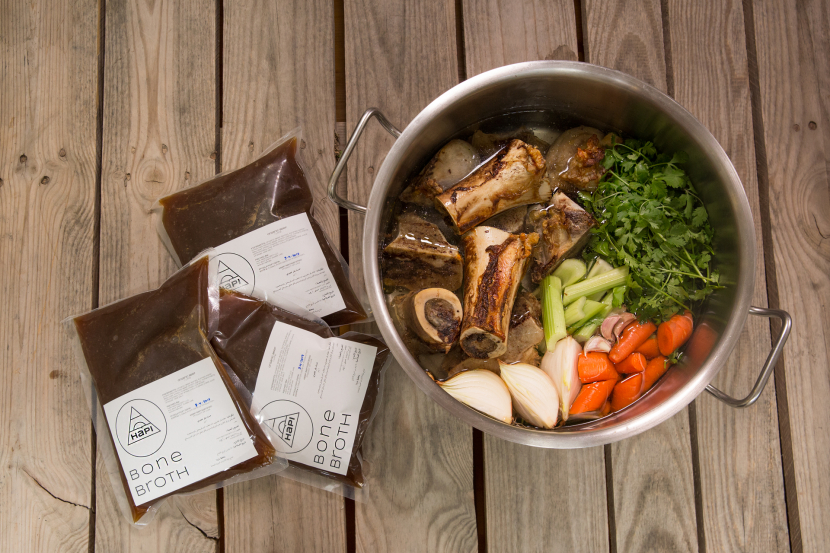 This trendy spot has recently moved from Al Quoz to the Marina but is still serving up its popular homemade bone broth. And the best news is it's just Dhs18. Add on rice noodles for just Dhs10 or broccoli or grilled mushrooms for Dhs12 to really get your lunchtime health kick.
Dhs18. Open daily 8am-10.45pm. Trident Grand Mall, Dubai Marina (0 45896626).

Under Dhs10!
Manakish at Man'oushe Street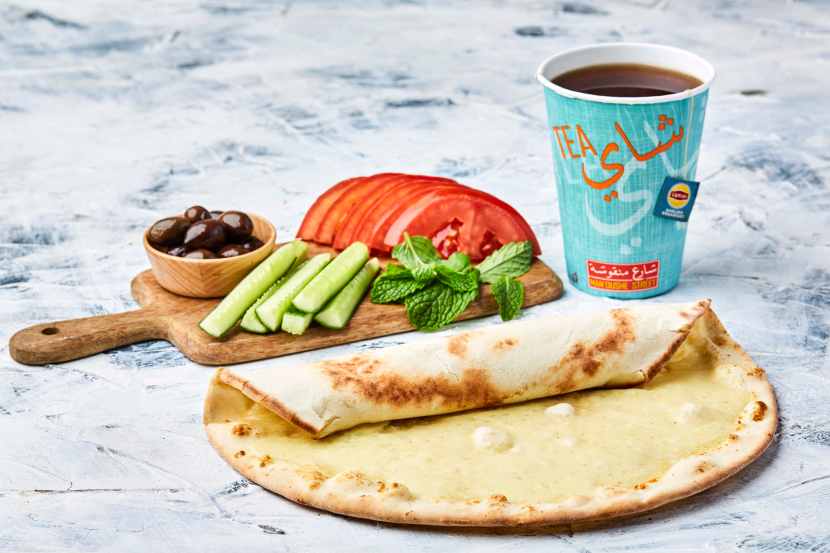 Man'oushe Steet is the embodiment of "cheap and cheerful" (and also the embodiment of cheese). A manakish starts at just Dhs7.35 for zataar flavour, or you can get it stuffed with cheese for Dhs14. There are also a load of salads and wraps on offer for bargainous prices. Perfect for when you're hungry, but pulling those purse strings tight.
Dhs7.35 (zataar manakeesh). Various locations including JBR.

Veggie delight meal at Subway
A six-inch sub meal with chips or two cookies and a drinks starts at Dhs22.50 for the Veggie Delight, but why would you opt for a mere six inches when you could get your chops around a full footlong for just nine dirhams more? Well you wouldn't, and with the likes of the Subway Melt, Chicken Teriyaki and Steak & Cheese it's Dhs31.50 well spent.
Dhs31.50 (footlong Veggie Delight meal). Various locations including Dubai Media City.

Hotpot at Xiao Wei Yang Hotpot
For a traditional Asian lunchtime treat, head to this no-frills hotpot restaurant. Options range from lamb leg to lotus root, and there's plenty for veggies too. A huge platter of meat comes in at less than Dhs40, while even the fussiest of eaters will find something among the dozens of varied options. We'd recommend heading there with a group and grabbing one of the combo platters so you can try lots of different things in one go.
Dhs40. Open daily 11am-1am. JBR (04 421 4650).
Downtown Dubai
COMING SOON!
Chicken thigh pho at Vietnamese Foodies
The winner of our Best Budget Restaurant at the 2019 Time Out Dubai Restaurant Awards, we could wax lyrical about Vietnamese Foodies all day long, but all you really need to know is that it's authentic, it's delicious, it's healthy and it's cheap as chips. And in exciting news there's a brand-new branch opening in Downtown. Awaken your senses with a steaming hot bowl of fragrant pho from Dhs21, or delight in a refreshing salad from Dhs24. There's a tonne of vegetarian and vegan dishes available too, and a selection of desserts if you decide that the straight and narrow is not the road for you.
Dhs21 (chicken thigh pho). Open Sun-Thu 11am-12.10pm, Fri-Sat 11am-11pm. JLT Cluster D (04 565 6088). Opening soon: Burj Vista, Downtown Dubai.

Mix cheese fataya at Mama'esh
This longstanding budget restaurant has quite the following in Business Bay. And if you're partial to a pie (and who's not?) this fataya is the Arabic equivalent. There's a range of fillings to choose from, but seeing as you're opting for pastry you might as well push the boat out and opt for the deliciously moreish mixed cheese. Make sure you bring some back for the office meeting.
Dhs25. Open daily 8am-12.30am. Business Bay (04 4538166).

Pulled chicken burrito at Chalco's Mexican Grill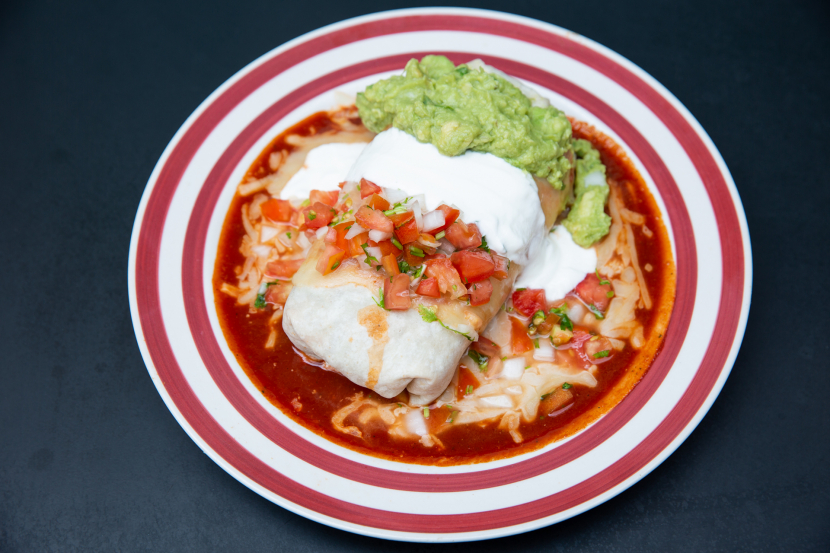 It's time to spice up your lunchtime and get in the fiesta mood with Chalco's Mexican Grill. Whether you're after tacos or salads, there's something for you, however we can't resist the pulled chicken burrito. For Dhs31.50 you'll get a packed wrap stuff full of pulled poultry, beans, lettuce, tomato and cheese. If you have an avocado craving then add on a hearty dollop of guacamole for an extra Dhs5.
Open 11am-10.40pm. Damac Park Tower DIFC (04 272 4678). Other location: JLT.

Sausage bap at Fibber Magee's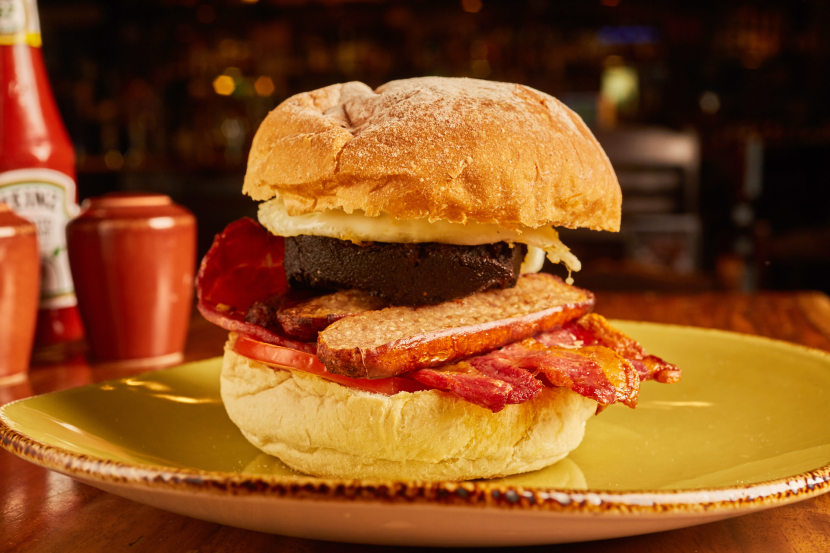 This Irish bar has a great selection of bargain meals, and we especially love the breakfasts. However, the best news is that they're not reserved for just early mornings, and you can get the dishes all day. If you're after a traditional lunch (AKA sandwich) then its breakfast bap is the one for you. Just choose from egg, bacon or sausage. However, it's s mix-and-match sarnie, so you could have one, two or all three of those items, and the max it's going to set you back is Dhs35. As good value as it is tasty, then.
Dhs24 (one item), Dhs29 (two items), Dhs35 (all). Saeed Tower One, Sheikh Zayed Road (04 332 2400).

Spinach and watermelon salad at Zaroob
This 24-hour eatery on Sheikh Zayed Road has plenty of budget options to suit any appetite. If you're looking for a lighter lunch, go for the spinach and watermelon salad for a fresh, tasty meal for just Dhs26. The traditional hummus is just Dhs21, too, if you fancy some creamy chickpea dip to brighten your day.
Dhs26. Open 24 hours. Sheikh Zayed Road (800 927 662).

Wrestler's choice at Catfish
From wellness blogger Gbemi Giwa, dishes at Catfish are influenced by her Nigerian roots and interest in healthy living. The menu isn't huge but the selection is top-notch, including for vegans – if it has a V next to it on the menu, you're good to go. And this vegan-friendly dish will appeal to everyone. A hearty bowl of jollof rice and peas comes with mango and red pepper slaw, jerk mushrooms, grilled plantain and smashed avocado. It's a flavour explosion of sweet, savoury and spicy and it's a dish we can't get enough of.
Dhs30 Open daily 11am-10pm. Bayswater Tower, Business Bay (0529423272).


Old Dubai
Crab thushar at Calicut Paragon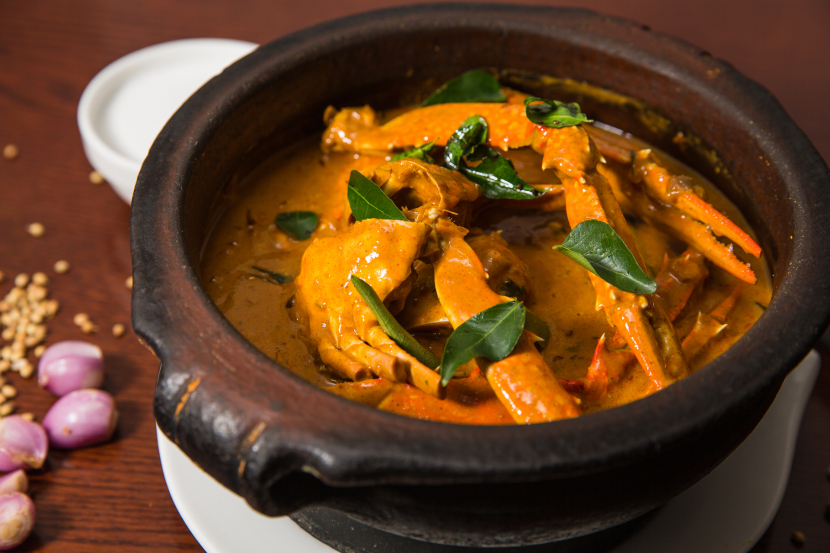 Ok so this one is Dhs2 more than our Dhs40 promise, but it's worth it, we promise (and there are plenty of dishes here for less if you don't like crab). However, if you do, and have a craving for curry, and then Calicut Paragon is the one. Pull up a seat, roll up your sleeves and get stuck into a steaming bowl of crab thushar – preferably mitts first. There's no need for niceties here, and one taste of the rich, flavoursome sauce and the sweet, meaty crab will send any decorum straight out the window. Mop it up with an appam (or five), close your eyes, and savour. It's that good.
Dhs42. Open daily 7am-12.30pm. Karama (04 335 8700).

Under Dhs15!
Chicken biryani at Ravi Restaurant
This longstanding Satwa restaurant is popular Pakistani spot among residents and visitors alike. It's in no way fancy (there are plastic tables) and we wouldn't want it to be either. The menu is huge, and super-cheap, with plenty of veggie and meat options (the dahl is a winner if you're meat-free). However, for a lunchtime dish with protein and carbs combined the utterly bargainous chicken biryani is the one of you, especially at just Dhs14 for a generous portion.
Dhs14. Open daily 5am-11.30pm. Satwa (04 331 5353).

Under Dhs15!
Lentil soup Al Shami
Is there anything better than a warming bowl of lentil soup when you're feeling a little under the weather? We can't think of many things, and this dish is even more warming thanks to the Dhs13 price tag. It's rich, it's hearty, it's healthy – and it's as friendly to your wallet as it is to your body. Al Shami also has a range of pastries, sandwiches, dips, salads and more all for under Dhs30. A top budget spot for lunch whatever your mood.
Dhs13. Open daily 7am-4am. Al Muraqqabat (04 269 5558).

Under Dhs10!
Manakish at Al Reef Lebanese Bakery
If you're a regular reader of Time Out Dubai then you'll have heard our opinions about Al Reef Lebanese Bakery (spoiler alert: we love it). And when you can get a carby, cheesy manakish for just Dhs5, what's not to love? Breakfast, lunch or dinner – you can't go wrong with this super-cheap location.
From Dhs5. Various locations including Al Wasl Road, Jumeirah and Karama (04 394 5200).

Thali at Rangoli
This frills-free vegetarian restaurnat in Bur Dubai is one of the most authentic – and budget – options in town. Head upstairs to the bright and large dining room where you can dig into a thali platter for under Dhs25. With large tables and bright lighting upstairs, You'll be expected to eat with your hands in a traditional style (although cutlery is on offer). Everything is fresh and tasty (and on the spicy side) and you'll get three veggie curries, one dhal, chapathis, rice, pickles and curd. And the best news? It's unlimited, so come hungry.
Dhs22. Bur Dubai (04 351 5873).

Under Dhs15!
Swedish meatballs at Ikea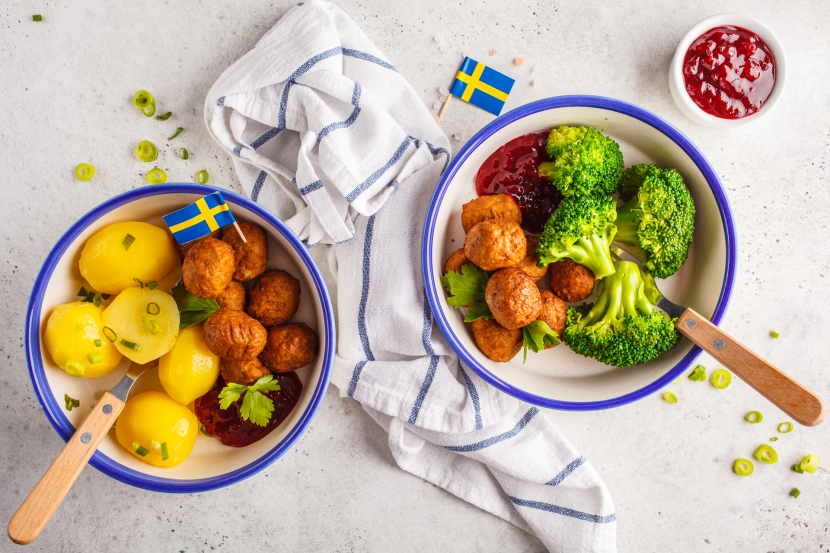 Traisping around the sofa department of Ikea can be an exhausting experience (especially when you and your partner have opposing views on materials). What do you need to salvage the afternoon and defuse a massive soft furnishing induced row? A platter of Swedish meatballs, of course. And they're just Dhs12 for a eight, which means more dosh to spend on that fragranced candle you've been eyeing up.
Dhs12. Open Sun-Wed 9.30am-10.30pm, Thu-Sat 9.30am-11.30pm. Dubai Festival City Mall, Dubai Festival City (04 203 7641).
Jumeirah
Curried fish at Bu Qtair


If you love super-fresh seafood as much as you love a bargain, then put Bu Qtair in your notebook. The words "Dubai institution" get bandied around all too frequently, however when it comes to Bu Qtair they're entirely accurate. There are two options – fish or prawns – and we recommend you order both. It's served with bread, rice and curry sauce, and it will set you back about Dhs40 for a small portion of fish, for what we can safely say is one of the freshest and most delicious catches in Dubai. This one never gets old.
Dhs40. Open daily 11.30am-11.30pm. Umm Suqeim (055 705 2130).

Game of Potatoes at Roti Rollers
If you love a good roti, then Roti Rollers is a sure-fire winner. This vibrant, fun restaurant in La Mer has a cool menu that will perk up any lunchtime gloom. As you'd expect, the star of the show here is the roti. Billed as "Indian street food with a twist", there's a huge variety to pick from on a fun-packed menu. Choose from quirkily named options including lambshank redemption, ozzy osprawn, hen stefani or burroti. Our pick is game of potatoes, which is packed with potato dabeli, mango and tikka masala sauce. Or, if you're feeling creative you can build your own, with various types of roti, including wholewheat, avocado or beetroot. And the best news? The veggie versions will set you back just Dhs30.
Dhs30. Open daily 10am-midnight. La Mer, Jumeirah 1 (04 385 5596). Other location: Al Wasl Road.

Hellim Asi at Kaftan
You don't get much better value than Kaftan when it comes to MENA food and it's no wonder that the spot at La Mer is always heaving. The winner of our Best MENA restaurant 2019 at trendy beachside location La Mer serves up dishes are tasty and traditional and cooked simply, and we are particular fans of the Hellim Asi, which is halloumi cheese with cracked wheat, chickpeas, tomato and basil served with a tomato yoghurt sauce for Dhs37. Lovely stuff.
Dhs37 (Hellim Asi). Open Sun-Sat 8am-12.30am. La Mer South, Jumeirah 1 (04 344 6288).

Masala lamb wrap at Biryani pot
This longstanding restaurant of course whips up a mean biryani, but if you're after a sandwich, go for the masala lamb wrap. An Indian spiced lamb seekh kebab comes with with hummus, parsley, tomato and greens. It's a tasty mash up, at a tasty price. There's also a tandoori chicken version for same cost if you don't eat red meat.
Dhs32. 11am-11.30pm. Jumeirah Beach Road (04 5269235).

Original slider at SALT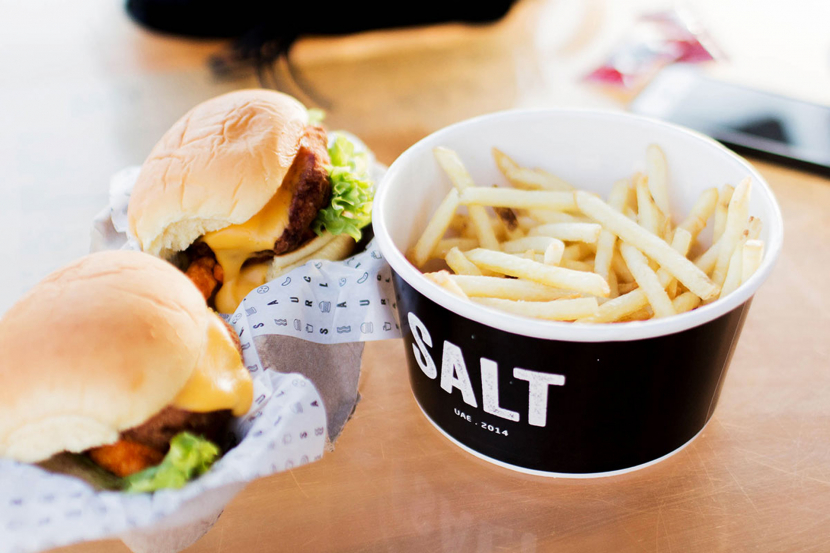 Who doesn't love a burger as an occasional lunchtime treat? Head to this popular fast food joint at La Mer for a wagyu patty with cheese and pickles for just Dhs32 for those days when only a juicy burger in a squidgy soft bun will do. Don't blame us when you need to take a nap on the sand afterwards.
Dhs32. Open daily 10am-1pm. La Mer, Jumeirah 1 (052 690 6601).

Seafood chowder at As You Fish
This cute seafood spot lets you choose between a south Indian menu or select fresh fish to be cooked how you like, all at excellent prices. And if you want a hearty fish soup, this is a lunchtime all-rounder.
Dhs38. Open Sat-Wed noon-midnight, Thu noon-1am, Fri 1pm-1am. Jumeirah Beach Road, Umm Suqeim (04 323 1919).

5 Business Lunches under Dhs100
Bistro Des Arts
The Bistro Lunch puts a Parisian spin on lunchtime proceedings. Every day features a different two-course offering, including our all-time favourite steak frites. Best of all, it will only set you back Dhs75 for two délicieux courses, or Dhs90 for three.
Dhs75 (two courses), Dhs90 (three courses). Sun-Thu, noon-6pm. Bistro Des Arts, Dubai Marina Walk, Dubai Marina (04 551 1576).

Burger & Lobster
If your potential associate doesn't know how to properly handle a lobster roll then how can you trust them with business? Are they sloppy? Do they leave destruction in their wake? Or do they execute with enthusiasm and precision? It's time to put them to the test with the Surf 'n' Turf business lunch at Burger & Lobster for Dhs75.
Dhs75. Sun-Thu, noon-3pm. DIFC (04 514 8838).

Stars 'N' Bars
Get out of the boardroom and head for the sands with Stars 'N' Bars new business lunch at La Mer. For Dhs89 you'll get two courses with choices including charcoal grilled corn, buffalo chicken wrap and spinach and mushroom lasagne. For an extra Dhs40 you'll get a glass of grape or hops and for an extra Dhs37 you'll get a dessert.
From Dhs89. Sun-Thu noon-4. La Mer, Jumeirah 1 (04 349 9903).

The Restaurant at Address Boulevard
Whether you're dining in the library, music room, study or dressing room (bit familiar for a business meeting, surely), you can be assured of top ingredients and interiors at this swanky spot.
From Dhs95. Sun-Thu noon-2.30pm. Address Boulevard, Downtown Dubai (04 888 3444).

The Rose & Crown
In need of a pub lunch? The Rose & Crown's business lunch consists of three courses and a soft beverage. And the jewel in the said crown? It has to be the chicken pie. If you're not a pie fan, there's also fried brie, salmon, pasta, soups and salads on offer.
Dhs65. Sun-Thu noon-4pm. The Atrium, Al Habtoor City, Sheikh Zayed Road (04 437 0022).

HEALTHY DELIVERY
Fattoush at Operation Falafel
Operation Falafel has the potential to be very healthy. It also has the potential to get somewhat naughty – and the final calorie count is totally up to you. Whether you're reigning it with a fresh fattoush (Dhs25), or a beef shawarma salad (Dhs34) or going all out with a shawarma open platter (think French fries and plenty of bread for Dhs36), one thing that is guaranteed is the low price.
Dhs25. Opening times and locations vary, www.operationfalafel.com.

Salad bowl at Pita Pit
An original sized pita or salad bowl starts at Dhs28 at Pita Pit and for an extra Dhs10 you'll get a bag of chips or popcorn and a soft drink to wash it all down with. Choose your protein from the likes of grilled chicken and lean turkey, or go veggie with halloumi and falafel. It's then time to go wild at the salad bar, throwing on unlimited veggies because a good scattering of spices and a lashing of sauce. Not only is it quick and cheap, it's also full of the good stuff to restore your natural radiance. Pass us the mirror.
From Dhs28 (regular pits/salad). Opening times and locations vary, www.pitapit.ae.

Mango Tango from Salad Jar
Get your five-a-day and an arm work out while you shake up this jar of goodness. There are vegan versions, chicken jars and more – but our pick is the Mango Tango stuffed with chickpeas, cucumber, tomatoes, feta and mango for a tangy, zesty, filling and healthy lunch.
Dhs35. Open Sat-Thu 9.30am-5.30pm. www.thesaladjar.me.
Be the first to get all the latest Dubai news, reviews and deals into your inbox by signing up to our free
newsletter
,
click here to sign up
.