SPOILER ALERT: Time Out Dubai has done more to promote the delights of takeaway pizza than many. If we've been there, we've probably eaten it – if not thought about eating it – there (sofa, bath, sauna included).

But that's not to say we don't appreciate the benefits of healthy eating.

For every time one of us has sung of the benefits of gooey cheese, greasy carbs and chocolately puddings, there has been another Time Outer just as happy to try out a fad diet or recite the latest superfoods.

The two sides of the office do not have to be divided, however.

There is a growing, and surprisingly large number of food delivery companies in the UAE that will bring healthy food, either cooked or ready to prepare, direct to your doorstep.

Meal plans can be tailored to your dietary requirements, physical goals or budget. No cooking, no washing up, no trips to the supermarket and no having to search the cupboards looking for inspiration – where do we sign up?

CF Kitchen
From the gym that claims to be the most powerful weight loss system in the Middle East comes a cook-it-yourself grocery delivery and meal plan. Designed for men and women and with the aim of aiding weight-loss as part of a work-out plan the items are delivered to your home and you cook up yourself. Dishes are simple and include take-to-work breakfasts.
Sample plan: A veggie box includes ten meals (five breakfasts, five dinners) and is Dhs380.
Sample meal: Egg and vegetable frittata, cups with honey-roasted butternut squash, freekah and kale.
www.cf.kitchen (971 50 558 6364).
Colour My Plate
Meal plans, catering and dietary consultations with well-presented dishes and a focus on healthy eating. Whether you are looking to lose fat or gain muscle, a suitable plan is likely to be offered. It is an especially good option for anybody who has, or is concerned they may have, a food intolerance. Testing for more than 100 food allergies and intolerances is offered and you can get a plan that matches the findings. Signing up can feel like a complicated procedure with a detailed questionnaire being required, but that just makes the final output tailored to you.
Sample plan: 20-day package includes three meals and two snacks, five days a week.
Sample meal: Rice-crusted chicken with broccoli and carrot.
www.colourmyplate.com (050 935 1013 ).

Cookabox
An award-winning chef and licensed dieticians design the meals on plans that pre-measure fresh and well-sourced ingredients for you to cook healthy food yourself. With the food itself coming from well-known (and, crucially, named) suppliers there are recipe cards with 15 new options each week so you retain some flexibility. With every item pre-weighed you cut down on waste and help portion control. A good way to gain cooking confidence as well as eat healthily.
Sample plan: Organic food box includes four meals per week at a price of Dhs111 per meal.
Sample meal: Vietnamese chicken rice bowls.
www.cookabox.com (04 453 8711).

Cycle Bistro
The Cycle Bistro makes a convincing claim to be the one true paleo restaurant in Dubai and is a favourite of health food-lovers and cycling enthusiasts alike. As well as the sit-in restaurant it offers a meal delivery programme following a paleo diet. Many dishes come vegan as well as nut and egg-free, with each dish precisely broken down into measurements of calories, fats, carbs and proteins.
Sample plan: Paleo program includes three meals a day for 24 days for 24 days for Dhs3,890. Dhs162 per day.
Sample meal: Curried baked stuffed sweet potato; broccoli, carrots, cauliflower, onion, coconut cream stew, served with tangy beetroot hummus.
www.thecyclebistro.com (04 425 3000).

Daintree
What started out as the UAE's first paleo meal delivery service also has vegan and healthy meal plans available. The paleo diet is based on the food eaten by cavemen (ie not processed), but you don't even have to go out hunting and gathering, instead you can peruse a menu and have freshly prepared nosh sent out to you from the kitchens of leading nutritionists. In fact you can go soy-free, sugar-free, egg- free and more or less anything else-free.
Sample plan: Paleo plan is organic and gluten-free and is priced from Dhs150 per day.
Sample meal: Butternut squash soup.
www.daintreefood.com (04 399 9818).

Eat Clean
This is a kind of portal of several healthy meal providers under one banner. A foodforthoughtal? As well as hawking various healthy groceries, superfoods and snacks it creates a range of meal plans, too. As with most suppliers, you can chose a meal plan to suit your needs with options filtered by their calorie content. Bulking up? Go for a fitness plan with up to 2,500 calories per day. Trimming down? 1,100 calorie options (still with three solid meals and a couple of snacks), may be more suitable to you.
Sample plan: Eat Clean fitness build-up plan comes with three meals and two snacks per day and costs Dhs950 for five days. Dhs190 per day.
Sample meal: Prawn paella.
www.eatcleanme.com (600 545 542).

Eat Well
In collaboration with the Dubai Herbal and Treatment Centre, Eat Well is one of the best-known healthy eating joints in the city and you can get its grub delivered to your door. Meal plans take a holistic approach and you need to give information about height, weight and nutrition history before signing up. When this is done, nutritionists will make up a plan for you depending on requirements. Weight loss, athleticism, fertility and health concerns such as diabetes are taken into account.
Sample plan: Full-day package includes three meals and two snacks a day, for Dhs3,745 for 20 days.
Sample meal: Vegetable quinoa biryani.
www.dubaieatwell.com (054 476 6326).

Kcal Extra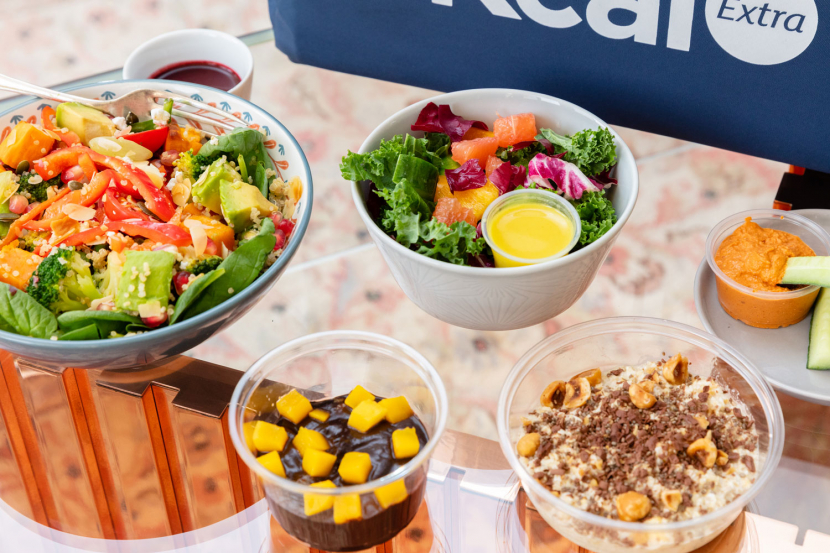 Nearly ten years old and with more than 800 dishes on the roster, Kcal is one of the longest-serving food delivery firms in Dubai. Customise and mix-and-match plans to create a plan based on your own needs or take off-the-shelf options such as new-mum, vegetarian or diabetic plans. One of Dubai's most comprehensive health food plans for a reason.
Sample plan: International plan runs for four weeks (including breakfast, lunch, dinner and two snacks five days a week) for Dhs3,100. Dhs155 per day.
Sample meal: Baked chicken breast with pomegranate molasses, olive oil, garlic, ginger and blueberry and pomegranate sauce served with steamed red radishes, carrots and snow peas.
www.kcalextra.com (800 39872).

Hello Chef
OK, you need to cook for yourself on this plan, but that can be a pleasure in itself. It guarantees the food is fresh, you have seen EXACTLY what goes in to it and it can be fun. Although there is a small issue of washing up to tolerate. If you can handle that, then Hello Chef will dispatch a big box bursting with flavour. You select from up to 16 recipes each week and meals take around 30 minutes, with all the measurements done for you. All you have to do is follow instructions for healthy vegan food in your own home. You can also choose between family-friendly, vegan and low-carb meal plan options.
Sample plan: Classic box includes four recipes for two people (eight servings) per week for Dhs348. Dhs43 per serving.
Sample meal: Pan-fried salmon with green pea quinoa and basil pesto.
www.hellochef.me (04 885 5758).

Livefreshr
A flexible and affordable meal kit that will help you whip up a range of tasty dishes at home. There are kits available for solo diners up to six people, and you can choose from three to six meals a week. The meal plan makes it easy to try different meals and takes the pressure out of choosing what you want to eat. You select your recipes from a choice of 20 different recipes each week and box of super fresh, hand-picked and pre-portioned ingredients (no food waste) arrive at your door.
Sample plan: All Livefreshr plans cost the same, no matter your dietary preference. For four recipes and two people (eight servings) per week it would be Dhs306. Dhs38 per serving.
Sample meal: Honey, harissa chicken with roasted carrot and jewelled cauliflower rice
www.livefreshr.com (056 653 5507).

Live'ly
Backed up by sound nutritional advice and a team with a stated goal of improving community fitness, this long-running meal planner (it was established nearly 15 years ago) has a variety of options. Start your day with a simple breakfast before a decent-sized lunch and dinner, with an afternoon snack, such as a muffin or homemade choc snacks, to keep cravings away.
Sample plan: Gourmet package from Dhs149 per day (includes three meals and a snack) for a minimum of 14 days.
Sample meal: Baked fish with salsa and bread.
www.lively.ae (04 348 1008).

Love Food
Not a diet company, but a purveyor of sustainable lifestyle, this is one of the trendier options on the circuit and provides options for gym types looking to bulk up and tone as well as lose weight. Daily deliveries of unprocessed and nourishing dishes are well-suited to fitness fanatics and foodies alike.
Sample plan: The monthly Power 5 plan has three meals and two snacks a day (including four protein meals of 150-200g per serving, for Dhs4,924.
Sample meal: Sea bass, pumpkin purée, curried cauliflower, flat beans, kale, chilli coconut sambal and red peppers.
www.lovefoodme.com (04 321 2663).

Pure Delight
Juice detoxes have been a popular weight-loss and health-management strategy in Dubai, for many years. Pure Delight offers juice detox boxes, but also accompanying meal plans so you can control what is going in. A clean-eating programme begins at 800 calories per day and includes juices created to flush out toxins to keep you feeling fresh.This plan can be a healthy stepping stone if you're not yet ready to commit to juice and soup-only packages.
Sample plan: Eat Lean Delight meal plan includes three meals a day, plus a veggie juice cold-pressed for five days for Dhs1,680.
Sample meal: Cajun-style barbecue burger with sweet potato fries and guacamole.
www.pure-delight.ae (04 338 3565).

Right Bite
There are so many plans at Dubai's longest-running meal delivery service it can be difficult to choose what to fix first. Fuel up, cut down, high-protein, low-carb, vegan – you choose. Introductory sessions with a nutritionist allow you to match a plan to your specific needs. Catering options are available as well, because nothing says a party like a tray of wholemeal chicken sausage rolls and chocolate tahini balls.
Sample plan: Cleanse detox plan lasts for two weeks and includes several meals a day, as well as detox juice days. Prices start at Dhs172.5 per day.
Sample meal: Shiitake mushroom donburi with baby spinach, carrots and spiced cashews.
www.rightbite.com (04 338 8763).

stm'd
As gimmicks go, steaming is an honourably healthy – and traditional – way to cook food. No oils, butter or fatty toppings, just original nutrients and plenty of flavour. Sounds simple? That's because it is. And that's the idea behind this versatile meal plan firm based out of JLT. With stm'd you can choose a plan from 1,300, 1,700 and 2,300 calories per day plans and get meals tailored to your specific health and diet needs. You can also order individual meals to try it out.
Sample plan: A slim-down meal plan includes two meals and two snacks, five days a week for a month. Prices start at Dhs2,295 per month.
Sample meal: Moroccan lamb couscous.
www.stmd.kitchen (800 7863).

One for the kids
Yum In A Box
These are meal plans, or at least snacks, aimed directly at children. Yum in a Box wants to help kids appreciate wholesome and healthy food from an early age. It does it, presumably, by making food delicious and bunging some games and characters in along the way. Seems like a great idea to us. Not just because it has blueberry lemon cake on the menu.
www.yuminaboxuae.com (050 158 3564).

More food delivery options
Essentially
Nobody knows how much juice can change their life until they go on a liquid cleanse diet. Like a meal plan firm, essentially delivers its goods to your doorstep with strict instructions on how glugging back drinks like black lemonade (it has charcoal in it) or cacao cashew (with Himalayan salt) will help your joints, skin and mood.
www.essentially.ae (04 889 5753).

Fruitful Day
We love the idea of offices ditching biccies and ordering in communal fruit boxes instead. Fruitful Day curates between 15 and 20 different fruits and packages them together for communal dining. It reckons about 4.5kg of fruit is perfect for 20 employees. Yum.
www.fruitfulday.com (04 883 5851).

Munchbox
The vending machine full of candy bars and local convenience store full of chocolate are only tempting because of your lack of imagination. If you can't yet shake the snacking habit then at least switch up your treats. Munchbox has guilt-free morsels, such as nutty mixes, energy balls and protein pebbles. The recipes are put together by a nutritionist and sound far too tasty to be good, but we'll trust the science.
www.munchbox.ae (800 68624).

Ripe
Ripe has become best known for the fabulous outdoor markets selling handicrafts and produce to hipsters at venues across the UAE, but don't forget the original purpose. It is an organic farm shop with a walk-in store and online delivery. Order a Ripe Box and it is packed with all manner of fruits and vegetables as well as some eggs and dairy for Dhs229.
www.ripeme.com (055 543 1282).
Be the first to get all the latest Dubai news, reviews and deals into your inbox by signing up to our free
newsletter
,
click here to sign up
.