Nothing beats a good burger when hunger strikes. Whether it's juicy beef, tender chicken or a super vegan patty, we can't get enough of them.

And in honour of the mighty burger, Time Out Abu Dhabi has teamed up with Abu Dhabi Showdown Week to bring you more than 30 brand-new burger creations, special deals and discounts at some of the coolest venues across the capital.

Starting from Sunday August 25 and running all the way through Abu Dhabi Showdown Week, when the capital will host UFC 242, you can enjoy specially created UFC-themed burgers, discounted combo meals, free drinks and many more burger-based promotions.

You have until Saturday September 7 to check them out, but here are our picks for the top ten to try. It's time for a road trip to Abu Dhabi, burger fans.

Appaloosa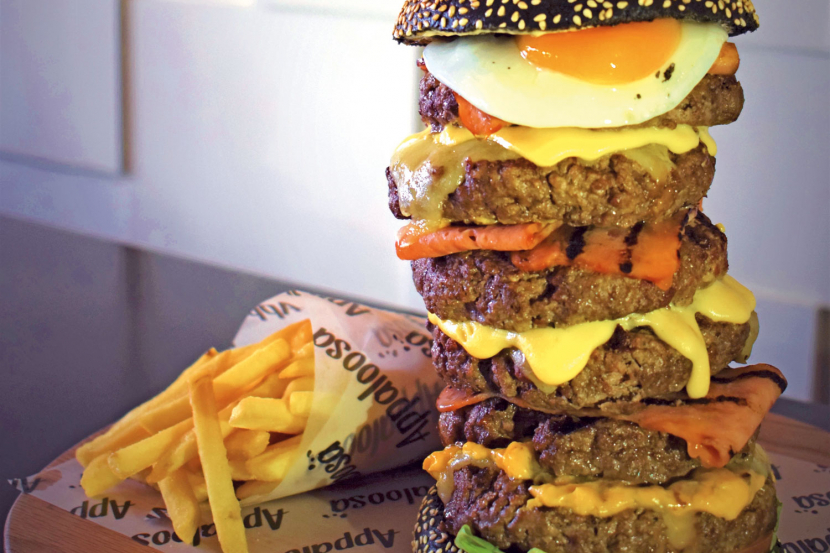 The Burj Khalifa burger is possibly one of the most outrageous things we've ever seen. Standing at 30cm high, it consists of wagyu beef, melted cheese, bacon, lettuce and mayo. Or, if you want something with a little more kick and less height, then you can always go for the Explosive RDX burger with pepper spread, lemon aioli, a paprika bun and lettuce.
Dhs60 (Explosive RDX), Dhs129 (Burj Khalifa). Marriott Hotel Al Forsan, Khalifa City A (02 201 4131).

Belgian Café Yas Island
The Triple Punch mini burgers may be small in size, but they are mighty in taste. The habanero pulled lamb with grilled chorizo, guacamole, pickled red onion and cheese sauce is a real treat, but so is the wagyu beef schnitzel with crispy veal bacon and caramelised onion. The duck confit burger with braised sauerkraut, fried onion rings and pear and fig relish is a real treat, too. Each bun also comes with chipotle sweet potato fries and one pint of hops.
Dhs90. Radisson Blu Hotel Abu Dhabi, Yas Island (02 656 2406).

Black Tap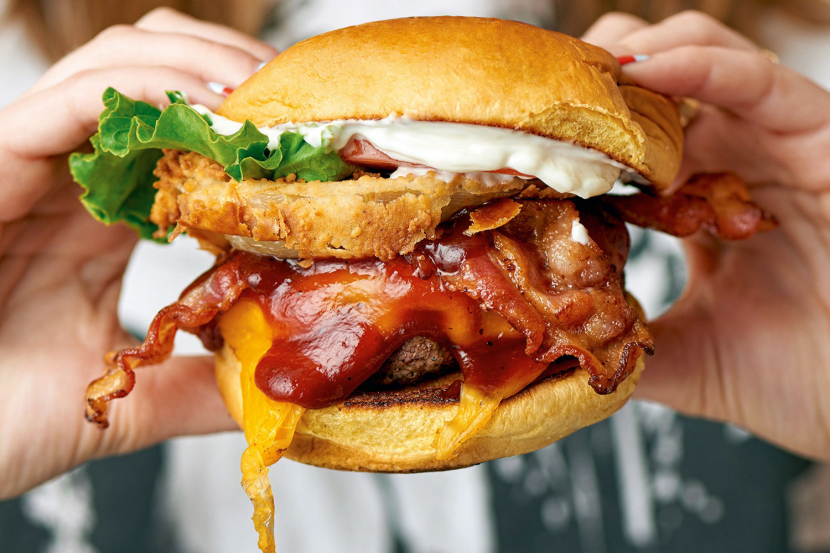 You've no doubt heard of Black Tap, as the world-famous chain is ace. And, during Knockout Week, whenever you buy two of the Black Tap's brillant burgers, you'll get two classic shakes absolutely free. The offer applies to any of the burgers on the menu, except for the limited edition Cuban burger. So whether you want a meat-free option or a huge stack of wacky toppings, you'll find just what you're looking for. The diet can wait.
Dhs68. Yas Mall, Yas Island (02 446 5128).

BOA Steakhouse
This stylish steakhouse is one of the classiest places in the capital to enjoy a good burger, and if neither you nor your other half can resist a good beef patty, we suggest you head here for your date night during Showdown Week. For less than Dhs200 you can get two signature BOA wagyu burgers and two house beverages or soft drinks, all served with views of the beautiful Eastern Mangroves.
Dhs199. Eastern Mangroves Promenade, Salam Street (02 641 1500).

Café 302
This hipster café is offering brilliant deals on burgers for vegetarians, vegans and of course, meat-lovers. Each patty comes with fries, a drink and a side of deli salad. The choices include the signature Café Burger (with lots of melted cheese), buttermilk-fried chicken with avocado and turkey, and the red lentil and cauliflower burger. That's the entire gang covered then.
Dhs70 (meat burger combo), Dhs50 (vegetarian combo). Al Maha Arjaan by Rotana, Fatima Bint Mubarak Street (02 610 6666).

Hemingways
This bar's Mega UFC burger requires a healthy appetite, and we're ready for the challenge. The beef patty is topped with cheddar cheese, fried egg, turkey bacon, fried onion, tomato, lettuce, Sriracha mayo and served with an enormous mound of 'cheesy madness' hand-cut potato fries.
Dhs69 (burger), Dhs105 (burger and hops). Radisson Blu Hotel & Resort, Abu Dhabi Corniche, Corniche West (02 692 4247).

Stock Burger Co.
These out-there creations are the total opposite of a run of the mill cheese burger. Choose from a satay burger topped with pickled cabbage and satay sauce, all-day breakfast burger with bacon, eggs tomato and even hash browns, or, if you like bit of a spice, there's always the nacho burger, served with guacamole, spicy tomato salsa, sour cream, pickled jalapeño and crispy nachos (naturally). The deal includes a paired glass of hops, too, and it all comes in at just Dh80.
Dhs80. Holiday Inn Abu Dhabi, Dhafeer Street (02 657 4864).

Velocity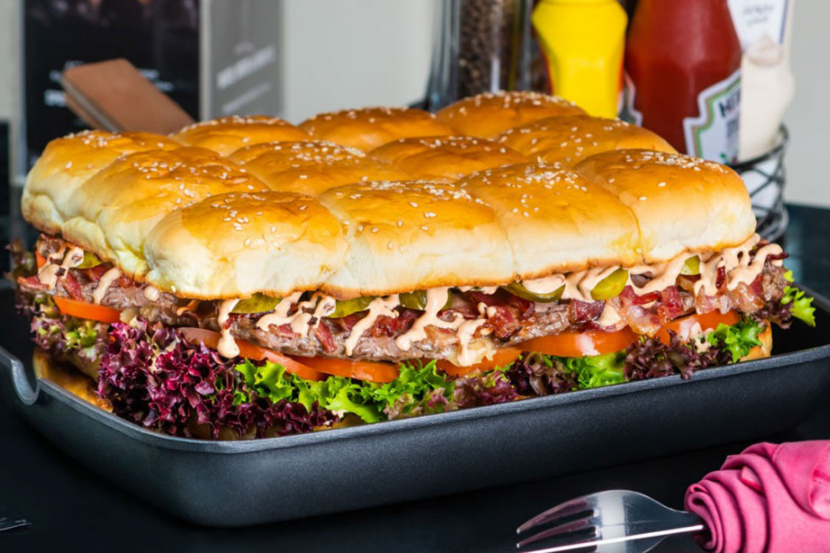 This cool sports bar is serving a gourmet burger with chicken schnitzel, lettuce, tomato, fresh avocado and garlic aioli. Or, if you're really hungry (or you're sharing) and love cheese, you can get a platter of 12 sliders layered with angus beef, cheddar, gruyère, mozzarella, bacon, pickles, lettuce, tomato and chipotle mayo. It's quite a plateful.
Dhs185 (sliders), Dhs60 (burger and hops). Marriott Hotel Downtown Abu Dhabi, Al Wahda (02 304 7777).

Victor's Bar & Restaurant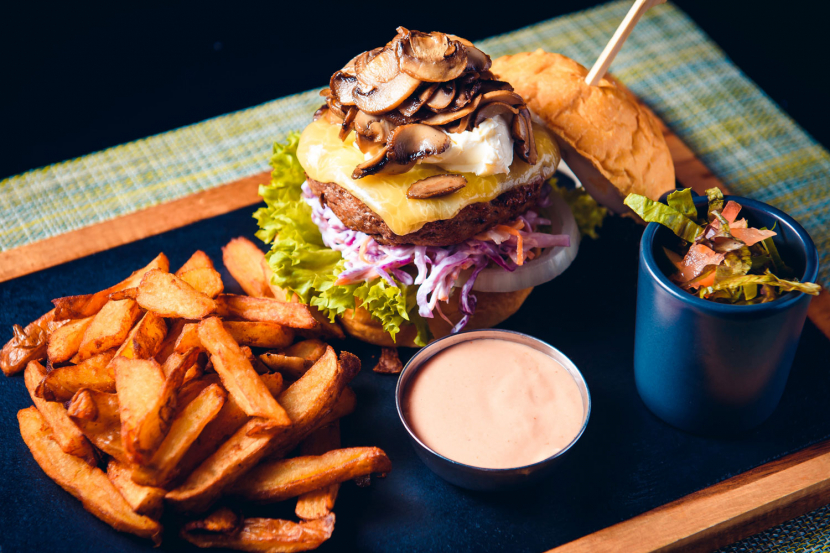 The friendly pub is offering three different mighty burger and hop combinations for the event. Choose from The Mexicano with chicken, guacamole, cheddar cheese, jalapeños and tortilla chips, The Philly with a beef patty, sautéed mushrooms, coleslaw and cream cheese, or the Cheeselicious with a beef patty, bacon sprinkles, cheddar cheese and lashings of cheddar cheese sauce.
Dhs79. Hilton Capital Grand Abu Dhabi, Sheikh Rashid Bin Saeed Al Maktoum Street (02 666 5508).

ZEROFAT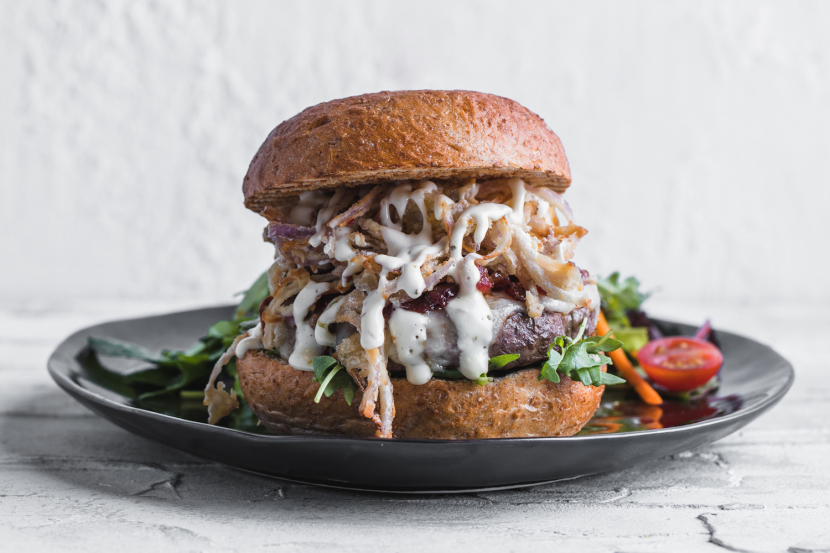 The good news is that not all these burgers will leave you fearing that your jeans won't fit afterwards. The burgers from ZEROFAT are good for you and totally delicious, and the Showdown Week Detox Combo even comes with an antioxidant-packed mocktail. The shroom burger is layered with ranch sauce, crispy onions, caramelised bacon jam and low-fat Swiss cheese.
Dhs70. The View Tower, Al Muroor Road (600 542 524).
Be the first to get all the latest Dubai news, reviews and deals into your inbox by signing up to our free
newsletter
,
click here to sign up
.