Abu Dhabi Showdown Week sounds absolutely brilliant.
Not only is there the UFC, concerts by Red Hot Chili Peppers and J Balvin, there are happy hours and parties taking place across the city and the bunch of fitness events.
We're particularly excited for Knockout Burgers, as we've teamed up with the event organisers and loads of bars, pubs, cafes and restaurants across the city to bring you some incredible burger deals.
Here are nine chicken burgers to try in Abu Dhabi this week.
Amerigos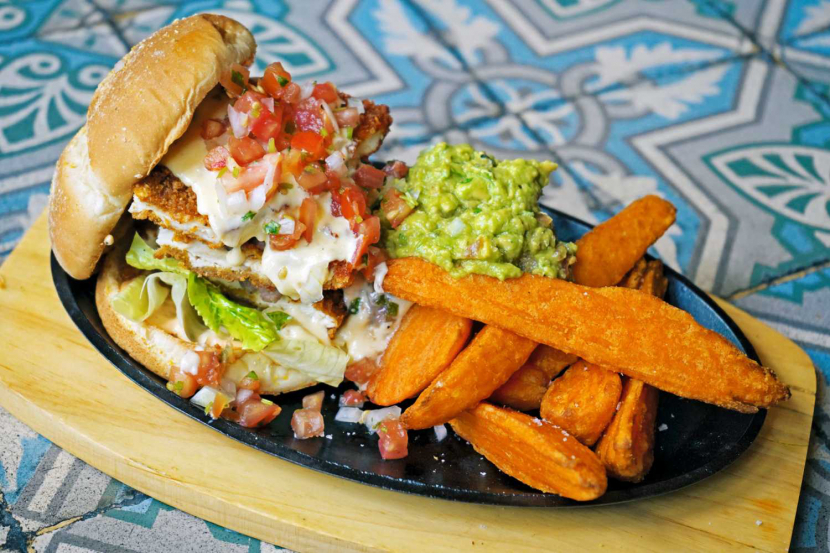 The Torta de Milanesa is a genius invention that combines the best bits of a burger and a fajita. A breaded chicken breast is loaded with refried beans, cheese, guacamole and chipotle mayo and served with a mountain of fries and a glass of hops.
Dhs90. Radisson Blu Abu Dhabi, Yas Island (02 656 2412).
Angar

If Indian food is your favourite, then you need to try one of these awesome spicy burgers. The Punjabi Burger includes chunks of chicken tikka, house-pickled carrots and cucumber and cumin raita on a saffron bun. Or, if you want a vegetarian option, the Mumbai Pao features beetroot, chickpeas, red beans, quinoa and grilled paneer, all served on a spinach pao. Both come with a side of vegetable pakora or poppadums and Indian hops to wash it down with. This is the kind of fusion food we like.
Dhs60. Yas Hotel Abu Dhabi, Yas Island (02 656 0600).
Black Tap

Whenever you buy two of the Black Tap's famous burgers, you'll get two classic shakes absolutely free. The offer applies to any of the choices on the menu, except for the limited edition Cuban burger. If a chicken burger is what you're after then you can try yhr crispy chicken sandwich, Baja chicken sandwich or try a turkey, veg or beef option if they turn your head. The choice is yours.
Dhs68. Yas Mall, Yas Island (02 446 5128).
Cafe 302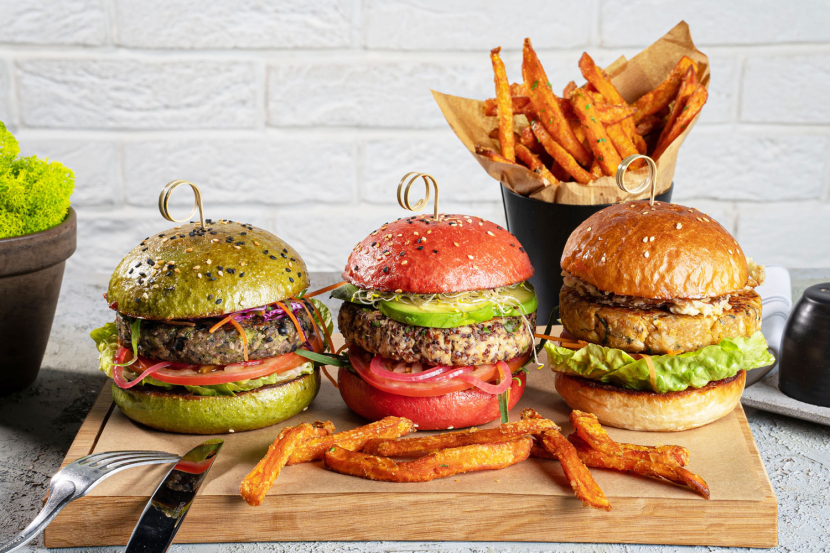 This hipster and wholesome café is offering brilliant deals on burgers for vegetarians, vegans and, of course, meat lovers. Each one comes with fries, a drink and a side of deli salad, and the choices include the signature Café Burger (with lots of melted cheese), buttermilk-fried chicken with avocado and turkey and the vegan-friendly red lentil and cauliflower burger.
Dhs70 (meat burger combo), Dhs50 (vegetarian combo). Al Maha Arjaan by Rotana, Fatima Bint Mubarak Street (02 610 6666).
The Retreat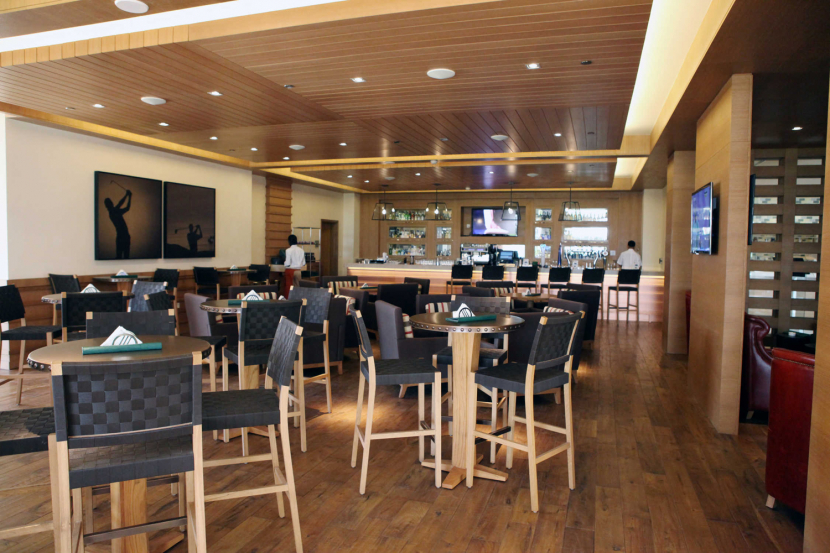 The Nasty Burger Round 11 has taken The Retreat's original Nasty Burger and made it that bit more formidable (or beautiful, depending how you look at it). It comes with breaded chicken, smoked-pepper mayonnaise, jalapeños, creamy buffalo mozzarella, lettuce, tomato, tangy tomato salsa and homemade guacamole, all sandwiched in a brioche bun. Meanwhile the Heavyweight burger is only for those who really mean business, with a grilled US Angus beef patty topped with seared foie gras, mustard mayonnaise and homemade onion jam. It all sounds anything but nasty.
Dhs75 (burger only), Dhs85 (with a bottle of hops). The Westin Abu Dhabi Golf Resort & Spa, Khalifa City A (02 616 9999).
The Tavern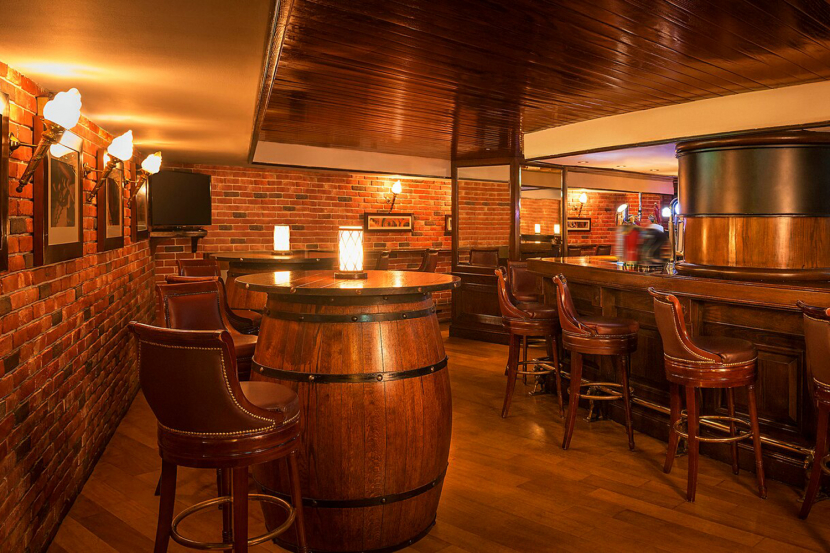 The friendly British-style pub has created a super burger called The Thrill Grill. It includes your choice of either Angus beef or breaded chicken, topped with melted cheese, lettuce, tomatoes, onion, cucumber pickles and beef bacon. You can get all this plus a pint of hops for a special price during Showdown Week.
Dhs60. Sheraton Abu Dhabi Hotel & Resort, Corniche Road East (02 677 3333).
Velocity

This cool sports bar is serving a gourmet burger with chicken schnitzel, lettuce, tomato, fresh avocado and garlic aioli. Or, if you're really hungry you can get 12 sliders layered with angus beef, cheddar, gruyère, mozzarella, bacon, pickles, lettuce, tomato and chipotle mayonnaise. It's quite a plateful.
Dhs185 (sliders), Dhs60 (burger and hops). Marriott Hotel Downtown Abu Dhabi, Al Wahda (02 304 7777).
Victor's bar and Restaurant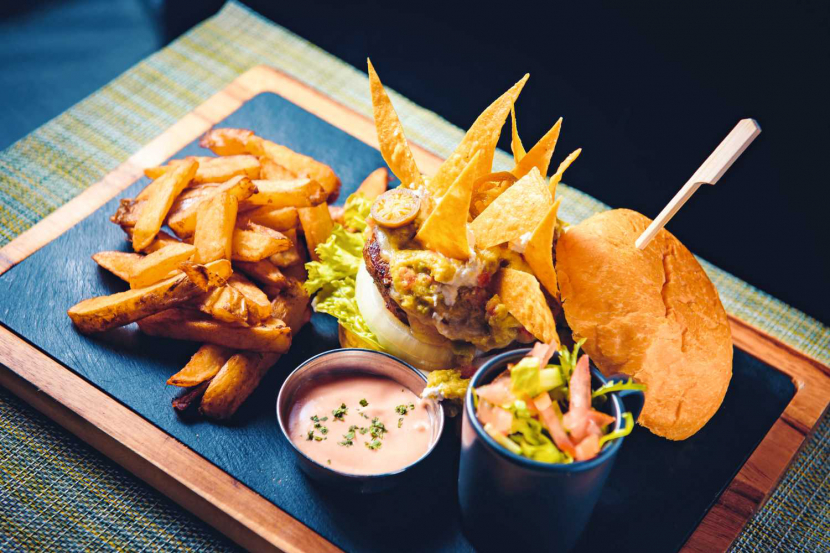 The pub is offering three different mighty burger and hop combinations. Choose from The Mexicano, with chicken, guacamole, cheddar cheese, jalapeños and tortilla chips, The Philly, with a beef patty, coleslaw, mushrooms and cream cheese, or the Cheeselicious, with a beef burger, bacon and lashings of cheddar cheese sauce.
Dhs79. Hilton Capital Grand Abu Dhabi, Sheikh Rashid Bin Saeed Al Maktoum Street (02 666 5508).
Zerofat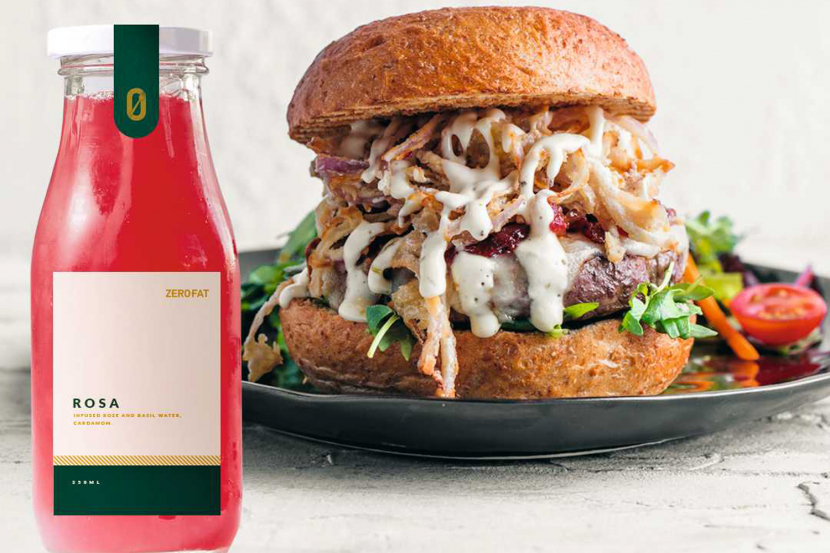 The good news is that not all these burgers will leave you fearing that your jeans won't fit afterwards. The burgers from ZEROFAT are good for you and totally delicious, and the Showdown Week Detox Combo even comes with an antioxidant-packed healthy mocktail. The shroom beef burger is one of the healthy homegrown restaurant's best-selling dishes, and it features a tender beef patty, ranch sauce, crispy onions, caramelised bacon jam and low-fat Swiss cheese. The burger is normally Dhs80 by itself and here it's Dhs70 with a drink, so you'd be foolish not to try it.
Dhs70. The View Tower, Al Muroor Road (600 542 524).
Be the first to get all the latest Dubai news, reviews and deals into your inbox by signing up to our free
newsletter
,
click here to sign up
.