Here at Time Out Dubai we love nothing more than a great value meal. And if you're like us, you're in luck as we've teamed up with restaurants across Dubai to lay on some amazing deals this month. Eat, Sip, Save is taking place across Dubai restaurants for 30 whole days, and it's all kicking off on Friday (November 1). Whether you're after a burger and a pint, a bargain brunch or an exceptionally priced slap-up meal, look no further. We've rounded up some of the best deals to check out below. Remember to book in advance and mention Time Out Dubai when making your reservation. The Dubai dining deals all run until November 30, so get in quick to make the most savings. Bon appetit.

A.E.R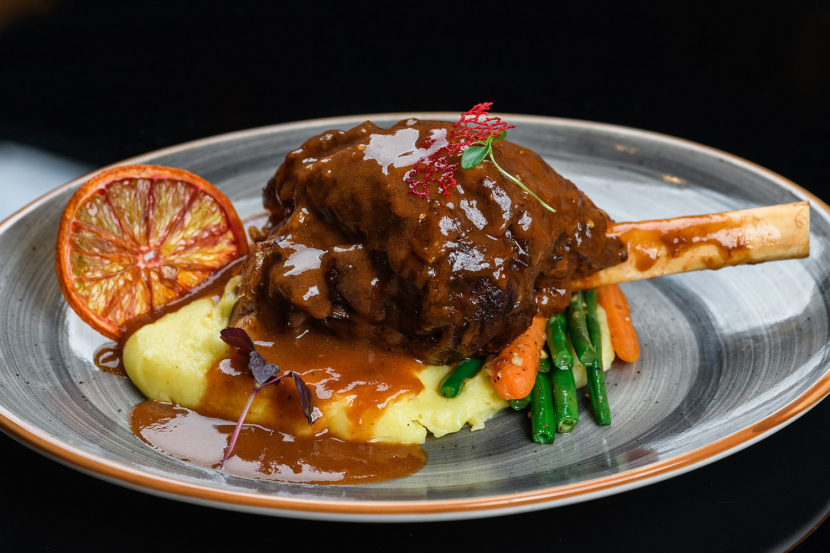 We're kicking this list off with something fancy, Dubai nightlife-lovers. This brand-new lounge in DIFC spans a massive 20,000 sq ft. It has a huge outdoor terrace, and not only does it serve up some innovative drinks, it's laying on a special dining deal for Eat, Sip, Save. For Dhs99 you can get lamb shank with gravy and polenta plus a pint of craft hops. What a bargain. We'll see you after work (or maybe for a sneaky lunch break).
Open daily noon-3am. Emirates Financial Towers, DIFC (054 994 0438).

Armani/Deli
For an authentic Italian brunch, at a discount, this one, in Burj Khalifa, is for you. Armani/Deli in Downtown Dubai has a vast range of antipasti, fresh seafood, handmade pasta, risottos, cheese and charcuterie platters, extravagant desserts and more is sure to keep you happy. Plus this month, you'll get 25 percent off the brunch, which starts at Dhs345 for a minimum of two pax booking. Pass-a the pasta.
Fri 12.30pm-5pm. Armani Hotel Dubai, Downtown Dubai (04 888 3666).

Boardwalk
This longstanding restaurant overlooking Dubai Creek is ideal in winter, thanks to its super outside terrace. Set above the waters, there's a chilled ambience and top views of Downtown Dubai's skyline (hi, Burj Khalifa). As part of Eat, Sip, Save, Dubai's Boardwalk is offering up a 1kg pot of steaming hot mussels and four bottles of hops for just Dhs149. More of a pizza fan? Enjoy a classic margherita (Dhs55) and you'll get a Mexican mixed drink thrown in for free. Love seafood? Buy any 500g from seafood market and get 50 percent off selected grape too.
Open daily noon-midnight. Dubai Creek Golf & Yacht Club, Deira (04 295 6000).

BOCA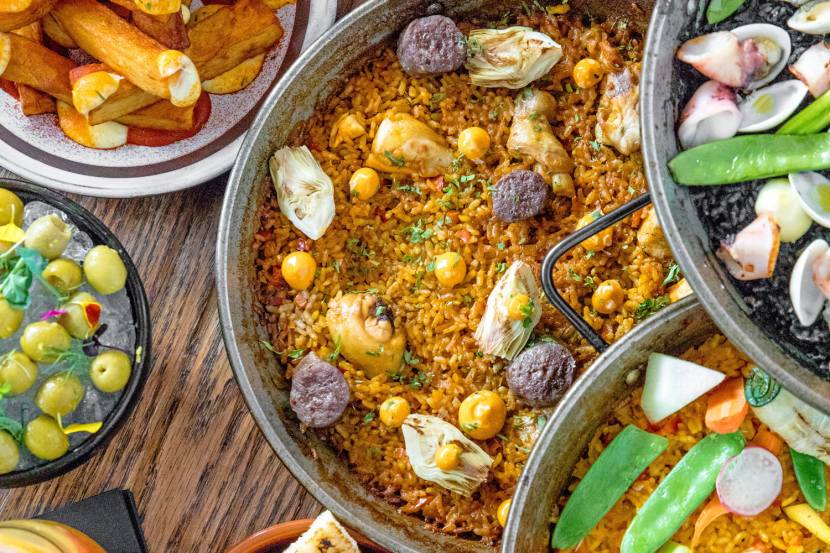 This cool Mediterranean restaurant in Dubai's DIFC is offering up a brand-new dish as part of our month-long campaign. Get the Emirati sea bass linguine (made with locally sourced fish fillet paired with black garlic and squid ink) for Dhs136, and you'll get a free glass of grape to wash it down with. There's also a brunch package up for grabs, where you'll save Dhs45 on whatever package you choose – meaning the soft package is Dhs200 (from Dhs245), vegan package is Dhs300 from Dhs345, house drinks Dhs350 from Dhs395 and bubbly Dhs450 from Dhs495. You can also get the paella club package every Satuday and Sunday for Dhs200 instead of Dhs249. Finally, BOCA is also offering discounts on the festive packages (which start on Sunday November 17) for Dhs250 instead of Dhs295 for soft drinks, Dhs350 instead of Dhs395 for house beverages and Dhs545 instead of Dhs590 for bubbly. If that doesn't get you in the mood for Christmas, we don't know what will.
Open Thu-Tue noon-2am, Wed noon-3am. DIFC (04 323 1833).

BQ French Kitchen
A seat at the En Blanc Brunch deal every weekend will set you back Dhs300 for the brunch-meets-white party (where guests are expected to don their finest white attire), which is usually Dhs350. You'll get house drinks and mixed drinks, plus some cracking Mediterranean fare – we're talking burrata, carpaccio, salmon, risotto and pain perdu for dessert. Alternatively, dish and drinks deals offer a truffle pizza and a glass of white grape for Dhs125, or a pain perdu dessert with a glass of red grape for Dhs95. Mais oui.
Open daily 12.30pm-3.30pm, 6.30pm-midnight. Habtoor Palace Dubai, Al Habtoor City (04 435 5577).

Burger & Lobster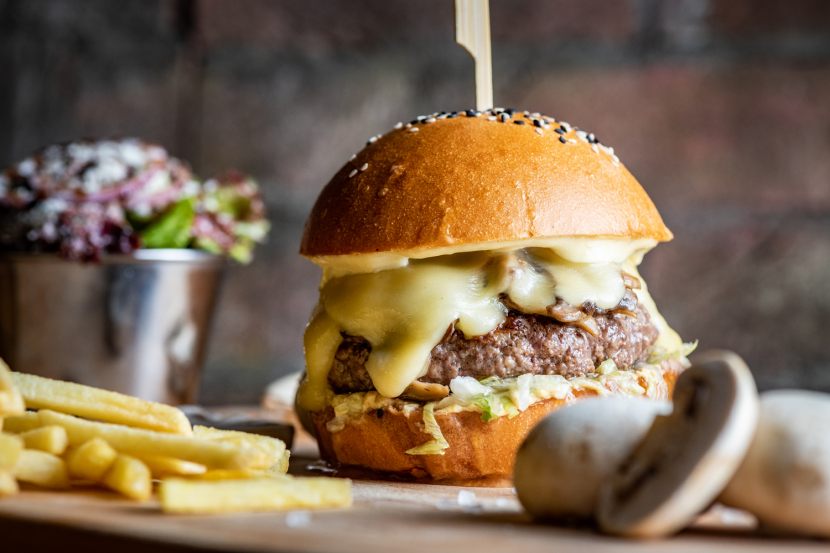 You know the drill, this Dubai restaurant does what it says on the proverbial tin. And this month if you buy any burger and a house drink, you'll get the whole thing for Dhs99. All burgers (apart from the mighty Beast) are included in the deal, so get your chops around that. Or if you're dining with an equally peckish diner, opt for any burger meal and you'll get one 6oz classic burger sandwich absolutely free. Pass us that ketchup, it's going to get messy.
Open Sat-Wed noon-midnight, Thu-Fri noon-2am. Burj Daman Building, DIFC (04 514 8838).

Certo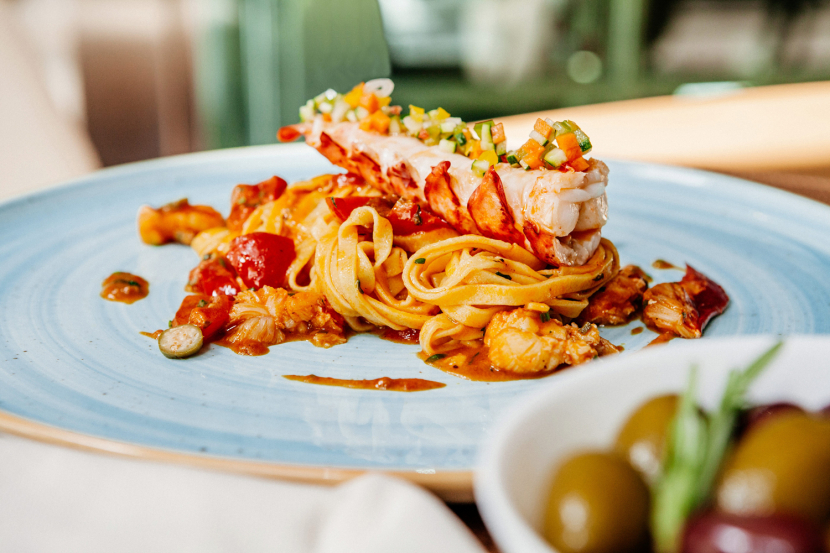 This Italian spot in Dubai Media City serves up homely, quality grub including traditional pizzas cooked in a wood-fired oven and hearty pasta dishes. Visit for dinner and enjoy any pizza or pasta with a glass of house grape for Dhs75. Pasta dishes include pappardelle with porcini mushrooms and homemade spinach and ricotta ravioli, while pizzas on offer range from to traditional margherita to the primavera pizza which is topped with mozzarella, asparagus, smoked salmon, ricotta and red onions.
Open daily noon-3.15pm, 6pm-11pm. Radisson Blu Hotel, Dubai Media City (04 366 9111).

Chuan
This Palm Jumeirah Asian-inspired eatery serves up exciting dishes and you can enjoy them all with a 12 percent discount and a free glass of house grape or hops for each guest with this Eat, Sip, Save deal.
Open daily 12.30pm-11pm. The Pointe, Palm Jumeirah (04 564 3888).

City Grill
This South African steakhouse in Dubai's Al Habtoor City is dark and moodily lit, and there are two deals that you can take advantage of during Eat, Sip, Save. Throughout November you'll be able to get an African meat platter full of ribs, steak, boerewors, lamb chops and chicken for Dhs140. Alternatively, you can get a 250g fillet or rump steak and a bottle of red grape for a bargainous Dhs285.
Open Sun-Fri 5pm-midnight, Sat 2pm-midnight. The Atrium, Al Habtoor City (04 437 0088).

Dusty's
What's better than a bubbly brunch? One at half the price, of course. Get down to DIFC with your best mate and enjoy a buy-one-get-one free deal on the bubbly brunch package. The package usually comes in at Dhs499 meaning you can enjoy four-hours of free-flowing drinks and tasty bites for under Dhs250. This is a party brunch that focuses on good music, good vibes and great food. If you're after something a bit more low-key, you can also head down for dinner and enjoy a plate of pasta and a glass of house grape for Dhs95.
Open Sun-Wed 7.30am-midnight; Thu 7.30am-2am; Fri 1pm-2am. Al Fattan Currency House, DIFC (04 354 5435).

FireLake Grill House & Cocktail Bar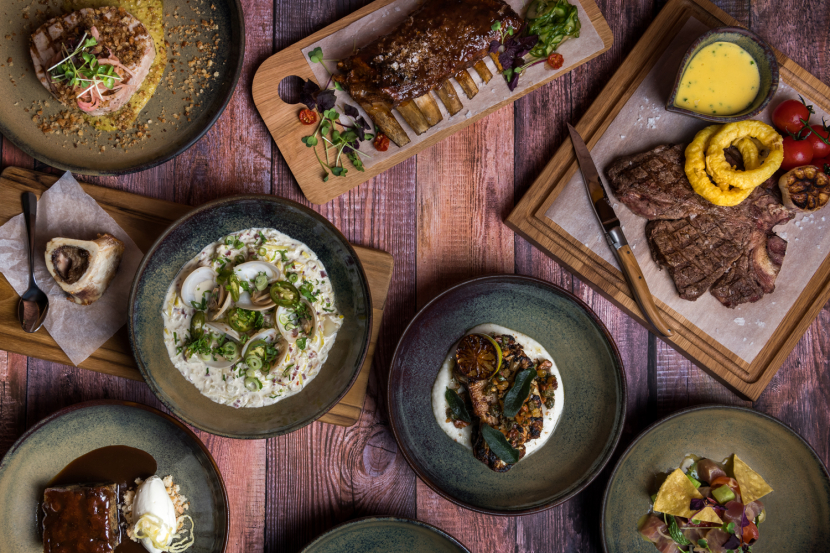 Born in Minnesota, FireLake Grill House & Cocktail Bar Dubai combines the Midwest traditions of open-flame cooking and the art of mixed drinks creation. Head down daily between 4pm and 8pm and take advantage of the Sunset Sessions deal – a mixed drink and two nibbles from a special menu and shisha for Dhs99. And let's not forget those stunning views across the Dubai Canal, the terrace is massive and is a prime spot for al fresco dining this winter.
Open daily 4pm-8pm. Radisson Blu Hotel, Dubai Waterfront, Business Bay (04 249 7800).

Fogo De Chão
This cool Brazilian restaurant in DIFC has an awesome deal that carnivores will want to check out. Every day you can head to the lounge area and order up a picanha burger and two drinks for Dhs100. The burger, which is normally Dhs99 on its own, is topped with cheddar cheese, lettuce, tomato, onion, chimichurri aioli and served on a brioche bun with fries.
Dhs99. Daily 4pm-11pm. Central Park Tower, DIFC (04 3438867).

House of Noodles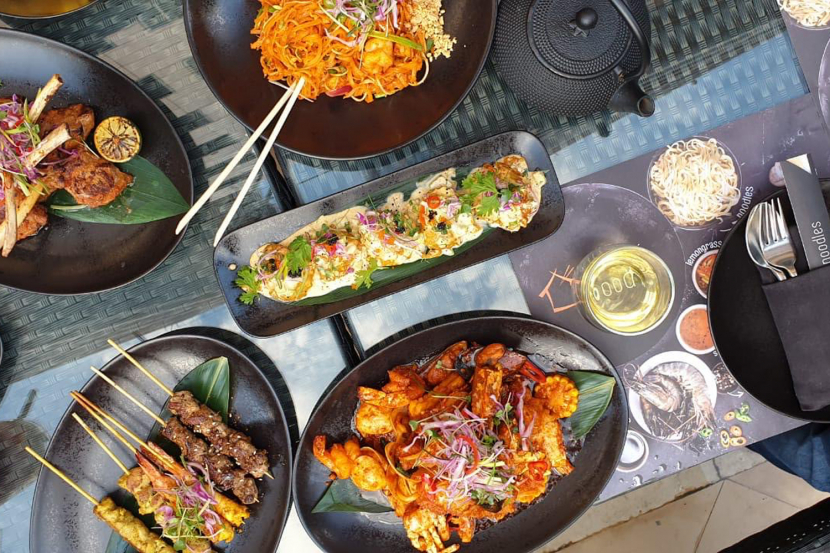 Love noodles? Head to this new restaurant and buy a starter and main and you'll get a free dessert or hot drinks thrown in too. Now the only question is, what to get? Dishes on the menu include buns, street food starters, soups, rice bowls, ramen and of course heaps of noodles.
Prices vary. Two Seasons, Dubai Internet City (04 381 8135).

Hurricane Grill
If you're heading to The Dubai Mall and fancy filling up, you'll do a lot worse than visiting this fantastic Australian steakhouse and grill. From ribs, to steaks, lamb, seafood and even vegetarian options, there's plenty to choose from. During Eat, Sip, Save, you can get a 700g prime rib-eye steak and a mocktail for a real feast, and for doing so you'll get a free dessert. Savings on dinner means more money to spend in the shops, after all.
Open Sun-Thu 11am-1am, Fri-Sat 10am-1am. The Dubai Mall, Downtown Dubai (04 283 1339).

Junipers
Head to this cute juniper bar in the new Vida Emirates Hills for a special deal on drinks and nibbles. For Dhs89 you'll get two drinks and an appetiser throughout November on a special Time Out menu, which will be served daily from 4pm until 10pm. Drinks on offer include red and white house grape and two mixed drinks. Date night, sorted.
Dhs89. Daily 4pm-10pm. Until Nov 30. Vida Emirates Hills (04 888 3444).

Ka'ak Al Manara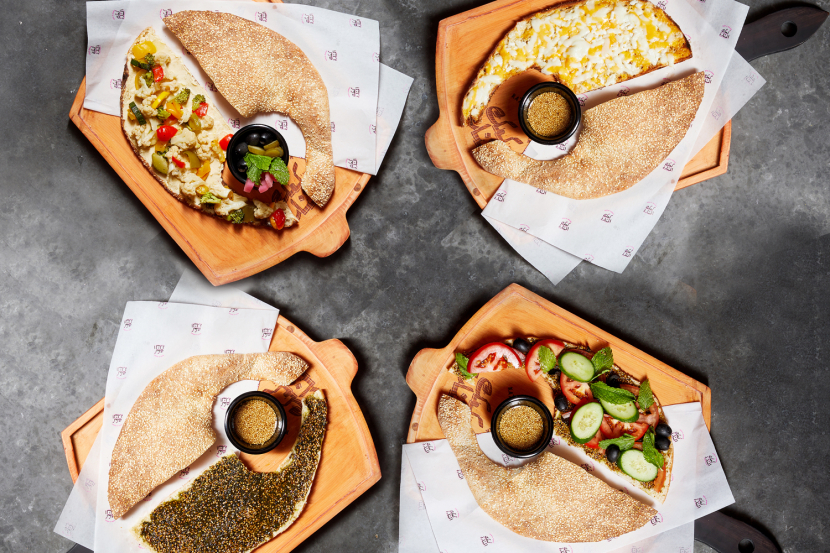 If you've never tried a ka'ak before, then you'll want to get yourself over to Dubai Media City. When ordering a takeaway, enjoy a buy one, get one free deal on all cold mezze dishes, salads, ka'aks and bites on display. We're recommend trying the delicious ka'aks – Lebanese breads with loads of fillings including melted cheese and turkey.
Open daily 7.30am-10pm. Dubai Media City (800 522 563).

La Baie
If you're a fan of swim-up bars (and let's face it, who's not?, click here for more) then you'll be familiar with this super-cool spot at The Ritz-Carlton, Dubai. But if you've spent your time sipping a mixed drink in the cool pool rather than dining, things are set to change. As part of Eat, Sip, Save La Baie is offering up a deal you'd be mad to miss. For Dhs150 you'll get pool access, plus the whole thing back on food and drink at the pool bar. Meanwhile, if you visit between 4pm and 6pm any day of the week you'll get Italian bubbly for half price. Pack those swimmers.
Open daily 11am-11pm. The Ritz-Carlton Dubai, The Walk, JBR (04 318 6150).

Luchador
Head to this lively Mexican cantina every Monday and Tuesday for some top deals that get a resounding sí from us. Chomp on unlimited tacos every Monday from 7pm until 11.30pm for Dhs99 and if you bring three of your best taco-loving mates you'll also get a complimentary jug of one of Mexico's most popular drinks. On Tuesday enjoy a special Tex-Mex menu while sipping on Dhs20 mixed drinks from 7pm until 11.30pm.
Dhs99. Mon 7pm-11.30pm. Tue 7pm-11.30pm. Aloft Palm Jumeirah, Palm Jumeirah (04 247 5550).

Maharaja Bhog
Get ready to enjoy unlimited traditional Indian food until you're stuffed. For a pocket-friendly Dhs48 you can eat as much as you'd like including chaat, starters, main courses, desserts (including kulfi) and drinks.
Dhs48. Open daily noon-12.30pm, 7pm-11.30pm. Discovery Gardens (04 554 3459) and Al Karama (04 396 4744).

Masala Library by Jiggs Kalra
This fancy Indian restaurant from world-famous chef Jiggs Kalra is laying on a special experience menu, plus a grape pairing for Dhs315 in November as part of Eat, Sip, Save. There are two other deals available too, for Dhs165. You'll get Scottish salmon, crab and spinach poriyal and a glass of pink grape or scallop moilee, gunpowder mash and a glass of grape. If you're after tasty Indian fusion cuisine, look no further.
Open daily 6pm-midnight. JW Marriott Marquis Dubai, Business Bay (04 414 3000).

Morimoto
Love sushi? You're in luck. Head to this cool Business Bay restaurant from famed chef Morimoto and you can get unlimited sushi for Dhs200, at any time between now and Saturday November 30. There's a range of sushi on offer at this swish spot that has great views of Downtown Dubai and Burj Khalifa.
Dhs200. Daily 6pm-1am. Renaissance Downtown Hotel Dubai, Business Bay (04 512 5577).

Motorino
This brand-new pizza place has a top deal from Thursday November 7. Buy any pizza and you'll get another one, plus a carafe of house grape, absolutely free. Hailing from New York, this cool new spot is in JA Ocean View hotel and looks like a top place to check out.
Prices vary. JA Ocean View Hotel, JBR (04 814 5590).

Namu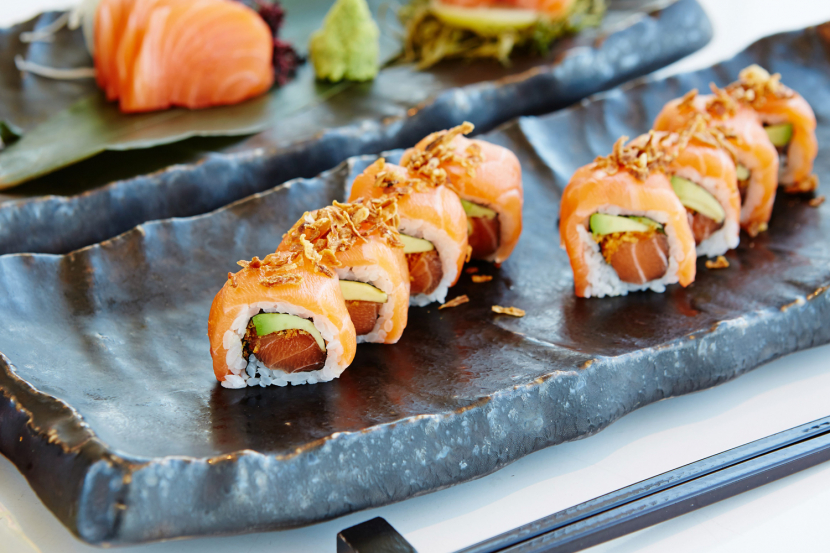 With super views across the Dubai Water Canal and Jumeirah, this sky-high restaurant at V Hotel, Dubai is dishing up some even better savings this month. Sushi-lover? You'll get 16 maki rolls, plus two drinks for just Dhs139. And the deals don't stop there. You can also get a Korean fried chicken combo with a drink for just Dhs89, la galbi or bibimbap with a drink for Dhs109 or a salmon combo with a drink for Dhs99.
Open daily 7pm-midnight. V Hotel Dubai, Curio Collection by Hilton, Al Habtoor City (04 435 5577).

Nara Pan Asian
This Asian eatery in JLT has an awesome deal to snap up this November. Head to Nara Pan Asian and you'll get salt and chilli chicken with egg fried rice and either sweet and sour or curry sauce, plus two pints for just Dhs99.
Dhs99. Daily noon-1am. Cluster A, JLT (04 421 1356).

New Shanghai
With fun, vibrant décor and a cool, family-friendly vibe, this Dubai Mall dim sum eatery is the perfect spot for a retail therapy break. There are two top offers to enjoy that make this mall pit-stop even more appealing. A special menu is will whet your appetite where for Dhs69 you can tuck into top-notch Asian dishes. Alternatively, go à la carte and choose a chicken, crab and chicken, truffle chicken or seafood xia long bao for Dhs19.
Open Sun-Thu 12pm-1am, Fri & Sat 12pm-midnight. The Dubai Mall, Downtown Dubai (04 224 6819).

Observatory Bar & Grill
This sky-high restaurant in Dubai Marina is serving a three-course menu for Dhs199 during November, so you can dig into a feast while overlooking the Marina and Palm. Not in the mood for a full meal? Fret not, there's a bar bite and glass of hops with your name on it for Dhs80.
Open daily noon-1am. Dubai Marriott Harbour Hotel & Suites, Dubai Marina (04 319 4000).

Original Wings & Rings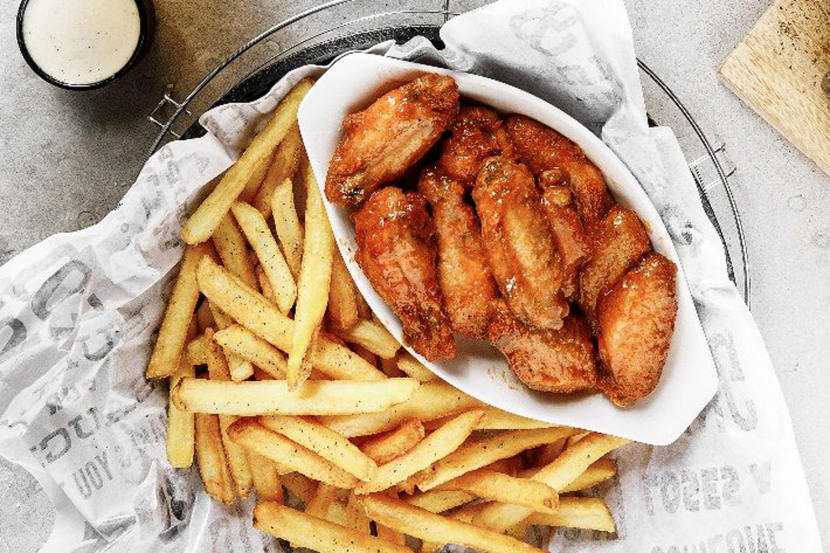 Doing exactly what is says on the tin, this casual DIFC bar is a huge hit with wing-lovers. The all-American hangout offers a variety of delicious sauces at varying spice levels, including one that you have to sign a waiver for as it's that hot. For Dhs199, throughout November you can enjoy unlimited numbers of these lip-lickingly tasty meaty wings and bottomless hops to wash them all down with – and to take the edge of the spiciness.
Offer valid from 4pm-8pm. Open daily noon-2am. Liberty House, Level C, DIFC (04 359 6900).

Palm Grill
This super beach bar and restaurant has one of the best locations in Dubai. With stunning views across the sea you can enjoy dining with your feet in the sand, for that proper holiday feel. And this month you'll be spoiled as the restaurant is offering two special deals. If you're after a snack, head here for sundowners as you'll get two drinks and light bites for just Dhs99 per person, every day from 4pm until 7pm. And if that's not enough for you, the restaurant is offering pool and beach access plus a family-style lunch for two people from Sunday to Thursday for Dhs495.
Open daily noon-11pm. The Ritz-Carlton Dubai, The Walk, JBR (04 318 6150).

Paul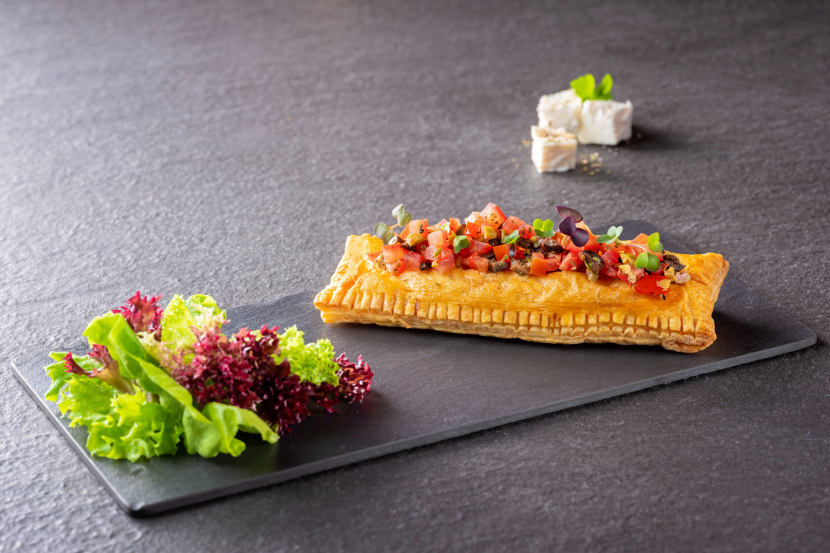 This popular, family-friendly French restaurant and bakery has a brand-new set menu for just Dhs89. Hungry diners can now tuck into a feta puff with olive and tomato salsa to start, followed up by a choice of either the ginger chicken cashew bowl or the meaty beef stroganoff for the main event. A top bargain whatever time of day you want to dig into your meal.
Various locations across Dubai including The Dubai Mall and Mercato Mall, www.paularabia.com.

Phoenicia
This brand-new restaurant from chef Greg Malouf is opening up with a super deal as part of Eat, Sip, Save. You can buy any main course and you'll get a free starter or dessert plus a mixed drink completely free. The sharing-style menu promises a "contemporary twist on the Middle Eastern classics" and will be "simple and rustic", with dishes including hazelnut falafel and sea bass sayadeeya, dishes include baklava ice cream sandwich.
What a bargain, and what better way to check out a new spot.
Prices vary JA Beach Hotel, Jebel Ali (04 814 5555).

Pickl
Love burgers? We're with you on that. And if you buy two meals at Pickl. you'll also get two free ice cream burgers to round it all off with. Now you just need to choose your main course (our advice – the spicy chicken is top).
Prices vary. Valid Sun-Thu 11am-4pm. One JLT, JLT (04 584 6859).

Ribs & Brews
At this cool, industrial-themed ground-floor bar in Al Habtoor City, you'll be able to spend an afternoon catching the footy (or other sport of your choosing), with some top grub – and you can save a few fils while you're at it. Get six chicken wings and a pint of hops for Dhs75 from noon until 5pm from Saturday to Monday, and from noon until 1am every Monday you can get your hands on the gigantic man cave burger with a pint of the black stuff for Dhs195.
Open Sat-Tue noon-1am, Wed-Fri noon-2am. Hilton Dubai Al Habtoor City (04 435 5577).

Social by Heinz Beck
Always fancied dining at this swish Italian from Michelin-starred chef Heinz Beck? Now's your chance as there's a wonderful set menu on offer for just Dhs199. The classy restaurant at Waldorf Astoria Dubai Palm Jumeirah is serving up a three-course menu with exclusive signature dishes from the world-famous chef. Dishes include fagottelli carbonara – a modern take on the traditional dish – or raspberry 1.1 – a dessert with 11 textures of raspberries. Don't miss it, it promises to be a super-special evening.
Dhs199. Until Nov 30. Waldorf Astoria Dubai Palm Jumeirah (04 818 2222).

Splendido
There are few cuisines more romantic than Italian, which is why Splendido has date night written all over it. And between November 1 and November 30 you'll get two main courses and a bottle of grape for Dhs295 per couple. A date night for under Dhs250 for two? You can't say fairer than that. Our advice? Book a seat outside amid the twinkly lights and pretty gardens for the ultimate romantic night out.
Open daily 6pm-11pm. The Ritz-Carlton Dubai, The Walk, JBR (04 399 4000).

Tanuki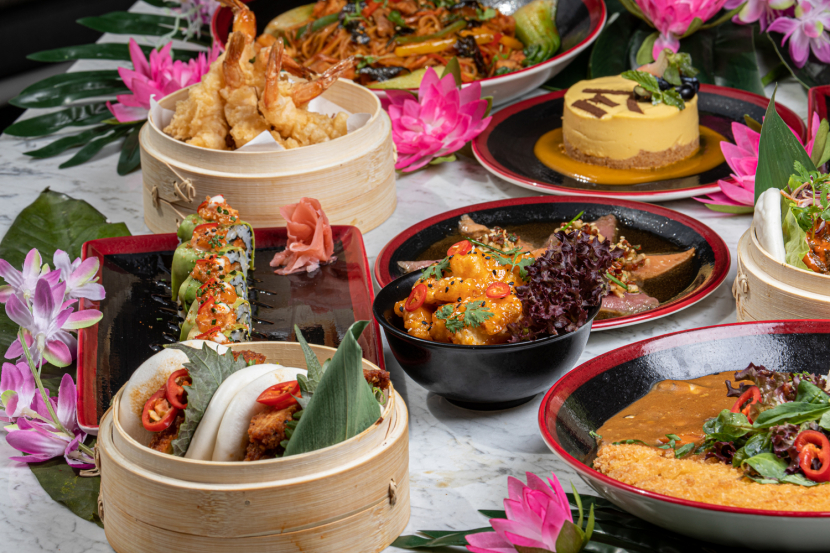 If you're looking for a mid-shopping bite to eat then we've got three top deals for you from this popular restaurant chain from Miami. Every day between 4pm and 6pm it's buy one, get one free on all dishes from the same section, while Mondays mean maki madness: between 6pm and 11pm all plates of maki are just Dhs25. Fancy becoming a top sushi chef yourself? Get creative every Sunday at Tanuki and learn how to make the perfect sushi rolls with the restaurant's head chef between 7pm and 8pm. The sushi masterclass is for those aged 13 and over and costs Dhs99 which includes a complimentary place of sushi.
Open daily 11am-11pm. The Dubai Mall, Downtown Dubai (04 580 8228).

The Blacksmith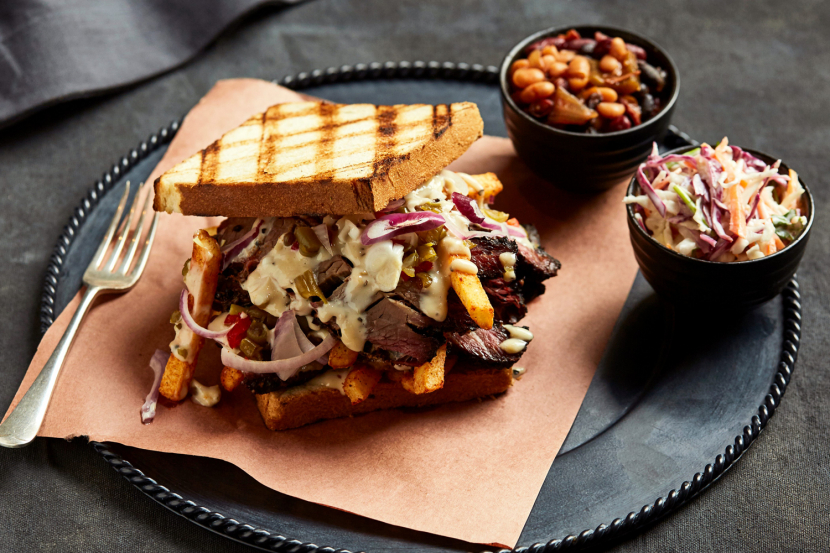 There's no shortage of Deep South-inspired meateries in this city, but The Blacksmith is among the most authentic in town so if you're mad about meat, this is the deal for you. Sample the belly-busting Texas Brisket Sandwich – a fresh potato roll layered with 14-hour smoked brisket and topped with pickles, onions and barbecue sauce, and a pint for just Dhs69. Lip-smackingly good, all for under Dhs100.
Open Sun-Wed 5pm-2am, Thu-Sat 5pm-3am. Wyndham Dubai Marina, Dubai Marina (04 407 8873).

The Butcher Shop and Grill
There are three top offers to pick from at either of the branches of this top South African steakhouse where there is an impressive selection of meat to choose from including barbecue cuts, prime rib and beef steak. Whether you opt for the whole South African tenderloin (a saving of around Dhs220) weighing in at a whopping 800g to 1kg, the South African four steaks board (a saving of Dhs210), which gives you a meaty taster of various cuts including tenderloin, rib eye, rump and sirloin or, got for the South African bone-in-steaks option (a saving of around Dhs170), you get two refreshing Cuban mixed drinks, the perfect accompaniment to red meat. Plus all succulent steaks comes with sides.
Sun-Thu 11am-midnight, Fri & Sat 11am-1am. JBR The Walk, Mall of The Emirates & Mirdif City Centre, butchershoparabia.com.

The Exit Sports Bar
This new sports bar only opened at the end of September, so if you're yet to try it out – now is the time, especially with this cracking deal. For Dhs100 you'll get a one-metre pizza. One to share with friends (or on your own on a particularly hungry day). For Dhs250 you can get a sharing mixed drink, too.
Dhs100 (pizza), Dhs250 (drink). Mercure Hotel, Barsha Heights (04 381 8888).

The Market
One of the best family brunches around, The Market's Friday brunch at Hilton Dubai Al Habtoor City has got a terrific deal on throughout November. Book in for a Friday afternoon feast, and you'll get an almost 50 percent discount on soft, house and kids' packages. House drinks cost Dhs225 per person instead of Dhs425, soft drinks at Dhs150 instead of Dhs300, and Dhs100 for kids aged six to 12 – it's free for kids aged five and under. Meanwhile, theme nights throughout the week (except the seafood night) will set you back just Dhs99.
From Dhs150 (soft), Dhs225 (house), Dhs100 (kids aged six-12), free (kids five and under). Fri 1pm-4.30pm. Hilton Dubai Al Habtoor City, Sheikh Zayed Road (04 435 5577).

Tokyo Vibes
If you haven't checked out this cool nightlife venue at Soho Garden, now's your chance. As not only can you have a top night out – you'll get a great value menu, too. Every Wednesday, Thursday and Friday you can get a whopping 50 percent off the food menu at Tokyo Vibes, from 8pm until 10pm. Think sushi, maki rolls, sashimi and more. Delicious.
Prices vary. Wed-Fri 8pm-10pm. Until Nov 30. Soho Garden, Meydan, Nad Al Sheba (052 388 8849).

The Yellow Monkey
Love Thai food? Head to this cool, casual spot at JBR for a great deal in November. Enjoy a three-course tasting menu for just Dhs90. The menu includes classic dishes. Sounds like a good way to spend an evening to us.
Dhs90. Open daily 11.30am-11.30pm. JBR (04 427 0442).

Be the first to get all the latest Dubai news, reviews and deals into your inbox by signing up to our free
newsletter
,
click here to sign up
.