Pure vegan
BLOOM Vegan Kitchen
Vegan and looking to order in some plant-based food? You're in luck as there's a delivery-only kitchen that's serving up some tasty vegan dishes. BLOOM Vegan Kitchen launched in Dubai last month and has been such a hit that it's even expanded to the capital. All dishes cooked up by the kitchen are 100 percent vegan and delivered within 30 minutes. Dishes include power bowls such as burrito bowl, falafel bowl and quinoa bowl, as well as soups, cauliflower tacos, veggie curry and rainbow pad Thai. There's also a list of burgers including "Vegan Don't Bite" with a veggie patty, guacamole, lettuce, jalapeño, vegan mozzarella, sweet and sour slaw and a grilled cheese sandwich made with vegan cheese. And the hummus veggie toast with beetroot hummus, peppers, aubergine, courgette, edamame and sundried tomato will catch your eye, too. There are even plant-based desserts including chocolate brownies and vegan tiramisu. BLOOM Vegan Kitchen is also an "environmentally conscious" brand, too. The team says 90 percent of the packaging used is recyclable, with a look to improve on that.
www.bloomvegankitchen.com.

Encas
One of the hardest things to find as a vegan is quick, sweet snacks. With chocolate and gelatine off the table, it's a bit of a challenge to source something to fill that elevenses-shaped hole. Luckily, that's where Encas comes in. It promises to offer eats that don't "compromise on taste and the physical beauty of food", which is something that we can absolutely get behind. The staple range is chocolate bites – miniature flavoured squares featuring everything from ginger to pistachio. We love the Carré New-York, New-York, which is a crunchy biscuit base topped with dairy-free caramel, peanuts and a crackling chocolate top. Is it snack time yet?
Available on Deliveroo.ae. Cluster Y, JLT (050 125 6280).

Hippy Deli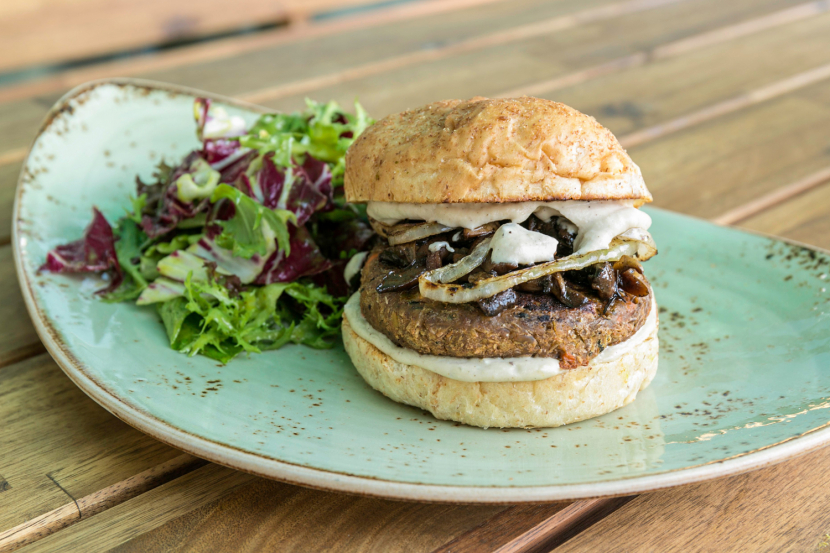 The offering here is entirely plant-based, wholesome and nutritious, without the hassle of dissecting the entire menu for traces of dairy. The menu is ever-growing and it caters for every meal of the day, but we're particular fans of the jivamukti burger, made up of a sweet potato, wild rice and black-eyed pea patty with tomato chutney, sautéed kale and caramelised onions in a wholewheat bun served with a side hippy salad. The spag and neat balls are also worth a mention – or a shout from the rooftops. And for dessert, we can't get enough of the açaï bowls here, and there's even an option
to build your own.
Available on Deliveroo.ae. Cluster Y, JLT (04 369 7821).
Vegan-friendly
800Pizza
The pizzas here are so authentic that even real-life Italians find it hard to shrug in that inimitable European way at the quality of this gorgeous grub. A vegan pizza has made its way on to the menu at this quintessentially Roman pizzeria, topped with gooey Italian vegan cheese and a bucketload of veggies. If it comes down to deciding who gets the last slice, we'll see you in the Colosseum.
Various locations including Dubai Marina, www.800pizza.com (800 74992).

Açai Spot
A berry that can make you look younger is definitely something we can get on-board with, and the dishes on offer at Açai Spot are loaded with them. Whether you're concentrating your dosage with an açai smoothie, or branching out into one of the many salads, sandwiches and soups, you'll find a massive range of healthy vegan-friendly options here.
Locations include Deira City Centre & DIFC. Available on Deliveroo.ae and Talabat.com.

Balance
Been good all week? Is that borderline primal need to have a treat taking over? Don't want to feel that post-pizza guilt? Make a beeline for Balance on Deliveroo, because this place does low-calorie, low-carb, high-protein food that is, almost paradoxically, delicious too. Grab the vegan bowl, which contains some sort of vegan patty that's totally natural (and delicious), but we can't figure out what's in it for love nor money. Also try the veggie burger, but without the cheese or mayo, bleugh!
Available from Deliveroo.ae.

Bareburger
For organic burgers that will suit every taste, Bareburger is a top takeaway choice. Vegan? You're in luck. Much has been made of The Beyond Burger since it launched here, and with good reason. It's completely free of animal products (it's made from pea protein and potato starch) yet it really does taste almost exactly like meat – and it looks like it too. An extra tip? Order up the light, crispy and utterly delicious onion rings as your side and you'll be happy.
Various locations including La Mer, Jumeirah 1, The Pointe, Palm Jumeirah, Dubai Festival City. www.bareburger.com/uae.

Bowlful
Who needs plates when you can tuck into a beautiful bowl of brightly coloured vegetables? Bowlful offers healthy gluten-free meals served on a bed of whole grain, with top picks including the Arabian-inspired Fairuz, which features organic quinoa mix, steamed carrots, hummus and baked falafel all mixed together with baked baby courgette and steamed carrots. Also popular is The Buddha, which is not only pleasing to look at but also wholesome with its combination of cauliflower rice, seasoned chickpeas, baked butternut squash, kale, avocado and pomegranate.
Available on Deliveroo. Cluster Y, JLT (04 369 7821).

BR8 – The Bright Kitchen
The motto at this JLT eatery is to live bold and eat bright, with the attractive menu offering plenty of options for vegans as well as vegetarians and meat eaters. We've got our eyes (and taste buds) firmly trained on the Mexicano salad, which is the lowest carb option on the menu – with curly kale, avocado, red pepper, black beans, corn and other vegetables making for a delicious combination. Fancy something sweet? Why not try some cacao balls for dessert – or perhaps go out and have a slice of banana bread with dark chocolate chips (it's all totally vegan, naturally).
Available on Deliveroo.ae. Business Bay (04 551 5582).

Burgerfuel
We love how much this takeaway burger joint has leaned into the vegan lifestyle in Dubai. Given Burgerfuel fills its restaurants with hand-painted graffiti and art, and even runs its own radio station (you can listen live at www.burgerfuel.com, btw), we're not surprised to see that the veggie and vegan options are pretty mega. Vegan patties, vegan wholemeal buns, vegan sauces and more are available, so just ask for the cheese and aioli to be removed (if you're ordering the V-Dub Vege burger), and you're good to go.You'll be happy to hear that Burgerfuel's vegetarian and vegan patties are all "vege-verified" by the New Zealand and Australian Vegetarian Society – happy days, because they've got the "V Tick" for "100 percent guaranteed vege-ness". Right?
Various locations including Palm Jumeirah and The Walk (800 23835)

Catfish
From wellness blogger Gbemi Giwa, dishes at Catfish are influenced by her Nigerian roots and interest in healthy living. The menu isn't huge but the selection is top-notch, including for vegans – if it has a V next to it on the menu, you're good to go. Don't miss the Wrestler's Choice, made up of sticky jerk mushrooms, grilled plaintain, guacamole, salad leaves and the smokiest jollof rice we've ever tasted. The jollof hummus is equally good. A top lunch choice.
Business Bay (054 533 3276). Avaliable on deliveroo.

Circle Café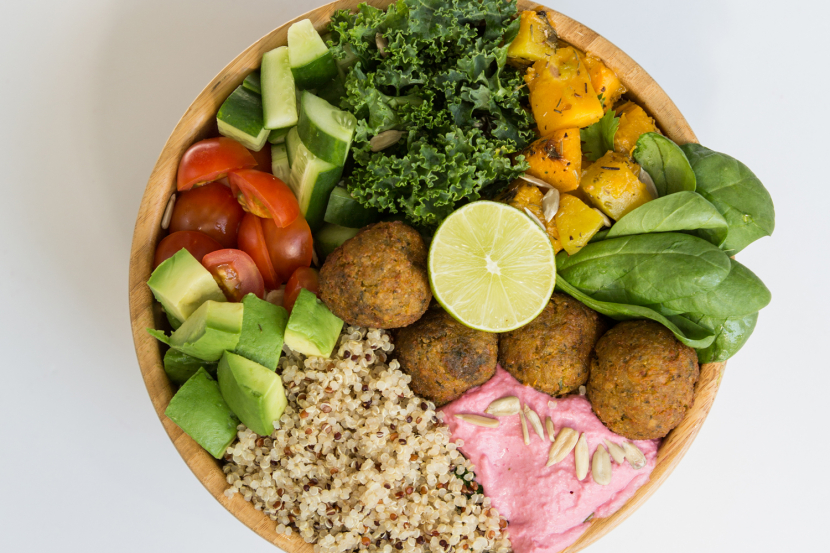 Now this spot, found across the city in locations including Dubai Sports City, Dubai Media City and Dubai World Trade Centre, really goes all out with some of its vegan options. There are four main dishes from which to choose if you're looking for a spot of lunch, and it's all proper healthy stuff too (not everything vegan is healthy, guys, remember that). So, on the menu you'll find a roasted cauliflower, barbecued chickpea and avocado flatbread for Dhs41, brown rice noodle and edamame salad for Dhs45, plus a pumpkin, tomatillos with roasted almonds, jalapeños and more for Dhs39.
From Dhs39. Various locations including Dubai World Trade Centre (800 247 253).

Freedom Pizza
A post-brunch favourite for many a Dubai resident, Freedom Pizza runs a magnificent selection of vegan pizzas, and even some vegan desserts if you're after something a bit sweet. Next time you're after a quick pizza, get your hands on the "Free-Gan", with tomato sauce, orange bell pepper, jalapeños, cherry tomatoes, caramelised onions, coriander and vegan cheese. For a side, try some super-tasty sweet potato fries, or alternatively you can get the superfoods salad, stuffed with kale, rocket, onions, red bell pepper, purple cabbage, cranberries, almonds, pumpkin seeds and all that other healthy stuff – including a raspberry and black pepper vinaigrette. And in even more exciting news, in 2019 Freedom introduced the Beyond Pizza, so you can enjoy Beyond meat on your takeaway, if you're missing pepperoni. The smoky taste makes it very authentic.
Various locations, including Al Barsha and Dubai Marina (04 453 4313).

Freshii
This vegan-friendly spot has almost too many options, with veganity baked right in. From vegan brekkies (hello, coconut milk, chia seeds and fruit breakfast puddings), to vegan burritos (featuring quinoa, lettuce, avocado, corn and a whole bunch more loveliness), Freshii knocks the vegan thing out the park. We're particular admirers of the superfood soup – a vegetable broth with quinoa, kale, broccoli, cabbage, carrots, celery and red onions, basically all the foods mum said were good for us when we were kids. Why we didn't believe her, we don't know, because this dish is as delicious as it is healthy. The vegan chilli is also excellent and a go-to lunch for us.
Various locations including Business Bay and Dubai Media City (800 3737444).

Il Donaccino
Thought your doughnut eating days were over? Think again. Il Donaccino bakes a super-tasty range of doughnuts, so good that your non-vegan friends won't even be able to tell the difference (well, probably…). Flavours include standard sugar, berry and cinnamon. We'll be the ones drooling like Homer Simpson.
Cluster D, JLT (04 276 7110).

iWok
You don't even really have to try that hard to sort out a vegan meal from this takeaway Asian street food house.

It's a simple process, you pick your base, then which ingredients you'd like, then which sauces to top it all off. Start with some rice noodles (with spring onions, cabbage and carrot), or quinoa, or even a veggie mix base then add in a whole range of additional toppings, like tofu, shiitake mushrooms, peanuts and more. We like ours with the i Saigon garlic and black pepper sauce. Done.
Dubai Marina Promenade (800 4965).

Kcal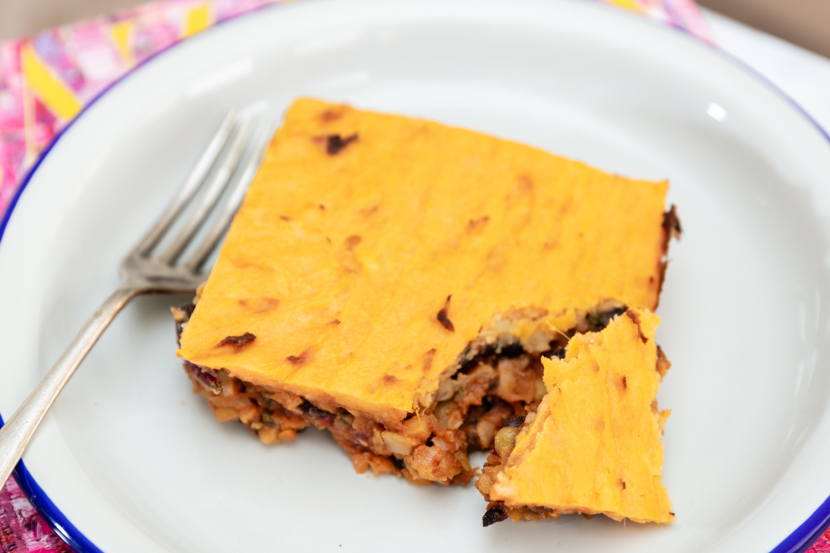 Kcal operates a strict no-fry policy, but what it lacks in grease it makes up for in bountiful vegan options. Every dish on the menu has been whipped up to comprise a perfect combination of carbs, proteins, healthy fats and essential vitamins and minerals. Vegan dishes include a quinoa avocado and sweet potato salad. There's also now a vegan meal delivery plan available for those looking to get into shape, or who just want to experiment the easier way. We particularly like the look of the vegan shepherd's pie (pictured left). Let-uce feast.
Dhs18 (lentil soup). Locations include JLT Cluster D & Healthcare City, www.kcallife.com (600 595 955).

Little Erth by Nabz & G
There's no shortage of healthy eateries in JLT, yet Little Erth by Nabz & G (formerly Urth by Nabz & G), is one of the best around – especially for vegans. However, the food is surprisingly "normal" with items on the menu such as paella, burgers and risotto. And if you're plant-based there's even vegan cheese made with tofu, cashew cream and dill. Zesty spaghetti (courgetti) is deliciously fresh, laced with zingy lemongrass and cashew cream and there are loads of comforting curries and stews too. If you have room, order the gluten-free, sugar-free and dairy-free desserts, as well.
Cluster J, JLT, www.nabzng.com (04 276 7287).

Man'oushe Street
While we laud this restaurant for its fantastic akkawi cheese manakish, Man'oushe Street also serves up some pretty solid vegan options, depending on what you're after. Manakish is usually considered a classic breakfast option in the region, so you can get your hands on the spinach pie as an alternative, or the zaatar manakish with wild zaatar leaves, tomatoes and onions. There's also the baked green falafel mighty wrap, topped with lettuce, tomatoes, radish, pickles and tahini. Pair any of the above with some home-made hummus, and you're on to a definite winner here.
Various locations including Barsha Heights and JLT (600 566667).

Operation Falafel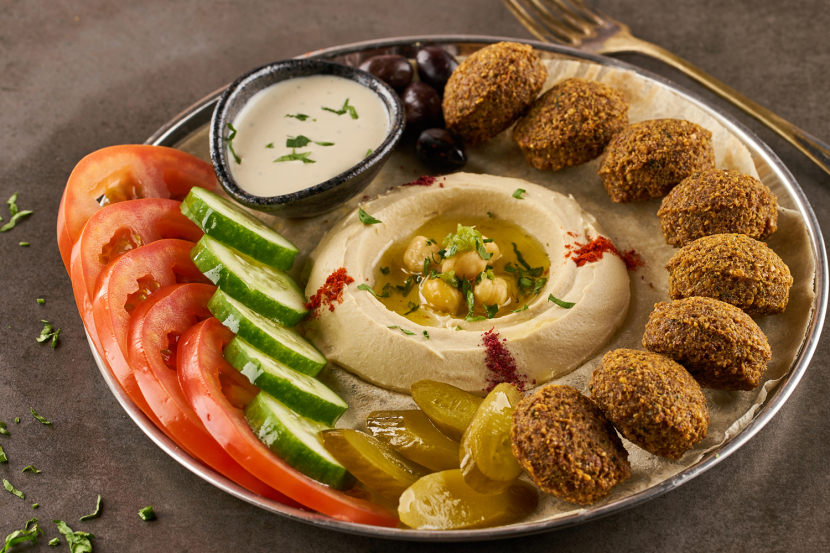 If you're yet to sample the magnificence that is a falafel saj from this street eats chain, then you've been missing out for way too long. Operation Falafel is expanding pretty rapidly across the city, and dishes up some of the most affordable lunches you'll find in Dubai, with menu items (including the aforementioned saj) available from just Dhs15. Get your hands on a bunch of falafel (stuffed or otherwise), freshly baked breads, homemade hummus and more – we particularly like the fiery falafel saj, with spicy sauce, pickles and tahini. The spicy potatoes are also an excellent side to order up if you like your food with a bit of a fiery kick.
Various locations including Dubai Motor City and The Walk, JBR (600 530006).

Paratha King
This spot claims to be the only restaurant in the UAE to serve more than 100 different types of vegetarian stuffed parathas (which is like an Indian flatbread), so you'd expect some decent vegan options in there. And you'd be right, because there's plenty to devour at this takeaway chain if you're after a quick, and light, bite to eat. There's so much to choose from it's almost overwhelming. So if you're after a paratha teeming with veggies look no further. There are subcategories with loads of different parathas filled with corn (for example), or about six different types of cabbage paratha, potato, and more.
Various locations including Bur Dubai (04 397 9110) and Dubai Internet City (04 445 6977).

Pineapple Express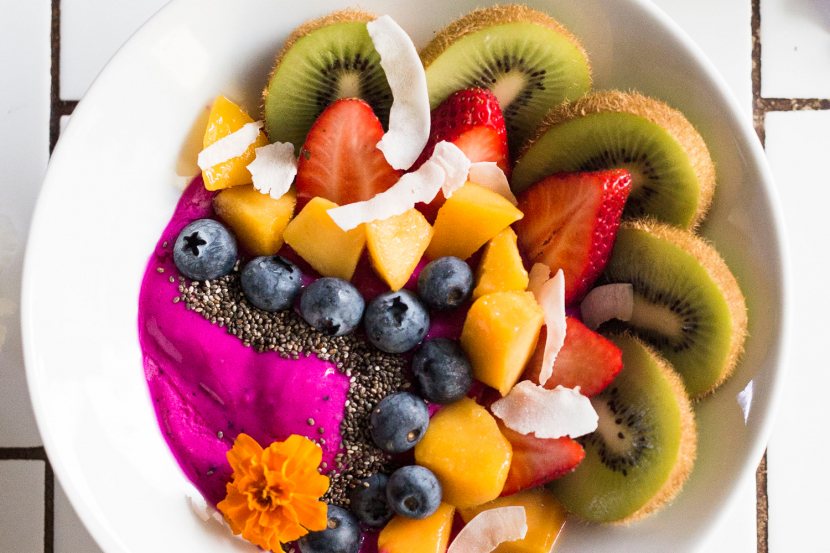 Pineapple Express calls itself a "superfood café" where everything on the menu is "good for your insides". So far, so very vegan. On top of that, the whole process is so very streamlined, to make it feel like you can pop in and pop out again within minutes. Found at Almas Tower in JLT, you can get your hands on breakfast bowls including the gym junkie – that's açai, coconut water, banana, mango, vegan protein, granola, shaved coconut and fruits. There's also the vegan poke bowl, with tofu, soy sauce, edamame, avocado and more and a whole bunch of fresh juices. We approve.
Almas Tower, JLT (054 402 4660).

Pinza
If it smells and looks like pizza, it must be, right? Wrong, it's Pinza! Don't let anyone tell you otherwise. There are a few vital traits that set the two apart, including its deliciously crispy base (made with more water than other pizzas), but the best one of all is the vegan options. From its OMV Oh My Vegan pinza topped with vegan mozzarella cheese, vegan mexicano chipotle sausage and a whole lot more, to the potato-based mother earth option, vegans can't go wrong to satisfy their pizz- oops, we mean pinza appetite. If you're looking to be more specific, you can even build your very own pinza with whatever toppings you want, from smoked apple sausages to avocados.
Locations across across Dubai. www.pinza.com (800 74692).

Poké & Co
"Hooked on healthy" is this place's strap line, and that's because there's almost nothing nasty on this menu. The vegan breakfast options here are worth checking out as a healthy start to your day with the avocado toast with asparagus and zaatar, vegan banana bread or the nut butter toast, all delightful options.
Central Park Towers, DIFC (800 7653) and Cluster Y, JLT (04 526 0471).

Right Bite
Thinking of starting a diet but can never really stick to it? Sign yourself up for the "Vie is for Vegan" meal plan to at Right Bite and you'll get a daily dose of health made delicious. The meal plan gives vegans a selection of dishes to choose from for each essential meal, including breakfast featuring a halawi and banana chia pot and avocado with flaxseed crackers, lunch and dinner, which serves shiitake mushroom donburi and charred corn and black bean salad, along with some AM or PM snacks. Best part? You'll get all the meals delivered straight to you, just so there's no excuse to skip out on your plan.
Al Hudaiba Awards Building, Jumeirah Road, www.rightbite.com (04 33 88763).

S'wich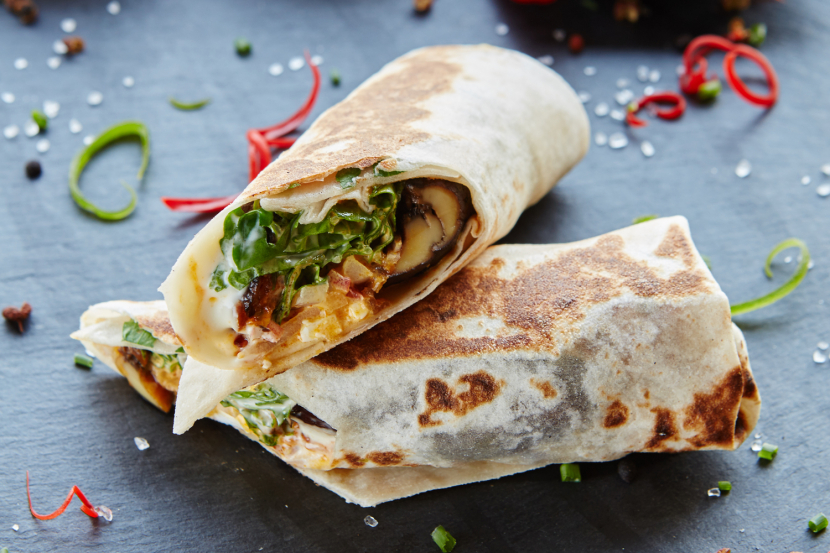 This Dubai Marina fast food joint is the Subway of the shawarma world. Choose your base (there are salad leaves if you're not a fan of bread), then either falafel or mushrooms. Then add one of 21 toppings, which are all vegan and range from chives to roasted pine nuts and spring onion. Plant-based sauce options include avocado paste and homemade mint sauce made from fresh blended leaves. Give us the shawarma. All the shawarma.
Available on Deliveroo.ae and via myswich.com (800 79424).

SugarMoo
Who says a cake can't be a cake without eggs, dairy or butter? Definitely not SugarMoo, with its array of freshly baked vegan-friendly cakes and other delightful guilty pleasures. With ten different cookies, shortcakes and brownies to choose from, along with the bigger "crazy cake," it would be hard to find tastier "free-from" dessert options around the city. If you have a special occasion coming up or just want to amp up the fun factor then order up one of these beauties for your next party. Your non-vegan friends will never tell the difference. Plus, you don't even have to step outside your door, as SugarMoo delivers your treats straight to your home.
Open Sat Wed 10am-10pm, Thu-Fri 10am-midnight. Al Quoz, www.sugarmoo.com (800 78427).

Sushi Counter
An old reliable here in Dubai, Sushi Counter has some of the best sushi rolls in the city for healthy and scrumptious bite out at lunch. From the simple hummus and cucumber roll to the all in one vegetable hand rolls, sushi lovers will find plenty of fish-less sushi. You should definitely get the avocado sushi, because it's great. That's not the only thing on the counter, as the vegetable poke bowls are jam packed with healthy items, featuring rice, edamame, pickled ginger, avocados, carrots and more.
Multiple locations including Dubai Media City, World Trade Centre Area and Motor City, www.sushicounter.com (800 2686837).

Taqado
|If there's anything vegans love more than a taco or burrito, it's one you can build yourself. Whether you're looking for a soft or hard shelled taco or a lower carb, wheat-free burrito, you can stuff them with grilled mushrooms and top it off with some black beans or lime and coriander rice. The restaurant also delivers some fantastic avocado chips as a side, and you can get it delivered to you post haste no matter where you are in the city, thanks to its multiple branches. Mashing up the freshest avocados to satisfy your guacamole cravings and chopping some juicy tomatoes daily for excellent dip, you'll get fine Mexican food here.
Various locations including Jumeirah Beach Road, Dubai Studio City, Dubai Media City, www.taqado.com.

The Salad Jar
Salad in a jar? What an ingenious idea, and it all started with The Salad Jar founder, Danielle Sallam, putting her trademark quinoa salad in a mason jar for her husband. Neatly packed in colourful layers of pure healthiness, there are many variations of jars, although the most popular ones are completely vegan. The Mex is one of the all-time favourites full of beans, with black beans, white beans and an assortment of green goods, while the Soba Good is packed with soba noodles, cabbage, snow peas, pickled cabbage, sesame seeds, edamame, tofu, avocado and kale. Spring Not Roll is pretty much what it says on the, erhm, jar. If you're looking for a midday feast, why not get a jar full of it.
Al Quoz, www.thesaladjar.me (055 561 3590).

Under500
Not only does this home-style café offer some deliciously good vegan options, but each meal is – you guessed it – under 500 calories, and even shows off the amount of protein, carbs and fat in each dish. It's not the best food on this list, but vegan treats here include the loaded sweet potato with five bean chilli, the spicy lentil ragu with puy lentils, garlic, mushrooms, leek and tomato on a bed of wild rice and a creamy, wild mushroom risotto. Presented in style, it's all very warm and extremely comforting. Without any of the guilt – we're in.
Various locations including Business Bay; O Cluster Y, JLT; Marina Scape Tower, Dubai Marina, www.under500.com (800 86337500).

Vietnamese Foodies
The winner of our best budget restaurant at our 2019 Restaurant Awards is also available for delivery, and there's nothing better than a bun in bed, unless it's a Dhs38 bun. Dim sum, broths, noodles and stir fries at prices that will make you wring your hands in gratitude, you won't find anywhere better for Vietnamese food – especially as there's a dedicated vegan menu too.
Downtown Dubai (04 554 2090), JLT (04 565 6088). www.vietnamesefoodies.com.

Wok Boyz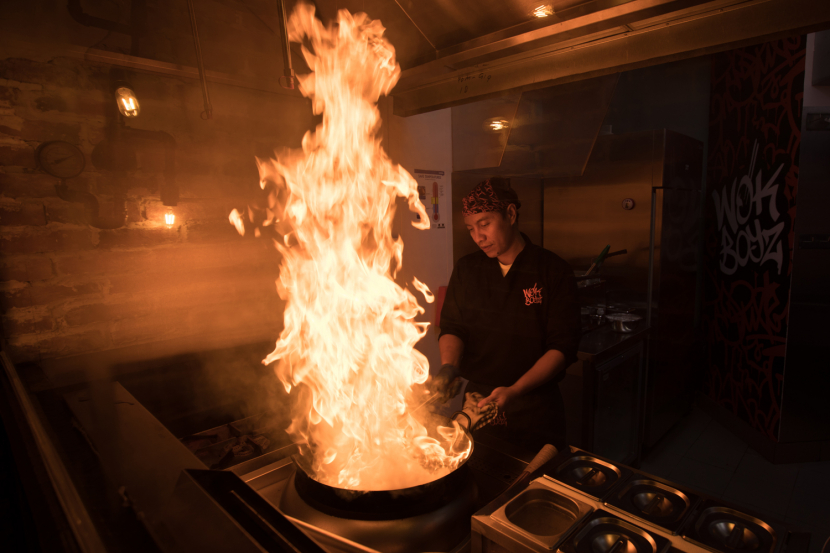 Every vegan has experienced that lingering doubt that whatever has just been served might contain a sneaky piece of animal. But luckily at Wok Boyz, you can choose every single ingredient – and there are plenty of vegan options. So whether you want jasmine rice, quinoa or mixed vegetables, there's a base for you. We'll assume you're going for the veggie-friendly tofu as your protein, and then there are 16 different toppings to choose from – all of them suitable for vegans. Even better, it's a bargain too.
Delivery to locations across Dubai, www.wokboyz.com.

Wokyo
There's nothing quite like the satisfaction of slurping up some wok-style noodles, especially when you get to decide what goes in it. Wokyo noodle bar over in JLT lets customers build their own dish and has a number of sauces and options just for vegans, including the spicy Jakarta sambal goreng and even hotter Seoul flaming chilli sauce. Foodies can then choose from a list of different noodles, rice or even go completely green with pok choi and peppers, and then add on a wealthy amount of tofu or even more veggies. And in exciting news for residents in Jumeirah, there's now a branch in Al Safa, too, opening up a whole new area for delivery.
J2 Tower, Cluster J, JLT (800 96596). Al Safa (04 330 5188). www.wokyo.com.
Be the first to get all the latest Dubai news, reviews and deals into your inbox by signing up to our free
newsletter
,
click here to sign up
.