The eggy ones
Balkan Breakfast at 21 Grams
A petit bistro serving up grand food. The Balkan breakfast combines all the hearty staples the region's cuisine is known for; white cheese, red peppers, tomatoes, spicy sausages and throws them all together on top of some perfectly-cooked scrambled eggs. It's clear to see why this is the café's best-selling dish – you can get the dish for two people, though it's a tough one to have to share.
Dhs65. Daily 7.30am-11pm. Park Regis Boutique Hotel, Jumeirah Street, Umm Suqeim, www.21grams.me (050 841 5021).

Brothaus Brezel at Brothaus Bakery-Bistro
There's an abundance of coffees, cakes, sandwiches and salads at this German bakery and restaurant but if you're here for breakfast, go for the brezel – a freshly baked bagel packed full of pastrami, scrambled egg, sriracha for a bit of spice, avocado and grilled tomatoes, served with a side salad. A hearty way to start the day.
Dhs55. Open Sat-Thu 7.30am-midnight, Fri 7.30am-2am. Steigenberger Hotel Business Bay Dubai (04 369 0000).

Eggs Kejriwal at Raju Omlet
Eggs, in all forms. That's pretty much what Raju Omlet is all about. And that simplicity really works at this quirky Indian joint. Don't miss the signature eggs Kejriwal – a mix of eggs, chillies, cheese and mushrooms with fried eggs, atop the softest pav bread. It's indulgent, comforting and delicious.
Dhs10.75. Locations include Al Karama and Al Quoz, www.rajuomlet.net.

LOWE Breakfast at LOWE Café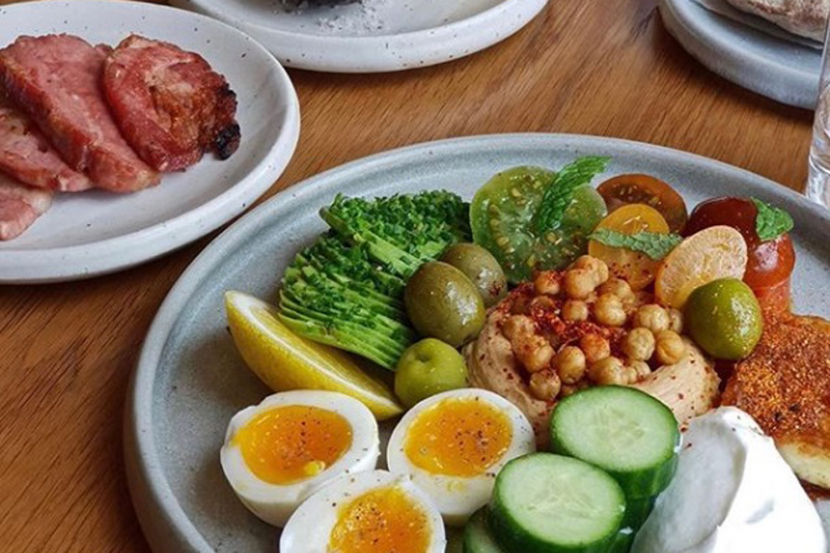 Don't expect your usual full English at this Aussie café. Instead, The LOWE Breakfast combines cucumbers, tomatoes, avocado, chickpeas, halloumi, boiled egg and olives accompanied by soft, fluffy flatbread for a distinctly Middle Eastern flavour. It comes in at Dhs84, but the generous portion size means you won't want lunch – possibly not even dinner – so there's a saving right there. And you can even order some beef bacon on the side.
Dhs84. Al Barari (04 320 1890).

Mama'esh breakfast platter at Mama'esh
This traditional spot is one of our favourite budget eateries in the city. And where better to go for brekkie than somewhere that is pocket-friendly. With the breakfast platter, packed with fresh bread made using organic flour, eggs, hummus, salad and pickles, coming in at Dhs33, you can fill up here even when payday has long been and gone.
Dhs33. Locations include Al Manara and Business Bay (600 548287).

Morning bowl at Society Café and Lounge
This casual spot in Jumeirah is top for breakfast. The breakfast menu is split in two – with choices limited to a bowl of healthy ingredients or eggs cooked in a variety of ways – plus the pancakes. The generously sized açai bowl, with sliced banana and agave bee pollen – it sounds healthier than honey even if it's not – is a must-try and the homemade almond butter is worth shelling out the extra Dhs8 for. A heartier option, the morning bowl, consists of some serious superfood with sweet potato, avocado, kale and wild grains all packing the nutrients in, plus a poached egg provides you with your protein hit for the day. Coffee can be made with your choice of almond, coconut or lactose-free milk, too, so everyone is well catered for.
Dhs69. Open daily 8am-6pm. Jumeirah Beach Road (04 222 2811).

Smoked salmon benny at eggspectation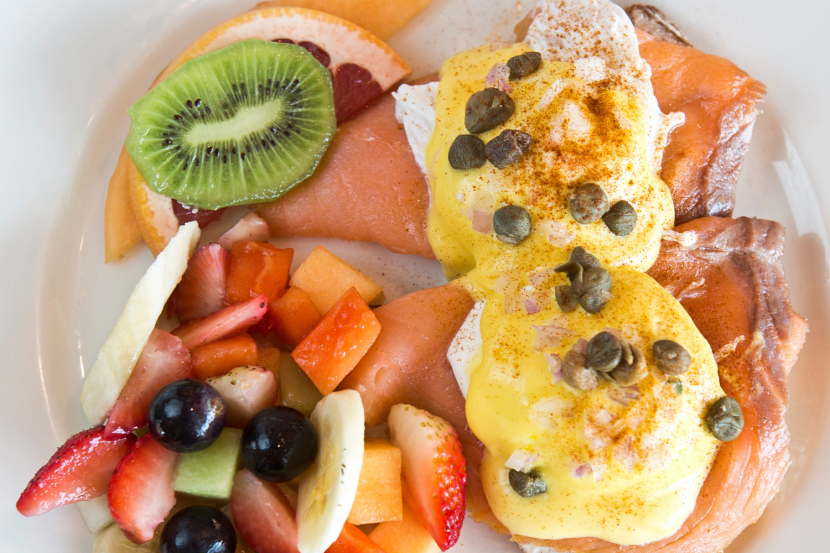 You'd expect a restaurant with the word egg in it whips up some of the best egg-centric dishes around. Well, you'd expect right, and despite eggspectation's more creative dishes, it's the smoked salmon with eggs benedict that comes out as one of the best. Served on top of multigrain toast with cream cheese and hollandaise sauce, you'll be filled like a king. That's who breakfast is for, after all.
Dhs72. The Beach, JBR (04 430 7252).

The meaty ones
Big breakfast bap at Fibber Magee's
If you grew up in Ireland, you'd know a good cure for a 'dusty' kind of morning is heading over to the shop and getting breakfast all wrapped in a bap (convenient, isn't it?). Fibber Magee's brings that tradition in a hugely delicious way, piling in bacon, sausage, a fried egg, black or white pudding and a tomato in a big white bap. A taste of home, for some.
Dhs39. Open daily 8am-2am. Behind Saeed Tower One, Sheikh Zayed Road (04 334 2400).

Full English at Pots, Pans and Boards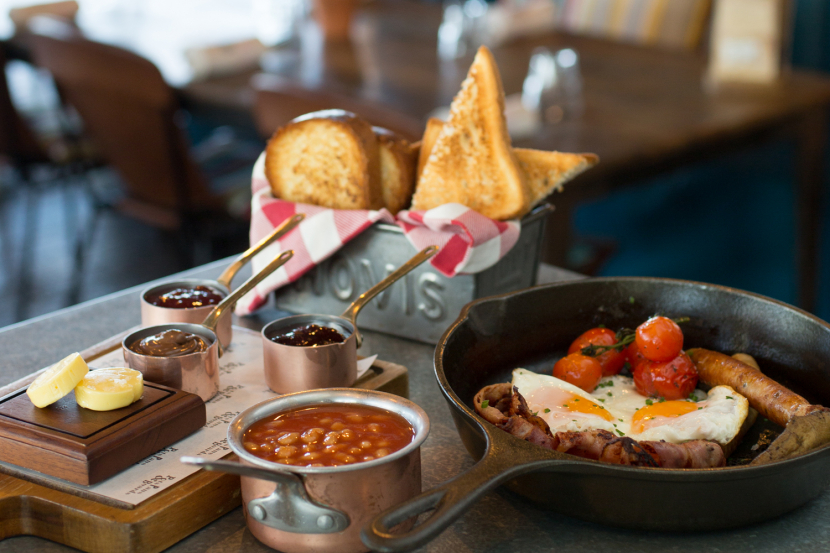 Looking for a family-friendly seaside venue for brekkie with the whole gang? Look no further than British celebrity chef Tom Aikens' spot at The Beach. This cool, casual restaurant serves up a splendid morning-time meal and it's packed out every weekend for that reason. Opt for the Full English for a filling meal that also comes with juice and coffee.
Dhs124. Open Sun-Wed 9am-midnight, Thu-Sat 9am-1am. The Beach, opposite JBR (04 456 1959).

Irish breakfast at McGettigan's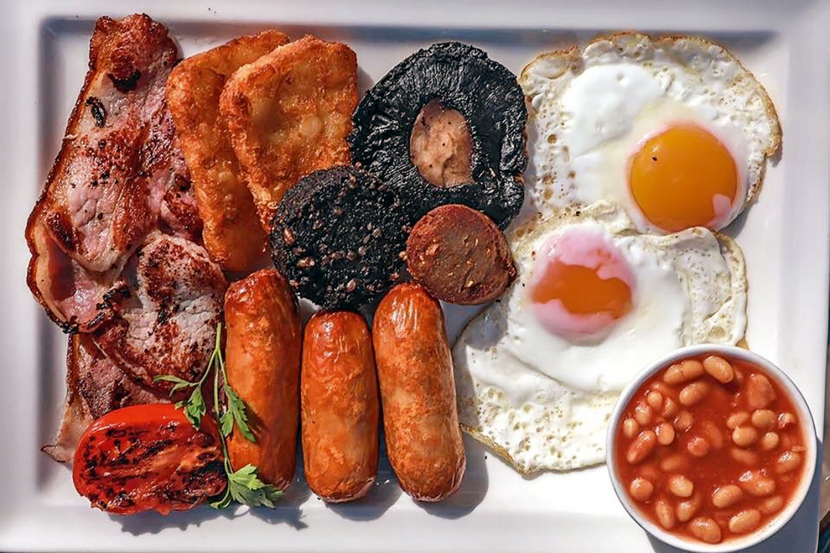 Some days we wake up craving a hearty healthy breakfast and some days we wake up craving a proper greasy fry-up. Balance, right? If you need sorting out after a heavy night, this slap-up Irish breakfast will do the job. The generous portion comes with eggs any style, sausages, bacon, hash browns, grilled tomatoes, baked beans, Portobello mushrooms, black and white pudding and toast. We're stuffed just thinking about it.
Dhs63. Locations include JLT, Souk Madinat Jumeirah and Sheikh Zayed Road, www.mcgettigans.com.


The veggie ones
Boston Breakfast Board at Boston Lane
Sometimes you just can't decide what you want to eat – and that's where this one comes in. You'll get smashed avocado on toast, a half portion of the café's mango granola (that's mango purée, cinnamon yoghurt, crunchy granola, dehydrated mango, coconut chips and chia seeds) plus a glass of orange juice – all for Dhs55. Can't say fairer that that.
Dhs55. Al Quoz (058 517 2131).

Cheese manakish at Zaatar w Zeit
Cheesy bread for brekkie? Yes please. The manakish at Zaatar w Zeit put this Lebanese chain on the map and the baked flatbreads come with a range of toppings including za'atar, labneh and spiced minced meat but go for the jebneh (cheese). It's cheesy-carby goodness at its best.
Dhs14. Locations include Dubai Marina, Palm Jumeirah and Sheikh Zayed Road, www.zaatarwzeit.net.

Corina's Very Vegan Breaky at Myocum


This small café in Al Safa is always full when we've visited and it's easy to see why. Our favourite dish on the menu is Corina's Very Vegan Breaky. To put it very simply, it's two slices of sourdough topped with tofu scramble and smashed avo. Who needs eggs at breakfast time anyway?
Dhs55. Dar Wasl Mall, Al Safa (054 530 5905).

Mad Shroom Brioche Toast at Mad Tailors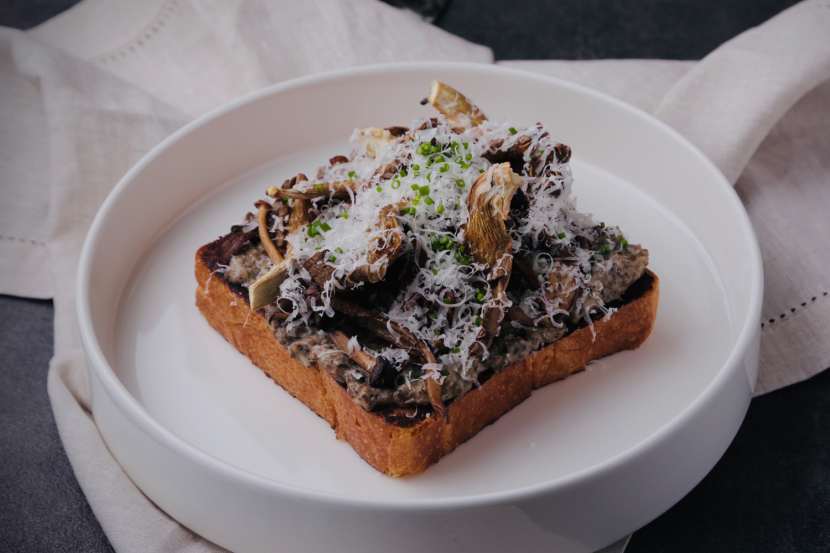 X marks the spot at this quirky Jumeirah Beach Road café, and if you're looking for treasure, try this dish. Heaps of meaty, tasty mushrooms are served up on thick mushroom pâté and sprinkled with Parmesan. The buttery brioche is a pure joy too. Breakfast or lunch, we can't get enough.
Dhs75. Jumeirah Beach Road (04 255 7255).



The avocado ones
Avocado Smash at Roseleaf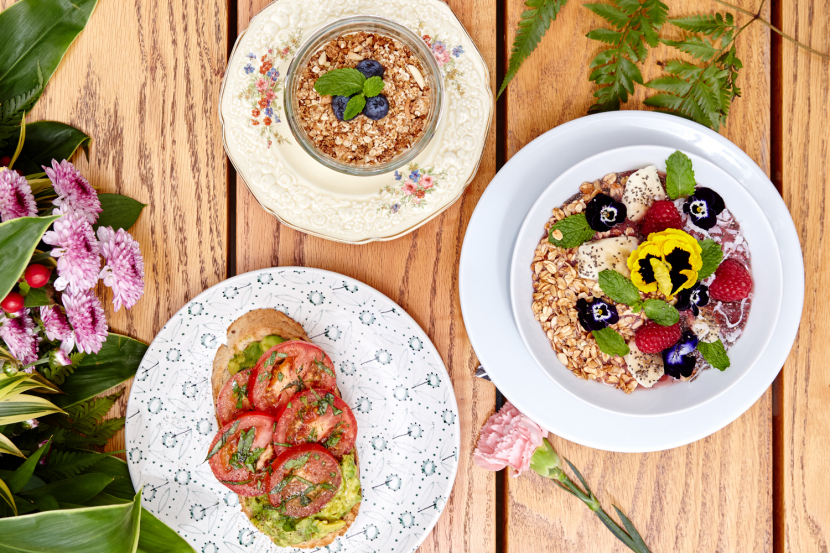 This home-grown café boasts gluten-free and healthy all-day breakfasts. This one is ideal for those of us who can't make a decision. Three slices of chickpea and pumpkin loaf are toasted and topped with a tasty, spicy avo smash and a variety of toppings from feta to pickled beetroot.
Dhs50. Dubai Garden Centre, Sheikh Zayed Road (04 355 5241).

Avocado on toast at Kulture House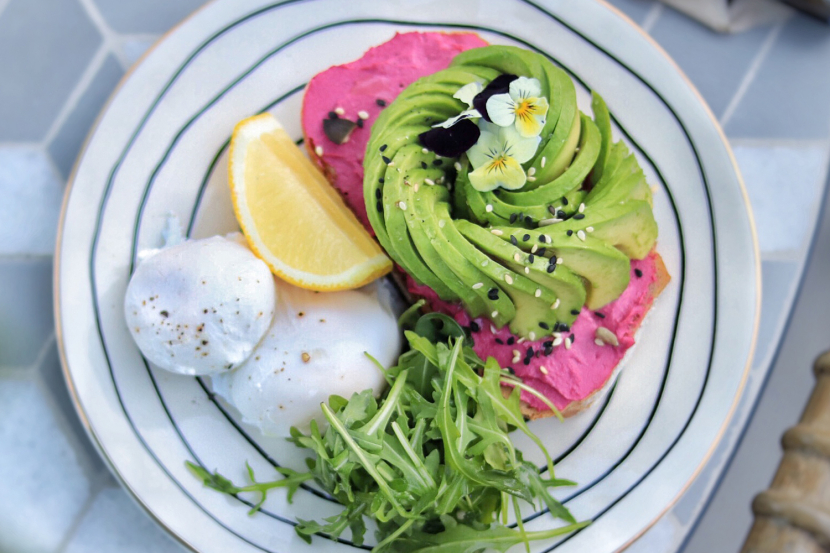 This is one of the prettiest breakfasts we've had the pleasure of eating. Avocado roses, zingy beetroot hummus and perfectly poached eggs are delicately placed on crisp toast. It's delicious and we love the cool setting. Just keep us away from the boutique and all its lovely little trinkets and clothes, please.
Dhs50. Jumeirah Beach Road (056 328 8817).

Bravacado at Bounty Beets
This is a top spot for vegans and those who are gluten-free with heaps of options for both. Puntastic names adorn the menu in the First Breakfast Then I'll Change The World section but we love the Bravocado. Smashed avocado served on homemade gluten free bread with heirloom tomatoes, Persian feta and herbs. If you're vegan try the plant-based scramble. The interiors here are Insta-friendly, too.
Dhs55. Open daily 8am-10pm. Le Méridien Mina Seyahi Beach Resort & Marina, Al Sufouh (04 399 3333).

Smashed avo on toasted sourdough at Common Grounds
Because it's the most important meal of the day (so say "they"), start it in the very best way with this tasty, fresh and healthy dish. The generous helping of smashed avocado is piled high on top of toasted sourdough – so far so standard. What takes things up a tasty notch is ricotta and freshly squeeze lime. Whatever else happens in your day, after this, you'll be ready to face it head on.
Dhs52. Mall of the Emirates, Al Barsha (050 478 1094).

The sweet ones
Açai bowl at Parker's
This cute seaside café picked up a Highly Commended for Best Breakfast at our 2019 Restaurant Awards. The açai bowls are top, and we recommend the tropical version, which is filling, delicious and healthy, thanks to the nutrient-rich berry blend. A scattering of granola and coconut add crunch, while sliced strawberries and blueberries give it freshness. It's finished with a dollop of mango sorbet and the textures and temperatures all work perfectly.
Dhs41. La Mer, Jumeirah 1 (056 369 1388).

Açai bowl at Projeto Açai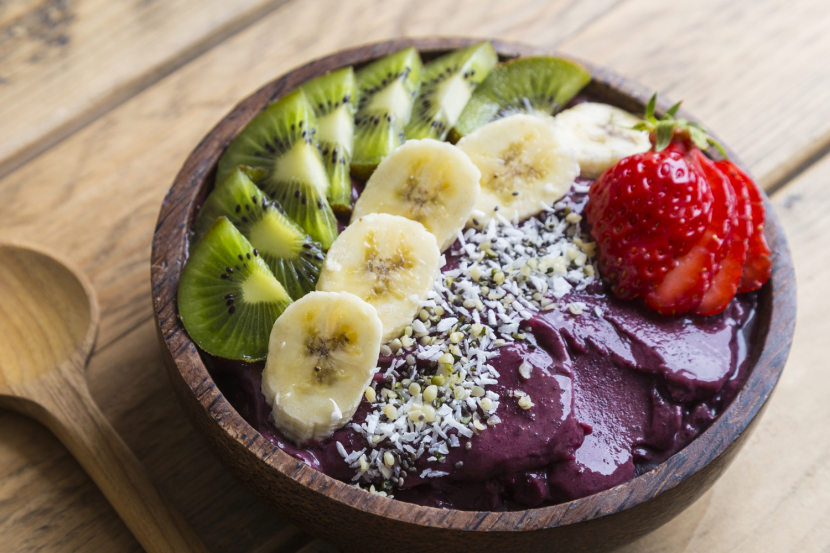 This casual and quirky eatery serves up a range of health-conscious options from avo' on toast to salads and poke bowls. But as the name suggests try the açai bowls. We love the "Berry Bowl" which is topped with raspberries, blueberries and homemade walnut granola and if you're feeling extra nutty get the homemade peanut as an add-on.
From Dhs32. Locations include Dubai Marina and Sheikh Zayed Road, www.projetoacai.com.

Mermaid Toast at Tania's Teahouse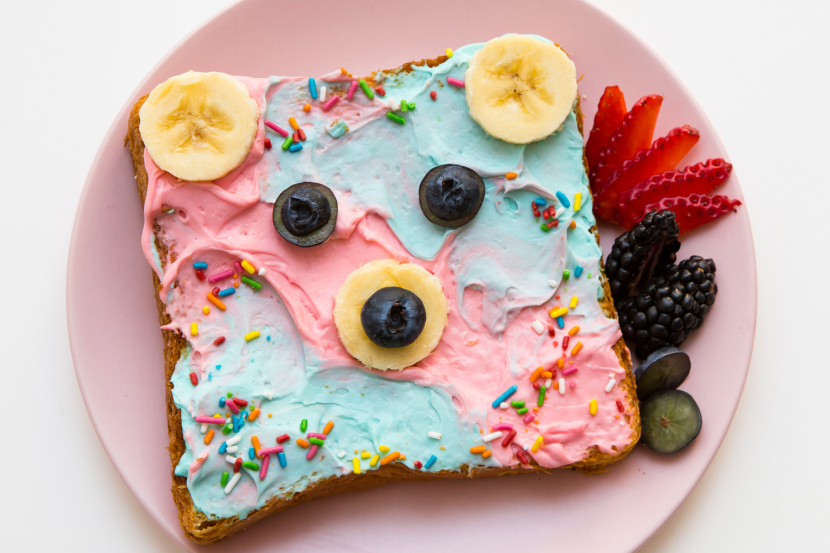 Sometimes food looks too good to eat, like at Tania's Teahouse where every single dish is pretty and Instagrammable. But eat you must and the Mermaid Toast is a magical way to kick start your day. Toasted brioche is slathered in rainbow swirls (where its moniker comes from) of cream cheese and drizzled with honey and you can decorate it yourself with fruity decorations. Plus it can be vegan-ised for those that are that way inclined, winner. We are certain that Princess Ariel would give this a big watery thumbs up.
Dhs35. Jumeirah Beach Road, Umm Suqeim, www.taniasteahouse.com (04 324 0021).

Maya's Peanut Butter & Banana Oats at Leen's Casual to Gourmet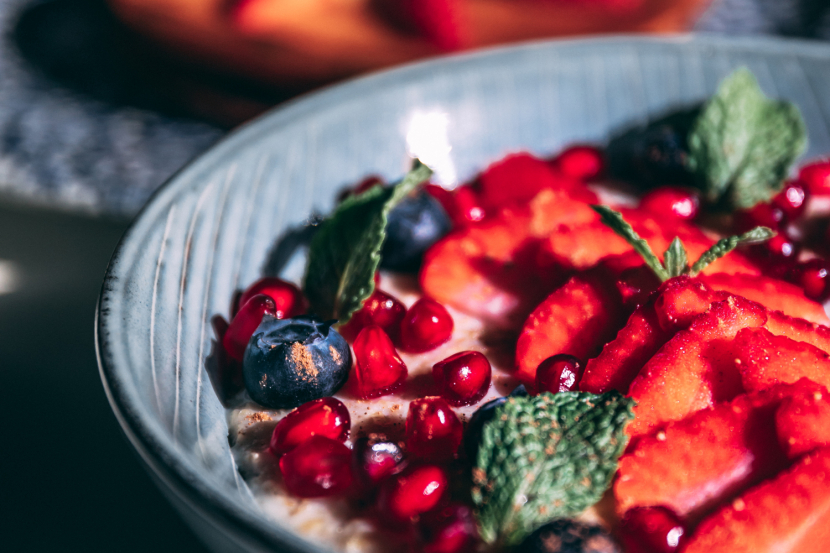 This may not sound like the most exciting breakfast dish but the peanut butter and banana oats at this cool eatery can only be described as comfort in a bowl and come delicately spiced with vanilla and cinnamon. Not too hot, not too cold and just right – you'll be wolfing it down quicker than Goldilocks.
Dhs42. Jumeirah Beach Road, Umm Suqeim, www.leens.com (04 346 6292).

Monkey nuts pancakes at The Scene
TV chef Simon Rimmer's Dubai Marina branch is popular on a weekend morning thanks to its famiy-friendly breakfast menu. We love the Monkey Nuts pancakes, stacked high with peanut butter, banana, cream and chocolate sauce for an utterly delightful start to the day.
Dhs39. Open daily 9am-2am. Pier 7, Dubai Marina (04 422 2328).

Orange blossom pancakes at Wild & The Moon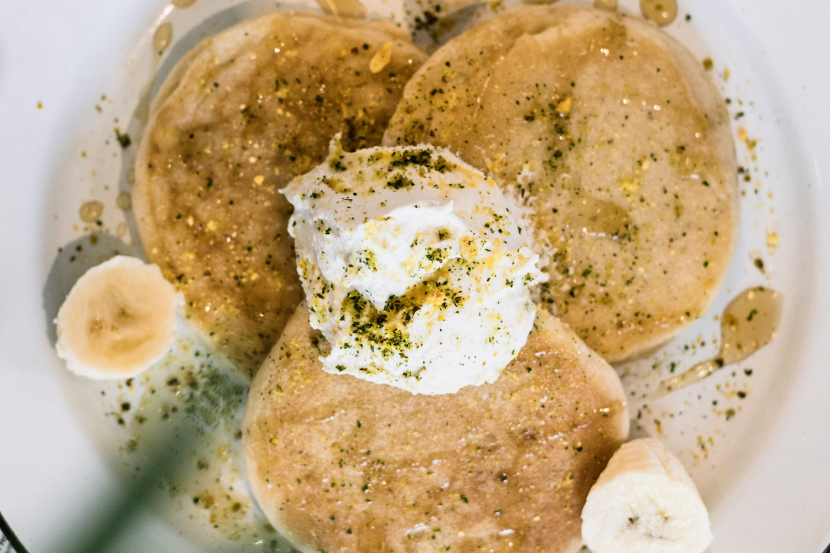 Vegan? Check. Gluten-free? Check. Utterly delicious? Check. If you're vegan and on the hunt for a deliciously indulgent breakfast get yourself down to Wild & The Moon and try the orange blossom pancakes with coconut whipped cream, dehydrated orange zest, crushed pistachios, slices of banana and maple syrup. Even your non-vegan mates will be impressed with these perfect pancakes, they're that yummy.
Dhs45. Locations include Al Quoz, DIFC and Downtown Dubai, www.wildandthemoon.ae.

Old fashioned hot porridge at Gossip Café
The winner of Time Out Dubai's Best Café 2019 accolade, you can be sure you're getting a decent start to the day if you choose to have breakfast here. With juices so fresh they zing, alongside organic and gluten-free choices, this is a healthy spot to relax at. Try the bagel with peanut butter and banana (jam on the side) or gluten-free porridge with dates and cinammon for a taste of the Middle East.
Dhs45. Open daily 7am-midnight. BoxPark, Al Wasl Road (04 343 0181).

Peanuts N More Bowl at All Things Açai
Açai bowls are the new smashed avocado and yes, there are plenty of varieties to try around town (and we have), but we keep coming back to All Things Açai's Peanuts N More. Smooth peanut butter, creamy banana, crunchy homemade granola and tangy frozen (100 percent raw organic) berry smoothie all drizzled with gooey honey… that's why All Things Açai is on speed dial.
Dhs42. Delivery only. Available on Uber Eats and Talabat (04 350 2041).

Salted caramel French toast at Tom & Serg
If you're looking for an indulgent breakfast, it doesn't get much better than this. Tom & Serg, the very Instagram-friendly café in Al Quoz, has taken the humble French toast and soaked it in a salted caramel sauce until it can't absorb any more. The leftovers are then drizzled over the top, mixing perfectly with a Bavarian cream, before crunchy pecans are added. Not even the delicious poached pear on the side can trick you into thinking this dish is even vaguely healthy.
Dhs49. Al Quoz (056 474 6812).

Summer porridge at Stomping Grounds
This cool café in Jumeirah 1 is by no means the cheapest in town for breakfast, but that doesn't stop people piling through the door. Options are vast, but this huge bowl of cold porridge (stay with us) is a winner. Made up of a quinoa and oat base featuring zingy orange zest and crunchy green apple and hazelnuts, topped with a rainbow of fresh fruits, you'll be well on your way to five a day.
Dhs51. Jumeirah 1 (04 344 4451).
Be the first to get all the latest Dubai news, reviews and deals into your inbox by signing up to our free
newsletter
,
click here to sign up
.