Dubai's restaurant scene is brimming with star talent from all major cuisines of the world, and the selection of top Mexican restaurants in Dubai only proves that statement to be true. Once the craving for tacos, burritos, enchiladas or a dollop of fresh guacamole creeps up, there's no satisfying it until heading to one of these top Mexican restaurants in Dubai.

Look no further than the list below for some quality Mexican grub, mixed drinks to spice up your night and a helping of buzzing Latino entertainment to salsa to at these top Mexican restaurants in Dubai. Ándale, Ándale (to these venues)!

Cactus Jacks
A long-standing Mexican restaurant and bar in Dubai since 2002, Cactus Jacks is the spot to enjoy al fresco vibes, late night fiestas and sizzling fajitas. You won't find too many actual cacti, but what you will find is its signature Mexican mixed drinks (perfect for those summer days), along with a slew of themed nights and daily deals. Expect live entertainment from DJ Stanz and a live band, and a decent happy hour offering up a special tapas menu and drinks starting from Dhs25, from 4pm until 6pm each day.
Open daily 4pm-3am. Millennium Airport Hotel, Al Garhoud (04 702 8855).
Chalcos
Mixing up authentic Mexican dishes with a touch of California, Chalcos is a casual Mexican Restaurant in Dubai that whips up fresh dishes in JLT, Motor City and Business Bay made on site. It serves pretty much every authentic Mexican dish you could ask for, with, of course, a highlight being the soft or crispy tacos with a range of fillings including chicken, pulled chicken, chilli con carne and veggie. Oh, and if you ever wondered what Mexican cola tastes like, Chalcos serves it nice and cold.
Timings vary. Various locations including Cluster D, Lake Terrace Tower, JLT; Apen Atrium, Dubai Motor City, Regal Tower, Business Bay, chalcosmexicangrill.com.
Believe it or not, the lost city of El Dorado comes in the form of a dish at rooftop restaurant and bar, CHINGÓN (which fittingly translates to wicked, cool, epic). Offering up a 'farm to table' Mexican foodie experience, this Mexican restaurant in Dubai's Business Bay pays homage to its roots, as the venue's interiors paint a story of Mexican heritage, along with floor-to-ceiling windows boastings views of the Dubai Water Canal. Expect a raw bar with a Mexican twist, a selection of dishes including seafood tostadas and tiraditos, traditional tamales, grilled octopus, and a selection of veggie and vegan options. Oh, as for El Dorado, there's the 24k gold leaf 'El Dorado' taco – a black corn tortilla that is pressed with 24k gold leaf, with a thick slice of 'A9 wagyu' and finished with fresh truffle. Fancy. One of the newest Mexican restaurants in Dubai and well-worth a visit.
Open daily 6pm-1am. Grand Millennium Hotel, Business Bay (04 873 3377).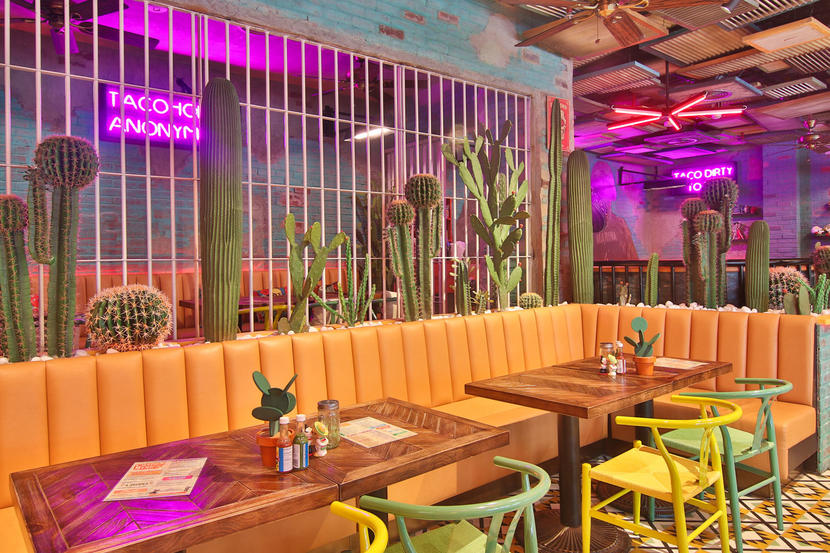 El Chapo's Tacos made it on Time Out Dubai's best Latin American Restaurants 2020 list and you'll never guess why (the tacos, duh). Run by the same team behind Mr Miyagi's, El Chapo's Tacos is one of the liveliest Mexican restaurants in Dubai. The real stand-out here is the incredible guacamole, which is prepared right at your table. Its cheesy set-up of cacti spread around, neon pun signs lining the walls and that 'El Chapo' theme only adds to its charm, making a keen spot to sip on its range of Mexican mixed drinks. It's over the top, in the best kind of way. A fun-loving Mexican restaurant in Dubai.
Open daily noon-2am. Studio One Hotel, Studio City, www.elchapostacos.com (04 514 5411).
This low-key Mexican restaurant in Dubai is a hit with those living and working in Dubai's JLT. If you're after authentic, well-priced tacos, El Mostacho is a decent low-key spot for that lunchtime rush. The casual teeny Dubai Mexican restaurant's space boasts vibrant décor, with trinkets bought at Mexican markets, such as crafts from Guadalajara and Oaxaca. Here, we also recommend the enchiladas, seeing as they're smothered in cheese and perfectly complemented by Mexican rice and beans, while the tacos come overflowing with veggies, chicken or your chosen protein. A tiny slice of Mexico right in Dubai's JLT.
Open Wed-Sat and Mon noon-10pm, Sun noon-4pm, Tue noon-11pm. Gold Tower, Cluster I, JLT (04 551 6679).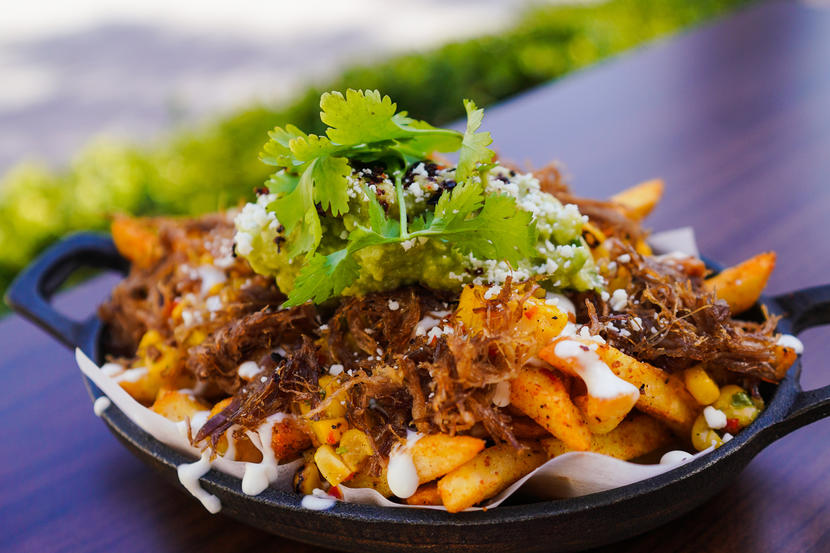 On the hunt for some pre- and post-dinner drinks with a touch of Mexican flair? La Carnita in Dubai Marina is your go-to. This trendy taqueria has quickly become a lively spot to salsa on the dancefloor. Food-wise, try out its cod and carne asada tacos, or take on a giant bowl of tortilla chips with guac and you'll be happy. Along with its top-notch Mexican dishes, you'll find a selection of superb Mexican mixed drinks, and they aren't even overly priced. Salsa your way down to this Mexican restaurant in Dubai Marina.
Open Sun-Wed noon-1am, Thu noon-2am, Fri 10am-2am, Sat 10am-1am. InterContinental Dubai Marina (04 425 4030).
Another standout Mexican restaurant in Dubai that made our best Latin American restaurants 2020 list, this lively spot is beloved by many Dubai residents, and it's not difficult to see why. The fajitas and enchiladas at Loca are next level, but the real stand-out dish is the fresh guacamole it serves, which is prepared at your table – a neat touch that makes it that much more appetising. Along with its laidback interiors, live sports and daily deals, it serves specialty Mexican mixed drinks, prepared whatever way you want. We like the sound of that.
Open daily noon-2am. Dubai Marine Beach Resort & Spa, Jumeirah 1, www.locauae.com (04 346 1111).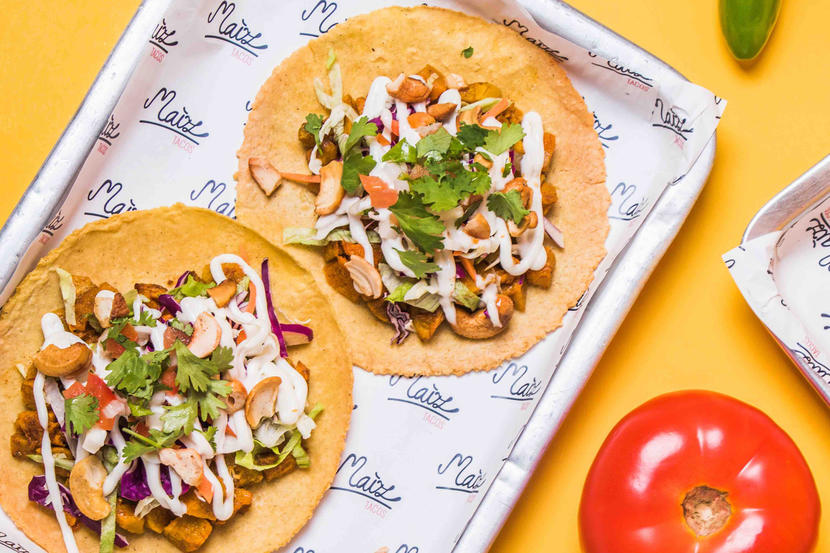 Once a spot only popping up at events around Dubai, the popular food truck whipping up fresh dishes has now found a home for its Mexican restaurant right in Dubai's JLT. A minimalist space with birch-hued benches and neon signs on its pastel walls, the Mexican eatery puts its focus on its food, serving up a range authentic tacos to gobble down. We recommend picking up its shredded chicken taco mixed with pico de gallo, tomato salsa, pickled onions and coriander, or the 'El Jefe' – a taco packed full of slow-cooked slices of beef. There are also vegan options, and a sweet surprise in the form of a churro ice cream sandwich. We'll go down to this casual Mexican restaurant in Dubai's JLT for that alone.
Open daily noon-10pm. Cluster Y, JLT (04 514 4712).
This laid-back Mexican Restaurant at Dubai's Le Royal Méridien comes from famed chef Richard Sandoval – the same name behind Toro Toro and Zengo. If you're after holiday vibes then this is the Mexican restaurant in Dubai for you. Set amid the lush grounds of the Dubai Marina hotel, enjoy a chilled-out atmosphere and top-notch grub at Maya. We recommend the fajitas, but the tacos and creamy, zingy guac is worth trying too.
Open daily 7am-midnight. Le Royal Méridien Dubai, Dubai Marina (04 316 5550).
Meschico
The younger sister of Bluewaters' Dubai Mexican restaurant Puerto 99, this Mexican restaurant on Dubai's The Pointe at Palm Jumeirah, serves up similar Mexican food to its sibling. It's on the quiet side, due to its location, but there's a mariachi band to lift the mood and a long list of tacos.
Open daily 1pm-5am. The Pointe, Palm Jumeirah, www.meshico.ae
This Mexican restaurant on Bluewaters Dubai has a live mariachi band to add to the vibe. Dishes on the menu include guacamole with a range of toppings, Mexican cheese fondue, oysters gratin, lobster tamales, coconut drip and mesquite-roasted chicken. If you're a taco fan then you'll be happy, as there's a range from grilled skirt steak to crispy battered shrimp. Ingredients and flavours are sourced from 19 states of Mexico, from Baja California to Yucatán, to ensure a broad selection of tastes.
Open Sat, Sun, Mon, Wed 12.30pm-1.30pm, Tue, Thu, Fri 12.30pm-3am. Bluewaters Dubai (04 557 6627).
Taqado
It's Mexican food broken down and put back together at its finest, which makes this homegrown Mexican restaurant chain in Dubai the go-to for lunchtime at work, a quick snack while roaming around Mall of the Emirates or, quite frankly, anytime you're up for a hearty Mexican meal. Whether it's Spanish rice, pinto beans, grilled achiote chicken with a dollop of fresh guacamole wrapped up in a tortilla or soft-shell taco or prefer it in a box, Taqado prepares Mexican food in Dubai quickly and ready to serve – no fuss, amigo.
Opening times vary. Various locations including Dubai Media City, Mall of the Emirates, www.taqado.com.
This Mexican restaurant and bar just about has the sleekest Mexican-theme in Dubai – sombreros, taco stand, artistic skulls celebrating the Day of the Dead, just to name a few. ZOCO is a cosy spot thanks to its cavernous, cellar-like setup, and becomes quite the lively spot with its live tunes heightening those Latino vibes. For the taco enthusiast, best make your way to ZOCO on Tuesday, as it offers up six hours of chicken, beef and vegetarian tacos for Dhs10. Surely that will satisfy that craving for top Mexican grub.
Open Tue-Thu and Sun 5pm-1am, Mon 5pm-2am, Fri 12.30pm-4.30pm and 5.30pm-1am, Sat 2pm-1am. The Atrium, Al Habtoor City, www.zocodubai.com (04 437 0044).
Be the first to get all the latest Dubai news, reviews and deals into your inbox by signing up to our free
newsletter
,
click here to sign up
.