Looking for a restaurant in Dubai's Business Bay? You're in luck as there's heaps of choice, from top-notch Chinese restaurants to superb Italian eateries. Here's our pick of the best restaurants in Business Bay.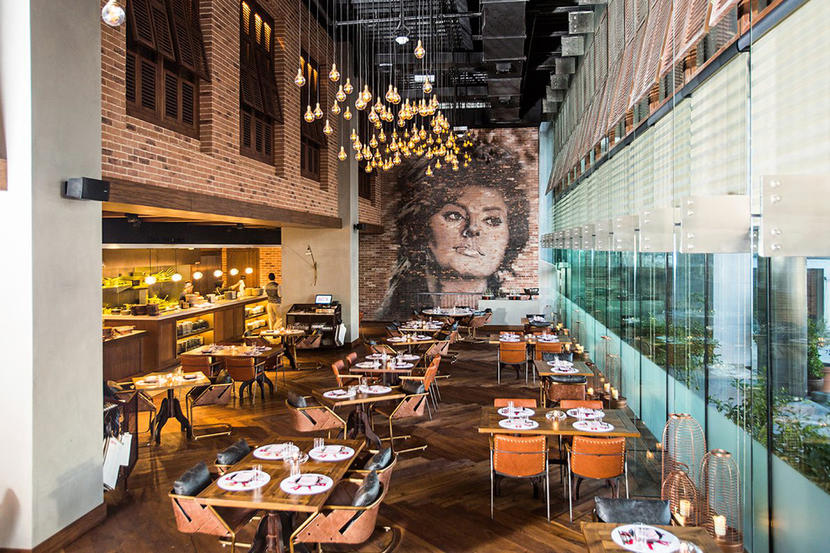 There are sparkling Dubai Water Canal views from the al fresco terrace and a chic interior with twinkling, ambient lighting at this romantic Italian restaurant in Business Bay. The décor is fun and vibrant, while calamari, authentic pizza and traditional pasta dishes are all top notch. For more top Italian restaurants in Dubai click here.
Renaissance Downtown Hotel, Dubai, Business Bay, www.basta-dubai.com (04 512 5522).

With live performances featuring contortionists, dancers, acrobats and more, this is a cool place in Business Bay to spend an evening. Don't head here early – the club-meets-restaurant doesn't get busy until later, which is all the more reason to spend time dressing up, as this is a fancy place. The food is actually surprisingly good for what is predominantly a nightlife venue and is an Italian-Japanese mish-mash. As the hour gets late the dining room gets livelier, and if you're not dancing around the tables by close you're doing it wrong.
Taj Dubai, Business Bay (04 510 3100).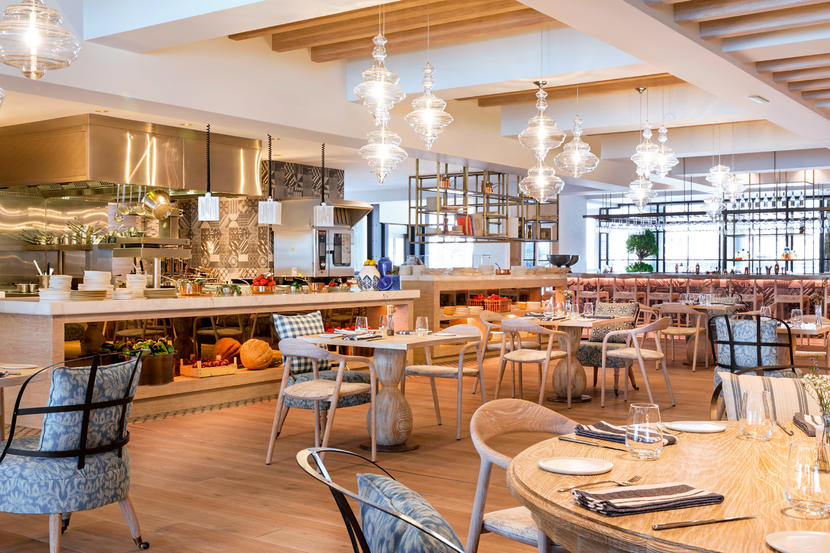 Decked out like a French farmhouse, with whitewashed woods and ornate rugs there's also an open wood-fired grill at this restaurant in Business Bay. Service is friendly and the French food is très bon, with the lobster risotto being one of our favourites. For more top French restaurants in Dubai click here.
Renaissance Downtown Hotel, Business Bay, www.bleublanc-dubai.com (04 512 5533).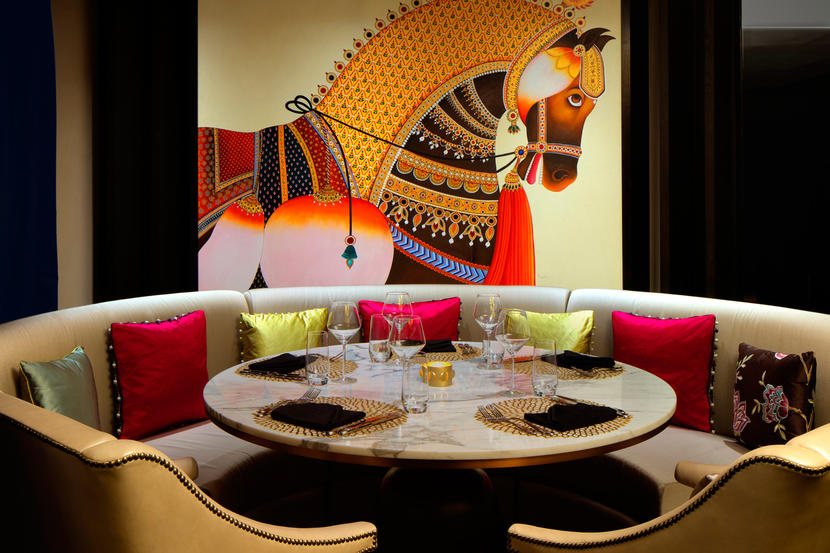 A huge, brightly-lit and spectacularly decorated Indian restaurant at the classically-designed Taj Dubai in Business Bay, Bombay Brasserie excels with some stunning food, including the Cochin lobster curry, which boasts perfectly cooked chunks of the shellfish in a creamy, subtly spiced, coconut milk-based sauce.
Taj Dubai, Business Bay, www.tajdubai.com (04 438 3222).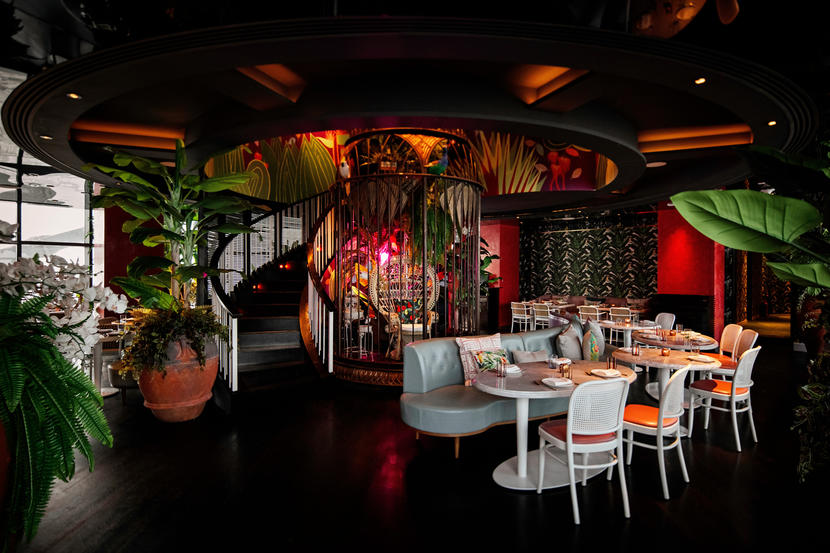 Arrive here and you'll be immediately struck by the creative and colourful, jungle-inspired décor and backdrop, which extends throughout this lofty restaurant and bar, which resides on the 72nd floor of the JW Marriott Marquis Dubai in Business Bay. This Latin American hotspot offers equally mesmeric views out the window – with huge, 360-degree floor-to-ceiling windows dishing up spectacular vistas across Dubai. Dishes are Latin American in style.
JW Marriott Marquis Dubai, Business Bay (04 560 1799).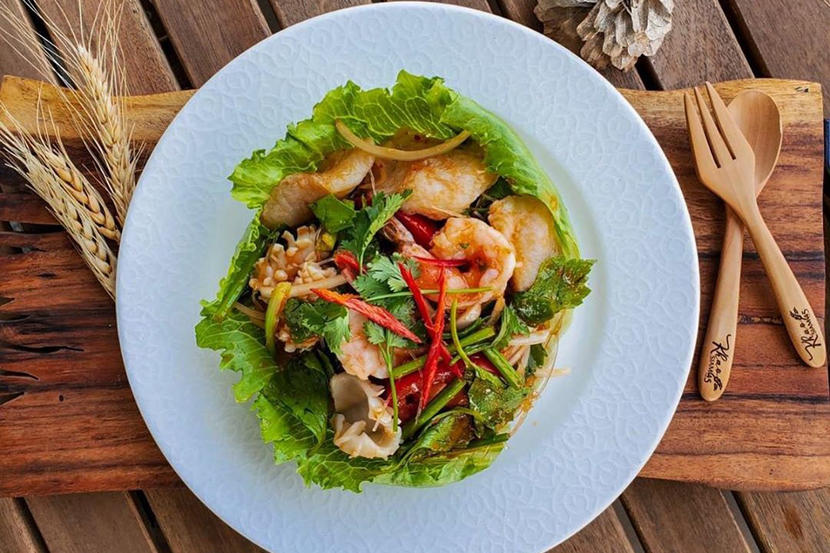 It can be difficult to find good-value, tasty Thai food in Dubai. Sure, there are the big hitters but with those prime locations comes pricey food. On the budget end of the scale you have a few chains as well as (Time Out Dubai award-winning) Café Isan in Jumeirah Lakes Towers, but in the Business Bay area, the pickings are slim. Enter Khao Siam 45, a tiny, unlicensed spot overlooking the Dubai Water Canal. The menu's pretty compact and all dishes come in under Dhs50. Choices include salads, curries, soups, and noodle and rice dishes. Of course, there's mango sticky rice for dessert, too.
Bayswater Tower, Business Bay (052 236 4945).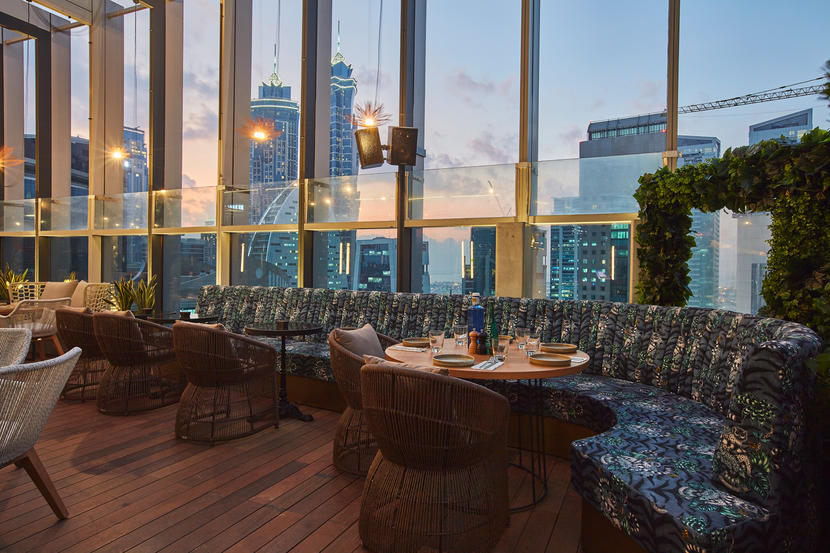 Set on the 27th floor of The Oberoi Dubai, this trendy Mexican joint in Business Bay sits in the space that previously held cool Lebanese nightspot Iris. The massive space boasts awesome views of Burj Khalifa, while the menu houses innovative Latin American dishes, plus plenty of tacos, quesadillas and more.
The Oberoi Dubai, Business Bay (050 423 4044).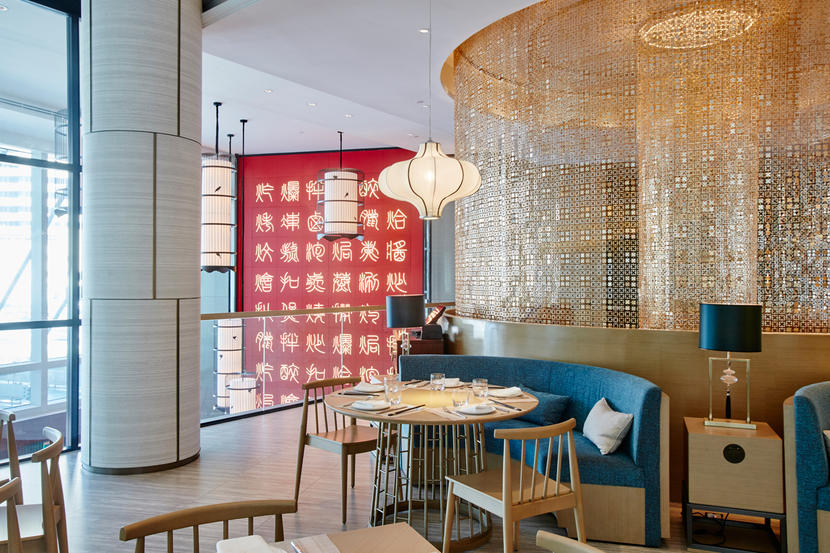 Long Teng offers authentic, Cantonese cuisine and we can't get enough of it. A former winner of Time Out Dubai's Best Chinese Restaurant award, dishes are upmarket and inventively presented and although it's a seafood restaurant by reputation, the extensive menu features enough dim sum to fill several bamboo baskets and plenty of meat options.
U-Bora Towers, Business Bay (04 241 1666).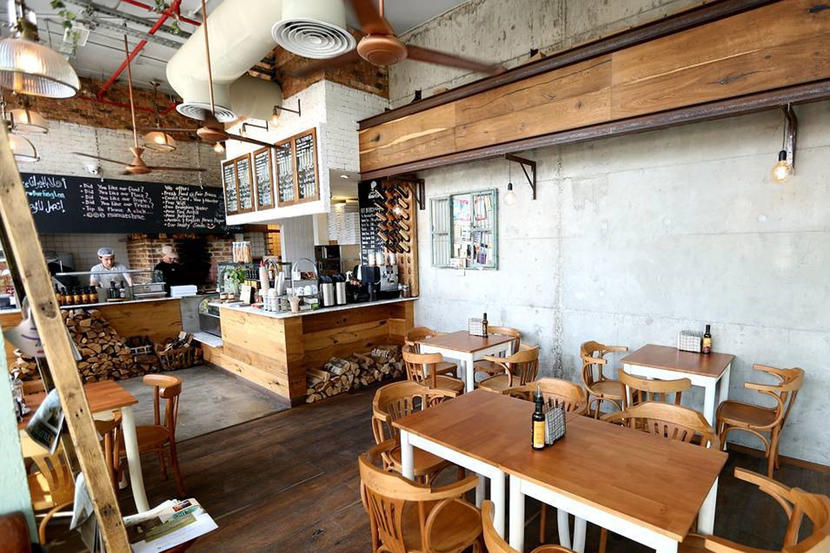 "Palestine is a bite away." That's the mantra of Mama'esh. And goodness, does it deliver. With two sites in Dubai – Business Bay and Al Manara – you'll find utterly exquisite food at both. Appetisers include Palestinian musakhan rolls, maqdous with walnut and the self-explanatory drool-fest – oven-baked halloumi. And with prices averaging from Dhs13 to Dhs23 per mama'esh or fatayer, you can afford to fill up here every day.
Bayswater Tower, Business Bay (04 453 8166).
Masala Library by Jiggs Kalra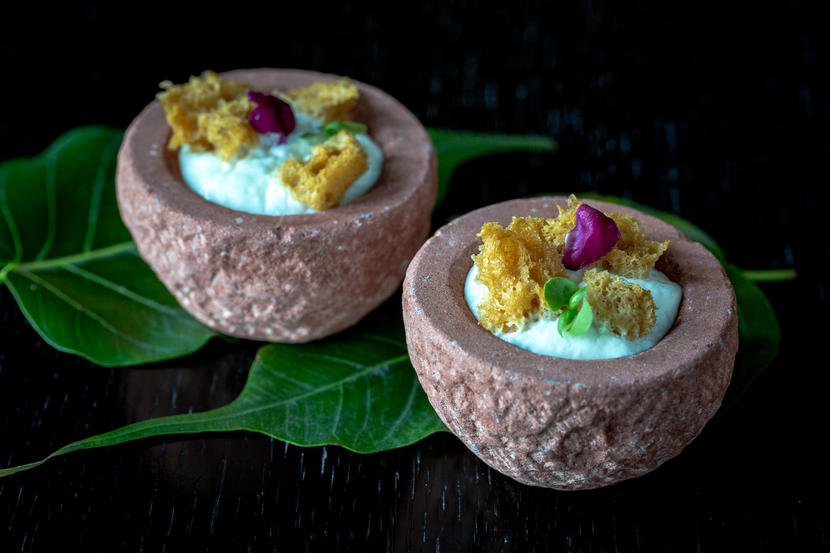 It's not often that you find cutting edge technology meet culinary prowess, but this Business Bay restaurant from famous restaurateur Jiggs Kalra offers up a magnificent adventure complete with deconstructed classics – like chicken tikka prepared three ways, mutton curry, jalebi caviar and more. It's housed in JW Marriott Marquis Dubai – the second tallest hotel in the world, too.
JW Marriott Marquis Dubai, Business Bay, www.jwmarriottmarquisdubailife.com (04 414 3000).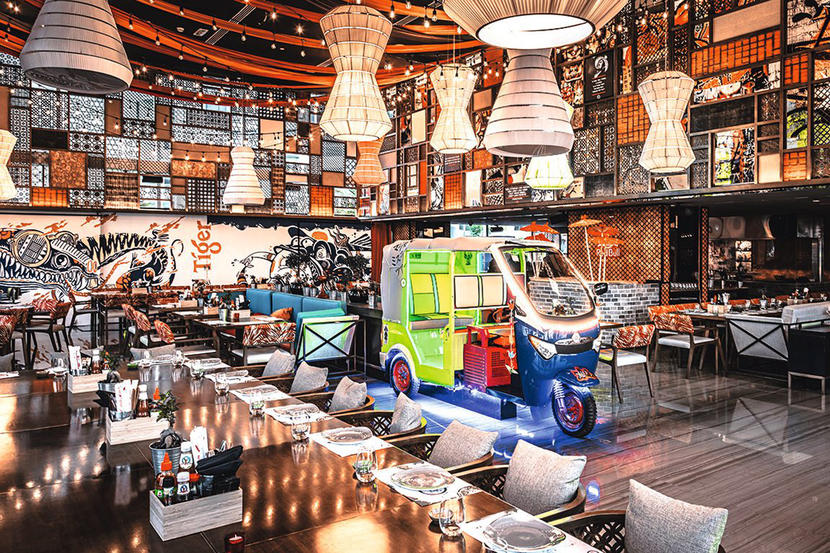 This is a fun, quirky spot in Business Bay that promises a lively night out. Expect live entertainment in the form of dancers, acrobats and more. The food at Miss Tess is tasty too with dishes coming from Korea, Thailand, China, Vietnam and Japan including noodles, curries, dim sum, satay and more. Go with a group for a fun Asian dinner.
Taj Dubai, Business Bay, www.misstessdubai.com (050 498 8505).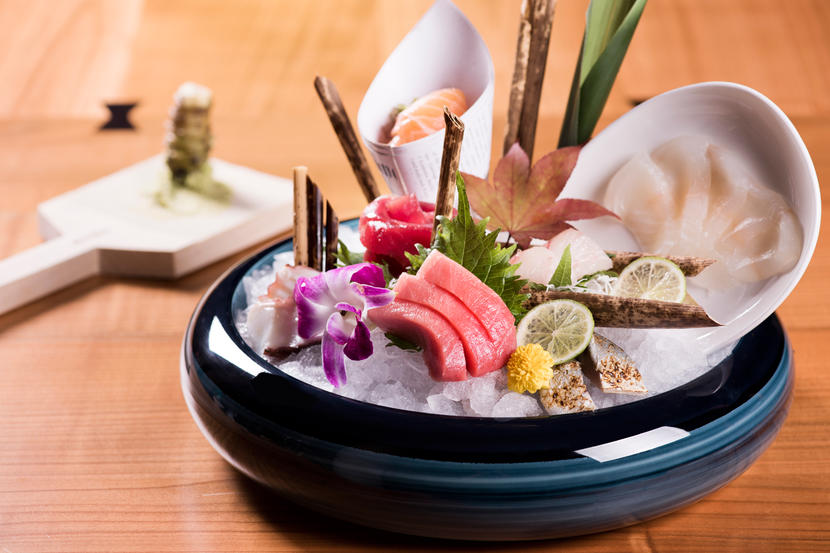 Chef Masaharu Morimoto is renowned for his seamless integration of western and Japanese ingredients. There's also a lounge, sushi counter, three private dining rooms and two outdoor terraces with views of the Burj Khalifa. At their brunch enjoy sushi, grills and more from famous chef at his eponymous Dubai restaurant in Business Bay.
Renaissance Downtown Hotel, Dubai, Business Bay (04 512 5577).
Muhammad Iqbal Restaurant
Never judge a book by its cover, or a restaurant before you've tried the food. This assuming Pakistani restaurant in Business Bay serves up pocket-friendly dishes such as biryani, platters of grilled meats and moreish parathas. The portions are generous and the flavours are authentic, plus who can complain about getting cheap and tasty grub at any hour of the day?
Clover Bay Tower, Business Bay (04 422 9435).
Nurai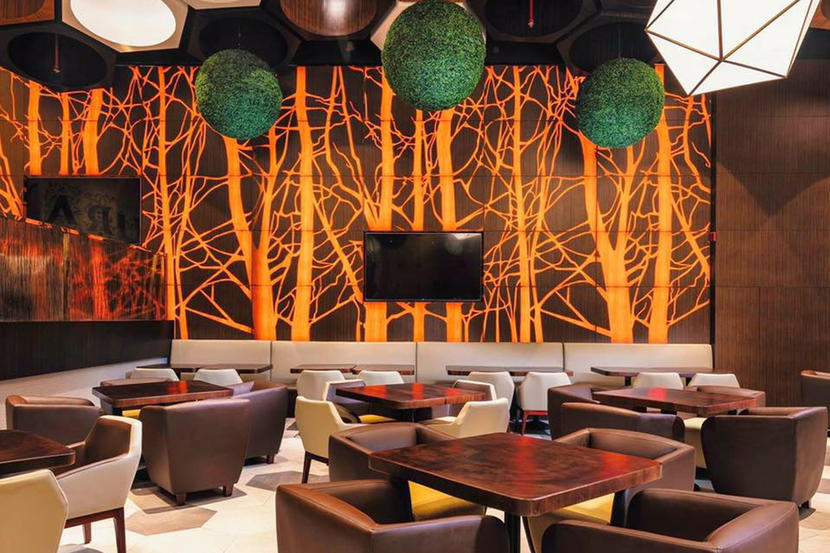 Offering up views of Dubai Water Canal, this Lebanese café is the place to be in Business Bay. You could eat here for breakfast, lunch and dinner and not get bored of the food.
Open daily 10am-5am. West Wharf Tower, Business Bay (04 367 9980).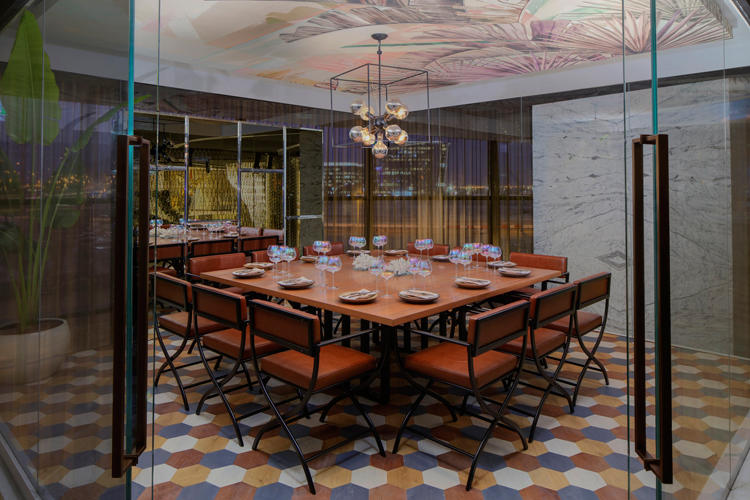 A laid-back Californian-style restaurant in Business Bay's movie-themed hotel, Paramount Hotel, this restaurant is a little quiet but the food is decent enough. Enjoy grills, sushi and salads, and the desserts are unmissable.
Paramount Hotel Dubai, Business Bay, www.paramounthotelsdubai.com (04 246 6641).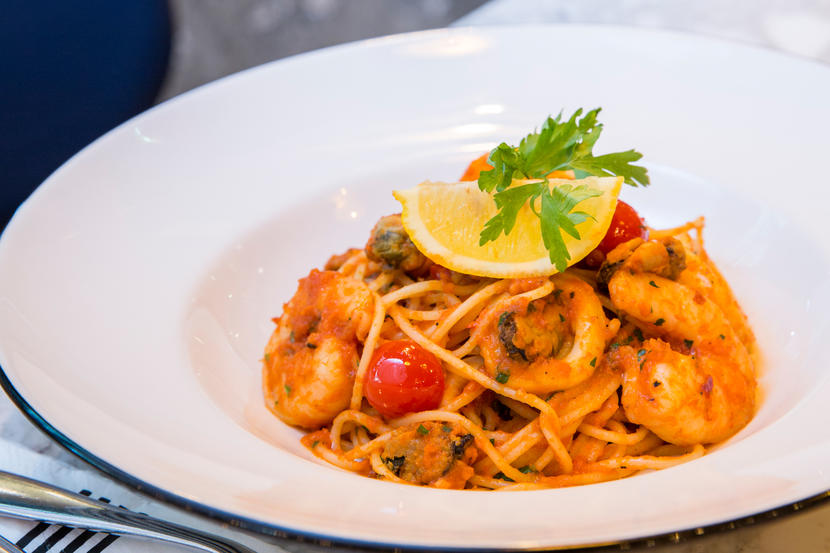 One of the things you can be sure of when heading to any branch of PizzaExpress around the world is that you know what you're going to get. And that is fresh, crispy-based pizza and lashings of garlic butter. And while that all rings true for PizzaExpress Live in Business Bay, you'll also find something you won't get in your average outlet of the global chain – some pretty awesome entertainment. With a laid-back yet fun vibe, some decent acts and pizza you can rely on, this is a great spot to visit if you're after some live entertainment.
DoubleTree by Hilton Dubai – Business Bay (04 566 5722).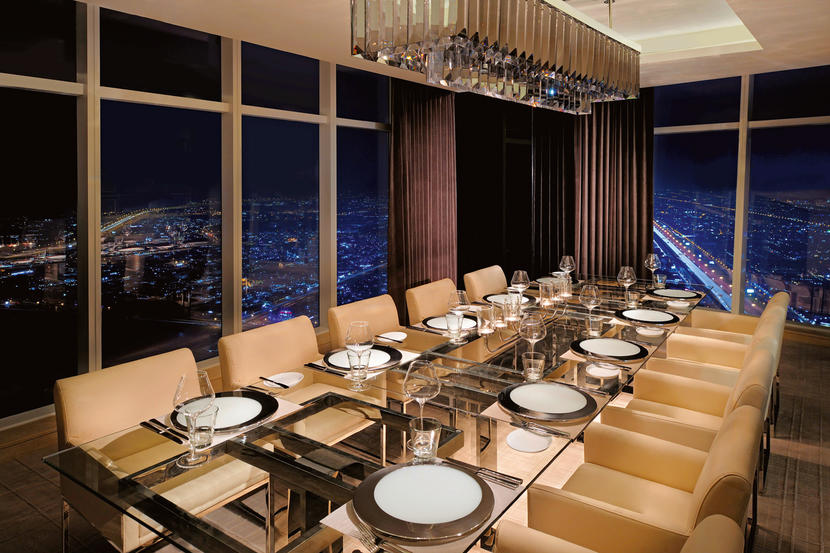 Prime68 is more than just a place to say "I've been to the highest steakhouse in Dubai", it's a gastronomic pleasure thanks to its huge thickly cut meats that definitely don't suffer in taste because of their size. Quality dishes, brilliant service and an oh-so-very-delicious selection of steak.
JW Marriott Marquis Dubai, Business Bay, www.jwmarriottmarquisdubailife.com (04 414 3000).
Raju Omlet

Eggs, in all forms. That's pretty much what Raju Omlet is all about. And that simplicity really works at this quirky Indian joint in Business Bay. And it's a total bargain. Two protein-packed, intensely flavoursome dishes that will keep you full for hours, plus two sweet little cups of tea for less than Dhs50? It's a no-brainer for an excellent breakfast, lunch or dinner.
Bay Avenue, Business Bay (04 388 7755).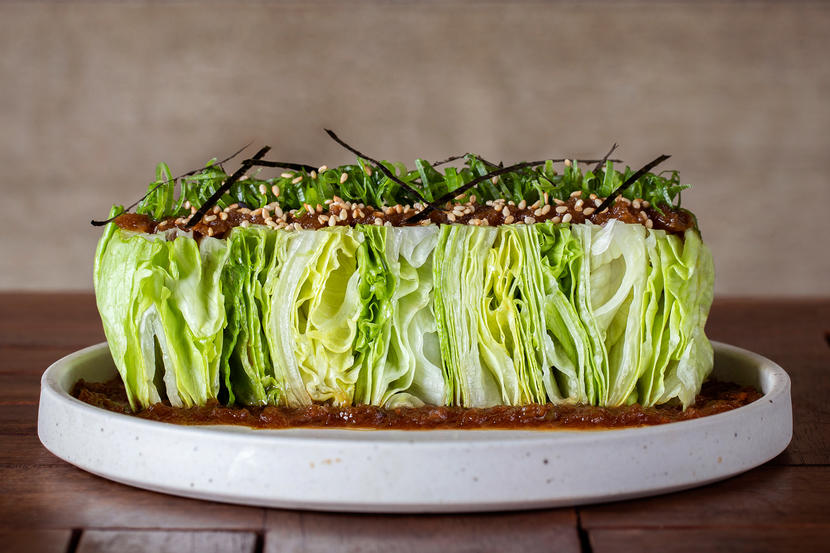 Is this the coolest restaurant in Business Bay? The famous restaurant is a sibling to Zuma, Time Out Dubai's Restaurant of the Year and Best Japanese Restaurant 2020, coming from famed chef and restaurateur Rainer Becker. With several branches already in London, including in Mayfair and Aldwych, ROKA Dubai is a first international venture for the popular restaurant and dishes on the exciting new menu include yakitori-negima yaki (robata-grilled chicken skewers with spring onion) and kankoku fu kohitsuji (lamb cutlets with Korean spices and sesame cucumber).
The Opus by Omniyat, Business Bay, www.rokarestaurant.com (04 439 7171).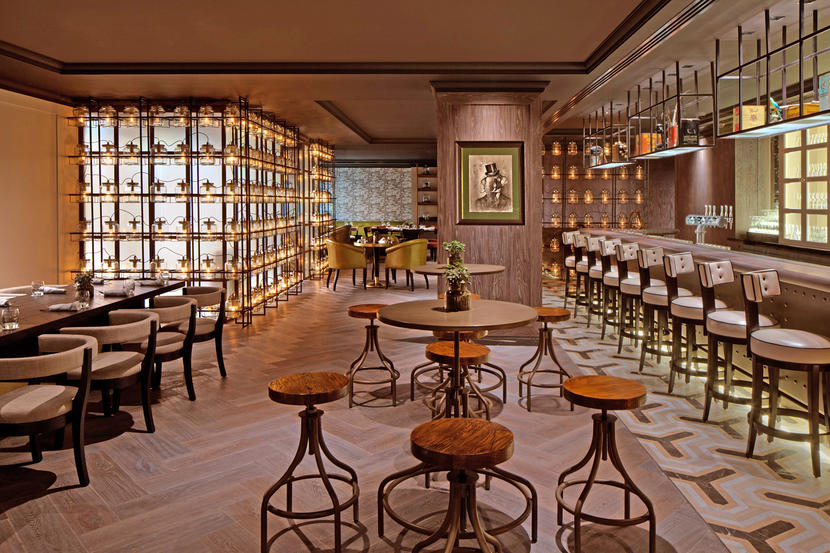 This modern, cool gastropub has a top-notch menu. The pies are homely and hearty, fish and chips are crisp and tasty while super roasts will make your weekend a winner. It's a former winner of Time Out Dubai's Best Pub Food award with good reason.
Taj Dubai, Business Bay, www.tajdubai.com (04 438 3131).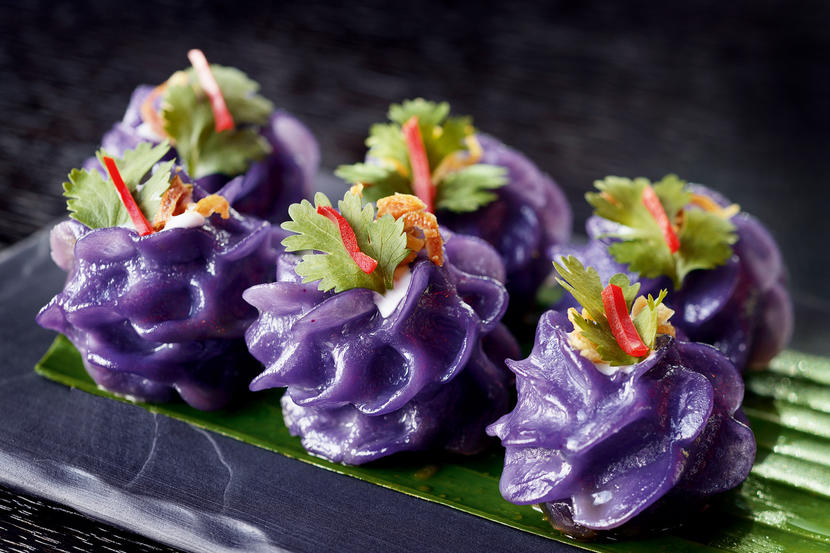 An upmarket Thai restaurant in Business Bay's JW Marriott Marquis Dubai, Tong Thai has a chic vibe with huge floor-to-ceiling windows and moody red lighting. It's also a former winner of our Best Thai Restaurant in Dubai. The menu is exciting with some delicious classic dishes. Try the sharing platter to start to kick off your meal with a variety of flavours.
JW Marriott Marquis Dubai, Business Bay, www.jwmarriottmarquisdubailife.com (04 414 3000).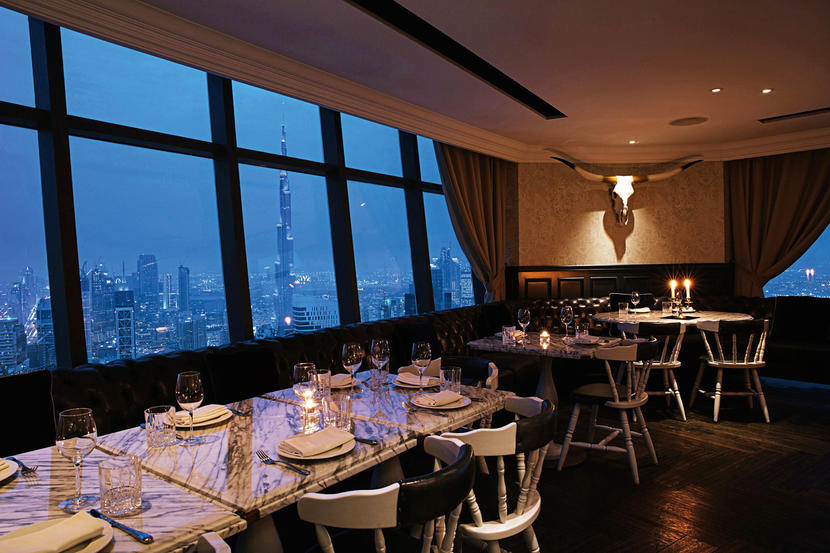 Not only does it boast thrilling views of Sheikh Zayed Road and Business Bay from its 68th floor location, as well as classic leather sofas standing toe-to-toe with deep-set comfy chairs, it also offers some top-notch dishes. The cherry on top? An assortment of brilliant mixed drinks to choose and sip on.
JW Marriott Marquis Dubai, Business Bay, www.jwmarriottmarquisdubailife.com (04 560 1700).

For everything you need to know about Dubai's Business Bay click here. For news and information about Business Bay click here.
Be the first to get all the latest Dubai news, reviews and deals into your inbox by signing up to our free
newsletter
,
click here to sign up
.