Looking for the best burgers in Dubai? Look no further. Dubai has loads of brilliant burgers to check out.

Whoever decided the slap a ground beef patty with two, fluffed up bread buns and, in hindsight, a very random assortment of vegetables, was a stroke of culinary genius.

Was it Louis Lassen from Denmark in early 1900's America? Or Otto Kuase who fittingly invented it in Hamburg, Germany? Most importantly, for any hungry foodies out there, who gives a hoot? Not when there's copious amounts of outrageously tasty burgers to gobble up right here in Dubai.

Whether you're after a lip-smacking chicken sando, munching on some of the best vegan-friendly Beyond Burgers or have a love for classics, we've gathered the best burgers to try out in Dubai.

Time Out has even been on a big hunt for the best burgers around the city. Check out the whole series right here.


No time to waste, here are the best burgers in Dubai to get your chops around.
All-time classic burgers
Now this is something we've never seen before. It's not a regular burger, but a double cheeseburger, and it's not served in a regular bun either, but in between two grilled cheese sandwiches. It's a monster. A beautiful, cheesy, bready, double cheeseburgery monster from Blaze Burger.
Dhs72. Open daily noon-10pm. The Walk, JBR (800 25293).
This is one of the meatiest, most tender beef patties of the bunch – with UBKs classic burger ready to just fall apart with the slightest provocation, like that kid in school with a seriously nervous disposition. Slather it in grated, full-fat cheese, whack it back under the grill and destroy that beast.
Dhs84. Open daily 1pm-9.45pm. Mövenpick Hotel Jumeirah Lakes Towers, Cluster A (04 438 0000).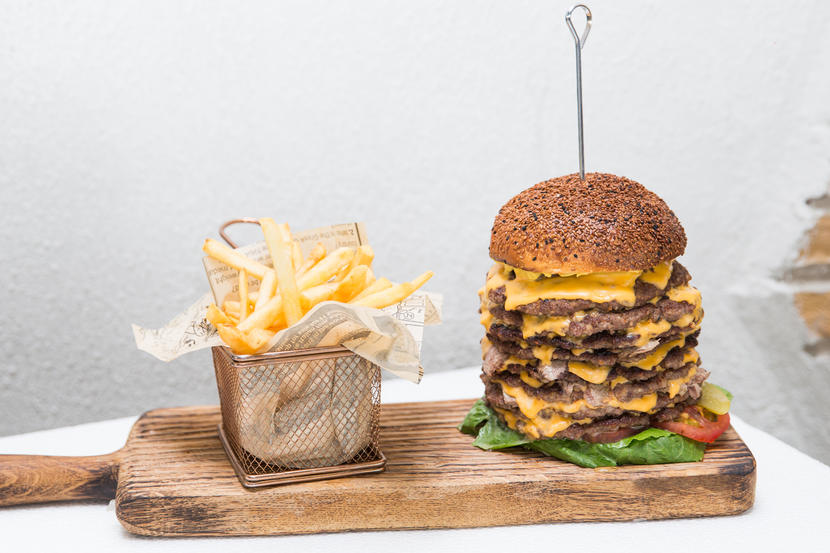 The sheer volume of meat and melted cheese on this one has us quaking in our flip flops. But luckily we are rebels when it comes to comes to our food and wild horses can't stop us from giving this messy-looking burger a try. The cheese-drenched offering stands at 14cm in height and consists of two Angus beef patties and a load of pickles between a suprisingly slim burger bun. You might need to renew that gym membership after tackling this one, however.
Dhs80. Open daily 9am-7pm. La Mer, Jumeirah 1 (04 344 6288).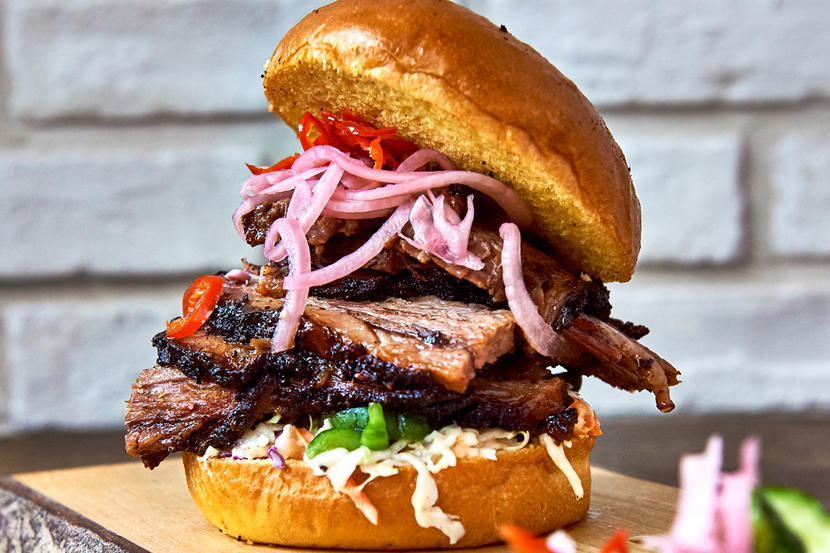 The Mighty Burger is different from the other burgers. The Angus beef patty is topped with a mound of smoked beef brisket, a dollop of slaw, a scattering of pickles, and sandwiched between a potato bun, uniting carb with carb in perfect harmony. There's also lashings of the southern barbecue joint's special smoky sauce and a plate of fries. We are suddenly mightily hungry.
Dhs85. Opening times vary. Various locations including The Beach, JBR; The Dubai Mall, Downtown Dubai, www.mightyquinsbbq.com.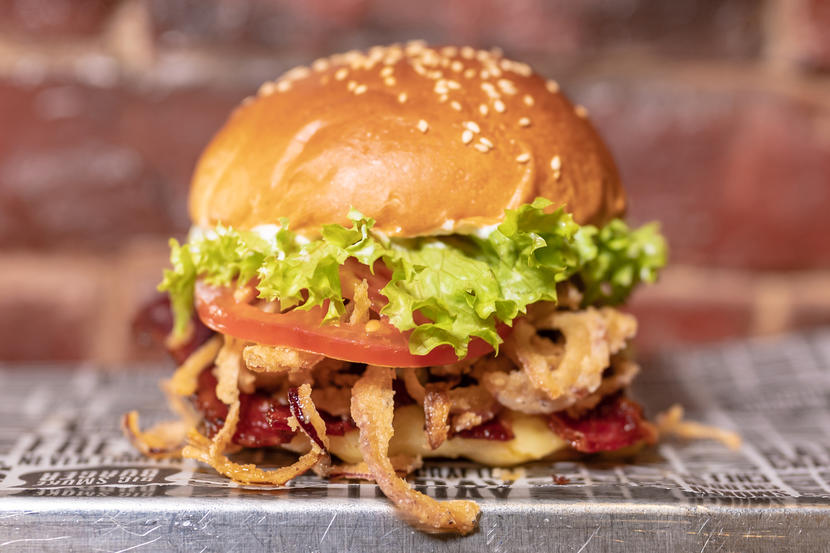 Let's take a second to think about some of the elements which make up a brilliant burger. A big beef patty – check. Crispy onions – yup. Bacon – you betcha. Oh, and copious delirium-inducing amounts of cheese – that'll be a big, mature, sweating check. All of those plus a bucket of fries on the side.
Dhs53. Various opening times. Various locations including The Dubai Mall (04 328 2108).
Start with a potato bun. Add a smashed beef patty, topped with cheese, and some bacon jam. Repeat. Then repeat again if you're going big. Then add some crispy, fried onions. Squash it down with the top of the bun, and shovel it in your expectant gob as soon as humanly possible. But don't forget to savour, because this is a treat. Every bit of beef here is hormone-free, antibiotic-free, it's never frozen, and any leftover meat gets cooked up daily and handed out to local workers.
Dhs48. Open daily noon-3.30am. Corner of Street 8A and 11B, Al Safa (04 268 1586).
So hip you can almost taste the hashtags when you cross the threshold, this offshoot of an on-trend clothing store has made a name for itself with vegan diners in Dubai. The Big Vegan is an animal product-free homage to the Big Mac. You'll find a lentil patty, pickles, special sauce and a few crunchables inside the potato brioche bun.
Dhs55. Open daily 10am-10pm. Jumeirah, www.amongstfew.com (04 386 9221).
The creators of this burger worked on the assumption that if you throw enough ingredients in a bun there is a high chance of pleasing somebody. You will find avocado, sprouts, cucumber, kale, pickled ginger in a sesame bun, making it an ideal pre-, post- or mid-shopping snack at this Mall of the Emirates pit stop.
Dhs65. Open Sun-Wed 4pm-2am; Thu-Sat noon-2am. Sheraton Hotel Mall of the Emirates, Al Barsha, www.brunswickebt.com (056 404 0685).
Beyond Burger patties have made headlines around the planet for the way they simulate the looks, characteristics and dripping juiciness of a beef patty. It is hard to see a difference and when smothered in vegan cheese, caramelised onion and habanero mayo in a vrioche bun but it is blooming
Dhs47. Open daily noon-10pm.Various locations including La Mer; The Pointe, Palm Jumeirah; City Walk, www.bareburger.com/uae.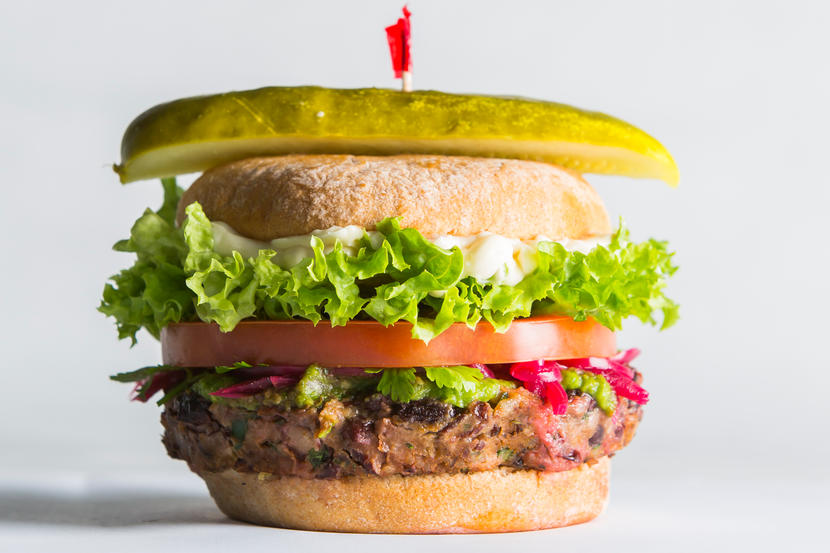 We all know Black Tap does some of the best burgers in Dubai. But it also does some cracking vegan burgers. Sharing menu space with creations such as a truffle burger and a pizza burger this creation from the renowned New York burger chain feels decidedly sensible. The patty is made from black beans and a further flavour kick comes from a salsa verde, coriander and a dollop of vegan, obviously, mayo.
Dhs95. Open Sat-Wed 11am-11pm; Thu-Fri 11-midnight. Various locations including Jumeirah Al Nasseem; The Walk, JBR; Dubai Festival City Mall, www.blacktapme.com.
All about chicken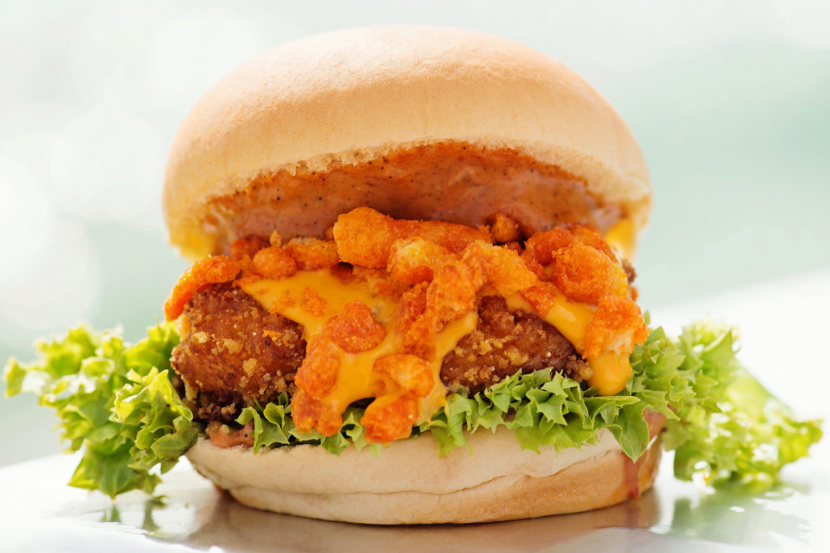 Dubai's first food truck is still slinging out some serious sliders. Go all out with this pair – fried chicken fillets topped with Cheetos sauce, Cheetos crumbs and cheese sauce. And a slip of lettuce. SALT also serves Cheetos-topped fries. We're not sure why they're so mad for those crunchy corn curls, but we're down.
Dhs42 (two sliders) Open daily 8m-3am. Kite Beach, Umm Suqeim, find-salt.com.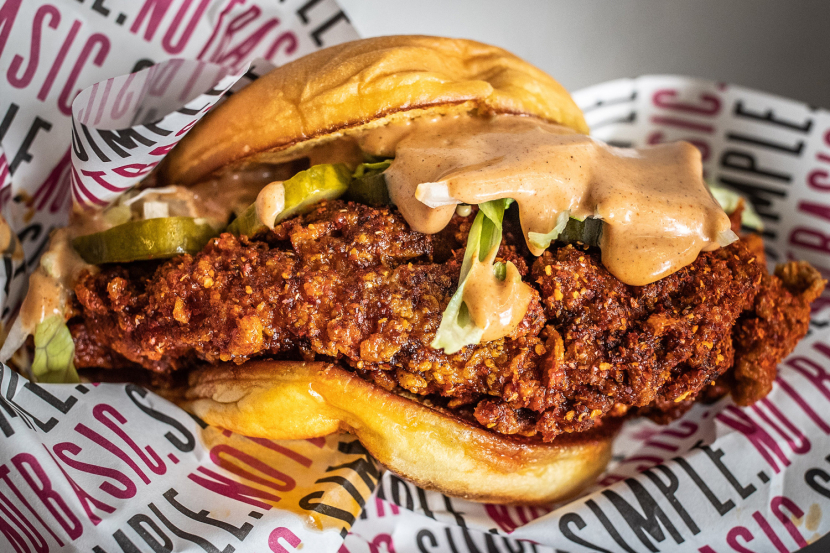 Hormone-free, antibiotic-free and entirely organic chicken that's left to brine in green tea then battered and seasoned fresh in-store every day. Jeff it up (that's Pickl's way of asking how hot you want the burger) and go as bold as you want, because this beast of a burger can prove a test for even the most asbestos-mouthed among us. One of the best burgers in Dubai if you love fried chicken. For more fried chicken sandwiches click here.
From Dhs35. Open daily 10.30am-1am. One JLT Tower, Jumeirah Lakes Towers (04 584 6859).
Fried chicken is a global phenomenon – and while none of the options at BRD will leave you disappointed, the Koreano is our pick of the flock. Loaded with daikon slaw, spring onions and spicy mayo, crispy chicken enveloped in a honey-soy glaze, it's a sweet, tangy, spicy marvel.
Dhs45. Open daily 1pm-10pm. Dar Wasl Mall, Al Wasl Road (058 507 5722).
Fresh chicken coated in a Laban-based batter that keeps this burger crunchy but not dried out. Slap it in a bun that's freshly prepared on-site every day, and top with lettuce, tomato and American cheese. It also has a spicy edge that'll warm your gob without setting fire to it – the right medium as far as we're concerned. A low-key spot and one of the best burger places in Dubai.
Dhs39. Open Sun-Thu 1pm-11pm, Fri-Sat 1pm-midnight. Dar Wasl Mall, Jumeirah (04 333 3258).
The whacky bunch



Beyond Burger from Pickl.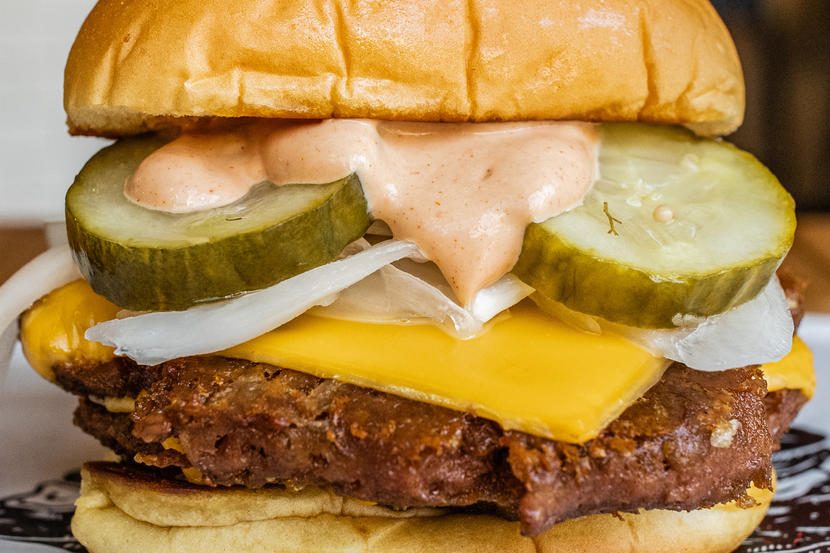 This plant-based patty is unlike most other burgers you'll find out there in Dubai – vegetarian goodness, smashed onto the grill and served with a generous dose of special sauce and American cheese. How many patties does it come with? That's up to you, because you can get your hands on a triple cheese beyond burger if you so choose. In a potato bun, too, so that's extra marks from us.
From Dhs35. Open daily 10.30am-1am. One JLT Tower, JLT, www.eatpickl.com (04 584 6859).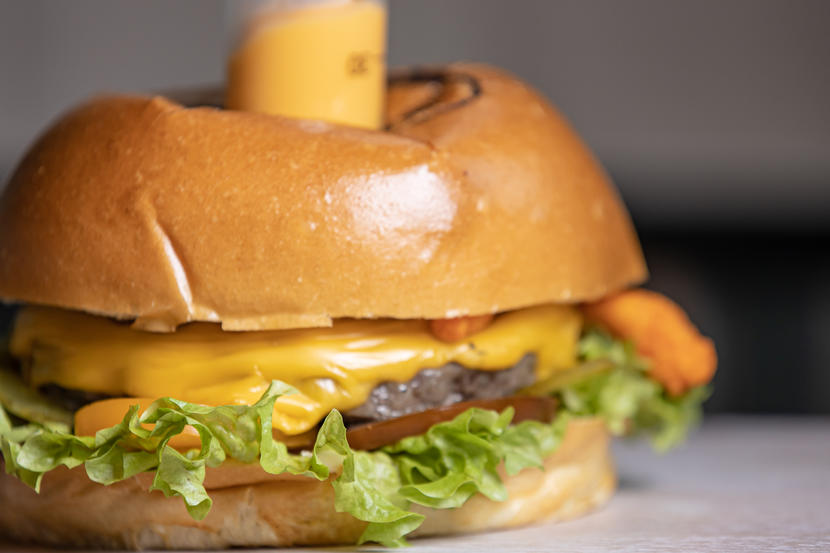 Cheese, cheese and more cheese. A massive beef patty is topped with cheese, Cheetos and caramelised onions, and then a huge syringe full of molten cheddar cheese sauce is jabbed into the top of the bun, so you have one of the biggest cheesefests around at this Atlantis The Palm restaurant.
Dhs65. Opening times vary. Atlantis The Palm, Palm Jumeirah (04 426 2626).
For veggies, this is a remarkable burger. Recently we've been seeing more and more alternative options arising for vegetarians – and this one is among the best. A crispy katsu-style coating surrounds an entire slab of halloumi cheese. But this isn't a chewy, turgid block or squeaky cheese – this is a gooey, flavoursome patty that treads the line between bite and ooze pretty much perfectly.
From Dhs38. Open daily noon-3.30am. Corner of Street 8A and 11B, Al Safa (04 268 1586).

An absolute classic from this globally recognised burger restaurant. A zesty, flavoursome mayonnaise-based sauce slathers freshly prepared lobster and packed within a toasted bun. Don't just have one, smash down a few of these bad boys. One of the best burger joints in town, and a world-famous one at that.
Dhs105. Open Sun-Thu noon-midnight, Fri-Sat noon-2am. Burj Daman, DIFC (04 514 8838).
To deliberately misquote Michael Caine's classic movie – it'll blow your doors off, because this is an entire slab of mozzarella cheese, coated in breadcrumbs, deep fried to a gooey perfection and served in a huge bun with pesto mayonnaise, fresh tomatoes and rocket. It's sort of like a caprese salad, in a burger, that's been deep-fried, what's a better burger than that?
Dhs65. Opening times vary. Atlantis The Palm, Palm Jumeirah (04 426 2626).
For more of the best burgers in Dubai click here. For more fried chicken burgers click here. For more of Dubai's best restaurants click here.
Be the first to get all the latest Dubai news, reviews and deals into your inbox by signing up to our free
newsletter
,
click here to sign up
.