Who doesn't love the joy of slurping up a fine bowl of the best noodles in Dubai stacked with an array of seasonings and flavours?

Exactly, and if you're scratching your noodle over what to get in Dubai, you've landed on the right page.
Whether you're after a hearty bowl of ramen or looking for some stir fried egg noodle action, here are the best noodles Dubai has to offer.
For a better look at some of the best Asian restaurants in Dubai and plenty more, check out Time Out Dubai's Restaurant Awards 2020 list right here.
Now, it's time to slurp up all forms of the best noodles in Dubai.
This cool restaurant from chef Reif Othman serves up some stunning, silky smooth ramen. One sip of this rich, savoury, umami-packed broth and it's a tough call whether to demolish it or bathe in it. It's utterly delicious and is without doubt one of the best ramen dishes you'll try in Dubai.
Dhs59. Open daily noon-11pm. Dar Al Wasl Mall, Jumeirah (04 255 5142).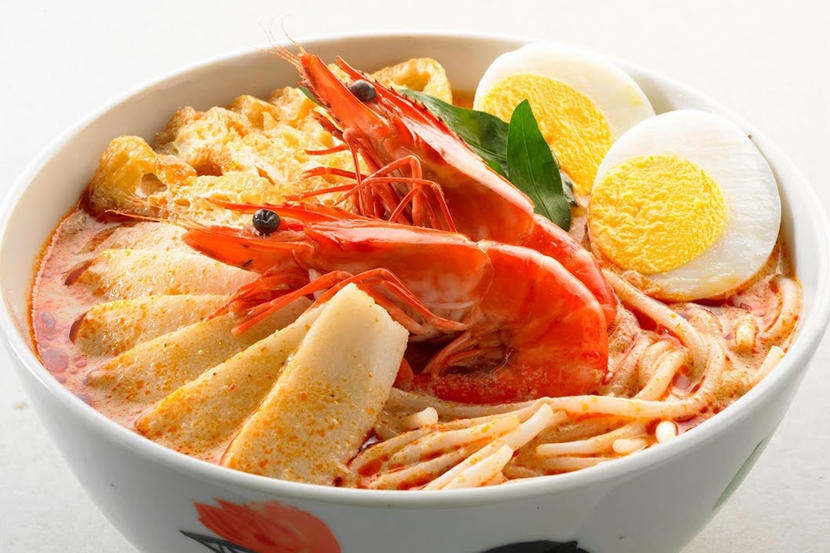 Singapore Laksa Noodles
With the amount international noodle dishes served up at 24th St. World Street Food, it's safe to say it's the go-to spot for any noodle-savvy foodie. Whether it's from Japan, Korea or China, the noodle count here is at an all-time high. Though, one that shouldn't be missed is Lucy Wong's Singapore laksa noodle, perfectly made up with a curry coconut broth with thin, white laksa noodles, prawns, bean sprouts, egg, tofu and sliced chicken. An absolute treat for those after a thicker type noodle soup – you can never go wrong with a dash of coconut, after all.
Dhs65. Open Thu 7pm-10.30pm, Fri 12.30pm-4pm and 6.30pm-10.30pm. Dusit Thani Dubai, Sheikh Zayed Road (04 343 3333).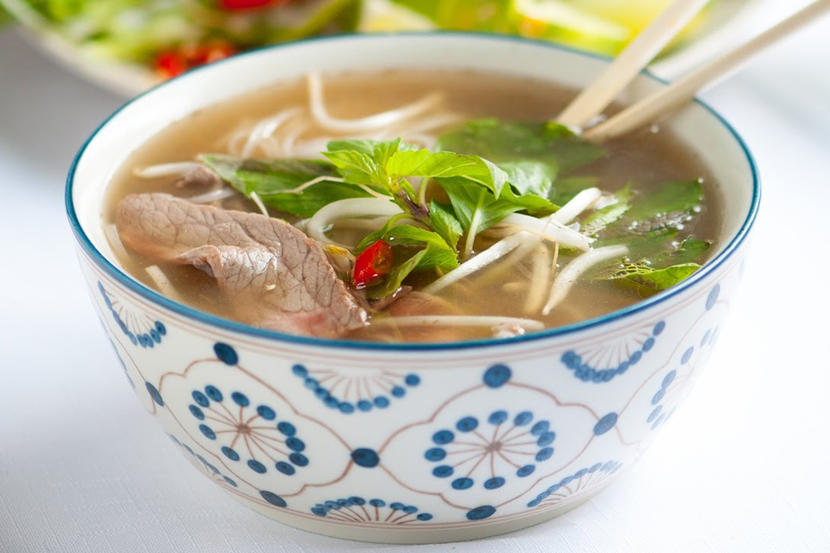 Pho
There's nothing like tucking into a big bowl of Vietnamese noodle soup, and BB Social Dining can whip a brilliant one. In fact, three brilliant noodles – with vegetarian, chicken and beef pho al being stellar choices for those on the hunt for the best noodles in Dubai. Whether you're up for some pak choy, beansprouts and tofu sponging up the delicious broth, prefer slow-cooked chicken with those rice noodles or beef tataki, pick your pho of choice and start slurping.
From Dhs45. Open Sat-Thu noon-midnight, Fri 1pm-1am. Gate Village 8, DIFC, www.thisisbb.com (04 407 4444).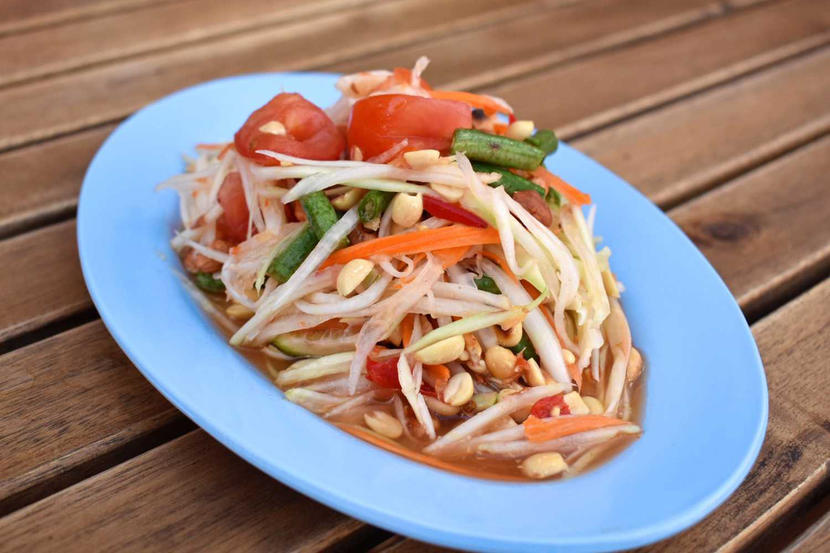 Som Tum Kanom Jeen
We wouldn't be surprised if more often than not, foodies opted for Café Isan's brilliant pad Thai noodles, but they'd be missing out on it's famous, Isan-style papaya salad with noodles – the som tum kanom jeen. Known for its top-notch northern Thai street food, this excellent salad is simple, fresh and delightfully zingy. Choose it with or without prawns (the former is our pick) and slurp up the tangy, garlicky juice and crisp veg. A former winner of our Best Budget award for good reason – so expect noodle prices here to be well worth your dirhams, and still be some of the best noodles in Dubai.
Dhs41. Open Sun-Thu 11.30am-10pm, Fri-Sat noon-11pm. Cluster B, JLT (04 55 79778).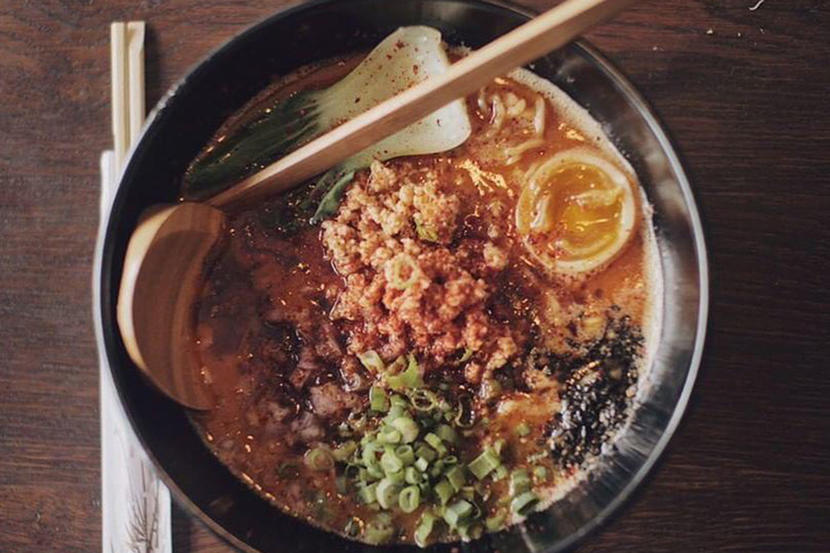 Shoyu Ramen
This new ramen bar has been a bit hit since landing in JLT late last year, and if you're into slurpable soups with some of the best noodles in Dubai, you're in luck. There are loads of bites on the menu including chicken katsu, deep-fried aubergine and bao, but really you're here for one thing – that's the ramen. If you only order one thing… Opt for the shoyu ramen. Flavoursome chicken broth is laden with chicken chashu, ajitima egg and spring onions. Just don't drip these best noodles down your front.
Dhs49. Open daily noon-10pm. Cluster Y, JLT (050 725 6338).
iWok
Create-a-meal
This takeaway Asian street food house whips up some of the best noodles in Dubai in a jiffy, and that's saying something. It's a simple process, you pick your base, then which ingredients you'd like, then which sauces to top it all off. Start with some rice noodles (with spring onions, cabbage and carrot), or quinoa, or even a veggie mix base then add in a whole range of additional toppings, like tofu, shiitake mushrooms, peanuts and more. We like ours with the i Saigon garlic and black pepper sauce, and you may too. Done.
From Dhs27. Open daily 10.30am-midnight. Dubai Marina Promenade, www.iwok.ae (800 4965).
Tempura Soba
This longstanding Japanese eatery has speciality ingredients flown in from Hokkaido, Kansai, Nagano and the markets of Tsukiji. So, you'd definitely expect its ramen, hot pot and cold noodle dishes to be up to scratch. Good thing then those expectations are met with an array of delicious dishes. While its soba, udon and ramen are all delicious in their own right, we can't deny the tempura soba is our top choice – hot or cold. The crunchy, battered tempura combines tastily with the noodles ae lovely and thick. Not to be missed.
Dhs56. Open daily 12.30pm-3pm, 6.30pm-11pm. Le Méridien Dubai Hotel & Conference Centre, Garhoud, www.kiku-dubai.com (04 702 2455).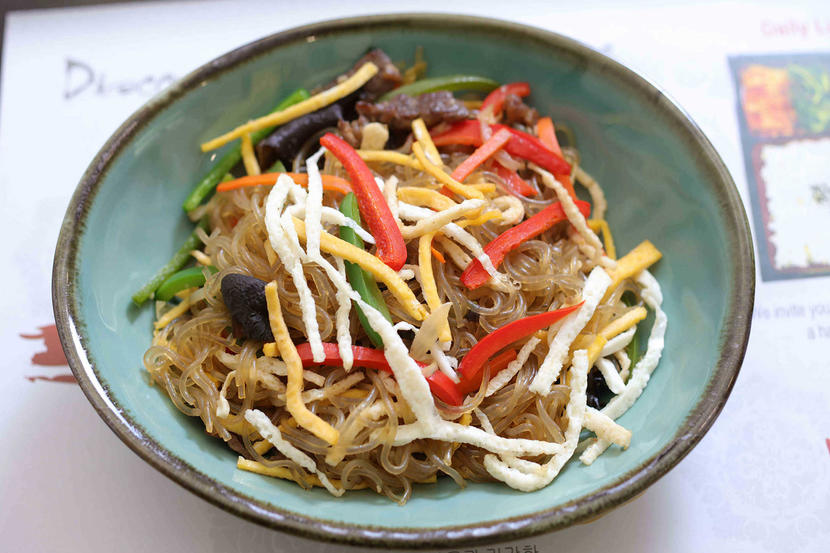 Japchae
Japchae – a stir-fried mixture of glass noodles and vegetables – holds a firm place in Korean history having been invented for a royal celebration in the seventeenth century. It's not often we get to dig into Korean stir fried noodles in Dubai, but Manna Land not only serves it up, it does is good. The colourful dish is an unmissable part of any Korean celebration, and Manna Land's rendition – served in a no-frills setting that might as well be in the backstreets of Seoul – is about as authentic as you'll find in Dubai.
Dhs40. Open daily 11am-11pm. Al Hudaiba, Bur Dubai, www.mannalandkorean.com (04 345 3200).
Hong Kong Cart Noodles
While it would take a while to try out proper Hong Kong street noodles, Streetery has the next best noodle dish right here in Dubai. It's cart noodles lets foodies mix and match what they want in their noodles, whether its alakaline or egg noodles, satay sauce or soya sesame, they mix in all too well with the fried tofu or prawn, chicken and beef dumplings. And, being priced at just Dhs30, that's some of the best noodles money could buy.
From Dhs30. Open daily 11am-11pm. Cluster D, JLT, www.streeteryfoodhall.com (04 587 3373).
Spicy Kway Teow Noodles
Sit outside when the weather allows for it, tuck into a plate of Time Out Dubais highly commended The Thai Kitchen's brilliant spicy kway teow noodles. And it's like you're on holiday in Malaysia. This vegetarian dish is jam-packed with flavour with its assortment of veggies, peppercorn, long beans and mixed together with flat noodles. If you so happen to be up for a veggie dish and can handle the heat, find out why this dish is deemed to be the national dish of Malaysia.
Dhs68. Open Tue-Sat 7pm-midnight. Park Hyatt Dubai, Deira, www.hyattrestaurants.com (04 602 1814).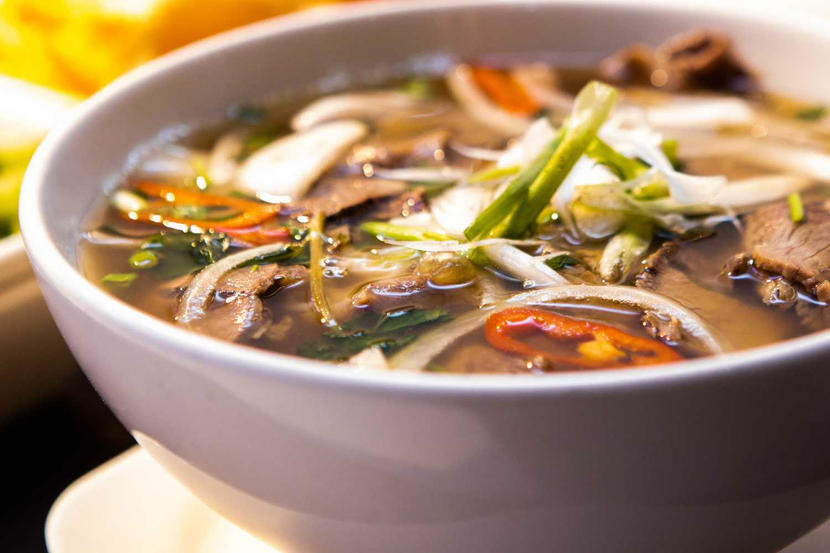 Pho Bo Chin
Without a doubt, this is one of the best budget meals anywhere in town that serves up fantastic dishes, and none says that more than its pho bo chin. Starting off at Dhs27 (which can go up to a very tempting large), the noodle soup broth is simply delicious, especially when mixed in with the slurp-tastic rice noodles, Vietnamese herbs and best of all, the soft beef brisket. Oh, did we mention it's also gluten free? Guilt pleasure, we think not – a healthier noodle dish made very tasty.
From Dhs27. Open Sun-Thu 11am-10.30pm, Fri-Sat 11am-11pm. Various locations including Cluster D, JLT; Burj Vista Residence, Downtown Dubai, www.vietnamesefoodies.com.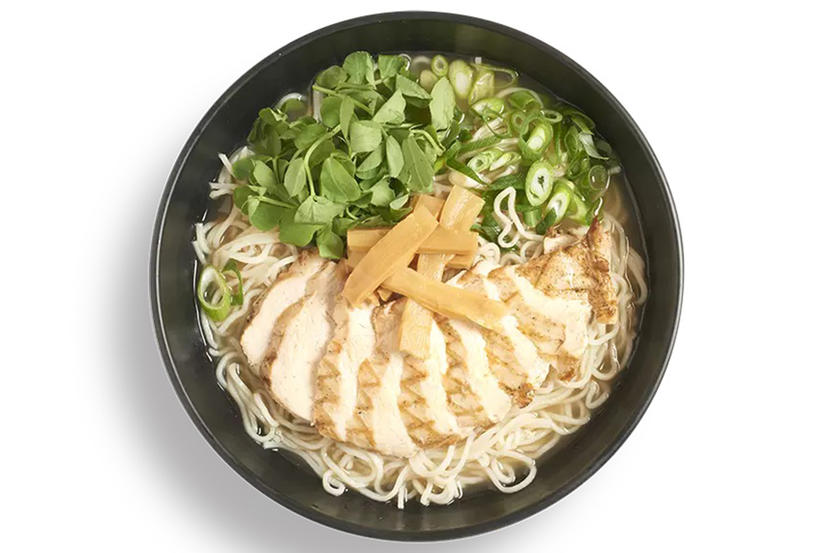 Chicken ramen
Ah, wagamama, the Asian restaurant chain that never fails to satisfy. Sure, its chicken katsu curry may be the dish it's recognised for, but venture out to the ramen section and be amazed by the amount of different bowls on offer. From its beef brisket or chili prawn and kimchee ramen, choices a varied, but nothing beats the simplicity of its chicken ramen, with grilled chicken in a rich chicken broth with dashi and miso, and topped with pea shoots, menma and spring onions. It's always a winning choice, and when the noodle craving comes a-calling, it's the bowl you're after.
Dhs20. Various locations including Dubai Marina Mall; The Greens; The Walk, JBR, www.wagamama.ae.
Your Wok, Your Way
Sometimes, that noodle craving creeps up, and the only thing to satisfy it is a hefty serving of quick, simple street-style noodles. Luckily for us in Dubai, Wok Boyz packages all that in a box, and what a cracker it is. Street-style food is supposed to be made your way, on the spot, and Wok Boyz's make-your-own egg noodles is exactly that. Whether it's with beef, chicken or tofu, along with its varied choice of veggies, the sauces offer up bring us to flavour town. For the spice enthusiasts, we recommend Indonesian heat – it packs a punch.
From Dhs38 (egg noodles). Multiple locations including Al Durrah Tower, Sheikh Zayed Road; Dubai Media City, www.wokboyz.com (600 500965).


DIY Dish
There's nothing quite like the satisfaction of slurping up some wok-style noodles in Dubai, especially when you get to decide what goes in it. Wokyo noodle bar over in JLT lets customers build their own dish and has a number of sauces and options just for vegans, including the spicy Jakarta sambal goreng and even hot Seoul flaming chilli sauce. Foodies can then choose from a list of different delicious noodles, go completely green with pok choi and peppers, and then add on a wealthy amount of tofu or even more veggies. Of course, its meat choices, including chicken, beef and salmon, are a great shout, too.
From Dhs39. Open daily 11am-midnight. J2 Tower, Cluster J, JLT (800 96596). Al Safa (04 330 5188). www.wokyo.com.
Ramen to kisetsu yasai no itame mono
It comes as no surprise that Time Out Dubai's best Japanese restaurant 2020 also offers up an absolutely stellar ramen dish worth slurping up. With a bowl filled with beautifully flavoursome stir fried ramen, seasonal vegetables, crunchy nori (seaweed) and dried chilli, it may be on the pricier side than a few dishes on this list, but it certainly delivers the quality you're after. We recommend getting a helpful serving of maki rolls to go along with it – it's some of the best sushi in town, after all.
Dhs71. Open Sat-Wed noon-1am, Thu-Fri noon-2am. Gate Village 6, DIFC, www.zumarestaurant.com (04 425 5660).
While you're going through this list of the best noodles in Dubai, you can also check out some of the best burgers throughout the city.
Check it out right here.
Be the first to get all the latest Dubai news, reviews and deals into your inbox by signing up to our free
newsletter
,
click here to sign up
.