Business lunches in Dubai are popular with good reason. With meals at top restaurants that are good value and quick, weekday lunches don't need to be a soggy sandwich at your desk. From bento boxes to three-course French meals, here are some of the best business lunch deals in Dubai.
This cute spot in DIFC has a 4B lunch, made up of bites, baos, bowsl and barbecue. Dishes are from a reduced price set menu and start at Dhs30, with favourites including cauliflower popcorn, BB prawn toast, ramen, chicken katsu bao and more. It's all guaranteed to be served in under 45 minutes too.
From Dhs30. Sun-Thu noon-4pm. DIFC (04 407 4444).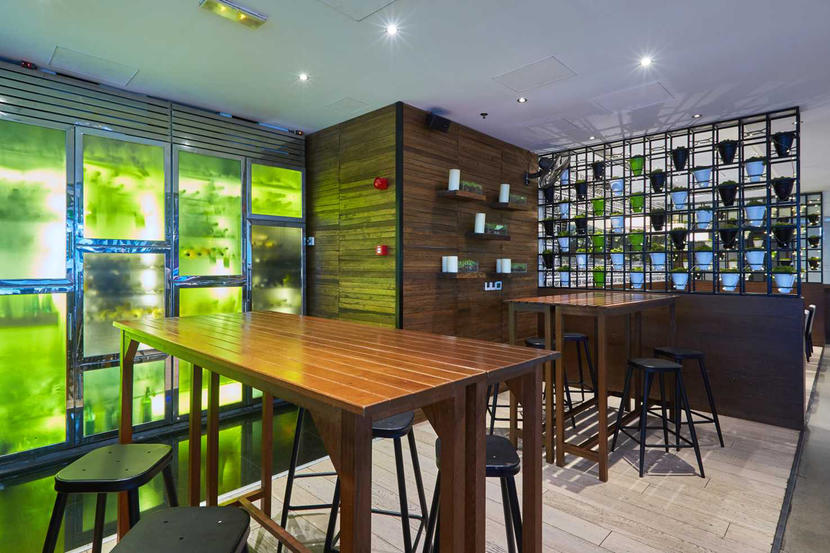 The cool Mediterranean restaurant in DIFC has a business lunch deal that changes weekly. There will be eight dishes to choose from, starting from Dhs30 a dish, or you can go for a burger combo for Dhs85, a two-course meals for Dhs85 or three courses for Dhs115.
Dhs85 (burger combo or two course), Dhs115 (Sun-Thu noon-3.30pm. DIFC (04 323 1833).
Take a midday break and head to this Belgian spot where you'll get two courses and a hot drink for Dhs95, or three courses for Dhs120.
Dhs95 (two course), Dhs120 (three courses) per person. Sun-Thu noon-3pm. Ongoing. The Ritz-Carlton, DIFC (04 372 2323).
If you're a fan of seafood, you know where to go for one of the best fish-based business lunch deals in Dubai. You can get a one-, two- or four-course menu and dishes include fish of the day, seared salmon rolls and shrimp and avocado.
Dhs65 (one course and a drink), Dhs85 (two courses and a drink), Dhs105 (four courses and a drink). Sun-Thu noon-4pm. Emirates Financial Towers, DIFC (04 564 55 25).
If you're looking for a cheap bite for lunch, get a main course and pint for just Dhs65 every weekday. Not only is it a bargain, it serves up the best pub food in Dubai.
Dhs65. Sat-Thu Noon-5pm Byblos Hotel, Barsha Heights (04 448 8000).
This design-conscious restaurant in DIFC has a brand-new menu to check out along with a brand-new business lunch deal. Head down between noon and 4pm and enjoy either two-courses for Dhs90 or three-courses for Dhs100, and if you fancy a tipple with your meal there's grape by the glass for Dhs25 or a carafe for Dhs85. Highlights on the new menu include carrot and ginger soup, a 36-hour braised short ribs sandwich, lasagne with slow-cooked beef ragout and butter chicken served with saffron rice, raita and chips. Desserts include cheesecake served with blueberries and chocolate flourless cake topped with caramelised popcorn. Vegetarian or vegan? Fret not – go for the miso-braised Portobello mushroom with homemade tofu and roasted cauliflower.
From Dhs110. Sun-Thu noon-4pm. DIFC, www.intersectbylexus.ae (04 355 9524).
This chic French restaurant has a new business lunch menu for Dhs110 for two courses. Plus you can add a glass of grape for an extra Dhs40 and a dessert for Dhs20. Dishes on the menu include tomato carpaccio, kale salad, beef carpaccio or cod fish cakes to start, grilled lamb chops, roasted sea bream, cauliflower risotto or bavette for main course and then white chocolate and walnut brownie or fruit salad for dessert. A top business lunch deal in Dubai to check out whether you're taking a lunch break from work or just want to try one of the best French restaurants in Dubai for less.
Dhs110. Sun-Thu noon-2.45pm. Jumeirah Emirates Towers, Sheikh Zayed Road (04 352 7105).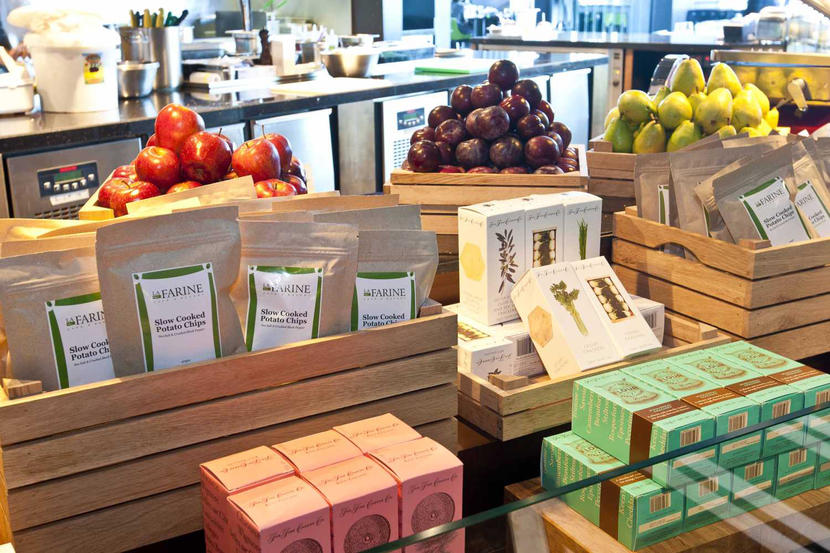 Break up the day with lunch at the French café and bakery at JW Marriott Marquis Dubai in Business Bay.
Dhs89. Sun-Thu noon-4pm. JW Marriott Marquis Dubai, www.jwmarriottmarquisdubailife.com (04 414 0000).
The Rendez-vous lunch menu lays on a two or three-course menu every weekday lunchtime. Dishes include red bream ceviche marinated in tiger milk with tomato confit and chilli, grilled prawns with spinach cream, or a cherry tomato salad with goat's cheese and hazelnut to start. Main courses include fish of the day served with crushed potato, asparagus and lobster sauce, chicken supreme with mashed potato, green beans and Périgueux sauce or gnocchi with endive and blue cheese sauce. Dessert is blueberry panna cotta topped with pecans.
Dhs110 (two courses), Dhs130 (three courses). Sun-Thu noon-5pm. Vida Downtown, Sheikh Mohammed Bin Rashid Boulevard, Downtown Dubai (04 528 3779).
Get a selection of Mexican appetisers plus a main course including fajitas (chicken, beef or veggie), burritos (chicken, beef or veggie) or tostada salad (chicken, beef or shrimp) for Dhs75. Plus opt for the business lunch deal and you'll get drinks at happy hour prices too.
Dhs75. Sun-Thu noon-4pm. Dubai Marine Resort Beach Resort & Spa, Jumeirah (04 346 1111).
London Dairy Cafe
There's a power lunch deal for Dhs70 at London Dairy, where you'll get a soup, main and a coffee every weekday from noon until 6pm. Dishes on the menu include rib-eye steak sandwich, kale salad or fusilli with prawns. Plus for an extra Dhs5 you can round off your meal with a scoop of ice cream.
Dhs70. Sun-Thu noon-6pm. Various locations including La Mer, DIFC, Dubai Media City, Sheikh Zayed Road, www.londondairy.com.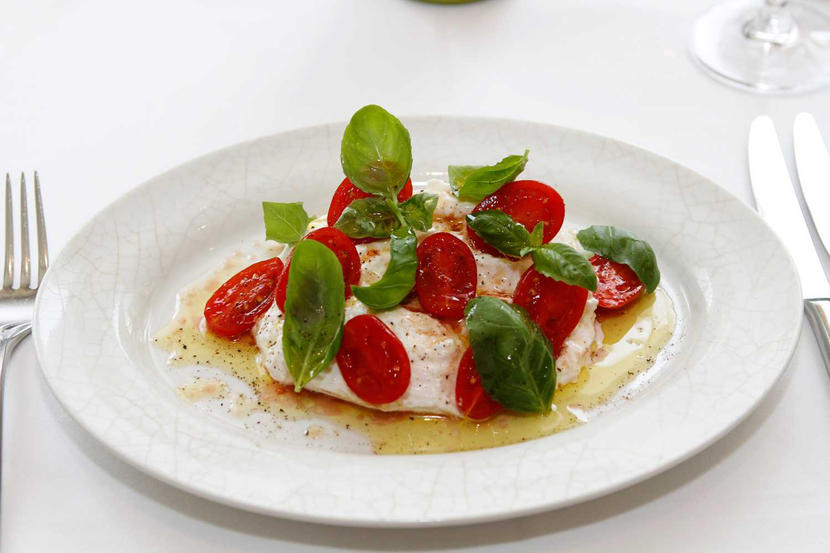 Time Out Dubai's Best French Restaurant 2020 does a top business lunch deal. The Le Petit Menu promises two courses served within 60 minutes, for Dhs135 per person.Some of LPM's most raved-about dishes are featured, too. Diners can choose from a selection of starters, such as burrata with tomatoes and basil, warm prawns with olive oil, and a salad of the day. Mains include the restaurant's signature roast baby chicken marinated in lemon and seam bream en papillote with confit lemon, cherry tomatoes, capers, sweet pepper and olives. Fancy something a bit more decadent? LPM's Déjeuner d'Affaires lunch menu is also still available, if you fancy a more leisurely midday outing. For Dhs180 per person, you'll get two starters (each!), one main course and round off with the ice cream of the day.
Dhs135 (Le Petit Menu), Dhs180 (Déjeuner d'Affaires). Served Sun-Thu noon-3pm. LPM Restaurant & Bar, Gate Village 8, DIFC, Dubai (04 439 0505).
Visit this all-American restaurant in La Mer from Sunday until Thursday from noon until 3pm and you can get a special lunch deal. You can choose from a burger, salad pizza or quesadilla at the restaurant, paired with fries and drink for Dhs59. Plus you can upgrade to a house beverage for an extra Dhs10.
Dhs59. Sun-Thu noon-3pm. La Mer, Jumeirah, www.starsnbars.ae.
This Dubai Marina restaurant from British TV chef Simon Rimmer has a heap of offers, including a business lunch deal from Sunday to Thursday. You'll get two courses for Dhs75 or three for Dhs99, with dishes including beetroot hummus or oozy brie and chorizo to start, beef cheek pie or crispy jerk chicken for mains and sticky toffee pud or bounty brownie for dessert. Plus there's also a burger and a drink for Dhs99 or a salad and a drink for Dhs75.
Dhs75 (two course), Dhs99 (three courses) food only. Sun-Thu noon-3pm. Ongoing. Pier 7, Dubai Marina (04 422 2328).
JLT's neighbourhood sports café is offering free-flowing lemonade, a choice of soup or saland and a selected main course for Dhs59 every weekday. For those after something more, get an additional coffee for Dhs10 and add on a pastry for Dhs25.
Dhs59. Sun-Thu 11am-4pm. Taj Jumeirah Lakes Towers, JLT (04 574 1111).

Choose one of six Bento Boxes – including a vegan option every day from noon until 5pm at this Asian restaurant in Downtown Dubai if you're after a little bit of everything at lunchtime.
From Dhs60. Daily noon-5pm. Sofitel Downtown Dubai (04 224 6663).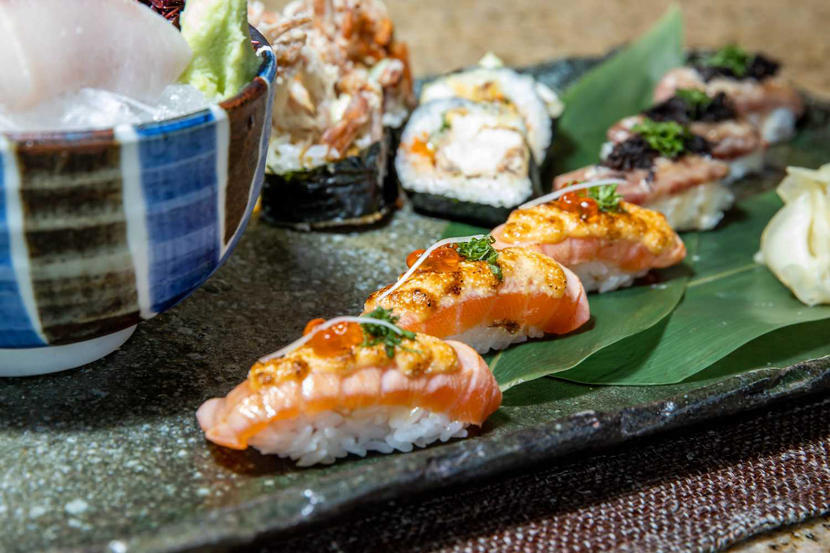 This world-famous chain has one of the best business lunch deals around. For Dhs137 you'll get two dishes – think sushi, gyoza and robata – plus miso soup. An excellent way to sample the super cuisine if you're tight for time.
Dhs137. Sun-Thu noon-2pm. Gate Village 6, DIFC (04 425 5660).
Be the first to get all the latest Dubai news, reviews and deals into your inbox by signing up to our free
newsletter
,
click here to sign up
.