Whether you're looking to get the freshest greens, support local famers or have your mind set to support environmentally and socially sustainable production, shopping for food in organic supermarkets in Dubai is the way to go.
In fact, now more than ever, the UAE is one of the top places to get locally sourced fruits and vegetables, as it hit a major milestone by producing that now sees the country competing globally by marketing fresh produce.
Clearly, it's a good time to start shopping fresh and supporting local farmers and food suppliers in the UAE at organic supermarkets in Dubai. With that in mind, here are some top organic supermarkets in Dubai to nab yourself fresh food.
Dedicated Organic Store
BiOrganic
Chocolate chip quinoa cookies? Or maybe some vegan spreads or organic honey? Whatever you're after, you'll find in the handy BiOrganic store at the Time Square Centre. Not only does it offer locally sourced products and ingredients, but also personal care and household products. It also has a butchery and bakery offering up unique food, including an organic vegan charcoal loaf.
Open daily 10am-10pm. Times Square Centre, Sheikh Zayed Road, Al Quoz, www.biorganicstore.com (04 337 2199).
Emirates Bio Farm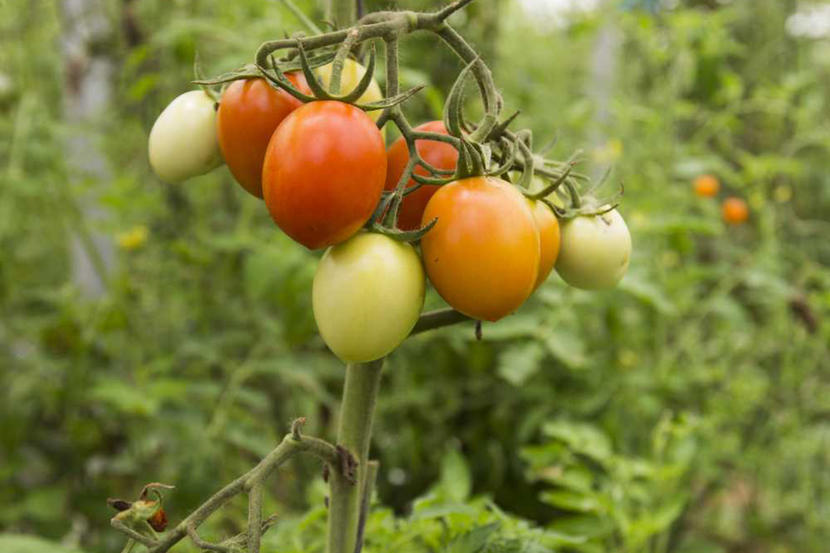 If you're looking for fresh organic produce right from the farm, Emirates Bio Farm, with a span of a whopping 25,000 sqm, is a good shout. Being the largest private organic farm in the UAE, you can expect all types of fruits and vegetables, sprouted nuts and eggs. Better yet, they deliver right to your door step in varied packages. The farm uses recycled animal manure and plant wastes to produce natural, environmentally friendly, organic fertilisers to guarantee fresh and safe organic produce that is free from any chemical preservatives. You can visit the farm in Al Ain, but the best way to get the food is with a simple click.
Al Faqa, Al Ain, www.emiratesbiofarm.com (03 783 8422).
Farmers' Market on The Terrace
Who would have thought the sight of a crooked courgette, a few wonky sticks of celery and tomatoes of various shades, shapes and sizes would inspire actual cheers. But through kale-stuffed mouths healthy eaters across the city rejoiced when news broke at the end of October about the return of this popular Business Bay farmers' market. From November until May there will be locally grown organic and fresh fruit and vegetables sold directly from farmers as well as food and drinks made from scratch by local artisans. Look out for vegetables you don't know the names of and only vaguely recognise. Then buy one of each.
Open Nov-May, Fri-Sat, 7am-1pm. Farmers' Market on the Terrace, Bay Avenue Park, Business Bay, www.facebook.com/thefarmersmarketontheterrace.
Greenheart Organic
Straight from its organic farms, Greenheart has a stunning array of organic foodie products, and then some. Set up in 2012, the store has seen major popularity over the past few years thanks to its online delivery services, along with specialty boxes and hampers. From fruits and vegetables, herbs and flowers, a deli and bakery offering gluten-free products, along with meat, fish, dairy and eggs, you'll get the freshest products knowing their completely organic right from the farms in Dubai. It's also recently expanded to import organic fruit from Lebanon, Sri Lanka and India. The more the merrier.
Open Sat-Thu 10am-6pm. Arjan, Al Barsha South 2, www.greenheartuae.com (04 361 7010).
milK & HONEY
We'll let you have a few guesses as what kind of organic products can be bought here – think specialty organic Rude Health coconut milk, Adan Organic milk or raw Berringa Organic Honeycomb. Of course, the homegrown gourmet grocer offers plenty more, with products coming all over the world including Australia, the UK, Italy and juices straight from the UAE. While there are three outlets, if you're looking to get a taste of what the products have to offer, the milK & HONEY Café will give you a taster right on the Palm Jumeirah. So, if you ever run out of milk or honey…
Open 24 hours. Various locations including Shoreline Building 10, Palm Jumeirah; Emirates Hills (04 432 8686).
Ripe Market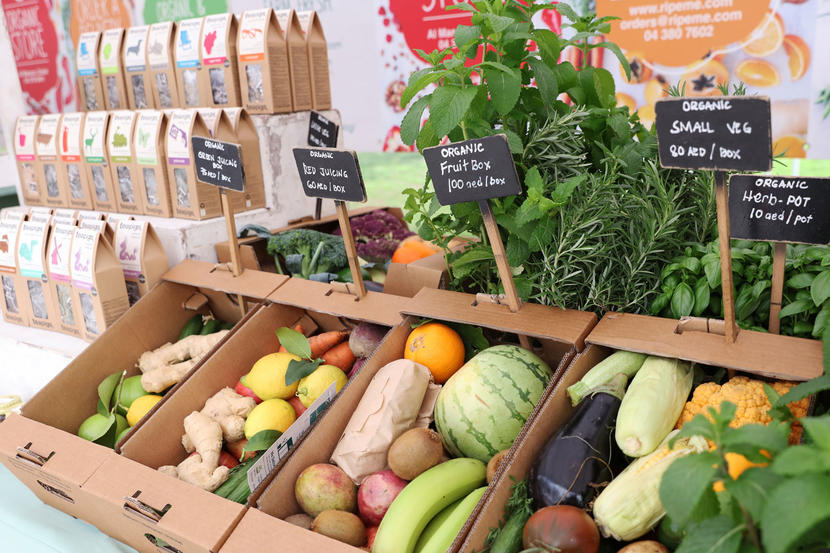 Dubai's hugely popular Ripe Market has all of the fruit, vegetables and more come from the Ripe Organic Farms and other local organic farmers, so you fill your shopping basket without so much as a second thought about additives, preservatives, or any more of the bad stuff making its way into your veggie lasagne and salads. Don't want to wait around for the market? No problem, as there's three stores including at Palm Jumeirah, Al Manara and Town Centre to drop by. Expect everything from organic fruit and vegetables, to local organic eggs, raw honey and superfoods, to dairy free alternatives, vegan and gluten free products, as well as a delicious selection of locally made artisan products including fresh bread and olives. What more could you want?
Opening times vary. Various locations including Shoreline Building 7 and 8, Palm Jumeirah; Town Centre Jumeriah, Jumeirah 1; 8 A Street, Al Manara Street, www.ripeme.com.
Organic & Real
With the goal of making delicious, healthy food safe, Organic & Real at in Al Fahidi by Dubai Creek has shelves stocked with fresh produce. Expect everything from Oatley ice cream, plant-based meats from Quorn and plenty of fan-favourites made vegan, including non-dairy cheese, vegan kimchi and of course some fresh fruits and vegetables. Items are constantly updated so foodies can be sure to check back and find something new. While its store is currently closed, it is still offering 24/7 delivery.
Reopening soon (24/7 delivery available). RTA Parking Building Next to Ghubaiba Metro Station, Al Fahidi, www.organicandreal.com (058 840 3164)
Organic Foods & Café
This family run, longstanding farm in Dubai knows what makes fresh organic food. With supermarkets throughout Dubai offering fresh organic and biodynamic foods, groceries, supplements, meat, dairy products, breads and even household cleaning products, it also comes out with new fruit and vegetables every month, including romanesco cauliflower, purple artichoke, parsnip and wild wonder cherry tomatoes. If you're cooking up a dish and want it bursting with flavour, pick up some ingredients here and you won't be disappointed. And, it even has a few recipes of its own to try out.
Opening times vary. Various locations including The Village, Jumeirah 1; Building 2, The Greens; Cityland Dubai, www.organicfoodsandcafe.com.
Supermarkets
Carrefour
The big Carrefour stores around Dubai, just like the one at Mall of the Emirates, have a whole aisle for organic products that support in saving the environment. Its own line of Carrefour Bio products put fruit and vegetables on the frontline, and offer an array of foods including quinoa, jam, coffee, tea, biscuits, cereals, dairy products and all manner of wheat products. Basically, you can head to the organic aisle and get your shopping done in one aisle walk knowing you're buying the right stuff, rather than pacing up the supermarket deciding what to get. And, of course, you can get them all delivered online.
Opening times vary. Various locations including Mall of the Emirates, Sheikh Zayed Road; Dubai Marina; Dubai Production City, www.carrefouruae.com.
Spinneys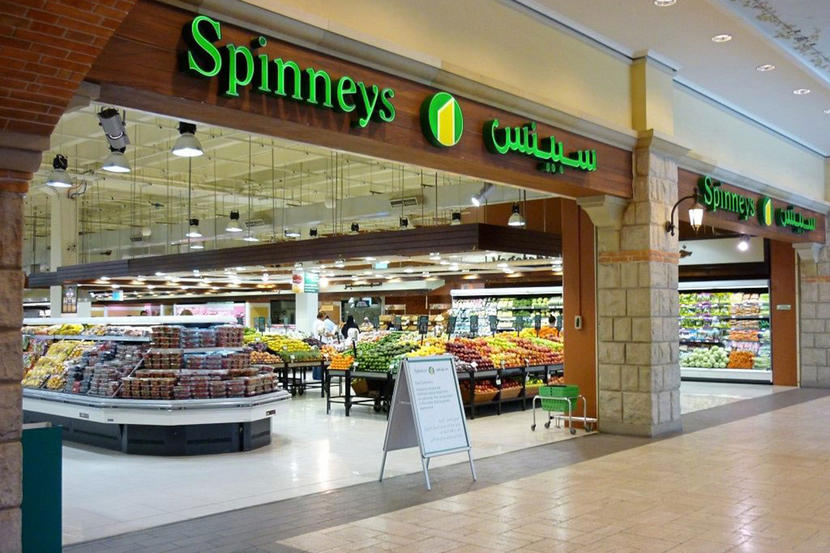 When it comes to ease of access to get the freshest, crunchiest and greenest food products from local farms, the Middle East's supermarket chain Spinneys has you covered. How so? As it's one of the major supermarket outlets that supports local producers in the UAE, all so you can get the freshest items. In fact, it doesn't just offer up fruit and vegetables, but meat, poultry and fish, too. The in-store system in Spinneys is also hygienic and well maintained, so you'll know to expect fresh foodie goodness. Even better, it's all about cooking up brilliant dishes, which you can try out yourself by checking out its recipes. There's plenty of stores set up in residential areas too, from the Palm Jumeirah and the Dubai Marina to Dubai Motor City.
Opening times vary. Various locations including Dubai Marina; Palm Jumeirah; Cluster J, JLT; Dubai Motor City, www.spinneys-dubai.com.
Waitrose
With 11 stores under its belt in the UAE – with its latest opening in Dubai Motor City – Waitrose is all about supporting local food suppliers the best they can, and combats climate change by using environmentally-friendly methods such as having a 'refillable zone' where customers bring their own containers and fill up on certain staples including nuts, coffee, pulses and dried fruits. Along with its range or organic meat and fish, it's also a spot for British expats to find some well-known products to give them a bit of a nostalgia factor. It's a win-win in our books.
Opening times vary. Various locations including The Dubai Mall, Downtown Dubai; Dubai Motor City; Dubai Marina Mall, www.waitrose.com.
Ones to try
NRTC Fresh

There's nothing like munching on quality fruit and vegetables to give you a fresh boost, and with NRTC Fresh, you can get it all delivered right to your doorstep. NRTC Group, the largest supplier of fresh fruits and vegetables in the UAE, offers an online platform and app for on-demand delivery. And, it has the fast delivery, good quality and affordable fresh produce you're looking for. Oh, and you won't have to pay a dirham for the delivery fee either for orders over Dhs80. Great for bulk buying for families, and they ca come pre-cut just to save you some time in the kitchen.
Available on The App Store and Google App Store, www.nrtcfresh.com (04 320 8889).
Jones the Grocer
The cheese room. That's the one place many of us will only need to know to head on over to the Australian gourmet grocer's market. Fromage fans will be spoilt for choice with more than 80 gourmet varieties, including Tête de Moine from the Swiss Alps Haute Savouie from France or Truffle Gouda from Italy. While there's everything from its brie to its blue cheese, Jones the Grocer also has antipasto, chutneys, spreads, jams, honey, marmalades, oils, vinegars, pastas and grains. Jones The Grocer is also part restaurant, so tuck in before shopping at The Dubai Mall or Emirates Golf Club.
Timings vary. Various locations including The Dubai Mall; Al Manara, Sheikh Zayed Road; Emirates Golf Club, Emirates Hills, www.jonesthegrocer.com.
Kibsons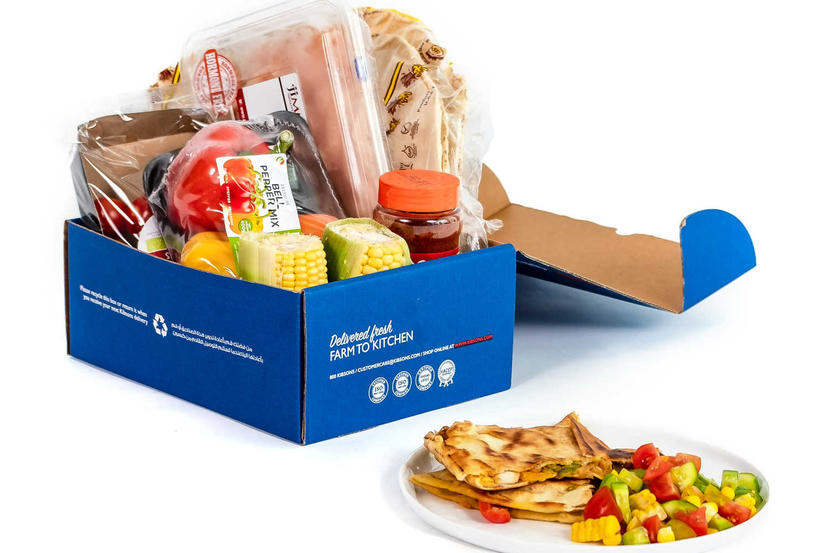 The team here deliver quality fruit and veg from every continent, from the ripest Indian mangoes to the sweetest Malaysian passion fruit. Kibsons specialises in exotic fare, pre-packaged and mini veggies, as well as micro herbs, and it aims to carefully source the freshest quality goods at the best prices. It's a very popular online delivery service in Dubai for good reason, as it now has an array of organic products including a vegan section, meat, seafood, dairy and pantry products. Oh, and their delivery services are fairly fast. By that, we mean free same-day delivery.
www.kibsons.com (04 320 2727).
Be the first to get all the latest Dubai news, reviews and deals into your inbox by signing up to our free
newsletter
,
click here to sign up
.