Kangoo Jumps
This workout is as fun and ridiculous as it sounds. It basically involves strapping on two springy boots that make you jump like a, well, kangaroo. The 5kg kangoo boots are used for a few different reasons – to reduce the impact of various exercises on the joints, to act as an extra weightlifting workout, and to engage your core. During the workout you'll do a variety of cardio exercises designed to get you hot and sweaty, and if you do it properly it is said to burn more than 1,000 calories per hour.
Timings vary. Tone Fitness, Bain Al Jessrain, Khor Al Maqta (050 316 8999).
Kitesurfing
It's time to tackle a sport with a difference. Kitesurfing is great exercise and in Dubai there's even a beach so perfect for the sport it's named after it. February to April is the best time of year to give it a whirl (perhaps literally), but we say there's no time like the present to take to the waves. However, it's not something you can just try out on your own (firstly, there's a lot of equipment bars, boards, harnesses…) so it's worth trying a class first. More into spectator sports? Go and watch the pros flying high in the air.
Abu Dhabi: Yas Island, www.kitepro.ae. Dubai: Kite Beach, Umm Suqeim, www.kitesurf.ae
Les Mills The Trip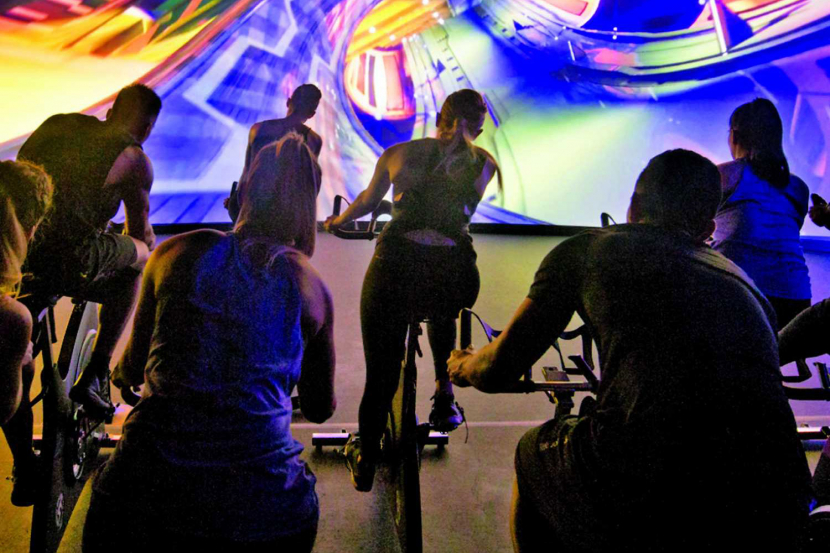 The Trip is the spin class to end all spin classes. More like experiencing a 3D rollercoaster than a workout, it's a fully immersive experience. On entering the studio it feels like you've come to some weird cinema where you sit on bikes instead of seats. The 40-minute HIIT session is projected on to a huge screen, and each class takes you through different digitally created worlds. You'll go up and down hills, travel the world (trip to Greece anyone?), and even go into space. The best part? You won't notice you've spent 40 minutes furiously pedalling and burnt up to 800 calories…
O Abu Dhabi: Dhs60. Ladies only. 30th Street,
Al Bateen (050 157 5508). Dubai: GFX, Bay Avenue, Business Bay (04 425 5940).
Bounce Fit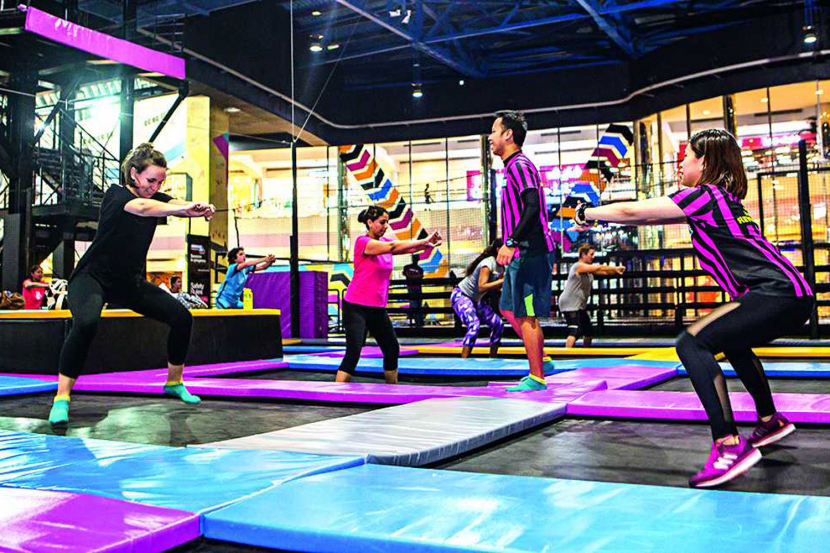 Is there anything more liberating than bouncing as high as you can on a trampoline? If you haven't tried it for yourself (or since you were about six years old) then you need to get yourself over to Bounce as soon as possible. With branches in Abu Dhabi, Al Ain and Dubai this huge trampoline park lets everyone lose their inhibitions and be a bit silly. The Bounce Fit classes aren't just about having a good time though, the group sessions involve various different exercises, and it apparently burns more calories than running. So start jumping your way fit instead.
Dhs85 (general admission). Abu Dhabi: various locations including Marina Mall (04 321 1400). Dubai: Al Quoz, Dubai (04 321 1400).
PRAMA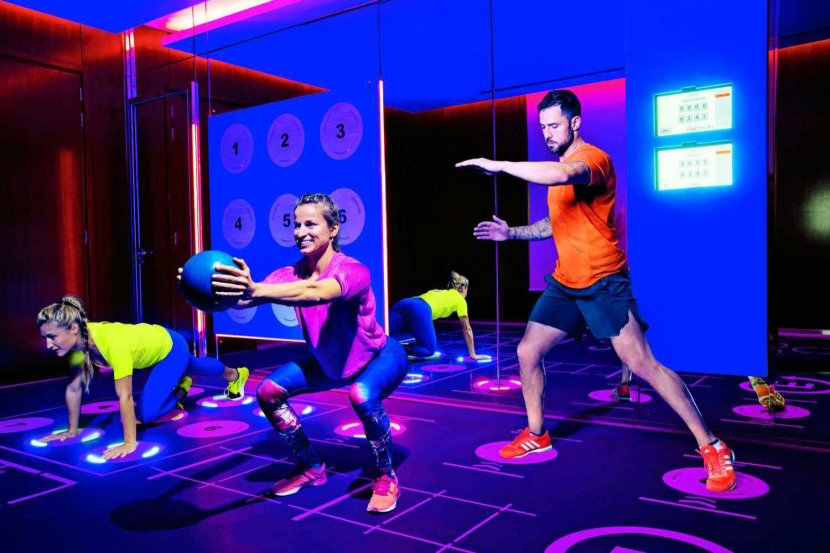 Flashing lights, pumping music, lightning-quick moves. You'd be forgiven for thinking we're talking about a new club – until we mention the squat jumps. Step aside Zumba, PRAMA is here. This workout improves your fitness, speed and balance by tapping pressure-sensitive walls and floors as they light up (a little like a fitness version of whack-a-mole).
All the data is stored, so you can compare scores, compete against others and undergo tests. You can even burn 1,000 calories in
45 minutes.
Dhs85 per class. Times vary. Fairmont The Palm, Palm Jumeirah, www.fairmont.com (04 457 3330).
Mountain biking
The UAE might be famed for sand dunes, watersports and zip lines, but head to Hatta, and the Hajar Mountains offer a whole new way to get your adrenaline fix, with mountain biking in the great outdoors. If you don't have your own set of wheels, stop off at Showka Bicycles on the way and hire a mountain bike. Once kitted up, head for the hills. The Hatta Mountain Bike Trail Centre (www.hattamtb.ae) has loads of suggested routes, which are colour-coded like ski slopes by ability, with green for beginners, up to black for experienced riders. Dig out that lycra.
Open Sun, Wed, Thu 8am-4pm; Fri-Sat 6am-4pm; Showka Bicylces, Hatta (050 859 1934).

Underwater yoga at The Lost Chambers Dubai
Admittedly it's not actually "underwater" yoga, but this is as close to it as you're going to get – and it's a lot easier than practising a cobra pose in a swimming pool. This fun, different (and oh-so-UAE) yoga class is brought to you than none other than Atlantis The Palm. Make your way through a variety of hatha positions with the serene backdrop of multicoloured tropical fish, rays and sharks. Peaceful yet challenging, this is one yoga class that's worth dragging yourself out of bed early for (even
on a Friday).
Dhs130. Sun, Tue, Fri 8am. The Lost Chambers Aquarium, Atlantis The Palm, Palm Jumeirah (04 426 1040).
Be the first to get all the latest Dubai news, reviews and deals into your inbox by signing up to our free
newsletter
,
click here to sign up
.