While both indoor and outdoor gyms and fitness centres remained closed, many people are looking at where to exercise outdoors in Dubai to keep strong and healthy.

Dubai eased its movement restrictions ahead of Ramadan, allowing residents to go outside and get some outdoor exercise in Dubai. But while working out outdoors, it's still extremely important to take safety precautions, keep a safe distance between people and wear your mask at all times. You must also be home before the National Sterilisation Programme starts, which during Eid al-Fitr is at 8pm each night.

On Saturday May 16 a three-phase plan was announced about Dubai's parks, so we can expect to see more spaces opening up over the coming weeks (for more on that click here). And with places such as Al Qudra cycle track and Kite Beach running track back open, we round up the best places to exercise outdoors in Dubai before it gets too hot. Here's where you can get some fresh air and take advantage of the many beautiful open spaces across the city, all while burning off those calories – turning away from the treadmill has never sounded better.

For the best places to run in Dubai click here, and for a list of Dubai's best walks, click here, check in advance that areas are open and only go if safe to do so.

Get ready for a sweat-inducing workout at the free-to-use Al Qudra cycle track. This is one place to put your pedal to the metal in the Dubai desert, all while taking in wildlife as you ride. The 85km track weaves its way along Al Qudra road and through the desert dunes, offering the chance to spot birds, camels and even oryx. The track is lined with resting stations and the route has a 50km loop, as well as an 18km stretch along Al Qudra Road. Both are popular with seasoned cyclists and novices alike and are regularly used by club bikers, too. If you want to keep fit while enjoying stunning views of the Dubai landscape, it is time to get on your bike and head down to Al Qudra.
Past Arabian Ranches, Dubai.
HIIT (High Intensity Interval Training) workout sessions are great for increasing your heart rate, which results in the progression of cardio conditioning and major calorie burning. Though many might assume HIIT sessions to be difficult to do outside a gym, that's not the case. HIIT workouts can easily be performed within the comfort of your own home or even outside at a public park. For a list of parks that have reopened click here.
Dhs3. Open daily 24 hours.
Hire a bike and glide around Dubai Marina
Get some outdoor exercise and hit the smooth, wide footpath that runs the perimeter of the waterway at the heart of Dubai Marina. For casual cyclists you can hire a Careem bike and the route is particularly unique, offering an easy, flat terrain that's removed from motorists (just be careful of pedestrians).
Dubai Marina, Dubai.
Power walk along the Palm Jumeirah Boardwalk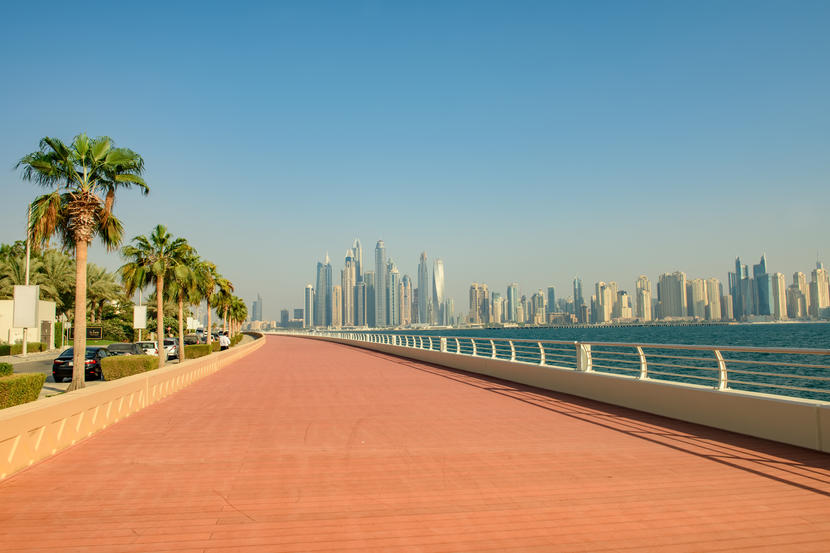 There are stunning sea views to be enjoyed from Palm Jumeirah's Boardwalk. The 11km boardwalk stretches from One&Only The Palm on the western tip, around to Rixos The Palm at the eastern end. There are no shady spots to take a breather but the stunning panoramic views of the Arabian Gulf are spectacular and listening to the lapping waves as you run makes this a peaceful route, especially while the sun sets. If 11km one way isn't long enough, you can even add the 4km jog up and down the trunk of the Palm.
Palm Jumeirah, Dubai.
Run along Kite Beach boardwalk
Kite Beach is one of Dubai's most popular beaches and an all-round great place for an outdoor run. And now even though the beach is yet to reopen, you can run (walk, or jog, we're not here to judge) along the boardwalk. Have a gander here for more of best places to run in Dubai.
Umm Suqeim, Dubai.
Skip to it in JLT
Want to add intensity to your jog? Then grab yourself a skipping rope, as you only need a few square feet of space. Pop on some headphones and skip along to your favourite tunes. Want to up the calorie-count? Do intervals: skip as fast as you can for 30 seconds then rest for 30 seconds and repeat until you've bagged 20 to 30 minutes.
JLT
Stroll around Zabeel Park
Not a runner? Get the job done with a nice walk. In the semi-hollow shadow of the Dubai Frame is this gorgeous park found just north of Downtown Dubai and Dubai World Trade Centre. The park is equivalent in size to 45 football pitches meaning you'll definitely hit the recommended 10,000 steps. It's time to lace up those trainers and get those steps in.
Open Sat-Wed 8am-10pm, Thu-Fri 8am-11pm. Sheikh Zayed Road.

Fancy spinning around the city on four wheels? Skateboarding has become increasingly popular over the past few years and is a fun way to exercise outdoors in Dubai. The 3,100 sq m XDubai Skatepark is a favourite spot among keen 'boarders. There are 29 obstacles in total, which are suitable for all levels from novice all the way to professional making it a perfect outdoor space for your kickflips and tricks.
Prices vary. Open Sun-Thu 3pm-11pm, Fri-Sat 8am-11pm. Kite Beach, Umm Suqeim, www.xdubai.com (056 831 2349).

For your essential guide to keeping fit and healthy in Dubai, head here.
Be the first to get all the latest Dubai news, reviews and deals into your inbox by signing up to our free
newsletter
,
click here to sign up
.