Football, basketball, cycling, yoga – they're all a tad "been there, done that". You're probably thinking there has to be something new you and your pals can try out over the weekend, right? Of course there is – this is Dubai we're talking about.

When it comes to working out or teaming up with friends in the quirkiest way possible, the city is jam-packed with peculiar sports to satisfy your need for a weekend of wackiness.

From smacking a ball around on top of a camel to bouncing and dancing around like a kangaroo (of sorts), there's definitely a sport here that you'd never have thought to get involved with, laughing as you go.

Without further ado, here are ten of the most unusual sports to play over the weekend. Who knows, you may even discover a hidden knack for camel polo.

For the team players
Archery Tag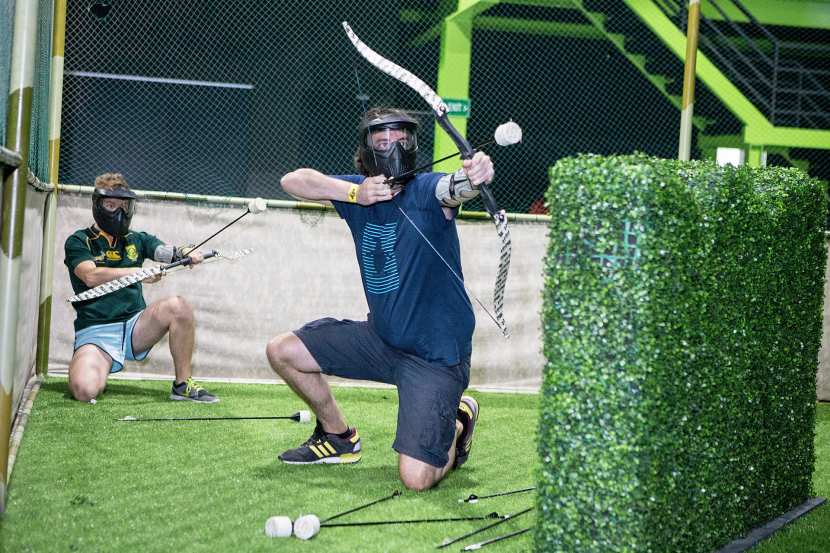 If you fancy yourself as a budding Robin Hood/Hawkeye/Legolas (take your pick), Archery Tag at Flip Out is what you need. Essentially, a game plays exactly like dodgeball except with bows and foam-tipped arrows. Although, that doesn't mean you can underestimate the force of being hit by one – you'll still want to dodge them. Opposing teams are separated by a safety zone, with each section being set up with different types of cover to duck behind such as foam cars, barrels and wooden platforms. Hit a player and they're tagged out, but if they catch your arrow, a tagged out team member can come back in the game. Make sure to pull that bow string back hard so they don't get the chance. A one-hour session costs Dhs80. So, next time you're embroiled in a heated debate at brunch or are looking to settle scores with friends, take them to Flip Out and fire arrows at them.
From Dhs80 (one hour). Sun-Wed 10am-9pm; Thu-Mon 10am-10pm. Flip Out, Warehouse #5, Al Quoz, www.flipout.ae (600 567568).
Bubble Soccer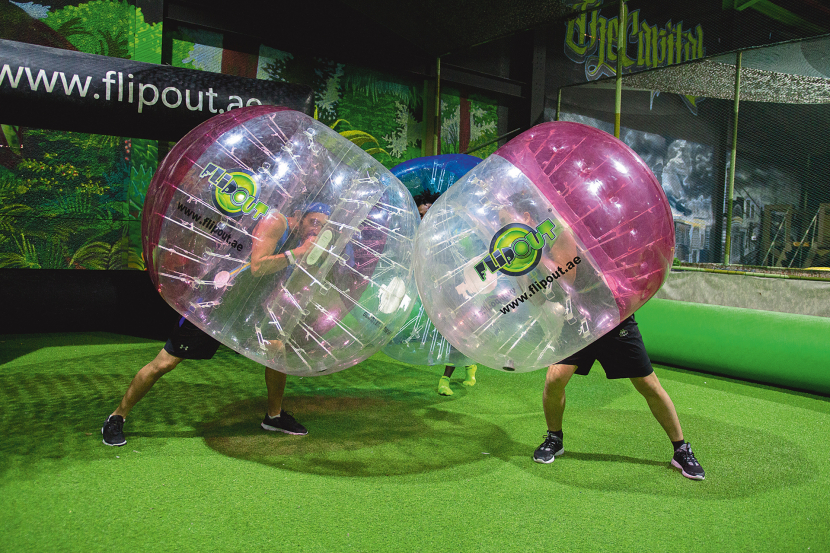 You know what the pros say: if you want to get good at football, you have to be the ball. Although, Bubble Soccer at Flip Out takes that one step too far, and it's all the more fun because of it. The Al Quoz arena has its very own pitch for the bouncy sport, where teams can enjoy 30-minute games for Dhs40. Half an hour is all you need though, as Bubble Soccer can be remarkably tiring – great for those looking to get fit in the quirkiest way possible. It's exactly like football except, well, with huge bubbles, and players can bash, bump and ram into each other with hilarious results to protect the goal. Or, just for the fun of it. Definitely bring a change of clothes, as being in that bubble for extended periods is like roasting in your own personal sauna.
From Dhs40 (30 min). Sun-Wed 10am-9pm; Thu-Mon 10am-10pm. Flip Out, Warehouse #5, Al Quoz, www.flipout.ae (600 567568).
Camel Polo
Sure, you could play the sport of kings on horseback like everyone else, but why not get the ships of the desert to play instead? Camel Polo is exactly like its cousin in sport except with an Arabian twist, and you can gather a team of eight and head over to the Dubai Polo & Equestrian Club for a morning of camel-backed action and non-stop giggles. Polo is one of the oldest known team sports, and requires teams to score goals using a wooden mallet – which makes a hugely satisfying "whack" when hitting the ball. You won't have to do all the work, as a trainer guides teams through the rules and steers your trusty hump-backed steed, so all you have to do is focus on said "whacks" and scoring against the opposition. The package also includes soft drinks to cool off and polo shirts, so you don't have to go out of your way to dress the part. Unless you want to, you fashionista. The club is open during the winter months so now's the perfect chance to give it a whirl.
Dhs720. Until Apr 30. Mon-Wed 8.30am-11am. Dubai Polo & Equestrian Club, Arabian Ranches, www.arabian-adventures.com (800 272 2426).

Dragon Boat Racing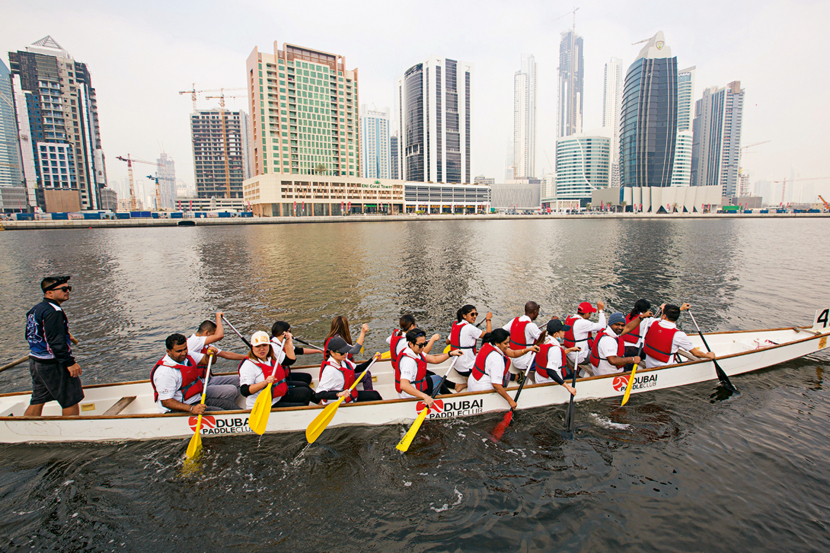 There's a long history attached to this traditional sport from China, but all you need to know is there's a boat, a lot of paddling and a massive amount of team building to be done. It's a hefty workout making it perfect for those who have had enough of leg day and want to get back to the arms. Dragon Boat racing has become pretty huge in Dubai, with a number of different teams including The Dubai Marlins and Steelcraft offering training sessions and classes for beginners. There's something very satisfying about synchronising each stroke to the timings set by the front two paddlers, and when another boat is right up your dragon tail, it just gets better. It makes for a colourful and exciting race, full of spectacle and team camaraderie. You can join one of the teams at the Dubai Dragon Boat website and take part in festivals at Dubai Marina, Abu Dhabi's Eastern Mangroves and Shangri-La Hotels. Choose wisely.
Barasti Beach, Le Méridien Mina Seyahi Beach Resort, www.dubaidragonboat.com (050 763 4008).
Roller Derby
Ladies, get ready to tumble, as the city has its very own team of hard-hitting skaters that you don't want to mess with on the tracks, and you could be one of them. Every Monday and Saturday, the Dubai Roller Derby team don their skates for an adrenaline-pumped contest, and have loads of fun while doing it. Flat track roller derby is a fast-paced contact team sport that requires speed, wit and a great sense of camaraderie. The rules are simple: teams of skaters must race around an oval track while doing their best to stop their opponents from lapping them. The team can assist their scoring player to score by passing an opposing player. Currently, there isn't a men's team, but a team will be formed if enough start signing up, and why wouldn't you? It's speed skating with a bit of rugby and even cycling strategy thrown in. All you need to bring is determination, a bottle of water, skates and (especially) some protective gear – you will be rough-housing while in motion, after all. The first rule of Dubai Roller Derby is to tell everyone to join, and the second rule? Tell. Everyone.
Free. Sat and Mon 7pm-8.30pm. New Skater Nights: every two to three months. Al Quoz, www.facebook.com/dubairollerderby (055 889 1725).
Ultimate Frisbee
If you think Ultimate Frisbee is just about throwing a plastic disc around, then you haven't truly given it a go. The UAE has its own band of disc chasers ready to have fun while playing an ultimate game of, well, Ultimate. It's a sport where each team tries to score by receiving the disc in their end zone – rather like scoring a touchdown in American football. You can't run while you have the frisbee, which means your attacks are advanced solely through passing. Expect a lot of sprinting and running, as the only way to stop an attack is by breaking up a pass or catching it yourself. Many people get hooked on the sport because there are a lot of highlight-reel style plays, and some of the coolest disc throws you'll ever see: from backhand passes to curved spins. If you're looking to ease yourself in to such style, a group heads to Black Palace Beach every Saturday from 4.45pm to play. Is there a better way to meet up with friends and meet new people than throwing flying discs at each other? We can't think of one.
Free. Sat 4.45pm-8pm. Black Palace Beach, Al Sufouh Road, www.meetup.com/Dubai-Ultimate-Frisbee-Meetup.

For the solo acts
BOUNCE Parkour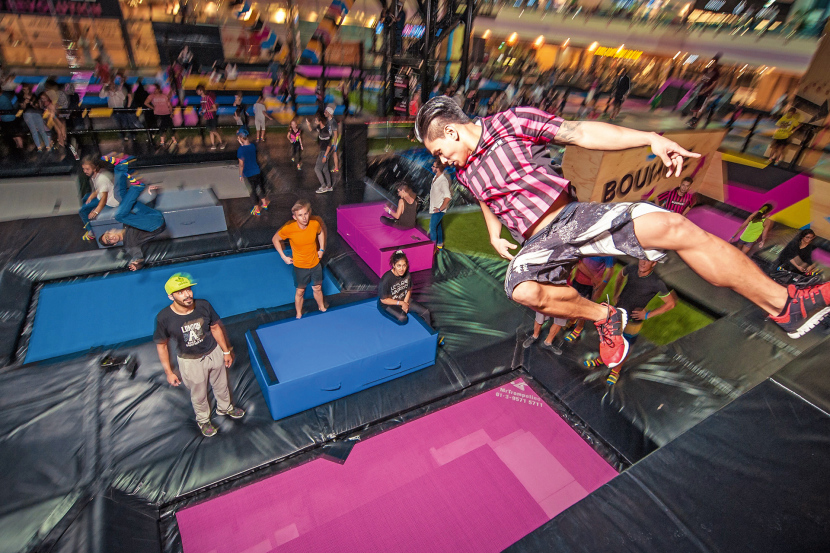 Are you and your friends aching to unleash all your pent up energy with a good run around? Well, you might as well do it in style at BOUNCE. Dubai's trampoline park fuses trampolining with parkour, where people can 'free jump' anyway they want. BOUNCE isn't kidding, whether you want to do a flip or two in the air on the performance trampolines, run vertically up a wall or simply bounce around on the massive free jumping area, the sky's the limit (or the roof of the building, at the very least). There are a wealth of different activities on offer at BOUNCE in Dubai, including the parkour X Park. It's a brilliant way to find your inner Spider-Man and jump around its many obstacles and pipes to work up a sweat, from its spider wall to its climbing wall. This is where you can run around and act as stylish as possible – or at least try to. If you fancy an extreme workout that will get your muscles pumping as you run the walls and balance on the beams, BOUNCE is just for you. Don't be surprised if you get shown up by a team of schoolkids either, it's just part of the learning curve to be a parkour pro. You can refuel with a slushy afterwards, too.
From Dhs85 (general admission). Open Sun-Wed 10am-10pm; Thu 10am-midnight; Fri 9am-midnight; Sat 9am-9pm. 4B Street, Al Quoz, Sheikh Zayed Road, www.bounce.ae (04 321 1400).
Swing Yoga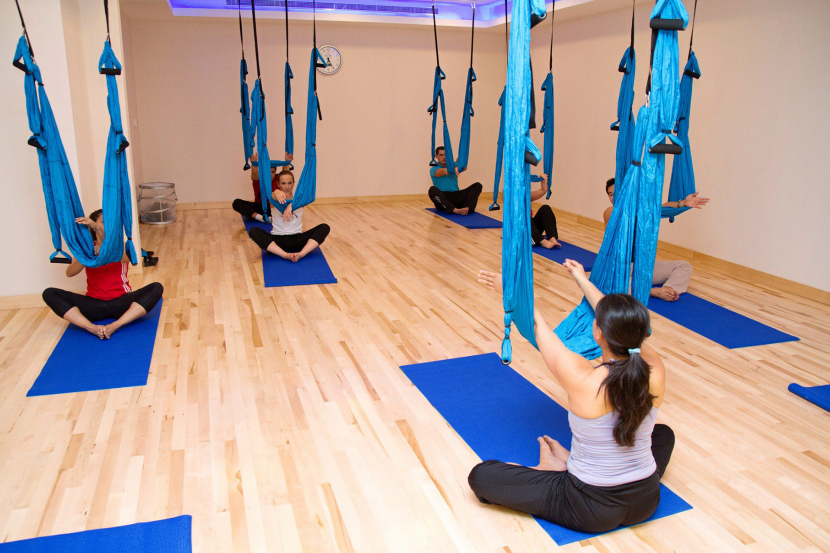 Just when you thought yoga was hard enough, some yogi master in California (of course) decided to suspend you from the celing. For those not in the know, swing yoga makes use of a silk hammock and uses a combination of traditional yoga stances, pilates and aerial skills to stretch you out. It's basically anti-gravity yoga that eventually gets you to hang upside down while you feel blood rush to your beetroot-coloured head. It's all in the name of exercise though. While normal yoga focuses on stretching and strengthening your body's larger muscle groups, swing yoga is about making adjustments to smaller areas in order to fine tune and make every pose as effective as possible. Like every type of yoga, there are a number of moves and stances to master, which work wonders for your joints, digestion and blood circulation. You may even get to try the one-legged king pigeon pose.
Dhs100 (per class). Open daily 9am-7pm. Marina Plaza, Dubai Marina (04 399 9301).
For the truly strange…
Kangoo Jumps
Has it always been a dream of yours to bounce around like a kangaroo? Okay, we're guessing that's a no. However, taking on a few sessions at Kangoo Club DXB could have your reassessing your life goals – especially because of its health benefits. Kangoo Jumps is a peculiar yet tiring work-out session, where Tigger-wannabes strap on elliptical-shaped, springy, hollow platform rebound shoes used for reducing the impact of various exercises (such as running) to the joints. From there, participants jump, hop, bounce and dance their way to a slimmer body. Apparently, you can burn up to 1,000 calories per hour in the kangoo boots, and it's one of the best ways to strengthen joints and lose weight, fast. If the bouncing around in a half-astronaut, half-Winnie the Pooh style routine isn't silly enough, the club recommends wearing knee-high socks while doing the session. You may feel that's a step too far, but for the sheer joy of bouncing around and getting a vigorous workout along with it? Worth it.
From Dhs150 (one class). Multiple locations including Cluster T, JLT, and Dubai Tennis Academy, Mirdif, www.kangooclubdxb.com (05 5755 2145).
Twerk session
You read that right. There's a whole hour session dedicated to twerking at Café de la Danse, and, needless to say, it requires a lot of movements in low squatting positions to really test those leg muscles. Thanks to certain popstars from across the pond, the highly energetic dance move is hugely popular these days, and this class gives you the chance to master it. It isn't exactly what you think though, as all budding dancers will taught variations of the move to get your whole body pumping, giving you an abs and hamstring workout of a lifetime. Participants will learn different dance moves to popular hip-hop beats and rap music, which means you'll be ready to give it your all next time you're throwing shapes in a club. Go with a friend, have a laugh and be ready to shake your tail-feather like never before.
Prices vary. Open daily, class times vary. Warehouse 4, Street 19, Al Quoz, www.lecafedeladanse.com (55 482 9357).
Be the first to get all the latest Dubai news, reviews and deals into your inbox by signing up to our free
newsletter
,
click here to sign up
.