If there's one thing that's better than the endless kilometres of coastline in Dubai, it's the steely blue waters they lead onto. The white sandy beaches bring with them a huge variety of watersports to dive into. From charging out of the waters with a jet pack strapped to your back to some gentle sunrise fishing, surfing at wave centre, to shark safaris the possibilities for aquatic adventures will have your swimming in happy tears. And no, you don't need a beach buggy full of friends with California-white smiles and a totally rad surfboard to join in. This isn't the OC, this is Dubai. Just go with the flow.

Banana boat
Fun factor: 3
Splash factor: 2/5
Whoops, that's not you slipping on a banana skin, that's you and your bunch sliding off a huge yellow inflatable while zipping across the sea. Not for the faint-hearted, or those without much upper body strength, the classic seaside activity sees groups of four of more straddle a blow up 'nana while being towed across the waves by a speedboat. It's also suitable for almost any age group. Don't like getting wet? You better hold on tight then.
Dhs210 (15 mins). Open daily 9am-8pm. Sky and Sea Adventures Dubai, JBR (04 399 9005).

Fishing
Fun factor: 3
Splash factor: 0 (unless falling overboard)
Time Out Dubai vlog fans will have seen the team take to the seas last year for a sunrise fishing trip. Jump on an eight-person, 11-metre-long yacht in Dubai Marina and sail out past the Palm Jumeirah for a morning of sun, sea and hunting. Xclusive Yachts provide a two-man crew who will take care of the sailing, setting up rods and even baiting if you need. All you need to do is cast your line, wait for a nibble and reel it in. Anything you catch on board you can cook, or take home for a fish supper. Time to brush up on your skills.
From Dhs550 (per hour). Xclusive Yachts, Dubai Marina (04 432 7233).

Flyboarding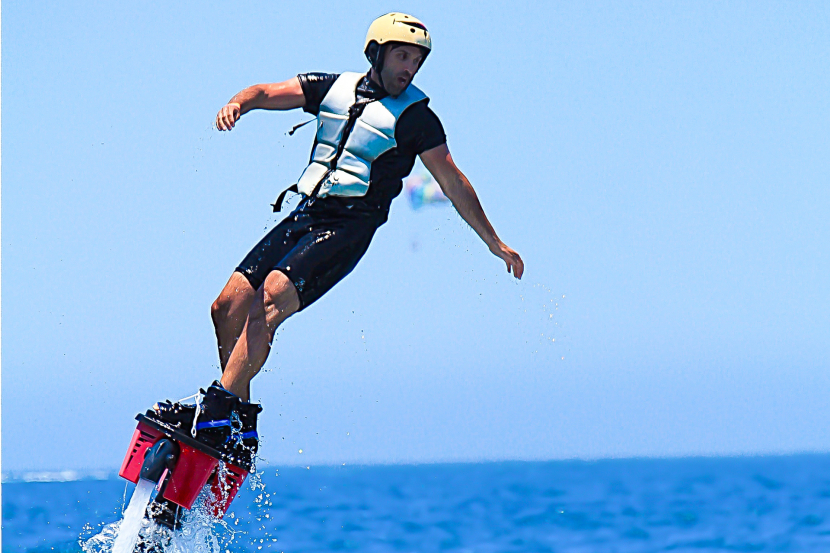 Fun factor: 4
Splash factor: 5/5
High adrenaline, fast-paced and face plants. Flyboarding is one of the most futuristic water-borne inventions humans have built for fun. Strap your feet onto a board and soar through the air as jet nozzles force water out at tremendous force, sending you up to 15 metres in the air. With some practise, you'll be able to glide gently above the water and if you keep trying you could be back flipping your way to a weekend of fun, James Bond style.
Dhs250 (15 mins), Dhs350 (30 mins). Open daily 10am-5pm. Hydro Water Sports, JBR (054 598 5353).

Jetovator
Fun factor: 4
Splash factor: 5/5
Not content with an inflatable raft and a wooden paddle, Hydro Water Sports is continuing to push technological and aquatic entertainment boundaries with the jetovator. It may sound like a product from 1960s American telesales, but ignore the cheesy name and you'll find a device that's as easy as riding a bicycle. Step onto the metal frame, grab the handles and gently hover across the sea as jets of water fire out at great speed. Instructors provide safety briefings, help riders get used to the jetovator and introduce tricks – for those who take to water like a duck takes to, well, water.
Dhs250 (15 mins), Dhs350 (30 mins). Open daily 10am-5pm. Hydro Water Sports, JBR (054 598 5353).

Jetpacking
Fun factor: 5
Splash factor: 5/5
Another water sport, another out of this world bit of kit. This time you're hooked up to a jetpack to float across the waves. Water gushes out and propels thrill seekers into the air, legs dangling below. Speaking of legs, keeping them still is the key to balancing. Master that and you'll have cracked it.
Dhs250 (15 mins), Dhs350 (30 mins). Open daily 10am-5pm. Hydro Water Sports, JBR (054 598 5353).

Jet skiing
Fun factor: 4
Splash factor: 3/5
Having first become available to the public in 1972, jet skiing made waves in the personal watercraft world. Fast-forward almost 50 years and the positively ancient device is still going strong in Dubai. You'll hear the roar of the engine before you see the smiling skiers shooting across the coastline. JBR, Palm Jumeirah, Dubai Marina, Jumeirah and La Mer all have rental companies operating on the shores so you'll have plenty of choice. Our pick is booking a 30- or 60-minute tour with Shark Jet Ski Rental in Dubai Marina, it's one of the best ways to see the soaring skyscrapers.
From Dhs429 (30 mins), Dhs649 (one hour). Open daily, times vary. Shark Jet Ski Rental, Dubai Marina (050 759 2000).

Kayaking
Fun factor: 3
Splash factor: 0.5
This is one of the gentlest ways to become one with water and is perfect for solo rowers, couples and kids. All companies provide life jackets as a compulsory measure, so falling out isn't to be feared. While the UAE benefits from some truly stunning places to kayak (more on that later), there's something special about cruising across the calm seas of the Palm Jumeirah with the soaring skyline in the background. Join up to a tour at Sofitel The Palm Dubai Resort & Spa and soak in the views (and possibly some sea water).
Dhs230 (single), Dhs345 (double). Ages eight and above only. Open daily, times vary. Sofitel The Palm Dubai Resort & Spa, Palm Jumeirah (04 420 6100).

Kite surfing
Fun factor: 3
Splash factor: 3/5
Based in Ness Nass beach in Jumeirah, Kite Zone Dubai is a team of professional instructors who teach private, single and group lessons for anyone looking to ride the skies (and bulk up those biceps). It's a mixture of surfing, wakeboarding and paragliding and merges the best of all three. It'll work your core tremendously while injecting tonnes of fun into your day at the beach. Strap your feet onto a board, anchor it to a kite and hold on as the wind pulls you along the surface.
From Dhs350 (per hour, private lesson), Dhs400 (two hour, group lesson), Dhs250 (30 mins, tandem lesson). Open daily, times vary. Kite Zone Dubai, Ness Nass, Jumeirah (056 815 4146).

Paddleboarding
Fun factor: 2
Splash factor: 1/2
See the Palm in a new way. All you've got to do is book a large, flat board, stand up and let your arms pull you along. The trickiest part is keeping your balance while paddling, meaning those with a lower centre of gravity will spend less time in the water. It's a great workout and is suitable for all the family – so long as the little ones are adept at swimming. It's best enjoyed on calmer waters found in between the Palm Jumeirah's fronds.
From Dhs90 (one hour). Open daily 7.30am-5pm. RIVA, Shoreline Building 8, Palm Jumeirah (04 399 3333).

Parasailing
Fun factor: 4
Splash factor: 3/5
This involves strapping yourself into a harness with a parachute at one end and a rope on a boat on the other before rising into the air as the boat speeds off. It's a serene way of taking in some stunning views, up to 200 metres above sea level. Once back on ground, or in the water, you can jump on board and takeover the wheel to steer the boat as your companion soars in the sky. Arabia Horizons have an experienced team of instructors and guides to assist you on the adventure. One for those with a head for heights.
Dhs420 (per person). Open daily, times vary. Arabia Horizons, Jumeirah Beach, Jumeirah (04 294 6060).

Wakeboarding
Fun factor: 4
Splash factor: 4/5
Fire up the speedboat and hold on as you zip across the sea with the Dubai skyline in the background. For the more experienced, you can try out tricks, flips and getting some serious hang time. For the unitiated, staying on your feet is something to be celebrated.
Dhs420 (15 minutes). Open daily 9am-9pm. Sky and Sea Adventure, Hilton Dubai Jumeirah, JBR (050 724 6184).

Wavehouse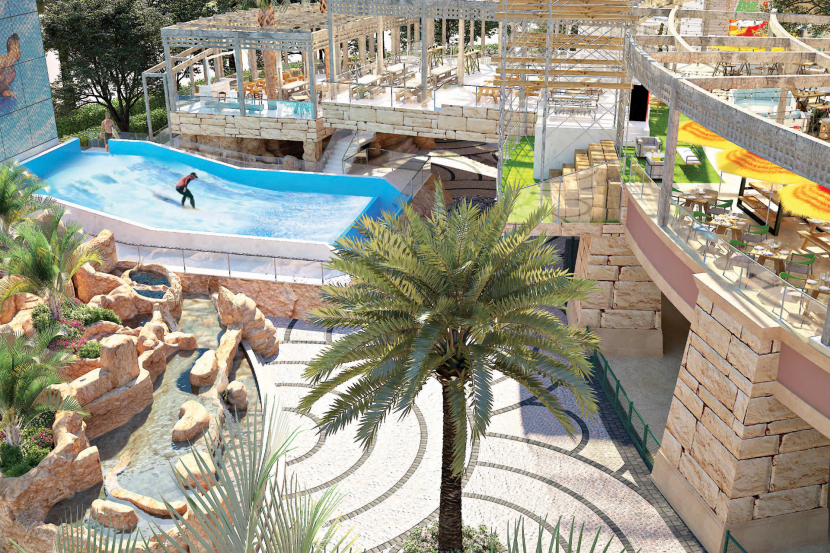 Fun factor: 3
Splash factor: 4/5
Aside from the licensed bowling alley and plethora of retro arcade games, VR simulators and games console centre, this brand-new entertainment destination in Atlantis The Palm has a wave rider. All you need to do is grab a board and head to Surf's Up, an artificial wave machine where you can practise surfing all day, every day. It shoots out seven tonnes of water per second, making it perfect for body or knee-boarding. Ladies' night means free goes every Tuesday, too.
Dhs100 (per person). Open daily 10am-6pm. Wavehouse, Atlantis The Palm (04 426 2000).

Scuba diving
Fun factor: 5
Splash factor: 5/5
Link up with the professional underwater explorers at Al Boom and take part in classes at one of the six dive centres. Each offers PADI courses and daily diving in Al Aqah, Musandam, Dubai Aquarium, Jebel Ali, Atlantis, The World and Al Wasl Road. From getting used to the apparatus and familiarising yourself with hand instructions in a swimming pool, to eventually plunging into the deep blue, this is Dubai's top school for learning. Transport from Dubai to Al Aqah and Musandam is available, as well as snorkelling and dhow trips, boat cruises, speciality courses and water sports. A wide range of diving gear and equipment are also available.
Dhs1,890 (PADI Open Water with eLearning Dubai dive). Courses times and dates vary. The Aqua Centre, Al Wasl Road, Jumeirah (04 342 2993).

Shark diving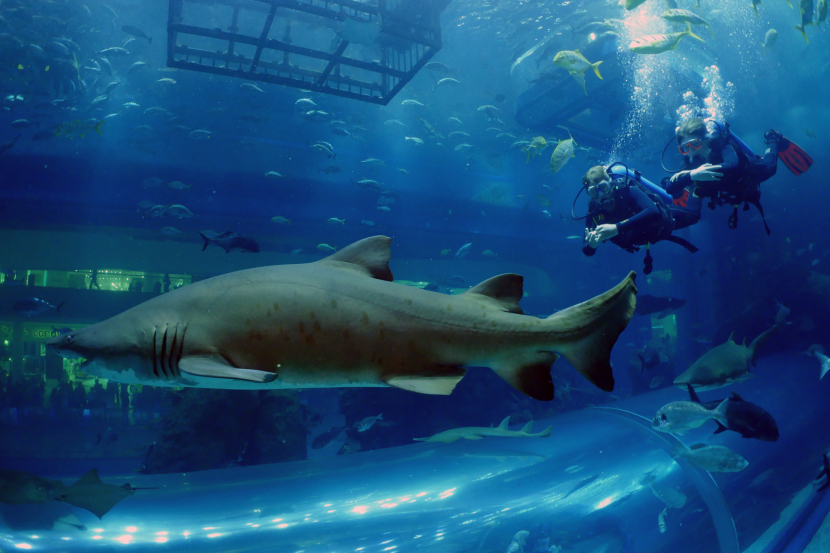 Fun factor: 5
Splash factor: 5/5
Diving with sharks is one of the more adventurous experiences you may have during your time in Dubai, and now you can do it during a feeding frenzy. Visit The Dubai Aquarium and Underwater Zoo, in The Dubai Mall, for one of the most fun, possibly slightly scary, yet awe-inspiring days out you could possibly have. Don an astronaut-style helmet and wetsuit before heading into the ten million litre water world in a large metal cage. Then watch as divers ignite the feeding frenzy (which is not aimed at your limbs, mind).
Dhs630. Sun-Wed 10am-11pm, Thu-Sat 10am-midnight. The Dubai Mall, Downtown Dubai (04 448 5200).

Shark submarine
Fun factor: 5
Splash factor: 0
Once you've finished playing James Bond, it's time to play his villain. And, a seafaring mechanical shark submarine – that's right – has to be the most dastardly way of doing so. Although you don't have to be on a mission to take over the world to ride in one, you just have to book a ride in a seabreacher with Water Adventure Dubai and hit the open water. The sharks are available to book in JBR, The Beach, Rixos The Palm and the brand-new Emerald Palace Kempinski Dubai. They can reach speeds of 100kph and dive beneath the surface. Forget Dr No, this is Dr Yes.
From Dhs500 (15 mins), Dhs800 (30 mins). Water Adventure, various locations including JBR and Palm Jumeirah (04 453 7544).

ELSEWHERE IN THE UAE
Snorkelling, Fujairah
Head out east and hit the cooler shores of Fujairah. There, you can rent a snorkel (or bring your own) and paddle out to the gorgeous rock poking the water more commonly known as Snoopy Island. When the tide is in, the area bursts into life and seeing turtles, reef sharks, scores of fish and plenty of other marine life in and around the coral reefs is not uncommon. Keep your eyes on the sea levels, the floor is scattered with sea urchins making for a truly unpleasant time if you unintentionally swim too close to one.
Free, mask rental from Dhs50. Near to Sandy Beach Resort, Fujairah.

Kayaking, Hatta
The Hatta Dam looks like it could have been taken straight from a postcard. It's surrounded by the lofty peaks of the Hajar Mountains and the blue waters are an absolute sight to behold. Get out on the water with a spot of kayaking, costing just Dhs60 for the whole day, or alternatively you can try a pedal boat (Dhs120) or doughnut (Dhs150) if you're with mates.
From Dhs60. Hatta Kayak, Hatta Dam, Hatta (056 616 2111).

Surfing, Al Ain
Forget the Gold Coast and California, did you know Wadi Adventure was voted as the 41st best place to surf in the entire world by Surfer Magazine? Given its location in the middle of the desert close to the border of Oman, this is no mean feat. But the engineering marvel that is the park's wave machine allows for supreme surfing (wind or no wind) and attracts a stellar cast of the world's best wave riders.
Dhs65 (park admission), from Dhs100 (surf pool). Wadi Adventure, Jebel Hafeet, Al Ain (03 781 8422).
Be the first to get all the latest Dubai news, reviews and deals into your inbox by signing up to our free
newsletter
,
click here to sign up
.