Triathlons are a test of sporting endurance and strength. They require contestants to not only swim, cycle and run – but also to believe that they can do all three. It is the sporting equivalent of sitting down to enjoy a large breakfast, lunch and dinner. In the same sitting. Quickly. With a costume change mid-way through. Time Out speaks to Fitness First swim coach, USN ambassador, Commonwealth Games athlete and all round fitness enthusiast and triathlete Swaleh Balala to get his training tips for triathlons.

Getting started
"If you are a beginner, don't splash out on expensive equipment. You don't want to be the person with all the gear and no idea. In the beginning your bike is going to be your biggest investment. Look at it as levels – the more triathlons and training that you do, the more equipment you should upgrade. Invest more in training than equipment".

In the water
"To prepare for the first part of the triathlon get in the water at least four times a week. Slowly build up the distance you swim and make sure that you go up and beyond your competition distance. Because most races are done in the sea, I would advise you to slowly start having a once a week swim out in open water to familiarise yourself with it and not to take the sea swim for granted".

On the bike
"Time on the saddle is the first step to building your fitness. If you're only riding one day a week for an hour, make that twice a week for the next couple of weeks and work up to three times a week then you can make your individual rides longer. Also, ride faster and harder for short periods of time. One of the easiest ways to do this is head to the hills to add in some intervals. Go hard for two minutes and the recover for two minutes and repeat five times as part of your regime.

For your run
"When you first start running, the trick is to be consistent enough to build strength and endurance, but slow enough that you don't get injured. So, do all of your training at an easy pace. Get into a rhythm that feels like you could maintain it for ever. A lot of runners try to run too fast, because they feel like they're not a runner unless they go at super speed pace. Your pace needs to be comfortable. If you run faster than you should, it's going to hurt all the time and you'll never get to a point where you can do it for 30 minutes. Develop the endurance; speed will come later".

Balala's golden training tip
"Discipline and consistency are key. No matter how hard it gets, just keep going. Trust me, your body will adapt and you will love it!"
Visit timeoutdubai.com/sport-wellbeing for more ways to keep fit this winter.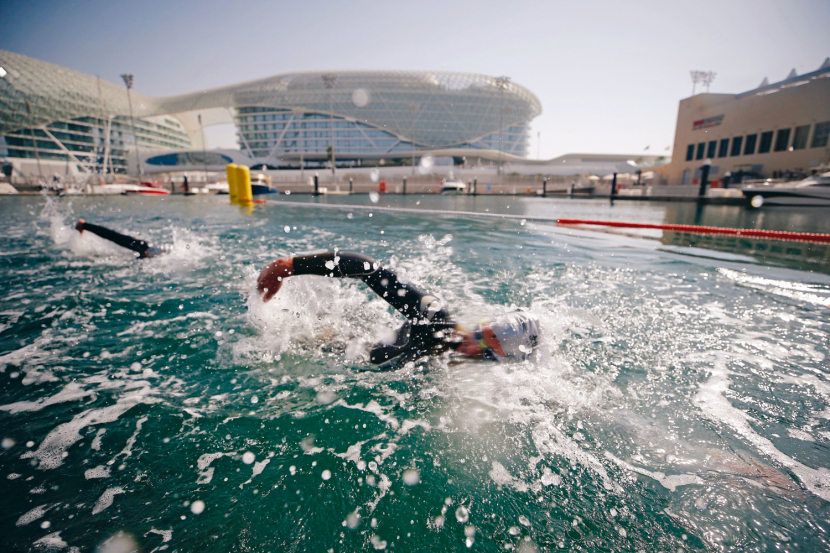 Try it for yourself
Need a date in your calendar to work towards? Check out these triathlons in Dubai.

GRIT+TONIC
This one is perfect for newcomers, but that doesn't mean it won't test your athletic power. Taking place around Al Mamzar, athletes will start off with a swim along the beaches of La Mer, and then carry on along closed roads around Mamzar for a cycle. Finish off along a dedicated running track and hey-ho, you've completed the triathlon. Aimed at triathletes of all abilities, GRIT+TONIC's race is meant to be all about fun. Those who complete the big race will get a branded race shirt and medal, along with fruits and plenty of (much-needed) water at the finish line.
Dhs330 (adults), Dhs250 (juniors below 19). Fri Mar 13, 7am onwards. Mamzar Beach Walk, Al Mamzar, www.allevents.in.

JLL Triathlon Series
Now in its seventh year, the JLL Triathlon series returns with a course set all around JA The Resort, with two triathlons taking place with various distances. Those after more of a sprint can sign up for the Super Sprint Distance Triathlon, which includes a 375m swim circuit, 10km bike route and 2.5km running path. Think you can go the distance? The Sprint Distance Triathlon features a challenging 750m swim, 20km bike ride and 5km run. We're sure athletes will have worked up an appetite, so good thing all those taking part can tuck into a post-race breakfast. Well-deserved.
From Dhs230. Sat Mar 21, 7.15am. JA The Resort, Mina Jebel Ali, www.hopasports.com.
Be the first to get all the latest Dubai news, reviews and deals into your inbox by signing up to our free
newsletter
,
click here to sign up
.