Just like you, a good spa needs to freshen up, rejuvenate and roll out some reinvigorated treatments every once in a while. With that in mind, here are some sensational sessions that have just arrived in Dubai that you don't want to miss. Just lie down, relax and enjoy some of the world's best treatments. And, there's not a sorry soggy cucumber eye pad in sight.
1 24-karat gold age-defying facial at Six Senses, Renaissance Downtown Hotel, Dubai
For thousands of years, mankind has treasured gold not only for its shine, but for its restorative and healing powers. And, at this luxury spa you can feel the effects of one of the rarest properties on planet by having it rubbed and scrubbed all over your face. This treatment (for 60 or 90 minutes) promises to invigorate the skin and restore balance using the healing properties of mogra, the queen of jasmines, to boost collagen production and stimulate cell renewal. Combined with the restorative powers of 24k gold leaf, this sensory experience penetrates and revives the deep layers of the skin, reducing fine lines and wrinkles, apparently. If not, your mood is sure to be lifted and leave you glowing from the inside and out.
Dhs650 (60 mins), Dhs900 (90 mins). Renaissance Downtown Hotel, Dubai, Business Bay (04 512 5566).
2 Arabian Escape Treatment at The Spa, Address Dubai Mall
The luxury hotel has partnered with Cosmeticq to create a traditional pampering experience. The two-hour session incorporates regional ingredients such as henna, dates and camel milk. It begins with a henna body scrub to zap dull and dead skin before moving onto an exfoliating date facial and finishing with a camel milk body wrap. The three combine to leave your skin glowing with the vibrancy of a typical Dubai day, no doubt.
Dhs1,040 (120 mins). Open daily 10am-10pm. Address Dubai Mall, Downtown Dubai (04 438 8025).
3 Bee My Honey at SensAsia, Grand Plaza Mövenpick Media City
There's a real buzz about the brand-new Dubai hotel Grand Plaza Mövenpick Media City – and it's not just the new Verve Bar & Brasserie by top chefs Nick and Scott. The hotel is bringing The Spa by SensAsia to the city and its Bee My Honey treatment. It promises to be seriously softening by using a honey-based polish on your body, followed by a warm milk, honey, black sesame and almond wrap. Not only does it sound good enough to drink it's finished with a 60-minute massage. So, if the warm milk and honey doesn't send you off to sleep, this should.
Dhs699 (120 mins). Opening times TBC. Dubai Media City, Sheikh Zayed Road, (04 525 7777).
SPA, BEACH & LUNCH DEAL!
4 Buttered Up at Heavenly Spa, The Westin Dubai Mina Seyahi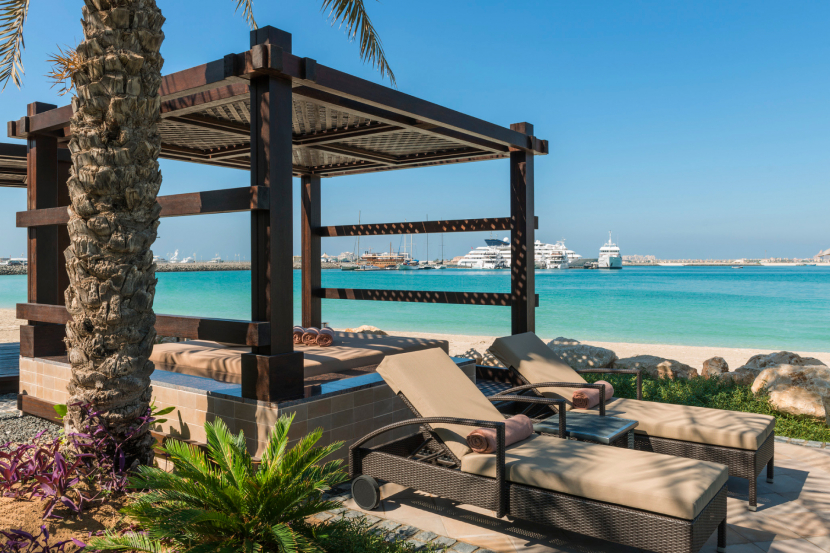 Here's an offer to butter your loved ones up with: take them to this sprawling Marina resort and treat them to a one-hour massage, lunch and a full day at the beach. A therapist will nourish your body with the lightest, prettiest, fluffiest Farm House Fresh Shea butters this spring. There are a range of supple butters with Vitamin E-packed jojoba and soybean oils that will hydrate your skin. Following that, you can tuck into a buffet spread at Blue Orange (Latest Recipe on Fridays) before unfurling on a beach lounger and catching the rays at Club Mina for the rest of the day. Sounds perfect? It is.
Weekdays Dhs520, weekends Dhs585. Open daily 8am-10pm. The Westin Dubai Mina Seyahi Beach Resort & Marina, Al Sufouh (04 511 7901).
5 Deesse treatments by Dr. Rita Rakus at Willow Stream Spa, Fairmont The Palm
Renowned London therapist Dr Rakus has launched facial treatments using the Deesse Pro LED mask, which helps to make skin more vibrant and clear. It uses low light therapy with LEDs to expose the skin to wavelengths of light, delivered at safe, therapeutic doses. The treatment lasts for approximately 30 minutes with a choice of eight treatment modes. The mask is used in combination with any facial by Dr Rakus at Willow Stream Spa to create a lasting glow.
Dhs300 (30 mins). Open daily 11am-7pm. Fairmont The Palm, Palm Jumeirah (04 457 3545).
6 Dr Burgener's two-hour slimming ritual at ShuiQi Spa, Atlantis The Palm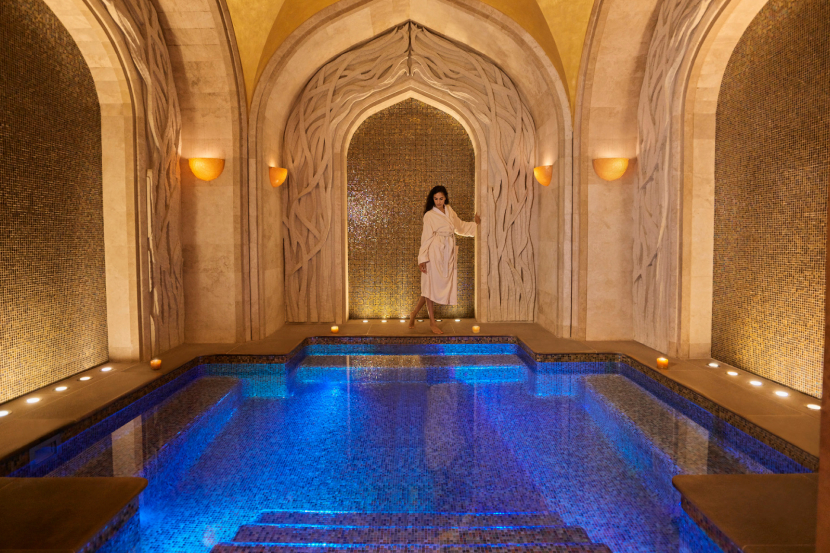 Head to one of the world's most famous hotels, Atlantis The Palm, and make a beeline for ShuiQi spa. The all-new advanced slimming and contouring body treatment is said to reduce water retention, drain toxins and maximise slimming results. It was developed by Swiss expert Dr Pauline Burgener in 1995. This treatment begins with a full-body exfoliation using salts harvested from the glaciers of the Swiss Alps. You'll then be covered in a draining cryofit body wrap with menthol and camphor to boost the lymphatic system before indulging in a palper rouler massage – it is specifically designed to break down cellulite and reduce water retention.
Dhs1,059 (120 mins). Open daily 10am-10pm. Atlantis The Palm, Palm Jumeirah (04 426 1020).
7 Iyashi Detox Dome & 600 calorie burner at Qua Spa, Caesars Palace Bluewaters Dubai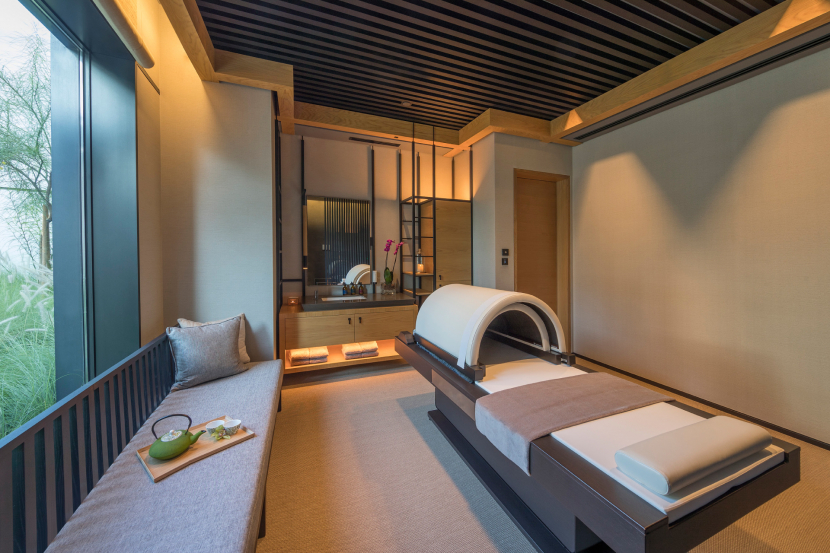 This claims to zap the fat in one-hour sessions. Inspired by traditional Japanese practise Suna Ryoho – where locals bury themselves in the sand near hot springs on the beach to eliminate toxins – it uses cutting-edge technology to deeply cleanse the body, restore its balance and gain efficient and long-lasting slimming effects. Lasting 30 to 60 minutes, your whole body will be stimulated by longwave infrared rays eliminating up to 1.2 litres of water and unwanted toxins – burning up to 600 calories in the process, so the experts claim. The two-hour Detox Dome treatment also includes body exfoliation, body mask and body massage.
Dhs1,200 (120 mins). Open daily 8am-10pm. Caesars Palace Bluewaters Dubai, Bluewaters Dubai (04 556 6666).
8 Pilates & Soul Nourishment for mums to be, H Retreats
This full-day package for pregnant women is regularly hosted by H Retreats and partners across the city. The next session runs on Saturday April 27 at The Retreat Palm Dubai MGallery by Sofitel from 9.30am to 5pm. It promises to help expecting parents with strength and stabilising joints through exercise and workouts, learn about nutrition and understanding how to manage your emotions and reduce stress, a healthy three-course lunch, expert birthing guidance from a doula plus a massage and meditation session. Check online for future events.
Dhs895. Sat Apr 27, 9.30am-5pm. The Retreat Palm Dubai MGallery by Sofitel, Palm Jumeirah, hretreats.com (058 561 0108).

GO ON STAYCATION!
9 Rainforest experience, The Ritz-Carlton Ras Al Khaimah
This has been designed as the complete hydrothermal sanctuary and mixes the best bits from Europe and Middle Eastern bathing techniques. The one-hour sessions see spagoers undergo 12 different treatments: starting with affusion showers, aroma steam, brine cavern, bucket drench shower, steamy grotto, herbal sauna, chilled ice igloo, rain walk, sole therapy, traditional hamman experience before ending with a dip in a vitality pool. And, at just Dhs150, it's a top value way to enjoy some "me time".
Dhs150. Open daily 9am-8pm. The Ritz-Carlton Ras Al Khaimah, Al Wadi Desert (07 206 7777).
FOR COUPLES!
10 Rasul at AWAY Spa, W Dubai – The Palm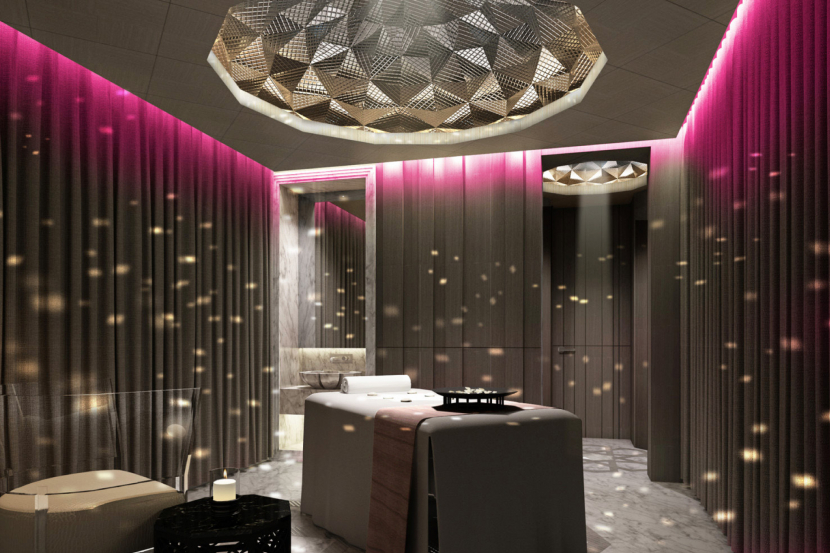 The opening of another brand-new luxury hotel on the Palm brings another brand-new luxury spa. W Dubai – The Palm's AWAY Spa promises to see you stroll in and strut out. Whether you're in the mood for a quick fix treatment or leisurely day of rest and relaxation, it's here. Try the couples' rasul: a traditional Arabic thermal mud cleansing treatment that combines the health enhancing properties of heat, steam and mud for a totally relaxing and skin conditioning boost. It's totally private and you can finish off with a half hour celebration and the chance
to unwind with a glass of bubbly.
Dhs1,500 (90 mins). Open daily 10am-10pm. W Dubai – The Palm, Palm Jumeirah (04 245 5533).
LADIES DAY!
11 Ladies' day deal at Cinq Mondes Spa, Kempinski Emerald Palace
This brand-new offer is a gem of a deal on the Palm. Every weekday, ladies can enjoy unlimited pink grape, antipasti from beachfront Mediterranean restaurant Villamore and access to the lagoon-style pool and white sandy beach for just Dhs195. Plus, you can upgrade to include a 60-minute speciality massage at Cinq Mondes Spa. Feel relaxed, revitalised and radiant every day of the week with this top-value package in one of the city's newest and most extravagant spots.
Dhs195 (food, drink, pool & beach access), Dhs599 (spa upgrade). Sun-Thu 10am-8pm. Kempinski Emerald Palace, Palm Jumeirah (04 248 8890).

12 Sleep candle massage at Waldorf Astoria Spa, Waldorf Astoria Dubai Palm Jumeirah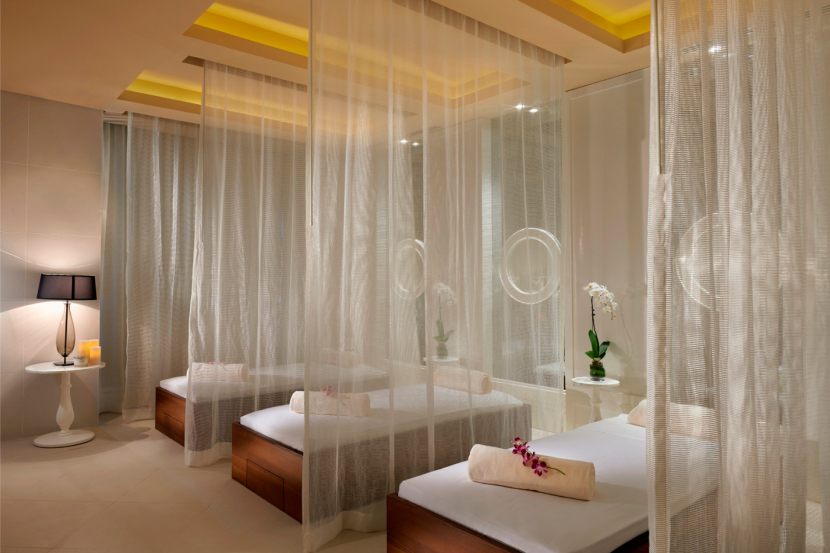 Jet lagged? Take note: Waldorf Astoria brand presents an extraordinary blend of almost 30 of the purest possible essential oils, including English lavender, sweet basil and jasmine was created with one purpose: to induce deep sleep. After a practising meditation, reflexology and breathing techniques, key stress relieving points on the head, face, neck and back will be focused only using the very best techniques and trigger point work. That's one way to shake off the fuzz of flying.
Dhs650 (60 mins), Dhs799 (90 mins). Open daily 10am-9pm. Waldorf Astoria Dubai Palm Jumeirah, Palm Jumeirah (04 818 2245).
FOR COUPLES!
13 The Silk Revelation at Amara Spa, Park Hyatt Dubai
The Amara Spa has introduced a new full day of pampering for couples. The Silk Revelation Couple Journey is a 150-minute relaxation ritual, using Carita Renovateur scrub, providing gentle exfoliation and nourishing after affects. The experience is followed by a pampering full-body massage before finishing with a facial. Afterwards, you're able to relax by the hotel's private lagoon, soaking in the supreme views across the Dubai Creek and beyond.
Dhs2,950 (150 mins, per couple). Open daily 9am-10pm. Park Hyatt Dubai, Dubai Creek (04 602 1234).
14 The Skinny Latte at SensAsia, Grand Plaza Mövenpick Media City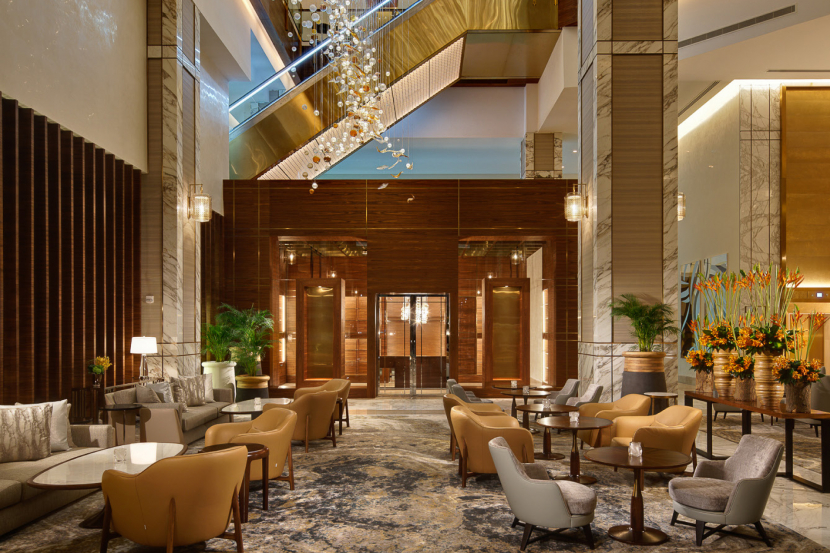 Take your early morning caffeine fix and rub it all over your body with this confidence boosting treatment. Experts claims this coffee-based scrub, mask and intense massage will stimulate and smooth stubborn fat deposits. The two-and-a-half hour treatment is finished with a probiotic facial to hydrate, strengthen and rejuvenate skin. It's one way to mix up your regular coffee order.
Dhs699. Opening times TBC. Grand Plaza Mövenpick Media City, Sheikh Zayed Road, Dubai Media City (04 525 7777).
15 Wave massage four hands at the Dreamworks Spa, QE2
Get treated like royalty on board the world-famous QE2 liner that is docked in Dubai. The sea-conquering ship, named after the United Kingdom's longest-running monarch Queen Elizabeth II, and has played host to scores of royal families and world leaders during its 40-year service, set up as a floating hotel in Dubai last year. It has been thoughtfully restored, with many of the original features still found inside. And, just like tradition, the treatments at Dreamworks Spa promise an authentic, timeless experience.
Try the four hands wave massage for the ultimate relaxation.
Dhs520 (60 mins), Dhs660 (90 mins), Dhs785 (120 mins). Open daily 10am-10pm. Deck 1, QE2, Port Rashid (04 526 8821).

AIRPORT DEAL
Timeless Spa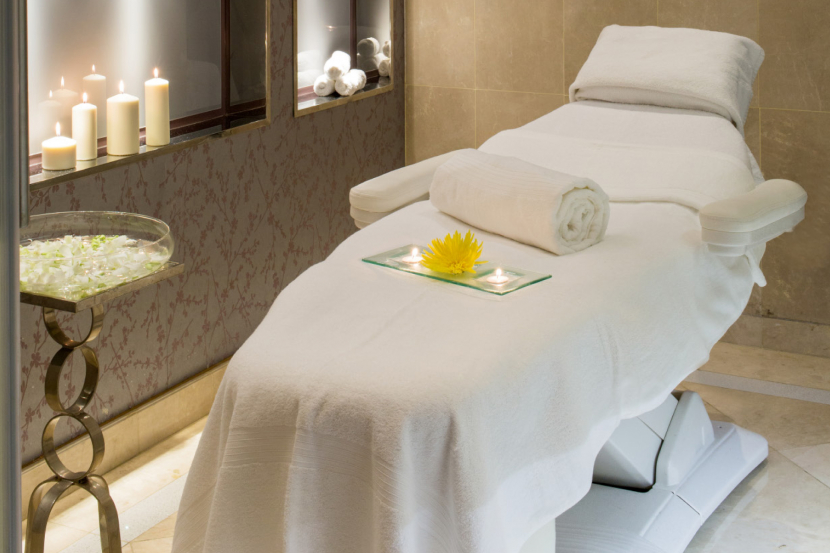 Need a boost before you travel? Until April 15, you can enjoy a 20 percent discount on any treatment at Timeless Spa, Dubai International Hotel's spa. You'll find quick fix treatments from 15 to 20 minutes for travellers in a hurry, right up to 90-minute long massages.
Dubai International Hotel, Terminal 3 (04 505 9555).
Be the first to get all the latest Dubai news, reviews and deals into your inbox by signing up to our free
newsletter
,
click here to sign up
.