DUBAI
Amara Spa at Park Hyatt Dubai
Escape from the bustle of the city at this longstanding Creekside spa
A low-rise hotel by the Creek with pretty gardens and courtyards is already going to stand out in a city of skyscraper chaos. Factor in the Park Hyatt Dubai's commitment to quality and the well-thought out packages, it's easy to see why this spa appeals. Check in for a day here and you're saving yourself a trip to international destinations like Marrakech. Treatments such as the couple's journey blend Balinese and Hawaiian techniques with a Thai massage to give an indication of the international theme of wellness. A loose jewel theme emphasises the quality of products used (Natura Bissé and Anne Semonin are both present) and the spiritual atmosphere. Despite being spacious there are only eight treatment rooms, giving it an intimate and personalised feel. Away from much of Dubai's clutter it's a true escape.
Open daily 9am-10pm. Park Hyatt Dubai, Deira (04 602 1660).
Anantara Spa at Anantara The Palm Dubai Resort
Thai vibes and Arabian influences at this glorious escape on Palm Jumeirah
We've all been seduced by the occasional Instagram post of gorgeous Thai beaches and images of luxe retreats in far away lands. This Palm hotel offers the ancient mysticism of the very best Asian spas with an Arabian influence – see the gorgeous marble hammam, for example. As well as the truly stunning design there is a lot of wellness theory packed into the 24 treatment rooms. Liquid sound pool, holistic cocoon room, crystal gemstone steam room, Microsilk baths, hot stones, an ice grotto – there's a lot to take in. As an introduction to the world of spas it's an excellent option. Yes, it's very obviously one of the city's most shareable spots, but where else can you go from an experience shower to a salt inhalation room on the same day?
Open daily 10am-10pm. Anantara The Palm Dubai Resort, Palm Jumeirah (04 567 8140).
Armani/Spa at Armani Hotel Dubai
A super-swish spa from a world-famous fashion house in the Burj Khalifa
It should be obvious that you are not encouraged to lie down for treatments in a full, tailored Armani suit, but the temptation is almost overwhelming. It is just that stylish. As you would imagine there is plenty of monochrome minimalism, sleek polish and neatly folded towels. It's not just that it is relentlessly cool, but it is designed to the point of almost impossible chic through the eyes of Armani. Not that it's all Euro-cool and precision. Treatments include a range of Japanese shiatsu, Thai and Asian hot stones techniques. Sequential bathing experiences, mist corridors and a laconium treatment room (a dry heat environment) are there to show there is substance with the style. Do we need to mention it is in the world's tallest tower?
Open daily 9am-10pm. Armani Hotel Dubai, Burj Khalifa, Downtown Dubai (04 888 3282).
B/Attitude at Grosvenor House Dubai
Elemis experiences and Middle Eastern treatments are key at this Marina spa
The heavily-styled spa comes straight from the playbook of premium Asian-inspired retreats. While many venues aim to capture a spirit of the great outdoors and wide open-spaces, this has the feel of a slick, city escape. Dark tiled rooms, atmospheric lighting, arty wall hangings and ornate details give it the feel of a high-end nightspot, but a comprehensive treatment menu brings it sharply into focus. We love that there are selected signature treatments, which reflect the Arabian location. One such Middle Eastern massage uses figs and date oil and a musky aroma is a great alternative. A handful of express massages, from as little as 30 minutes, are attractive offers if you can make it in a lunch hour, but indulgent all-dayers and sequential Elemis experiences are worth a treat if you have the time and budget.
Open daily 8am-10pm. Grosvenor House Dubai, Dubai Marina (04 402 2200).
CHI, The Spa at Shangri-La Hotel Dubai
Enjoy Asian influences at this longstanding Sheikh Zayed Road spot
The Shangri-La has stood strong, tall and proud on the Sheikh Zayed Road strip for many years. To see it from the outside it is an imposing sight, but venture inside and you'll find a stalwart favourite for goal-driven chill-seekers. Chi, The Spa's compact treatment menu concentrates on delivering a few things well and there is a sense of purpose about this spot. Sure, you can get wrapped up and scrubbed with coffee as well as at other locations, but there are restorative and rejuvenating options here as well as just waving aromatherapy oils around until you fall asleep. Facials, for example, include anti-ageing, brightening and plumping and deep-cleansing approaches. Similarly, body therapies promise to tone, firm, detoxify and, once again, defy age. The environment has a healthy presentation and treatments can be customised to wellness goals.
Open daily 9am-midnight. Shangri-La Hotel Dubai, Sheikh Zayed Road (04 405 2441).
Guerlain Spa at One&Only The Palm
A super-luxurious spa that's teamed up with a French cosmetic giant
Propped up on plush cushions on an outer frond of Palm Jumeirah and looking back at the Dubai Marina skyline it is rather easy to congratulate yourself on a life well-lived. As if the resort's remote location was not enough, the Guerlain spa is situated in its own private garden and treatment rooms have gorgeous mosaics, courtyards and fountains. We love it. While the idyllic setting is among the more stunning in the country, the treatments themselves are equally noteworthy. The signature rituals were designed by French cosmetic giant Guerlain exclusively for the spa and incorporate Arabian traditions with a healthy dollop of wellbeing science. The sensorial journey is important at this upmarket spa, and fragrance, as well as touch, add to the visuals, so experiences such as the four-hand massage inspire both body and mind.
Open daily 10am-9pm. One&Only The Palm, Palm Jumeirah (04 440 1040).
Heavenly Spa by Westin at The Westin Dubai Mina Seyahi Beach Resort & Marina
A petite spa with a large treatment list in this famous beachside resort Beach?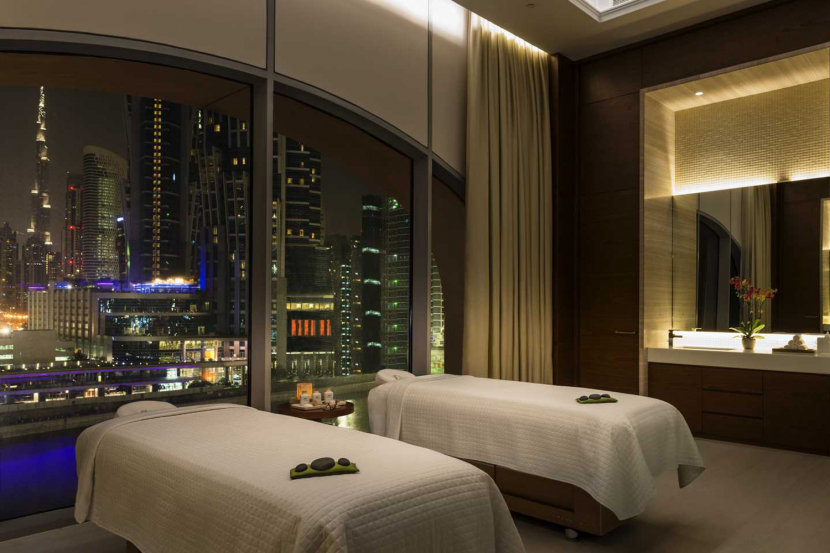 Check. Comprehensive treatment portfolio? Check. Products from an award-winning skincare brand? Check (the scrumptious Elemis, by the way). Despite being just a hot stone's throw from the major hubs of Dubai Marina and Media City this spa feels thoroughly secluded and checking in for a day is a treat. Swedish, Thai and, er, Farmhouse are among the styles that jump out from the menu and packages can be customised to be certain that no part of the body remains untreated by the time you drift off to sleep with an aromatic snore. We love that lots of the treatments can be 60- or 90-minute sessions depending on time and budget. Combine a visit with beach access andget your full pamper on.
Open daily 8am-10pm. The Westin Dubai Mina Seyahi Beach Resort & Marina, Al Sufouh (04 511 7901).

Jiva Spa at Taj Dubai
A spa with Indian influences in the smart Taj Dubai in Business Bay
Business Bay, with all its skyscrapers and busy streets, can get a little hectic sometimes so finding a good spa in the neighbourhood is important to residents. Much more compact than other locations, Jiva Spa has just the three single treatment rooms and one for couples. While it does not have the Instagrammable glamour of some of the five-star hotels by the beach, it still has plenty of indulgent options. The Soma package, for example, is a couples-only therapy with a romantic candlelit aromatherapy massage and rose petal bath. There is an emphasis on Indian spa techniques such as an ancient form of head massage, the prishta mardana treatment for stressed shoulders and the pavithri, which is a detoxifying massage using oils of ginger and lime. Try it if you're in the area.
Open daily 7am-10pm. Taj Dubai, Business Bay (04 438 3100).
Mandara Spa at The H Dubai
Boutique spa that boasts a range of interesting treatments
The upmarket city address (One Sheikh Zayed Road) requires a spa to match. That's why the hotel ships in Elemis-branded products to swill around in the luxurious location. There is actually a boutique feel that goes as far as allowing you to buy the Elemis products to take away, but be certain to stay for a treatment first. There are impressive touches, such as Thai massages being done, authentically, down on the floor or well-paired combinations. The ten treatment rooms are comparatively compact, but there is no shortage of treatments. Purists may raise an eyebrow at a signature massage that combines, with four hands, shiatsu, Thai, Hawaiian, Lomi Lomi, Swedish and Balinese in a single session, but they will lower it again soon enough as they drift into a blissful state of relaxation.
Open daily 10am-10pm. The H Dubai, Sheikh Zayed Road (04 501 8270).

Natureland Spa At Rixos Premium Dubai
A massive spa with beautiful hammams and stunning views out to sea
This stunning spa at the swanky Rixos Premium Dubai is an ideal spot for Marina and JBR residents to stroll down to and well worth considering travelling to. The massive spa is moodily-lit, with cosy Jacuzzi and steam room areas. The heated marble slab in the steamy hammam is the centrepiece, but by no means the only highlight. Various treatments and journeys range from 30-minute express sessions to lengthy four-hour explorations. The range is not as comprehensive as some locations, but with facilities to offer sport Thai, hot stone, pre-natal and, apparently, lymphatic drainage massage it should cover all your needs. Couples' packages are also available. The best thing? The spacious relaxation rooms with floor-to-ceiling windows showing off the Arabian Gulf. What a way to unwind.
Open daily 9am-midnight. Rixos Premium Dubai, The Walk, JBR (04 520 00333).

Ola Spa at Lapita
Chill out after an adrenaline-fuelled day at the theme parks at Ola Spa
A Polynesian spa in a luxury hotel in a theme park in a desert. Make no mistake, there is nowhere quite like Ola. As an alternative to rollercoasters and high-octane thrills it is the more soothing attraction at Dubai Parks And Resorts. Treatments offered include Tahitian and Samoan massages, as well as several beautifying treatments inspired by the Pacific Ocean. The signature ritual, for example, is a full body massage that brings to mind (and body) islands such as Bora Bora. While efforts are made to transport visitors to a mental state of relaxation there are many reported health benefits, such as stress relief, wrinkle-busting and sun skincare rituals. There are also aromatherapy steam rooms, vitality pools, ice fountains and a Moroccan hammam. It is a theme park for the senses.
Open Mon-Sun 9am-8pm, Thu-Fri, 9am-10pm. Lapita, Dubai Parks And Resorts, Jebel Ali (04 810 9660).

One&Only Spa at Royal Mirage
An upmarket spa in an exclusive hotel with a range of relaxing treatments
Giving a spa a mission statement could lead you to assume it is going to be hard work, but this marvellous property is all about keeping it easy. The threefold directive encourages you to either Unwind, Restore or Elevate. Treatments in the former category include head massages and mud wraps or hot stone massages. Restorative facials use ESPA products in sessions such as a hormone imbalance oil-controlled facial. We're especially impressed by a collection of sun treatments that are recommended as we face months of sunshine and outdoor activities. Despite the competition, this remains one of the most attractive hotels in the city and the spa is no exception. Ideal for staycations and pamper days, it manages to put a spring in the step with elevating body scrub with stimulating menthol and grapefruit oils.
Open daily 9.30am-9pm. One&Only Royal Mirage Dubai, Al Sufouh (04 315 2140).

Samana Spa at Meliá Desert Palm Dubai
Take a wander around the lush polo fields before unwinding at the spa
There is a certain merit to a spa experience that, literally, gets you away from the city. So the 20km trip out of central Dubai to a 160-acre polo estate is a very positive start. The therapists are known as gurus or experience guides and can tailor treatments to your particular needs. These include the usual options of hot stone, Balinese, Thai (in this instance royal, for some reason) and aromatherapy. As you will be making a trip out of town it makes sense, if budget stretches, to go for longer experiences. There are some good deals to be found by making the journey this far. A 60-minute deep tissue massage, infinity pool access and a jewel afternoon tea in an adjoining restaurant for less than Dhs500 puts other locations to shame.
Open daily 9am-10pm. Meliá Desert Palm Dubai, Al Awir Road (04 602 9311).

Saray Spa at JW Marriott Marquis Dubai
A stylish spa at the world's second tallest hotel
First, a history lesson. A caravanserai was a place of rest and found on Silk Road trade routes. We mention it now as that is the theme of this stunning location. Across the 17 treatment rooms you can find such delights as a Dead Sea flotation tank, a couple of hammams and more. The ornate environment has bagged a few awards over the years and many of the treatments rely on time-honoured techniques. Milk and honey massages, oil-based sessions and delicately blended infusions designed to soothe and relax. The therapeutic baths, in particular, appeal to the weary and stressed-out and a number of pleasant aromatherapy solutions are designed to enrich the senses. The JW Marriott Marquis Dubai is one of Dubai's most stylishly decorated properties, with stunning décor and the spa is no different.
Open daily 9am-11pm. JW Marriott Marquis Dubai, Business Bay (04 414 754).
Sensasia Palm Jumeirah
Palm Jumeirah branch of popular urban retreat spa chain
Let none of us forget that a trip to the spa is supposed to be fun. It is something that many swankier locales over look, but not this independent urban spa. Packages include the Pamper Me Silly, I Am A Coconut and Bee My Honey, and it is a genuine delight to come across a spa with a sense of humour. Where else would you find a Sole To Seoul or a Just Beat It (in this case a stimulating circulation massage)? None of which is to suggest they're just goofing around in here. Elemis products are used and the treatments are put together thoughtfully. And there are even menus for teens, pregnant women or first-timers as well as tailor-made packages. Although it's missing the luxurious facilities you might find in other spaces, if you're looking for a non-hotel option this is a quality, modern urban spa with decent treatments available.
Open daily 10am-10pm. SensAsia Palm Jumeirah, Golden Mile, Building 6, Palm Jumeirah (04 422 7115).

ShuiQi Spa at Atlantis The Palm
There are 27 treatment rooms at this massive spa at Atlantis The Palm




If you have ever attended yoga sessions looking in at the iconic resort's giant Lost Chambers aquarium, you have a good idea what to expect from this award-winning spa. As impossible as it may sound for a giant mythical underwater city-themed hotel on an artificial palm tree-shaped island in the sea, a visit here can be bewilderingly relaxing. Quality is high on the agenda, see the use of prestigious ESPA products, and it's a relaxing enclave from the theme park family fun of much of the property. There are also knowing nods to Shisedo and the Aromatherapy Associates, plus foot specialist Bastien Gonzalez has designed treatments here. Twenty-seven treatment rooms and a variety of interesting options that would put a brunch to shame – this is the type of spa that demands repeat visits.
Open daily 9am-9pm. Atlantis The Palm, Palm Jumeirah (04 426 2000).

Six Senses Spa at Renaissance Downtown Hotel Dubai
Dubai's first Six Senses Spa resides in Business Bay
We're always rather surprised how a spa in a built-up area and many floors up can give a feeling of seclusion. But this Six Senses gem really does. The world-famous brand is a well-known player to spaficionados and is themed around sensations of sound, sight, touch, smell, taste and, er, beyond. The concepts behind massages are more interesting than merely listing a location and you can expect offerings such as Memories of Arabia, holistic, tension soother or movement restoration. The six treatment rooms are what make this a must-visit alternative, though. A sound suite with vibroacoustic lounger and guided singing bowl and chime sessions, flotation pods in a touch suite and tailored spicy treatments in the taste suite are fascinating to explore. The Beyond sense, by the way, is about harmonising and cleansing minds (and there's some yoga).
Open daily 10am-9pm. Renaissance Downtown Hotel Dubai, Business Bay (04 512 5566).

SO Spa at Sofitel The Palm Resort Dubai
A Polynesian-style spa with some absolutely excellent facilities
Never let it be said that Time Out does not give credit where it is due. This Palm Jumeirah resort spa has put together an incredibly enticing wellness package. One that combines guest industry favourite brands such as Voya and Nuxe with imaginative, varied and plentiful treatments. In the 28 treatment rooms you can choose from experiences divided by type (a refreshing water section includes a rain massages and aromatic baths), by country (Polynesian, French, Moroccan, Chinese and even Russian). There are a few beauty services (manis, pedis and threading) and specialist therapists can build packages to suit many needs. There's a wellness afternoon tea, plus a special weekly Tuesday spa ladies' night with mini treatments and nibbles. The facilities are excellent, so expect plunge pools, massive Jacuzzis, ice fountains, steam rooms, saunas and a private outdoor adults-only spa pool to catch some rays at.
Open daily 9am-9pm. Sofitel Dubai The Palm Resort, Palm Jumeirah (04 455 5433).

Soul Wellness & Spa at Sheraton Grand Hotel Dubai
A holistic spa with stunning views across town from the relaxation area
Formerly known as Shine Spa, this urban wellness retreat at the start of Sheikh Zayed Road uses premium skincare brands such as Elemis in rituals. Arriving at the spa you get all the usual touches of white drapes, mellow art and the whiff of sandalwood. What it has that the others don't, however, is incredible city views. The high-rise location and floor-to-ceiling windows give vistas out across the twinkling lights of Sheikh Zayed Road below. Unless you've experienced it first-hand it is difficult to explain the delights of sitting in a plush robe, sipping herbal tea and simply taking in the sights. It is even more blissful after a spot of foot acupuncture or a herbal compress. More so again after a session in a private Jacuzzi.
Open daily 8am-10pm. Sheraton Grand Hotel Dubai, Sheikh Zayed Road (04 503 4444).

Spa at InterContinental Dubai Festival City
Perfect for a post-shopping treat in Dubai Festival City
Down by the Creek it is easy to feel like you are getting away from the hustle and bustle of the city. Furthermore, stepping over the twinkling fairy-light lit threshold and into this relaxed spa takes you that step further. Particularly so if your luxuriating in a rose milk bath before an invigorating body massage. The spa also has a special teen section with fun bubble baths and a vanilla massage for junior pamperers. If you're mid-shop (or post-IKEA) at Festival City and need a chill-out boost, pop over for one of the many mani-pedis or impulse treats such as the foot massages. This is also home to one of the most detailed scientific boasts of any spa we know, with one facial claiming to boost skin moisture by up to 61 percent. That's precise.
Open daily 10am-11pm. InterContinental Dubai Destival City, Festival City (04 701 1257).

Talise Ottoman Spa at Jumeirah Zabeel Saray
This absolutely huge spa even boasts a snow room for a super-cool experience
The bulging trophy cabinet at this spectacular spa is testament to its quality. You would expect as much from a giant operation with 42 treatment rooms, but there are surprises around every palatial corner. A snow room? Two thalassotherapy rooms? There's a feeling that you need to have a full day here just to explore the options available. That's why we recommend "The World's Most Luxurious Spa Experience". It includes a gold mask facial, gold hammam treatment, diamond body ritual, rose bath and a caviar lunch. In fact, it is so fancy it even includes an overnight stay. No, really, it does. The interiors are beautiful, the facilities are outstanding (and huge, don't miss the massive indoor pool complete with 'stars' in the sky) and the treatments are excellent, too. Don't miss a trip to this spa, especially if you have visitors you're looking to impress.
Open daily 9am-11pm. Jumeirah Zabeel Saray, Palm Jumeirah (04 453 0456).

Talise Spa at Burj Al Arab Jumeirah
One of the world's most luxurious hotels houses a super-exclusive spa
Looking down 150m to the Arabian Gulf below from one of the world's swankiest hotels is always going to score well. Nothing is knowingly understated here and the grand architecture, sweeping views and lavish treatments are reassuringly expensive and well-suited to demanding spa enthusiasts. As you may expect, the emphasis is on indulgence rather than sport therapy, so treatments include a variety of rubs, scrubs and facials including ingredients such as gold and caviar massaged into the skin. Separate male and female areas are understandably immaculate and there are is a degree of confidence you are getting the best that money can buy as well as social media bragging rights on every visit.
Open daily 6.30am-10.30pm. Burj Al Arab Jumeirah, Umm Suqeim (04 301 7365).

Talise Spa at Madinat Jumeirah
Wander through lush gardens and over waterways at this relaxing retreat
Everybody thinks they know the Madinat Jumeirah. A special boutique, a "hidden" bar, a particular spot by the canals that only they know. Take it from the experts – you don't know anything until you have been inside the secret garden for an al fresco Thai massage with a view of the waterways. Time Out can't stress highly enough how much we love the Madinat complex and the spa is no different at all. With 26 treatment rooms it is large, but is never anything less than intimate. It is a Jumeirah property and has all the quality and well-thought out luxury you would expect. That means great packages (beach and spa please), interesting treatments (Arabian nights or sun-soothing being great examples) and top therapists. There are a few surprises, too, such as an atmospheric Alphasphere Deluxe sensory room.
Open daily 10am-9pm. Madinat Jumeirah, Umm Suqeim (04 366 6818).

Timeless Spa at Al Maha Desert Resort & Spa
Book in for a relaxing desert retreat at this luxurious, remote, spa
This desert retreat is so chilled we wouldn't be surprised if the surrounding oryx and camels don't pop in for the occasional back massage. It has all the plunge pools, therapy baths and body wraps you would expect of a premium hotel, but the added wonder of being located in a desert conservation area. The treatments can be taken out among the dunes in a private Bedouin tent and there are few places to give a greater sense of peace than this picture postcard perfect oasis. Take the wow factor off the scale by opting for soothing couple's massage on your suite's own private pool deck, before a dip in the infinity waters overlooking mile after mile of stunning sands. Oh, and the sunsets are incredible.
Open daily 7am-8pm. Al Maha, Dubai Desert Conservation Reserve, Al Ain Road (04 809 8771).

The Pearl Spa at Four Seasons Resort Dubai at Jumeirah Beach
The Pearl Spa offers luxurious facilities and a huge indoor swimming pool
This hotel was a gamechanger when it opened a few years ago and dragged focus back down Jumeirah Beach road to one of the city's long-standing luxury neighbourhoods. To show just how swanky it is, you should know it offers three-day spa packages. If you don't walk out of that recharged and ready for anything then maybe a massage isn't the answer to your problems. Indulgence features highly on the list of positives. Being smeared in chocolate and then massaged, for example. Or the aromatherapy, Balinese or Lomi Lomi (a blend of Mediterranean and Pacific), for example. Or diamond, gold or quartz facials. There are options for pre-wedding, pregnancy, men and teens, plus an on-site salon to offer cosmetics as well as wellness benefits. The facilities are note-worthy, including Jacuzzis, steam rooms, saunas and experience showers – in case you feel like washing in a rainforest. There's also a massive indoor pool. Highly, highly recommended.
Open daily 9am-10pm. Four Seasons Resort Dubai at Jumeirah Beach, Jumeirah (04 270 7732).

The Spa at Address Boulevard
Spacious spa with massive treatment rooms and a private rooftop pool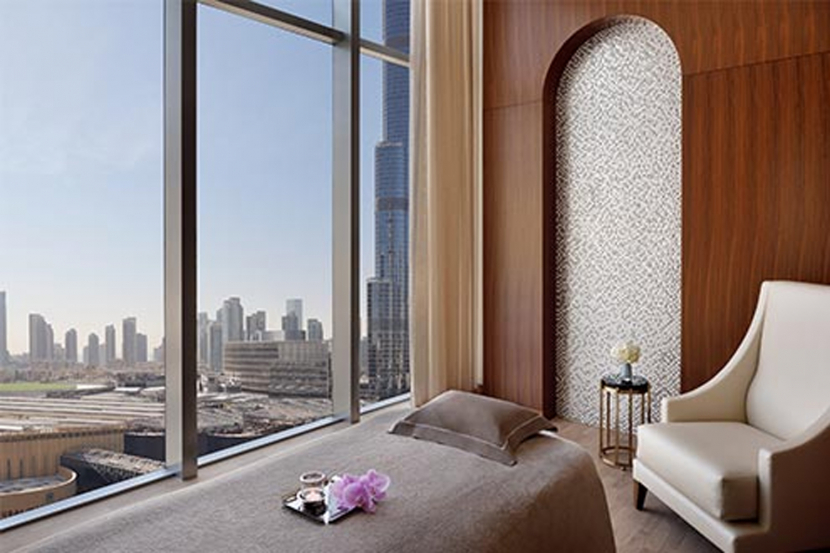 There are several Address hotels dotted around Downtown Dubai and each has the high quality of finish and offering you would expect from an upmarket homegrown hotel. The Boulevard is all bright whites and open spaces, and its spa, spread out over a sizable 760sq m has ten treatment rooms and areas for ladies and gents. As much a beauty salon and wellness spa as it is a large scale relaxation hub there is an impressive number of things that can be done to hands and feet. Margaret Dabbs or Essie gel manis and pedis are just the start. You can give limb ends a shape, polish, French finish, buff, change and a variety of other spritzes, rubs and brightening services. Should you need a less-focussed massage then Ayurvedic, Swedish, bamboo, Thai, Moroccan and Turkish services are offered. There's also a private pool area with stellar views, should you wish you chill out post-pamper.
Open daily 10am-10pm. Address Boulevard, Downtown Dubai (04 561 8126).
The Spa at Address Downtown
This revamped spa has all the luxuries you'd expect from this flagship hotel
This newly revamped spa not only has delightfully slick interiors, it also boasts views of Burj Khalifa, to really cement where you are in the world. It's not just a case of location envy, though – there is plenty of substance here, too. You will notice a higher than average number of facials, including Linda Meredith oxygen treatments. Not to get too scientific about it, but if ever you want vitamin-enriched serum applied to your epidermis with a 96 percent oxygen infusion process then we've found the place for you. More interested in the subtle energies like sleep support therapy, Oriental harmony massage? Then you are still covered. The signature suite experience (which combines bubble massage bath and a horizontal shower with, again, Burj Khalifa views). Maroc Maroc and Natura Bisséproducts are found here.
Open aily 9am-10pm. Address Downtown, Downtown Dubai (04 436 8888).
The Spa at Address Dubai Marina
Enjoy the stunning Marina views with some targetted treatments
This urban spa offers a best-of combination of traditional techniques, including traditional Balinese or Singaporean massages and modern interpretations as well. Take, for example, the Quirogolf therapy which soothes nerve pressure and joint discomfort with an innovative use of golf balls. Or, if you want something of a fusion nature then the Lomi-Juma massage takes a modern twist on Mediterranean and Hawaiian massage styles. Throw in a variety of options for slimming, purifying, defying age and reflexology and it is evident this is a spa for the health conscious as well as relaxation obsessed. Of course, if you have no specific goal and just want to unwind, the 12 minimal treatment rooms feel a world away from the towering neighbours. Check in for a procedure like the Nepalese tea exfoliation to enjoy relaxation.
Open daily 10am-10pm. Address Dubai Marina, Dubai Marina (04 436 7427).
The Spa at Palace Downtown
A regal setting for a range of globetrotting treatments
You might have noticed this already, but there are a lot of skyscrapers in Downtown Dubai. It is strange, then, that it takes this low-rise building, with its stunning Arabian architecture and captivating Middle East theme, to stand out. Amid all the towers you can find blissful relaxation. Obviously regal treatments, such as the king and queen rituals, with top-to-toe indulgence, help. Treatments here are globetrotting explorations of the world of massage. That means varieties include Thai, Balinese, Filipino, Singaporean, Swedish, French Polynesian and more. It is no exaggeration to say it is among the most comprehensive spa menus in the emirate and one where membership makes sense for frequent visitors looking to sample the variety. This week a jetlag massage, next a relaxing Nepalese tea exfoliation.
Open daily 9am-10pm. Palace Downtown, Sheikh Mohammed Bin Rashid Boulevard, Downtown Dubai (04 428 7805).
The Spa at The Ritz-Carlton Dubai
A service-oriented spa at one of the city's most established hotels
Around the world The Ritz-Carlton is known for the quality of its service. In hospitality circles it is legendary. So, it should come as no surprise if the attention to detail and care of the staff in this pretty spa is exceptional. Ladies and gentlemen can choose from a collection of facials, body treatments and more involved experiences. As well as the 12 treatment rooms and relaxation lounges the hotel has well-manicured gardens to stroll around afterwards. Although the indulgence factor is high (how could it not be with diamond dust rituals?), there is a sense of purpose to many treatments. There are detox slimmers, eye treatments, muscle recovery sessions, scalp and hair recovery sessions and a collagen shock facial. It is not all so goal-driven, however, and you can just relax with essential oils.
Open daily 8am-10pm. The Ritz-Carlton Dubai, The Walk, JBR (04 318 6520).
TREE Spa at InterContinental Dubai Marina
Urban spa in the heart of Dubai Marina with varied treatments
This chic space in InterContinental Dubai Marina is always peaceful and relaxing. With separate ladies and gents areas, there's an interesting range of treatments including slimming and sports massages. If you're looking for something a little different, there are some innovative body scrubs, including chocolate, coffee, honey and milk or lavender. There are also manis and pedis as well as express 25-minute treatments if you're in a rush. Facilities are simple but spacious, starring Jacuzzis, steam rooms and saunas. Staff are friendly and welcoming, which means it attracts a lot of a regular customers from the surrounding Marina area.
Open daily 10am-10pm. InterContinental Dubai Marina (04 446 6777).
Willowstream Spa at Fairmont The Palm
This well-equipped spa boasts views across to Dubai Marina
Truth be told our ultimate relaxation is reading through spa's self-aggrandising descriptions of their services. This Fairmont location, for example, is apparently named for a tree that represents its deep-rooted authenticity and flexibility and a stream for its peace and purposeful manner. Behind the words this is without a doubt one of the most popular spas in Dubai. No wonder it has picked up international awards. That's down to the many massages and classic treatments. The Moroccan hammam is the type of treatment that woos first time visitors and spaphiles alike. The therapists are some of the best out there, and if you're looking for specialist facial treatments, try the Black Diamond Hyrdrafacial. Couples' massages, hot stone therapies, reflexology and a series of Kerstin Florian facials can be enjoyed. What's more it has the pleasure of a Palm location. Being massaged with pearls and caviar in this idyllic location is as indulgent as they say.
Open daily 9am-10pm. Fairmont The Palm, Palm Jumeirah (04 457 3545).

ABU DHABI
Ananatara Spa at Eastern Mangroves Hotel & Spa, Abu Dhabi, by Anantara
A laid-back, Thai-inspired spa with calming views across the mangroves
If we were to draw up a blueprint of what our ideal spa would look like, it would be something like this. A blend of ancient rituals and modern wellness theory packaged up in an attractive, low-rise water's edge resort. Of course it helps to have the mangroves view. As one of the few spas to advertise the amount of pressure applied on treatments (from light to firm) you know what you are letting yourself in for. On the more indulgent edge of the spectrum are journeys such as the Essence of Thailand (herbal compress and an Oriental foot reviver) or the Arabian Dynasty (60 minutes in the royal Ottoman hammam, 90-minute signature massage and a 60-minute Elemis facial). Vichy treatments are also available, if you're particular about your skincare regime.
Open daily 10am-midnight. Eastern Mangroves Hotel and Spa by Anantara, Al Salam Street, Abu Dhabi (02 656 1146).
CHI Spa at Shangri-La Hotel qaryat Al beri, Abu Dhabi
A stylish Asian spa with a Middle Eastern twist at this waterside hotel
The winding waterway that connects locations within the hotel sets the tone of tranquillity at this stylish property. The Arabian styling extends to the treatment room with Emirates-inspired products. Camel milk from UAE animals, lemons from Fujairah and dates from Ras Al Khaimah are all used in a local hammam ritual. Another alternative – the Ultimate Zen Journey – combines a foot ritual, aromatic bath, organic body scrub, age-defying body wrap and a full body massage for three hours of goodness. For a less-involved trial you can go straight to a 30-minute express foot massage. Facials have a similar blend of result-driven and indulgent. Our strong recommendation is to combine a visit, be it for one of the numerous scrubs and or one of the numerous nail treatments, with a trip to the quiet and large swimming pool, which has impressive views across to the Sheikh Zayed Grand Mosque.
Open daily 10am-midnight. Shangri-La Hotel Qaryat Al Beri, Abu Dhabi, Bain Al Jesserain (02 509 8900)

Dahlia Spa at Four Seasons Hotel Abu Dhabi
Get pampered with super-swish products at this luxury spa
Around the world Four Seasons resorts are a byword for upscale luxury. You can see why within seconds of arrival. Atmospheric lighting, mood-enhancing private whirlpools and mosaic-tiled wet areas are enhanced with spiritual art pieces and designer furnishings. The products used are what sets Dahlia apart from other spots. Maroc Maroc, Sodashi Organic, Biologique Recherche and Swiss Perfection are all offered in house. Sodashi, for example, has a collection of age-defying facials, Arabian oud renewal and body therapies. Moroccan argan oil – someimes presented as a wonder product with many superlative attributes – features prominently in a certain regenerating massages. If hot stone, deep tissue or cellulite-busting is more your game then you won't leave disappointed. Most interesting of all is a quartz sand treatment table for Greek psammotherapy.
Open daily 7am-10pm. Four Seasons Hotel Abu Dhabi, Al Maryah Island (02 333 2500).
Emirates Palace Spa
The capital's most famous hotel has an equally impressive spa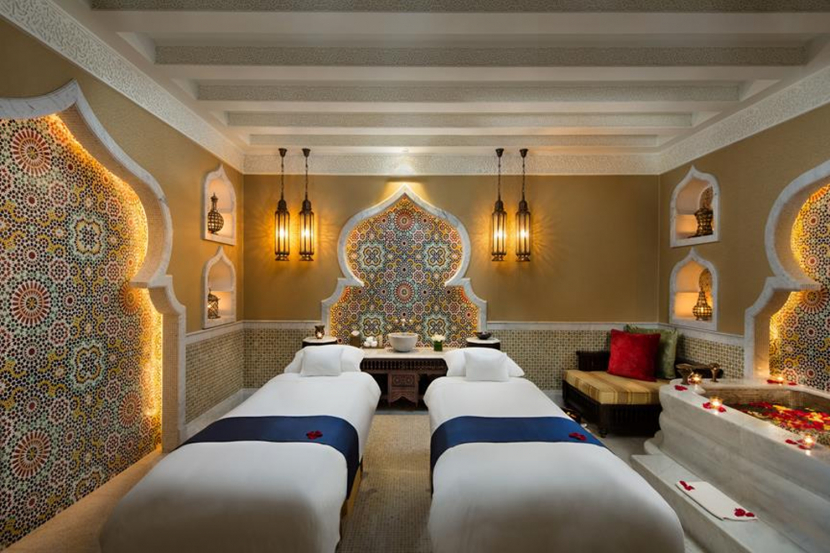 Let's face it – this spa treatment was never going to be anything less than stunning. For a hotel frequented by the rich, famous and powerful, it is no surprise it's on the decadent and lavish end of the scale. Take, for example, the Day of Gold therapy. It begins in the gold hammam, takes in a signature massage and light lunch before finishing with a 24 karat gold facial and a gift. As impossibly opulent as all that sounds it is nothing more than the impressive setting deserves. Palatial is the best way to describe it, and the ornate imperial hammam might be one of the best-decorated environments in the city. The comprehensive treatment menu has pleasing touches for kids and even grooms, as well as having a variety of Thalion and Linda Meredith-branded products available.
Open daily 10am-11pm. Emirates Palace, West Corniche Road (02 690 7978).
ESpa at The Ritz-Carlton, Abu Dhabi
Enjoy ESPA treatments in an indulgent, serene space
Time Out has expressed appreciation of The Ritz-Carlton's world-famous service many times before. It is evident in abundance it this sprawling 21,500sq ft spa. Using the ESPA brand, it is modern and luxurious while being rooted in Bedouin tradition. Sixteen treatment rooms as well as plunge pools, private gardens and waterfalls are all impeccably designed. If you are a picky frequent spa-goer who needs a side order of substance with their style, then you will not be disappointed by the intelligent, solution-led rituals. A traditional hammam ritual uses Moroccan eucalyptus and spa favourite argan oil to leave the body purified. There are scientific touches to the elegance, too. ESPA facials begin with SkinVision analysis to suggest what the body needs most and treatments are tailored accordingly. Go for indulgence, but stay for serenity.
Open daily 10am-10pm. The Ritz-Carlton Abu Dhabi, Grand Canal, Khor Al Maqta, (02 818 8051).
Iridium Spa at The St. Regis Saadiyat Island
Choose from indulgent treatments including a gold massage
Saadiyat is the Arabic word for "happiness" and iridium comes from the Greek word for rainbows. This is the happiness rainbow spa! They may as well transport guests in on sparkling bejeweled unicorns and complete the theme fantasy. Treatments are divided into Relaxation, For body, For face, For Hammam and To Enhance and there are a handful of options in each. Relaxation are the most indulgent, with the Most Precious Massage starting with a choice between gold, diamond and platinum oils and goes on to use ingredients such as meteorites, stem cell orchids, ruby and sapphire. It is all very lavish sounding, but if you want to see tangible benefits look for eye reiving treatments, a vitamin C scrub, a speedy 15-minute tension reliever or a carboxy therapy and glyco3 peel.
Open daily 9am-10pm. The St. Regis Saadiyat Island Resort, Abu Dhabi, Saadiyat Island (02 498 8996).
Remède Spa at The St. Regis Abu Dhabi
A spa with a view that's ideal for switching into holiday mode
A treatment room with a sea vista is a marvellous thing. And that is exactly what some of the 11 spaces in this spacious, 3,200sq m can offer. Sipping on complimentary juice and looking across the Arabian Gulf is a great start, middle or end to a day of pampering. And pampered is what you will be at this spa that puts an emphasis on sublime experience. What other word is there for a four hands wave treatment, which sees two therapists work together in rhythmic harmony to combine Japanese, Thai, Hawaiian, Swedish and Balinese techniques? The same goes for a Deeper Than Deep hot stone massage as it works tension from the very core of muscles. Elemis products are used and there is a good selection of options for men, too.
Open daily 10am-11pm. The St Regis Abu Dhabi, Nation Towers, West Corniche (02 694 4100).

Sense Spa at Rosewood Abu Dhabi
Relax with hot stone massages and hammams at this central spa
No (hot) stone is left unturned in the Rosewood's spa's quest for indulgent wellbeing. For starters, premium products from well-known brands are used. Maison Caulières, EviDenS de Beauté, Aromatherapy Associates and Natura Bissé all feature and the equipment throughout is state-of-the-art. Although techniques from across the spectrum of spa experiences are used, there is also a strong sense of place as well. Arabian botanicals such as frankincense and oud scents are used in signature massages, for example. From the hammam to cleansing facials there is quality and purpose and there are a few fun touches worthy of comment here. Junior treatments and a spa mezze, which allows you to pick and mix smaller sessions to make something of a back rub and bath buffet, are good ways to get more from your visit.
Open daily 10am-10pm. Rosewood Abu Dhabi, Al Maryah Island (02 813 5537).
Talise Spa at Jumeriah at Etihad towers
Try out the saltwater floatation pool at this petite spa in the capital
With just four treatment rooms this can't be considered among the largest spas in the city, but the compact nature can actually add to the calming ambience. If serenity and seclusion is your thing then a session in the saltwater flotation pool is a calming retreat. Just one hour is equivalent to eight hours of deep sleep, apparently. Similar real and immediate results are promised from therapeutic, muscle-relaxation and stress relief massages. Packages can be built to cater to your requirements. Feeling tired? The rejuvenation package mixes back, neck and shoulder massages with an eminence facial. Celebrating happiness? There is a skin-enriching blueberry body wrap waiting with your name on it. Then there are the Margy's of Monte Carlo facials to consider. Drop in slimming treatments and several beauty regimes and this is a very competent spa.
Open daily 9am-10pm. Jumeirah at Etihad Towers, West Corniche (02 811 5858).
Zen the Spa at Rotana at Saadiyat Rotana
Get ready for total relaxation with a range of interesting treatments
If it wasn't really difficult to do, this spa summary would take the form of a haiku. That is the sort of gesture a wellness retreat that looks to cleanse both mind and body would appreciate. A lot of effort goes in here to relaxation and mindful calm. There are the warmed Himalayan pink salt stone massages, for example. Or the Ultimate Zen hammam ritual. This uses an innovative marocMaroc product to scrub face and body, followed by a deeply nourishing scalp massage, hair mask and stretch session. Although much is made of putting your thoughts in order and cleansing the mind, the majority of treatments are of a physical and revitalising nature. That means slimming packages, hydrating rituals and a healthy number of facials assured to give your skin a positive glow.
Open daily 10am-10pm. Saadiyat Rotana Resort & Villas, Saadiyat Island (02 697 0140).
UAE
Anantara Spa at Qasr Al Sarab Desert Resort by Anantara
Head to the Empty Quarter for a retreat that feels miles from the city
Technically in Abu Dhabi, but so far out in to the Empty Quarter that it feels like being on a desert adventure, this is one of the most spectacular locales in the land. In the background there are unmistakeable glimpses of the hotel's Thai heritage, but it is served up with the strongest sense of Arabian hospitality. Let's face it, you're not coming all the way out here to have an express massage. The longer, the more desert-centric and more luxuriant the better. And the four treatment rooms will not disappoint. The Arabian Desert Rose ritual makes use of a rejuvenating rhassoul body mask and rose milk bath to moisturise skin. Other Arabian touches include date and coffee scrubs and a desert sand ritual.
Open daily 10am-10pm. Qasr Al Sarab Desert Resort by Anantara, Qasr Al Sarab Road, Abu Dhabi (02 886 2088).

O Spa by L'Occitane at InterContinental Fujairah
Try this swish new spa in Fujairah, partnered with a global skincare brand
If you're making the drive over to the East coast you're going to want something to look forward at the end of the trip. Although compact – just six treatment rooms, which would be comparatively tiny compared to select Dubai giants – this swish new spa at InterContinental Fujairah embraces Eastern and Western techniques to make for interesting concepts. Needless to say the L'Occitane partnership gives everything offered a pleasantly aromatic air. What should most intrigue spa-lovers, however, are the multi-day packages. Three-, five- and seven-day packages offer all the holistic holidaying you would want from an international spa break, without the hassle and fuss of plane travel. A detox programme, for example, combines yoga, meditation, and Mediterranean therapies. Other interesting packages are carefully created to maximise relaxation, revitalising, rejuvenation and reshaping and we could all do with a bit of that.
Open daily 9am-11pm. InterContinental Fujairah, Al Aqah, Fujairah (09 209 9999).

Softouch Ayurveda At Le MÉridien Al Aqah Beach Resort
Holistic spa in Fujairah that will soothe the body and mind
Because of its excellent reputation for scuba diving breaks (there is an Al Boom Diving centre on site) it would be all too easy to overlook the pampering prospects at Le Méridien Al Aqah. The Softouch Ayurveda spa, however, has many sedentary experiences to sample, including ones we have not seen elsewhere. Ellakkizhi is a treatment that sees you massaged with warm roasted medicinal leaves to relieve tension. Then there is the Ayurvedic Experience, in which a steady stream of herbal oil is drizzled on the forehead, a third eye to be precise, in an effort to aid mental relaxation. There is a real attempt here to soothe mind and body in a holistic way and it is a good option for a spiritual journey. Especially one that requires abundant lovely smells.
Open daily 9am-9pm. Le Méridien Al Aqah Beach Resort, Fujairah (09 2044906).
The Oberoi Spa at Oberoi Beach Resort Al Zorah
There's an 85m swimming pool and a petite spa at this beachside resort
Ajman can get overlooked. Did you know this luxury resort, for example, is nestled in one million square metres of protected forest, has long stretches of beach, azure lagoons and plenty of wildlife? Just the sort of setting, in fact, you would hope to find a luxury spa from an upmarket brand like The Oberoi. Interesting touches like open air showers, with natural light and plentiful space, and a private hammam make it worthy of consideration for cross-emirate travel. Awaiting visitors are indulgent treatments such as Queen of Egypt (relaxing and fragrant journey using frankincense and myrrh and Dead Sea salt wrap) or the Eternal Youth facial (self explanatory). The menu is smaller than some spas, but therapies are designed for sensual relaxation. This one is soley for hotel guests, but we'd recommend booking in – both for the spa and the huge 85-metre infinity pool.
Open daily 10am-8pm. The Oberoi Beach Resort Al Zorah, Ajman (06 504 4888).
The Ritz-Carlton Spa, The Ritz-Carlton Ras al Khaimah, AL Hamra Beach
Enjoy uninterrupted views of the Arabian Gulf at this luxury spa
There are two Ritz-Carlton hotels in Ras Al Khaimah, both offering resplendent luxury at premium prices. This is the coastal option, which means uninterrupted views of the Arabian Gulf as you settle down for a wellness session. Fitting with the beachfront location there is a breezy ocean feel to the treatments. The Natural Ocean Experience is a marine-inspired session, which uses sea salt to smooth the skin before active marine minerals nourish it. All the more impressive in a pavilion overlooking the water, of course. Lava shell massages and a refreshing moisturising therapy utilising honey, orange and cucumber are standouts. In addition to these signature treatments are the standard muscle, relaxation, Thai, Balinese and stress relief massages that bulk out The Ritz-Carlton menus across the UAE.
Open daily 11am-8pm. Ritz-Carlton Ras Al Khaimah, Al Hamra Beach, Vienna Street, Ras Al Khaimah (07 204 8888 ext 5704).
The Ritz-Carlton Spa at The Ritz-Carlton, Ras Al Khaimah Al Wadi Desert
A relaxing retreat in a nature reserve in the heart of the desert
Of the many grand claims and boasts featured in this guide, it is unlikely any is as impressive as the fact that The Ritz-Carlton is set in a 1,235-acre protected nature reserve. Standing out of the dunes like a mystery palace, it is a stunning setting for peaceseekers and the treatments are all the better for it. Décor is an interpretation of traditional Arabian, with modern touches such as a state-of-the-art hydrotherapy suite, and lavish treatment pavilions with gorgeous desert views. When a setting is as impressive as this you don't need to talk up the treatments to wow. Yes, there is a diamond experience facial, but on the whole the hugely impressive treatments are a welcome blend of results-driven wellness and relaxation massages.
Open daily 9am-9pm. The Ritz-Carlton Al Wadi Resort, Al Mazraa, Wadi Khadja, Ras Al Khaimah (07 206 7777).
Waldorf Astoria Spa at Waldorf Astoria Ras Al Khaimah
Exclusivity and innovative treatments are key at this RAK spa
Want to know how exclusive this place is? It even has a spa within a spa in the shape of private suites. Consider it like one of those VIP rooms that has an additional velvet rope to step behind. Voya, QMS Medicosmetics and Heaven by Deborah Mitchell are the three product lines offered at the upscale venue. Some of the fascinating treatments include a bee sting facial and an afternoon tea ritual and there is a strong feeling that a lot of thought and originality goes into offered experiences. Sure, the principles of exfoliation, nourishing massage or healing techniques are similar to other venues, but a visit here is unlike any other spa in the country. We are genuinely impressed by offerings like lavender myth, peppermint mystique and an ocean caress. If you're looking for luxury you'll find it here.
Open daily 10am-9pm. Waldorf Astoria Ras Al Khaimah, Vienna Street (07 203 5722).

Willow Stream Spa at Fairmont Ajman


A warming spa with a spacious hammam and range of experiencesSome eight treatment rooms and a hammam are all part of this purpose-built Ajman spa. It is a location deeply-rooted in the Arabian tradition of wellbeing medicine and treatments frequently use local ingredients and oils. Options range from rapid 20-minute treatments through to a signature six-hour journey. This epic experience will take in a signature massage, facial, hammam session and even a light lunch. Well worth the trip over to Ajman. Especially when you get to use the tepidarium. We love not only this word, but also the concept of a warmed Roman-style bath house. It's elegant, it's indulgent and it's a thoroughly relaxing experience that is worth the trip to the UAE's smallest emirate.
Open daily 10am-10pm. Fairmont Ajman, Sheikh Humaid Bin Rashid Al Nuamimi Street, Ajman (06 701 5546).
Be the first to get all the latest Dubai news, reviews and deals into your inbox by signing up to our free
newsletter
,
click here to sign up
.