Your mates are visiting and the pressure is on to show them a good time. You've been incessantly bragging on Instagram with your #sunset #infinitypool #dubai escapades and expectations are high, but where to start? We've compiled a list of all the best places to take your pals, whether they're into history, shopping, eating or partying, and we've even dug out a list of free activities – because there's always a stingy one in the group.

Let the tour commence.
CULTURE
Catch a show at Dubai Opera
Whether you're after some vibrant Bollywood dancing or a serene night swaying to Tchaikovsky and Swan Lake, Dubai Opera is the place to visit for a night that you won't forget. The multi-format venue hosts opera, theatre, concerts, art exhibitions, orchestra, film, sports events, and seasonal programmes, and the building itself is an architectural marvel. Take your guests here for a classy night out that they won't forget.
Downtown Dubai, www.dubaiopera.com.
Go back in time at Dubai Creek
Head to the old town and embrace Dubai's past with a sail across Dubai Creek. Abras cross the water every few minutes and will cost you just Dhs1. It's a short trip to the other side but it's a memorable one.
Dhs1. Dubai Creek.
Go shopping at Dubai souks
Retail therapy in Dubai doesn't necessarily mean heading to one of the (many) sprawling malls. For a more traditional experience, head down to one of the many souks lining either side of Dubai Creek. The Gold Souk has hundreds of retailers offering a selection of jewellery, diamonds and other precious stones, while the Textile Souk has a wonderful selection of colourful fabrics. Brush up on your bartering skills to really impress your guests by bagging some super bargains.
Dubai Creek, Deira.
Have your mind blown at the Museum of Illusions
Strolling through Dubai's museums filled with art, culture and history can be an enriching experience, but how about one that will have you puzzling over which way is up? The Museum of Illusions has opened its doors for the first time in the UAE, to trick the minds of all who walk through it. Setting up shop over in Al Seef near Dubai Creek, the building houses 80 different exhibits that will boggle the mind.
Open Wed Sep 12. Bur Dubai, Al Seef, www.museumofillusions.com.
Meet the sloths at The Green Planet
Kids in your party? Or just a grown-up geography geek? The city's bio-dome at City Walk realistically mimics the rainforest environment by regulating temperature and humidity levels, and it's home to an impressive assortment of 3,000 living species, including resident sloth, Liam, There's also a bat cave to explore if you dare.
Dhs99 (adults), Dhs74 (kids aged three-11), free (kids under three). Open Sat-Wed 10am-7pm, Thu-Fri 10am-8pm. City Walk, Al Safa Street,
www.thegreenplanetdubai.com (04 317 3999).
See old and new at Dubai Frame
Dubai's newest landmark allows visitors to see the city's past, present and future in a one-hour tour with unique views of "old" and "new" Dubai from a 150-metre-high sky glass bridge. Also known as Berwaz Dubai, the Frame comprises two towers measuring 150 metres in height and connected by the 93-metre long bridge at the top.
From Dhs20 (kids), Dhs50 (adults) free (kids under three, adults over 60 and people of determination). Open daily 10am-7pm. Zabeel Park,
www.thedubaiframe.com.
Take a trip to Dubai Museum
History buffs, take a trip inside the walls of Al Fahidi Fort as it's a brilliant tribute to the city's past. The historic building is home to a wide variety of life-size dioramas that depict Emirati life from a bygone era. Soak in the heritage as you take a tour through traditional scenes of Arab households and mosques offering unique insights into life in the desert.
Dhs3 (adults). Dhs1 (kids under six). Open Sat-Thu 8.30am-8.30pm, Fri 2.30pm-8.30pm, Fri 2.30pm-8.30pm. Al Fahidi Historical District, Bur Dubai (04 353 1862).
THE GREAT OUTDOORS
Dally along the sands at La Mer
If you have a penchant for top grub by the beach, surfside shopping or lazing the day away on the sands then you can't really go wrong at La Mer. The sprawling new development features more than 130 restaurants and shops, plus a waterpark.
Free. Open Sun-Wed, 10am-10pm (retail), 10am-midnight (restaurants); Thu-Fri, 10am-midnight (retail), 10am-midnight (restaurants). La Mer, Jumeriah 1 (800 637 227).
Fly with XLine
Fancy seeing Dubai from above? XLine zip line offers thrill seekers the chance to zoom over Dubai Marina at speeds of up to 80 kilometres per hour at an incline of 16 degrees, headfirst in true Superman style. It's one of the best ways to see the city (although also one of the priciest).
From Dhs650. Open daily 9am-5pm. Dubai Marina, www.xdubai.com/xline.
Stretch your legs at Al Seef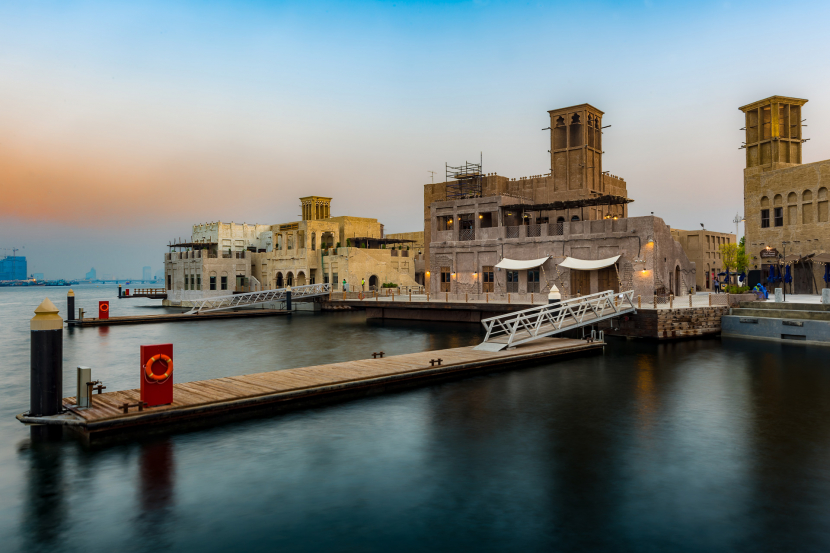 Found upon the shores of the Bur Dubai side of Dubai Creek, the Creek front development is packed with shops and restaurants. Al Seef is an area of Dubai steeped in history, with a huge amount of Emirati culture. This latest attraction leans heavily on the contemporary elements of life in Dubai in 2018, but in equal measure reflects and pays homage to the city.
Free. Open daily 10am-midnight. Al Seef, Bur Dubai, www.alseef.ae.

Take the leap at Skydive Dubai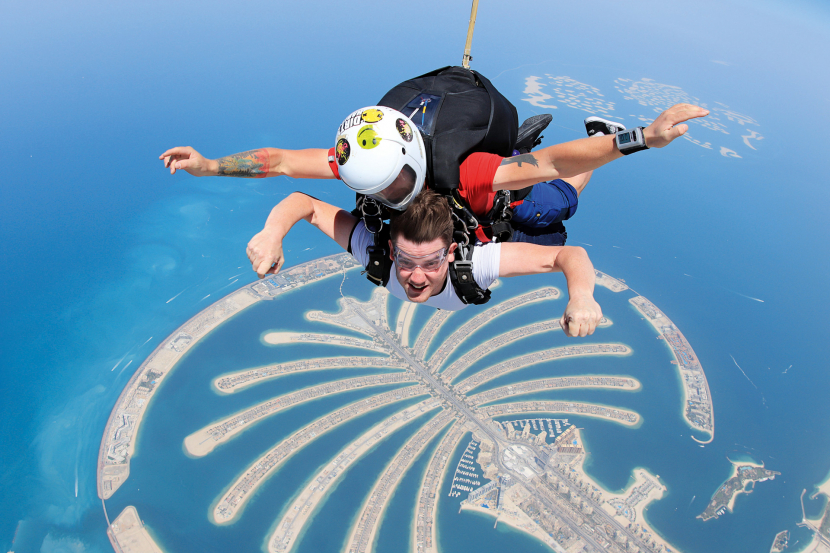 Ever fancied jumping out of a plane at speeds of 120mph over a man-made island? Well you can in Dubai. SkyDive Dubai offers all the thrills of freefall with views of the city like you've never imagined. One for the braver visitors in your party.
Dhs1,699 (tandem skydive). Skydive Dubai, Dubai Marina, www.skydiveduabi.ae.
SIGHTS & ATTRACTIONS
Crane your neck at the Burj Khalifa
It's the tallest building in the world with a staggering 160 floors and looming at 828 metres high. It opened in January 2010 after six years of construction and is Dubai's most iconic landmark. While there you can go up to the 148th floor and marvel at views of the city or stop off on the 122nd floor at the world's highest restaurant, At.mosphere, for breakfast, dinner or afternoon tea.
Burj Khalifa, Downtown Dubai, www.burjkhalifa.ae.
Dance along to The Dubai Fountain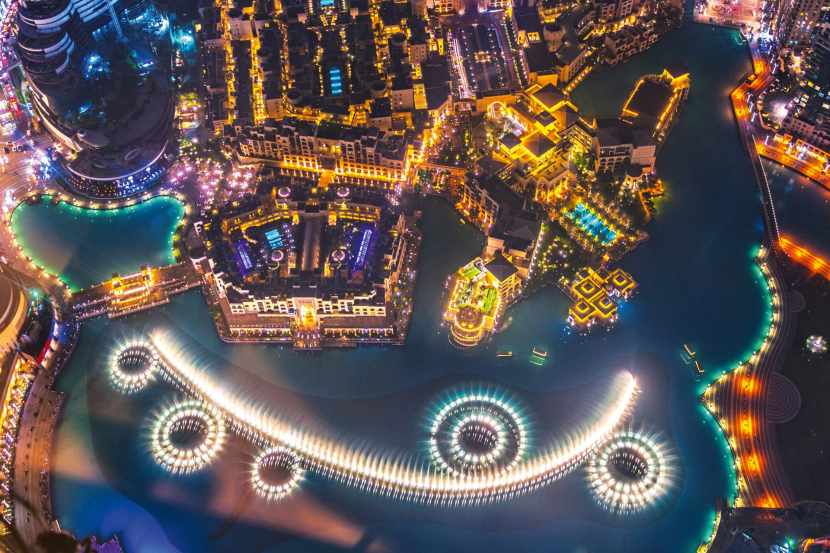 Even the most hardened of Dubai dwellers can't help but marvel at the dancing waters, so think how visitors feel. The Dubai Fountain is more than 900ft in length and shoots water into the air to a range of different songs, from classical music to contemporary Arabia tracks and modern Western pop songs. It's a spectacular show and one that's always a massive hit.
The Dubai Mall: Open daily 10am-midnight. Downtown Dubai (800 382246255). Dubai Fountain shows: Free. Sat-Thu 1pm & 1.30pm, Fri 1.30pm and 2pm, daily 6pm-11pm (every 30 mins).
Get lost in The Dubai Mall
Even if you haven't the dirhams to indulge in a spot of retail therapy, the world's biggest mall still has plenty you can do and see. It's home to The Dubai Aquarium & Underwater Zoo, where you can marvel at 300 sharks and countless species of fish completely free from the outside of the tank, as well as Dubai Ice Rink where you can learn to skate.
The Dubai Mall: Open daily 10am-midnight. Downtown Dubai (800 382246255).
Marvel at the stunning Burj Al Arab Jumeirah
World-famous hotel, Burj Al Arab Jumeirah, is one of the most iconic buildings in the Middle East, if not the planet. The sail-shaped structure is one of a kind and the hotel is synonymous with luxury. Head to Skyview Bar or Golf on 27 for inventive mixed drinks with a view, or visit Scape Restaurant and Lounge for a gorgeous outdoor terrace. Don't forget
to take some snaps.
Burj Al Arab, Umm Suqeim (04 301 7777).
See the whole world in one day at Global Village
More than 70 countries are represented with themed stalls, shows, presentations and attractions at what has grown to become a global-themed part-funfair, part-cultural festival and part-market. There are more than 100 themed kiosks offering street food from around the world, while the huge main stage hosts performances every weekend.
Nov-Apr, 4pm-midnight (Sun-Thu), 4pm—1am (Fri-Sat). Global Village, Sheikh Mohammed Bin Zayed Road, www.globallvillage.ae.
Step into the past with a trip to Souk Madinat Jumeirah


This modern day souk allows you to experience ancient Arabia in today's Dubai. It has three kilometres of waterways and it's surrounded by lush gardens, with plenty of top-class restaurants, bars, shops and even a theatre on site. With traditional market-style corridors, three opulent hotels and a quaint abra service connecting it all, you can easily while away the hours here.
Open daily 10am-11pm, Souk Madinat Jumeirah,Umm Suqeim (04 366 8888).
THEME PARKS AND WATER PARKS
Make a splash at Laguna Waterpark
This family-friendly waterpark is found at the happening beachside destination of La Mer. It's also is the only place in the Middle East where you'll find a full, 180-degree wave machine. Master the waves either surfing or bodyboarding, on what is only the third wave machine of its kind in the world.
Dhs99. Open daily 10am-8pm. La Mer Central, Jumeirah 1, www.lagunawaterpark.com.

Meet the dinosaurs at IMG Worlds of Adventure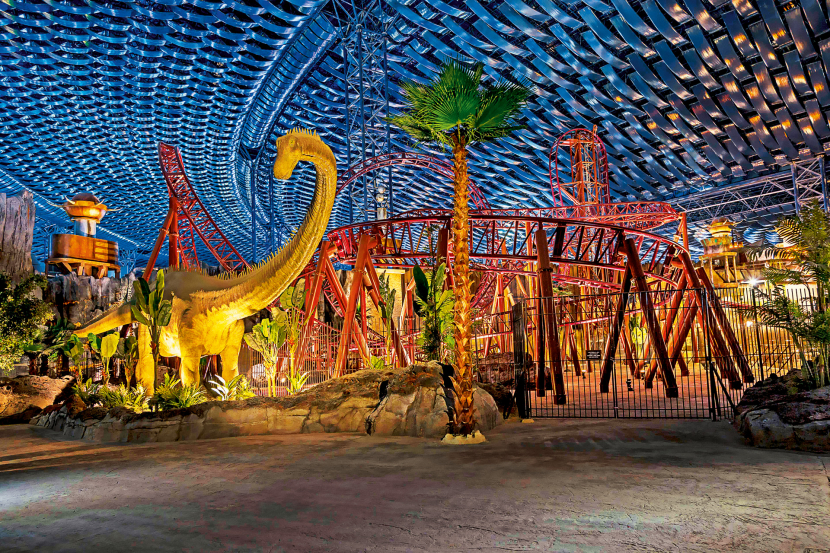 The 1.5-million-square-foot IMG Worlds of Adventure is the biggest indoor theme park on the planet, and it's home to some pretty epic rides. Highlights of the park include the high-speed Velociraptor roller coaster in the Lost Valley Dinosaur Adventure Zone, which reaches 100kph in 2.5 seconds. Also housed in this zone – which is home to 69 animatronic dinosaurs – is the gravity-defying Predator, featuring a 35-metre "beyond vertical" drop. Gulp.
Dhs257 (adults), Dhs236 (kids under 1.2m), free (kids under 1.05m). Open daily 10am-10pm. Sheikh Mohammed Bin Zayed Road, www.imgworlds.com (04 403 8888).
Seek some thrills at Dubai Parks And Resorts
Dubai Parks And Resorts is a massive 25 million square feet and is the UAE's largest multi-themed leisure and entertainment destination. You can head to motiongate Dubai, which features 27 rides and attractions themed on movies, or Bollywood Parks for an Indian themed adventure. There's also Riverland waterside district and Legoland – the world's seventh – with more than 60 rides, water slides and attractions.
Bollywood Parks: Dhs195 (adults and kids) Dhs170 (residents) free for children under three. Open daily 3pm-11pm. Dubai Parks and Resorts, Jebel Ali (800 2629464). LEGOLAND: From Dhs235 (adults), free for children under three. Open daily noon-8pm. Dubai Parks and Resorts, Jebel Ali (04 820 0000). motiongate: Dhs235 (day ticket) Dhs165 (residents). Open daily 11am-8pm. Dubai Parks And Resorts, Jebel Ali
(800 2629464).
Splash underwater at Aquaventure and Atlantis The Palm
Atlantis The Palm has loads of award-winning restaurants from Nobu to Gordon Ramsay's Bread Street Kitchen and a huge aquarium – The Lost Chambers. Pay a visit to the Aquaventure Waterpark, swim with dolphins or feed some stingrays. If you're feeling brave, you can even try the record-breaking Leap of Faith slide, which hurtles you through a glass tunnel surrounded by sharks.
Aquaventure: From Dhs195 (adults, residents), Dhs170 (kids less than 1.2m tall, residents), free (kids under two). Open daily 10am-6pm. Atlantis The Palm, Palm Jumeirah (04 426 0000).
Take the plunge at Wild Wadi
Head for heights? The waterpark's main attraction, Jumeirah Sceirah, has two 32 metre-high tandem slides which will see you plummet at a speed of 80km per hour. In total there are 30 rides and attractions for the whole family to enjoy, whether you're a fan of the hair-raising, or prefer something a little more relaxing, like bobbing around in a ring.
Dhs270 (adults), Dhs220 (children under 1.1m). Open Sun-Thurs 10am-7pm, Fri 10am-10pm. Jumeirah Beach Hotel, Umm Suqeim (04 348 4444).
Visit another world at VR Park
The virtual reality theme park at The Dubai Mall has 18 attractions, some of which have multiple games inside, taking you to distant planets, the distant future and the not-too distant world of a fully-virtualised Dubai. It's a fun place to go with friends, especially if you decide to take on The Walking Dead game that sees you having to shoot your way out of the show's famous hospital to safety.
Free entry, games from Dhs15. Open Sun-Wed 10am-11pm; Thu-Sat 10am-1am. The Dubai Mall, Downtown Dubai, www.vrpark.com.
FREE THINGS TO DO
Become one with nature at Ras Al Khor Wildlife Sanctuary
If you have animal fans in tow, Ras Al Khor Wildlife Sanctuary is home to wetlands featuring salt flats, mangroves and lagoons. Flamingos are the area's stars, although more than 60 species of bird and 500 species of flora and fauna can be spotted here. To get your wildlife fix and a moment of peace outdoors, it really can't be beaten, especially if you're being thrifty.
Free. Open Sat-Thu 9am-4pm. Ras Al Khor Road (04 426 6822).
Catch a race at Meydan
Fancy at day at the gee-gees without forking out a fortune? Dubai Racing Club offers free general admission to a limited section within the Meydan Grandstand with a large number of seats available – and with great views too. Racing kicks off on Thursday November 1 so make a date in your diary for a fun night out.
Thu 6.30pm & Sat 4pm until Fri April 12. Meydan Racecourse, Nad Al Sheba, www.dubairacingclub.com (04 327 2110).

Get arty at Alserkal Avenue
Dubai isn't all about brunches and beaches. Alserkal Avenue is the go-to place for independent cinema, art, photography and designers in the city. Events, exhibitions, concerts and lectures are held throughout the year, putting fresh and established talent alike in the limelight, and they are often free. Intriguing spots include Green Art Gallery, showcasing modern Arab art from across the Middle East, Gulf Photo plus, Dubai's only dedicated photography centre and The Odd Piece, which is crammed with antique and modern furniture to deck out your home.
Street 8, Al Quoz 1, Dubai (050 556 9797).
Get on your bike at Al Qudra
This scenic 86km cycle track in the desert provides a real workout while offering amazing views of the sand dunes, and even a spot of wildlife along the way. The route has a 50km loop, as well as an 18km stretch along Al Qudra Road known as The Stick. Both are popular with seasoned cyclists and novices alike and the track is lined with resting stations and there is a café and a shop at the opposite end of the track to The Stick. If you get up early enough there's even a chance to ride off into one of the best sunsets in the whole of the UAE.
Free. Al Qudra Cycle Track; Past Arabian Ranches.

Go Camel racing at Al Marmoum Racetrack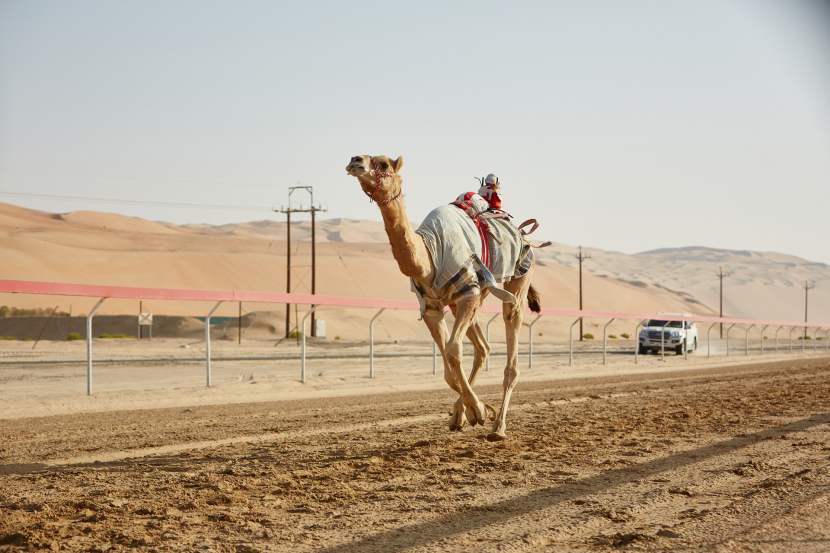 You're in the desert, why not try something different and watch some camel racing? And best of all, you can experience this traditional sport for free. Head to Al Marmoum to see these animals taking to the track, complete with robot jockeys. Cheer on your favourite.
Call for times. Dubai Camel Racing Club, Al Marmoum Racetrack, Dubai-Al Ain Road, www.dcrc.ae (04 832 6526).
Take a dart down to The Beach
Reminiscent of the European al fresco dining scene, you'll be reminded of trips to Greece, Italy and Spain just strolling through the area which has a plethora of international food options right on the street. As well as a kids' play park, you'll find a running track, an al fresco gym, plenty of shops and stalls, and even a giant inflatable assault course (sadly chargeable) in the sea. Chilling out on the beach, watching the camel riders head up and down the sandy stretch, and catching some rays is definitely one of our favourite things to do with visitors.
Free. The Beach, JBR, www.thebeach.ae.
Have a picnic in a park
Despite being in the middle of the desert, Dubai has a surprising number of green spaces, and with the weather cooling down, there's no better way to while away an afternoon than with a brimming picnic in one of the city's wonderful parks. Bring the family along for a fun day out at Khazzan Park, the first totally solar-panelled amenity of its kind in the country, and the sprawling Zabeel Park, where you can watch the boats gently cruise across the lake while you tuck into your lunch.
Al Khazzan Park: free. Al Safa Street. Zabeel Park, Dhs5. Off Al Majlis Street, Al Kifaf, www.ripeme.com.
Stroll through the ages at Al Fahidi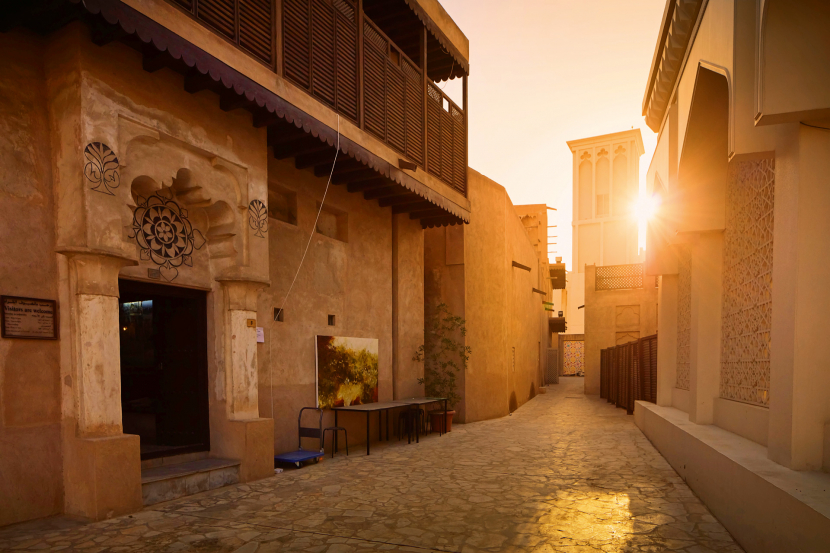 The historic Al Fahidi District is filled with museums, workshops, cafés and restaurants which takes you back to the UAE's rich and intriguing past. The area was once a hub for textile and pearl merchants in the shadow of the imposing Al Fahidi Fort, which now houses Dubai Museum. Away from that, the districts narrow walkways are scattered with cosy cafes, restaurants, art hubs and cultural centres as well as the super-cool XVA Art Hotel, which is free entry.
Al Fahadi Historical District, Bur Dubai.
Take a trek along the boardwalk on Palm Jumeirah
Palm Jumeirah is one of the most astonishing feats of engineering in the world, purely for the fact we have a palm tree-shaped island built into the middle of the Arabian Gulf. The boardwalk is an 11km jaunt stretching from one end of the Palm's crescent to the other. Spend some time circumnavigating the Palm and take in some of the city's top views.
Palm Jumeirah.
Visit Dubai's biggest fish market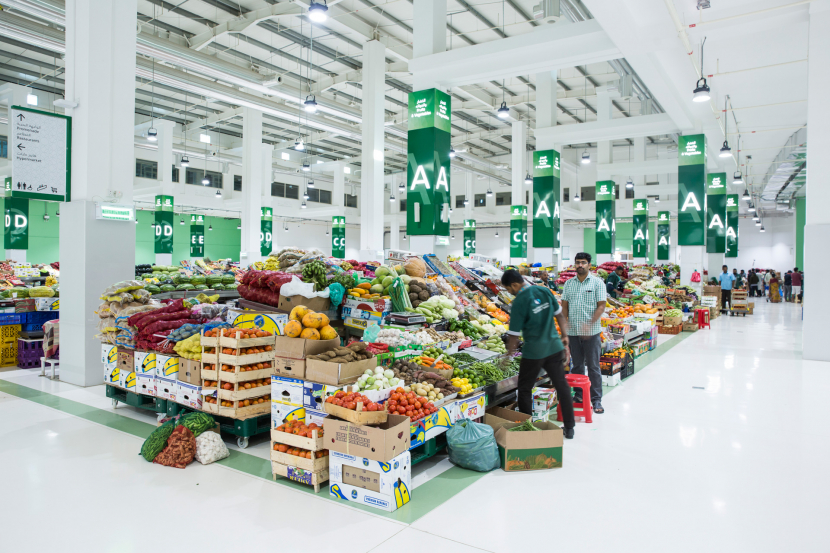 It's been more than a year since Deria's iconic Fish Market closed up shop, but from the ashes comes the new and improved Waterfront Market, a new, cleaner, air-conditioned retail space with state-of-the-art technology and hygiene measures. Not only has the market carried on its legacy, its upped the ante, too. Get to know what's in store before heading out to buy the freshest produce around.
Fish section: open 24/7. Other sections: 6am-1am. Restaurants: 10am-11pm. Shops: 10am-10pm. Al Khaleej Road, Corniche Deira, waterfrontmarket.ae (800 627538).
TOP RESTAURANTS & BARS
Appreciate some live music at Jazz@PizzaExpress
This place confidently puts on nightly performances from some of the region's top acts, including The Swing Revue and more. The Friday afternoon brunch is also a prime opportunity to catch some top live music to accompany your bottomless pizza session. More often than not, you'll find different band arrangements made up of professional session musicians who get about town, meaning you're always guaranteed top quality tunes that will have you nodding your head, tapping your foot and clicking your fingers.
Open Sat-Wed noon-1am, Thu-Fri noon-2am. Cluster A, O JLT (04 441 6342).

Brunch at Zuma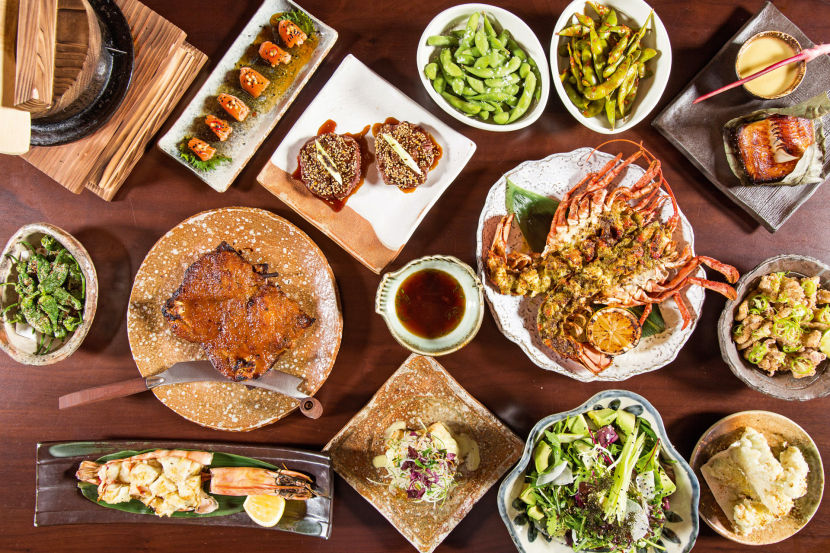 Picking up the Brunch of the Year gong for the second year in a row, this world-famous Japanese pulls out all the stops time after time. Dig into a range of sushi, sashimi, salad and maki rolls from the cold buffet before moving onto a hot section packed full of rotaba and tempura. Mains are served to the table and include that global superstar – the black cod. The brunch goes on a break for summer, and returns every winter.
Dhs473 (soft drinks), Dhs625 (house beverages), Dhs688 (bubbly), Dhs236 (kids aged four-12), free (kids under four) plus 10 percent DIFC fee. Fri 12.30pm-4pm. Gate Village 6, DIFC (04 425 5660).
Enjoy a cheap meal at Hanoi Naturally
Looking for pho? Look no further. Cheap, cheerful and authentic. Tasty dishes, cooked well at a good price. This Vietnamese restaurant is as authentic as they come. From the no-frills cafeteria-style interiors to the eye-poppingly strong Vietnamese coffee, this is a transporting dining experience at a fraction of the cost of the flight ticket. And then some.
Open daily noon-10pm. Gold Crest Executive Building, Cluster C, JLT (04 431 3099).
Enjoy the sea breeze at Barasti
Another titan of the scene, Barasti is perennially popular, and not just because of its big screen. It serves great food and the vibe on the main middle deck is properly chilled-out. Let's not forget the pool downstairs and an awesome beachside hangout with a dancefloor on the sand. Which is needed when this place kicks off with regular major music festivals that you'll find on the calendar throughout the winter months.
Open daily 11am-1.30am. Le Méridien Mina Seyahi Beach Resort & Marina, King Salman Bin Abdulaziz Al Saud Street (04 318 1313).
Get free drinks during ladies' night in Dubai is The Penthouse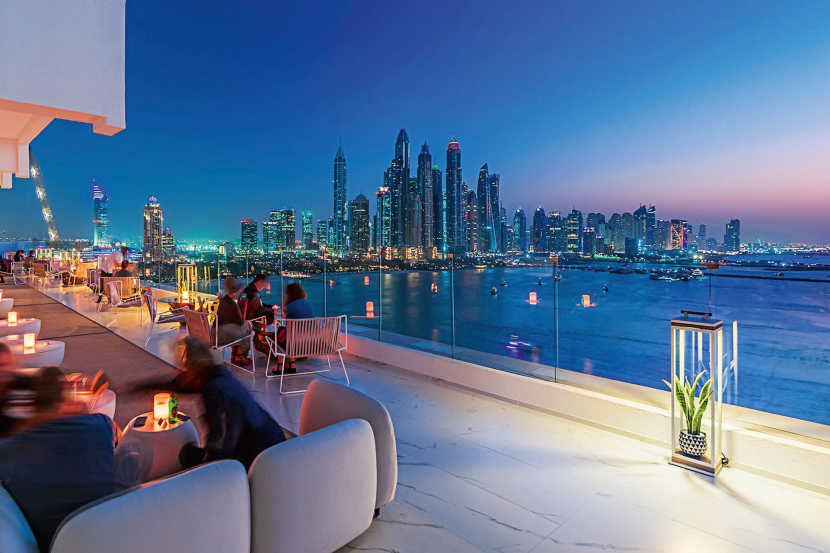 Yes, ladies' nights are the thing to do in Dubai. Every night of the week, there are bars across the city serving up free drinks and bargain dinner deals for the fairer gender. The Penthouse barged its way onto the Dubai nightlife scene earlier this year, bringing with it some stonking views of New Dubai, plus mega Saturday pool parties and high-octane Thursday EDM night, Skyline.
Tue 6pm-9.30pm. Ongoing. FIVE Palm Jumeirah Dubai, Palm Jumeirah (04 455 9988).
Go clubbing at BASE
When this open-air super-club in d3 launched, it brought with it some of the biggest names from the world of music, like 50 Cent and Busta Rhymes. It's still bringing and the 3,000-capacity club is filling out regularly with ease. This is the place for Dubai's most partying of party people.
Open Thu-Fri 10pm-4am. d3, Ras Al Khor Road (055 313 4999).

Go for a drink at Lock, Stock & Barrel JBR – The Walk
LSB 2.0, as it is affectionately known, is the party bar to end all party bars. This is the bigger, newer version of the Barsha Heights original, and it won Bar of the Year at Time Out Dubai's Music & Nightlife Awards 2018 back in March. Despite its enormous size, it continues to be packed out on a regular basis.
Open Sat-Sun 2pm-3am; Mon-Thu 4pm-3am; Fri 1pm-3am. Rixos Premium Dubai, JBR The Walk (04 392 7120).
Have a pint of the black stuff at The Irish Village
A Dubai institution, going strong for more than two decades, The Irish Village is our Pub of the Year, and its enduring presence continues to charm hordes of expats every week. Its large garden and homely feel make it a wonderfully low-key favourite among residents. With regular live music, good food and a great vibe, The Irish Village should be on your to-visit list.
Open daily 11am-1am. Garhoud (04 239 5000).
Have a slap-up dinner at Il Borro Tuscan Bistro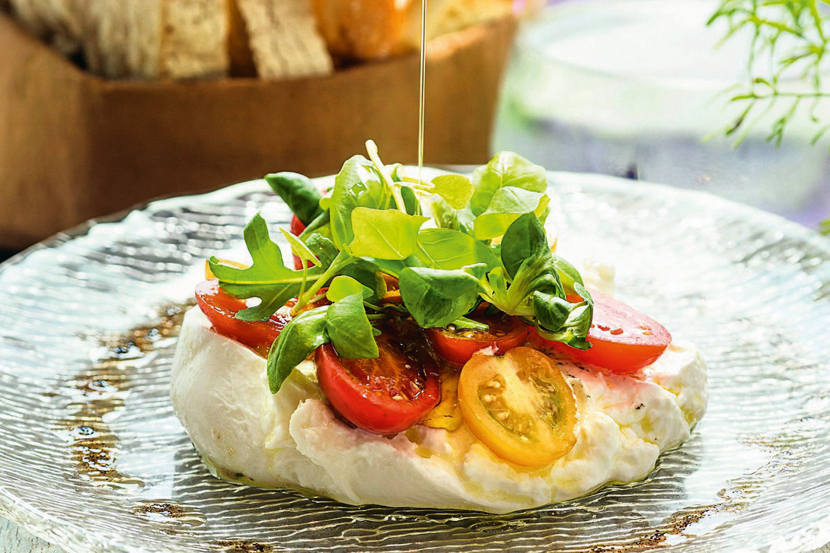 Because this is need-to-know information. This classy Italian, which is our Best Restaurant 2018, works with ingredients supplied by the original estate in Tuscany, and this is reflected in the taste and quality. Simple, yet delicious, the fresh produce does the talking in the dishes here, all of which are served up in an upmarket, yet unstuffy environment.
Open daily 12pm-3.30pm, 7pm-1am. Jumeirah Al Naseem, Madinat Jumeirah (04 275 2555).
Start the day at Reform Social & Grill
Hugely popular for its proper pub grub, roast dinners and family-friendly vibe, Reform Social & Grill has also made a very successful foray into breakfasts in the past year. The weekend versions are top-notch, with the Breakfast of Champions a thing to behold with its monster servings of fried eggs, bacon, beans et al.
Open daily 8am–midnight. The Lakes (04 454 2638).
Take in the view at QD's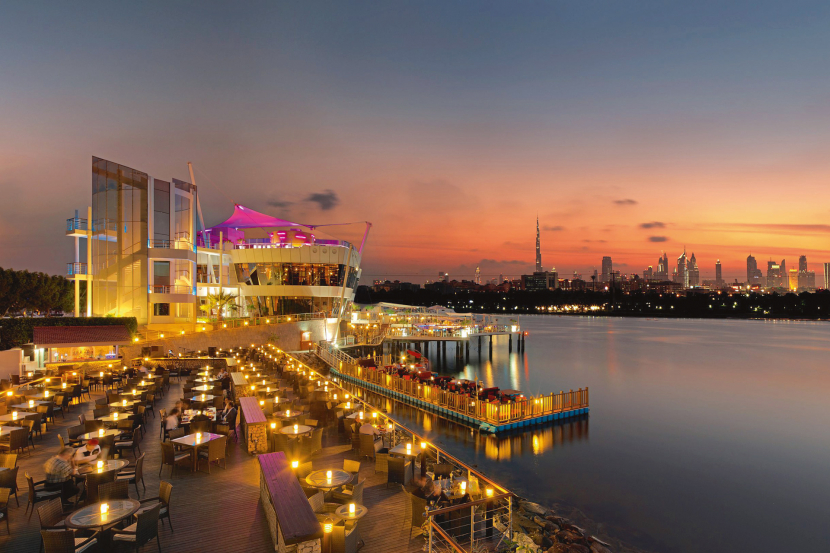 This Dubai Creek Golf & Yacht Club bar has a pretty mega view out across the Creek, thanks to its expansive terrace on the banks of the river. Great for whiling away a few hours, especially if you've just drudged off the idyllic golf course next to which it is located.
Open daily 5pm-2am. Dubai Creek Golf & Yacht Club, Deira (04 295 6000).

BUDGET EATS
Aappa Kadai
Love curries? Head to this popular spot for the bargain chicken biryani. Also try the special vegetarian meal (thali) mopped up with aappams.
Open daily 10am-3.30pm, 6.30pm-midnight. Discovery Gardens (04 334 8030).
Bu Qtair
A Dubai institution serving fresh, simply prepared seafood on the beach.
Open daily 1.30am-11.30pm. Umm Suqeim Fishing Harbour, off Jumeirah Beach Road, behind Umm Suqeim Park (055 705 2130).
The Meating Room
This spot in Karama specialises in, as you'd imagine, meat cuts. We love it here and you will, too.
Open Sat-Wed 12.30pm-11pm; Thu 12.30pm-midnight; Fri 1.30pm-midnight. Al Wasl Hub Building 3, Karama (04 331 2567).
Vietnamese foodies
This excellent JLT spot serves up cheap, cheerful and authentic Vietnamese dishes. Proper tasty.
Open Sun-Wed 11am-10.30pm, Thu-Sat 11am-11pm. Cluster D, JLT (04 565 6088).

TOP DEALS
Taco Tuesday at Trophy Room
Every Tuesday you can buy one taco and get two free at Trophy Room.
Take your pick from grilled fish or chicken, add on your choice of toppings The best bit? It's just Dhs27 per taco. The other best bit? It runs all day, every Tuesday.
Dhs27. Tue noon-2am. Ongoing. Fairmont Dubai, Sheikh Zayed Road (04 311 8316).
Dhs10 Drinks at Bar Baar
Every Tuesday, drinks are just Dhs10 for eight hours between 7pm and 3am as part of Wholesale Night at Bar Baar in Bur Dubai, where music is spun by the resident DJ.
Dhs27. Tue noon-3am. Ongoing. Majestic Hotel Tower Dubai, Bur Dubai (04 359 8888).
Curry night at The Scene
Get down to The Scene for a steaming hot bowl of molten spice that will put some hairs on your chest. Options include prawn or chicken tikka masala, lamb rogan josh or roasted cauliflower katsu and a bottle of Indian hops for Dhs99 (or Dhs104 with a cheeky onion bhaji on the side). You'll also get half a portion of rice, half a portion of chips and a crispy poppadum with
mango chutney.
Dhs99, Dhs104 (with onion bhaji). Mon 5pm-2am. Pier 7, Dubai Marina (04 422 2328).
Sushi Saturdays at Asia Asia
If you have fish-loving friends, dig into unlimited sushi and dim sum, with a side of Marina views at Asia Asia. Order up some platters of sushi (maki rolls, nigiri et al) and tasty dim sum (we recommend the chilli chicken ones) and wash it all down with a bottle of grape for just Dhs329 for two.
Dhs329. Sat 2pm-7pm. Ongoing. Pier 7, Dubai Marina (04 276 5900).
Roast at Crown & Lion
This old-school English pub in Barsha Heights has a range of deals throughout the week, including a bargainous weekend roast. Every week you'll get a traditional roast – with lashings of gravy and all of the trimmings – for just Dhs68. There's a happy hour from 6pm until 8pm, too, if you needed any more reasons to visit.
Dhs68. Sat-Sun 11am-3am. Byblos Hotel, Barsha Heights (04 448 8000).
Be the first to get all the latest Dubai news, reviews and deals into your inbox by signing up to our free
newsletter
,
click here to sign up
.